We use affiliate links. If you buy something through the links on this page, we may earn a commission at no cost to you. Learn more.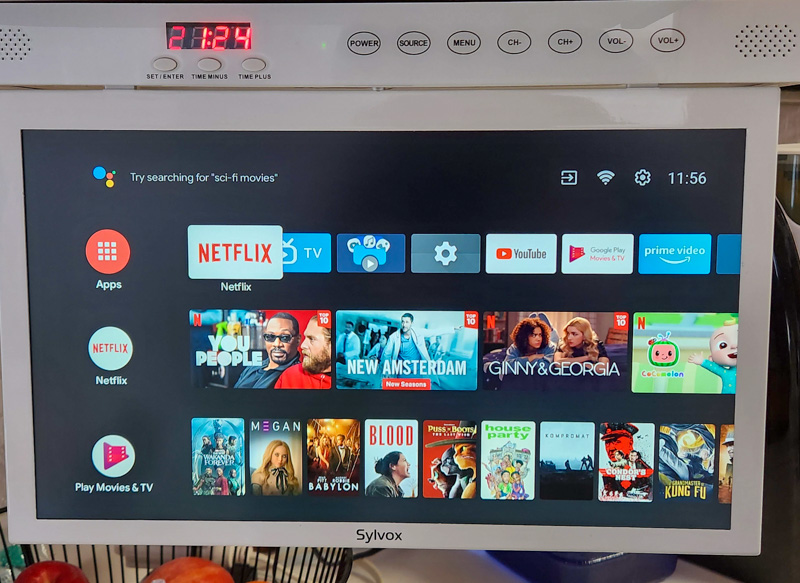 REVIEW – I haven't seen under cabinet TV's since my childhood in the 80's and 90's, but in many homes this area is a perfect spot for a TV, and with the advent of the smart TV it may just be time for a revival. I've personally been using a smart display the last few years (Google Nest Hub), which is great for many kitchen functions like setting timers and looking up information or recipes. However, for actually watching anything while in the kitchen or the adjoining dining room it's far too small. Something like the Sylvox 15.6" Smart Under Cabinet Counter Kitchen TV might be just what we need so I agreed to try it out.
What is it?
The Sylvox 15.6" Smart Under Cabinet Counter Kitchen TV is an under cabinet TV with multiple inputs and built-in smart functionality powered by AndroidTV.  This means you can get pretty much any popular streaming media service app, as well as other useful apps. The device also has a built in clock and timer function that's accessible even when the TV is folded up out of the way, and the entire unit can swivel to any horizontal angle and tilt as well. The user interface/menu is entirely driven by a remote, no touchscreen here.
What's in the box?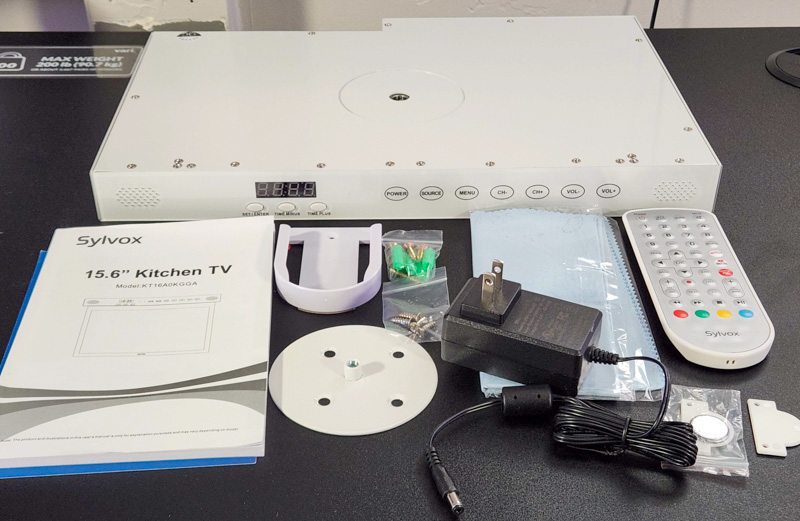 Sylvox 15.6" Smart Under Cabinet Counter Kitchen TV
Remote
AC Power Adaptor
Mounting bracket and hardware
Remote cradle
Manual
Remote battery
Hardware specs
Display: 15.6″ LED color display, Full HD (1920 x 1080 pixels)
Power input: DC 12V=2A
Power consumption (max): 16 Watts
Sound output (max): 2 x 3 Watts
TV receiver standards: NTSC/ATSC
Frequency Range: Antenna:2~69; Cable: 1~135(Analog:1-125, Digital:1-135)
Operating temperature range: 0℃-40℃ (32°F-104°F)
CPU: ARM Cortex A55 Quad Core
GPU: 50WMaliG31MP2
RAM: 1.5G
SSD: eMMC 8G
Design and features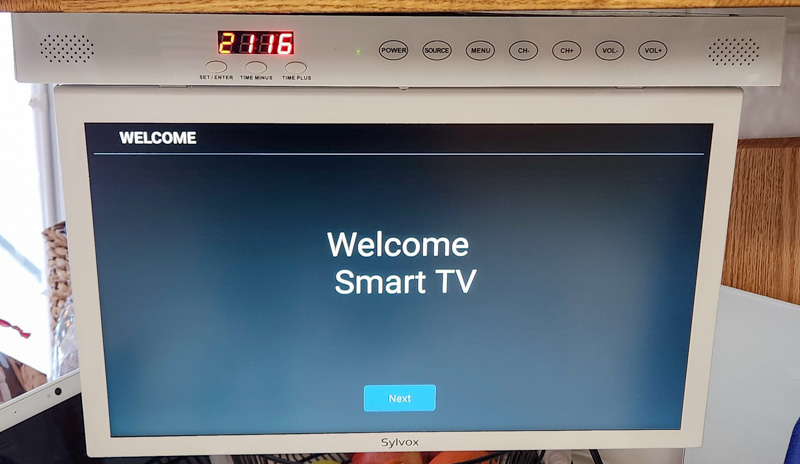 The Sylvox 15.6" Smart Under Cabinet Counter Kitchen TV is a rectangular box with a laptop-sized screen that manually folds down for use and back up when not in use. The screen itself is nothing special, it feels very similar to the bargain TV in our guest room or a budget laptop screen from a generation or two ago. At this price point I definitely expected a better panel, it feels like they cut cost here on what's arguably the most important part of a TV.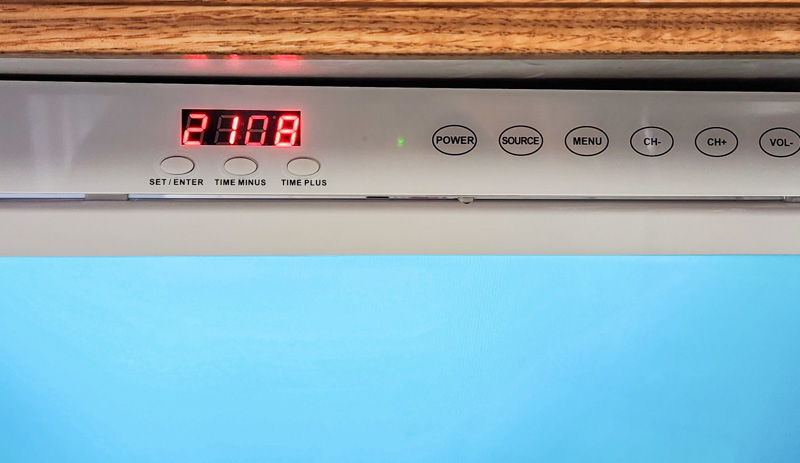 Above the TV panel is the clock/timer LCD display, and some buttons to control the TV without the remote (though this would only really work for Cable/Antennae inputs). The timer is functional, but smart assistant displays are much easier and faster to use, in my opinion.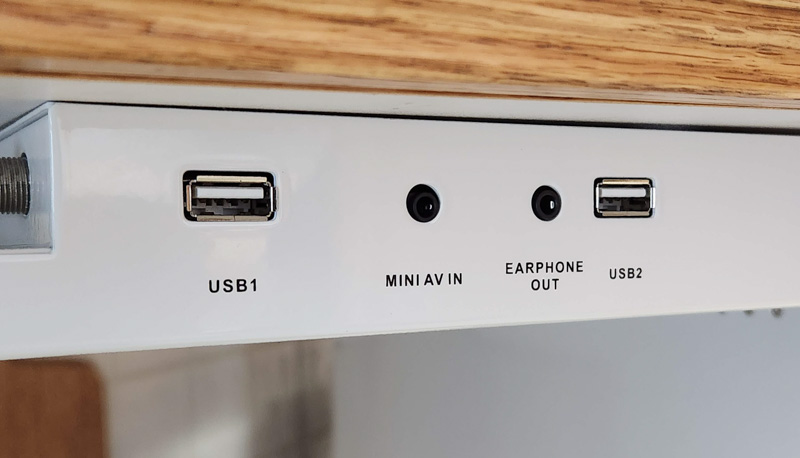 On the left side of the TV are two USB inputs, a "Mini AV In" port, and headphones/speakers output.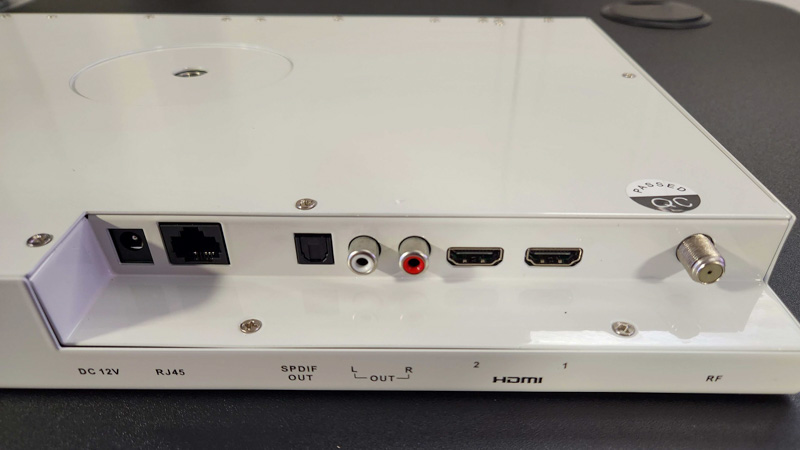 Around back we have the power port, RJ45 port (the TV also has WiFi built-in, but you could wire it if you wanted), SPDIF output, analog audio output, two HDMI inputs, and an RF input. I like that they included two HDMI inputs as well as the RF input, combined with the built-in Smart TV functionality you can connect quite a few devices like game consoles and other streaming boxes (like Apple TV if that's your preferred flavor).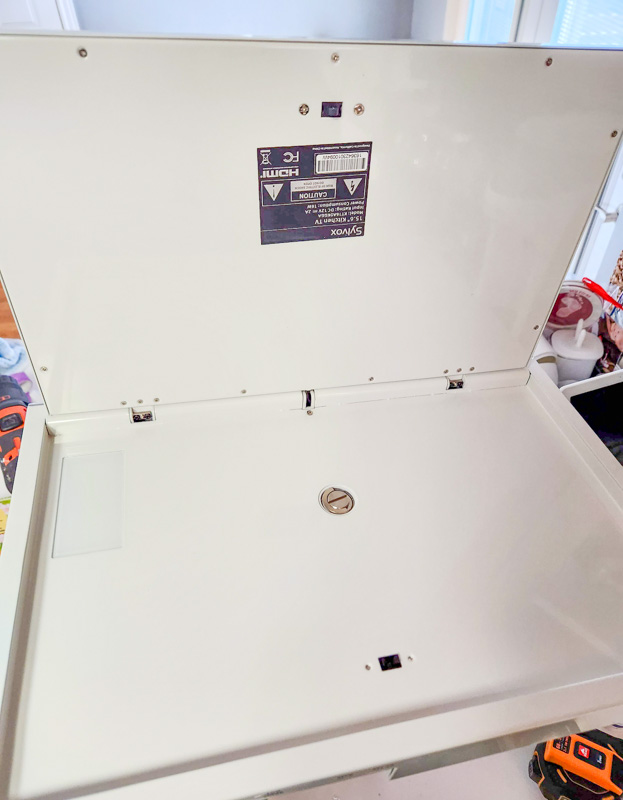 The photo above shows the screen folded down and the thumbscrew that holds it to the mount once installed.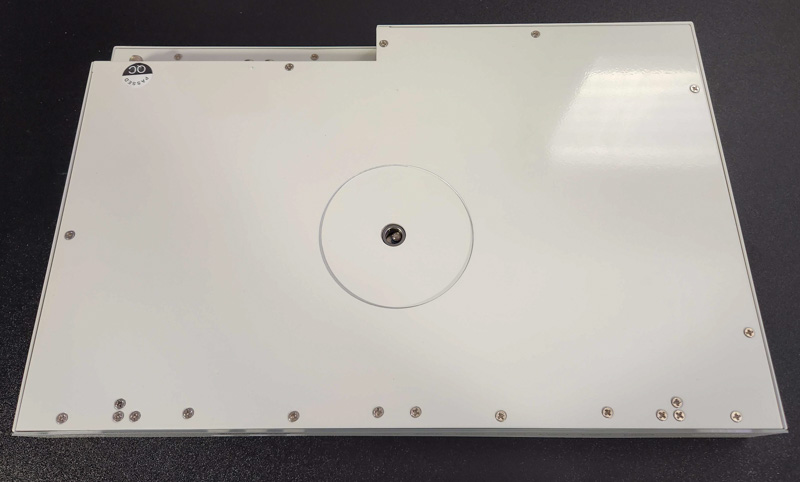 Above is a shot of the top of the device, this will be entirely hidden once installed.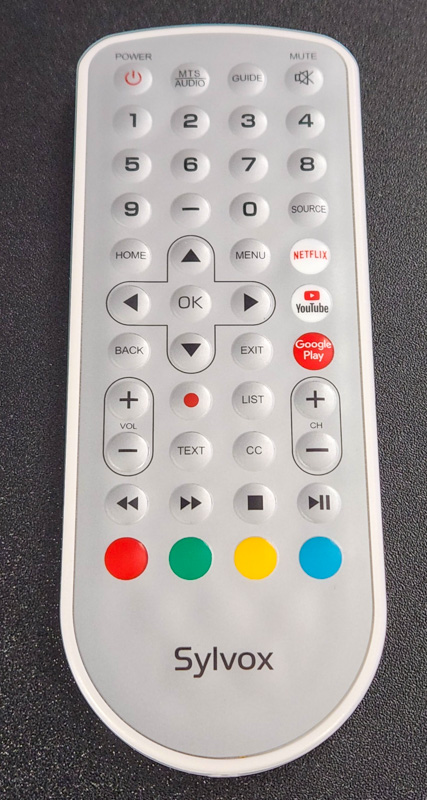 And finally the remote. At this price point, I was disappointed with the remote. It functions fine, but it just feels cheap compared to nearly every other smart TV or projector I've used in the last few years. The buttons are squishy and unsatisfying. Since there's no touchscreen you'll rely on this remote for most interactions so it definitely would have been nice to have a better build quality here.
Setup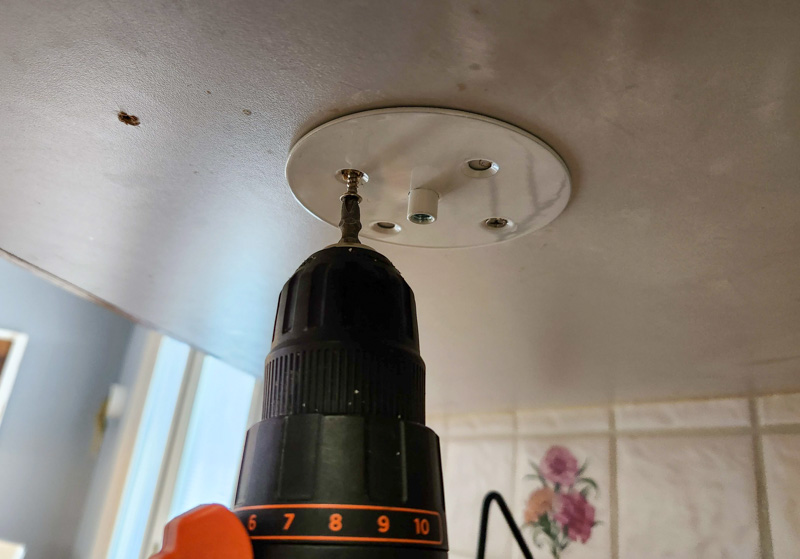 Installation starts with screwing in the mounting bracket with one of the included screw sets (there's a set included for drywall and a set for wood). The TV really can only be mounted as designed, where it's nestled below a flat surface. If you wanted to put it anywhere else, you'll need to get creative (or save a lot of money and just get a small TV and VESA mounting hardware).
Another note here is that you need to account for how the TV will swivel. The entire TV unit is affixed to this bracket with a single screw, but it's a rectangular shape, so as you swivel it from side to side, more or less of the tv unit will stick out of the cabinet unless you place it pretty far back. If placed away from the cabinet edge though, you can't easily access the panel buttons if you want to use the timer or see the clock.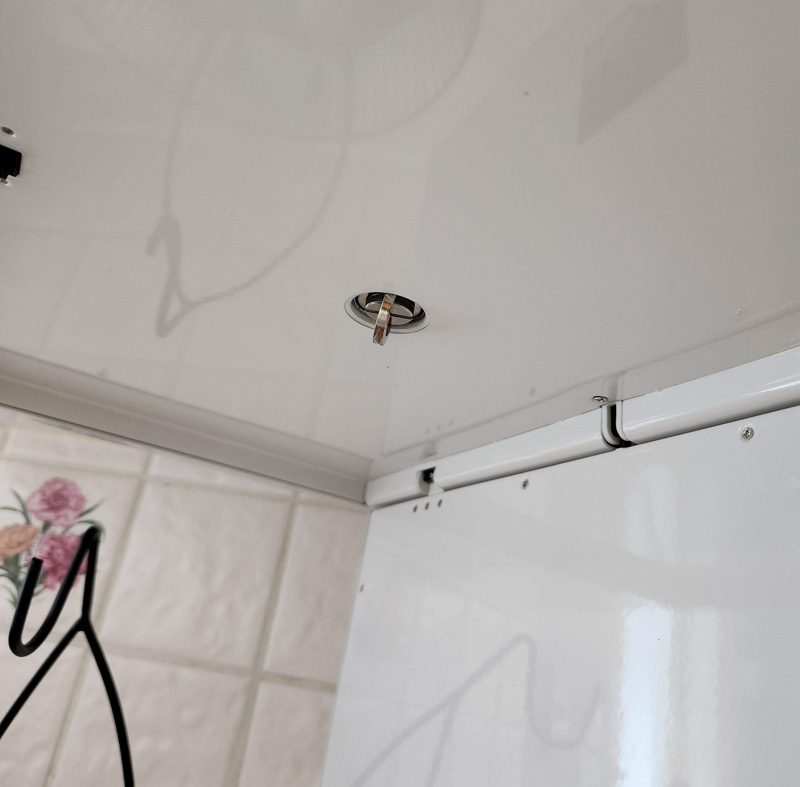 The thumb screw has a piece that flips down so you can screw it onto the mounting bracket. Once tight, the whole unit freely swivels around this point.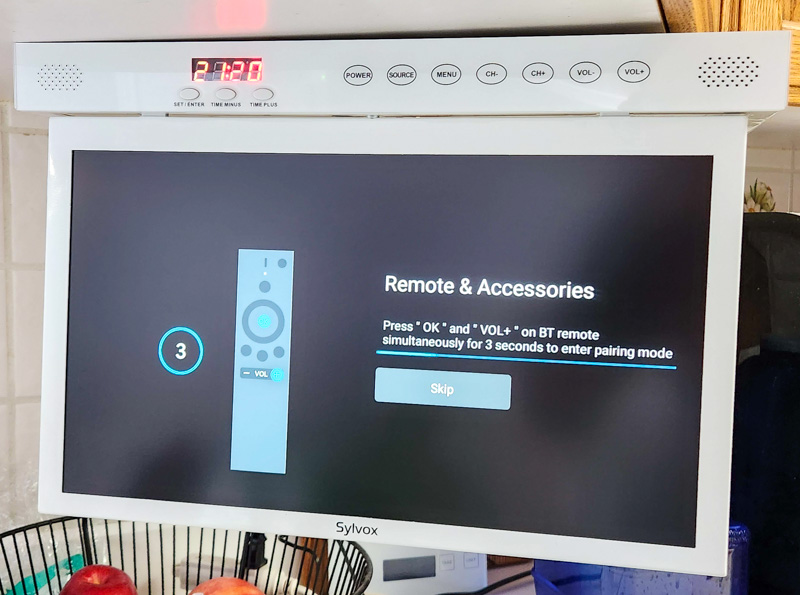 Next step, power on the Sylvox 15.6" Smart Under Cabinet Counter Kitchen TV and go through the AndroidTV setup. Pairing the remote first was easy, but you do need to install the included coin-style battery before use.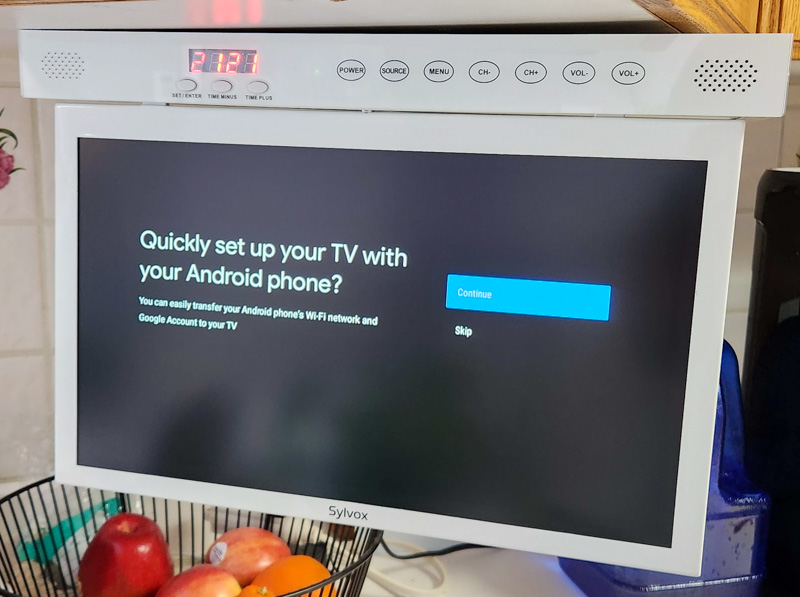 I liked the feature shown above, where I was prompted to copy everything from my Android phone, which worked as advertised. If you don't have an Android phone or don't want to do this, you'll need to login to a Google account using your remote to complete the setup. Upon finishing the setup, the TV automatically installed all my subscribed streaming apps (based on what I'd previously installed on the last Google TV device I'd used), so I'm not sure what apps are installed by default.
Performance
The video below shows me testing the speakers, screen quality, and user interface of the Sylvox 15.6" Smart Under Cabinet Counter Kitchen TV:
The speakers were fairly distorted before I even reached 50%, and the user interface has a noticeable lag in every app as well as on the main screen. Viewing head-on, the screen looks fine, but it's nothing special. Backlight bleed was normal for a laptop panel, but dark scenes will look grey on this device.
What I like
Unique form factor, swivel and fold away options
Google TV interface
One of the only smart under cabinet TVs available
What I'd change
Faster UI / components
Higher quality screen/speakers
Touchscreen
Google Assistant functionality (respond to "hey Google" would be really nice in the kitchen)
Final thoughts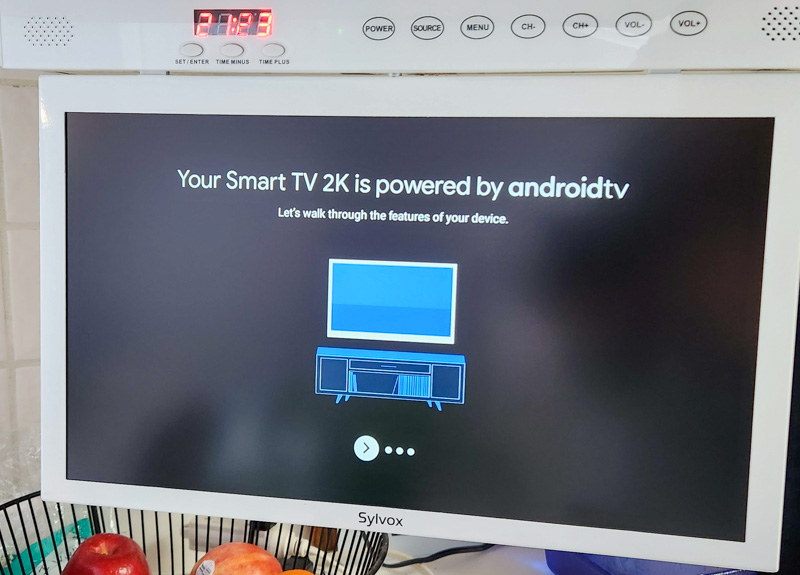 I find it hard to justify the asking price of the Sylvox 15.6" Smart Under Cabinet Counter Kitchen TV at the time of review. A $200 smart TVs we purchased years ago is a better experience than this, but if you really need an option that mounts under a cabinet or similar surface, this is one of the only options I could find in my research. Nothing about the experience is egregiously bad, but nearly everything I tested and tried out with it just felt mediocre. I'd hoped to replace the small Google assistant device, but the Sylvox 15.6" Smart Under Cabinet Counter Kitchen TV doesn't answer to voice commands, doesn't have a touch screen, and is cumbersome to use for anything other than simply watching TV.  If that's all you want it for, it'll do that fine.
Price: $539.00
Where to buy: Sylvox or Amazon
Source: The sample of this product was provided by Sylvox