We use affiliate links. If you buy something through the links on this page, we may earn a commission at no cost to you. Learn more.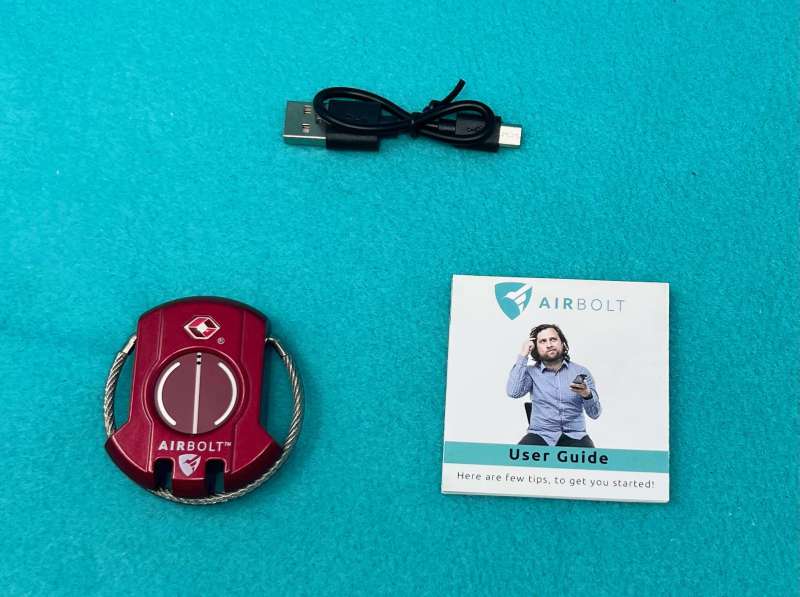 REVIEW – Snatch-and-grab theft is rampant enough in many places that there are signs to "Watch your valuables" or "Beware of Pickpockets". I remember being in Barcelona's old city years ago and sitting my camera on the chair beside me when I stopped for lunch. The waiter rushed over and made me clip the strap to the chair so it wouldn't be grabbed. Today's gadget gives me the same protection, without having to unclip my camera strap and wind it around the chair. Behold, the AirBolt Lock, a wireless lock with a hasp made from steel multi-strand cable. Let's take a closer look.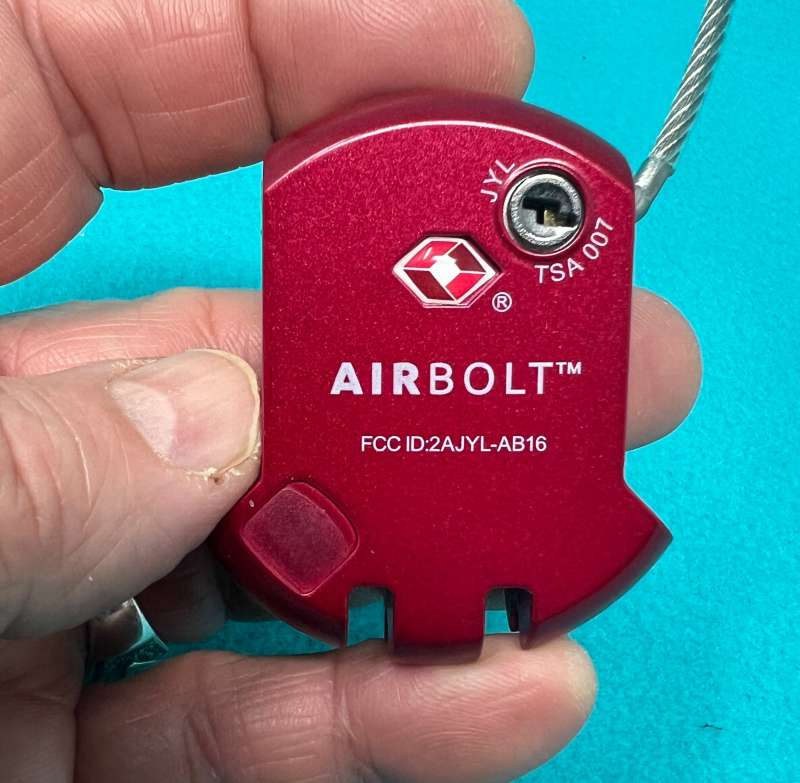 What is it?
The AirBolt smart lock is a wireless TSA-approved lock with cable hasp and tracking.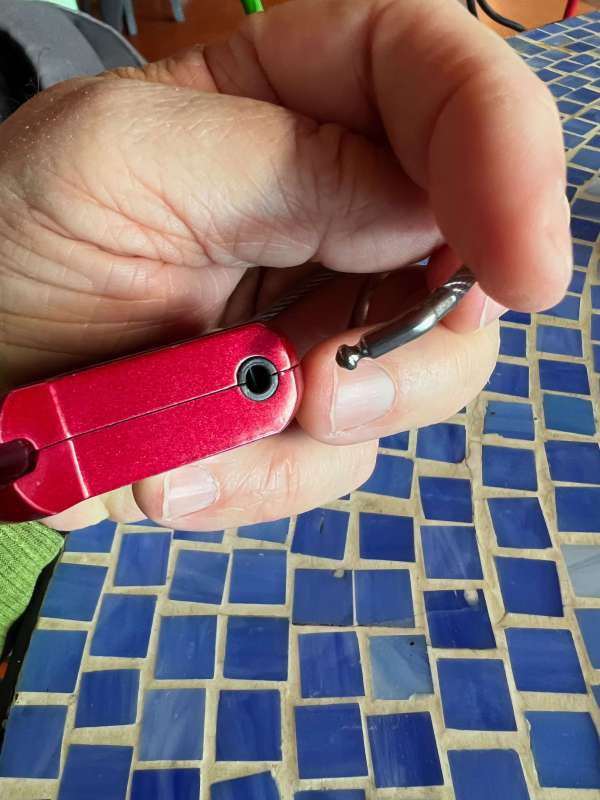 What's in the box?
AirBolt smart lock
6″ USB-A<=>micro-USB cable
Paperwork

Hardware specs
From product web page
The Most Advanced Smart Travel Lock on the Market!
Phone Unlock
Backup Button Codes
TSA-accepted
Share w/friends and Family
Rechargeable with up to 12 months battery life per charge
Separation Alerts
View Access History
Crowdsourced Location Tracking

Design and features
AirBolt's Lock is a 2" x 1" x .5" block with a 4" cable attached to the top at each side. On one face, there is a round indented area with a membrane touchpad, divided in half, that shows LEDs and accepts touch input. When the lock is remotely unlocked, the LED shows green. When you're pressing on the different sides to enter the custom bypass code, it shows blue until the proper pattern is reached. When you insert the cable into the locking port, it flashes twice to let you know it is secure. (This is a great feature since there is no "release" when it is opened.)
The cable is made from twisted multi-strand metal (which didn't appear to be ferric-based, since I could get no magnets to attract it) that is covered by a clear coating. The coating prevents the twisted cable from being untwisted or from snagging on anything.
The cable can be swiveled while locked, but there are two grooves in the lower part of the body that would allow you to insert the zipper pulls from your luggage into them and thread the cable through. This would prevent having the lock dangling by the cable, perhaps weakening the attachment.
Setup
Setup is quick: download the app, create an account, and pair the device. You can set up shared access, a bypass code, and give your Lock a name. You can also choose to use either normal or high security. Normal security allows you to use the two-button touchpad to enter a bypass code and open the lock. High security can only be unlocked by the app on your device. It gives you peace of mind when your luggage is out of sight until you read about how TSA-compliant locks are not as secure as we wish they were. But nothing is really secure, is it?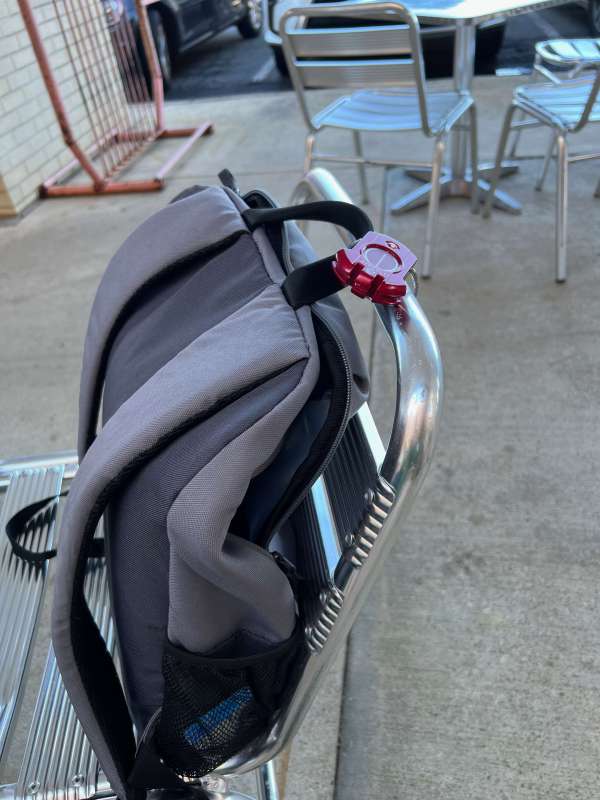 Performance
I found the ease of use and the quick performance great when leaving my bag on a chair at various coffee houses I visit. While I don't often (sadly) go to places that are as prone to theft as La Rambla, leaving a laptop or iPad alone to go pick up your coffee in many shops can be an invitation to a snatch-and-grab thief. When I have to leave my table, I typically put my device under my arm but leave my bag locked to my chair. The AirBolt prevents anyone from getting anything out of the bag, and no one's going to walk out unnoticed with a chair that has a backpack locked to it!
While charging is fast and long-lasting, it still needs to be stated that using micro-USB is never a good idea. It is possibly the worst implementation of a port that has ever been produced. (Even Apple's 30-pin connector was better, IMHO. I never had a child push one of those so hard that it broke the internal charging port off the motherboard and ruined the device.)
What I like
Dual mode allows for either quick access or more protection
Sleek design
It's very obviously a lock, which should deter theft
What I'd change
Final thoughts
Few things can spoil a trip faster than having things stolen when traveling. The AirBolt Lock makes securing your goods quick and as painless as possible while offering access to others easily. At $50, it's a small price to pay for peace of mind.
Price: $49.95
Where to buy: Company webstore and Amazon
Source: The sample of this product was provided by Airbolt.