We use affiliate links. If you buy something through the links on this page, we may earn a commission at no cost to you. Learn more.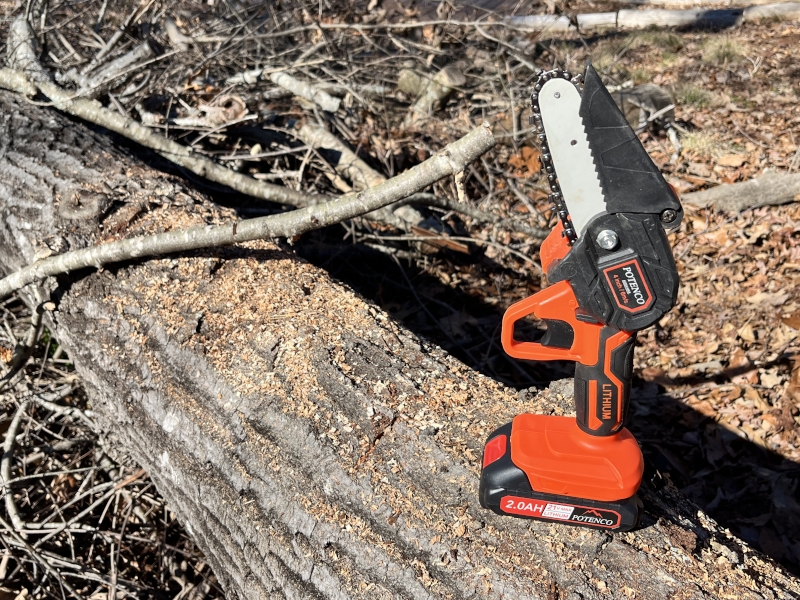 REVIEW – My father has a house on Lake Hartwell, and much of the lot between his house and the lake is trees.  One tree or another is always falling down, whether to storms or old age or whatever.  While a chainsaw is great for breaking down the trunk and the large branches, it's less efficient for trimming the smaller branches.  Normally we would use a lopper or a pruning saw for this, but I'm hoping that a mini chainsaw will be faster and easier.  Read on to find out how well POTENCO's mini chainsaw performed!
What is it?
The POTENCO mini chainsaw is a cordless chainsaw designed for trimming small branches.  It's comes with a pair of 2.0 Ah rechargeable, lithium batteries that each have a stated runtime of 50 to 60 minutes.  POTENCO asserts that it can saw through a four-inch branch in five seconds.  It comes with everything needed for replacing the chain.  POTENCO appears to be a new company, because this is the only product currently on their website, and there's no information about the company itself.
What's in the box?
Here's what was in the box: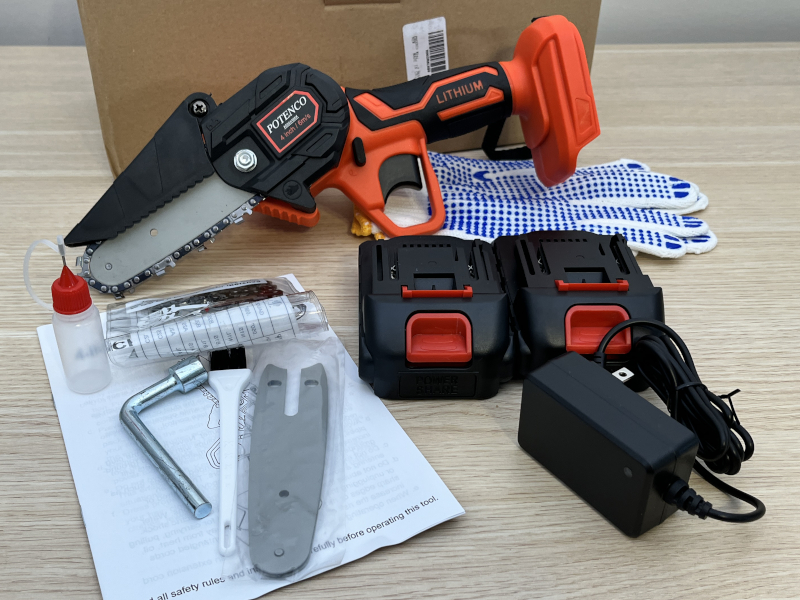 POTENCO Mini Chainsaw
User manual
Two batteries and a recharging cable
Small tube for oil (but no oil in it)
Spare guide bar and chain
Wrench and screwdriver for replacing the chain
Pair of gloves
Specifications
The POTENCO Mini Chainsaw has the following specs:
Power:  550 Watts
Weight:  1.5 lbs
Size:  13 x 4.3 x 2.8 inches
Chain length:  4 inches
Battery:  2.0 Ah lithium
Run time: 50-60 minutes
Design and features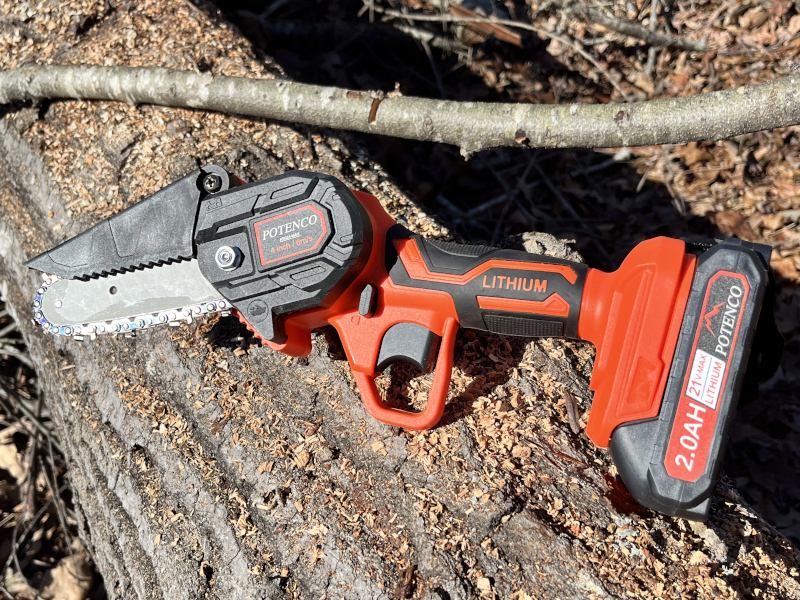 If you search for "mini chainsaw" on Amazon, you will find dozens of very similar-looking products; POTENCO's design does not stray from the norm.  It has a handle grip that looks like it's from a drill, and a place for the battery to pop into the bottom.  The top is a short chainsaw that points upward at a sharp angle, thus keeping the chain away from the hand (which is good).  POTENCO's gadget is bright orange and black, has a safety release, a guard for the trigger, and a cover for the blade to prevent splash damage.
Installation and setup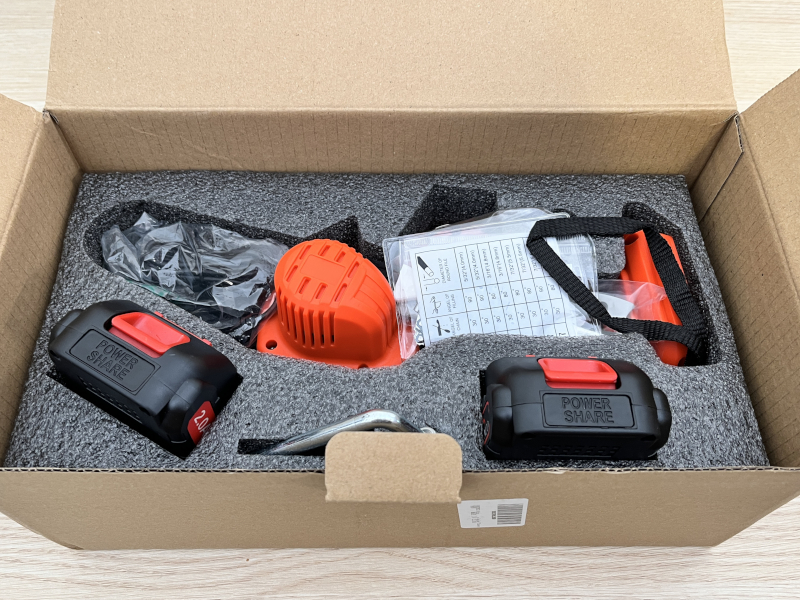 The POTENCO Mini Chainsaw arrived well-protected in custom inserts and fully assembled.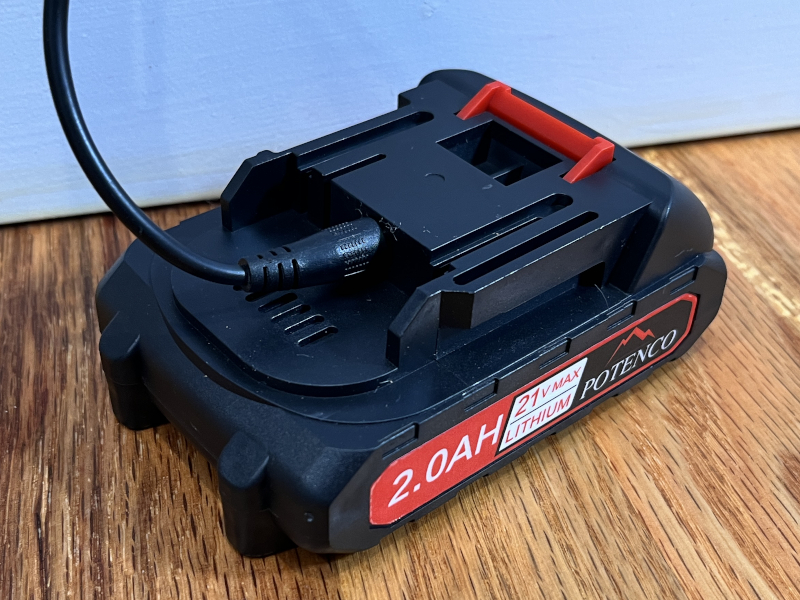 The first step was to charge the batteries.  The DC power adapter plugs directly into the batteries; there's no external charger.  The batteries were already mostly charged as the light on the adapter changed from red to green in only a few minutes.  Once charged, I popped one of the batteries into the slot below the grip.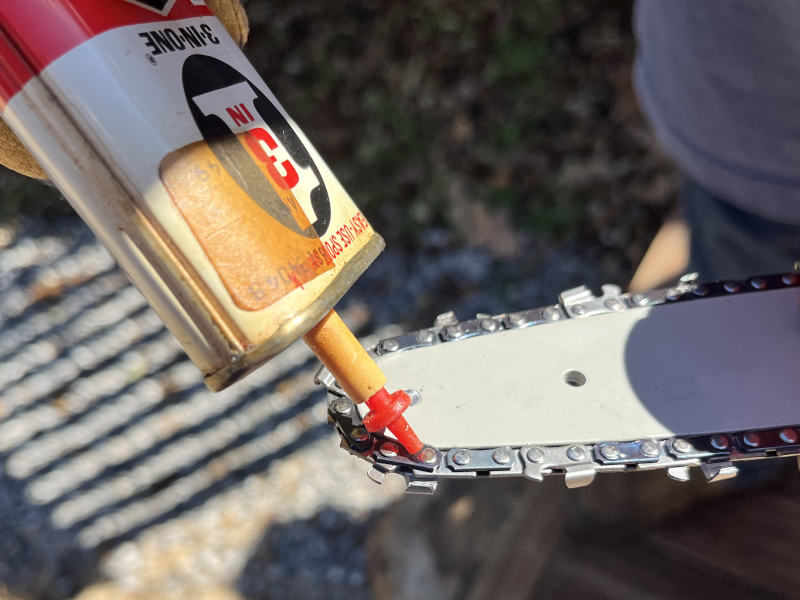 The second step was to lube the chain with 3-in-ONE multipurpose oil; this should be re-applied frequently while using.  Now it's ready to go!
Performance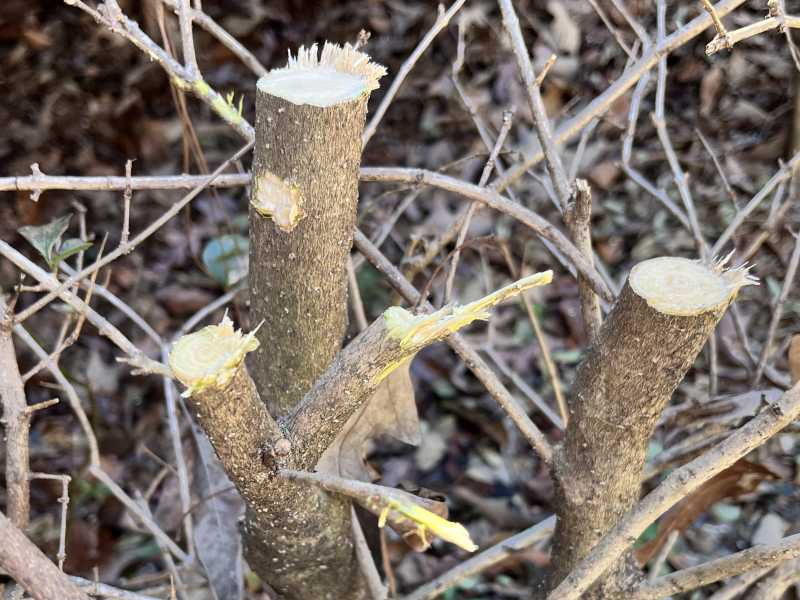 My father and I tested the POTENCO Mini Chainsaw one afternoon in his backyard.  We trimmed bushes, removed limbs from cedar trees, sawed down dead trees, cut up vines growing up into trees, and cut up small branches from a fallen oak for kindling.  Overall, we were both very happy with this gadget.  What follows are some of our observations.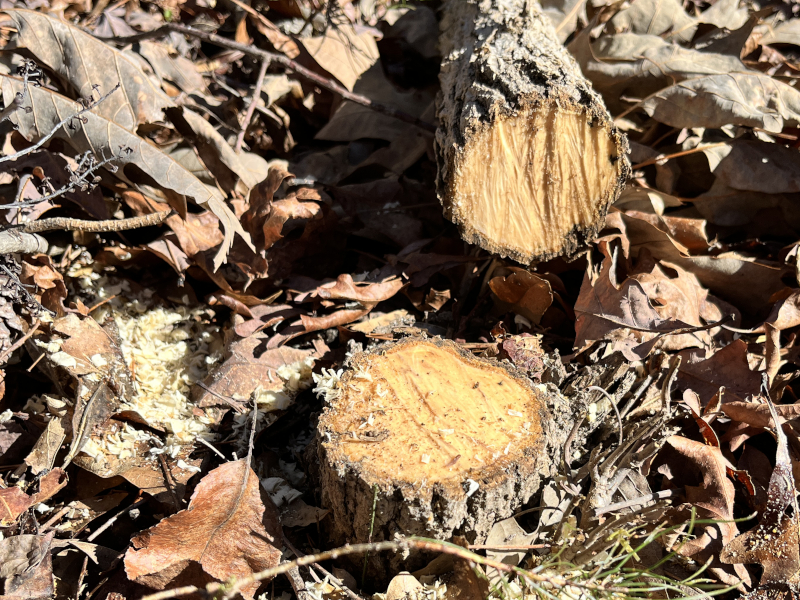 The chain is sharp.  It cut through the various types of smaller limbs without any problem.  We trimmed everything from about a half-inch in diameter stick to nearly four-inch small logs.  Though POTENCO's Amazon page says it can cut through a four-inch log in five seconds, that's at best an exaggeration.  It was more like 10 to 15 seconds, but even so, it worked!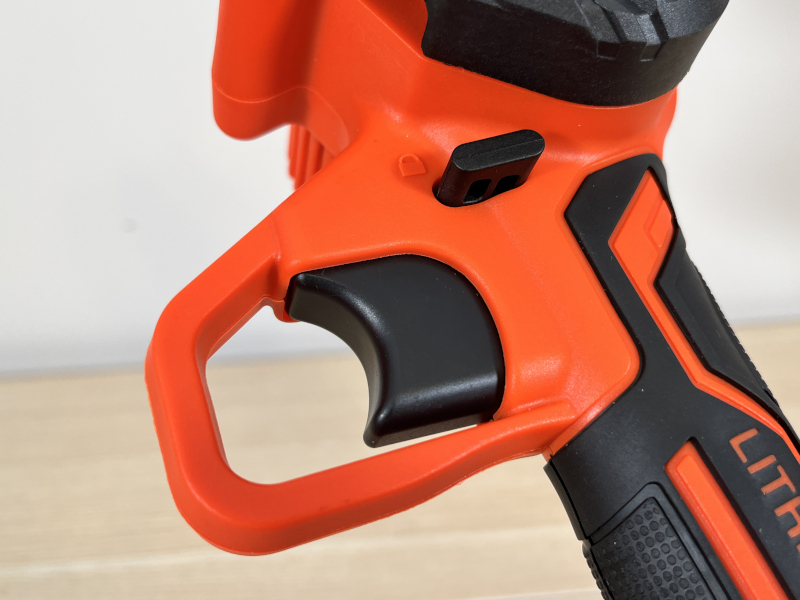 The chainsaw is very light, especially when compared to a normal chainsaw, and thus it is very easy to control.  It's not much different from controlling a drill or a pistol.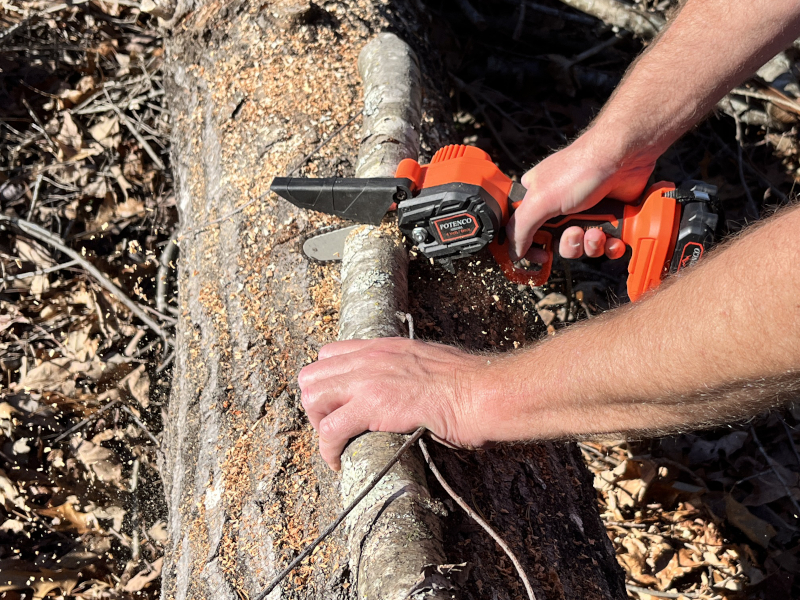 Using this gadget to trim branches is fast and easy.  It's definitely quicker than using loppers or a pruning saw and a whole lot less effort.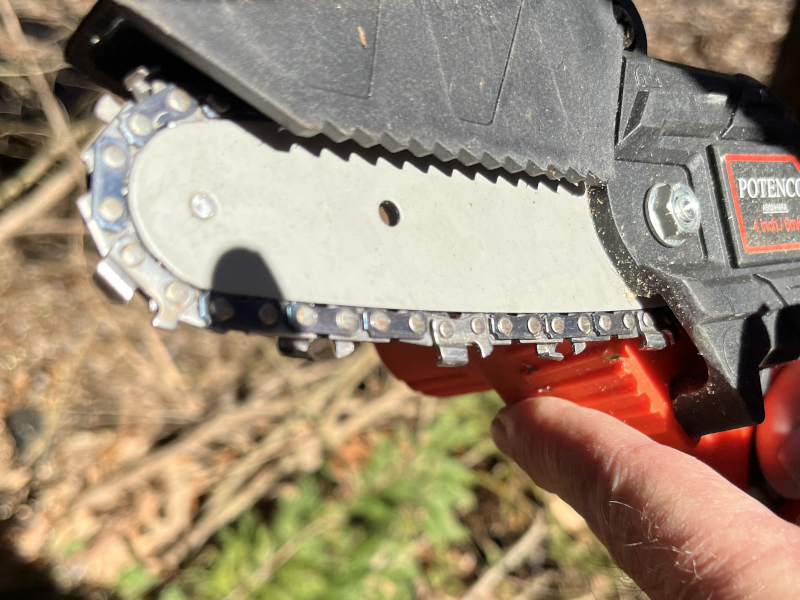 There's a guard at the base of the saw (where the finger is pointing).  The best way to cut is to place the limb up against that guard and then turn on the chainsaw.  This keeps the saw from jerking around in my hand, which is not only safer, it also ensures a smoother cut without so many jagged edges.  The motor housing is on the right side of the chain, so if I want to cut a branch close to a tree trunk, I need to put the left side of the chain against the trunk.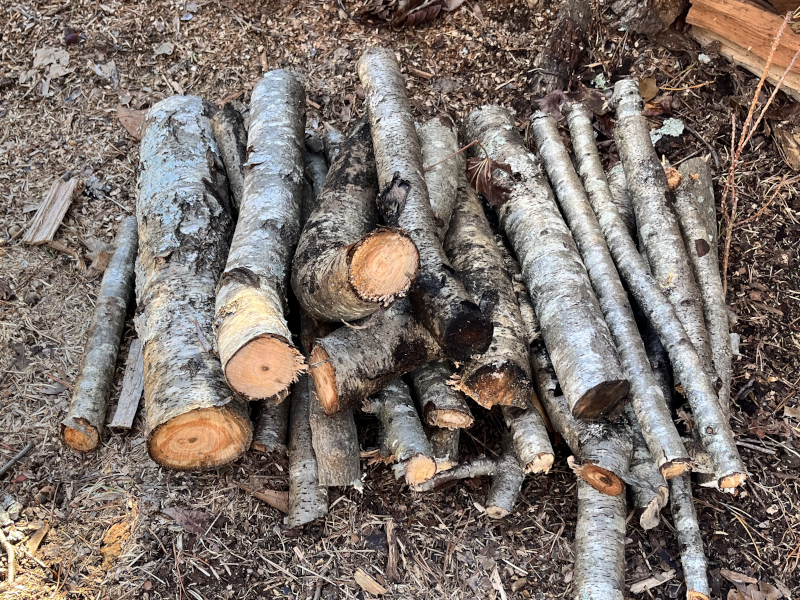 When cutting up a fallen tree for kindling, I found that small branches tend to get stuck in chain.  To remove them, I popped out the battery—I don't want it to turn on and cut myself—pulled the branch free, and rotated the chain manually forwards and backwards.  This freed up the chain to start working again.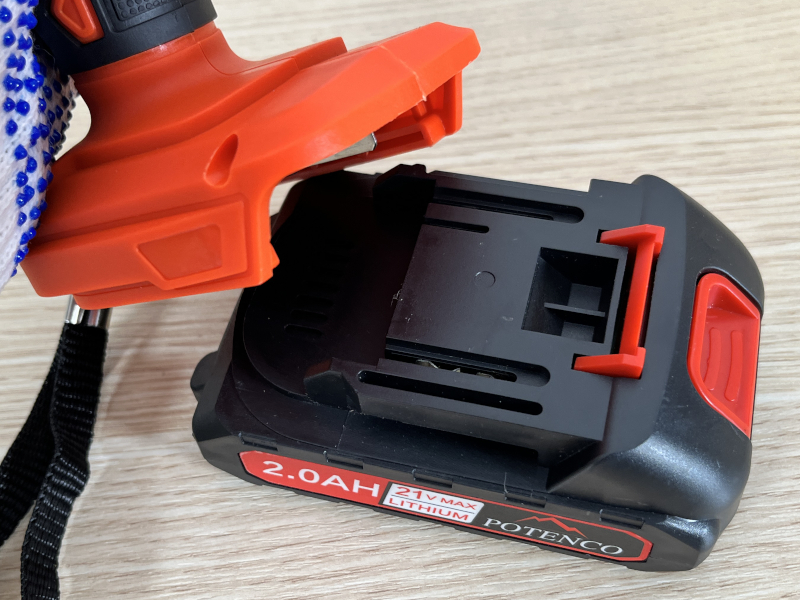 It's difficult to know exactly how long the batteries lasted, since the nature of using this gadget is to constantly be turning it on and off.  Somewhere around the 30-minute mark, the chainsaw began to stop frequently.  We think it was a combination of the overheat protection kicking in—the motor housing got quite hot—and the battery running out.  Unfortunately, there are no indicators on POTENCO's chainsaw to let us know what the problem is, so we just had to guess.  Although their Amazon page states that it has a runtime of 50 to 60 minutes, the actual runtime that we experienced was about half of that.  This gadget is best suited for small, light jobs around the yard.  It's not really designed for long, sustained jobs or for professional use.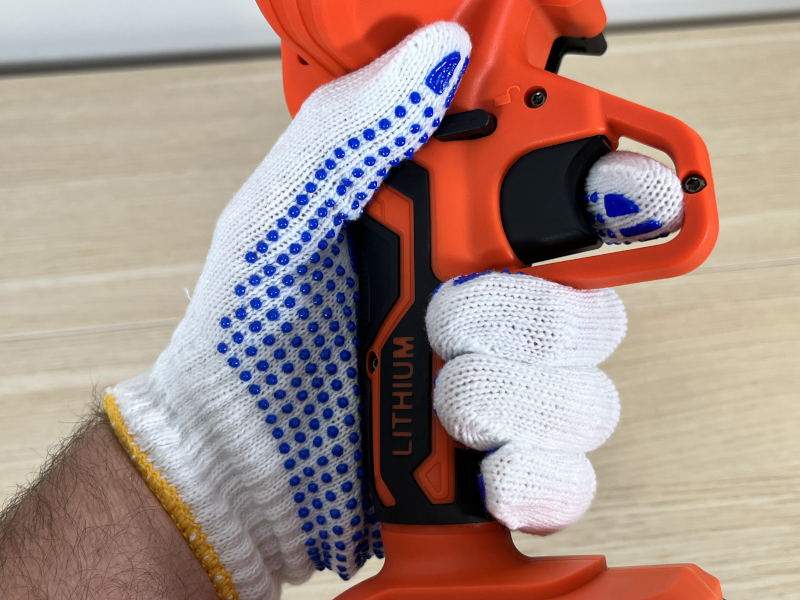 The chainsaw comes with a pair of gloves, and while they are nice and grippy, these gloves are not designed for working in the yard.  I recommend pitching the gloves and using a good pair of work gloves instead.  When I tested the mini chainsaw, I didn't use any gloves, and I did develop a small blister on my thumb.  The handle has a small plastic knob right where the thumb goes, and the constant vibration of the saw caused the blister.  Good work gloves would have solved this problem.
Here's a short video that I created using the mini chainsaw:
There's a small LED light on the top of the housing, but it's useless.  There's no way that I'm going to be using this chainsaw in the dark, but if an emergency happened and I needed to do so, this little light doesn't supply nearly enough light to be helpful.
When finished for the day, don't forget to lightly spray down the chain and guide bar with WD-40, which will keep it from rusting.
Cutting through trees places a lot of stress on the batteries, and they are undoubtedly going to wear out if used frequently.  There's no place to buy replacement batteries on Amazon or POTENCO's website, and that's a problem.
While I was pleased with how the POTENCO's mini chainsaw worked during our testing, I am concerned about the company itself.  When I went to their website, I could not find a phone number or an address. Their email account is for another company (sina.com), their Twitter account is dead, and their Facebook account says the company is a home decorating company.  There's no mention of the company's name in the manual, which means this gadget is probably a rebranding of someone else's product.  It seems unlikely that there is anyone to provide service or support, should I have a problem with this gadget.  If you're happy with buying a disposable gadget and aren't worried about support, then no problem!  If you prefer a longer lifespan for your tools and to have some help around if you need it, then you'll do better with an established brand.
What I like
Here's what I like about the mini chainsaw:
Cuts branches great
Easy to use
Comes with two batteries
What I'd change
Here's what I'd change:
Sell replacement batteries
Provide contact info for support
Final thoughts
My father's lot still has plenty of trees on it, but it's a bit more cleaned up now than it used to be, and I have a nice pile of kindling for our firepit.  POTENCO's mini chainsaw is definitely a useful gadget, and it cut through a variety of sizes and type of limbs without much effort.  It was faster and easier than pruning or sawing by hand and a whole lot less work.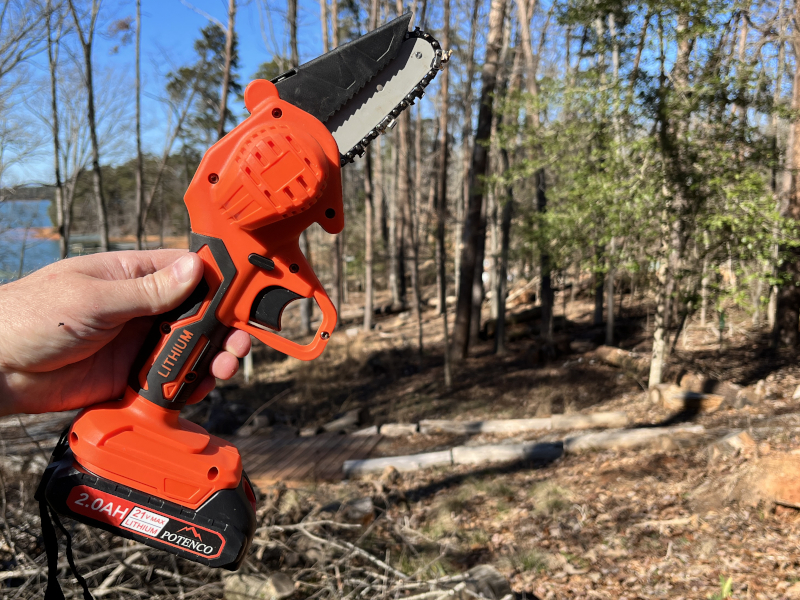 My father and I were both impressed with this tool, and he's happy to have it available for the smaller jobs around his yard.  While the tool worked well, the company itself is a complete unknown.  They don't have an Amazon storefront, their website features dubious contact info, and there is no place to buy replacement batteries.  If you're not worried about these sorts of details, then this mini chainsaw might be the one you're looking for.
Price: $69.99
Where to buy:  Amazon
Source: The sample for this review was provided by POTENCO.