We use affiliate links. If you buy something through the links on this page, we may earn a commission at no cost to you. Learn more.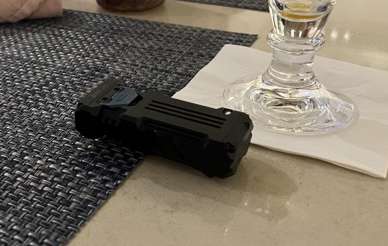 REVIEW – There are approximately 500 new EDC flashlights released daily. (This is only a rounding error – don't @ me!) Most of them can be defined as a cylinder with a lens on one end. Wuben has a few flashlights that break this mold, and I was sent the most recent to review – the Wuben X2. It's a smaller flashlight, which is available in solid black, solid silver, or a silver/blue gradient. I was sent the black model to review, and am happy to present it to you today.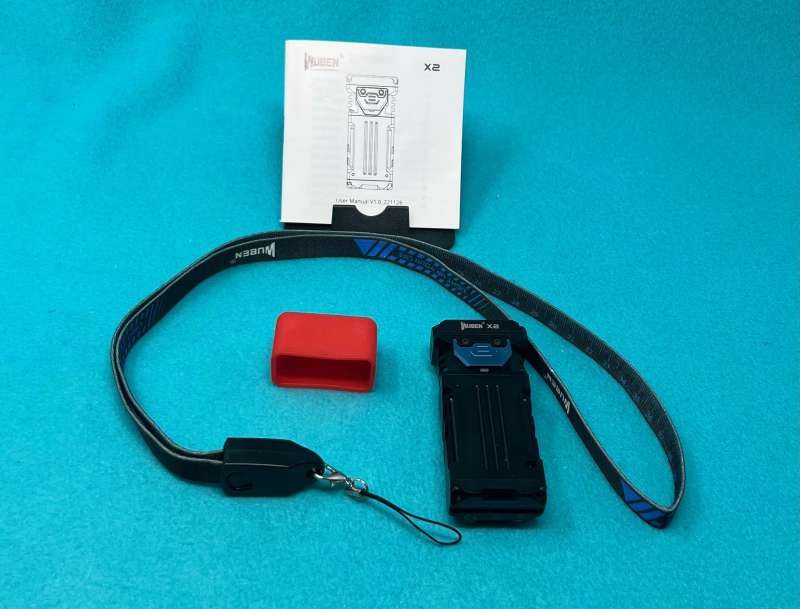 What is it?
The Wuben X2 is a rectangular handheld flashlight with a rechargeable battery and three LEDs.
What's in the box?
Wuben X2 flashlight
Red light diffuser
Charging lanyard
Paperwork
Hardware specs
From the manufacturer's website
Ultra-Compact and Lightweight
Illuminate Any Dark Space: With the max 2500 lumens and 146m beam distance, X2 improves the visibility of your surroundings to a new level.
Massive Battery Life & Fast Charging : X2 comes with 14500 2000mah batteries installed, it can power X2 for up to 80 hours on Low mode and can be fully charged in 3 hours.
Innovative 3-in-1 Button: Designed to also offer stress relief, this serves as a switch, as well as providing optimal water and dust protection for its type-C USB charging port.
6 Modes for Various Scenarios: X2 comes with 4 common lighting modes: Low, High, Turbo, and 2 flashing modes: Strobe and SOS.
Design and features
The Wuben X2 flashlight copies some of the design style of their X1 bike light that I reviewed a while back. It is boxy but very hand-friendly. The light measures 3.375" x 1.375" x .875" (85 x 39 x 20 mm) and tilts my kitchen scale at 4.25 oz (115 g). It is milled from a solid chunk of aircraft-grade aluminum and is IP 68 dust- and water-resistant.
One small end of the unit has three LEDs embedded into reflectors with slightly dimpled silver linings. Just back along one wide side is a paddle about 1" x .65". This is hinged to flip up and reveal a USB-C charging port, as well as two pairs of contacts that need to be touching in order to allow the switch to work. Pressing down on the paddle activates the light.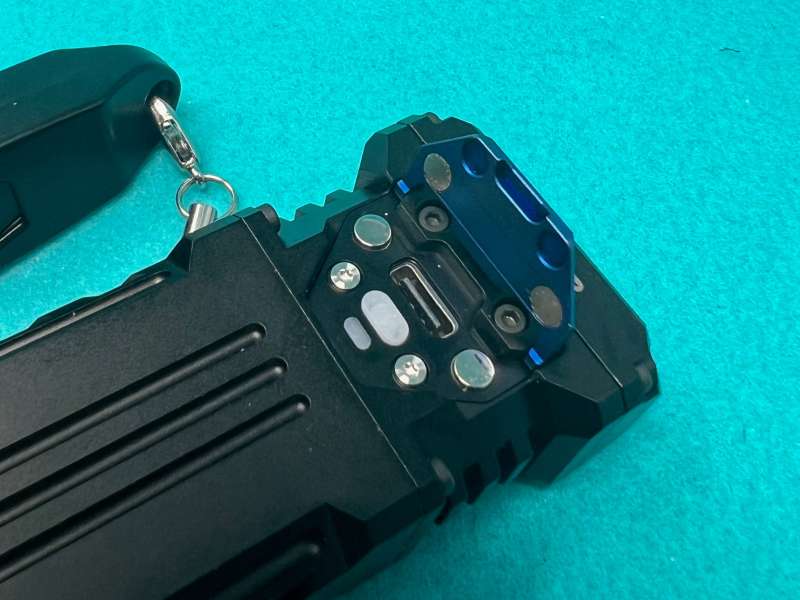 There are various button patterns, logically arranged, which allow the user to change the brightness level or mode, or to lock/unlock the light. There are 4 solid and two blinking modes. The three non-turbo levels can be programmed within a range of lumen strengths to allow for customization of what "low, medium, and high" mean.
The included lanyard is actually a USB-A<=>USB-C charging cable. The two jacks are clicked into a plastic piece that has a tether attached to allow wearing the Wuben X2 flashlight around the neck or hanging on a peg by the leash for taking the pup out for an early or late stroll. The flat strap is also a handy flexible measuring tape.
There is a "Micro-Arc Oxidation Ceramic Coating for enhanced corrosion resistance, surface hardness, oxidation resistance and abrasion resistance" applied to the exterior aluminum chassis. This makes the surface smooth to the touch, even though it is precision milled, which usually makes for sharp, almost dangerously smooth edges.
On the side opposite the power switch, there is a spring steel belt clip. The light mounts on your belt with the lenses facing down. The clip can be used with a belt or strap up to 1.5″ wide. It is removable, but not reversible.
Setup
The Wuben X2 flashlight ships locked with the terminals protected by a non-conductive piece of tape. Unlocking it (four quick clicks) is easy, but nothing in the documentation mentions the tape over the terminals. Once the tape is removed and the unit is unlocked, if the battery is full, it is ready to go. I charged it for about an hour since it was a bit flat. The battery can be taken from depleted to full in about 3 hours.
Performance
There are three main levels of illumination, reached by simply holding the paddle button down and letting it cycle through them. There is also a red silicon diffuser that can be placed over the lens. The diffuser allows for keeping your night vision, or for use as an emergency signal.
Using the Wuben X2 flashlight is simple and easy. I usually keep it locked and in the netting side pocket of my daily driver backpack. (I've started keeping it locked so that I don't find it turned on while I'm moving my bag into or out of my car or locker.) When I need to examine something or find that errant item under my car seat, a quick 4 clicks and the light is ready for action. I've not had to evoke the strobe or SOS modes, but they are close at hand, which may come in handy as I spend more time on my bike this spring.
What I like
Locking mode
Easy "menu" organization
Adjustable levels
What I'd change
Final thoughts
I'm a sucker for a well-made mini flashlight. (I know you are too if you're reading this website!) I like the Wuben X series design because it defies the cylindrical convention of 99% of the EDC flashlight market. The belt clip is a nice addition, and the charging lanyard is really clever. I haven't used it much, but wonder if the wear-and-tear of daily use will affect the charging speed. We'll have to see. Meanwhile, the Wuben X2 flashlight has replaced the other mini lights in that net pocket on the side of my bag.
Price: $118.00
Where to buy: Company webstore (save 25% with the code: gadgeteer )
Source: The sample of this product was provided by Wuben.