We use affiliate links. If you buy something through the links on this page, we may earn a commission at no cost to you. Learn more.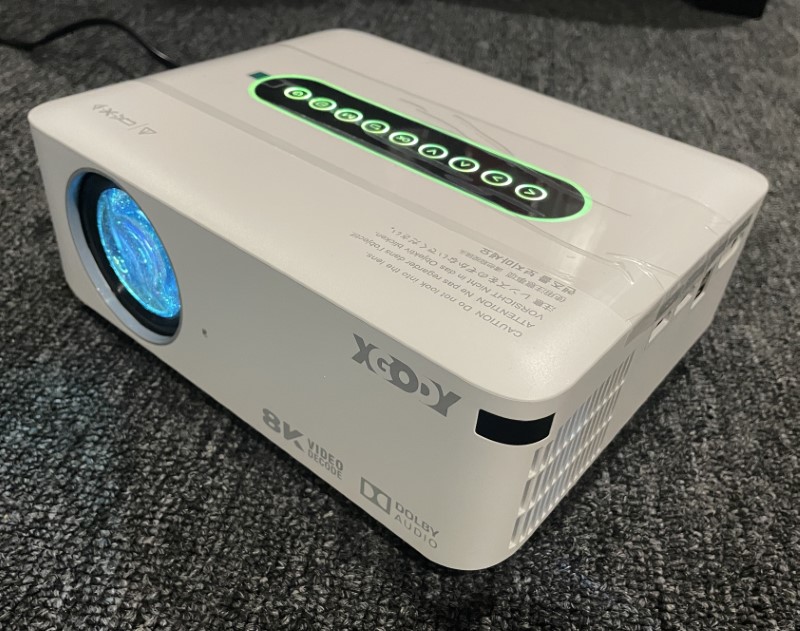 REVIEW – There's nothing like the big-screen cinema experience or a larger-than-life sporting event. Unless you can fork over ridiculous coin for a monster flat-screen, the only way to experience 100+ inches of eye-popping glory in your home is with a projector.  Xgody's X1 Pro projector brings a big-screen punch to a wall near you without breaking the bank.
What is it?
The Xgody X1-Pro is an Android OS-based, 1080P native-resolution video projector.
Hardware specs
Xgody X1 projector
Android TV 9.0 operating system
Native resolution: 1920 x 1080P
Support resolution: 8K, 4k, 2k, 1080p, 1080i, 720p, 576i, 480p, 480i
Contrast ratio: 15000:1
Maximum screen size: 300 inches
LED life: 150,000 hours
12000 lumens (as listed on Xgody Amazon, but nope, I don't think so. More on that later)
Wireless function: Bluetooth 5.0 & WiFi, 5.8G and 2.4D dual-band Wi-Fi
Multi-interface wired and wireless
Four-point digital keystone correction
50 to 100% digital zoom adjustment
Diffuse reflection sound
Built-in Dolby Surround speaker
Color-changing button backlight
Infrared/Bluetooth remote control
Intelligent voice control using Google Assistant
Screen mirroring (Airplay, Miracast) supported
Supports ceiling and reverse projection
Built-in cooling fan, 40db noise level
Amlogic T972 smart TV chip
2GB RAM and 16GB ROM memory
Weight: 3.96 lbs (1.8kg)
12.28 x 8.82 x 4.88 inches
What's in the box?
Xgody X1 video projector
Power cord
HDMI cable
Remote control
Carrying case
Height adjustment screw
User manual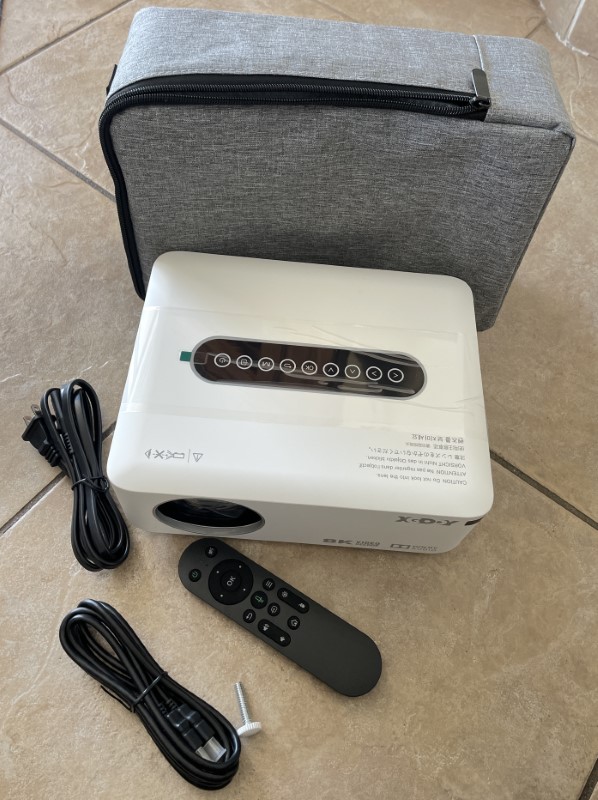 Design and features
The Xgody X1 projector arrived in a plain-looking box.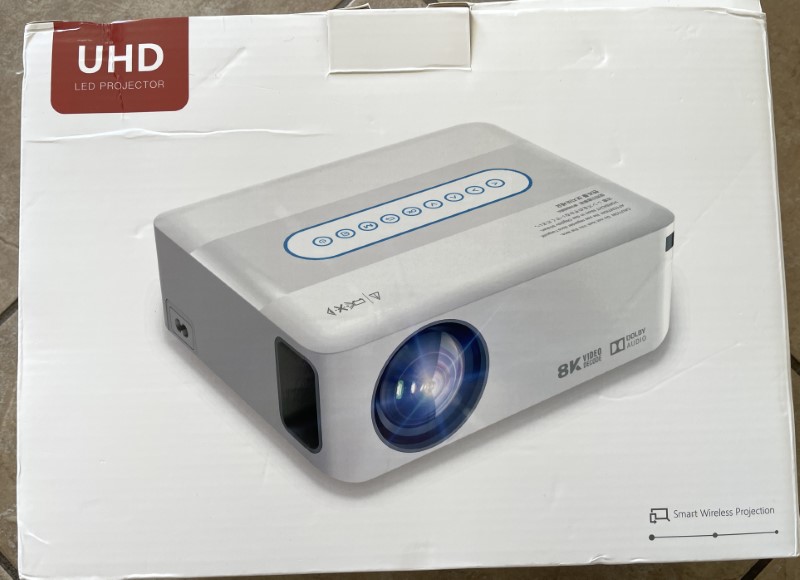 Much to my surprise and delight, upon opening the box, I found the X1, parts, and manual are contained in a lovely zippered carrying case. Nice touch.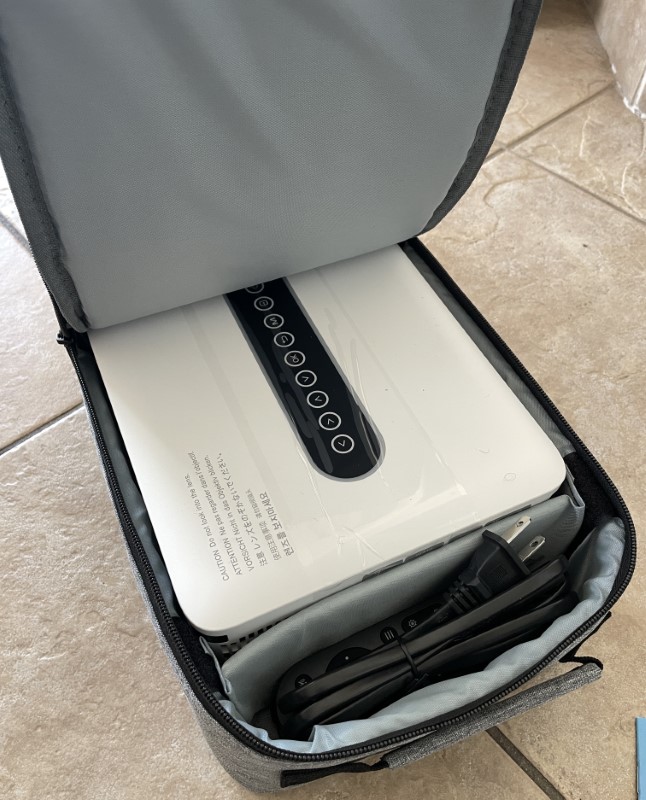 The Xgody X1 projector body feels sturdy.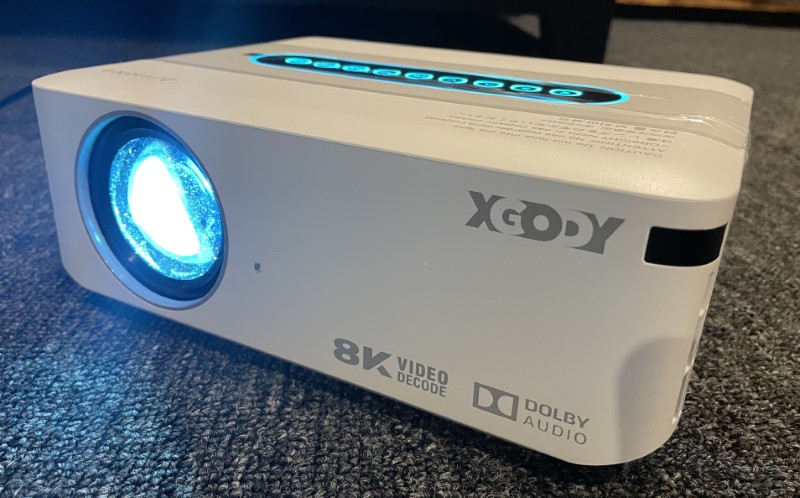 Power is provided through a "figure 8" connector. I appreciate that there is no bulky power brick.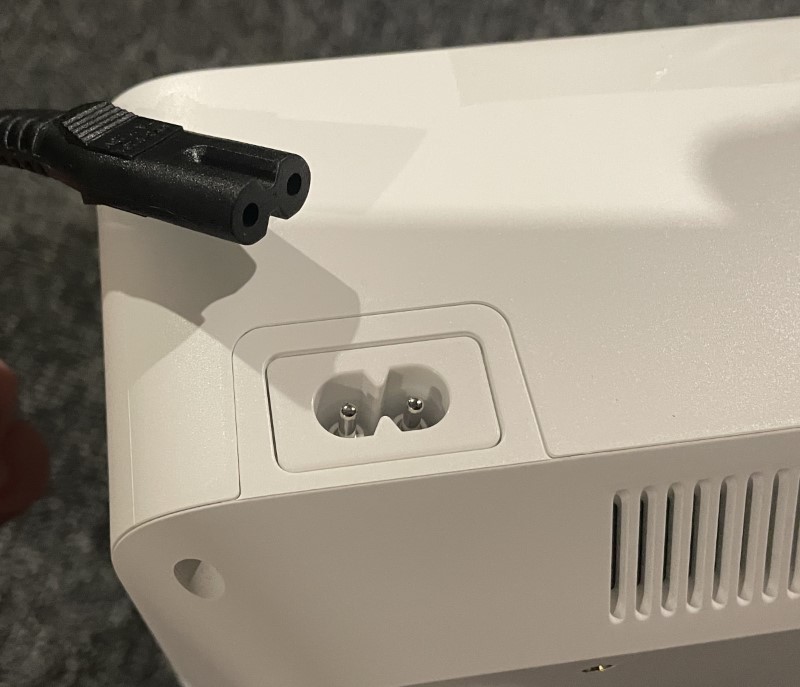 An opening on the same side provides access to the focus ring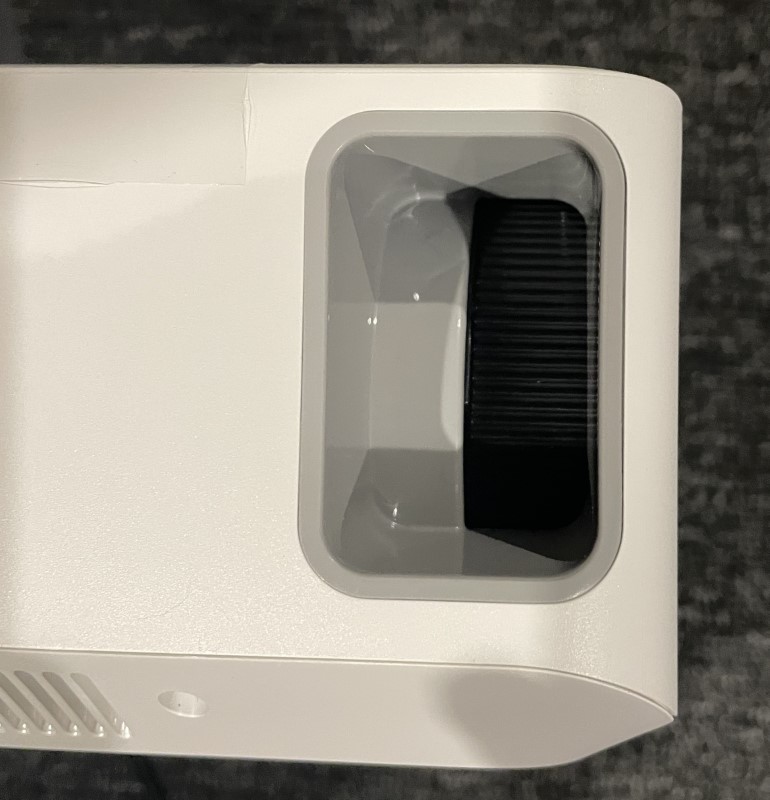 The opposite side of the Xgody X1 projector sports two HDMI ports, two USBs, an AV connector (for composite video), and a headphone/audio jack.  An HDMI cable is included.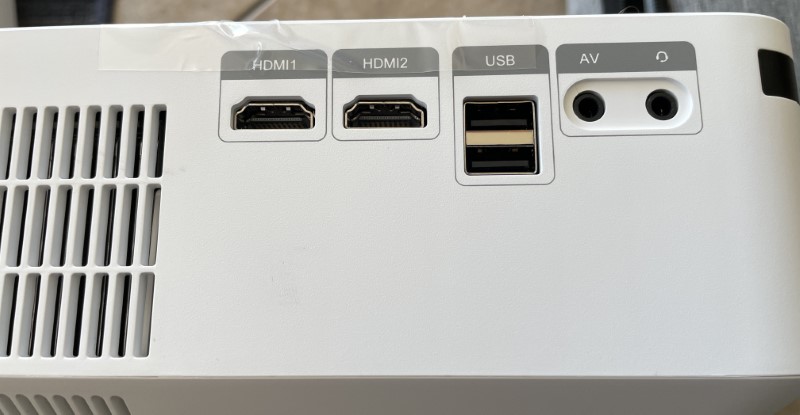 The rear of the projector houses the speaker grille.

The lens is coated glass.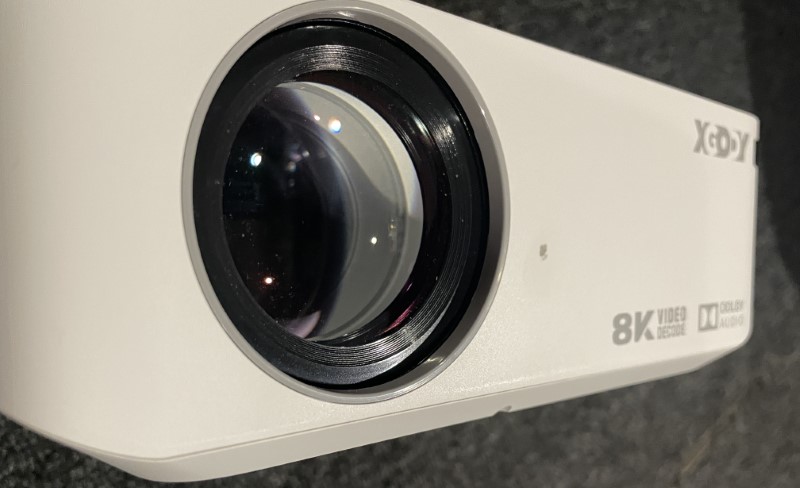 The bottom has rubber feet for table placement and a 1/4-20 mounting nut for ceiling placement which serves double-duty for the included height adjustment screw.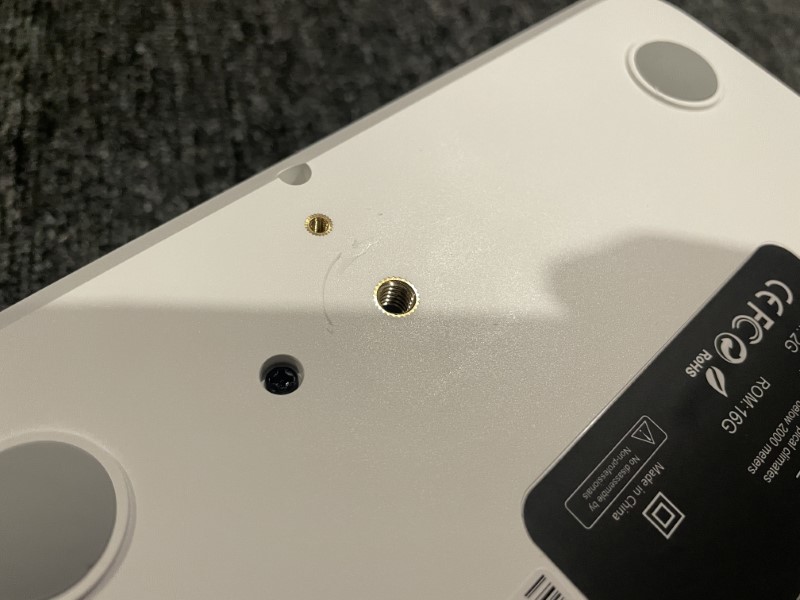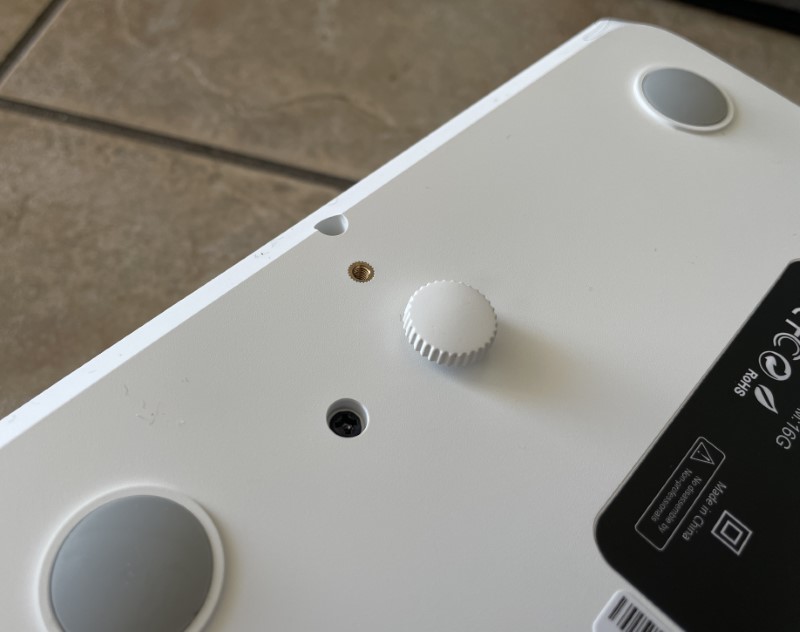 The Xgody X1 projector's top is equipped with a button bank. I found it a bit cumbersome to use, but it's much better than 100% reliance on the remote. A color-changing backlight that adds some slick pizzazz.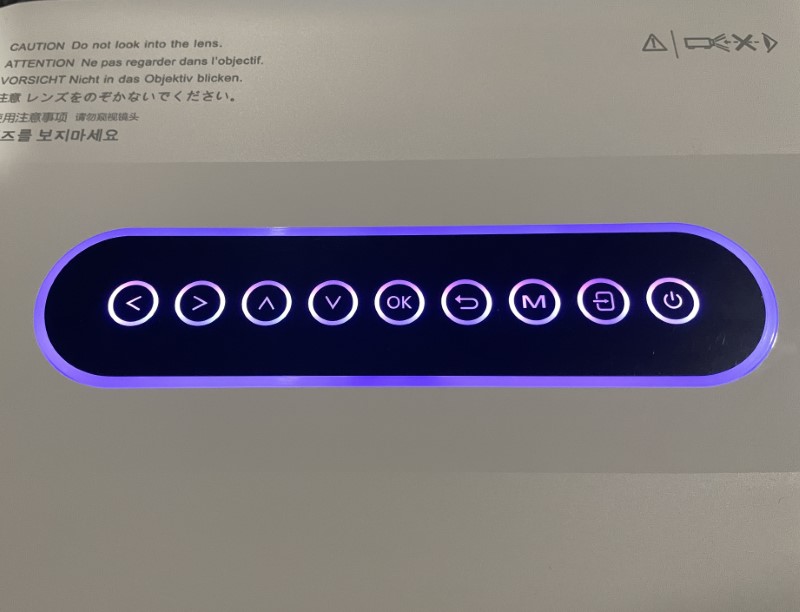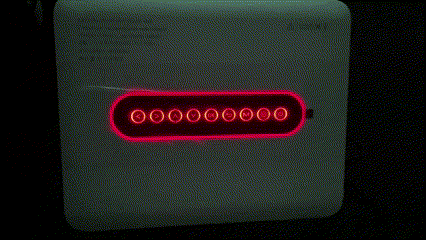 If pulsating LEDs don't fit your home décor, there are controls to change to one color or turn them off completely.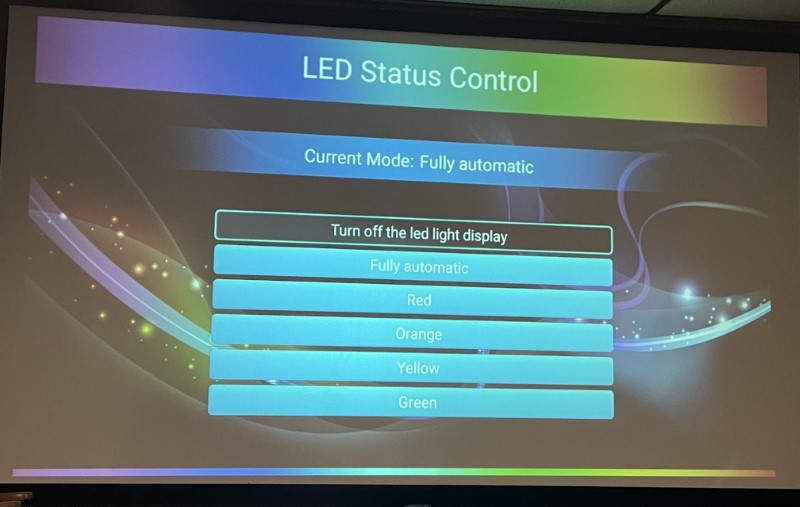 Speaking of the remote… Buttons have pleasant tactile "clicky" feedback. The remote functions as both infrared and Bluetooth and after pairing supports voice commands too.   An interesting function is "mouse mode" which pops an on-screen cursor that's controlled by the directional keys. I found this particularly useful in navigating streaming service menus.  For darkened room home theater use, backlighting on the remote would have been a big plus to help grow familiar enough to use without looking.
During a few weeks of testing, I had a few occasions when the Xgody X1 projector stopped responding to the remote (in both infrared and Bluetooth modes). Restarting the projector using the on-board button alleviated the issue every time.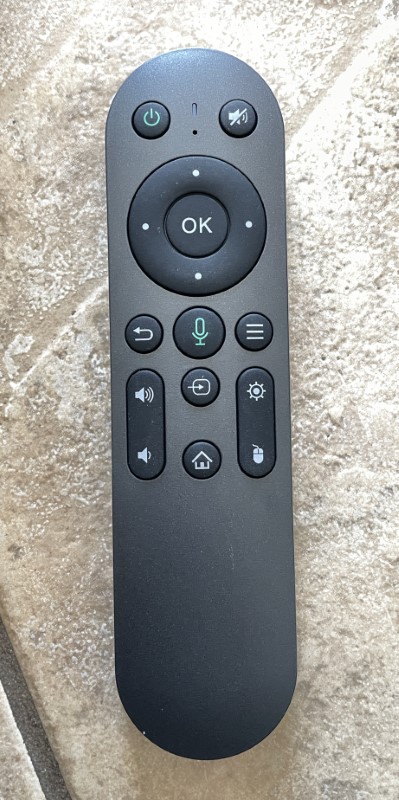 The remote uses two AAA batteries (not included).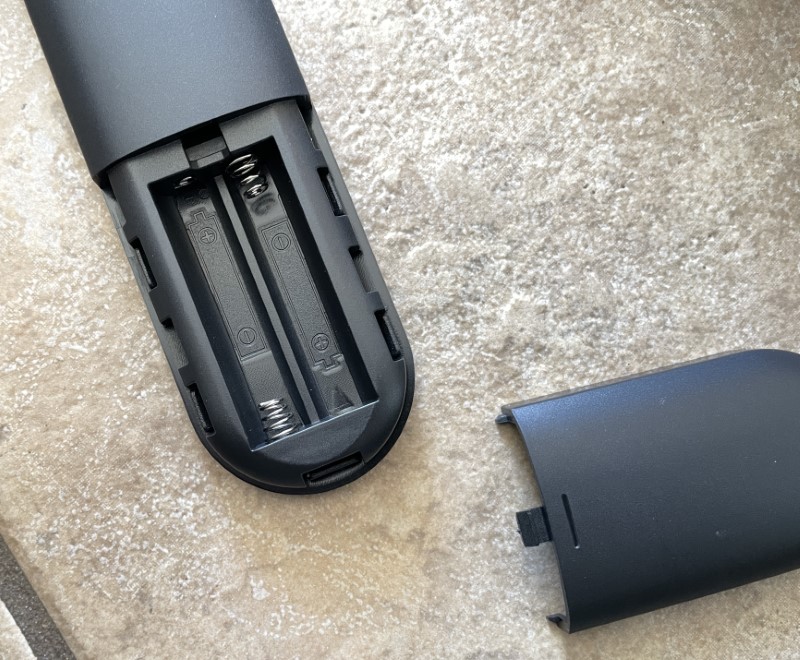 Firing up the projector the took about 30 seconds to progress through to the main menu. Initially, I tried using the onboard button bank to navigate the settings and WiFi connections. It works, but it's cumbersome. I was out of AAA batteries, so I trip to the store made the setup much easier. Most of the functions I needed can be launched from the main menu with a few button taps.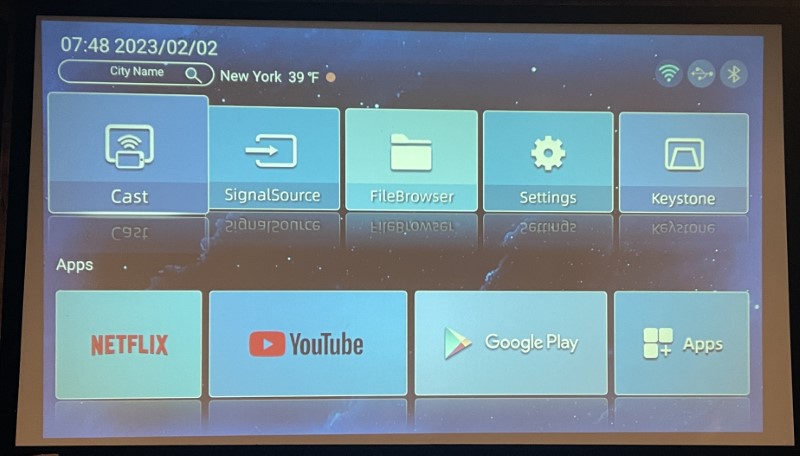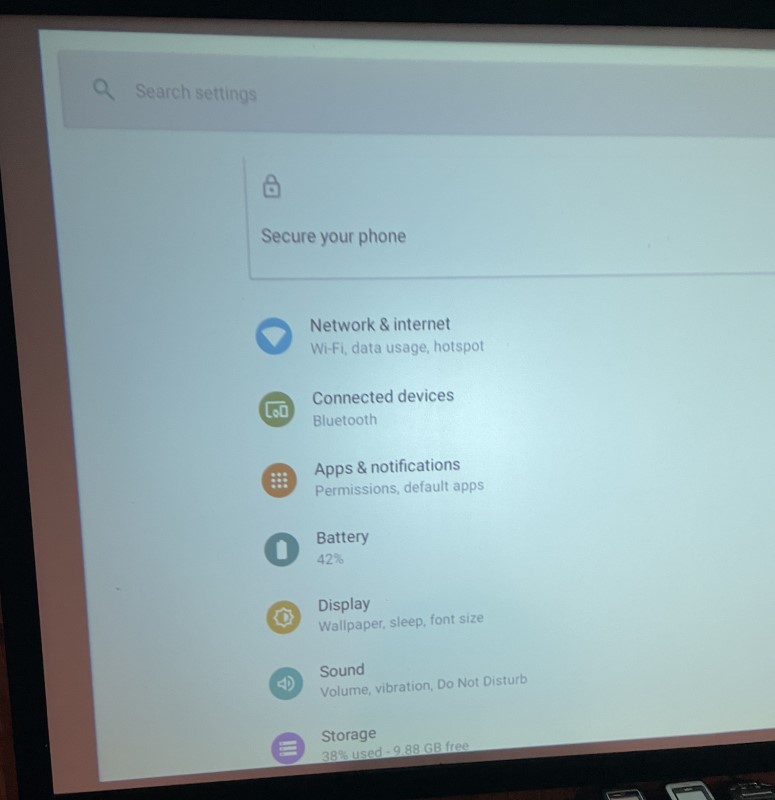 I had no trouble connecting the Xgody X1 projector to my home network and accessing Netflix, Amazon Prime, and HBOMax, but despite Disney+ and Hulu being pre-installed, I could not get them to work. I suspect there are some licensing issues. If these services are on your "must-have" list, a different streaming adapter or video source will be needed.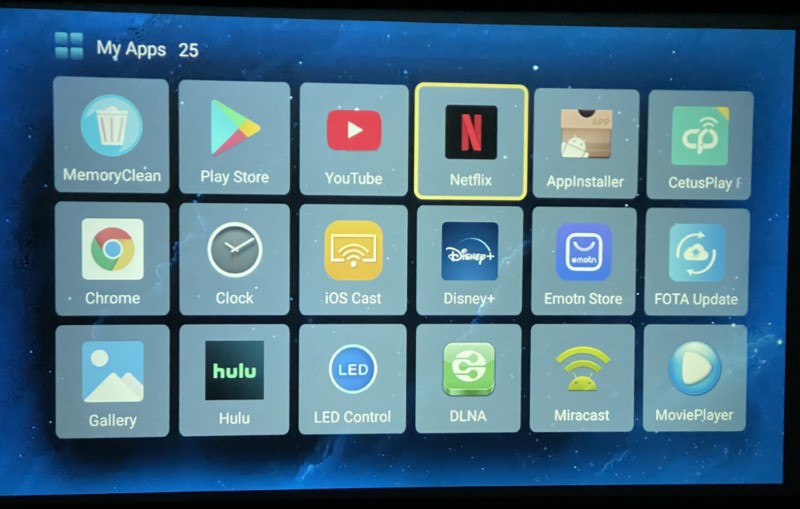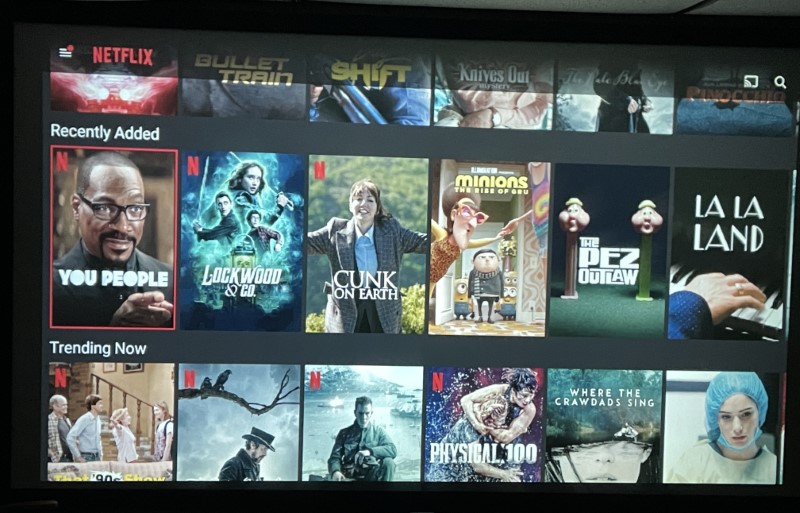 The X1 can be mounted in any orientation. For testing, I used a tripod.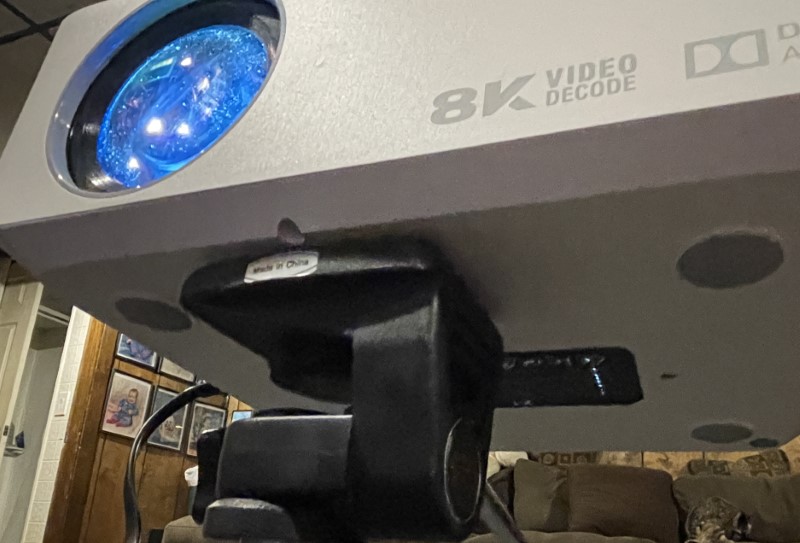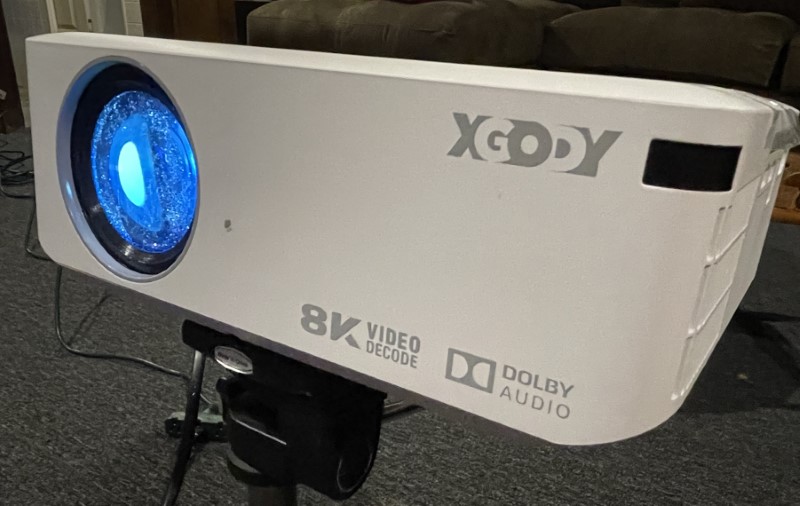 As with all projectors, the best image requires careful placement, but if that's not possible or practical, Xgody's X1 optical and digital zoom and four-corner "tombstone" correction settings can take care of discrepancies.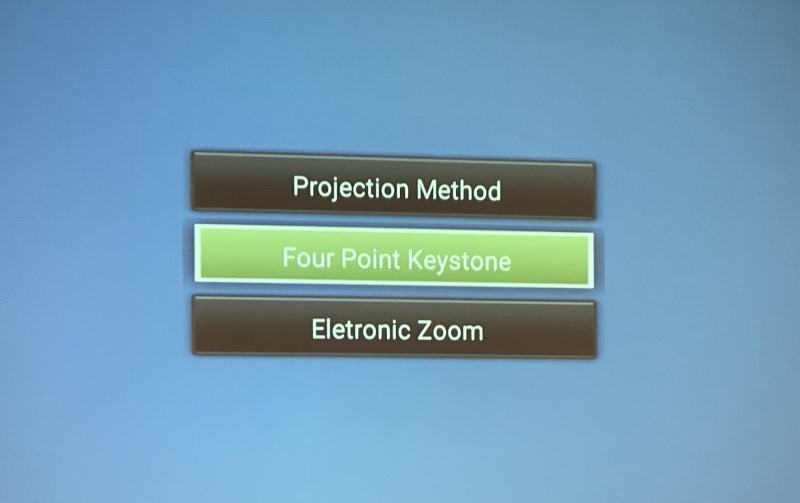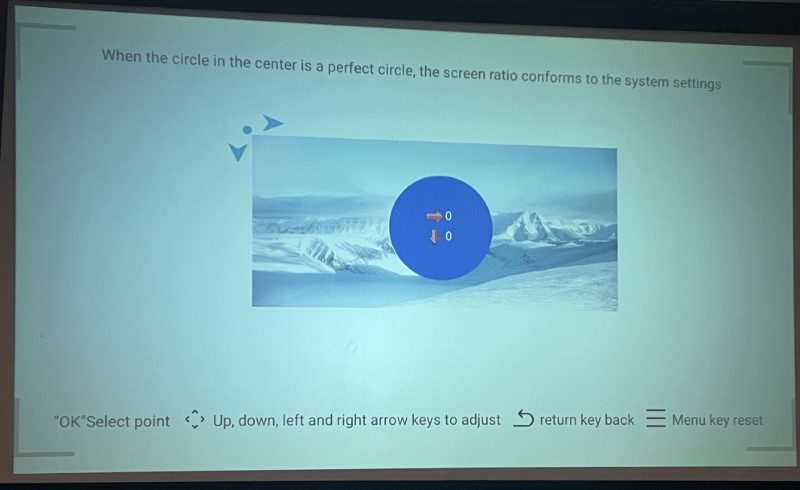 Once I had the image stable and focused, there was an obvious discrepancy in the advertised lumen output. Amazon states 12000 lumens, and the Xgody website, 9500. I don't have a way to measure luminosity, but I compared it to several other projectors and there's no way this projector is anywhere near these claims. Specs in the manual state 300 ANSI lumens, but it looks brighter than that to me. Whatever the measurement truly is, the documentation and sales literature should reflect an accurate value.

I logged into a few streaming services and spent a few weeks watching movies. found the image was pleasant to watch with good color rendition, no pixelation or artifacts, and smooth video quality.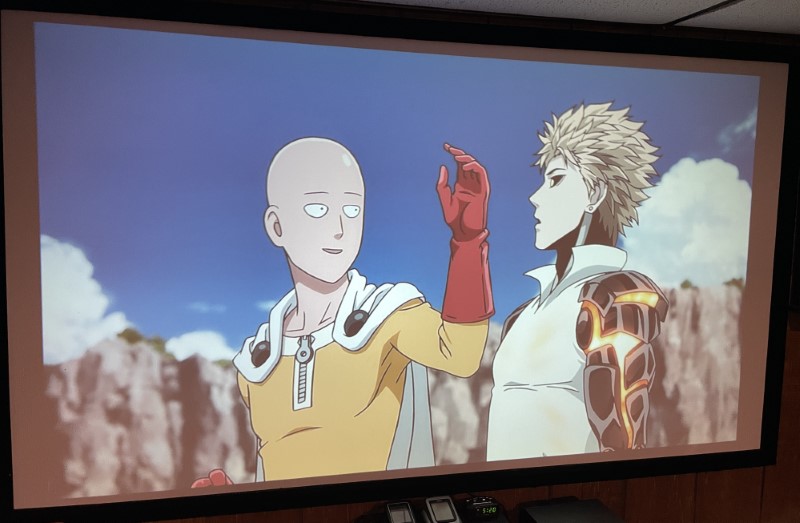 The small speakers have surprisingly pleasant audio quality, but the maximum volume is quite low so for a true cinema experience, an external setup wouldn't hurt.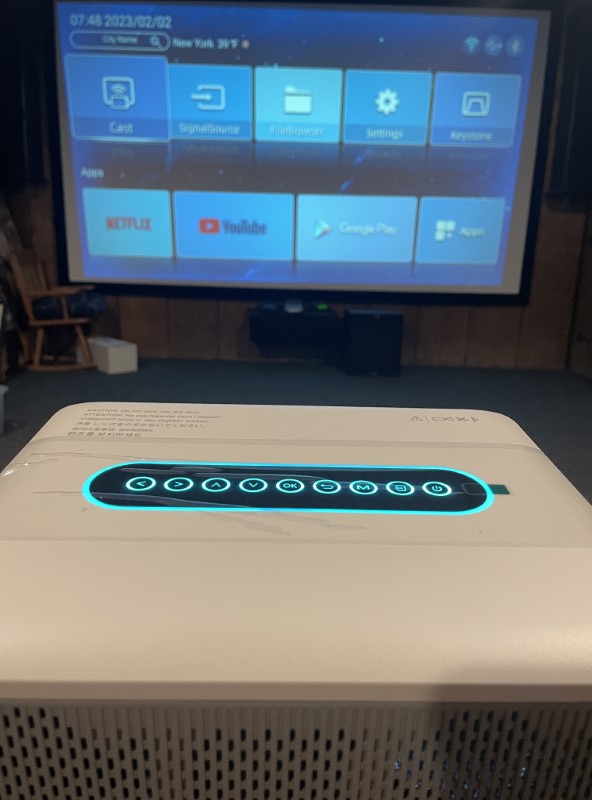 I was able to test screen mirroring using the Xgody X1 projector's "iOS Cast" without difficulty. It's worth noting that to use mirroring, location services need to be accepted and send data to offshore servers.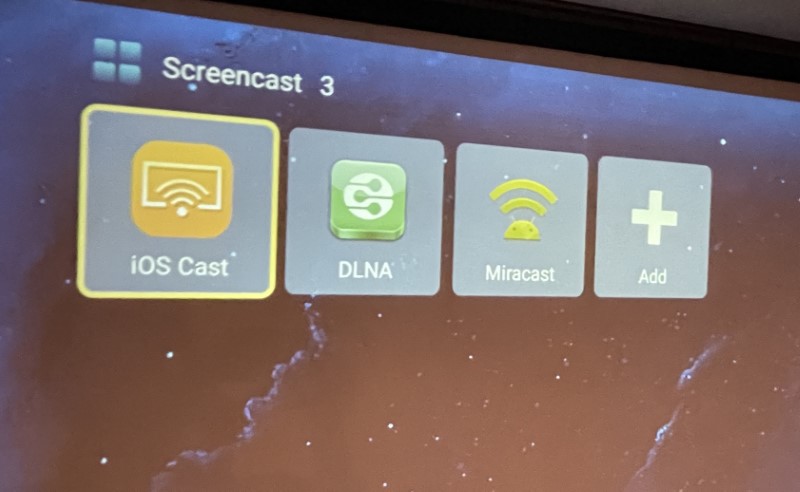 Oooh! Trippy camera screen mirroring!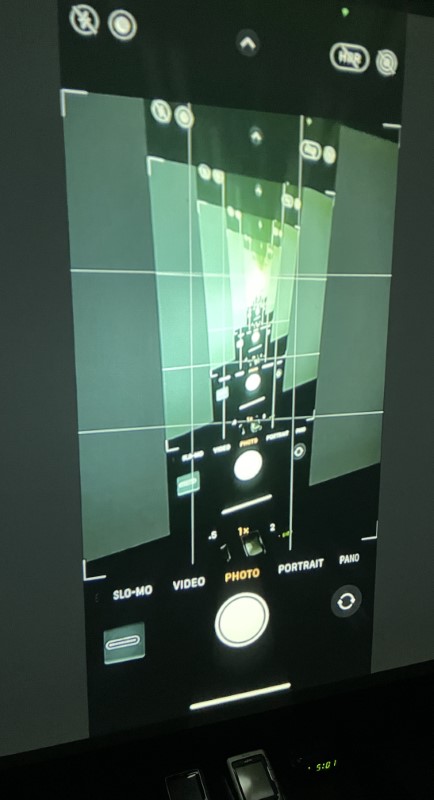 There's even an interesting clock app with an alarm, timer, and stopwatch.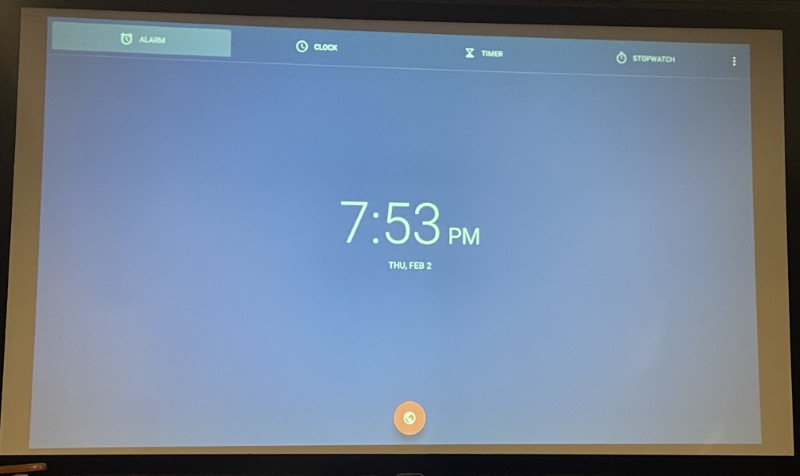 The file transfer app is very capable.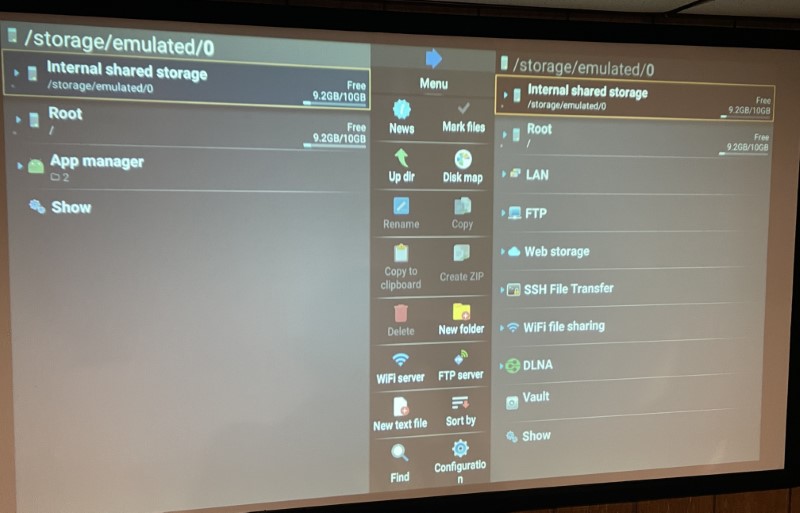 What I like
Remote control's mouse mode
What I would change
The advertised lumen ratings need to be corrected
Backlighting on the remote would be fabulous
What happened to Disney+ and Hulu?
Final thoughts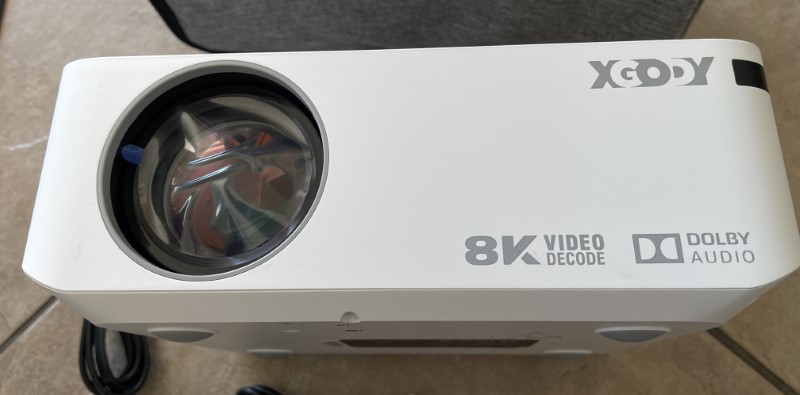 My daughter moved into a new apartment and loves to watch movies with her friends.  With support from many streaming services, the Xgody X1 video projector suits most of her movie-viewing needs without breaking the bank. Brightness and color are respectable, the audio is very good, but a bit on the quiet side, it's a good value, and great for "awww yeah, Football!" Thanks, Xgody!
Price:   $185.00, $249.99
Where to buy: Xgody and Amazon
Source: The sample for this review was supplied by Xgody.