We use affiliate links. If you buy something through the links on this page, we may earn a commission at no cost to you. Learn more.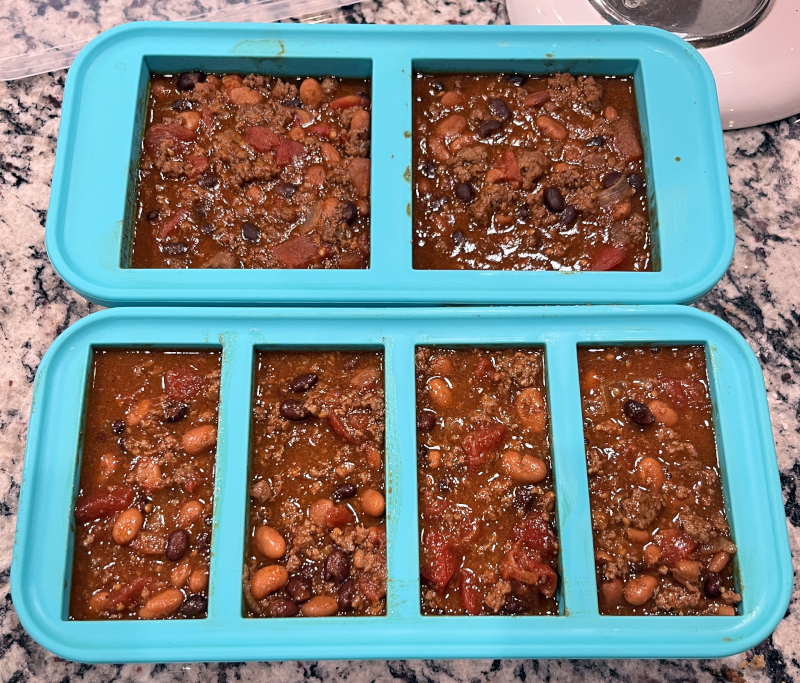 REVIEW – Cooking for two is always a bit of a challenge because most recipes are designed for four or more people, leaving my wife and me with more food than necessary.  One way to deal with the extras is to heat up the leftovers in the microwave for the next day or two.  Souper Cubes, however, solves this problem a different way by storing the extra part of the meal in the freezer.  If the recipe is something that has to all be cooked at once, like soups or stews, then the remainders are allowed to cool and then frozen.  If the recipe is something that can be divided up before cooking, like a casserole, then extra portions can be frozen and cooked later.  All I need is some way to store serving-size portions of the food in my freezer.  That's exactly what Souper Cubes provides!
What is it?
Souper Cubes are "the original freezer food trays to start freezing food in perfect portions for your family."  The trays are made from "100% US FDA-food grade silicone" and use an enclosed stainless-steel rim for support; the lids are thick plastic.  Souper Cubes trays have storage compartments (the "cubes") that come in four sizes:  two tablespoons, one-half cup, one cup, and two cups.  The lids are interchangeable among the various trays.  Souper Cubes also makes trays for freezing cookie dough and for breast milk as well as baking dishes.
What's in the box?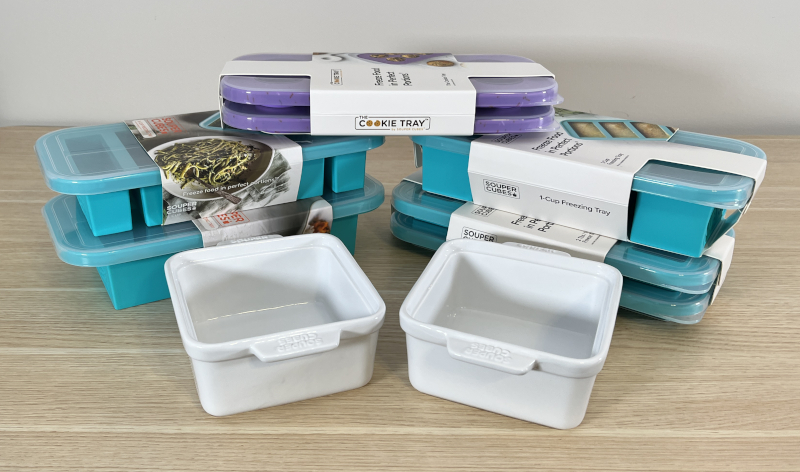 Souper Cubes can be purchased individually, if you only want a certain size, or in various bundles, if you want multiple products.  Souper Cubes graciously sent me five Souper Cubes trays as well as a pair of cookie trays and a pair of stoneware baking dishes.
Specifications
Souper Cubes has the following specs:
Materials:  The Souper Cube trays are made from 100% US FDA-food grade silicone.
Dishwasher:  The trays and lids are dishwasher safe.
Microwave:  The trays are microwave safe, but this is not recommended and voids the warranty.
Oven:  The trays are oven safe to 415 degrees.
Size:  Souper Cubes are 11.5 x 5.5 x 2.1 to 2.9 inches; cookie trays are 11.75 x 5.75 x 1 inch; baking dishes are 5 x 5 x 2.5 inches.
Design and features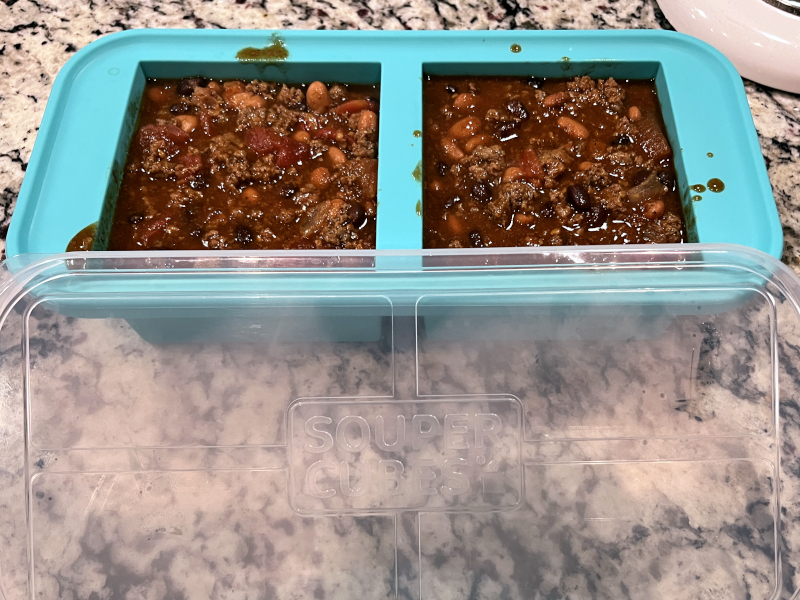 The Souper Cubes trays come in one color, a turquoise shade of blue.  They are about the size of an ice cube tray (11.5 by 5.5 inches), if you can still remember those.  The height varies depending on the tray (2.1 to 2.9 inches).  The lids are nearly translucent, allowing me to see what is stored in the trays beneath.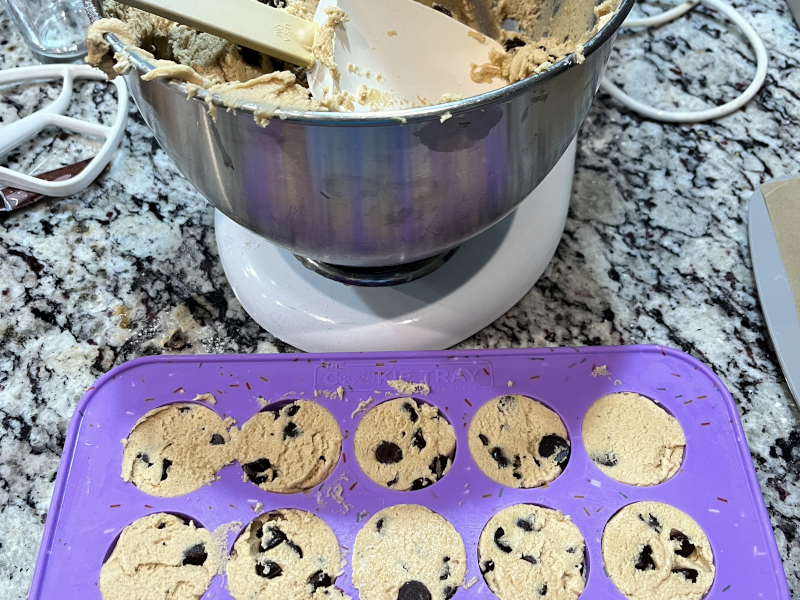 The cookie trays have a similar size (11.75 by 5.75 inches), though they are noticeably shorter at one inch.  They come in an amethyst shade of purple flecked with little sprinkles of color, and the lids are very similar to those for the Souper Cubes trays.  The volume of the cubes, which are actually little cylinders, is 1.6 tablespoons.
When I handle the Souper Cubes and cookie trays, I am immediately impressed with how thick the silicone is and how sturdy they feel.  With the enclosed steel rim and the stout lid, these trays stand up remarkably well even when empty; when they are full of food, they are very stackable in the freezer.  I would consider them to a premium product.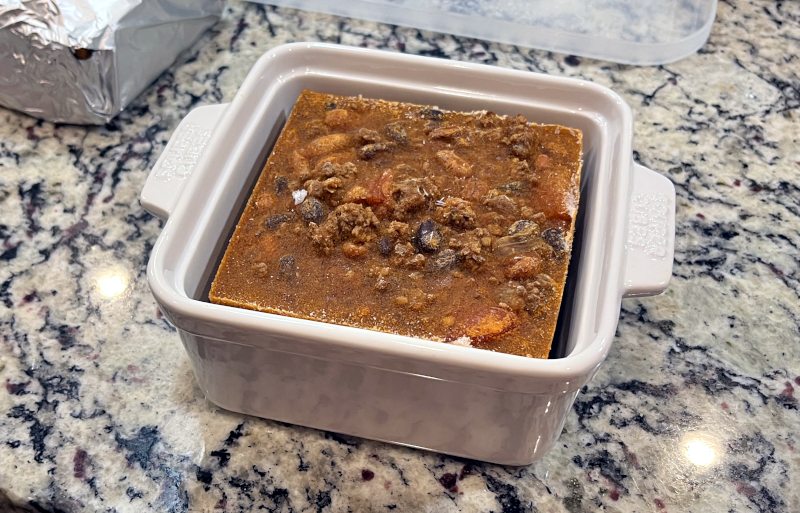 The all-white baking dishes (5 by 5 inches and 2.5 inches tall) are exactly the right size for baking the contents of the two-cup Souper Cubes tray.
Performance
My wife had previously seen Souper Cubes on Shark Tank—she's an avid fan—so she was very excited to give them a try, as they earned Lori's "golden ticket."
The basic idea of the Souper Cubes trays is to freeze meals (or ingredients for meals), but there a couple of variations on how you can do this.  One variation is that you can cook the food first, then freeze the finished product in meal-sized portions.  This works best for meals whose ingredients need to all be cooked together, like stews and soups.  Alternatively, you can put the raw ingredients into the trays, freeze them, and then cook them later.  Either way, you pour the food into the trays, whether hot or cold, pop the lids on, and then put them into the freezer.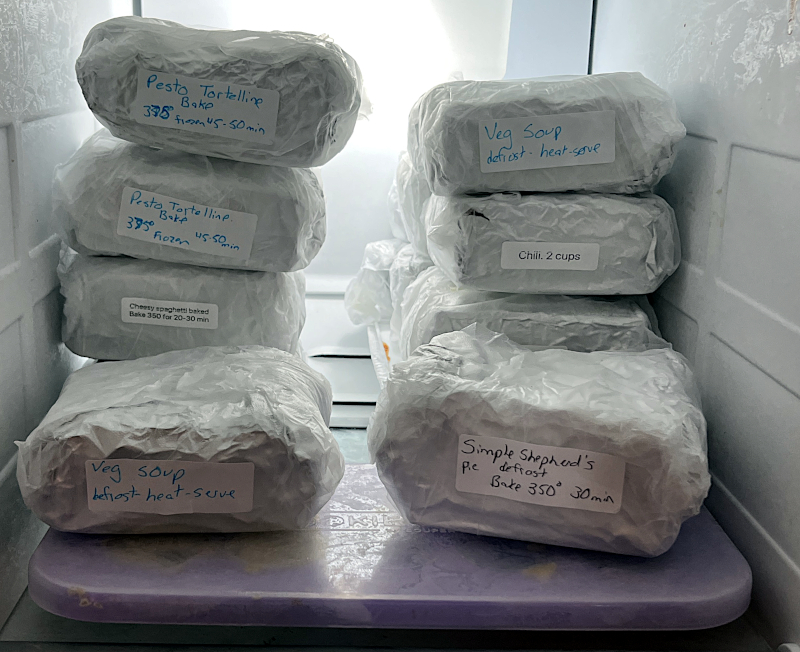 Another variation is how you use the trays in the freezer.  If you have a lot of trays, you can keep your freezer meals in the trays, thus using them as storage.  If you only have a few trays, you can use them as molds instead; in other words, once the meals have frozen, you pop them out of the tray, store them in bags or wrap them in aluminum foil, then put them back in the freezer.  This allows you to keep on reusing the trays, which is what my wife typically did.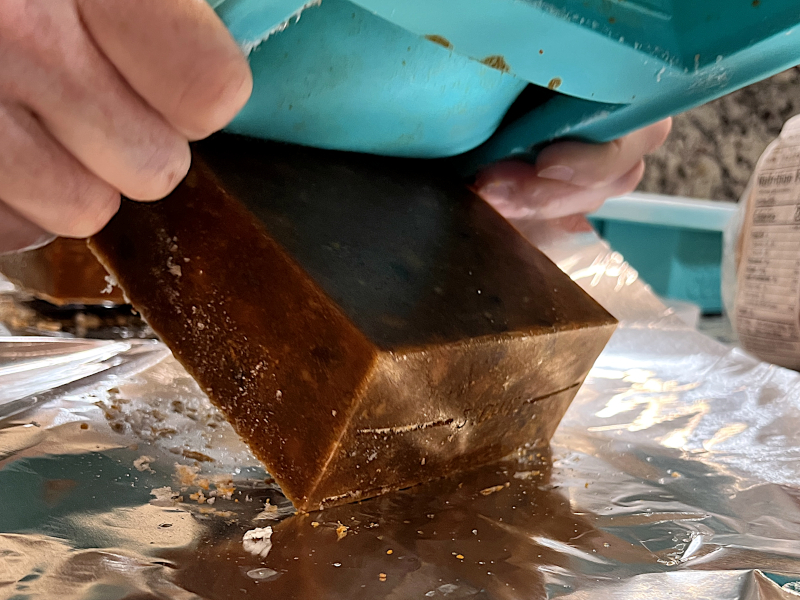 Whenever you're ready to eat your meal (or use the frozen ingredients for cooking), they are ready to go.  If you stored a meal in the two-cup trays, then then you can pop them into the bakers and bake your meal.  Alternatively, you could reheat them in the microwave, put them on the stove in a pot, or cook in a toaster oven; Souper Cubes provides a lot of flexibility.
My wife tested the two-cup Souper Cubes trays for a few different meals, including chili, which she cooked before freezing, and shepherd's pie and pesto tortellini bake, which she did not cook before freezing.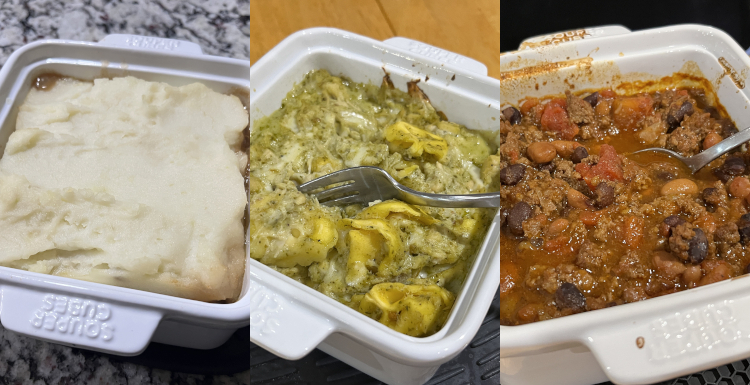 For three successive evenings, I tested these meals by pulling one out of the freezer before lunch and putting it into the square baker.  By dinner time it was thawed out, so I put it into our toaster oven and set it to bake for 30 minutes.  A perfectly cooked meal every time.  Souper Cubes is a great way to do freezer meals.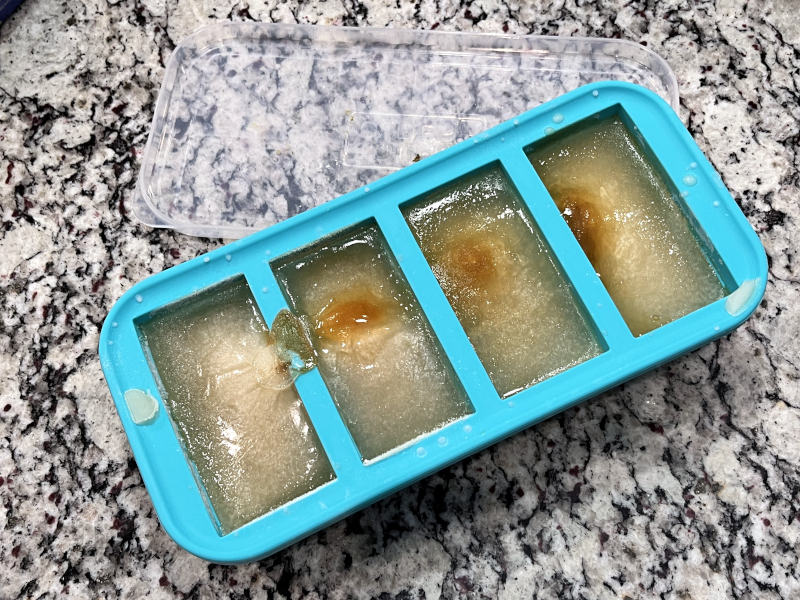 My wife froze some chicken broth in the one-cup trays, which allows her to easily use them for soups, dumplings, dressings, gravy, or anything else that uses broth.  When using Cilantro paste and ginger paste in recipes, my wife rarely uses the entire tube.  She used the two-tablespoon trays to store the remainders, allowing her to preserve them for longer.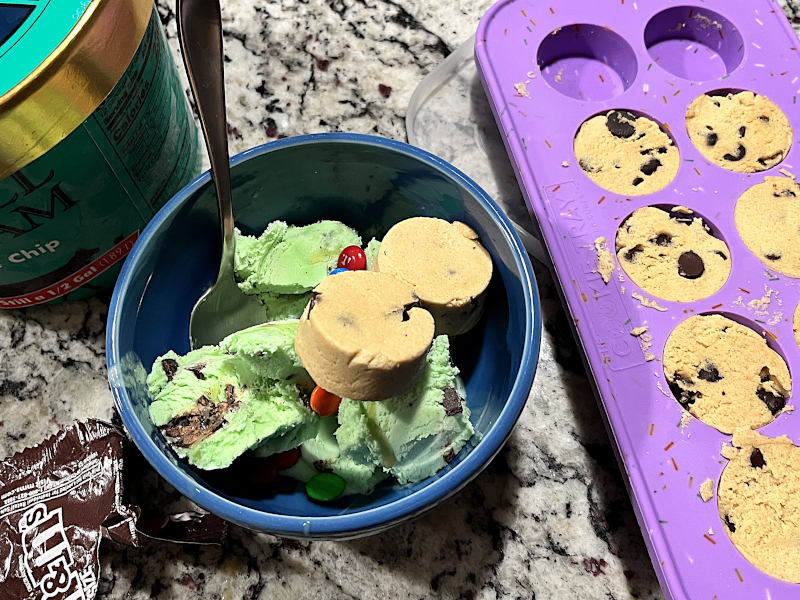 My favorite dessert in the whole world is my wife's chocolate chip cookies, and I often sample a fair amount of the dough before she can get it into the oven.  Souper Cubes says that their cookie dough trays allow freshly baked cookies to be readily available.  While true, it seems like a bit of a waste to heat up the oven every time I want cookies, so I found a better use for these trays:  Just eating the raw cookie dough!  Sometimes I had them with ice cream; other times I just ate them straight up.  Fantastic!  For me personally, this was the best part about testing the Souper Cubes products.
What products would my wife and I recommend that you purchase if you want to try Souper Cubes?  We found the two-cup trays to be far and away the most useful sizes, so we would recommend getting the freezer-to-table set and using the trays as molds.
If you want to splurge and try additional sizes, you could get the ultimate gift set or the complete set.
If you love cookies and cookie dough as much as I do, then simply buy as many of the cookie trays as you can afford!
Extra Features
Souper Cubes also has trays for storing breast milk, if you're a nursing mother.
What I like
Here's what I like:
Food grade silicone
Sturdy design
Baker dish sized for the two-cup tray
What I'd change
Here's what I would change:
Additional color options would be nice
Final thoughts
Souper Cubes food trays are a great way to freeze meal portions and extra ingredients in four specific volumes.  They can be used to store frozen meals, or they can be used as a mold, storing the frozen food in a bag or aluminum foil.  Souper Cube trays are substantial and stack up well even when empty.  Meals that are frozen using the two-cup tray fit perfectly into their baking dish for cooking in an oven.  Souper Cubes also has trays for cookie dough and breast milk.  My wife and I have found these trays to be very helpful when preparing a variety of freezer meals.  For us, the two-cup trays and matching baking dishes were the most helpful products, and we recommend that you purchase them first and give Souper Cubes a try!
Price:  $64.95 for a pair of two-cup trays and two baking dishes
Where to buy:  Amazon or Souper Cubes' online store
Source: The sample for this review was provided by Souper Cubes.