We use affiliate links. If you buy something through the links on this page, we may earn a commission at no cost to you. Learn more.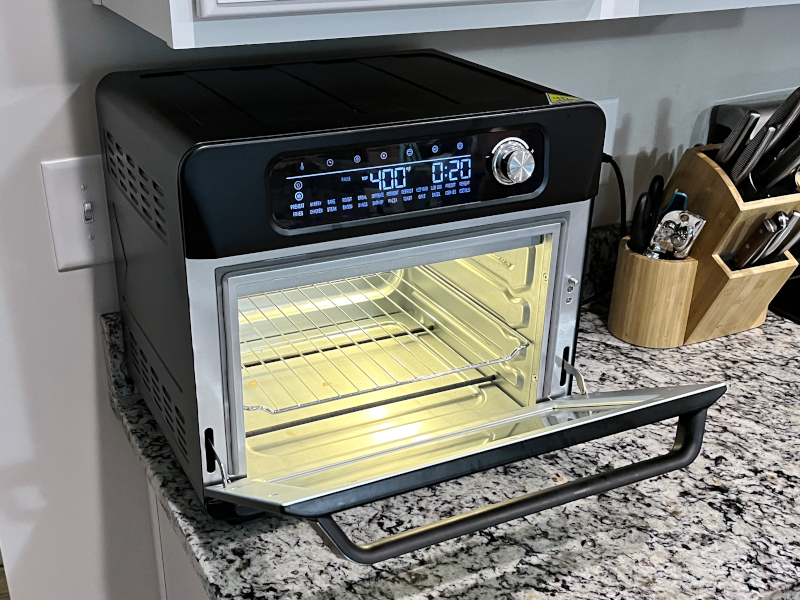 REVIEW – Earlier this year I tested an air fry toaster oven for the first time.  I really liked being able to replace two gadgets, an air fryer and toaster, with a single gadget, especially since we gained all the functionality of a toaster oven as well.  While my wife and I have been using this gadget regularly, there were three things that we wish were different about it:  We wanted digital controls instead of analog ones, presets for common settings (e.g., toast, French fries), and trays that were dishwasher safe.  PARIS RHÔNE recently came out with a new air fryer toaster oven, and I think it's going to satisfy all of our wants for this kitchen appliance.  Is this the one we've been waiting for?  Read on to find out!
What is it?
PARIS RHÔNE's Air Fryer Toaster Oven Combo (model PE-AF006) is a kitchen gadget that combines four appliances into one.  It is an oven, a toaster, an air fryer, and a dehydrator.  It is controlled by a touch-sensitive digital control panel and a radial control knob, it has 24 presets, and it comes with a drip pan, an oven rack, and an air fryer basket, all of which are dishwasher safe.  PARIS RHÔNE creates "exceptional smart home appliances that add value to people's lives."
What's in the box?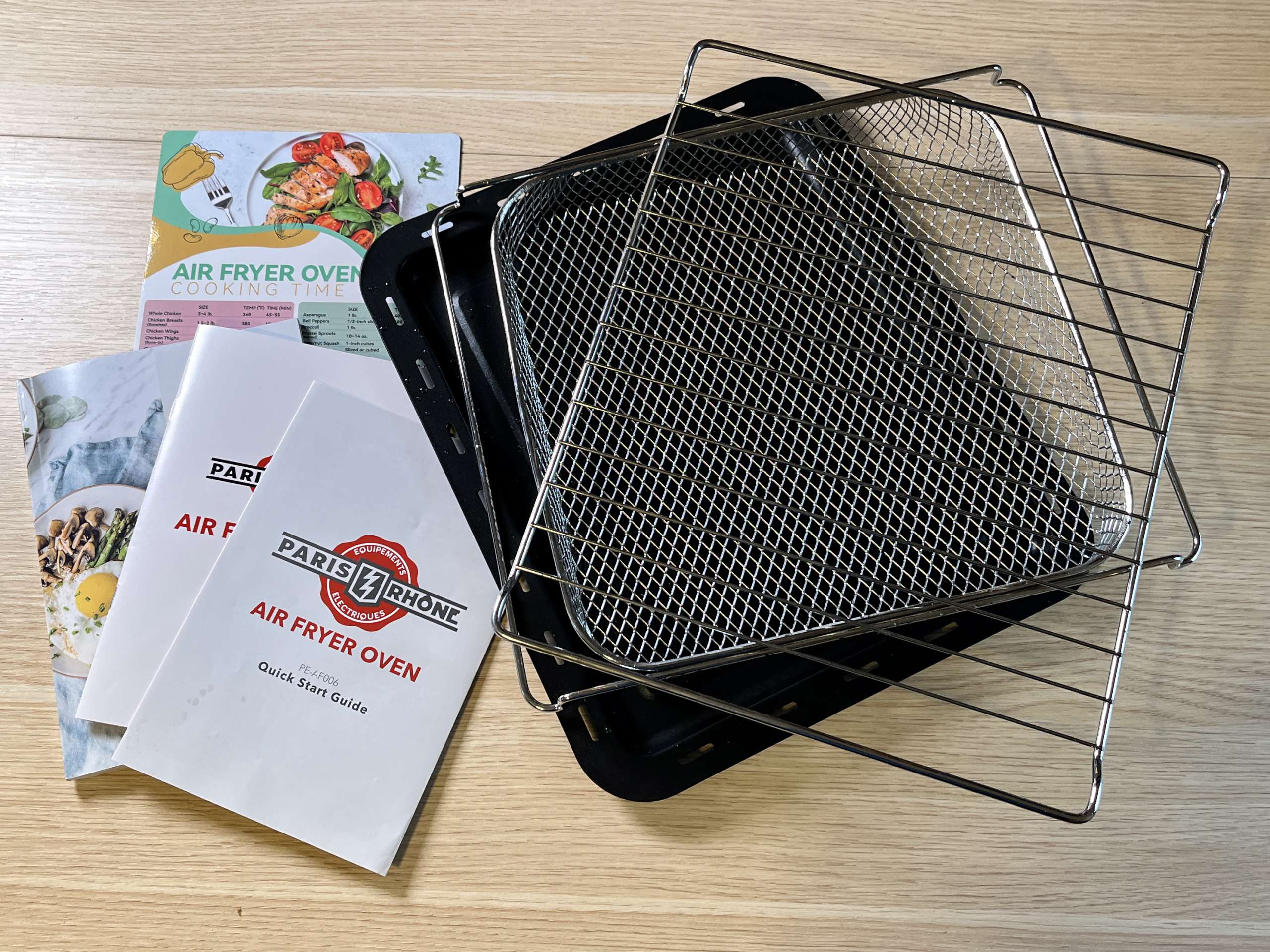 PARIS RHÔNE Air Fryer Toaster Oven
Air fryer basket
Wire rack
Drip pan
User manual
Quick start guide
Magnetic cheat sheet
Cookbook
Hardware specs
Power:  1700 watts
Capacity:  26 quarts
Temperature:  100 to 450 °F
Presets:  24
Dimensions:  17 x 16 x 16 inches
Material:  Stainless steel
Color: Black
Design and features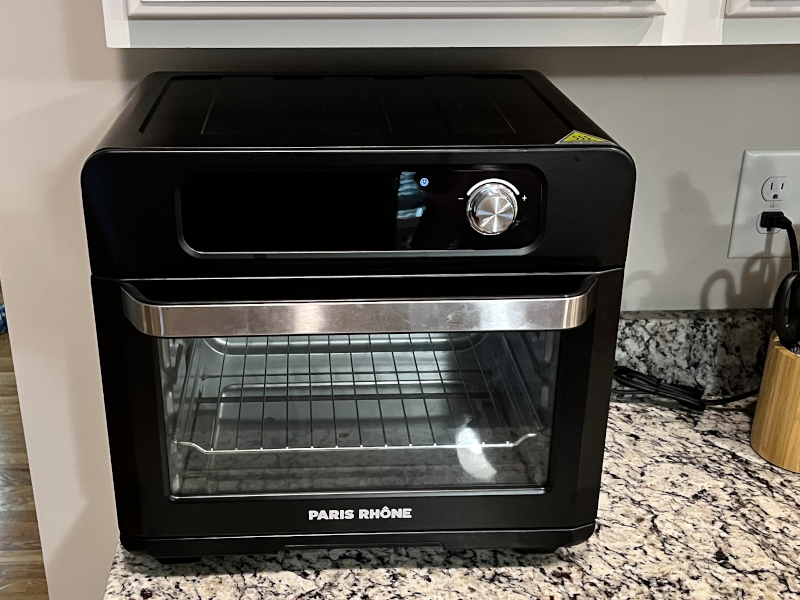 The PARIS RHÔNE Air Fryer Toaster Oven is a cubic-shaped kitchen appliance whose design is similar to other toaster ovens.  The front has a set of digital controls and a large glass door that opens downward, like a traditional oven.  It has a matte black color and is made of stainless steel.  The top is smooth and the sides have multiple air vents.  It's a straightforward, practical design that sticks with what works.  One thing that did catch me a bit off-guard is the size.  Our last toaster oven was approximately 13 inches on all sides, but the PARIS RHÔNE one is approximately 16 inches on all sides.  That doesn't sound like much of a difference, but it makes for a surprisingly larger appliance; make sure you have enough room on your counter.
Installation and setup
The PARIS RHÔNE Air Fryer Toaster Oven arrived well-protected in a sturdy box with styrofoam inserts.  There really wasn't any setup required, except to remove it from the packaging and wash the trays.  The Quick Start Guide and the User Manual are nearly identical in content, so much so that I'm really not sure why PARIS RHÔNE bothered to include both.  In any case, the manuals are pretty light in content; reading them gave me a general idea of what I needed to do, and with a little experimentation I figured things out.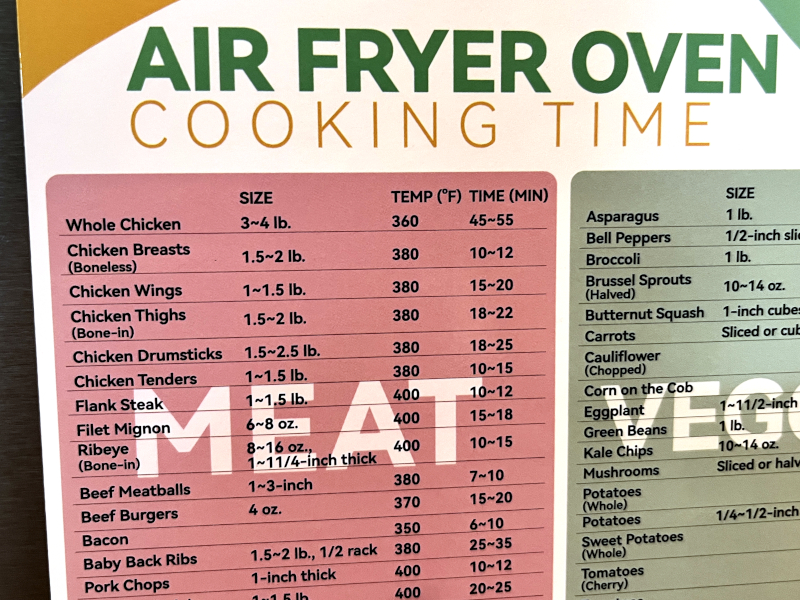 PARIS RHÔNE included a cheat sheet.  It's literally a 6.5 x 10-inch magnet that I stuck to the front of the fridge; it's full of recommended temperatures and times for a variety of meats, veggies, frozen foods, seafood, and desserts.  What a wonderful idea!  This gives me a good starting place for almost anything that I'd want to prepare in the toaster oven.  Every toaster oven should include one of these.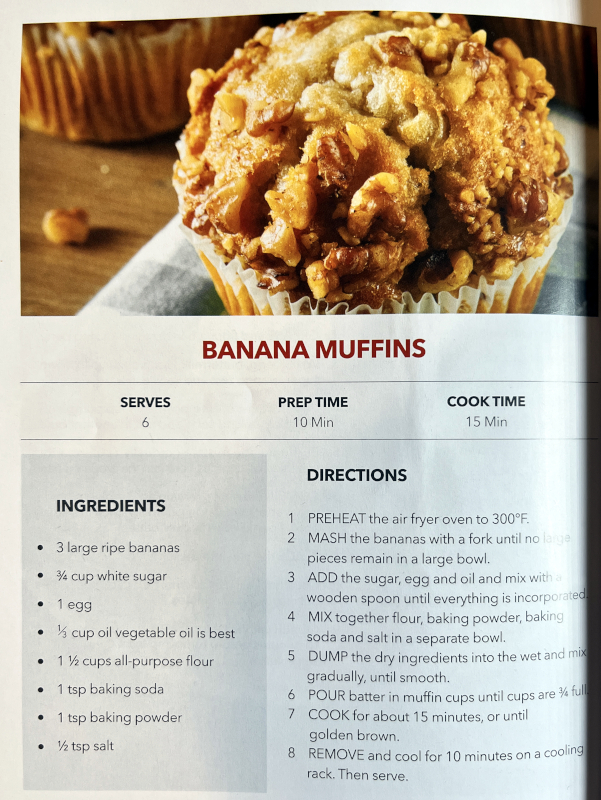 The PARIS RHÔNE Air Fryer Toaster Oven also comes with a cookbook, and it is undoubtedly the best cookbook that I've ever gotten with a kitchen gadget.  It has 128 pages and includes several types of recipes that use the toaster oven, the air fryer, and even the dehydrator features.  Scanning through it, I quickly found 18 recipes that I want to try.  PARIS RHÔNE has gone above and beyond in this department.
Performance

The PARIS RHÔNE Air Fryer Toaster Oven comes with a control panel that includes four different types of controls.  The operating buttons are the seven capacitive buttons across the top that are used to control what the toaster oven does.  Below them is a digital display that shows the current temperature and time as well as other status info.  At the bottom are the 24 presets.  Although they look just like the operating buttons, they aren't actually buttons.  They are just options that can be selected by rotating the control knob on the right.  There are two rows of presets, each with twelve choices.  The upper row has all ways to use the oven (e.g., air fry, bake, dehydrate, reheat), and the bottom row has common foods (e.g., fries, bacon, pizza, bagel).  I really like all these presets, but I wish they were in alphabetical order, as there are a lot of them to look through.  Once a preset is chosen, the time and/or the temperature can be adjusted using the time and temperature buttons and the knob.  When ready, the start button begins heating the oven.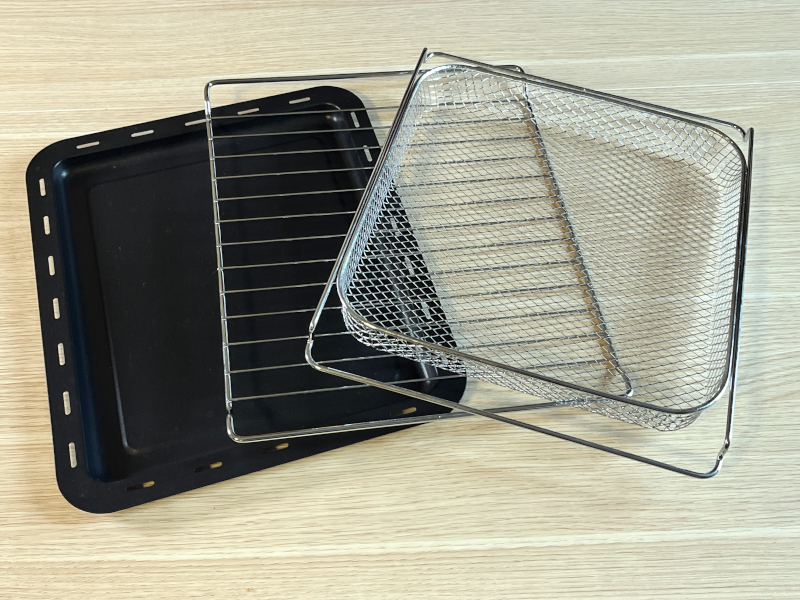 PARIS RHÔNE has included three trays with this toaster oven.  The air fryer basket is used for anything that is done via the air fryer, like French fries and tater tots.  The wire rack is the most used tray, and it's good for anything that just needs somewhere to sit, like pizza, toast, and muffins.  The drip pan is usually placed under one of the other two to catch anything that might drip, like melted cheese from a pizza or grease from potato wedges.  All three trays are dishwasher safe, which makes cleanup a breeze.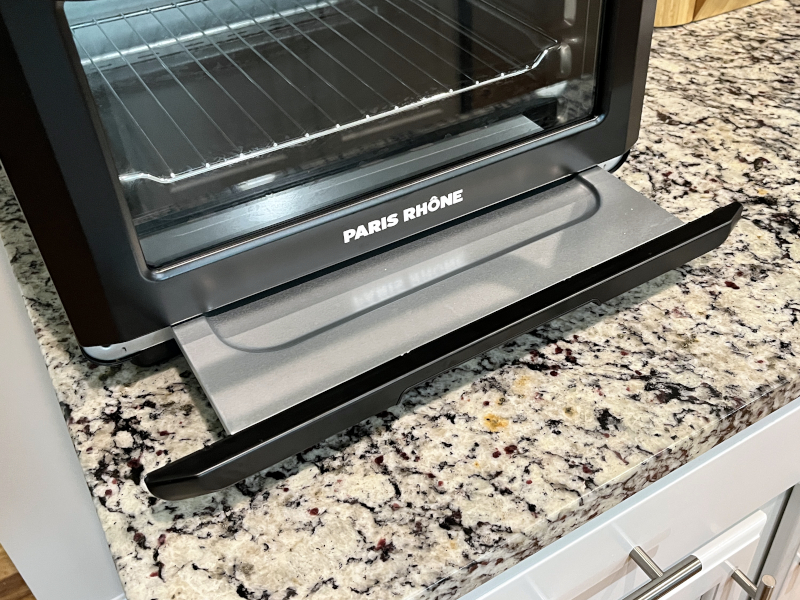 Underneath the burner, there's a built-in crumb tray for catching anything that falls through.  It's easy to slide out and clean.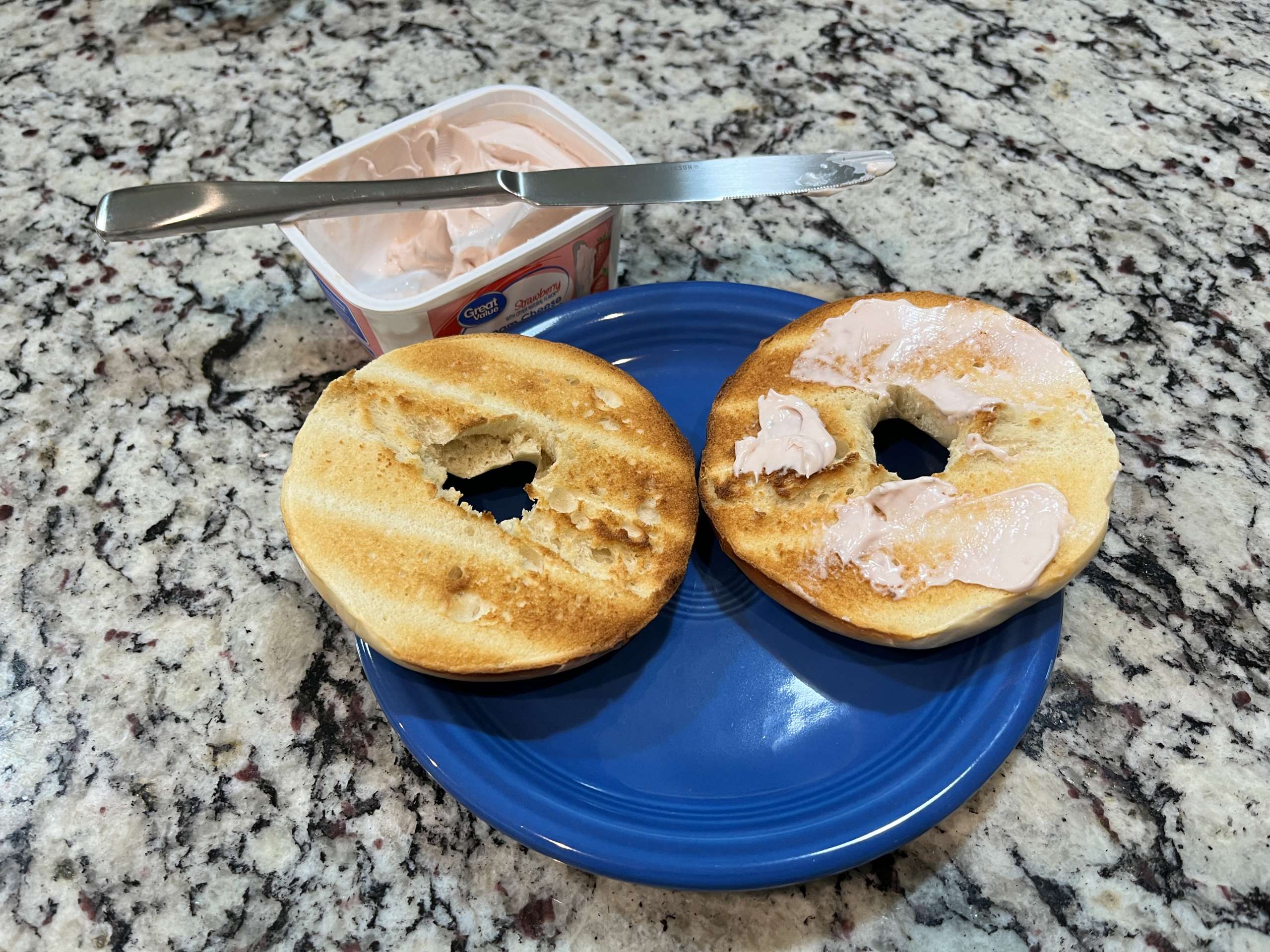 For the last few weeks, my wife and I have been using the PARIS RHÔNE Air Fryer Toaster Oven to prepare a variety of foods.  We tried the bagel preset and found that it was slightly overdone for our tastes, but still quite edible.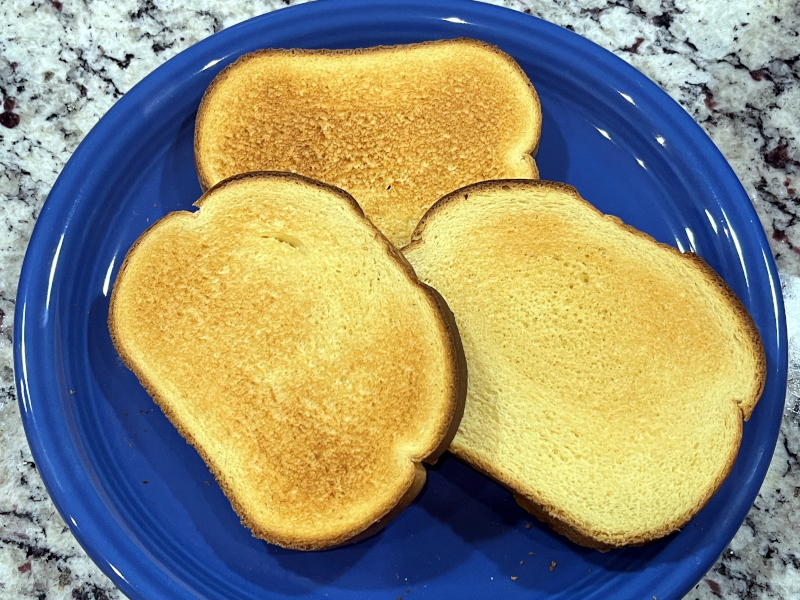 When we used the toast preset, we found that we also have to select the number of pieces of toast.  When we tried one, it hardly toasted it.  When we tried three, it slightly overtoasted them.  I think we'll need to tweak the default settings a bit.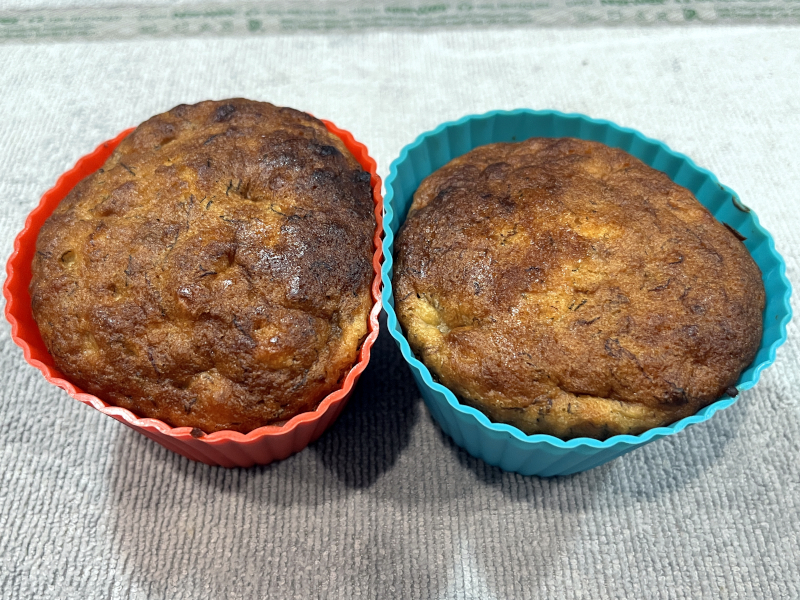 My wife followed the recipe in the cookbook for banana muffins (p115).  When the timer went off, she found that they were still just a bit raw.  She added another 5 minutes, but when that finished, the tops and the bottoms were almost burnt, as you can see in the picture, which should not have happened so quickly.  We did a little detective work and found something strange about this toaster oven.  Any time it is finished and the timer goes off, whether cooking or preheating, the toaster oven resets itself to the default time and temperature (20 minutes at 400 °F).  My wife didn't realize that the toaster oven changed the temperature on her—it had raised it!—which is why the muffins nearly burned.  This is easily the most aggravating "feature" about this appliance, and I'm utterly confounded as to why the engineers at PARIS RHÔNE did this.  Our traditional oven doesn't reset itself after preheating or when the timer goes off.  Neither does any toaster or air fryer that we've used.  It's only this one appliance.  I really wish the PARIS RHÔNE Air Fryer Toaster Oven would simply leave the temperature where it was and the time at zero until the user makes a change.  Honestly, this is so annoying that it alone is probably a good reason to skip this appliance and look for another.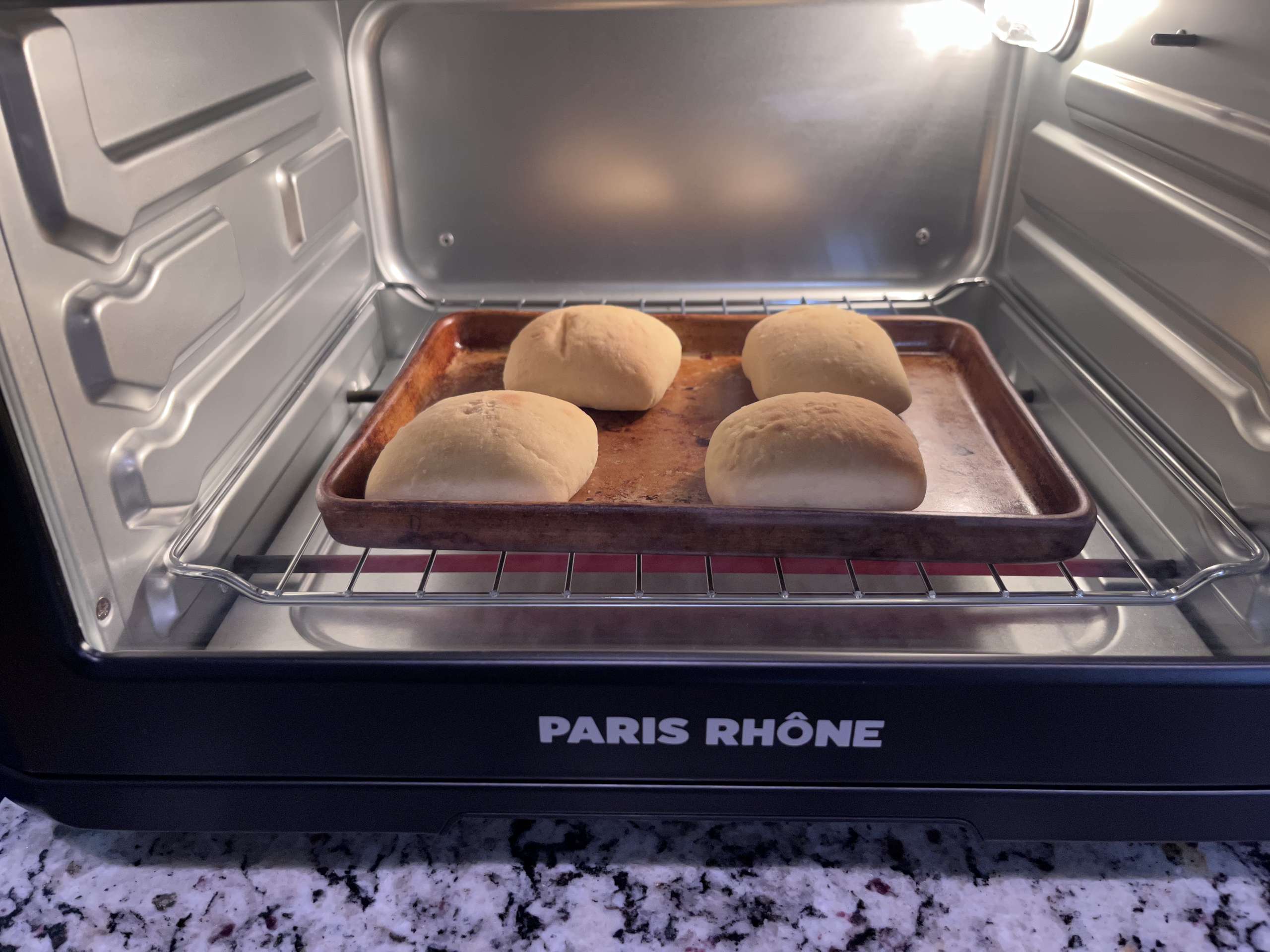 My wife baked frozen rolls, and they turned out perfect.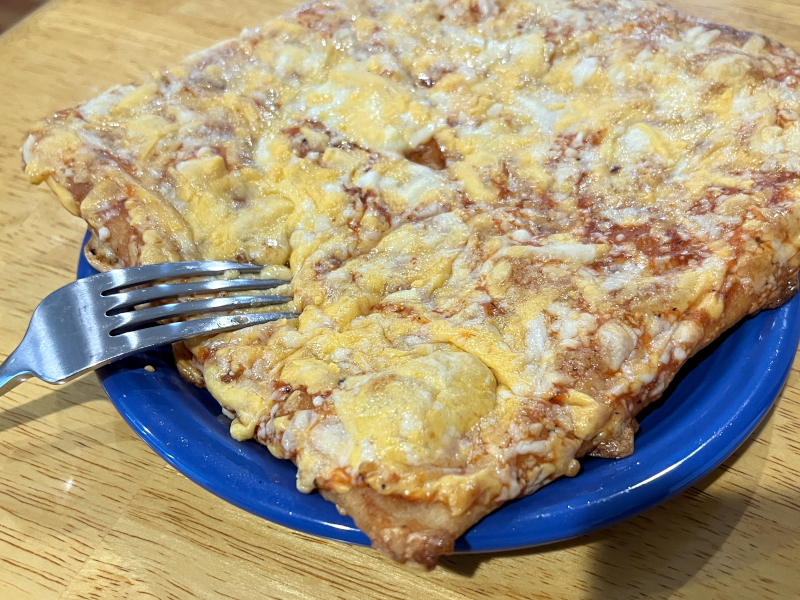 I baked a cheap frozen pizza one night for a snack, and though the pizza itself left something to be desired, it was baked perfectly.  The preset was spot on for this.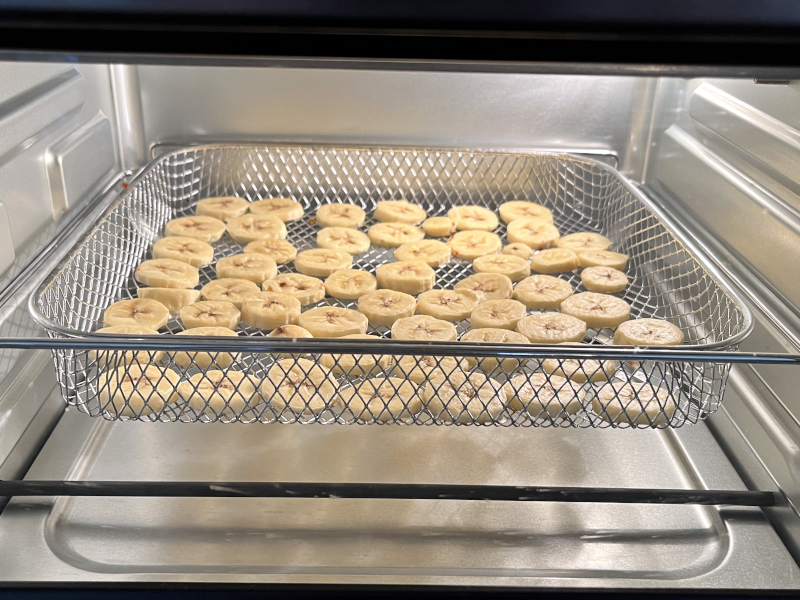 In the cookbook, I saw recipes for dehydrating apples and bananas, so we decided to give it try with the bananas (p126).  It was super easy to do, basically coating the slices in lemon juice and putting them in the toaster oven on the dehydrate setting.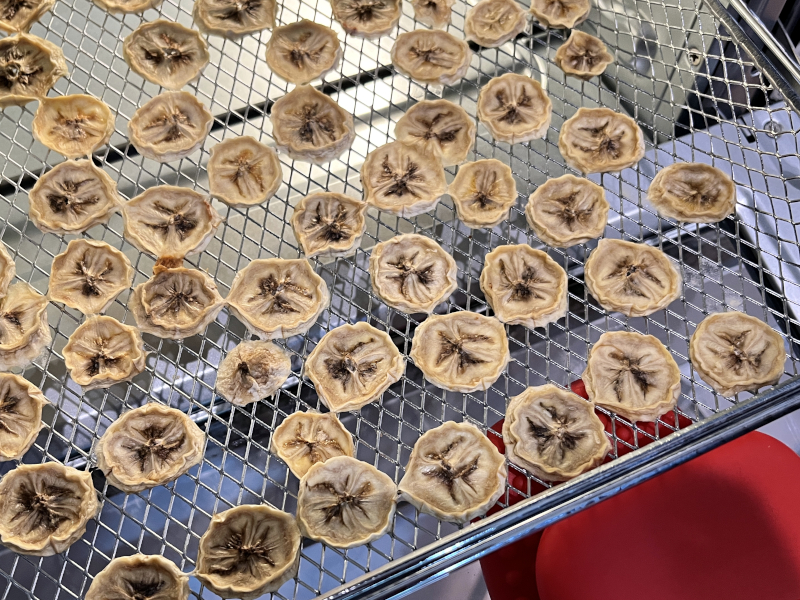 The result was really cool.  They weren't banana chips, like I was expecting.  They were chewy, the consistency of gummy bears.  Still, they were quite delicious, sweeter than I expected.  The problem, of course, is that dehydrating these bananas takes six hours!  That's a lot of electricity just to dry two bananas.  I think if I wanted to do this frequently, I would have to buy a dehydrator (which PARIS RHÔNE happens to sell, and we happened to review).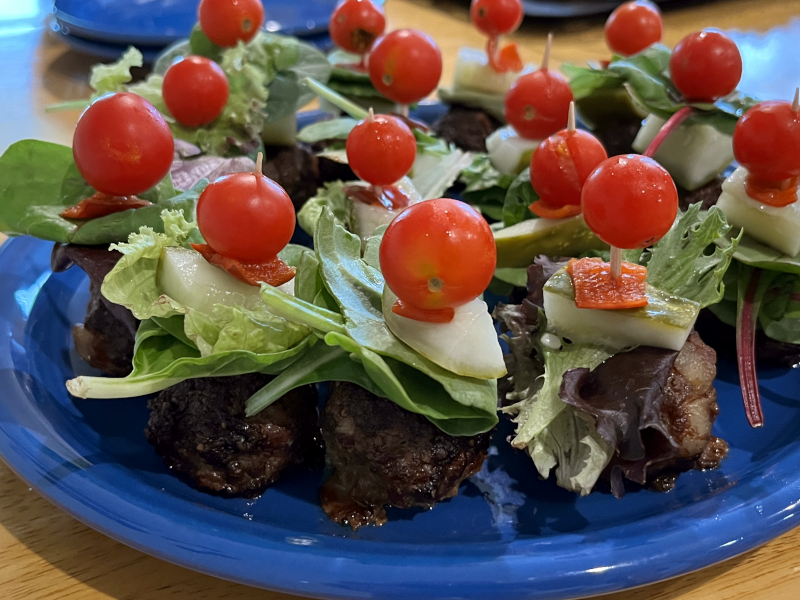 My wife decided to try two of the recipes that I found in the cookbook together, bacon burger bites (p17) and potato wedges (p24).  She put them in the oven at the same time and guessed at how to adjust the cooking time so that they finished at the same time for dinner.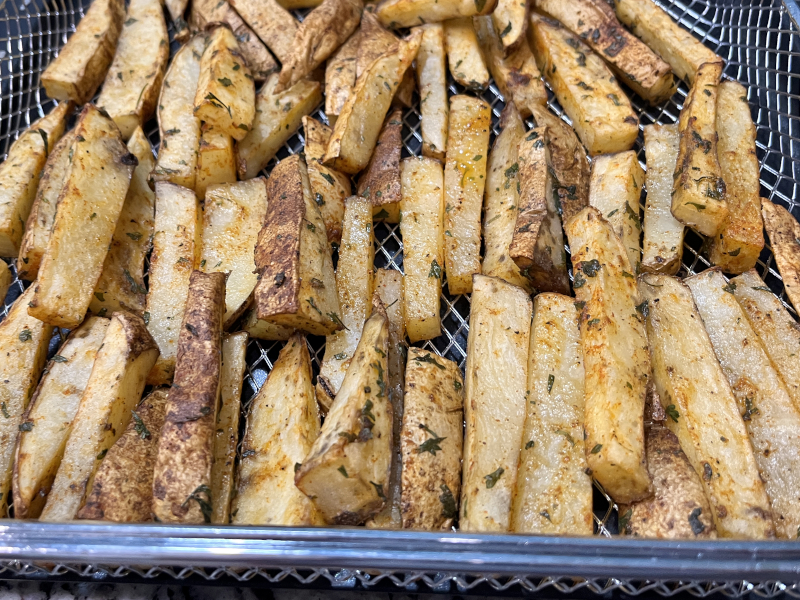 The bites, which were kind of like mini-hamburgers on a toothpick, were just a bit too done, and the wedges were just a bit underdone.  Even so, they made a great meal little.  This is another win for the cookbook and the PARIS RHÔNE Air Fryer Toaster Oven.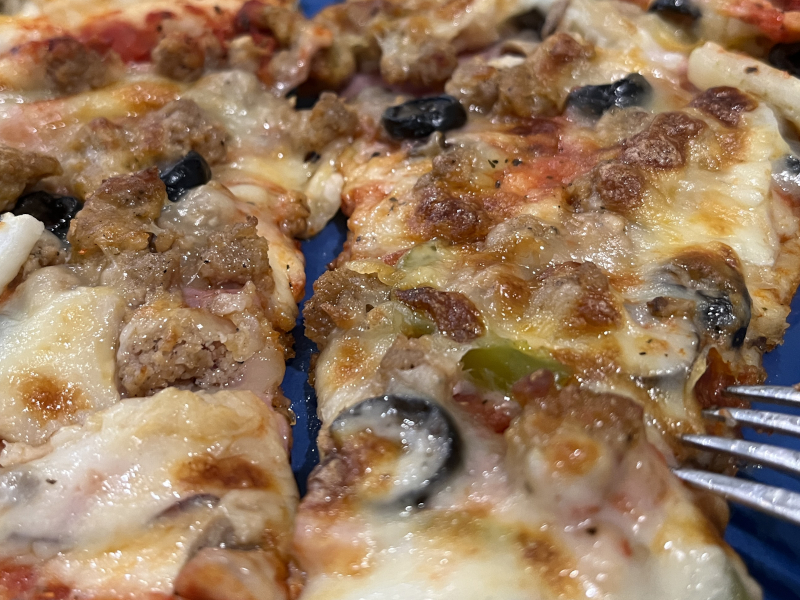 For the final test, I purchased a large New York-style pizza from a local pizza place.  The next day I used the reheat feature, and the result was wonderfully crisped-up leftover pizza!
One of the tricks that we learned about this toaster oven is the importance of using the preheat feature before baking or airfrying, especially when the total cooking time was short (under 20 minutes).  If we skipped this step, the food tended to be underdone, which is not surprising.
Finally, one detail that I noticed was that the outside of the PARIS RHÔNE Air Fryer Toaster Oven can get very hot, as in burn-myself-if-I-touch-it hot.  If you have younger kids at home, please make sure that you keep this gadget away from curious little fingers.
What I like
Large capacity
Digital controls
Presets
Dishwasher safe trays
What I'd change
Ditch the quick start guide, as it doesn't provide any value-added.
Stop resetting the time and temperature after preheating and cooking.  Please!
Final thoughts
PARIS RHÔNE's Air Fryer Toaster Oven Combo is a multi-function cooking appliance.  I've tested it as an oven, a toaster, an air fryer, and even a dehydrator, and I found that it handled every request and every recipe that I sent its way.  My wife and I have been enjoying a host of delicious food that we've made in it these last few weeks.  The digital control panel is easy to use, and I appreciate having so many presets.  I love that the trays are dishwasher safe, which makes cleaning up even easier, and the extra-large capacity, which allows for larger-sized cookware.  The included cookbook is outstanding, and the magnet with times and temperatures is a great idea; other appliance makers should follow PARIS RHÔNE's lead in these areas.
I only found one thing that I didn't like about this gadget:  When it's done preheating and cooking, it automatically resets the time and temperature to the default values, forcing me to set them again in order to finish cooking.  I personally find this "feature" to be super aggravating, as it's different from every other cooking appliance that I've ever used.  If such a detail doesn't bother you, then this might just be the toaster oven that you're looking for; if it does, then you might want to keep looking. Be sure to check out our many other air fryer reviews.
Price: $189.99 on Amazon, $189.99 on PARIS RHÔNE's online store.
Where to buy:  PARIS RHÔNE's online store and Amazon
Source: The sample for this review was provided by PARIS RHÔNE.