We use affiliate links. If you buy something through the links on this page, we may earn a commission at no cost to you. Learn more.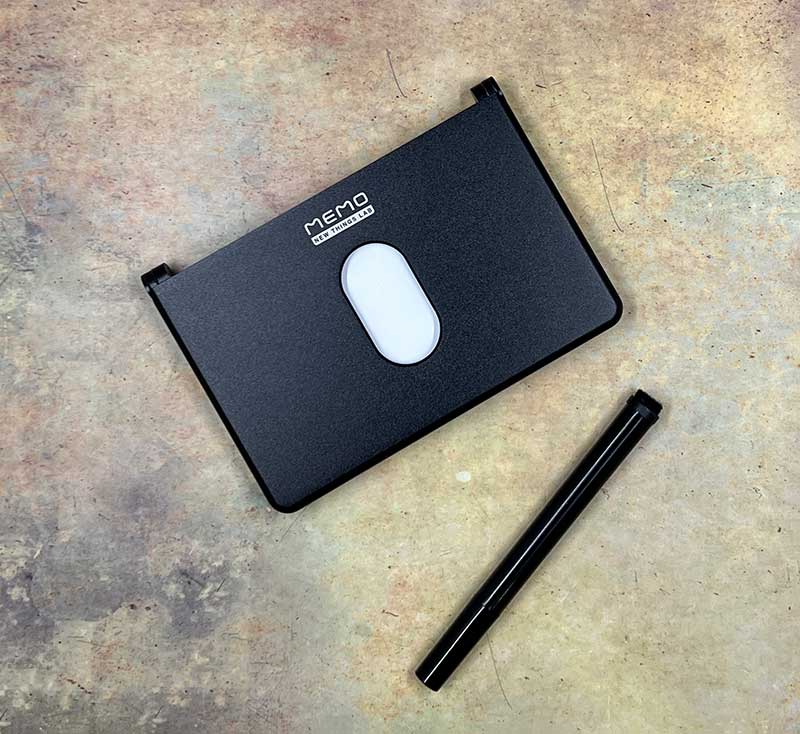 CROWDFUNDING REVIEW – If you've ever wished that you could shove a dry-erase whiteboard in your pocket, then this review of the New Things Lab MEMO wallet is for you! Let's check out this crowdfunding project.
What is it?
The New Things Lab MEMO wallet is a minimalist-style wallet that has a built-in whiteboard inside it
What's in the box?
MEMO wallet
Fine point dry-erase marker
Design and features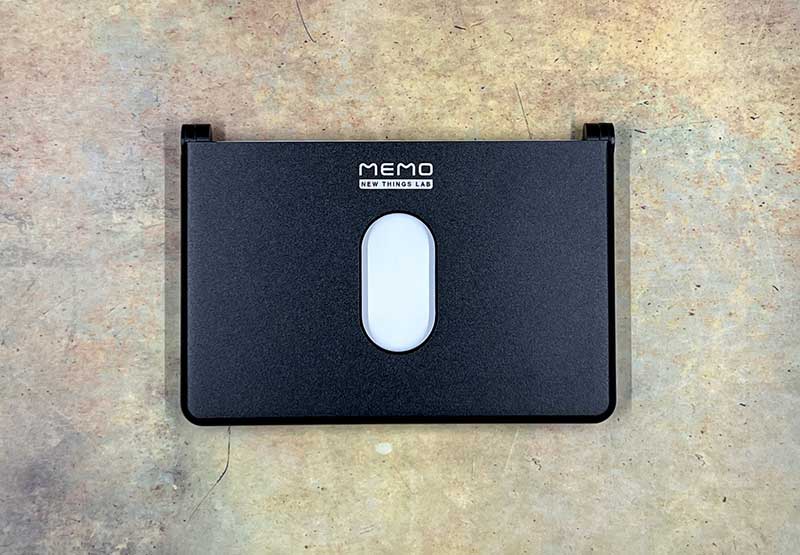 What we have here is an RFID blocking anodized black aluminum wallet with a large oval cutout that is used to slide out the cards. Note that there will be 2 other colors available in their Kickstarter campaign (slate and rose).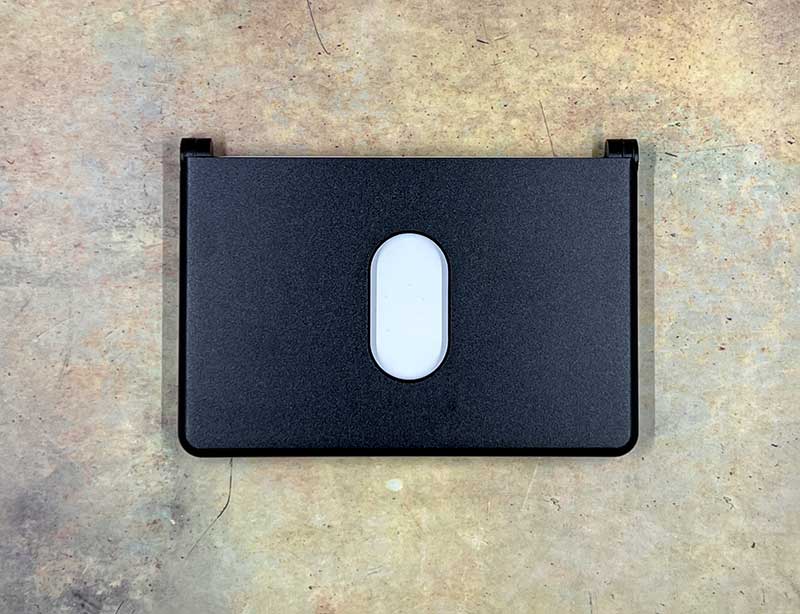 If you flip the MEMO wallet over on the other side, you'll find an identical oval cutout.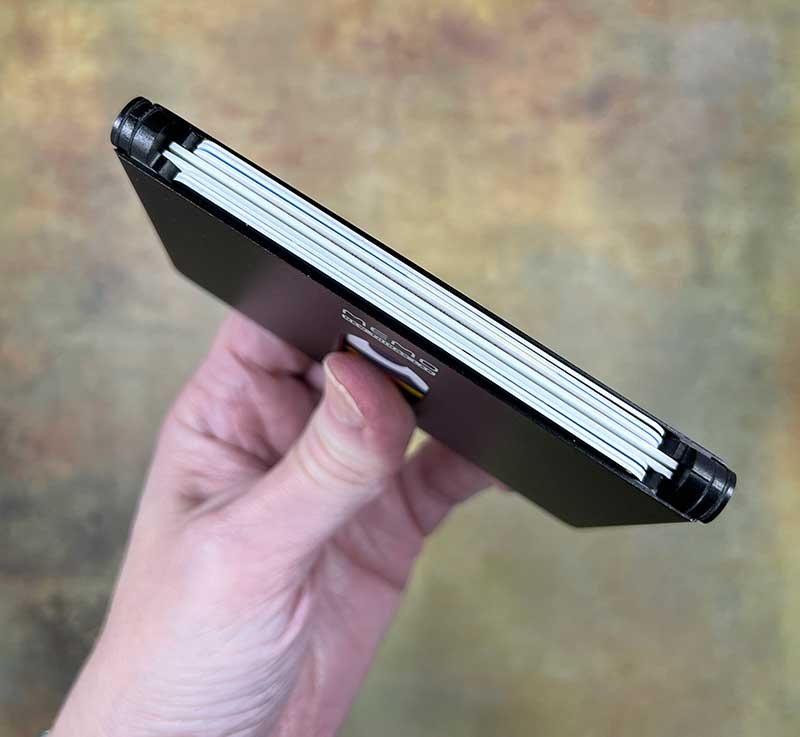 The MEMO can hold a total of 6-8 traditional plastic credit cards with 3-4 on each side. The cards are loaded into the wallet by sliding them into the slots in the spine of the wallet. Spine? Yes, I'll explain in a sec.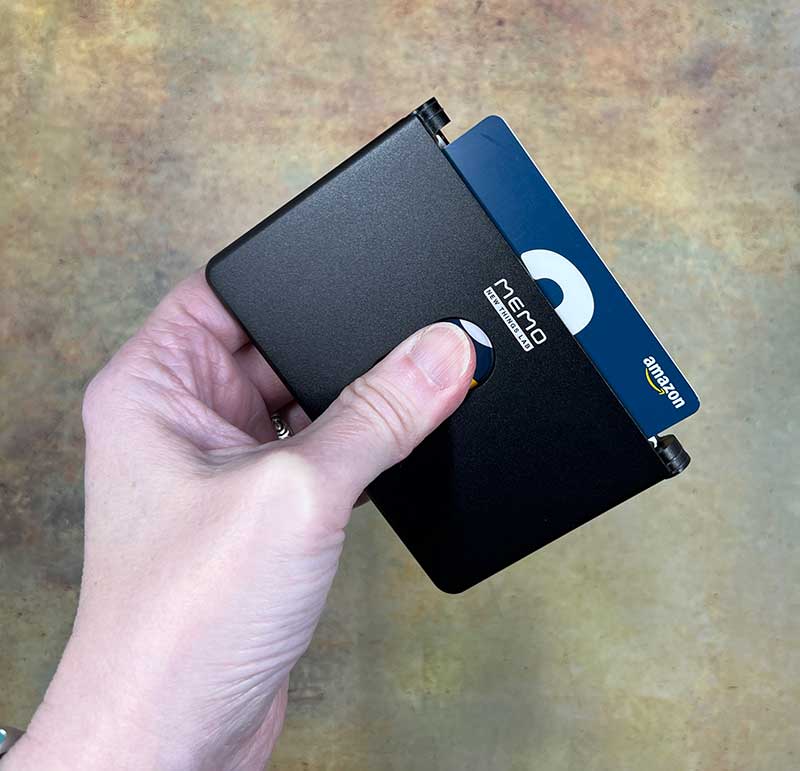 As mentioned earlier, there is a thumb-slider cutout on each side of the wallet. The cards are held in place with friction, and removing them is easy-ish as long as you haven't crammed too many cards in the slot.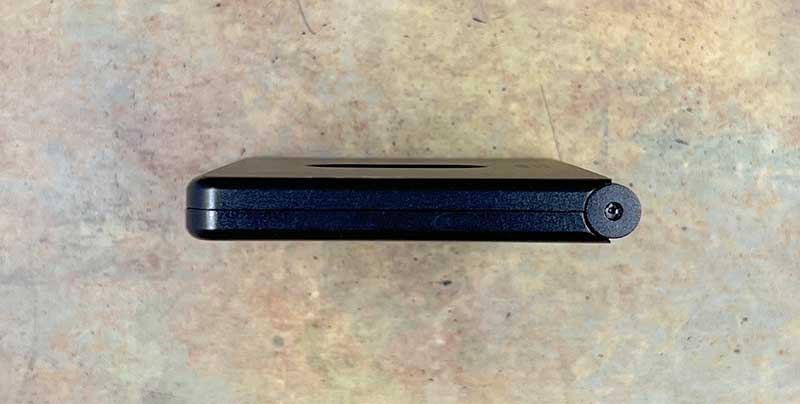 Ok, let's talk about the magical feature of the MEMO wallet. If you look at it from the side, you will see that the wallet has a hinge.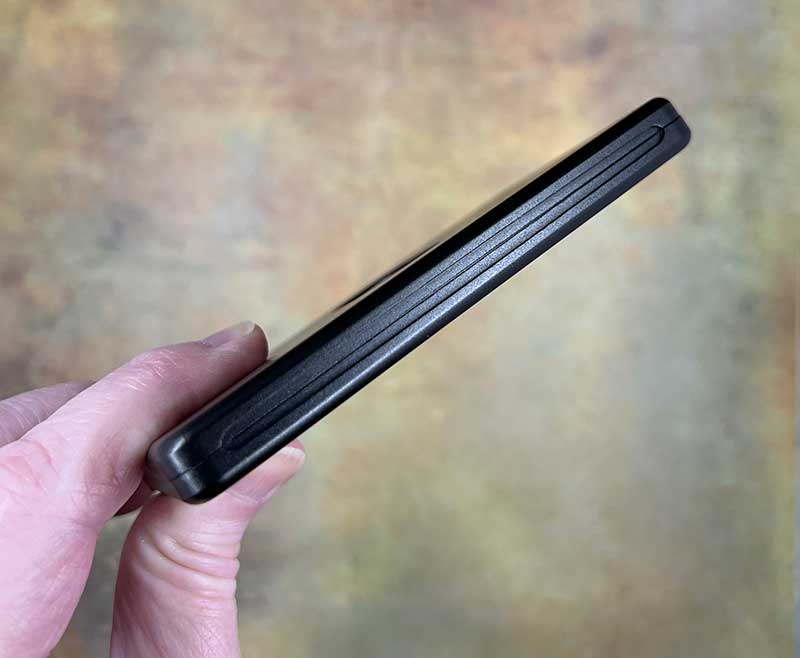 Then when you look at the front edge of the MEMO wallet, you'll notice that wallet starts to resemble a closed book. That's because that's exactly what it is kinda sorta.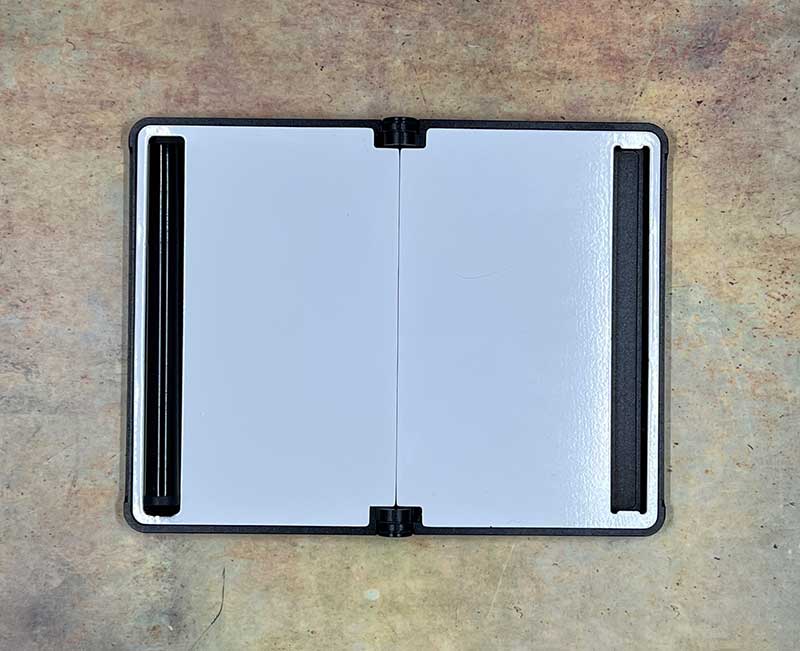 Open the wallet's "cover" and you are greeted with a dry-erase whiteboard with a built-in slot that holds a dry-erase marker. The MEMO wallet opens completely flat to provide a 5.25 x 4.00 inch writing surface.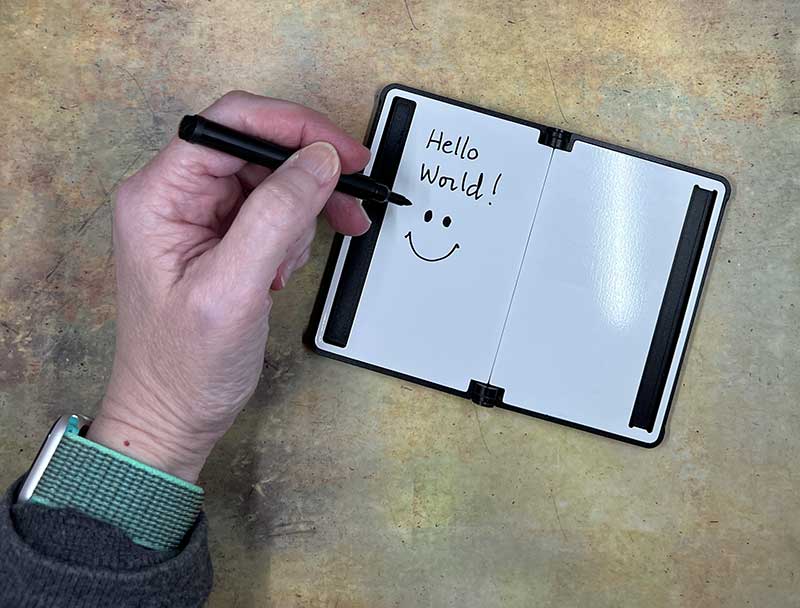 The small dry-erase marker that is included is a black marker with a built-in dry-erase eraser on the end. The marker has a cap, but the cap doesn't post on the back of the marker. Both sides of the open whiteboard have a slot that is designed to hold the marker. You're supposed to put the marker in the right slot, where small bumps help to hold the marker in place so that when you open the wallet, the marker won't fall out. I had mixed results trying to get that feature to work. I think it would be better to use a magnetic slot.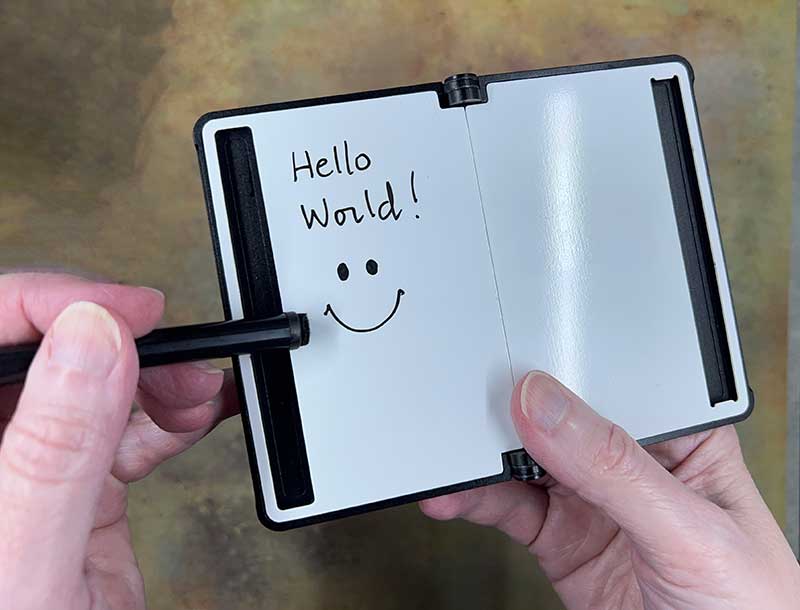 The marker works as you would expect… Note that replacement markers will be available.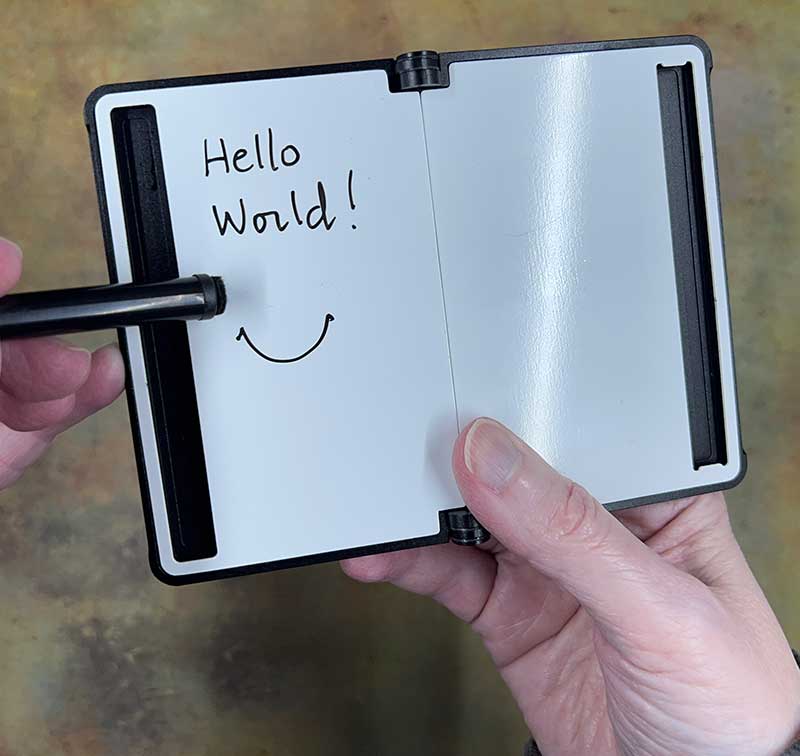 And the marker's fuzzy end/eraser also works as designed to erase. You can also use a tissue or even your fingertip to erase what you've drawn on the whiteboard. In case you are wondering, closing the MEMO wallet will not destroy the writing on the whiteboard. Also, be aware that the wallet snaps shut with a nice snap because it's held closed with magnets. So be careful not to pinch your fingers.
See how it works
What I like
Genius idea
Wallet/ reusable notebook combo
Includes a slot for the marker
What I'd change
A better way to hold the marker in place when the wallet is opened
Make it lighter weight – it's a bit heavy
Final thoughts
We review a lot of wallets here on The Gadgeteer, so it's always fun to see something new. The New Things Lab MEMO wallet is a nice surprise when it comes to a minimalist wallet. I like that the MEMO wallet is multi-functional and reusable. Having a built-in whiteboard that I can use to jot a quick grocery list or maybe a drawing for something I need at the hardware store is great. If you've wanted to carry around a reusable notebook and your credit cards in one small package, go check out the Kickstarter campaign for the MEMO wallet.
Price: 49 € / $52.99 US
Where to buy: Kickstarter
Source: The sample for this review was provided by New Things Lab.