We use affiliate links. If you buy something through the links on this page, we may earn a commission at no cost to you. Learn more.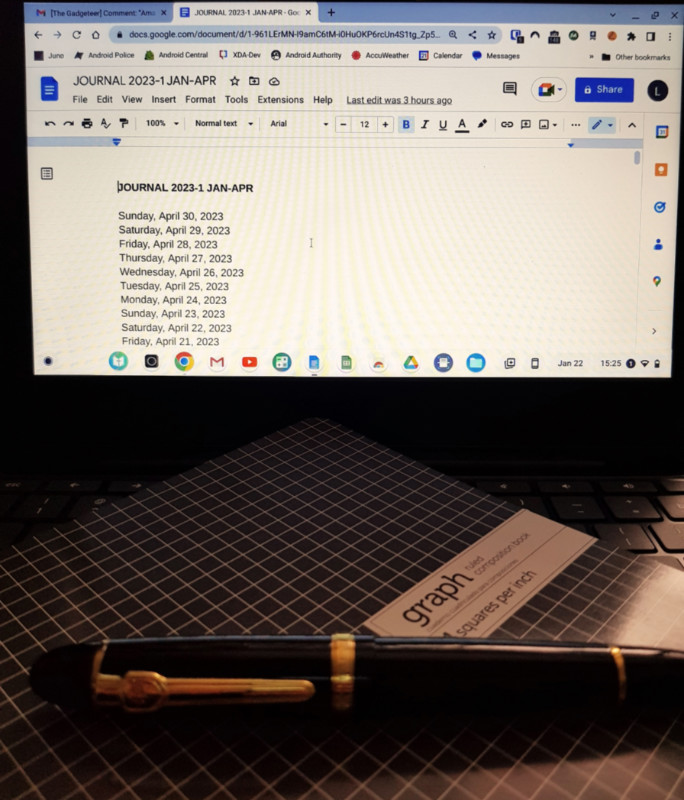 ARTICLE – In 2022 I changed away from years of using a paper journal/planner book. My word processor was fountain pens. I switched to plain text journaling and scheduling. All along I used the 'aCalendar' app on my phone, which automatically syncs to Google Calendar. But my paper journal/planner was my complete backup to aCalendar, and more. I'm sticking with e-journaling for 2023.
Why change? I love writing with fountain pens, but imagine trying to find important facts from phone call notes made 8 months ago in a paper journal. I can do it, but only slowly. 
I know I could have been more diligent with my Table of Contents in the paper book, but doing searches in seconds, with whatever device is at hand has been for me, the deal-maker. And there is the safety and permanence of what I write, via cloud storage and flash drive, especially since I back up my journal weekly. 
My old method of journaling
I used inexpensive grid-lined composition books for the past few years as a paper journal/planner. The paper in grid comp books printed in Egypt or Vietnam tends to be very fountain pen friendly. The origin is printed on the back cover. 
I modified the Bullet Journaling method to some degree. I had a table of contents up front and numbered all the odd-numbered pages at the lower right. I created a month page next with the date numbers, one per row, down the far left of the left page, and did that for each month of the year. The right page for each month was blank and was for the continuation of items on a row for the dates on the left. Those 12-month pages were where events and appointments got listed, along with anything that was date sensitive. 
After the month pages, I made a page with 4 columns for appointments and events during Jan., Feb., Mar., Apr., into the next year so I could enter those items before I had my new year book with me. 
Next came the daily pages. I'd simply write the Month, Day, and Date and put everything into it as needed just prior to, and during that day. One day at a time. I'd plan the week ahead on the weekend but really only enter Monday information in the day pages because I couldn't be sure how much space I'd need for my Monday notes in advance. During the day on Monday, I'd enter notes from meetings, phone calls, ideas, To Do items, and whatever else. On Monday evening when I was 'done' with Monday, I'd enter Tuesday's appointments and events. Then during the day on Tuesday, I'd use as many rows or pages needed for that day's 'stuff'. Advance planning happened on the monthly pages. Day pages were used one day at a time, sequentially.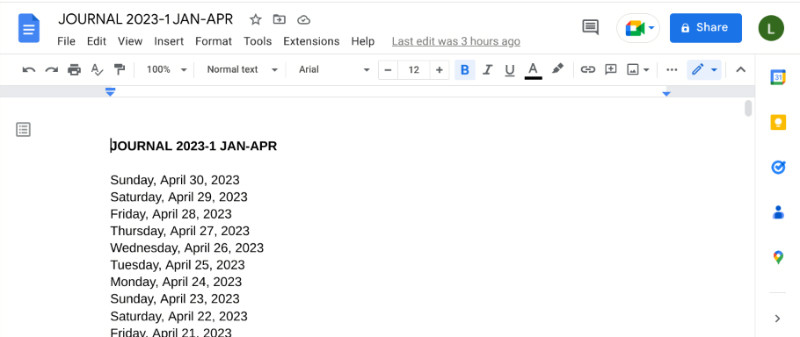 My new journaling method
I knew I'd miss writing with pens but needed faster searching so I started looking into 'plain text journaling'. For some, there's no format at all, they just emote on a new plain text note each day. Some enter one date per day and enter words at will on one note that runs all year.
I use a Chromebook and an Android cellphone for all of my digital work. Google Docs is my notes app. If you use a PC you probably have 'Notes' built into your operating system. Mac, iPhone, and iPad users have Apple Notes which syncs across a user's devices in the Apple ecosystem. 
The beauty of using unformatted notes is, they take up very little drive space because they're just text, and they're super easy to save in one or more cloud storage systems. And there's no distraction or complication of formatting or images, it's just text.
My Google Docs journal documents are cloud-stored continuously as I write and close a Doc, but I back up weekly to Dropbox and sometimes OneNote as well. 
The format
In October last year, I used my spreadsheet app to create a sheet with just the dates of the whole year, with one date per row in the first column. Sunday, January 1, 2023, is on the first row, Monday, January 2, 2023, is on the second, and so on for 365 rows. 
It's dead simple to do. Enter 'Sunday, January 1, 2023' in cell A1. Select A1 and drag the 'handle' at the lower right of the cell down 365 rows. When you release, dates for the whole year will fill into all 364 cells under A1. Cool, or what?
Next, I select the whole column and invert it so that Jan. 1 is at row 365. That's not completely necessary but as time passes I have less scrolling to get to the current date. 
I selected and copied the column containing all the year's dates and pasted it into a Google Doc. That became my 2023 journal and planning document. 
Last year the doc got really long and I thought it might be faster and safer to split the year into trimesters. That made for shorter documents and I feared file corruption a little less. I'd hate to lose a whole year at any point but especially later in the year.
So I named the first doc 'JOURNAL 2022-1 JAN-APR'. I cut and pasted the appropriate dates into that document. I then made 'JOURNAL 2022-2 MAY-AUG and 'JOURNAL 2022-3 SEP-DEC' and entered their dates. 
That's it in terms of setup. To our devices, this is just plain text. There are journaling apps out there and use 'em if you like 'em, but for me, this simple method of planning my work-flow and retaining thoughts and experiences is working very well.
I'm not selling you anything and realize I may have motivated you to use either Bullet Journaling on paper, or plain text electronically.
I'll just close by wishing you a happy and productive New Year!