We use affiliate links. If you buy something through the links on this page, we may earn a commission at no cost to you. Learn more.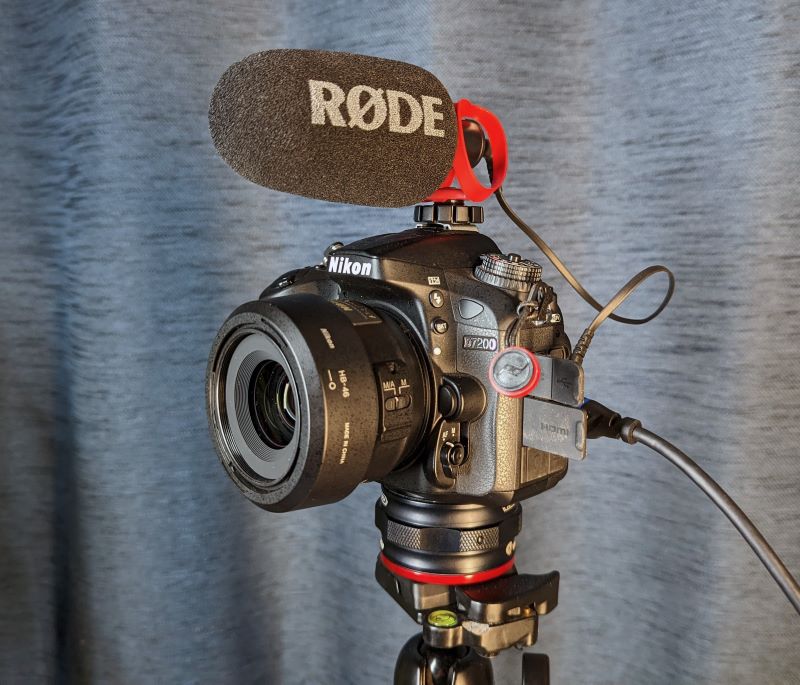 REVIEW – My main form of entertainment these days is YouTube videos.  I like knife reviews and teardowns, old tool restorations, and gadgets of all kinds. Hats off to all of you folks who do make the videos I watch.  It's not nearly as easy as it looks. Because of that, I want to start doing more top-down shot videos to show off the products I review. I've been working on gathering the necessary gear and when the Rode VideoMicro II microphone became available to review, I couldn't volunteer quickly enough. Is an external microphone necessary? Isn't the internal mic in my camera sufficient?  Those were a couple of questions I had. Read on to see if I found the answers.
What is it?
The Rode VideoMicro II ultra-compact on-camera microphone is just that. It's a small, lightweight microphone you can attach to your camera or phone so you can capture better audio for your videos.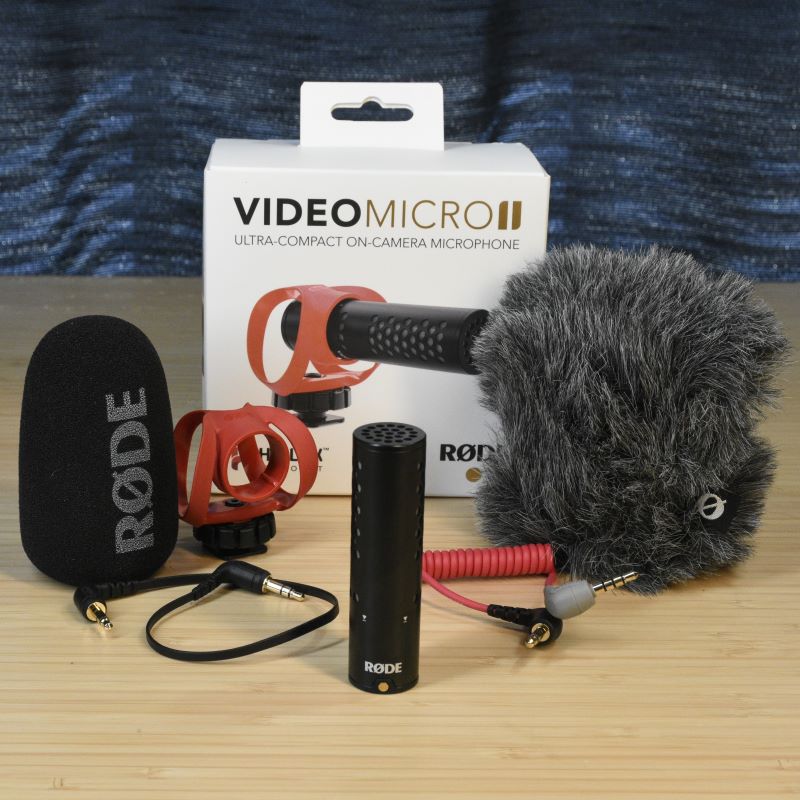 What's in the box?
Rode VideoMicro II microphone
Foam windscreen
Furry windscreen
Shock mount
1x SC13 cable
1x SC7 cable
Hardware specs
Length: 80 mm
Diameter: 22 mm
Weight: 24 g  w/ mount: 30 g
Microphone type: Pressure gradient. Electret condenser
Pattern: Supercardioid
Frequency response: 20Hz – 20kHz
Output impedance: ~2.6kohms
Signal-to-noise ratio: 79 dB
Dynamic range: 95 dB
Sensitivity:  -30dBV (31.62 mV @ 94 dB SPL) ± 1 dB @ 1kHz
Max SPL: 110dB SPL
Output connection: 3.5mm TRS
Design and features
The Rode VideoMicro II microphone is very lightweight.  It almost feels like a toy.  I couldn't believe that it could live up to Rode's claims when I took it out of the box. I have a Blue Yeti USB mic I use on my laptop and, comparatively speaking, it weighs a ton and sounds great.  How could this little thing possibly capture great sound? I mean, it's the size of a small flashlight and sits in a plastic shock mount. But it does have all-metal construction, so in my mind, that means Rode is serious when they say it's professional quality.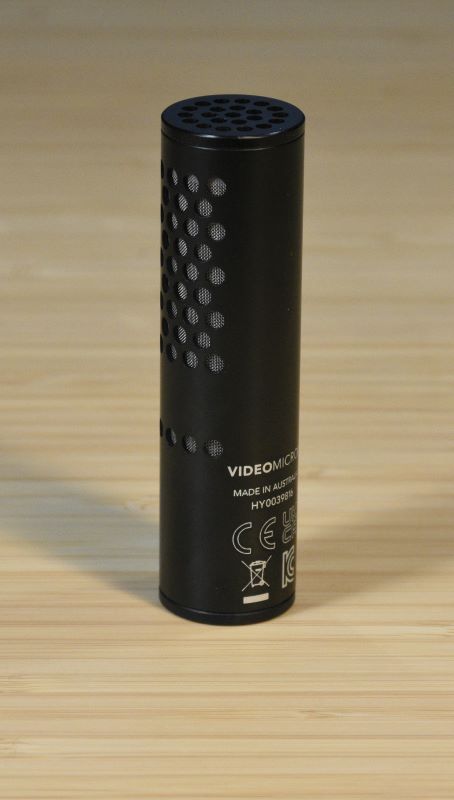 Rode says the VideoMicro II has annular line tube technology for natural, full-bodied audio and I had no idea what that meant. After a brief search, I think it has to do with the use of circular holes along the sides of the mic's body and how that affects the sound going into it. Those of you in the know, holler at your boy and educate me!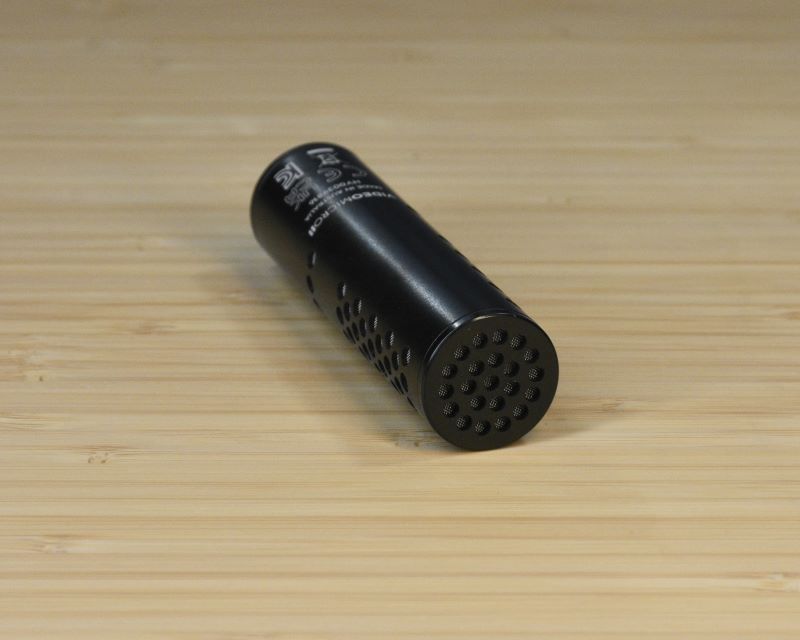 The VideoMicro II is a shotgun mic which means it is a directional microphone. So, point the mic in the direction of your subject when filming to get the best results. And since it's directional, it won't pick up a lot of background or ambient noise. If you're a budding filmmaker, you definitely want to keep the extra noise to a minimum.
Included in the box are two windscreens, a foam pop-filter type, and what I've heard referred to as a dead cat. I'd say it more resembles Don King's hairstyle. Either way, it's nice that both are in the box. You also get what Rode calls a HELIX isolation mount which is great. You won't have to worry about picking up the noise while handling your camera.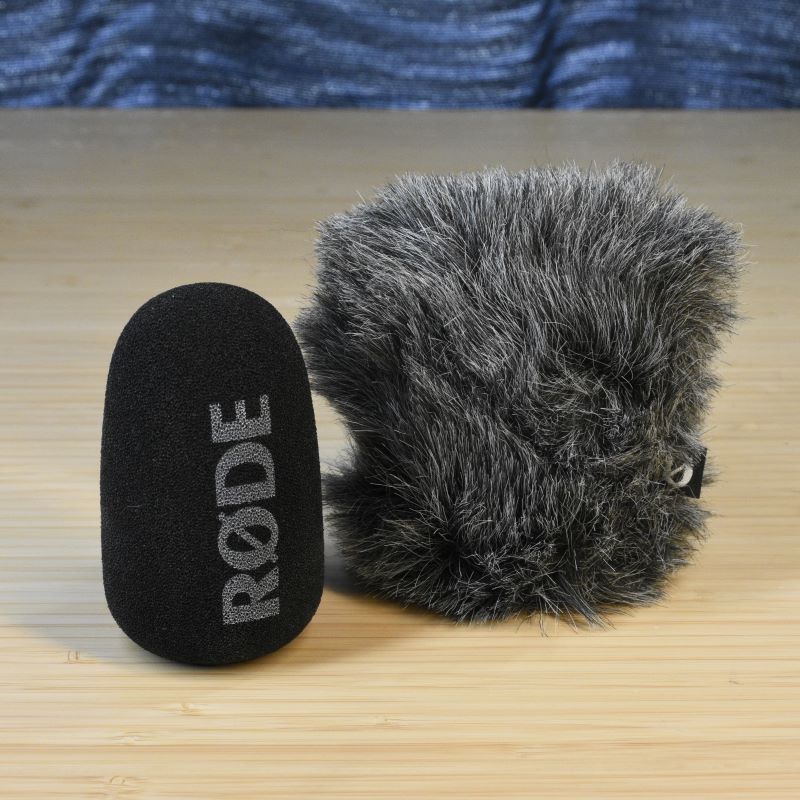 Setup
Setting up the Rode VideoMicro II ultra-compact on-camera microphone is very simple.  There's only one port on the mic itself so all you really need to know is which cable to use and where to plug it into your device.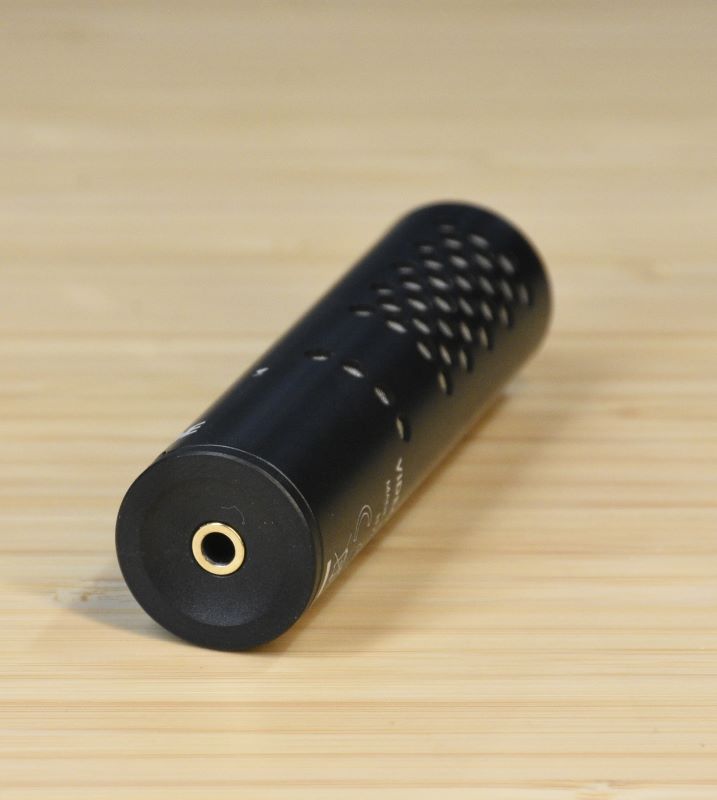 For my camera, I used the black SC13 cable which is a 3.5mm male TRS to 3.5mm male TRS.  The other cable is a 3.5mm TRS male to 3.5mm TRRS male which I would use with my phone if I had the dongle I need. Don't worry, it's on the way as we speak.  Also, if I got any of that wrong, let me know in the comments.  I love being educated by you folks.  I've learned quite a bit in my short tenure here at the Gadgeteer.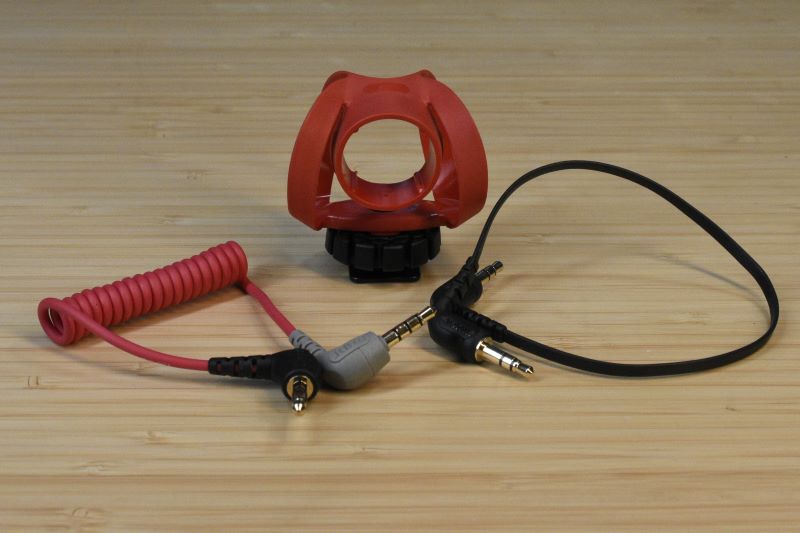 Performance
The Rode VideoMicro II microphone seems to perform pretty well.  I don't know about the professional-level audio that Rode mentions on their website. I used it to record a review video for a flashlight recently and the audio did sound good to me.
For further testing, I set my camera up as if I'd be filming a top-down type shot and read a passage from one of my favorite books, once with the VideoMicro II and once with my camera's internal microphone. I made sure the sensitivity levels were the same for both in my camera's software settings. I have to say I couldn't tell much difference between the two.  The recording without the VideoMicro II sounds a bit thinner, maybe, possibly.  Next, I read the same passage under the same conditions about 6 feet away from the camera.  This is where I noticed a difference.  The audio recorded with the VideoMicro II was clearer and richer with very little background noise. The audio recorded with my camera's internal mic was definitely thinner sounding to my ears.  It also picked up much more background noise. Another thing I noticed that had nothing to do with either microphone was how different both samples sounded through different software.  I wasn't expecting such a noticeable difference.  When running playback through Windows 11 media player, I could easily tell the difference between the 2 samples recorded while I was close to the microphone. But when I played it back through VLC or my video editing software, Camtasia, the difference was negligible. I've included my samples as an MP3 here in hopes it'll help if you're looking for a mic like this.
Here are my tests. The first is when I was directly in front of the camera.
The second one is from 6 feet away.
What I like
Ease of use
Compact size
Included accessories
What I'd change
Final thoughts
I've had fun with the Rode VideoMicro II ultra-compact on-camera microphone in the short time I've had it.  I will definitely be using it for more reviews in the future, so fair warning.  I like that it's so lightweight that it has no effect on my camera while on my very old, very worn tripod.  It's truly plug-and-play with no knobs or buttons to have to worry about although you will need to check the settings of your camera or phone.  I think it's perfect for someone looking to bump up the quality of their audio without having to spend a lot of money to do it. If you're looking to start making videos or want a quick, portable mic for your camera or phone, check out the Rode VideoMicro II microphone.
Price: $79.00
Where to buy: Rode and Amazon
Source: The sample of this product was provided by Rode.