We use affiliate links. If you buy something through the links on this page, we may earn a commission at no cost to you. Learn more.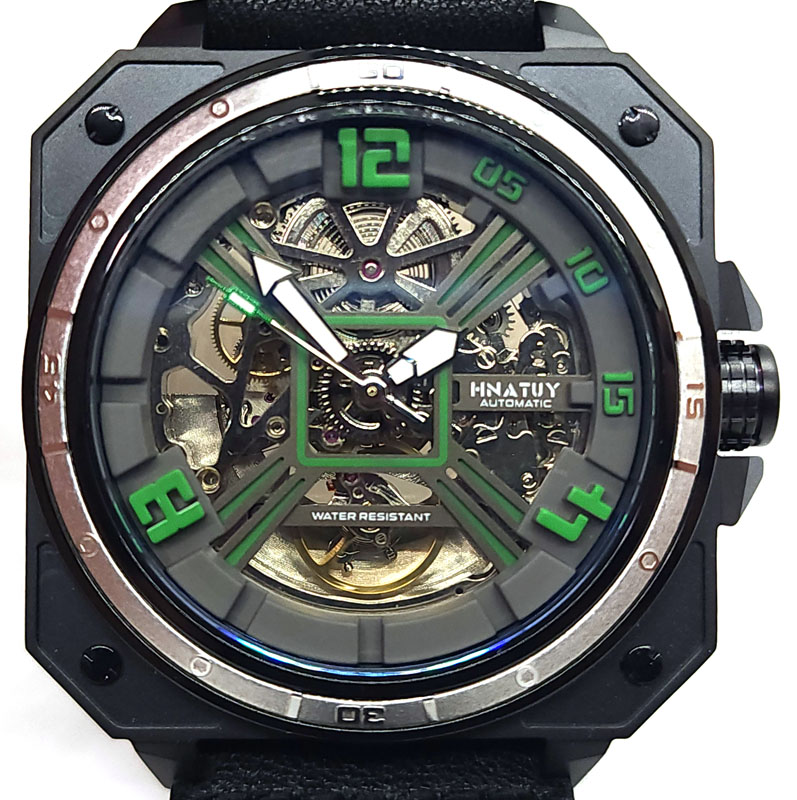 REVIEW – I'm a watch guy.  I have a collection of wonderful (and expensive) watches.  There are times when you want to wear a great-looking watch but not an expensive one. Today's review fits that bill – the Hnatuy Hero-X watch from Didamoda. I've reviewed several watches here at The Gadgeteer.  Of all those, this is my new favorite.  Let's get into the review and see what makes this watch special.
What is it?
The Hero-X is an automatic movement wristwatch.  It has a skeletonized design that allows you to see the movement from both the face and the case back. It comes from a company named Didamoda.  Along with the Hnatuy brand, they offer watches in several other brands, including the Atowok watch that I reviewed in July 2021.
What's in the box?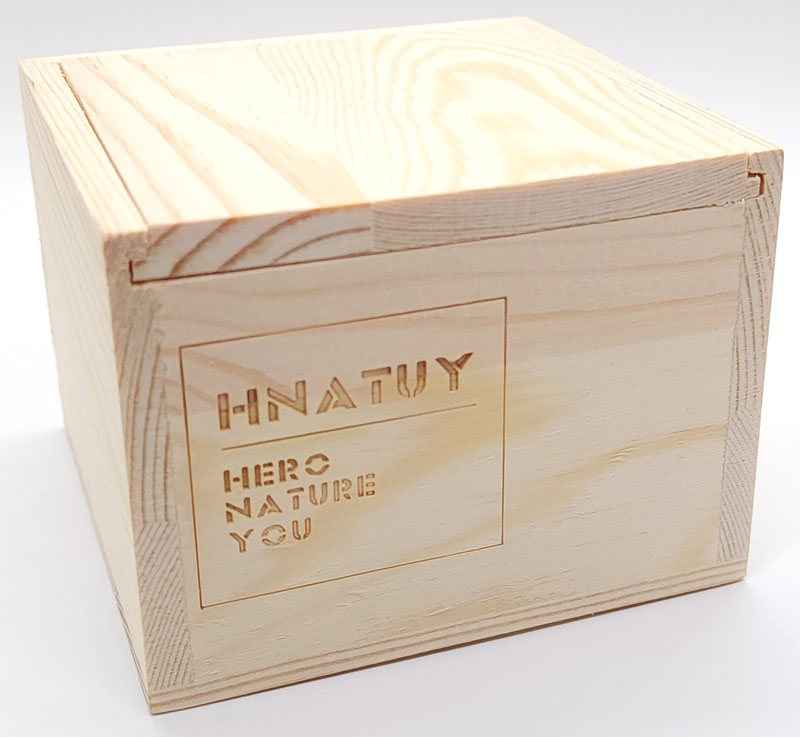 Let's talk about the box for a moment.  It is absolutely nothing special.  I like that.  I've never understood the over-the-top watch boxes that come with high-end watches.  I have a bunch of them and they just sit, stored away.  Why spend a zillion bucks on a fancy-schmancy presentation box that will never get used?  The Hero-X comes in a plain pine box that smells like it was just cut from a board that they purchased from Home Depot.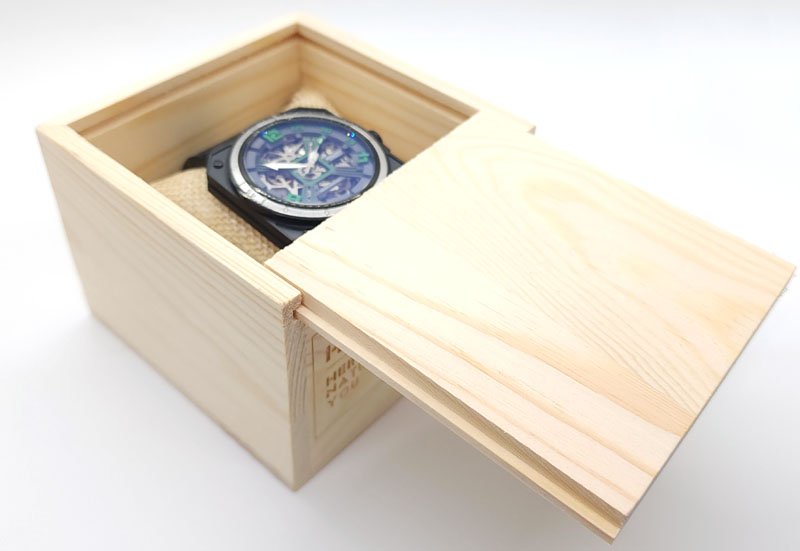 The top slides open to reveal the watch mounted on a simple burlap pillow.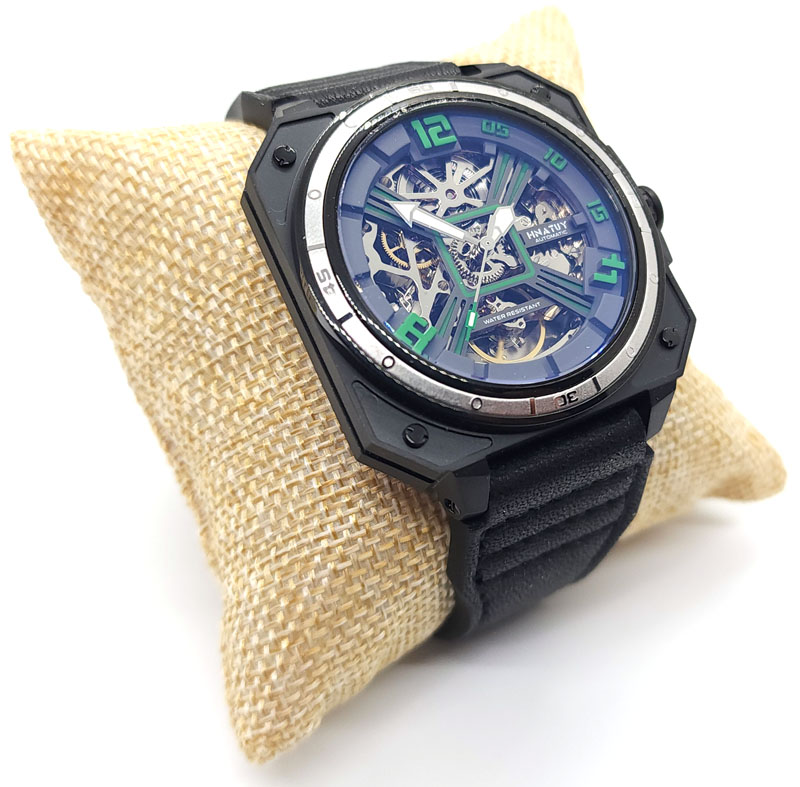 So to summarize what's in the box:
The watch
Attached leather strap
Burlap pillow

There was no user manual or anything else, probably due to the pre-order status of this watch
Hardware specs
Brand: Hnatuy
Model: Hero-X
Case material: 316L stainless steel
Case shape: square
Dial diameter: 44mm
Mirror material: thick blue-plated glass
Waterproof: 5ATM (50 meters)
Crown style: screw down
Case size: 44mm*52mm
Case thickness: 13.2mm
Case back style: exhibition
Movement: Seagull ST2502JK automatic, 28 jewels, 21,600 vph
Movement energy storage: 42 hours
Surface: double layer plus three-dimensional inner shadow circle
Hands: Copper
Night light: super bright night light luminous paint
Strap material: first layer double-sided leather strap
Strap width: 26MM×20MM
Strap length: 125MM×80MM
Colors available: Blue, Green, Orange
Suitable wrist circumference: 145–195mm
Design and features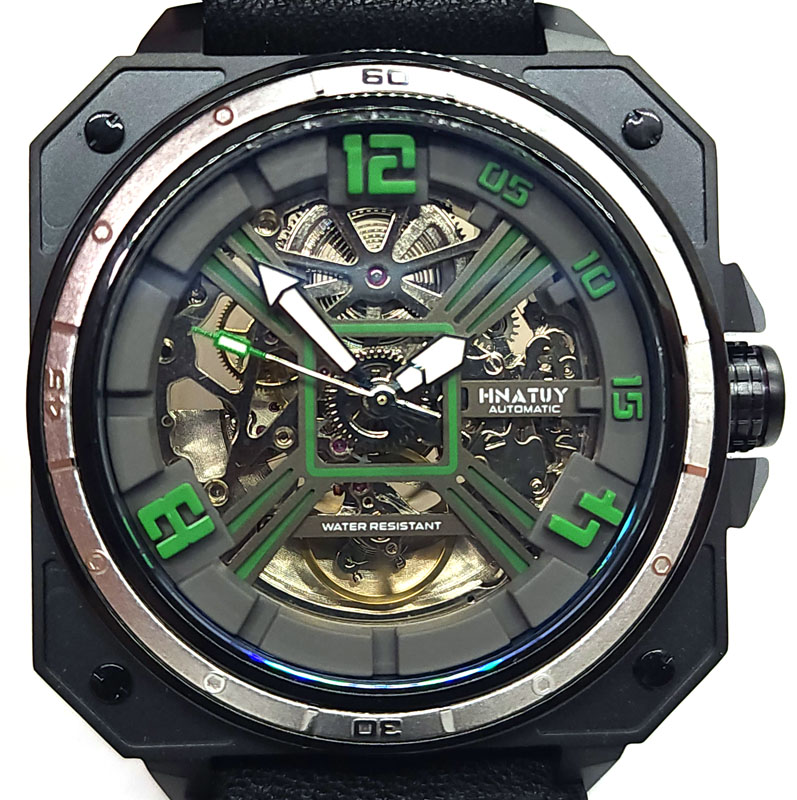 The watch design is essentially square but with clipped corners. The skeletonized automatic movement is nicely visible through the watch's face. I've always been a fan of skeleton watches and this one looks very nice.  The hour, minute, and second hands are covered in luminous material that glows for a while after being exposed to light.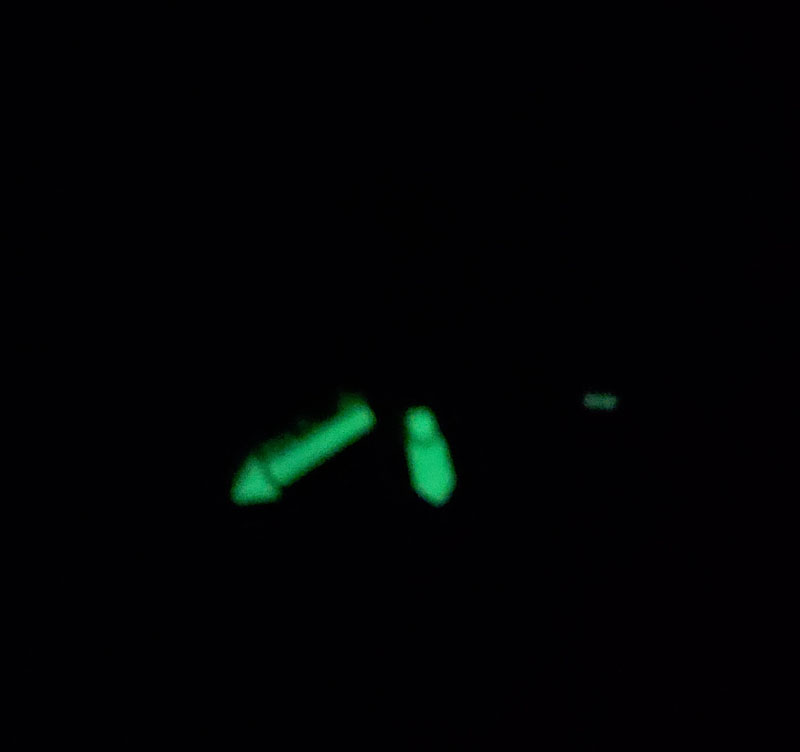 There is no day or date display.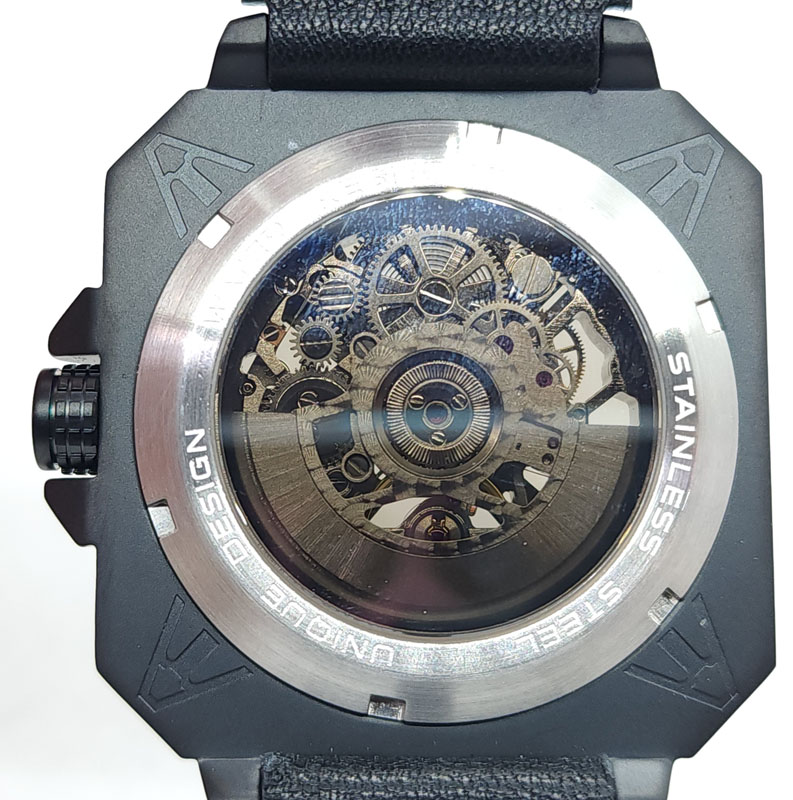 The exhibition case back also shows off the automatic movement under a tinted window.  You can see the swinging weight at the bottom that rotates as you move your arm, winding the watch automatically.  Its 42-hour power reserve means that you don't have to wear the watch every single day to keep it wound.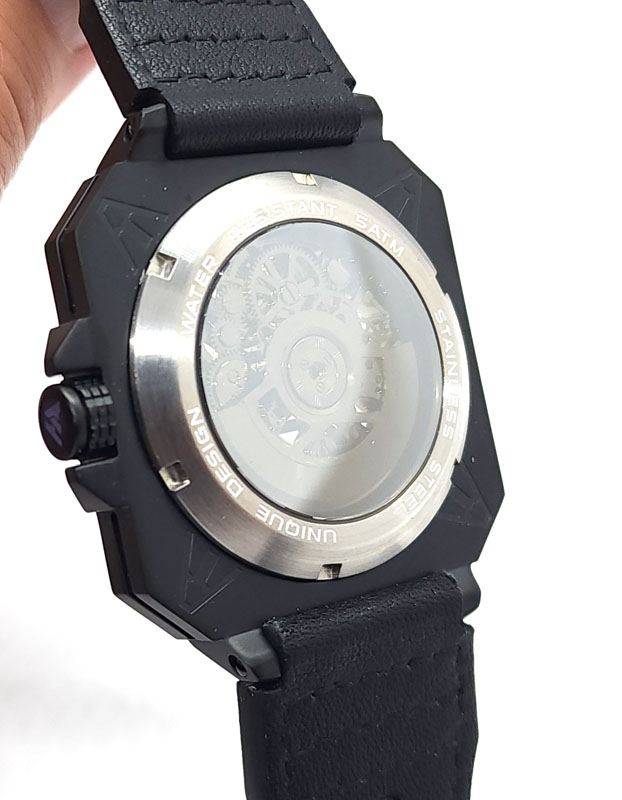 The case back is slightly raised but feels comfortable on the wrist.

The screw-down crown is located at the 3 o'clock position.  To set the watch, you unscrew the crown and then pull it out.  Turn the stem to set the time, push it in, wind it, and then screw the crown back down.  This ensures that the watch's 5 ATM of water resistance is intact.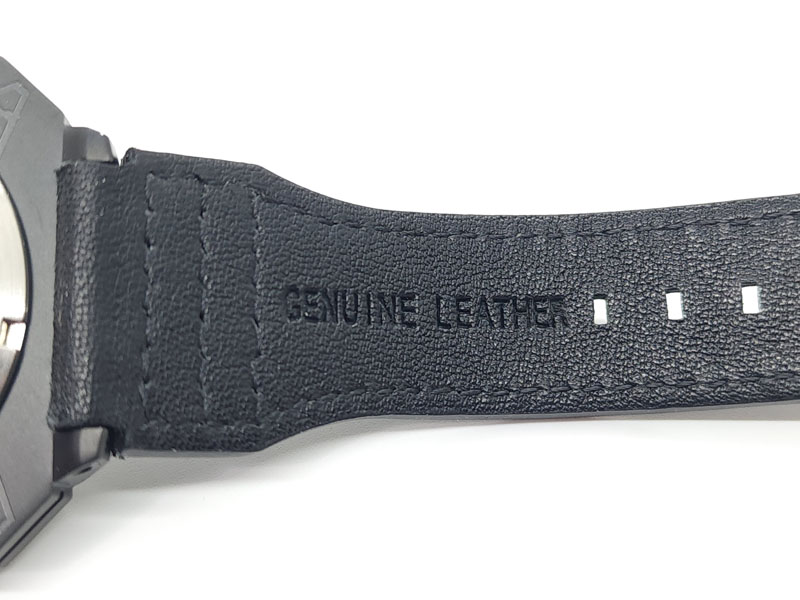 The strap is leather and feels appropriately stiff without being binding.  I wish it had a tool-free design for swapping straps.  I've always been amused at watches that advertise their water resistance, in this case, 5ATM or up to 50 meters, yet come with a leather strap.  Who is going swimming with a leather-strapped watch?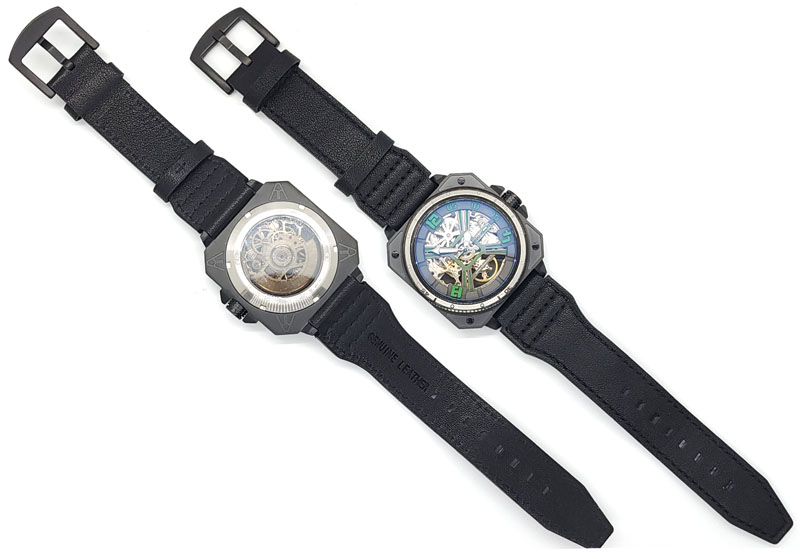 One thing that concerns me is that nothing on their website describes what the crystal – the clear material that covers the face and back of the watch – is made from.  The only thing they reference is thickened blue-plated glass so I'm not sure exactly what that is.  I chatted with staff on the company website and they reiterated thick blue-plated glass.  I asked for additional clarification.  Here's what they said.
Blue light glass crystal is coated with a layer of blue tempered film, which is similar to the blue light film that protects the screen of mobile phones today. The color is light blue and more distinctive. The high-hardness blue light glass crystal is wear-resistant and scratch-resistant and has strong durability.
So, it sounds like the crystal should be pretty tough.
Setup
The setup is pretty straightforward if you've ever used a mechanical watch.
Unscrew the crown
Pull out the stem fully
Set the time
Push in the step
Wind the watch
Screw down the crown
Performance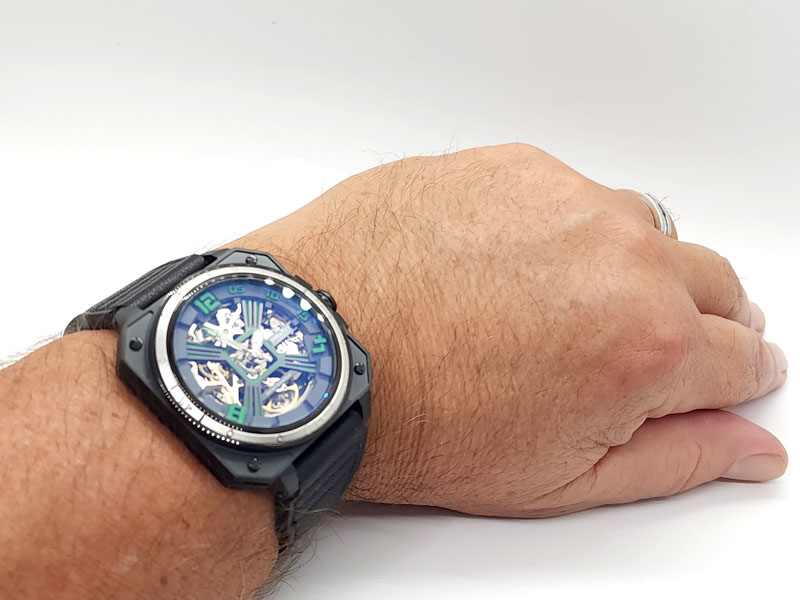 Performance for me comes down to just a few things in a watch.
Does it look good?  In this case, yes.  I like the looks of the watch.
Does it keep time?  Yup – it keeps time. I set it exactly with my Verizon cell phone's time and let it sit for 24 hours.  At the end of the period, the watch gained about two seconds.  That equates to about a minute per month – not perfect, but certainly not horrible.
Does the automatic movement work?  Also, yup.  I wore it for a day so that it was completely wound.  Then, I let it sit, untouched.  It ran from 8:45 PM on Friday night.  I finally gave up at 9:15 PM on Sunday as it was still going strong.  The 42-hour claimed power reserve is what we call a conservative estimate since after more than 48 hours, it was ticking away happily.
What I like
Simple packaging
Good looks
Very reasonable price for an automatic movement
I appreciate the screw-down crown for improved water resistance and security
Outstanding power reserve for an automatic watch
What I'd change
A tool-free strap design would be a big plus
I'd appreciate a more accurate movement, but for a relatively inexpensive watch, it's fine
Final thoughts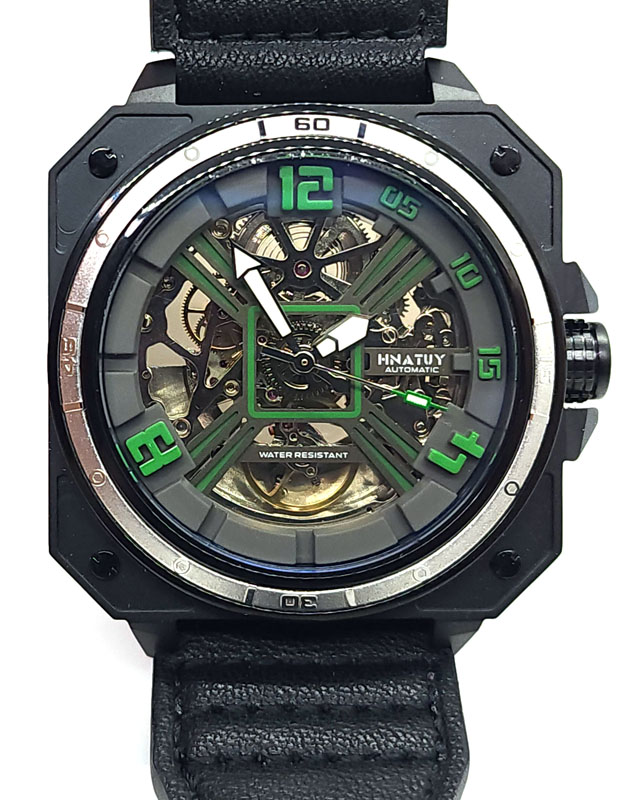 I had to put another photo of the watch face here in the summary because it is so attractive.   The see-through skeletonized design does an excellent job of showing off the movement.  The movement's 42-hour power reserve is a nice touch.  The bottom line is that this is a very nice watch at a very nice price, especially if you can score one at the introductory $139 price point.
Price: $139 – currently in pre-order status until 2/3/2023 – full retail will be $199; the first 50 pre-orders will also receive a leather watch case
Where to buy: Didamoda (Save 12% when you use the coupon: GADGETEER )
Source: The sample of this product was provided by Didamoda.