We use affiliate links. If you buy something through the links on this page, we may earn a commission at no cost to you. Learn more.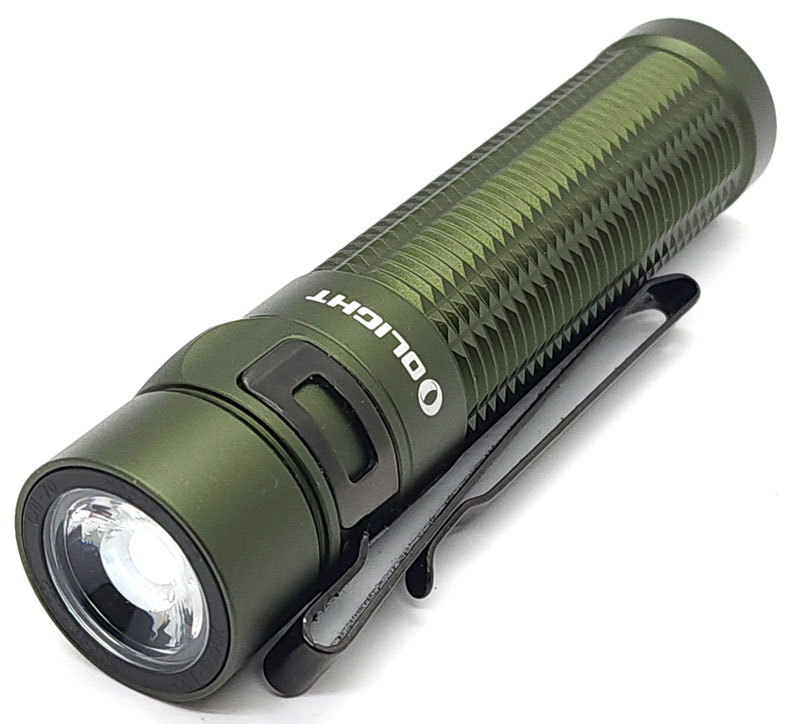 REVIEW – Gadgeteers love their everyday carry (EDC) gear.  Here's an entry to consider – the newly upgraded Baton 3 Pro Max flashlight from Olight. This is an upgraded version of the Baton 3 Pro that Lex reviewed in September 2022. Let's take a look and see if this deserves a coveted spot in your EDC kit.
What is it?
In short, the Olight Baton 3 Pro Max is a flashlight.  But it is more than that – it backs a punch with a maximum output of 2,500 lumens.
What's in the box?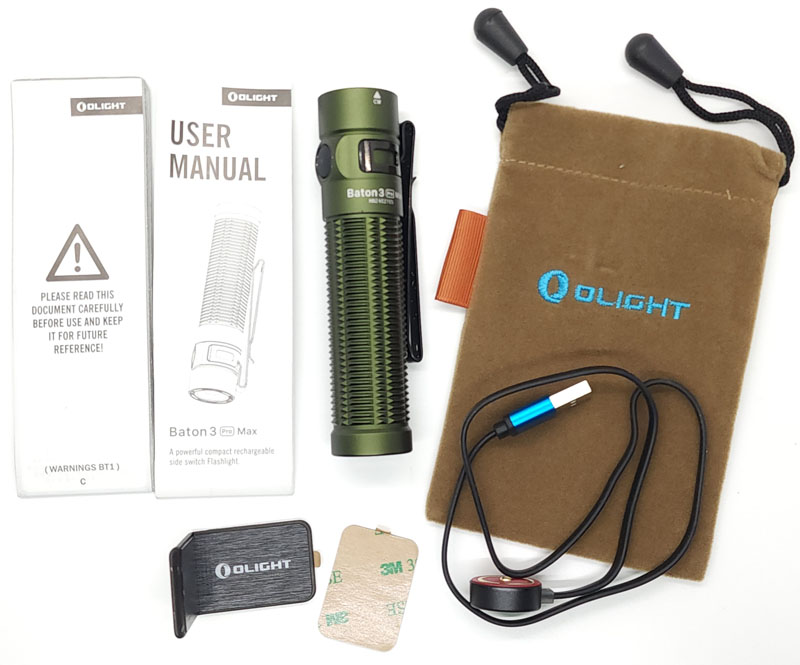 Baton 3 Pro Max flashlight
Carry pouch
Magnetic charging cable
Mounting bracket with spare adhesive pad
User manual
Warning document
Hardware specs
Length: 4.49 in (114 mm)
Head diameter: 1.02 in (26 mm)
Body diameter: 1.02 in (26 mm)
Weight: 5.22 oz (148 g) (Including Battery)
Body material: Aluminum alloy
Colors available: Black, OD Green (Tested), Desert Tan (body is Magnesium Alloy)
Beam distance: 475 ft (145 m)
Max output: 2,500 lumens
Charging type: MCC3 magnetic charging cable with USB-A connector
Compatible batteries: customized 5000mAh 3.6V 21700 rechargeable lithium-ion battery
Light source: high-performance cool white LED
Lens/reflector type: TIR optic lens
Mode operation: side switch – push/push-hold operation
Lighting levels

Turbo: 2,500~800 lumens, 1 + 240 minutes
High: 800~120 lumens, 243 + 80 minutes
Medium:  120 lumens, 23 hours
Low: 15 lumens, 180 hours
Moonlight: 1 lumen, 60 days
Strobe: 2,500 lumens, runtime unlisted

Waterproof: IPX8 – can be submerged up to two meters for 30 minutes
Design and features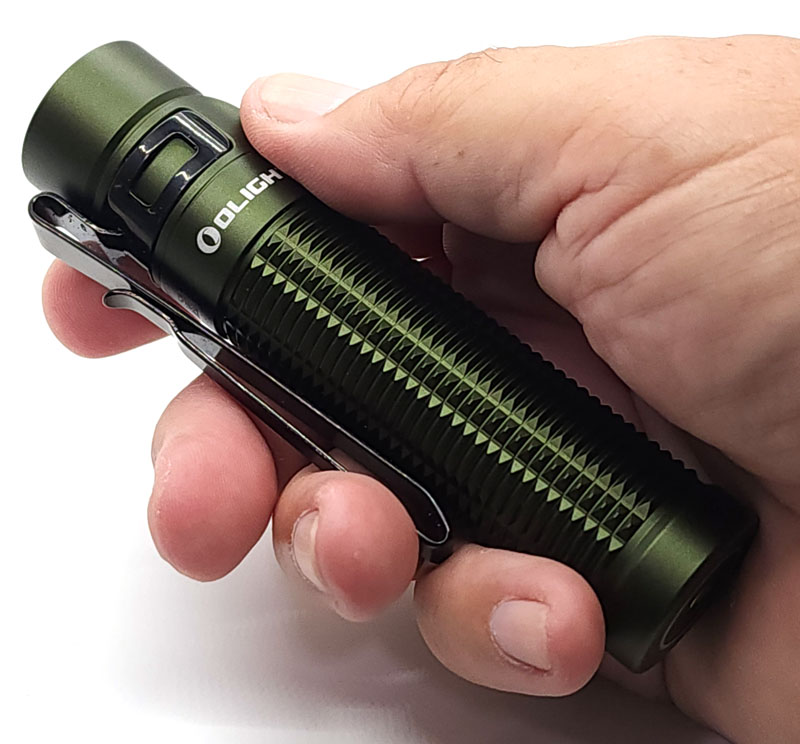 The Olight Baton 3 Pro Max flashlight is designed to fit nicely in the hand.  With deep grooves in the body, it provides excellent grip. You can see the dual-mode clip.  It allows you to clip the light either forward or backward.  You can also mount the light with its included angle mount.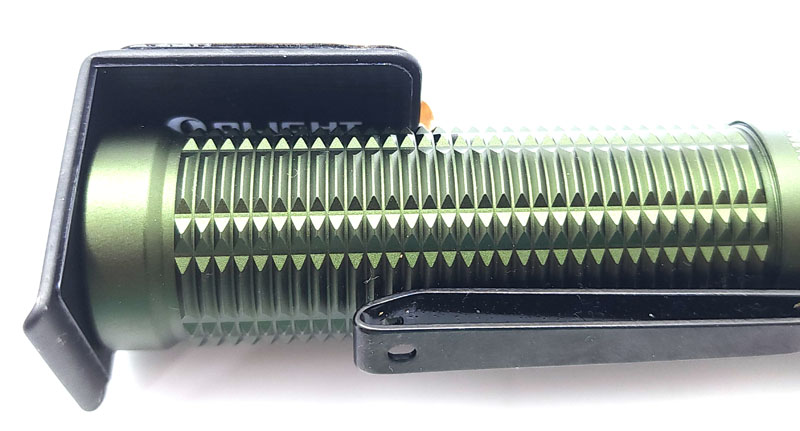 The end of the light has a strong magnet that securely holds the light to the bracket.  If you look closely, you can see the orange tab on the protective cover over the adhesive mounting pad.  Olight thoughtfully included a second mounting pad as well.
The magnetic end serves double duty.  Along with letting you stick it to anything magnetic, the end is also the contact for the magnetic charging cable.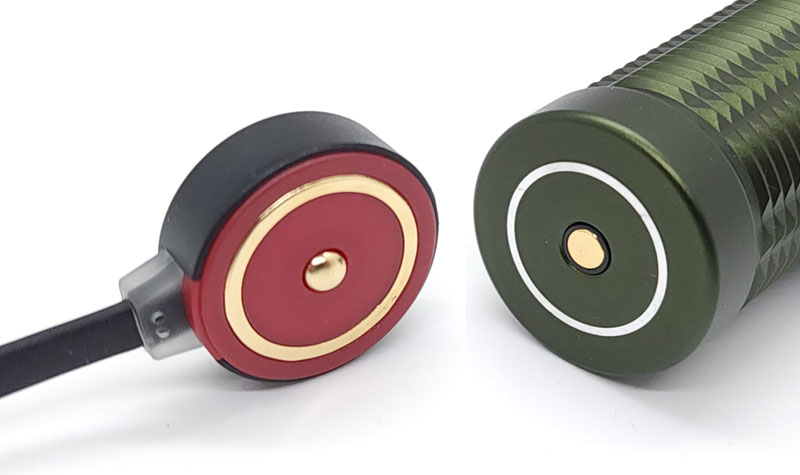 The magnet is quite strong, and it took a little Photoshop magic to get this photo as there was no way to prevent it from snapping together from this distance.  Sadly, it is yet another proprietary charging cable that you have to keep track of.
When the cable is attached, the frosted tab glows green when charged or red when charging.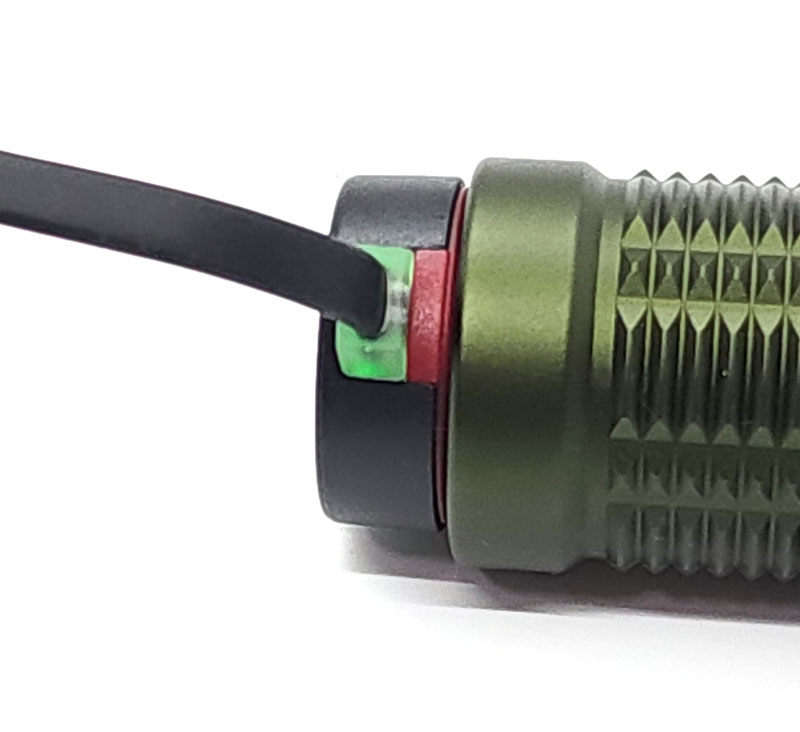 What it is charging is this updated and massive 5,000 mAh battery contained within the o-ring-sealed Olight Baton 3 Pro Max flashlight body.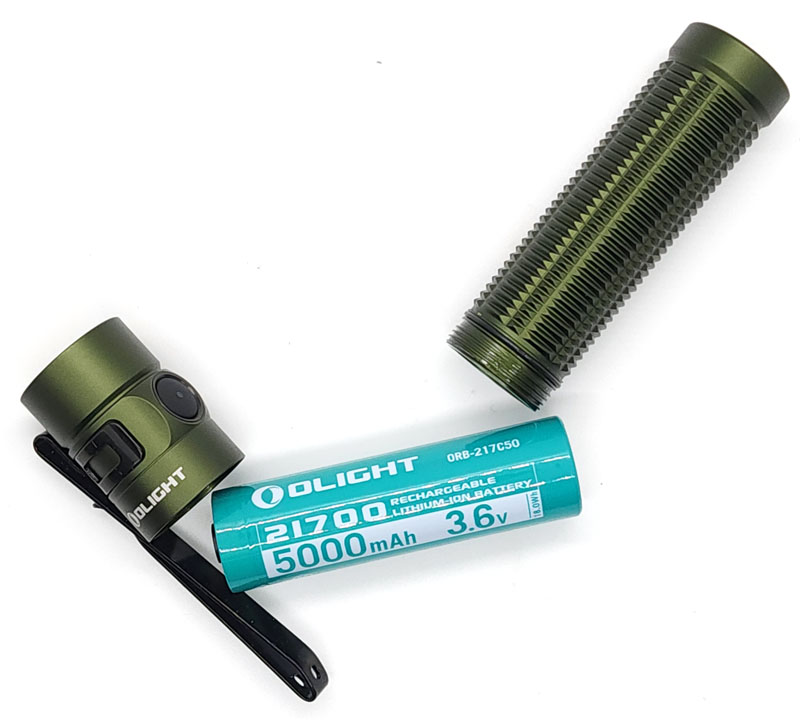 With more than 42% additional capacity than the battery in the Baton 3 Pro, the Pro Max flashlight can provide longer runtimes and more light output.
Here's a look at all sides.  You can see the double-sided design of the clip.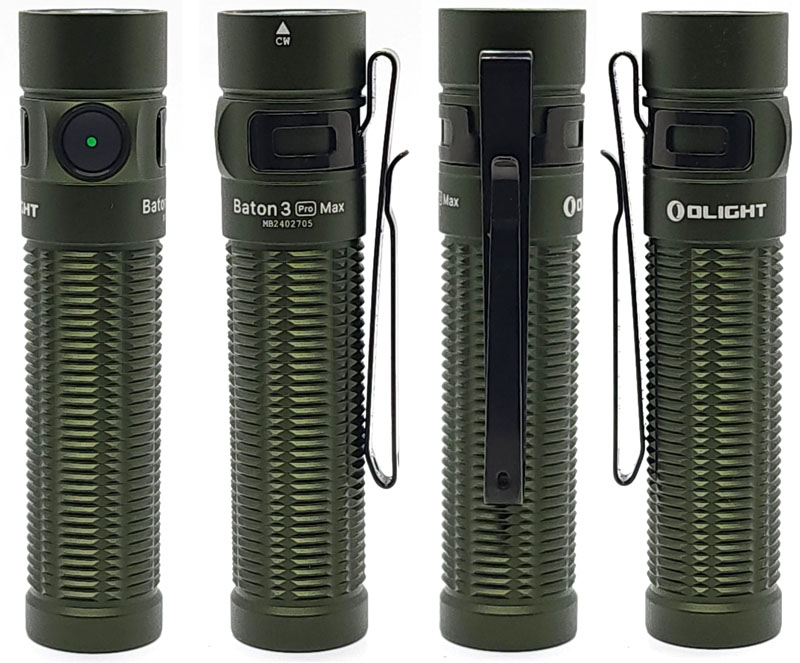 The power button is either pushed or held down, depending on what you want to do.  The green LED in the center of the button is off in moonlight mode and on in other modes.  If you tip the light, it also doubles as the charge indicator.  It flashes green with the charge level is more than 60%, orange between 10% and 60%, and red when the charge is under 10%.
Here's a peek at the business end.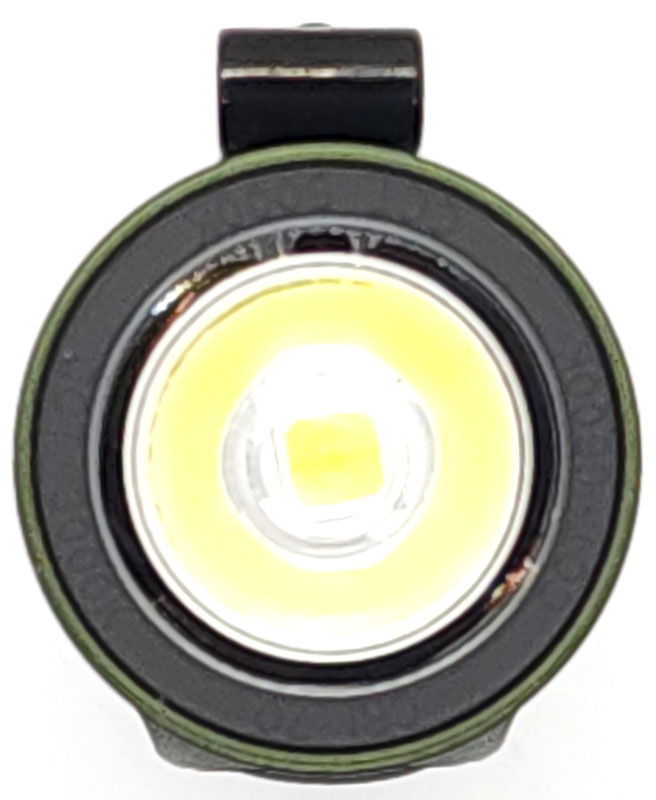 A proximity sensor hidden in the bezel automatically dims the light if it is placed close to something.  This can be overridden as needed.
One thing I didn't like at all is the instructions.  I get the idea of pictographs to simplify instructions across languages, but to me, these were simply confusing and unclear.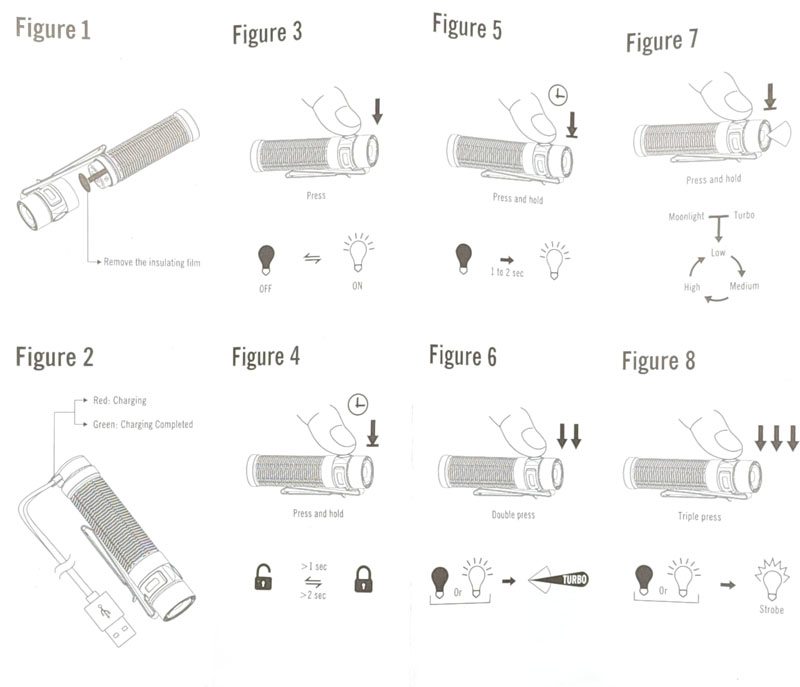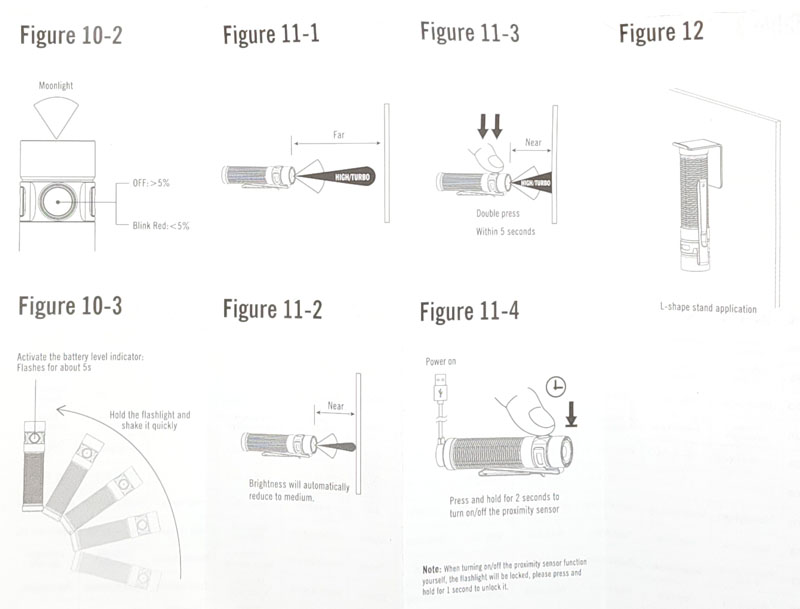 Setup
The Olight Baton 3 Pro Max flashlight ships with a protective sticker over the battery.  Unscrew the top, remove the sticker, screw it back together, and charge it up.
Performance
Using the Olight Baton 3 Pro Max flashlight is a pleasure.  I'll start with moonlight mode.  At one lumen, it sounds pretty useless, but it is quite the contrary.  We played night golf over the weekend.  You play after dark with glowing golf balls.  No other lights are allowed.  I brought the Baton 3 Pro Max and left it in moonlight mode to allow me to see the scorecard and record our scores.  It provided just enough light to easily see without spilling out excess light and ruining everyone's night vision.  With a runtime of 60 days, this could be an invaluable power outage tool.
Speaking of runtimes, let's review them.  Olight touts this flashlight's massive 2,500-lumen output.  It is extremely bright, but not for long.  It can only kick out all those lumens for about a minute before stepping down to its 800-lumen high mode for the next 240 minutes.  High mode alone can run for 243 minutes.  Consider that – 800 lumens for over four hours in a package that slips into your pocket.  That's pretty impressive.  If you need less light, this can give you a modest 120 lumens for 23 hours, 15 lumens for 180 hours (that's more than a week!), and 1 lumen for two months.  Wow!  There is also an extremely bright strobe mode.  It flashes quite rapidly at full power.  There is no listed runtime for this mode.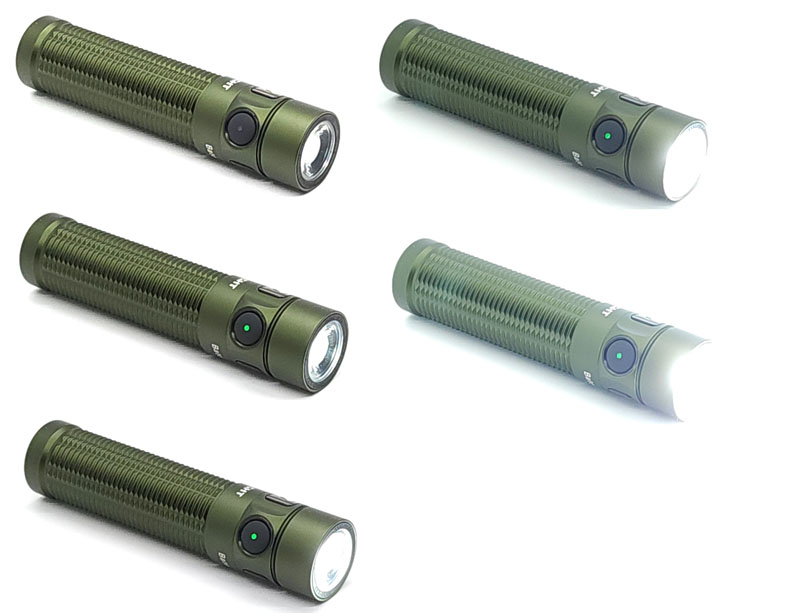 I cranked the Olight Baton 3 Pro Max flashlight up in turbo mode where it lit up the ceiling for about a minute and then, as expected, stepped down to 800 lumens.  I let it keep shining away.  The aluminum body gets pretty warm in these high-output modes.  It isn't hot enough to burn, but it will get your attention. I had used some of the battery already so I wasn't expecting the stated runtime.  In about three hours, I was surprised that it stepped down to the medium 120-lumen level.  Honestly, I kind of like that.  It doesn't just burn bright and die – it keeps extending its life by stepping down.  So, while the stated runtime was 240 minutes on high, with some previous use, I still got three hours out of it plus more time at a lower output.  I'm good with that.
What I like
Outstanding light output
Terrific runtimes in most modes
Great selection of lighting modes
Comfortable
What I'd change
One more propriety charging cable
It gets pretty warm in turbo and high modes
Provide clearer instructions
Final thoughts
I like the Olight Baton 3 Pro Max flashlight.  I think it is a worthy successor to the Baton 3 Pro, with the Max bringing more light output and longer runtimes all in about the same, well-made, and easy-to-carry package.  This model puts out cool white light.  Olight offers additional models in black and tan that can produce warm white or natural white light.  The desert tan model is made of magnesium alloy that shaves a half-ounce off the weight.  If you want to know more about Olight, we have reviewed a bunch of their excellent products.
If this recharged via USB-C, it would be a nearly perfect EDC flashlight.  For me, having to keep track of another proprietary charging cable dims the otherwise brilliant luster of this otherwise terrific flashlight.
Price: $89.99
Where to buy: Olight and Amazon
Source: The sample of this product was provided by Olight.