We use affiliate links. If you buy something through the links on this page, we may earn a commission at no cost to you. Learn more.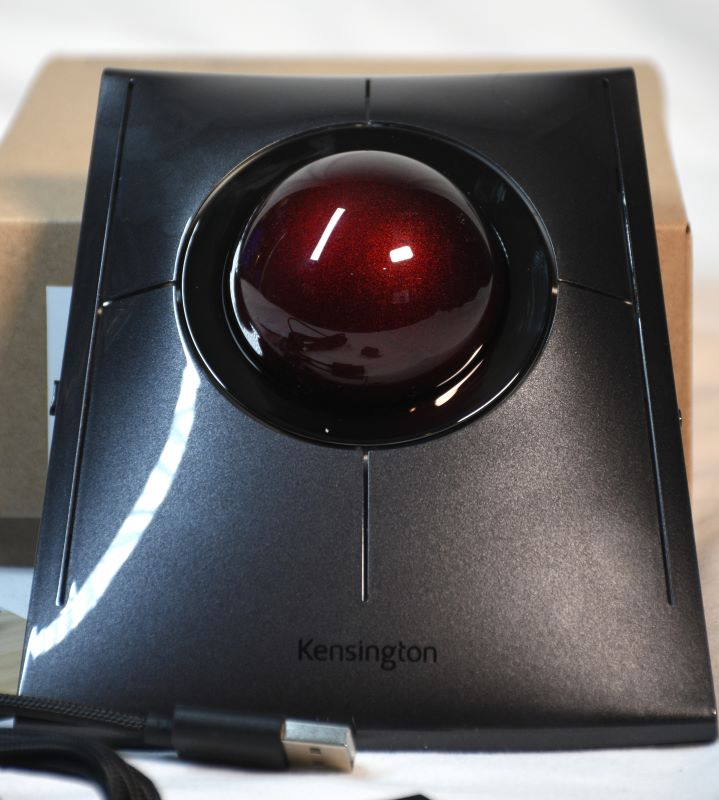 REVIEW – Years ago I had a Kensington trackball mouse and I loved it. But, because this was in the late '90s / early '00s, it grew long in the tooth, and I wanted something different once it died on me. Jump forward to the 21st century and I found myself looking into trackballs again for my home office. I figured with desktop space at a premium, it would be nice to give them a try again. Enter the Kensington Slimblade Pro Trackball.
What is it?
The Kensington Slimblade Pro Trackball is a wired/wireless trackball mouse with a rechargeable battery that you operate with your fingers instead of your thumb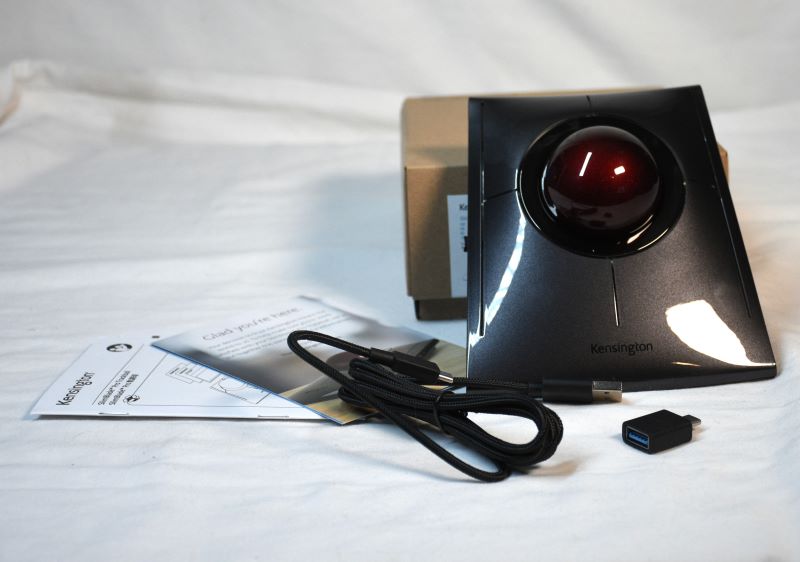 What's in the box?
The Kensington Slimblade Pro Trackball Mouse
2.4 GHz USB wireless adapter
Female USB A to Male USB C adapter
USB A to USB C cable
User manual
Design and features
The Kensington Slimblade Pro Trackball mouse is quite large.  It's about 5in along the bottom edge, about 4 1/4in along the upper, and about 6in long. Yeah, yeah, I know I said I needed to conserve desktop space, but this trackball won't be moving around like a regular mouse. So, I'm still saving space. The ball itself is 55mm/2.16in diameter, so also not small but that works out for me because of my large hands. It rolls smoothly in its base for mouse navigation and for scrolling.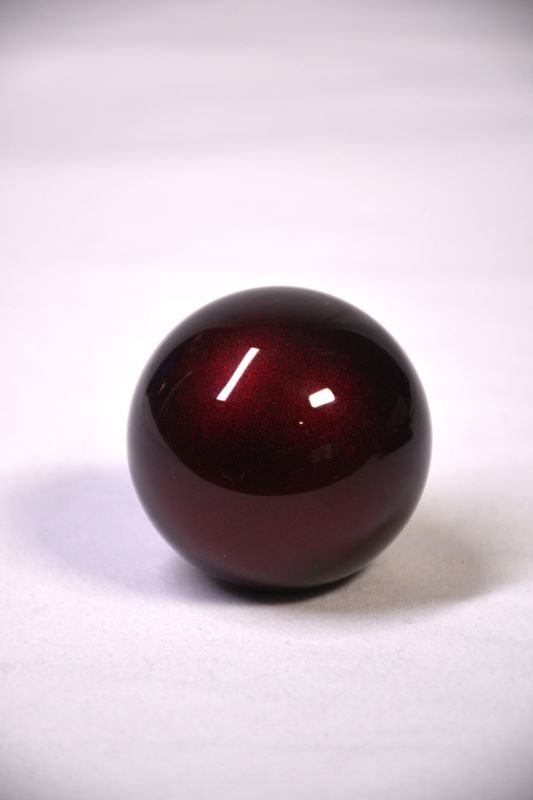 The Kensington Slimblade Pro Trackball offers three ways to connect; Bluetooth, 2.4 GHz wireless, and USB wired. And for wireless connections, it has 128-bit AES encryption. Why? Because apparently people a lot smarter than me can monitor the wireless connections and capture some of your sensitive information, apparently even through your mouse. There are probably other mice out there with this capability, but this is the first one I've seen with it.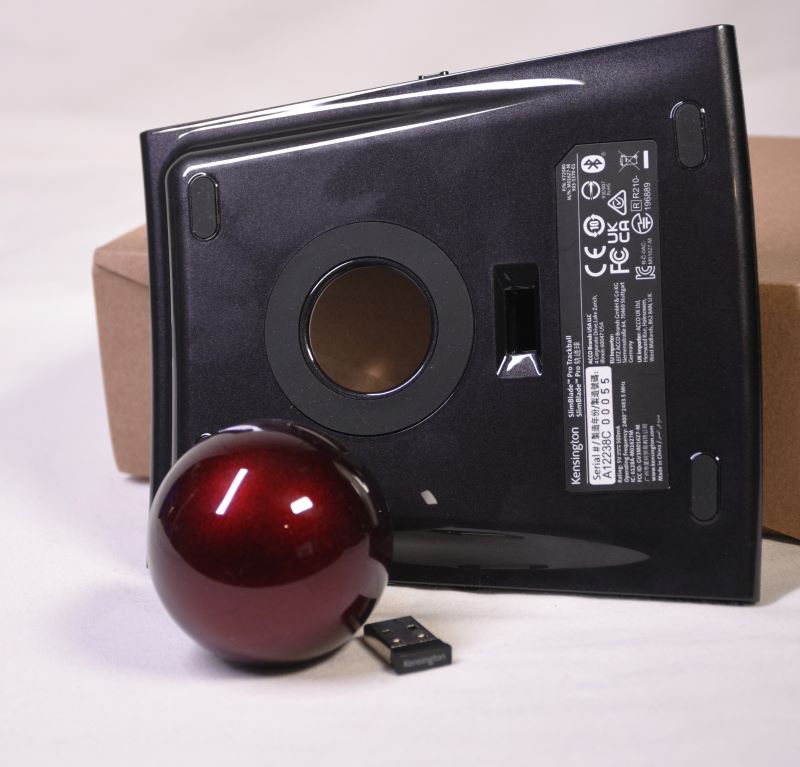 The Slimblade Pro has a rechargeable battery claimed to provide 4 months on a single charge. I haven't had it that long, but I haven't had to charge it again since I put it to use about a month ago. I couldn't find anything stating the actual capacity of the battery is or its composition. All I was able to find is that is non-replaceable but can be recycled.
Despite the large footprint, it has a low profile for comfort, and being that the base is stationary, you use less hand and arm movement. Coupled with that, it uses dual sensors for accurate tracking and scrolling so, you should be able to use it longer than a regular mouse with much less discomfort. I can confirm this. I use it all day for work and haven't had the stiffness or soreness I usually get with a regular mouse.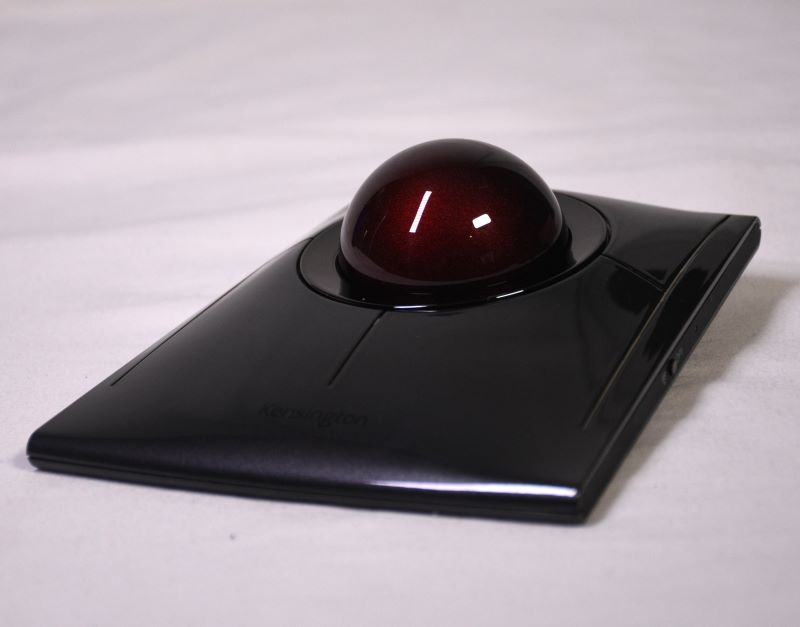 The Kensington Slimblade Pro Trackball is PC and Mac compatible and is plug-and-play, at least in a Windows environment. I had no problems with my laptop recognizing it no matter what connection I used.
For those who want to customize their trackball experience, Kensington offers separate software you can download.  It allows you to reassign the buttons, making it truly ambidextrous. You can also give it a configuration specific to an application to make work more efficient. It essentially takes the four buttons and gives you 8 sets to program. There are the 4 individual ones, plus 4 sets of combinations, the left 2 buttons together, the right 2, the top 2, and the bottom 2.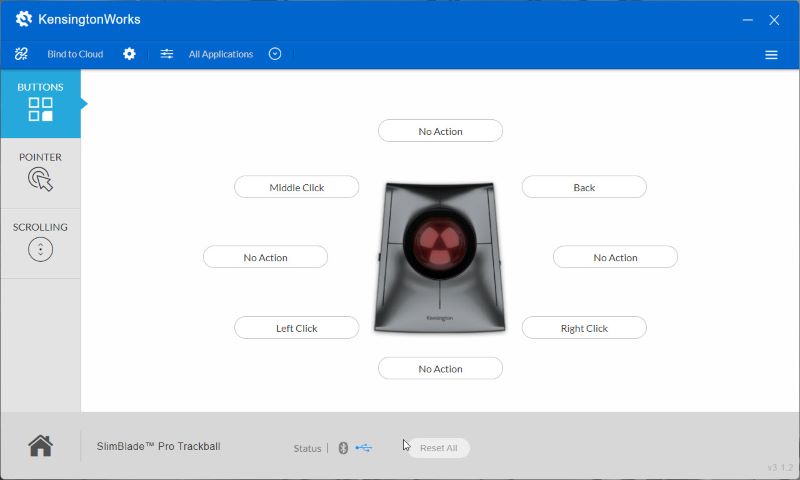 Setup
There's not a lot of setup to use the Kensington Slimblade Pro Trackball straight out of the box. You can simply use the USB cable and connect it directly to your PC. For 2.4 GHz wireless, I simply connected the wireless dongle, disconnected the cable, and slid the slider on the left side up. It worked straight away with no hassle.  With Bluetooth, slide the slider down to the bottom and then press and hold the DPI button on the right side to enter pairing mode. As you can see below, my system sees it.  You'll have to take my word that I had no hiccups whatsoever.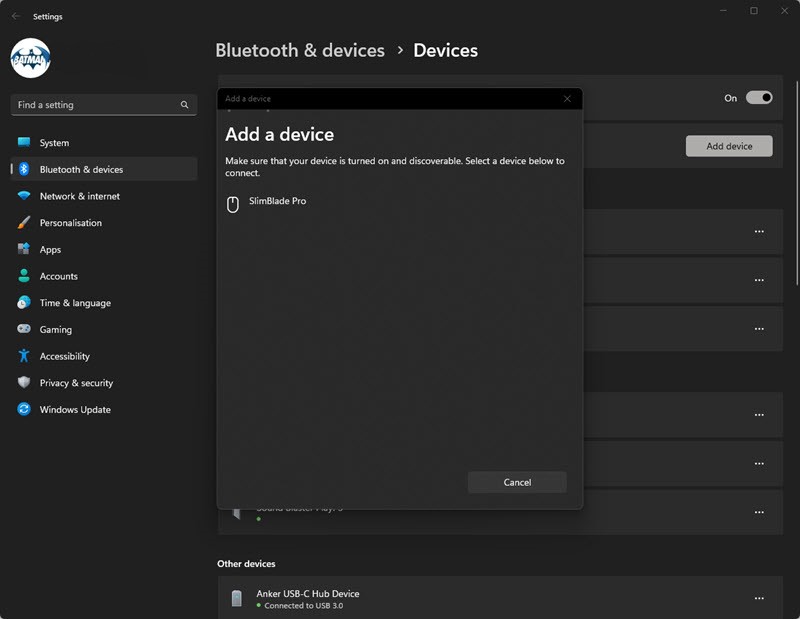 Performance
After years with a typical mouse, there was a learning curve for me when switching to the Kensington Slimblade Pro Trackball.  At first, it felt odd because of its size and layout.  I have to use my thumb for a left click and my pinky for a right click.  I also had a bad habit of just using my index finger for mouse movement. After I few days, I got used to the clicks and found using my index and middle finger worked better for movement.
The next bump in the road was scrolling. You rotate, not roll the ball to scroll up and down.  I found myself doing a bit of both at the same time and getting frustrated. That was a failing of mine, not the mouse.  I found that if I rest one finger on the ring surrounding the ball, I could scroll easier. Speaking of scrolling, the Kensington Slimblade Pro Trackball makes subtle little clicks when doing it, but there's no noise when rolling the ball. Well, I say no noise.  When first using it, you may notice some squeaking. If that's the case, then take the ball out and roll it around in your hands.  That usually takes care of that annoyance.
There's a button on the right side of the mouse allowing you to change the DPI used, with 4 levels to choose from. It offers 400, 800, 1200, and 1600.  I found 800 DPI is the sweet spot for me.  Anything higher and the mouse gets jerky when trying to be slow and precise.  That could just be me, but I tried it on 2 different systems and got the same results.
What I like
Multiple connections
Rechargeable
What I'd change
Herky-jerky movement at high DPI settings
Final thoughts
Overall, I like the Kensington Slimblade Pro Trackball. I won't use it to replace my gaming mouse, but I'm using it daily while working, surfing the net, and writing reviews. If you're in the market, check it out.
Price: $119.99
Where to buy: Kensington
Source: The sample of this product was provided by Kensington.