We use affiliate links. If you buy something through the links on this page, we may earn a commission at no cost to you. Learn more.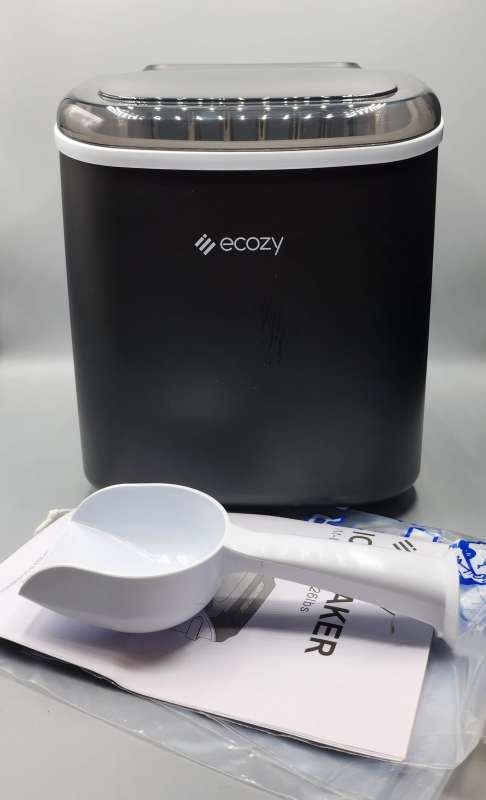 REVIEW – Call me a barbarian, but I don't have the water and ice thing in the door of my fridge. It was a conscious decision based on the fact that  I'd much rather have another cubic foot of freezer space than have ice on demand.  My family has adjusted to our primitive living arrangements, but there are times when I need a lot of ice and I need it in a hurry.  The ecozy Portable Icemaker is what I use when I need emergency margaritas.
What is it?
A countertop icemaker that cleans itself.
What's in the box?
ecozy Portable Icemaker

Snap on handle

Removable ice basket

Instructions

Some ice bags

Ice scoop
Setup and features
All you need to do to set up the ecozy Portable Icemaker is snap on the handle, pour in some water and plug it in.   I think the hardest part of the setup is peeling off the tape that holds the basket in place.  It was kind of awkward because it was in a tight space, but once I got it off, I was in business.
There are a couple of cool features that make the ecozy a great icemaker.  First of all, it makes ice in a hurry!  It can make nine cubes in six minutes.  It made the ice so quickly when I was testing it that the ice basket would fill up and then it would stop making ice and the ice in the basket would start to melt.  Ecozy recommends removing the ice from the basket regularly and storing it in the freezer to set up because it will melt quickly if you leave it in the unit.  
If you're making a bunch of ice, plan on checking it every 10-15 minutes because you'll need to empty the basket often.  The specs say it can make 26lbs of ice in 24 hours.  I believe that is possible with this machine, but I don't know what lunatic would be checking the basket around the clock.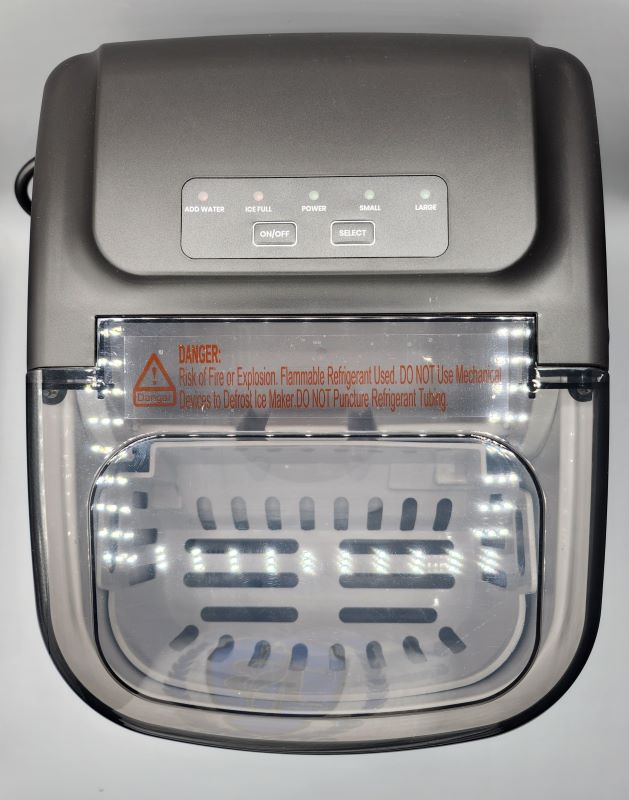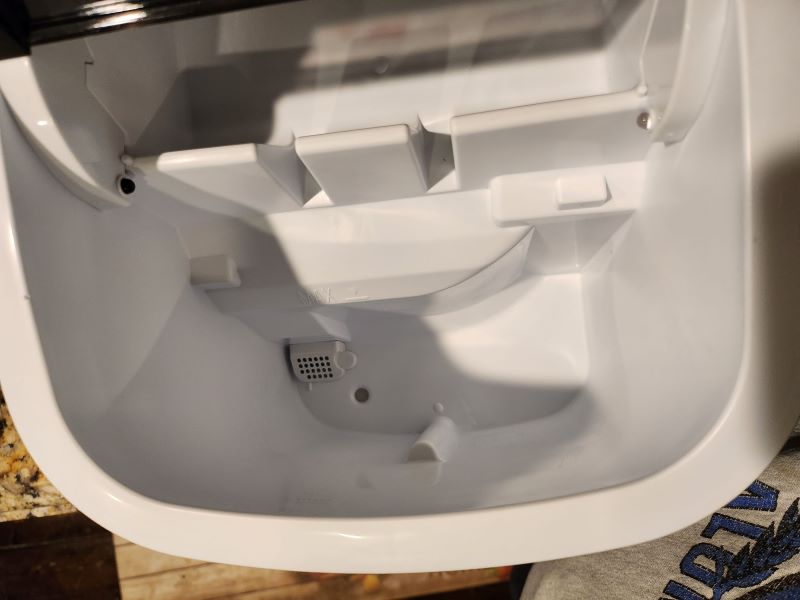 I've had other icemakers in the past and they were noisy and huge.  The ecozy really stands out from the competition because it's very quiet.  There's a little fan on the side that whirs along but I don't think you'll notice the noise at all.  In fact, the specs say the fan logs in at 35dB.  The average oven noise is over 50 dB.  It's also quite a compact unit.  It will easily fit on a counter underneath the cupboards with its small footprint (it measures around 9x12x12 inches).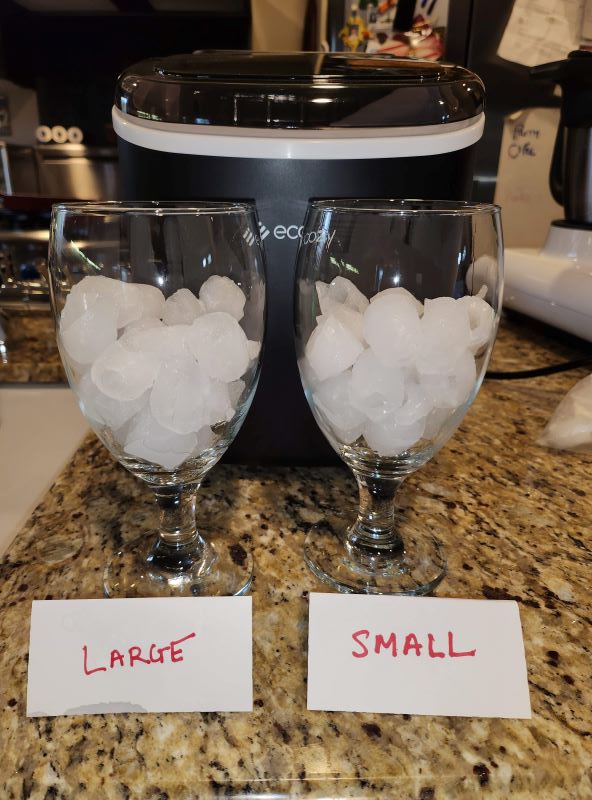 The ecozy icemaker says it makes two sizes of ice cubes.  I made a batch of small and a batch of large so that I could compare, and the results speak for themselves.  I certainly don't see a meaningful difference.  I tried to collect the ice as soon as it was made so that it didn't melt significantly and throw off the comparison, but they look the same to me.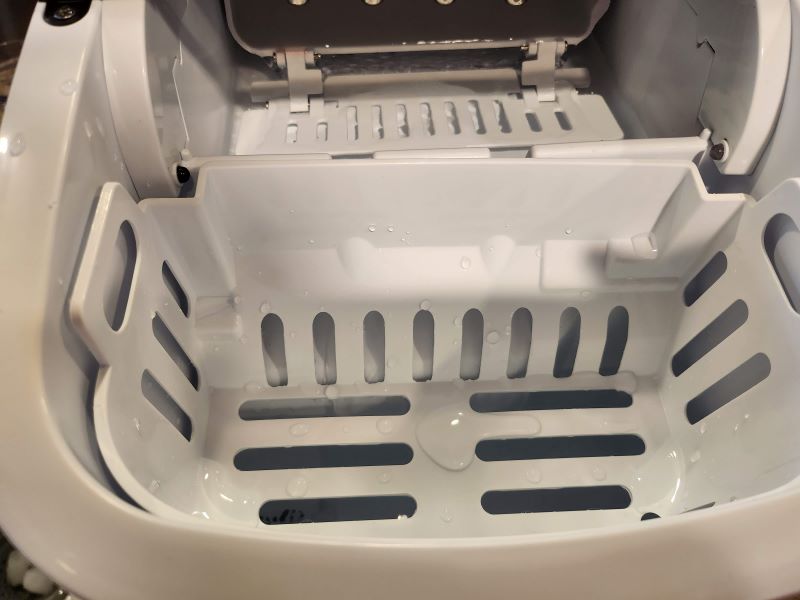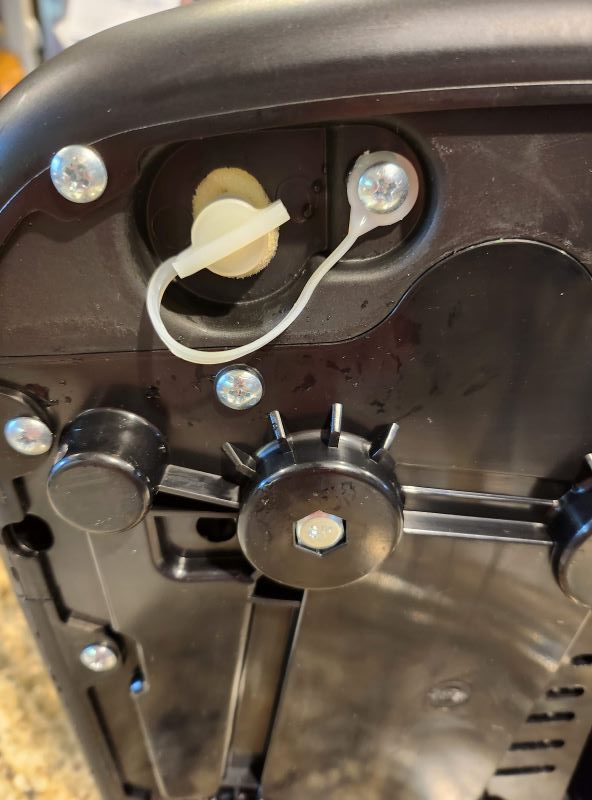 I really like the removable handle, because I plan on storing the ecozy when I'm not using it, and the handle won't get in the way. I also am a big fan of the self-cleaning feature.  Other icemakers I've had get pretty gross if you don't empty them out and let them dry completely.  The ecozy cleaning mode circulates the water continuously for a time to clean itself, then there's a plug on the bottom that lets you drain all the water.  I really like that because it can be awkward (and heavy) to tip an icemaker over.  The plug solves that problem.  I propped the icemaker open for a day or two just to make sure it was completely dried out, and then I stored it away with the scoop and directions inside.
The ecozy icemaker itself feels solidly built.  The scoop is a bit flimsy as is the ice basket, but I think if you handle it with a little care it will hold up fine.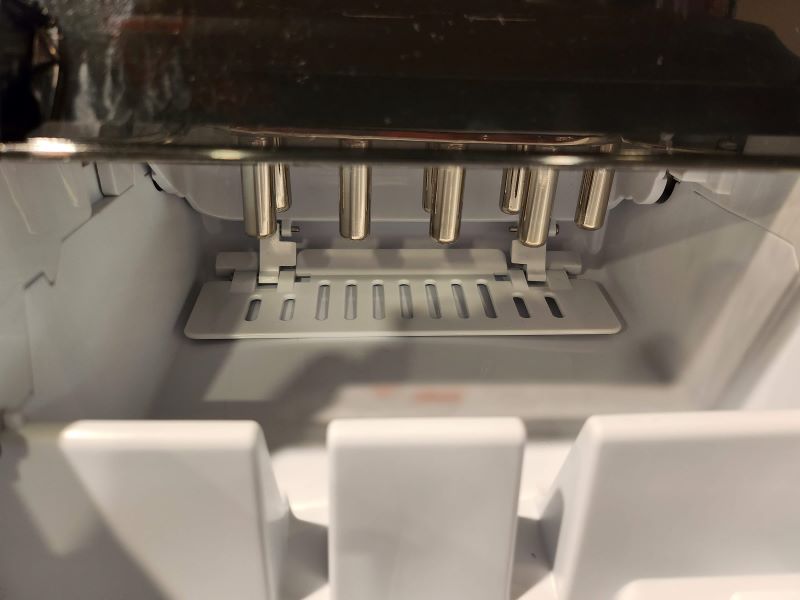 What I liked
Speed of icemaking

Barely makes a sound
What I'd change
Maybe an audible cue to let me know when the basket is full
Final thoughts
The holidays are upon us and for many of us, that means entertaining.  The ecozy Portable Ice Maker will keep me icy all season long!
Price: $99.89
Where to buy: Amazon or ecozy
Source:  The sample for this review was provided by ecozy.