We use affiliate links. If you buy something through the links on this page, we may earn a commission at no cost to you. Learn more.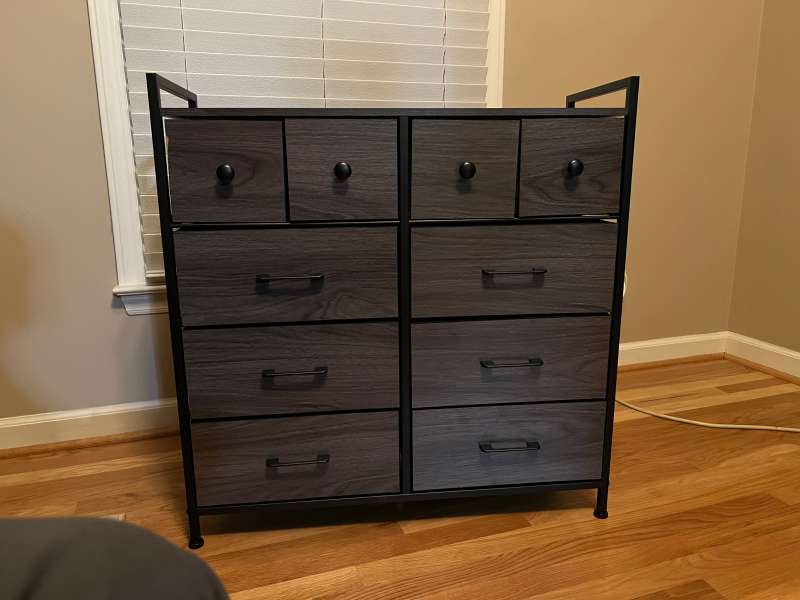 REVIEW – For Gadgeteers, storage is sometimes at a premium. We have loads of cases, plugs, battery packs and such that can quickly overwhelm shelf space. A new release from Wasagun that can solve this is their 10-drawer Dresser. I was sent a sample in black with a grey wood grain finish. Let's take a closer look to see if it can help with Gadgeteer storage.
What is it?
The Wasagun 10-drawer dresser is a light-duty dresser with fabric drawers.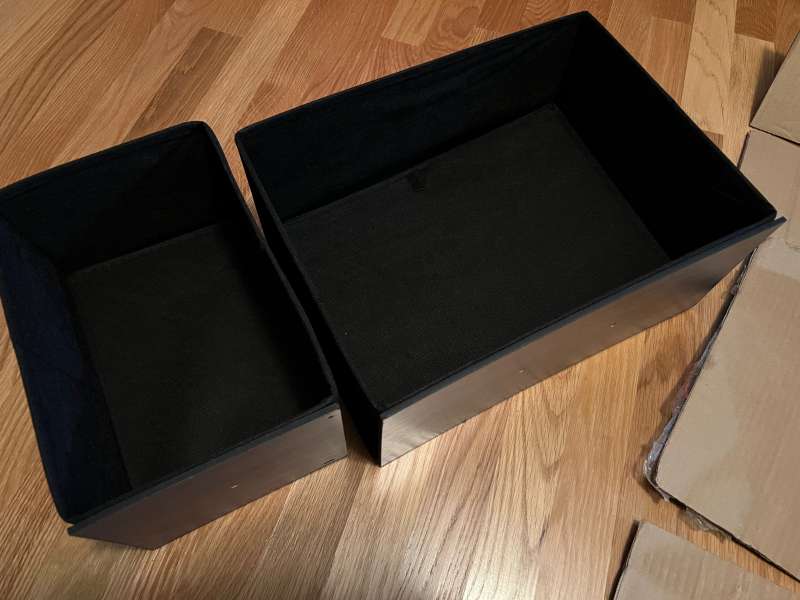 Hardware specs
From the manufacturer's website
10 Drawers Large Storage Space – This dresser is equipped with 10 independent foldable fabric drawers, which not only provide ample storage space, but also help you organize and store items in good order, such as clothes, towels, books, toys, etc. This chest of drawers is perfect for placing in the bedroom, living room, closet, office, hallway and more to keep your home clean and tidy.
Unique handle design – The round handle on the small drawer and the rectangular handle on the large drawer are combined to create the appearance of a smiling face, adding interest and a sense of design. All handles are made of smooth aluminum alloy, which is stronger and easier to push and pull than common plastic materials. The design of the armrests on both sides also makes the relocation of the bedroom dresser more convenient and user-friendly.
Reliable Stability – Equipped with 4 plastic feet, which can maintain the stability of the dresser organizer even on uneven ground and avoid scratching the floor. Anti-tipping devices can be used to secure the cabinet to the wall. An "X" tie on the back of the vanity adds extra stability for maximum safety.
High Quality and Durability – This tall dresser combines high-quality MDF planks and breathable fabrics to create a realistic wood look (not wood drawers) without worrying about scratches or odors. The whole dresser is made of thickened wood and metal frame, the surface is covered with waterproof material, which is durable and easy to wipe and clean.
Easy to Assemble & Specification – We provide you with a complete package, which includes all accessories, installation tools and an installation manual, you can easily build the entire dresser in half an hour. Overall dimensions: 31.6″ Lx 11.4″ Wx 32.6″ H; The 6 large drawers can hold up to 10 pounds.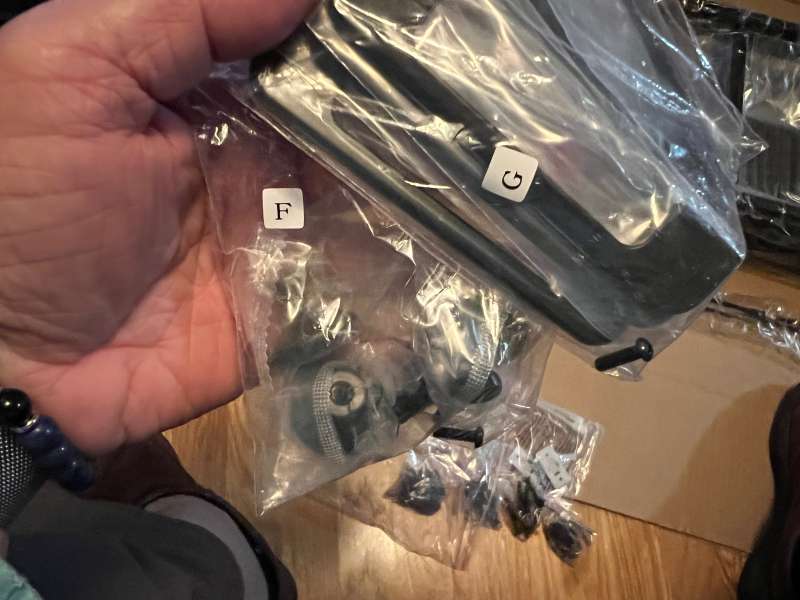 Design and features
The Wasagun 10-drawer dresser has a metal frame with runners in place to guide the drawers into place. The drawers are sewn fabric boxes that fold flat. There is a fabric-covered board (Masonite? MDF?) that pushes into the bottom of each drawer to hold its shape. There is a small tab of fabric sewn into the bottom piece which makes it easy to pull the bottom stiffener out in order to fold up the drawers.
The instruction sheet is nicely laid out, and the parts bags are labeled.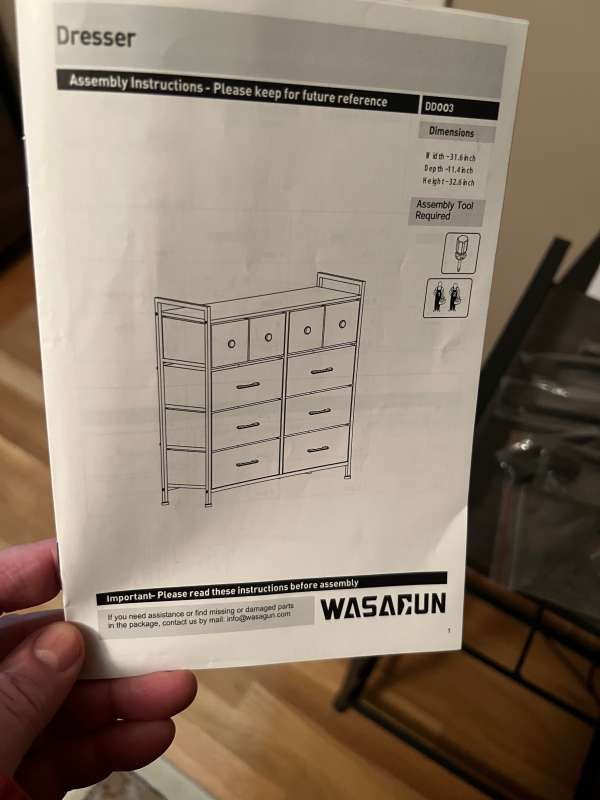 The screws on the frame all go into well-placed threaded pieces welded into the frame. None of them were askew. The aluminum alloy handles all have threads to attach them to the drawer fronts. The holes through the fabric and MDF for placing the screws were all drilled/cut cleanly.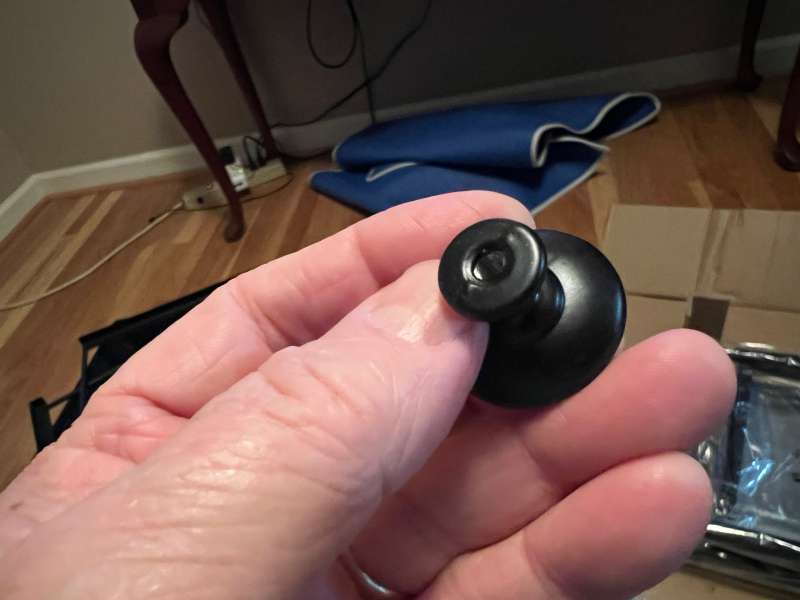 Wasagun has two dressers currently on the market, the 10-drawer one shown here and a nine-drawer model. The width and depth are the same, but the nine-drawer model has a shelf above the top level and consolidates the four square-front drawers into three equal ones. The bottom six drawers are identical in both models.
Setup
There is quite a bit of set-up with this unit. While the Wasagun 10-drawer dresser's box recommends two people for moving it, I was able to move it around by dragging and rolling. Assembly can be done with a single person. Assembly is easy, but you'll need to pay attention to the drawer runners to make sure you don't put them in backward. (This definitely didn't happen to me more than once.)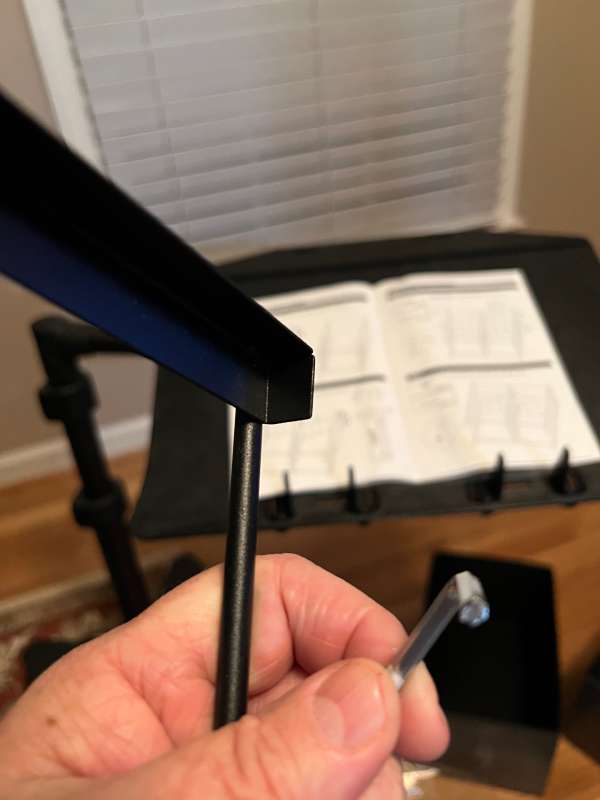 Once you've got the frame together, you'll need to unwrap, expand, and install the handle for each drawer.
I was not happy with the tight size between the holes and the screw heads on the drawer pulls.
Maybe it's just the Dad in me, but I could see someone (not Jack) pulling open a drawer and it being slightly misaligned and the handle coming off in my – um – that person's hand. So I bought a pack (many more than needed!) of fender washers with a very small hole and a large area to spread the stress out over more of the area. I'm much more comfortable with this.
Performance
I've just finished building the Wasagun 10-drawer dresser and it looks like it will be a great addition to my new place. The grey wood goes well with my new flooring. I'm not sure if I'll use it in my office for gadgets or in the game room for board game storage and other gaming needs, but it will definitely come in handy. The large drawers can hold board games and jigsaw puzzles easily, and they are rated to hold 10 pounds each.
What I like
Fabric drawers are easy to remove and replace
Metal frame with X-brace on the back is light but sturdy
What I'd change
Included screws have heads that may pull through drawer fronts
Decorative drawer fronts are not very durable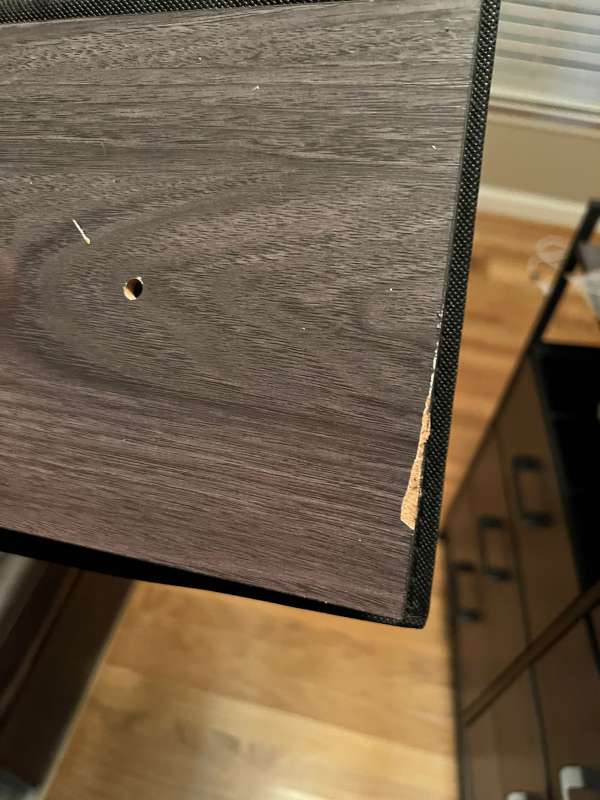 Final thoughts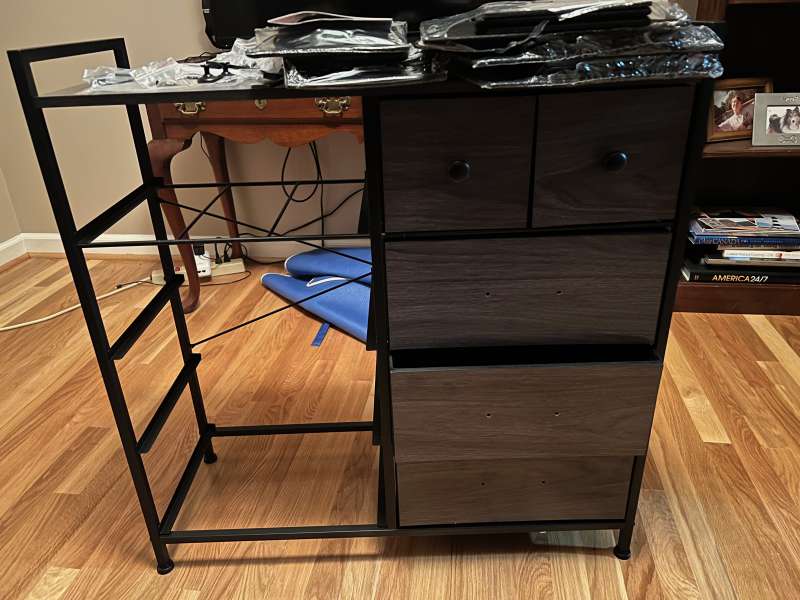 Knockdown furniture like the Wasagun 10-drawer dresser is here to stay. While you could argue that it's wasteful to buy things that will not last, if it's made using environmentally sound practices and can be easily recycled, I am OK with it. Most of the pieces I've had that were similar to this lasted well over a decade, through several moves into and out of dorms and apartments with college students. I expect this unit to last the same.
Price: $139.99
Where to buy: Amazon
Source: The sample of this product was provided by Wasagun.