We use affiliate links. If you buy something through the links on this page, we may earn a commission at no cost to you. Learn more.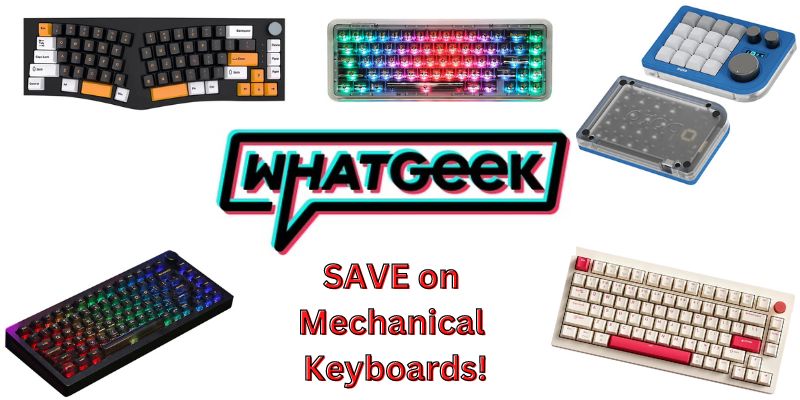 NEWS – In recent years, mechanical keyboards have rapidly gained in popularity and have become a fun hobby for do-it-yourself geeks and nerds who want to build or customize their ultimate keyboard down to the look of the keycaps, the key switches, and the clickity-clackity sound that they make while typing.  If you want to give your favorite keyboard addict something new to type on, you really need to check out the special holiday sale that's currently running on WhatGeek. Until Christmas, they are offering up to $60 off on a selection of their mechanical keyboards and accessories.
I'm personally on a quest to find my own favorite mechanical keyboard and will have a few reviews coming up very soon. One of those reviews will be for the iFLYTEK AI T8 Mechanical Keyboard from WhatGeek, so stay tuned. Also, you can check out Kenneth's recent review of the Dukharo VN96WAP barebones DIY mechanical keyboard kit which is currently one of the items on sale from WhatGeek.
If you're not familiar with WhatGeek, they are a group of customer-oriented geeks who love unique mechanical keyboards just as much as we do. Here's their story (taken from their website).
WhatGeek was envisioned by a group of curious individuals who saw creativity as the seed quintessential for any new innovation. Our team wanted to give this freedom to people across the globe while shopping for their favorite items online, whereby they can customize and create their own unique gadgets out of hundreds of assorted elements.

WhatGeek's vision is spearheaded by one of the teams at Geekbuying.com. Thus the personalization aspect of creating cutting-edge products is ingrained in our DNA ready to be shared with our community.

Usually, people associate geeks with nerds fancying about their favorite items, but since our team has a diverse group of people from R&D, designers, and experts with a ton of experience producing all kinds of unique gadgets. WhatGeek is here to redefine how people understand the term geek.