We use affiliate links. If you buy something through the links on this page, we may earn a commission at no cost to you. Learn more.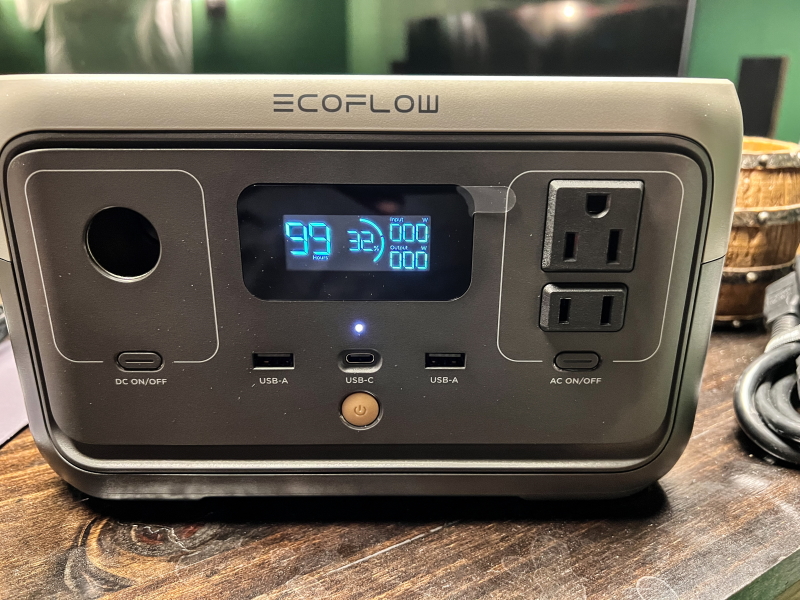 REVIEW – As most of the readers of my reviews would already know, I am a huge fan of the company EcoFlow and of every product that they have sent me thus far. These include the EcoFlow Smart Generator (Dual Fuel), the EcoFlow Wave Portable Air Conditioner, and the EcoFlow Delta 2 Portable Power Station. All of those devices have worked flawlessly and have left me alert for any and every opportunity to review another EcoFlow product. I guess my alertness has paid off because I now get to review the EcoFlow River 2  Portable Power Station which is the smallest device in their River 2 power station lineup.
What is it?
The EcoFlow River 2 is a power station that beats the industry charging speed standard, fully charging in only 60 minutes. With an upgraded long-lasting LFP battery chemistry at its core, charge and empty the River 2 over 3000 times. It features a state-of-the-art Battery Management System (BMS) that constantly monitors the voltage, current, and temperature with multiple aspects of protection, extending its life to the max. The EcoFlow app can be to control and monitor the device from anywhere in the world. There are 4 different ways to top up the River 2 Series from fast AC to in-car charging when you're on the go.
What's in the box?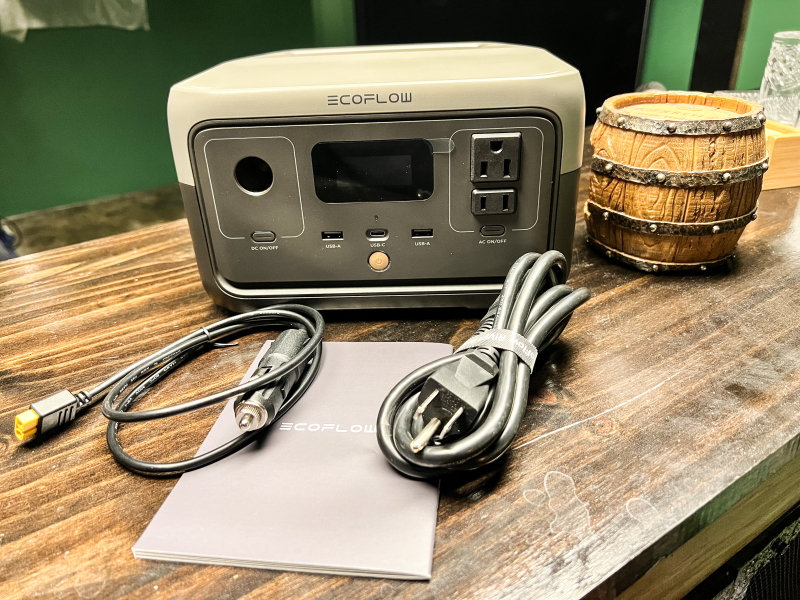 1 x EcoFlow River 2
1 x AC charging cable
1 x Car charging cable
1 x User Manual
1 x App Quick Start Guide
1 x Warranty Card
Hardware specs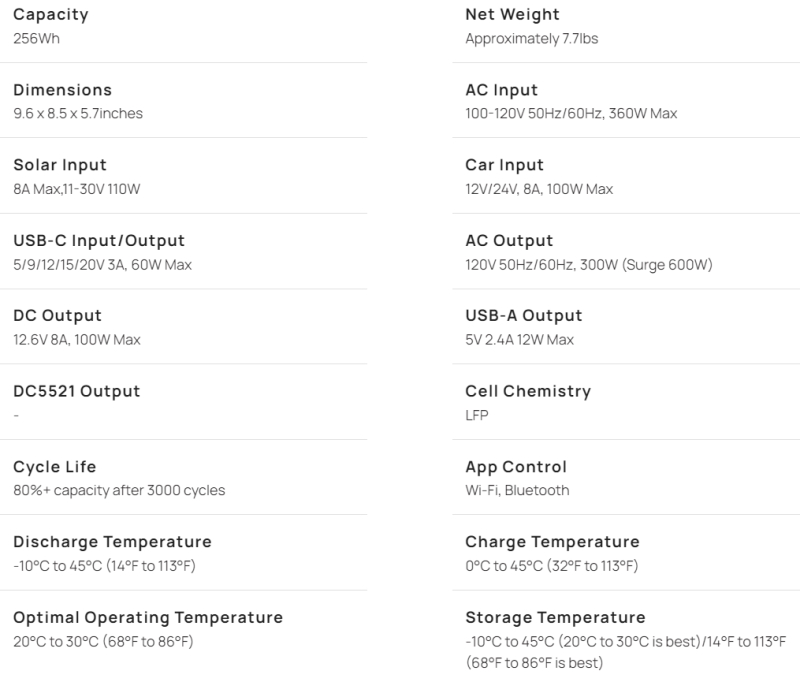 Design and features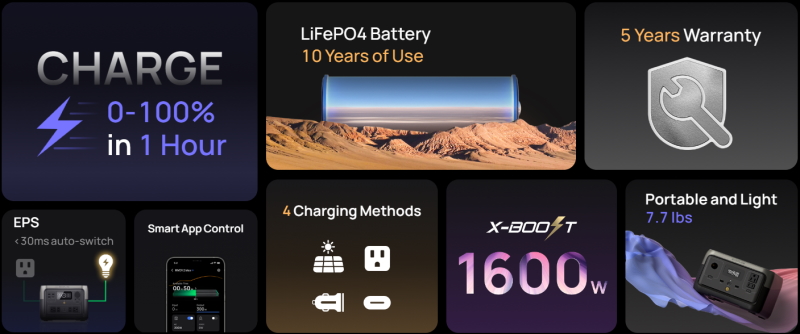 Charge 0-100% in only 60 mins: With ultra-fast 60m charging, you'll always be ready for the next getaway. Charge 0-100% using an AC outlet in only 1 hour.

Safe and reliable for 10 years of use:

With over 3000+ battery 100% cycles, you can use the River 2 almost every day for pretty much ten years. The LFP battery chemistry doesn't just offer long life. It's more reliable, efficient, and safe even in high temperatures. The River 2 has one of the longest warranties in the industry, so we've got you protected for the next 5 years.

Charge without limits:

With four versatile charging options, we've made sure you can charge the River 2 pretty much anywhere you are. Charge using an AC outlet for ultra-fast 1-hour charging, charge on the go with car charging, and go off-grid or green with fast solar charging. The River 2 has an all-new charging option, USB-C. Plug in and conveniently charge anywhere that has an outlet.

Run up to 99% of your consumer electronics:

With a 300W output, the River 2 has most of your essentials covered. But why not take power to another level with X-Boost mode? Turn it on to power appliances with an output of up to 600W, including a desktop computer or blender.
Grab-and-go-power: With a lightweight of only 7.7 lbs and an easy-to-carry design, the River 2 makes on-the-go power easy sailing.
Essential home backup with a 30ms switch-over mode: Prepare your appliances for unexpected outages. With a fast 30ms switch-over speed, the River 2 keeps your must-have-power appliances running.

Power at your fingertips:

Use the EcoFlow app to control and monitor the River 2 from the convenience of your phone. Connect using Wi-Fi or Bluetooth to use nearby or remotely.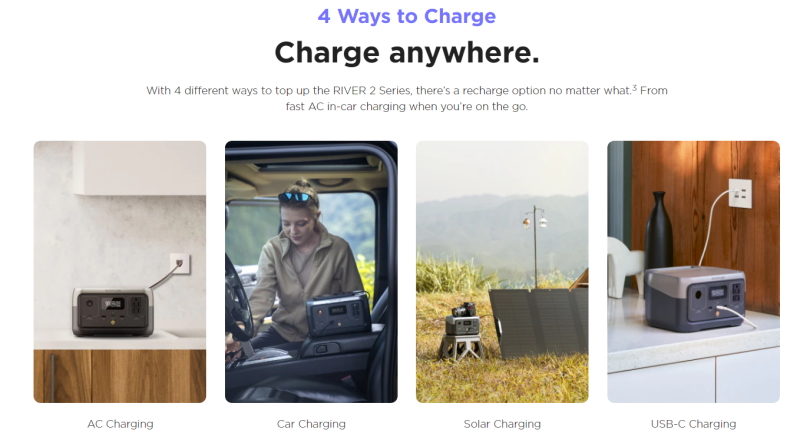 The EcoFlow River 2 is the smallest Power Station in the River 2 series. Its outer case is made from plastic/ABS. On the front, it features a LED display, a DC port with a dedicated power button, 2 USB-A ports and 1 USB-C port, the main power button, and 2 AC power ports (1 grounded) with a dedicated power button. On the back, there is the handle, the AC charging port, and the DC /Solar charging port.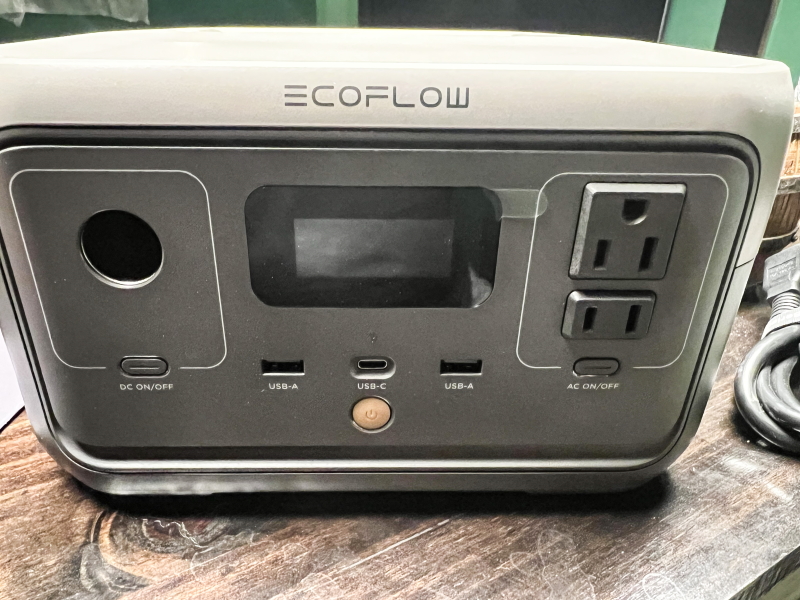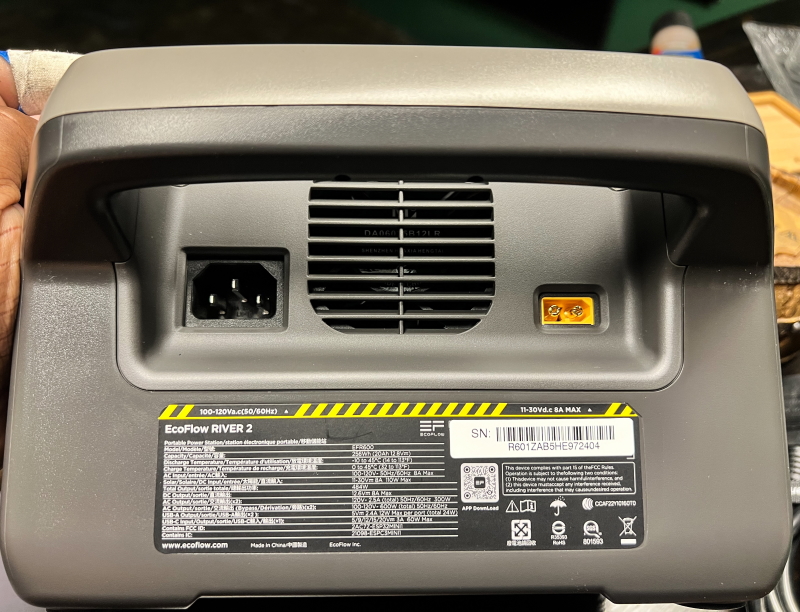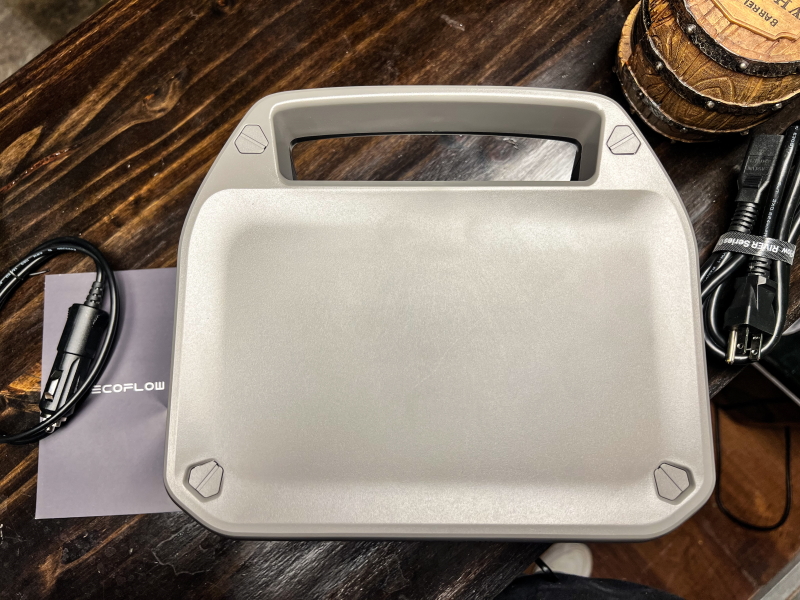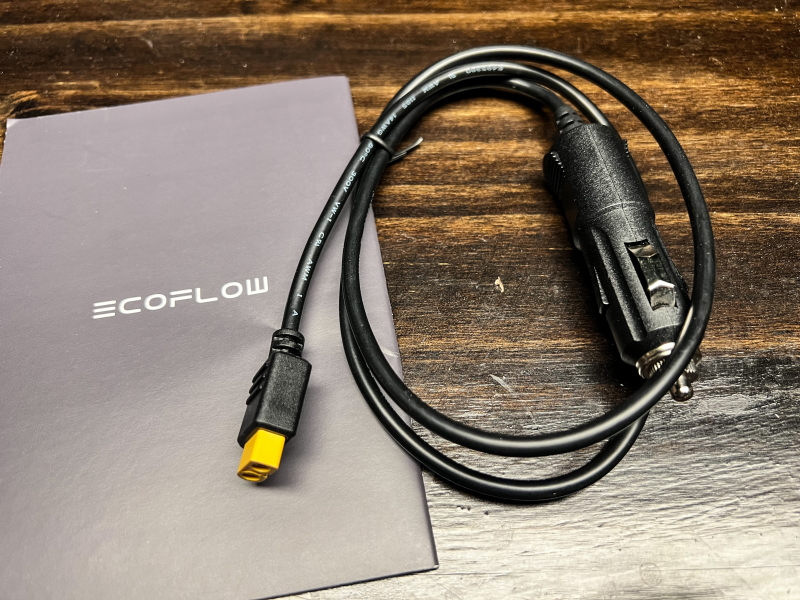 Performance
Once you charge this EcoFlow River 2 Portable Power Station, it is ready to go. In the first photo below, I plugged in a battery-powered corkscrew opener that I just purchased for my bar. I am primarily using this Power Station in a corner on my bar countertop to provide additional power and charging options for my guests who come by frequently and always seem to have the need to charge their phone, or finish up some work and need to power their laptop or tablet.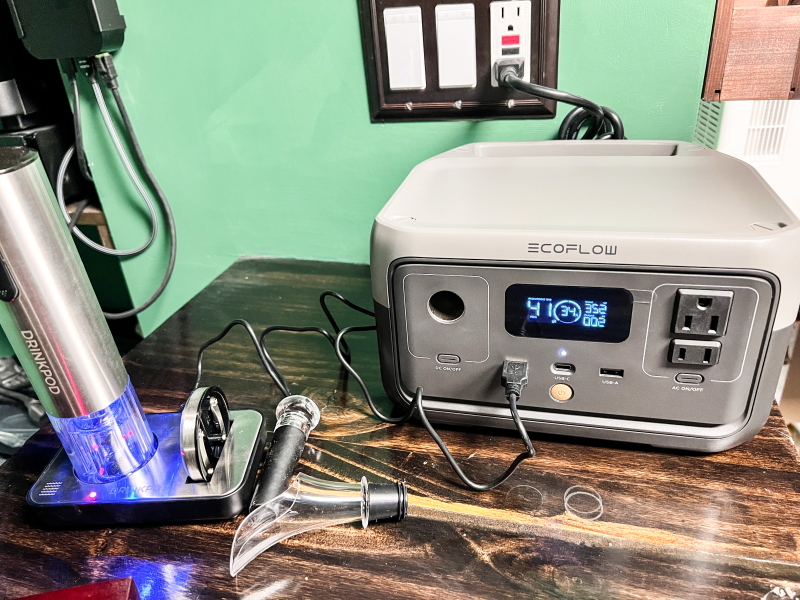 The photo below shows the EcoFlow in its current home on the countertop of my bar. I have an Alexa device, an Android tablet on the wall to the right, an electric corkscrew, and a phone connected. This really helps with the expansion of power that I need. I have also used it to power/charge a laptop, iPad, as well as the devices shown all at the same time. This is simply a great device for daily use, use on the go, and in an emergency.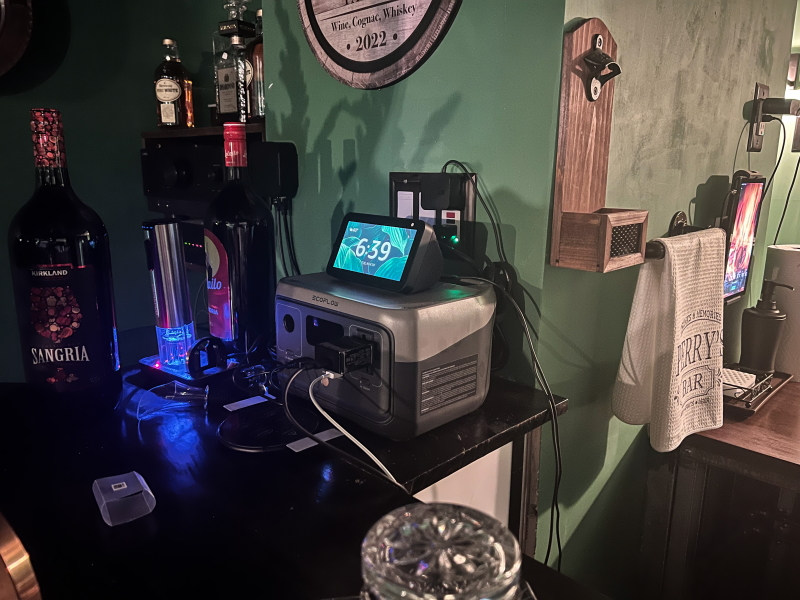 As with all of the EcoFlow devices I have tested, the EcoFlow app allows you to control, monitor, and have insight into the device and its performance:
What I like
The compact and lightweight sleek design
The assortment of charging/powering options
The four available options to recharge the Power Station
The quick recharging time when using AC
The projected lifespan
The X-Boost mode for doubling the output power
The quick switch over time in the event of a power outage
What I'd change
Final thoughts
Much like all of the other EcoFlow products, the EcoFlow River 2 does not disappoint. It is lightweight and compact and works well. It charges and recharges quickly, and it has enough ports to support all of my charging needs. I really do wish that EcoFlow had sent me solar panels as well for me to test. I give this EcoFlow River 2 Portable Power Station a well done and two thumbs up!!
Price: $219.00
Where to buy: EcoFlow website and Amazon
Source: The sample of this product was provided by -company EcoFlow