We use affiliate links. If you buy something through the links on this page, we may earn a commission at no cost to you. Learn more.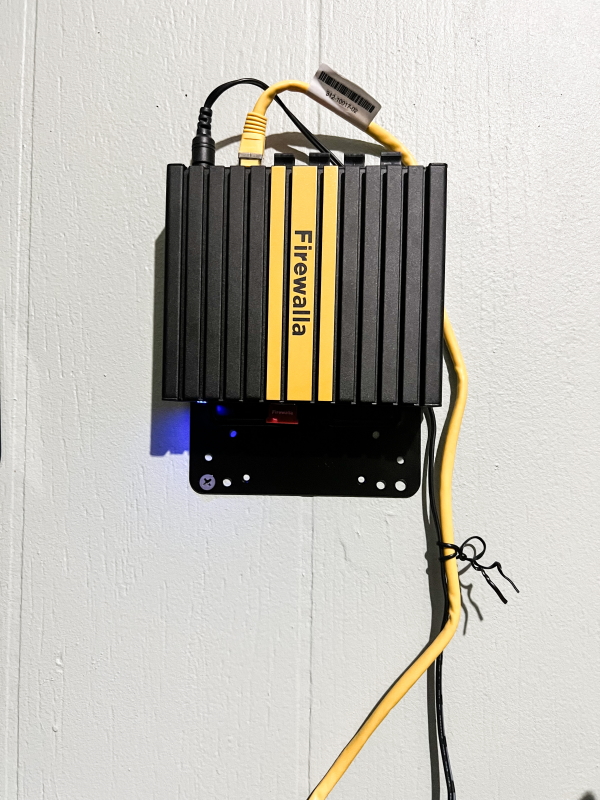 REVIEW – Several years ago, not long after I started writing reviews for The Gadgeteer, I got the opportunity to review the Firewalla Red firewall device. This small device appeared unimpressive and simple in its design, but it turned out to provide powerful firewall control for my network and became a permanent part of my network, Later on, I got the opportunity to test the Firewalla Gold, and now I am really excited to test and review the Firewalla Gold Plus. These days, there are usually over 80 devices continuously attached to my network and several of them are my kids' tablets and game consoles. Having the ability to not only monitor their access but to restrict them to safe spaces and limit their time online is a big win. So, let's check out the Firewalla Gold Plus.
What is it?
The Firewalla Gold Plus is a multi-gigabit smart firewall. It can be installed as a router or just attached to your network as a network device. It offers 4 x 2.5 GB network ports and network segmentation along with several other network monitoring/control features.
What's in the box?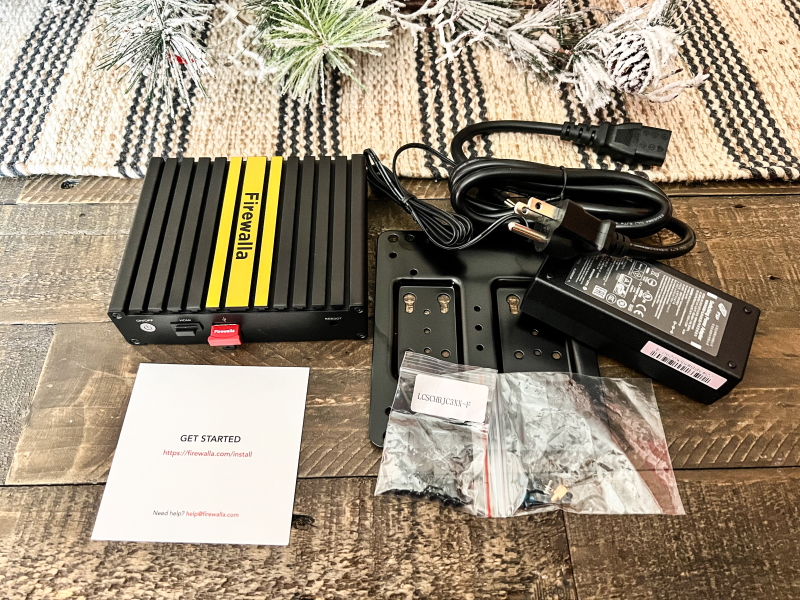 1 x Firewalla Gold Plus
1 x Mounting Hardware
1 x AC Adapter
1 x Get Started Card
Hardware specs

Firewalla Gold vs. Firewalla Gold Plus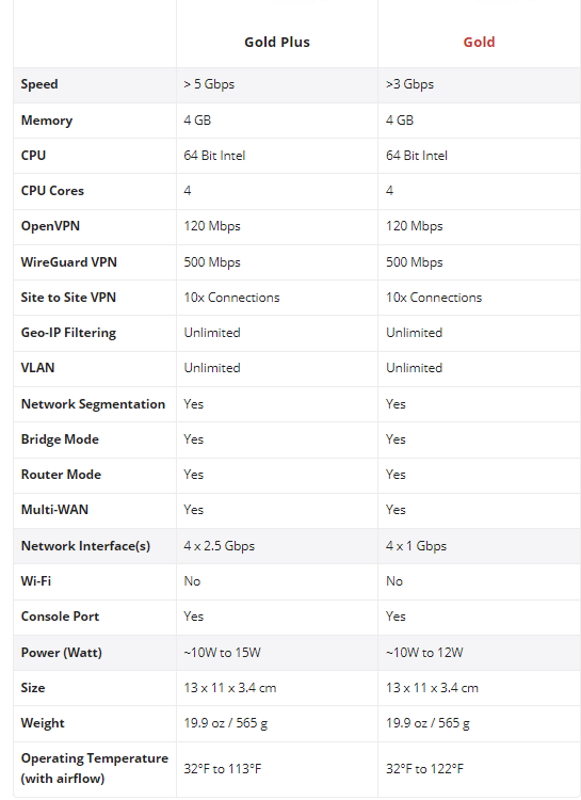 Design and features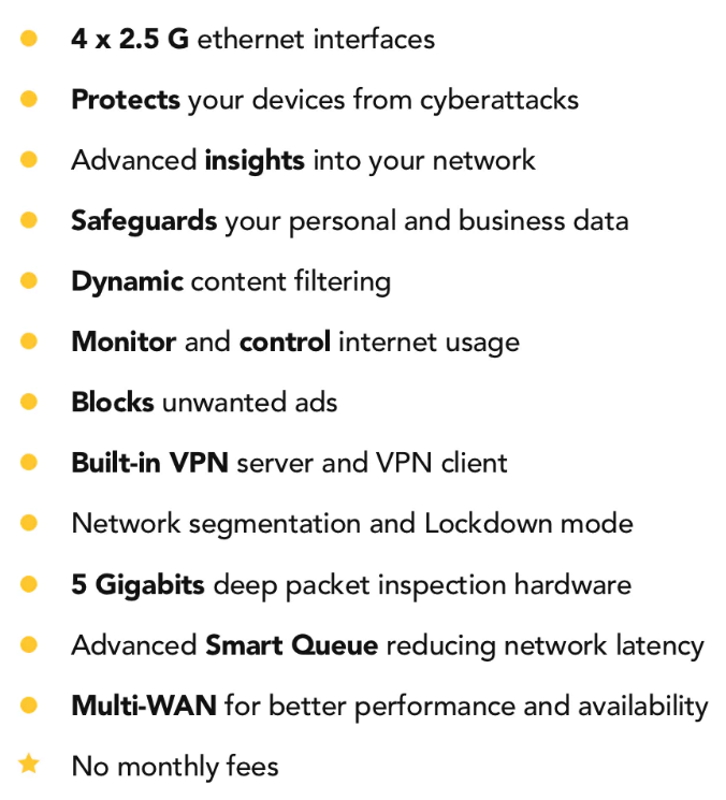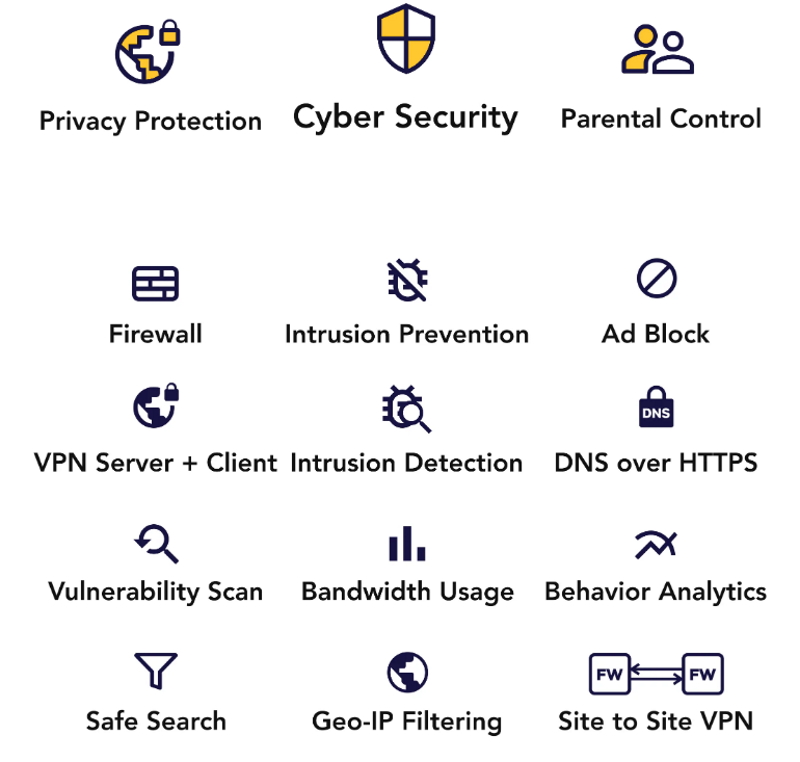 The Firewalla Gold Plus is a relatively small and compact device that is built within a robust metal chassis. On one short edge, there are the network and power ports, and on the other edge, there is the power button, HDMI (non-functional), USB port, and reset button. Underneath there are screw mounts to be able to mount it to the included wall mount. On top, there is the branding and the cooling fins.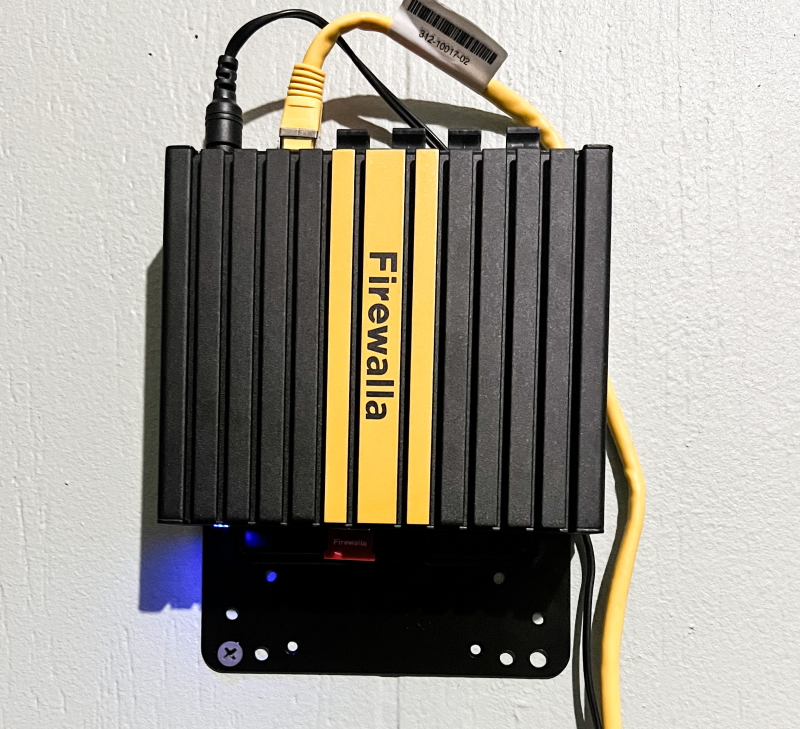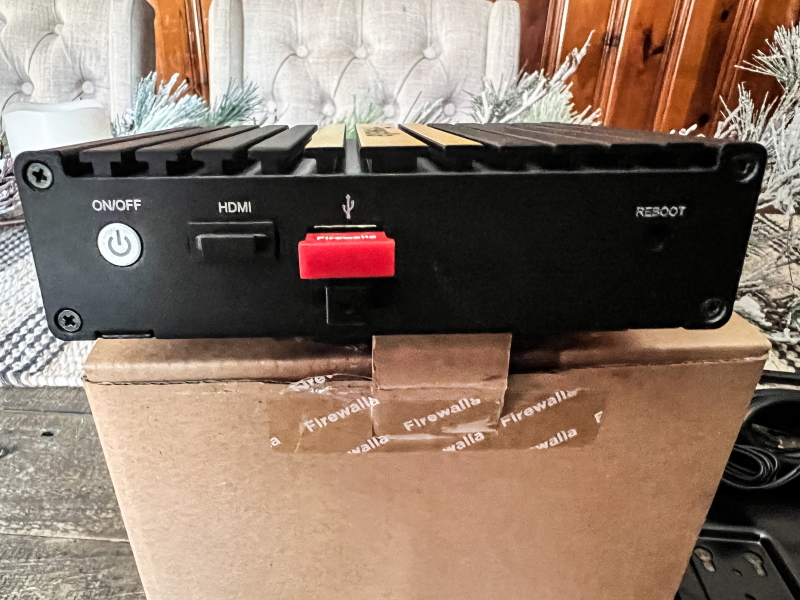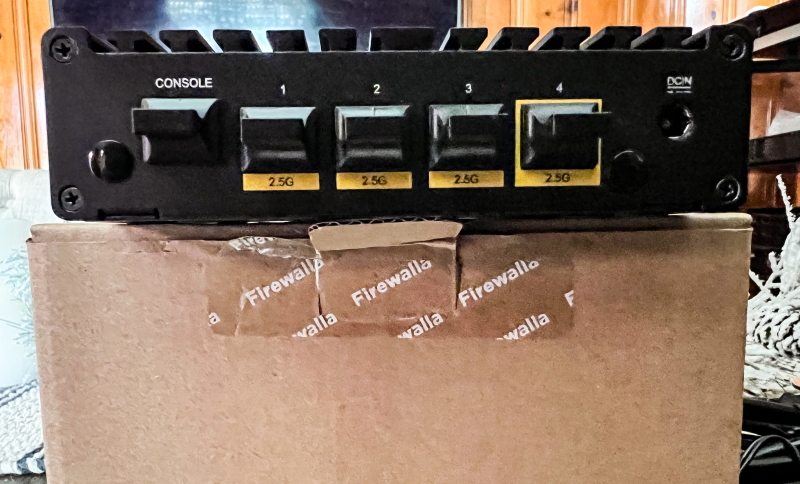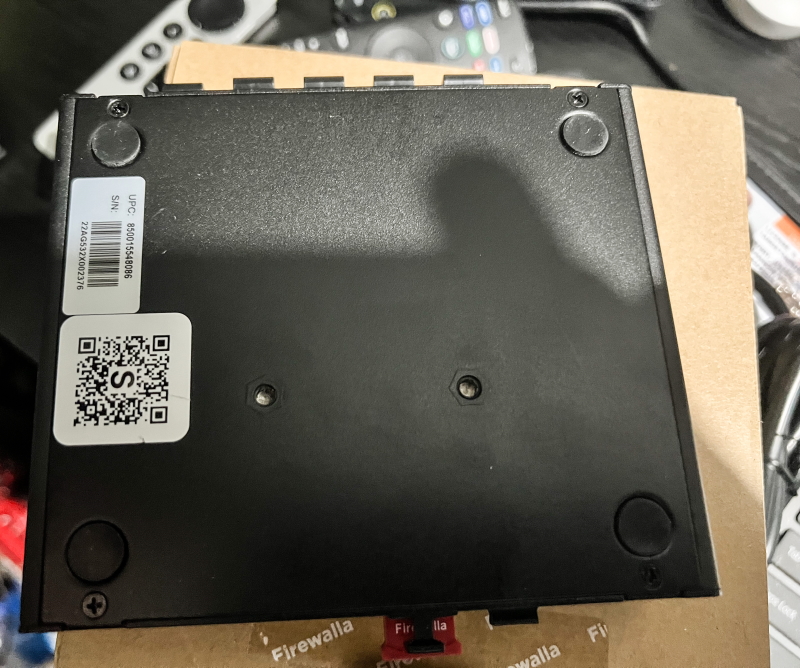 Setup
I decided that I wanted to mount this firewall Gold Plus to the wall, so I attached the mount and used two of the supplied screws to attach the device to the mount. Once that was done, I plugged in the AC adapter and a network cable and it was time to set up the device.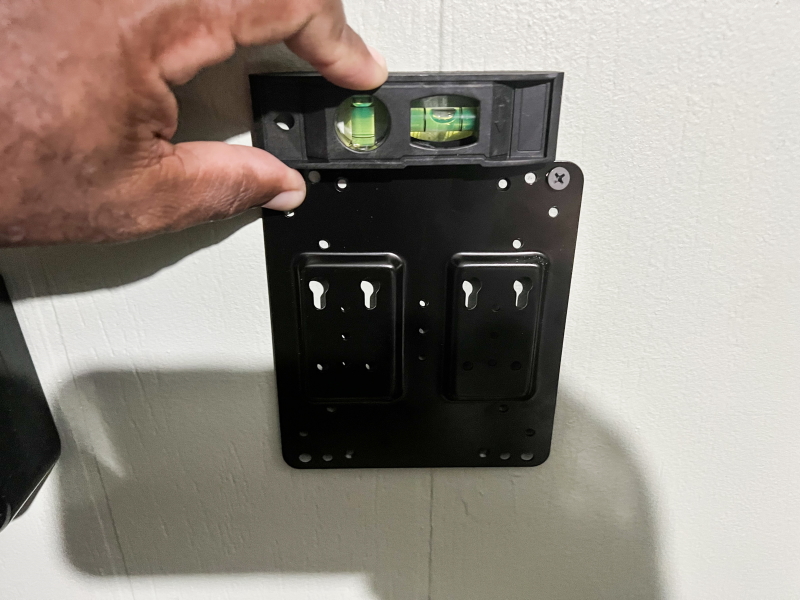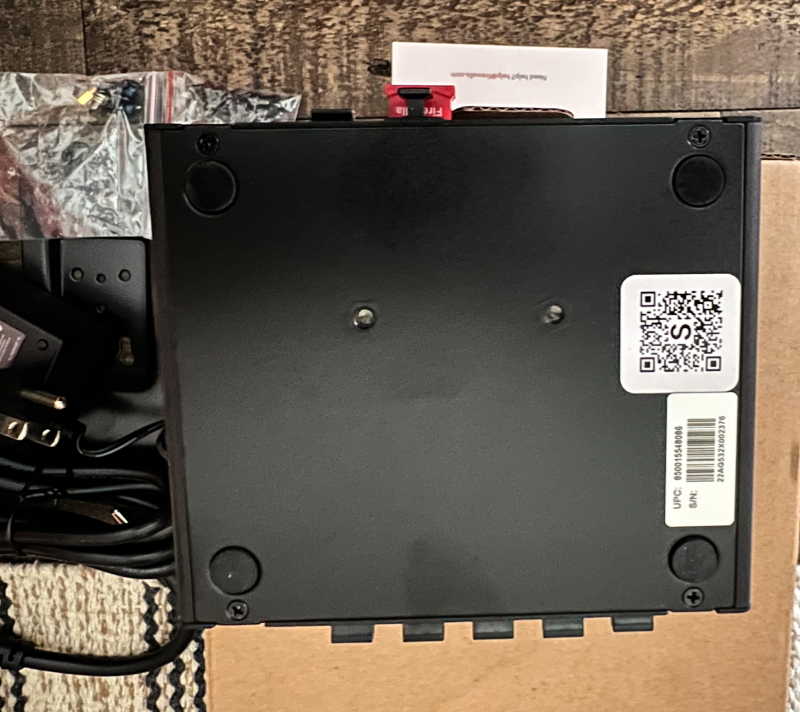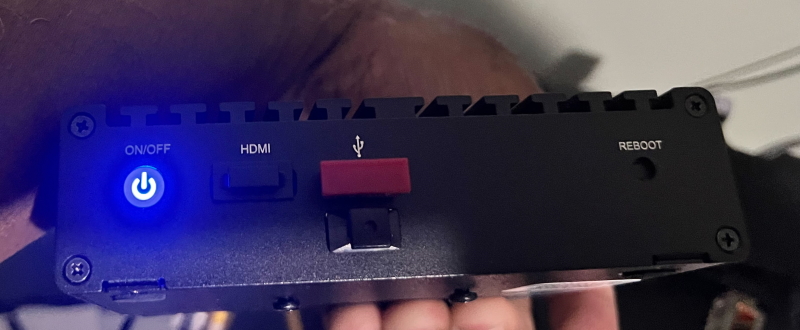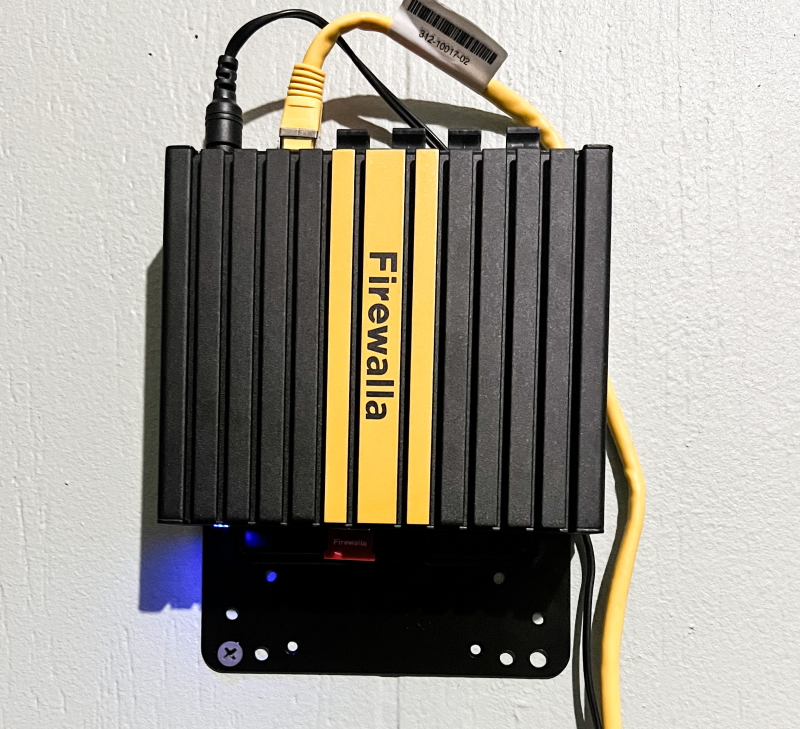 Once I finished mounting and connecting the Firewalla Gold Plus, the next step was downloading the app. Since I have previously installed other Firewalla models, I already had the app installed. The next step was to use the app to set up the device. There is the option to set it ups as a router or to add it to an existing network. Since I have a relatively advanced and expensive router, I chose the latter. Here are screenshots of the setup process from the app:
Performance
Once the Firewalla Gold Plus was set up, it immediately began to find all of the devices attached to my network and analyze the traffic. This device has so many features that it is impossible to list and discuss all in this review.  The screenshots from the app below show the various screens, the information offered, and the control abilities.
On the screen shown below, I have highlighted that the Firewalla Gold Plus has gound 82 devices on my network, and I know that my kids were asleep when I captured this data so there are a few devices that were not connected.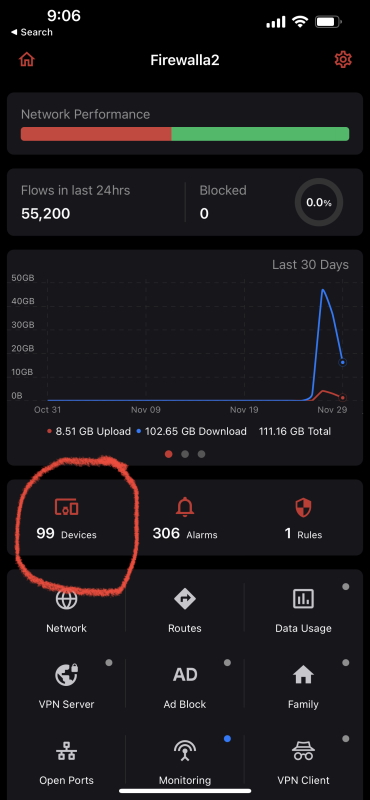 I also love the VPN feature which is very simple to set up and that allows me to access the internet via my home network. Not only does this allow for added security, but it also allows me to appear as if I am accessing from home. This is especially useful when I am traveling internationally and need to access some sites that block foreign IPs: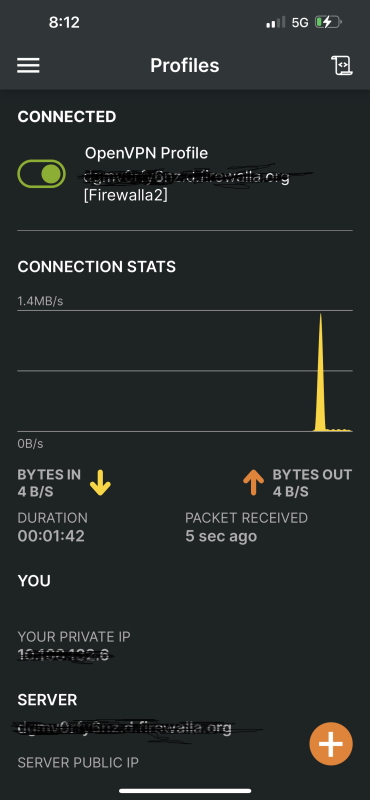 There is also an option to display data from the Firewalla app via a desktop browser. Here is what one of the screens looks like when I display it on my iPad. Keep in mind that the control functionality available from the app is not the same via the desktop browser: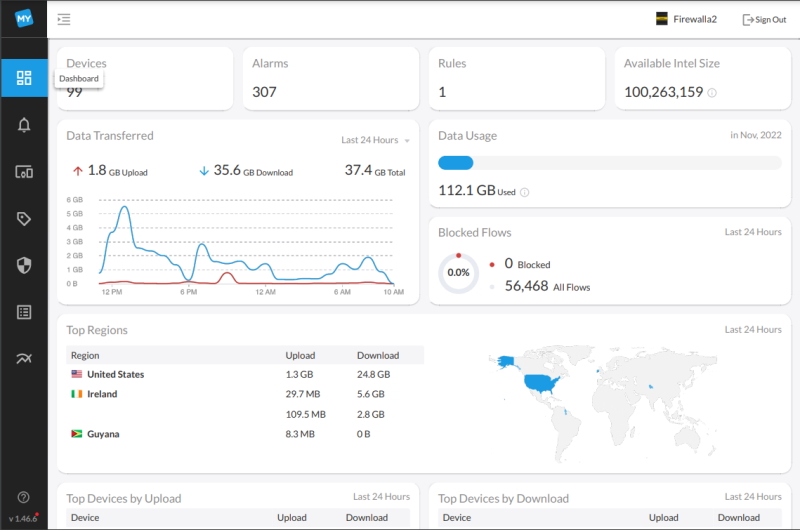 The Firewalla Gold Plus can function as a router albeit without Wi-Fi or it can function as an add-on to your network. I have a high-end router and I suspect, or it is my opinion, that most people that purchase this device already have a router that they like and will be more interested in using it as a Firewall for online protection. If you decide to use it in your home as I am, I suggest that you only choose this Firewalla model if you have high-speed internet access. I have 1 GB up/1 GB down.
The Firewalla Gold Plus has 4 x 2.5GB network ports, with port 4 designated as the uplink port to connect it to your existing network. If you choose to add this device as a Router, you can use the other ports to connect additional devices with the understanding that in Router mode, this device creates a separate subnet for those ports and the attached devices will not be able to connect to your existing network. It is also important to note that in add-on mode, the Firewalla Gold Plus protects all the devices on your network, but if I am correct, in router mode it only protects what is connected to its LAN ports.
This device works very well as a firewall device, with very nice online protection options including the ability to control access for each device. I also like the notification feature that keeps me informed about the types and frequency of traffic on my network. As you can see from screenshots in this review, it provides details. However, since I have close to 100 devices attached to my network, and since many of them are devices like cameras that experience frequent activity, I do find that the frequent notifications can become a distraction and at times a bit annoying. There is the option to turn them off completely, but that is too extreme for me except for at night when I go to sleep. I do wish that there was a built-in notification scheduling function that allowed me to easily choose which notifications I want and when.
Lastly, since the Firewalla Gold Plus is app controlled, I do believe that the vendor also has access to see within your network.
What I like
The compact and robust build quality
The connectivity options within a network
The ease of installation and setup
The performance including all of the network monitoring and functionality options
What I'd change
I would prefer a written manual to be included
No ethernet cable is included
I would like to see a built-in selection and scheduling function for notifications
Final thoughts
Much like the previous hardware firewall devices that I have tested, the Firewalla Gold Plus does not disappoint and now it has become the new and permanent firewall device for my network. While I have not yet created a complete set of permanent settings, it is providing all of the data that I need to monitor and analyze the traffic on my network as well as giving me the ability to keep things safe. Because I have a dedicated security gateway device that is dedicated to VPN access, I will not set that up on this device, but it is important to note that as one of the features. The setup is easy and painless and there have not been any disappointments. I give the Firewalla Gold Plus a well done and two thumbs up!!
Price: $579.00
Where to buy: Firewalla website
Source: The sample of this product was provided by Firewalla