We use affiliate links. If you buy something through the links on this page, we may earn a commission at no cost to you. Learn more.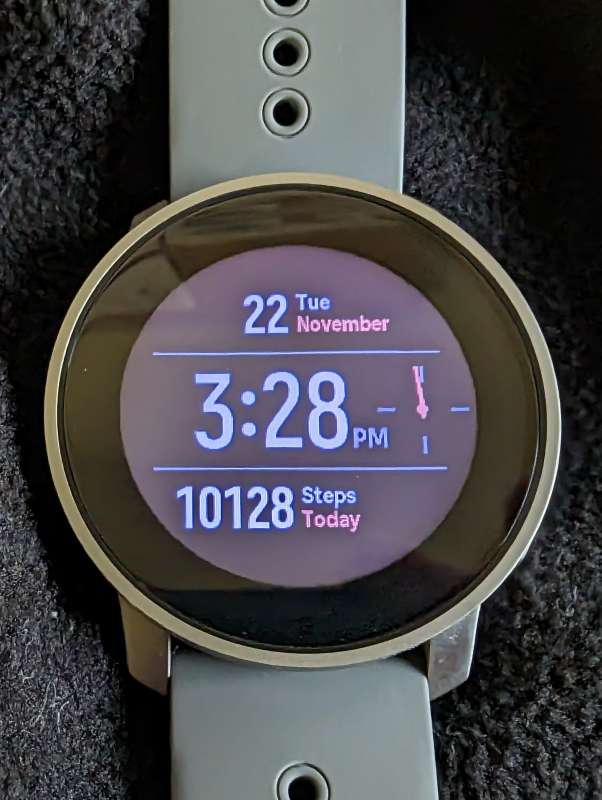 REVIEW –  As a pretty active and outdoorsy person, I have been wearing a GPS watch for over two decades. Lately Garmin and Coros seem to be the two leaders in the field with Suunto trailing behind. Let's see what the Suunto 9 Peak Pro GPS smart watch can offer to potentially regain a spot on my wrist. 
What is it?
The Suunto 9 Peak Pro in Slate Titanium is the Finland based Suunto's most powerful and best performing GPS multisport watch to date that offers health tracking features and that can withstand the toughest environments while being stylish at the same time. It is compatible with all four Global Navigation Satellite Systems.
What's in the box?
Suunto 9 Peak Pro

Charging cable

Quick start guide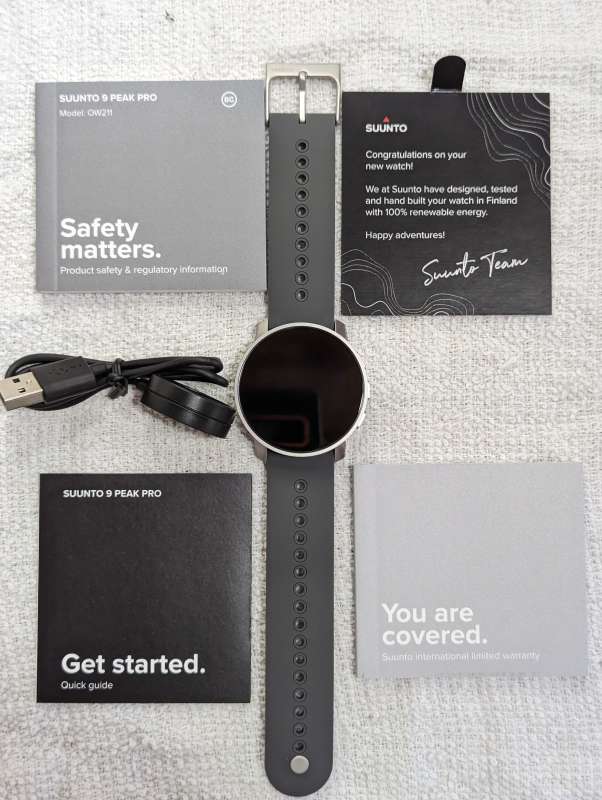 Hardware specs
Weight: 55 g / 1.94 oz in Titanium, 64 g / 2.26 oz for stainless steel 

Case material: Glass fiber reinforced polyamide

Bezel material: Titanium grade 5

Dimensions:  43 x 43 x 10.8 mm / 1.69 x 1.69 x 0.43″ 

Glass material: Sapphire crystal

Strap material: Small/Med silicone with 22mm lugs fits wrists 125-175mm or 4.92-6.89 inches

Water resistance: 100m

Display resolution: 240×240

Display size: 1.2 inches

Battery: Lithium ion

Battery life: 30 days in time only mode, 40h with continuous GPS

Charge time: From zero to full in 1 hour, 10 min charge equals 10 hours of training

GPS systems: GPS, GLONASS, GALILEO, BEIDOU, QZSS
Design and features
The Suunto 9 Peak Pro looks tough as it should because it was tested according to MIL-STD-810H which is the toughest military standard to pass. It is also eco-friendly since Suunto conducted a Life Cycle Assessment to determine that one watch creates 7.5kg CO2e emissions during its lifespan and then compensated for that by partnering with Tree-Nation to plant trees in Southeast Africa. Suunto's HQ and factory in Vantaa, Finland also uses 100% renewable, carbon neutral electricity and heating in all operations. 
Suunto's focus on nature translates directly to their products. This is a watch designed to be outdoors. It also looks like a watch instead of the 'squircle' shape that has become so ubiquitous in smart watch designs of late. The titanium bezel and sapphire crystal are materials found on higher end watches and really add a distinct style to the 9 Peak Pro. The bezel does have a 90 degree profile so I found it sometimes caught on clothing and jackets. Not a big deal but something to note. 
In addition to the touch display, there are three physical metal buttons that allow you to perform any operation as well. They have a great click and nice tactile response when pressed and I found myself only using the buttons after a while and not even bothering with the touchscreen. This came in handy on my first run when it was 37 degrees out and I didn't want to take my gloves off. The buttons were also easier to operate when moving at speed compared to the touch screen. I found the menu system easy to navigate and pretty intuitive. Top bottom goes up, bottom button goes down, and middle button selects while a long press goes back.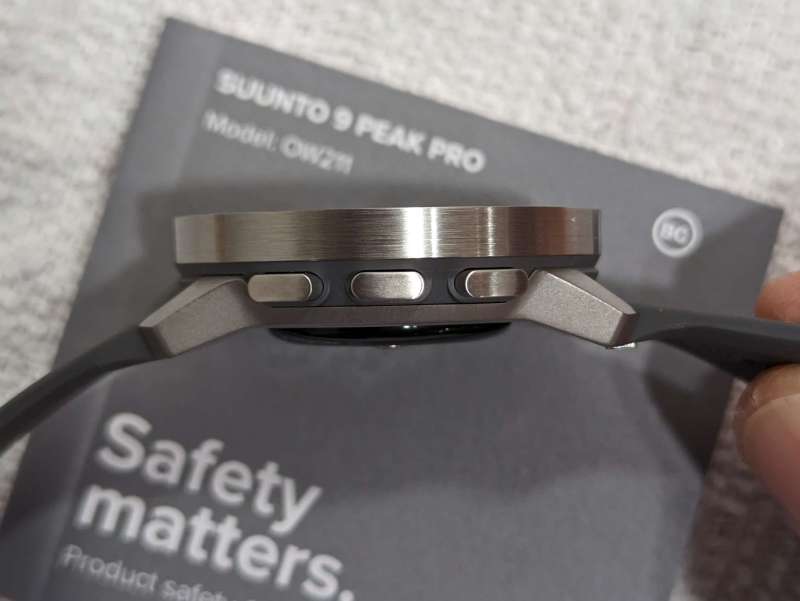 Initially, I found the display somewhat muted and less vivid than other smart watches but it is readable in most conditions. In bright sunlight, it was tough to read except at a certain angle but I came to accept the subdued appearance especially since the trade off is the excellent battery life.  A single charge can last a month in time mode or 40 continuous hours of GPS. It will also charge from 0 to 100% in one hour which is pretty quick. Just 10 minutes of charge time equates to 10 hours of training time which is nice if you are about to head out for a long run and find yourself a little low. You will also know if you're low because when selecting an exercise you can see how long the battery will last in three predefined battery modes that turn off different features (GPS, heart rate, display timeout, vibration, and Bluetooth) to save battery; Performance, Endurance, Tour or you can create a Custom setting.
Setup
Setting up the Suunto 9 Peak Pro smartwatch was quick and easy. I turned on the watch and selected basic settings such as language, height, weight, and my age. Then I downloaded the app and set up an account and connected to the watch. You can access the full pdf user manual online or in the app as well as a shortened user guide. The app is very easy to navigate with lots of stats. I like that every setting is adjustable in the watch instead of having to adjust some settings in the app and some only in the watch. 
Performance
GPS performance was stellar and this is where the Suunto really shines. The Suunto 9 Peak Pro is compatible with all four Global Navigation Satellite Systems which are the United States based GPS, Russian GLONASS, European Galileo, and Chinese BeiDou as well as the regional Japanese QZSS. It can connect to up to 32 satellites at one time. To compare Coros uses all five as well; while Fitbit uses only GPS and GLONASS; with most Garmins using GPS, GLONASS, and Galileo. Coros and Garmin however offer dual frequency GPS on their higher end watches while the Suunto 9 Peak Pro is single frequency only. Single frequency is capable of 5m of accuracy while dual band allows cm level accuracy.  You can read a more in depth explanation about frequencies  here.
There are 95 different sport modes from ice skating to mermaiding but if a particular workout isn't listed you can create custom workouts with custom settings. The snorkeling and mermaiding feature was something I couldn't test due to Pacific Northwest weather but Suunto does claim the depth gauge works to 10M while the GPS cannot penetrate water although if you are snorkeling you should be able to activate it when coming up for air. Given Suunto's background in dive computers this is a cool feature for those that are in the water a lot.
When starting a run or other activity using GPS the Suunto 9 Peak Pro would connect in five seconds or less. It was pretty accurate and could penetrate moderate foliage on trail runs or in the woods when I played disc golf.
I was also very impressed with the Suunto app maps where on my runs you could discern which side of the street I was on and even replay your run with a rotating aerial view.
I was able to get all messages to my Android phone on the 9 Peak Pro including Signal, Whatsapp, Ring alerts, Groupme, Messenger, email, and even Discord notifications. However, emojis are not supported and longer texts were cut off without being able to open the message on the watch and read the full text. Although compatible with iOS you can only send predefined replies to messages on Android only.
Navigation is pretty basic since there are no maps on the watch. You can create routes in the app and load use them in the watch so that was a nice feature. Unfortunately, the compass seemed to require constant calibration. When selecting navigation then when selecting the route. A little annoying since I had to wave my arm in a figure eight for a good minute before I could get going. Not having maps can be an issue because there's no frame of reference. The 9 Peak Pro does give you turn-by-turn directions and will buzz when you get off the track but if you come to a multiple trail intersection and get turned around this is where a map can orient you to the terrain and help you get your bearings.
As with most smartwatches there is an automatic backlight with three adjustable features. The level of brightness, how the standby backlight activates, and whether the backlight activates when you turn your wrist. When you turn your wrist to view the watch the backlight can be selected to turn on automatically but does not activate the screen for touch input. This is very helpful and solves the problem of accidental activation that I have had with other smartwatches. The only thing you can't adjust is the duration of the backlight activation which is fixed at 8 seconds but again the less time it is on means longer battery life.
If you like having a plethora of watch face options you are out of luck. At this time there are only eight to choose from and the only customization you can do is change the secondary color. I found the default watch face showed all the information I needed though and you can scroll through steps, battery, training hours, and altitude by tapping the screen so I didn't mind the limited choice but the competitors have loads more choices and customizable features.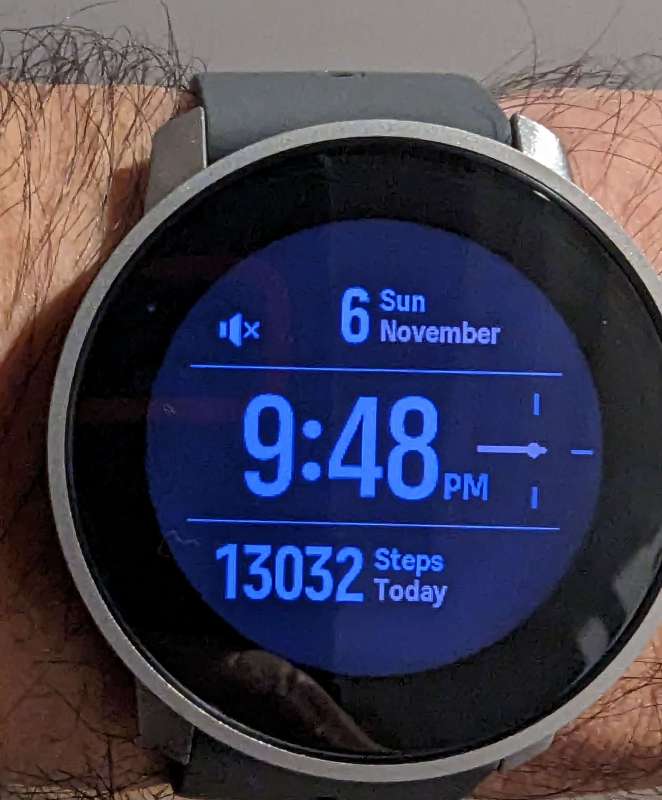 There are no supported pay apps or in watch music storage at this time so if you want to listen to tunes and then stop for a coffee after your run you'll have to take your cell and money with you. You can control music and volume with the Suunto 9 Peak Pro that is playing on your phone but it cannot store music.
After 12 days of use and 28 recorded activities including almost daily multi hour GPS usage the Suunto finally fell to 5% battery which necessitated a charge. When connecting the 2 pin charger though I found it a little finicky. Although magnetic it isn't strong enough to stay in place and can rotate out of position and stop charging if you aren't careful. Not a big deal if you are static and it's sitting on a dresser or desk but if you run out of juice on a hike and want to connect it to a power pack while you are moving you'll have to use a hair tie or rubber band around the watch when you put it in your pocket or backpack so it stays connected.
One thing to note is you can only access your workouts and health tracking data on the mobile app. There is no way to do it on the computer. Also aside from entering your weight in the user info there is no body weight tracking feature or ability to set a weight loss goal. You might be able to do so through 3rd party apps which Suunto has 200+ partners such as Strava, TrainingPeaks, komoot, and more but not on Suunto at the moment.
Of course, these are all software issues which could get tweaked or added in the future. The only non-software related thing I would change is to make the viewable screen go all the way to the titanium or steel bezel. As it is there is a 5mm ring around the screen that is blank and just seems to be wasted space that could have been better utilized. That would greatly increase the readability of the screen and give it a sleeker bezel-less design.  
The Suunto 9 Peak Pro lacks some features competitors are including at this price point but the Suunto app is leaps ahead with navigation and analytics. If you like stats and metrics on every aspect of your training the Suunto app has it in spades.
What I like
Super quick and accurate GPS

Functional buttons

Great battery life
What I'd change
Add body weight tracking to app

Reduce screen bezel

Add ability to see data on a computer
Final Thoughts:
The Suunto 9 Peak Pro is a tank and is not ashamed of its singular identity. It does exactly what it was designed to do and does it really well. Like a tank, the Suunto 9 Peak Pro will get you through hell and back but you're not going to find a cup holder in it. If you want all the conveniences of a pay app, more than eight watch faces to choose from, voice assistant support, in watch music storage, or the ability to reply with emojis you will want to look elsewhere. Unfortunately at this price point ($549 for the stainless steel version and $699 for titanium), I think many people will since the competitors have larger screens, in watch color maps, multiband GPS, and multi-app support.  If you are already a Suunto 9 Peak user the 9 Peak Pro has enough internal hardware updates to warrant the upgrade. For other users I don't think it will convert you but if Suunto can add the above-mentioned shortfalls and get rid of the humongous bezel (or make it a solar panel) on the next iteration I think those improvements along with the excellent app could win people over.
Price: $699 for the titanium versions and $549 in stainless steel.
Where to buy: Suunto or Amazon
Source: The sample for this review was provided by Suunto.