We use affiliate links. If you buy something through the links on this page, we may earn a commission at no cost to you. Learn more.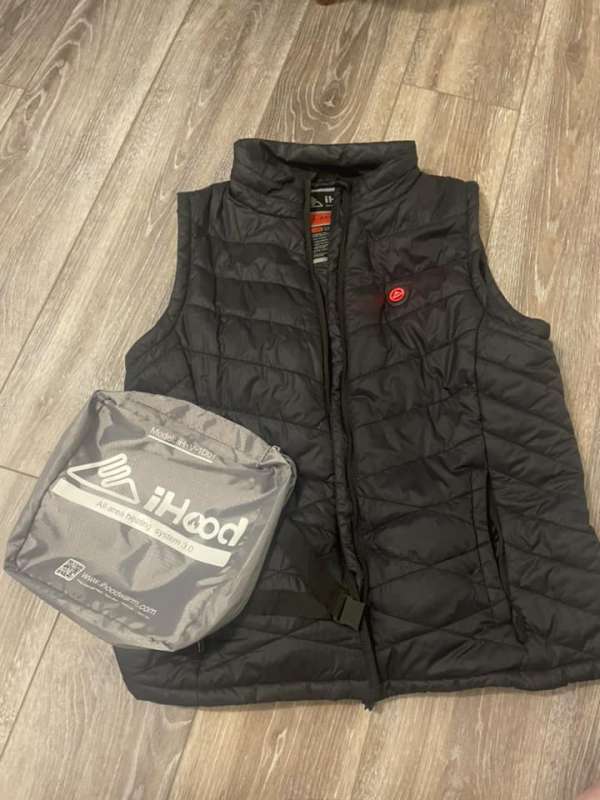 REVIEW – As the weather is getting colder in the Midwest and hockey season has started for our family, I'm always cold!  I own everything from hoodies to thick winter coats, but sometimes you want to be warm without having to wear all the bulk or carry around a coat when you are going in and out of the cold.  A heated vest sounded like a great option to give a try.  Let's see what I thought about the iHood lightweight heated vest.
What is it?
The iHood lightweight heated vest is just as the name implies, a vest that heats up and is also lightweight.  The vest is equipped with 4 heating zones and 3 heating modes and can reach up to 158℉/70℃ in just seconds.
What's in the box?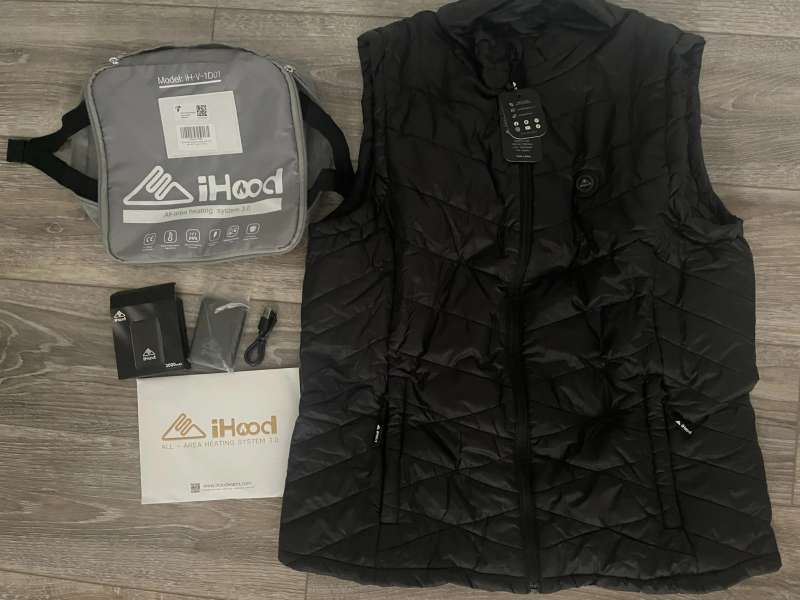 Vest
Storage packaging
Power Bank
Type-C Cable
User Manual
Specifications
Outer shell: 100% Nylon
Lining: 100% Polyester
Filler: Polyester
Battery Capacity: 7.4V 3000mAh (22.2Wh)
Battery Input: Type-C 5V/2A
Battery Output: DC7.4V/ 2A 14.8W (MAX)
Battery Dimension: 3.1 in x 2.2 in x .5 in
Battery Weight: 106g/ 3.74oz
Design and features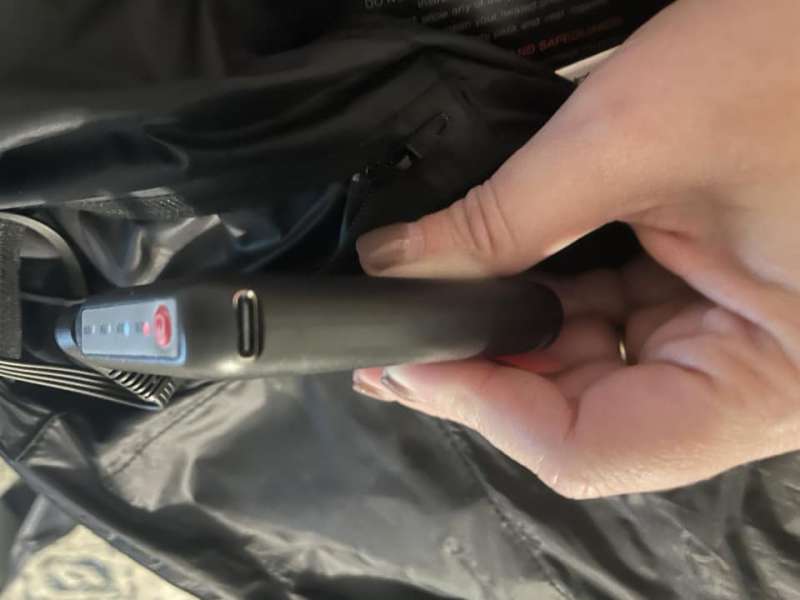 Your iHood heated vest arrives in a nice storage bag and is ready to use after you fully charge the enclosed battery.  To charge, you simply plug in the provided Type-C charging cable to the unit and watch the display screen.  Once the 100% is lit and no other %s are blinking, you are fully charged and ready to go.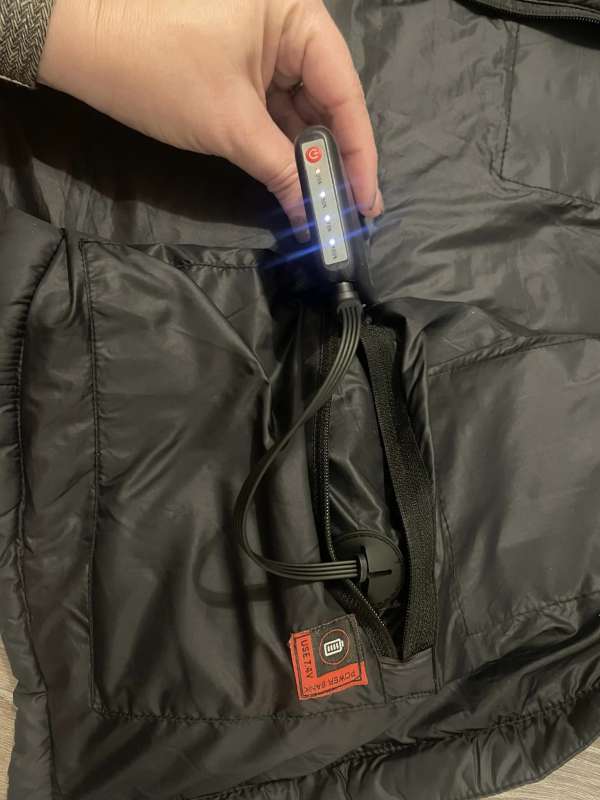 You will find your USB port in the interior left pocket.  Note the vest does have 2 interior pockets, the left one for the battery and the right one to use as you wish.  Once your battery is fully charged, you simply plug it in to the USB port and you are ready to start warming.
The power control switch is the "button" located on the top-left chest area of the iHood vest.
To turn on/off, you simply hold the iHood button for 3 seconds.  Once on, your iHood vest will automatically go into the intelligent heating mode.  This mode is said to be an automatic temperature regulation.  The light will be a pulsing red when in this mode.  The intelligent auto temperature will automatically switch to the blue light setting (low temperature setting) in 5 minutes OR you can press the button again to exit the intelligent auto temperature mode and select the temperature setting you wish manually.  To be honest, I don't think that its intelligently doing anything, besides showing you the vest is on.  I just always go ahead and adjust to the temperature I like.
The iHood heated vest is equipped with 3 heating modes/temperatures.  You can simply click the iHood vest's button until you get to your desired temperature.  The light is an easy indicator of what level you are on at each click of the button.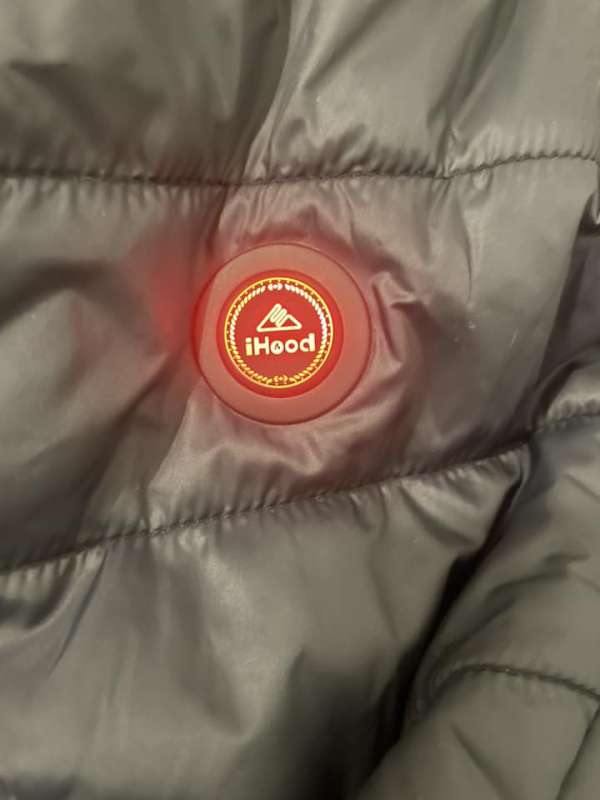 RED LIGHT (not pulsing)= High temperature- one click of the button.  Temperature is between 149-158°F and your battery is said to be able to last from 2.5-3.5 hours.  I can say from experience this is a stretch.  I have found that it is closer to 2 hours if starting in this mode from a full battery.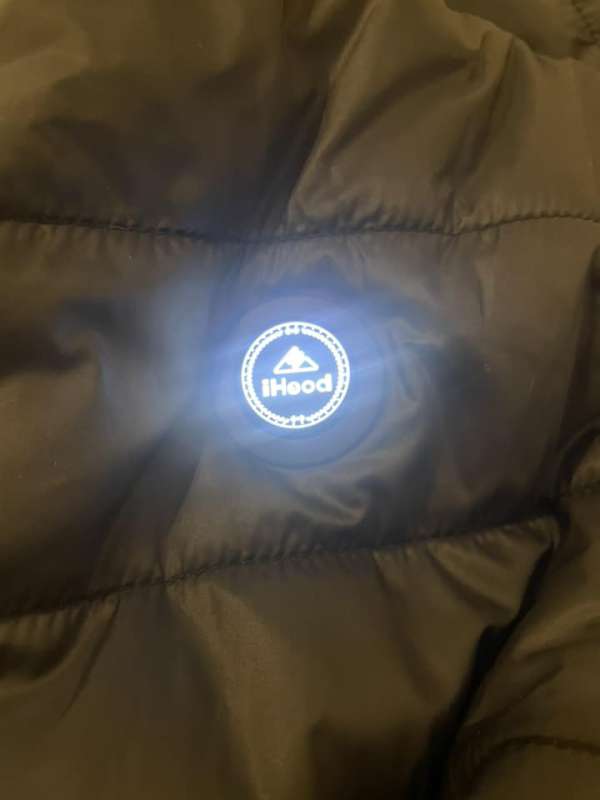 WHITE LIGHT= Medium temperature- 2 clicks of the button.  Temperature is between 122-140°F and your battery is said to be able to last from 3.5-4.5 hours.  Again, like the high temperature, I found that my battery gets close to 3 hours on this setting.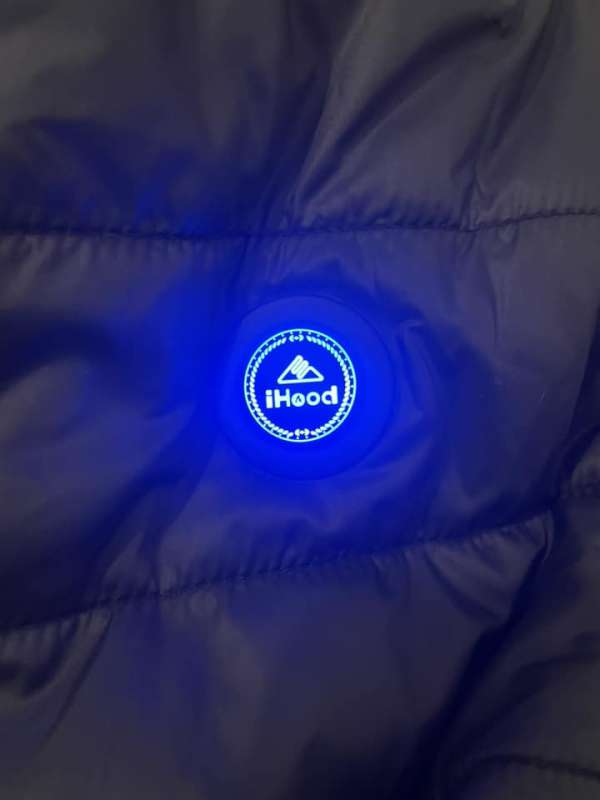 BLUE LIGHT= Low temperature- 3 clicks of the button.  Temperature is between 86-100°F and your battery is said to be able to last from 6.5-7.5 hours.  I can get just right at 6.5 hours on this setting from a full battery.
I personally don't like everyone knowing I'm wearing a heated vest and find the light indicators distracting.  Great news is, those lights can be turned off.  You just press the button twice quickly and the light turns off.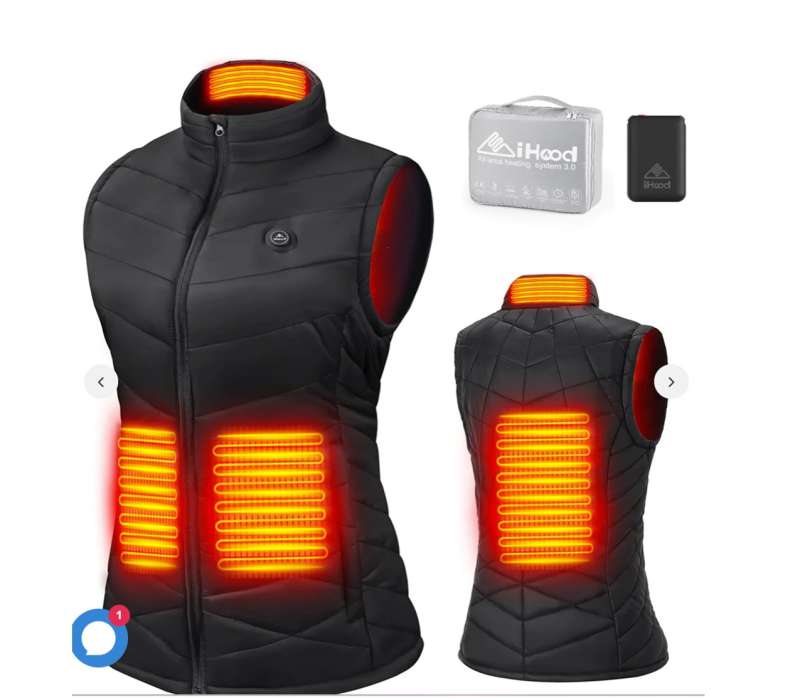 There are 3 heating temperatures, so it is important to talk about what areas they are heating.  The iHood vest heats 4 heating zones across the garment.  The collar, the left chest, the right chest and mid-back.
The iHood heated vest is made out of highly compressible washed cotton 100% post-consumer recycled polyester and FabRoc™ (produced with reduced emissions) technology, wrapped in a 100% recycled polyester shell and lining.  The vest is also waterproof and wind-resistant.
The vest comes in black and blue, I received the black version to review.  It has a zipper closure with 2 outer pockets and 2 inner pockets (one of which is for the battery).  If with the battery, the vest is very light lightweight and although it is the "puffy" style, I didn't feel too extra bulky wearing it.
Hand washing is recommended, however, if you do decide to machine wash it is recommended to wash in a mesh laundry bag.  However, no matter how you decide to wash, you will want to make sure to remove the battery prior to cleaning.  Do not bleach, iron, dry clean or wring dry.  Hang Dry only.
If you are thinking about traveling with your vest, all iHood heated apparel is TSA-friendly. However, all iHood batteries are lithium batteries, so you must keep them with you in your carry-on luggage.
iHood stands behind its products and offers a 15-day money back guarantee for any reason, along with an option to return undamaged product and receive an exchange for any reason within the first 30 days.  iHood also gives you a 18-month limited warranty on heating elements and batteries,  
The iHood heated vest is very comfortable and easy to wear.  It is very lightweight, but still creates a lot of heat when turned on.  I will mention that it does make me nervous that the material is so lightweight and thin.  I worry that it could tear or puncture easily, but I have not had any issues with that yet, even with dogs that love to jump on me (even though they are trained not too).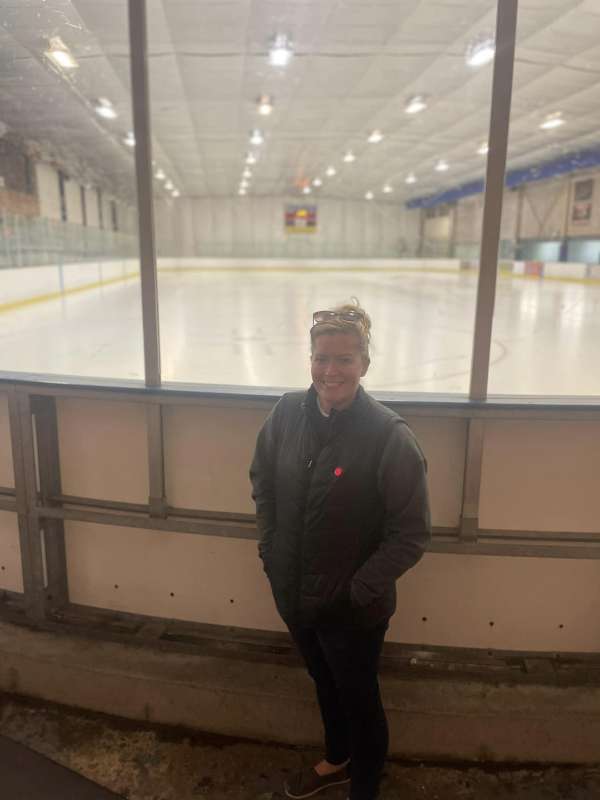 I find the sizing to be true to size.  I have had no issues wearing sweatshirts underneath the garment and it still fitting nicely, snug, but not tight.
Just as advertised, the iHood heated vest does heat up very quickly.  However, I did find that if you are using the highest heat, which is my favorite, you can only get a max of 2 hours out of a full charge.  This I knew, but hoped it would last a little longer on that setting.  I would recommend having a backup battery to carry around if you plan on using and wearing it all day.  You can buy a backup battery on iHood Official Website or Amazon.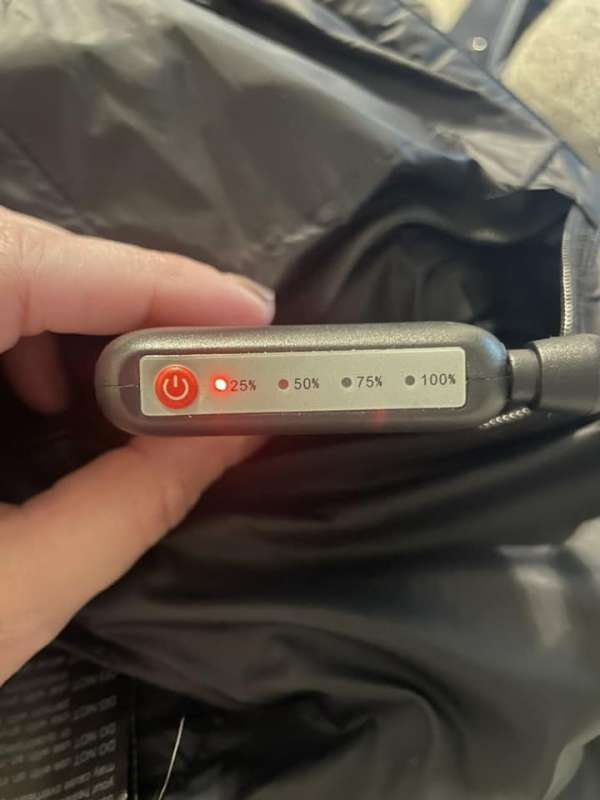 The one issue that I keep encountering is when the battery gets down to 25% on the display, if I turn off the vest, it will not turn back on and acts as if the battery is dead.  Sometimes if I unplug the battery and plug it back in I can get a little life out of it, but usually, I have to charge the battery back to 100% to use.
Safety Tips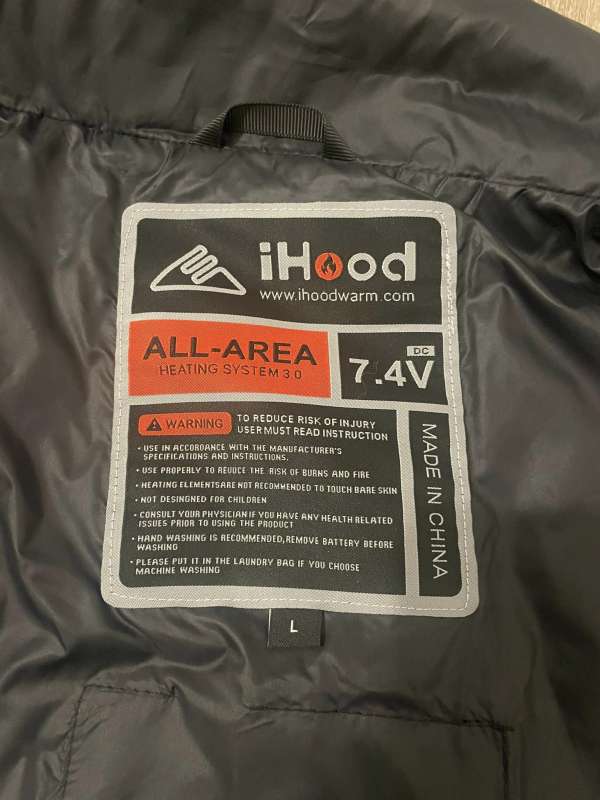 Never use the iHood vest if the lining is wet
Heating elements are NOT recommended to touch bare skin
Stop use immediately if discomfort occurs
Do not use pins on vest, as this can damage wiring
Disconnect and remove the battery back before washing
What I like
Lightweight
3 levels of heat to choose from
Ability to turn off the heat light indicator
Warranties
What I'd change
Longer lasting battery
Additional vest color options
Ability to turn off sections of heat if you wanted to focus on specific area of body
Final thoughts
For me, a heated vest is now a go-to staple in my wardrobe!   I am anxious to get my hands on some other options to try out and see how they compare to the iHood lightweight heated vest.  For now, I will finish by saying at the time of writing this review and without other vests to compare it to, I love this vest.  It is a great option to wear to the rink and on chilly mornings.  The iHood does a good job at keeping me warm and is fashionable enough to wear even after the battery has died or I am warm enough to turn the heat on.  Give it a try and let me know what you think.
Price: $89.99
Where to buy: iHood or Amazon
Source: The sample of this product was provided by iHood.