We use affiliate links. If you buy something through the links on this page, we may earn a commission at no cost to you. Learn more.
REVIEW – Split keyboards aren't new, but the Alice layout brings a unique take on a tried and true format.  The Keychron Q10 split mechanical keyboard is a new entrant to the market, and it is absolutely worth a look.  Read on to see what sets this apart!
What is it?
The Keychron Q10 is a 75% TKL mechanical keyboard in the Alice layout, powered by QMK.  This is the larger version of the Keychron Q8 which was recently reviewed by Kenneth.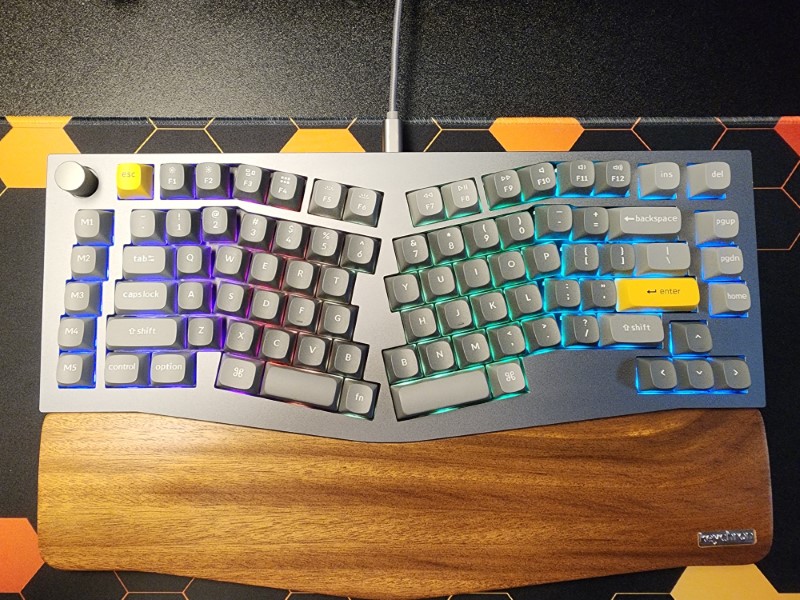 What's in the box?
Fully assembled Keychron Q10 keyboard
USB-C to USB-C cable
USB-C to USB-A adapter
Stabilizer screws
Switch puller
Keycap puller
Screwdriver and hex key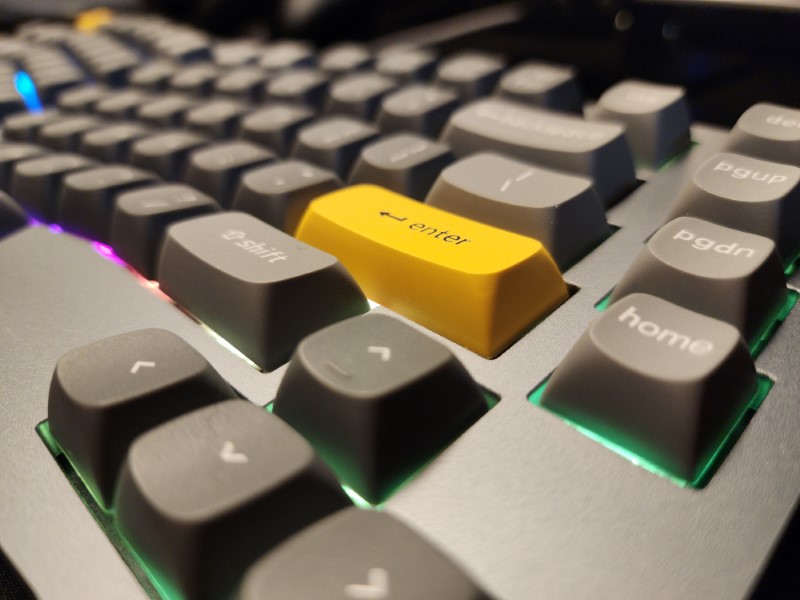 Hardware specs
| | |
| --- | --- |
| Width | 156.9 mm |
| Length | 385.3 mm |
| Front Height | 19.8 mm (without keycaps) |
| Back Height | 33.4 mm (without keycaps) |
| Feet Height | 2.7 mm |
| Angle | 5° |
| Weight | 2460 g ± 10 g (Fully Assembled Version) |
| Body Material | Full CNC machined aluminum |
| Plate Material | Steel |
| Polling Rate | 1000 Hz |
| Keycaps (Fully Assembled Version) | Double-shot PBT keycaps, not shine-through, OSA Profile (OEM height, SA shape) |
| MCU | Ultra-low-power ARM Cortex-M4 32-bit STM32L432 (128KB Flash) |
| Switches | Gateron G Pro (Fully Assembled Version) |
| Backlight | South-facing RGB LED |
| Switch Support | Hot-swappable (5 pin & 3 pin) |
| Stabs | Screw-in PCB stabs |
| Connectivity | Type-C |
Design and features
Keychron has sent over a fully assembled Silver Grey Q10 with Gateron Red switches in the ANSI layout.  The barebones variant does not include keycaps or switches, though I was surprised to see there's only a $20 difference between the two.  A palm rest is not included, but can be purchased from Keychron for $33.  Since the Q10 has a unique case design, having a built-to-fit palm rest is ideal to maintain contact with the case.  I was skeptical about wood is the material of choice here, and was pleasantly surprised with how comfortable it was.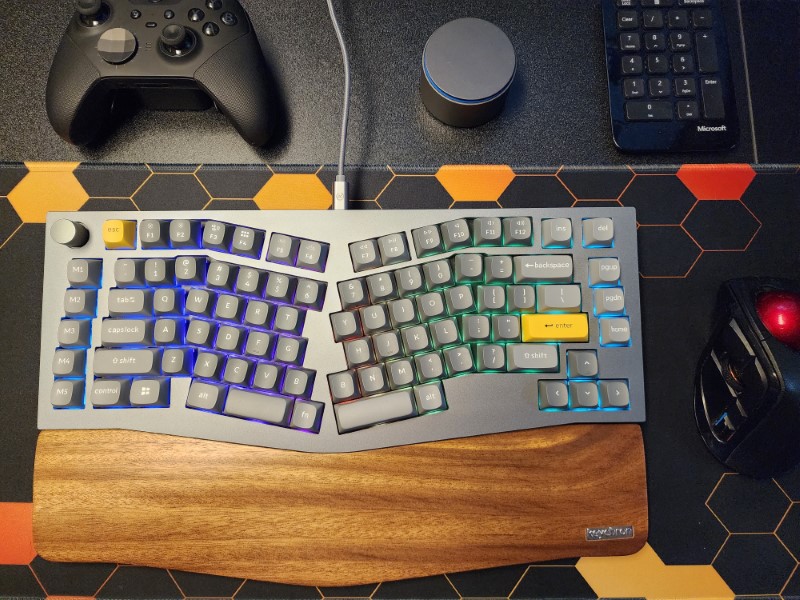 The Alice layout debuted in 2018, and has been growing in popularity amongst keyboard manufacturers as an ergonomic offering.  The design is similar to other staggered-key split ergo formats, but has a couple notable differences.  There are two B keys, and each spacebar is flanked by 1u keys.  Keychron advertises the Q10 as 75%+ as it also includes a rotating and clickable knob, and dedicated macro keys.
The keycaps featured on the Keychron Q10 split mechanical keyboard are a hybrid OEM/SA profile, dubbed "OSA" by Keychron, which have a great feel.  These are adorned with crisp legends, and the F row has auxiliary legends for volume, etc.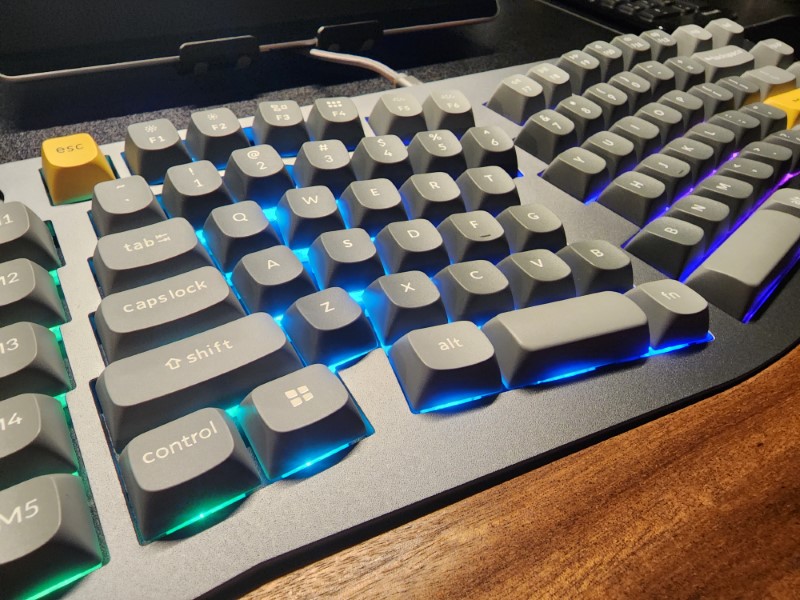 Without question, the Keychron Q10 is the most well-built keyboard I've ever used, and is a chonker at exactly four pounds flat.  The CNC aluminum body has a premium feel, and details such as the light knurling of the knob are appreciated.  Each layer of the build is separated with gaskets, including a foam layer and the application of acoustic tape to the PCB.  The PCB supports hot-swappable switches which allow for easy maintenance and future customization.  Each component of the keyboard is designed to be serviceable, and in the documentation, Keychron states that if a part fails, they will replace the part rather than the entire keyboard.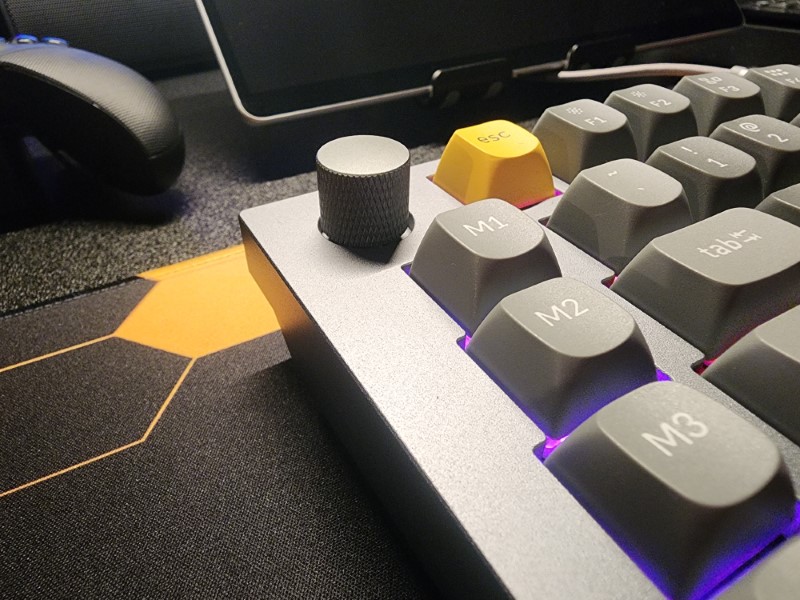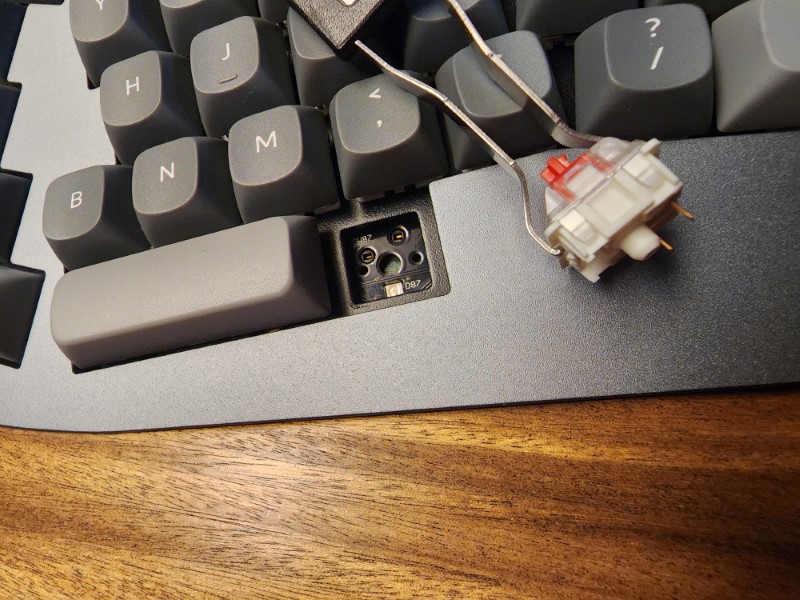 The Keychron Q10 split mechanical keyboard is powered by QMK and is supported by VIA which provides a smooth UI for customizations.  Layers, macros, and RGB are all easily set through this interface which is accessible either over the web (coming soon) or as a local application.
Setup
Out of the box, there isn't really anything you have to do, but the beauty of custom mechanical keyboards is that they are what you make of them.  Keychron has thoughtfully included keycaps to accommodate both the supported Windows and Mac operating systems.  My keyboard had the Mac keys pre-installed, so I switched them over to Windows. I switched the Q10 to 'WIN' on the top, plugged it in, and I was off to typing.  I appreciate the inclusion of the USB-A adapter, as my docking station was already at capacity on the USB-C ports.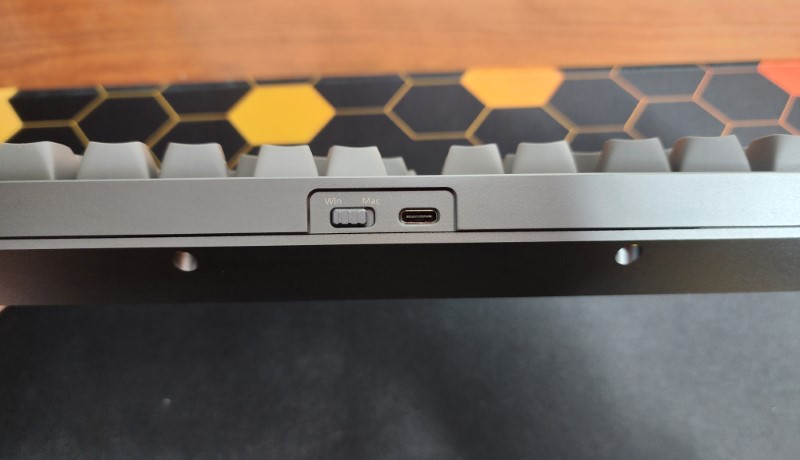 Since the Alice is a relatively normal key count at 75%, I don't find the need to set up different layers in VIA to re-map missing keys.  I've been playing around with macros, and while it is straightforward to send a text string through a macro, I'd like to figure out if I can or how to pair that with execution of a command… such as sending (WIN+R)+("eventvwr")+(Enter).
Performance
I am no stranger to split keyboards and have spent a lot of time with the Dygma Raise, Ergodox EZ, and Microsoft Sculpt.  The transition to the Alice layout wasn't entirely without typos, but I did feel comfortable on it in less than an hour of working through emails.  I tend to tilt my keyboards inwards which imitates the Alice layout, so this worked well for me.
I need to run with red switches, lest I be thrown out of our open floorplan office.  This linear switch still has great feedback in this case and is a joy to type with.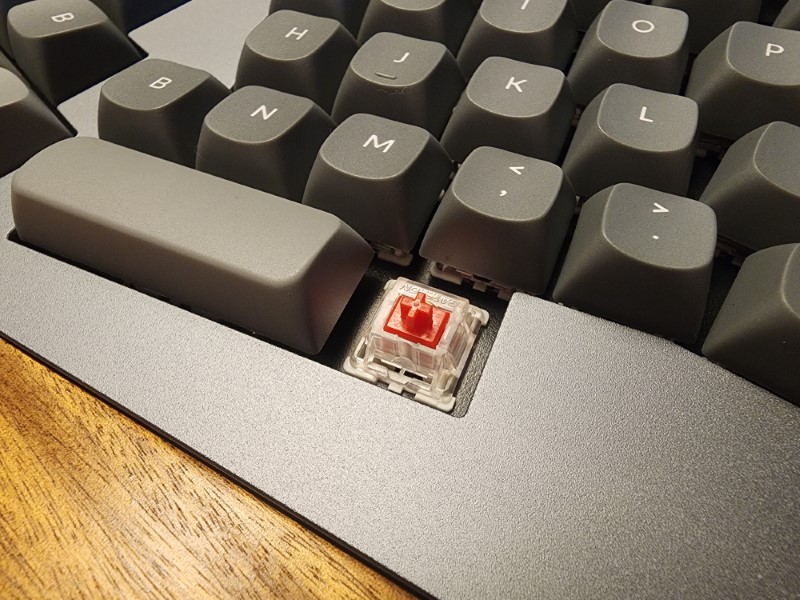 Comfort-wise, I have had no issues running the Keychron Q10 as my daily driver.  Comfort is always a subjective opinion though, and what works for me might not for you.  Coming from a traditional keyboard, the Alice layout in the Q10 case may be a more approachable step before trying to jump into something like a full split ortholinear like the Ergodox EZ.
If you're making the jump from a non-mechanical keyboard, red switches may be a good place to start due to their low actuation force.  The benefit of picking a keyboard with swappable switches is that you can always change the switches easily down the road, rather than buying a whole new keyboard.  Or go ahead and buy a whole new keyboard because they're fun, and this pursuit of keyboard nirvana can turn into a slippery slope.  I won't judge.
What I like
Build quality is phenomenal, and every component of the keyboard is serviceable.
Alice layout is comfortable.
Keyboard is prebuilt – no soldering required, and no waiting for a group buy.
I emailed in a question over the weekend, and support responded within hours.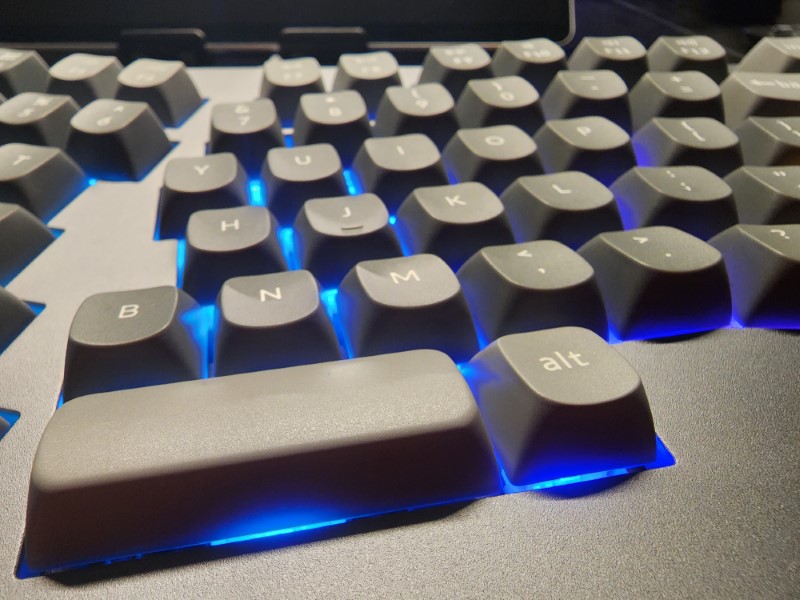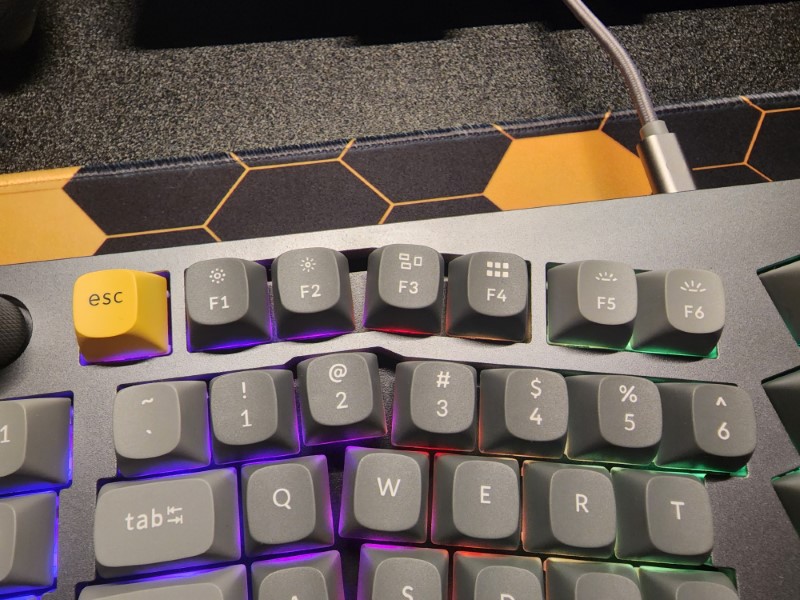 What I'd change
A wireless variant would be nice.
Final thoughts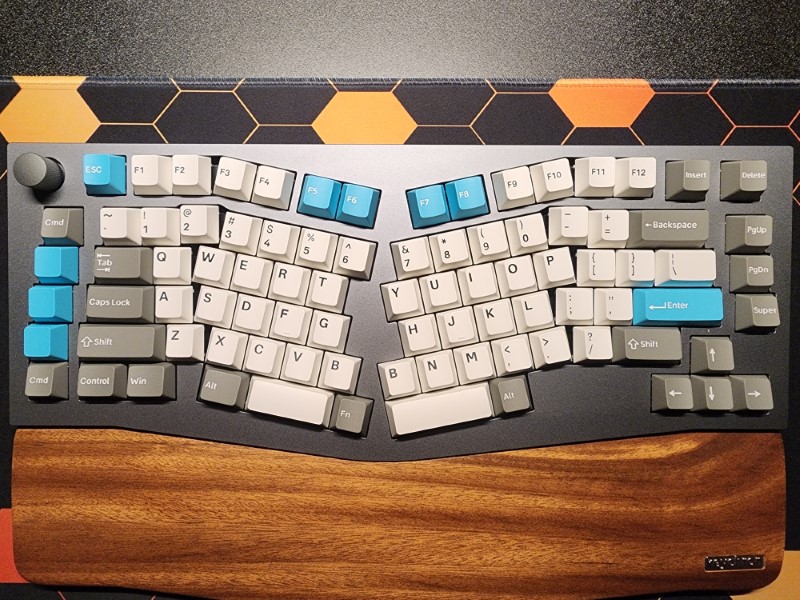 It has been genuinely difficult to find fault with the Keychron Q10 mechanical keyboard.  I feel that the Alice layout is a gentle transition into the ergonomic keyboard world, and coupled with the fantastic build quality, this is a keyboard that will be with you for a long time.
Bonus: Keychron threw in an additional set of keycaps, their cherry profile double-shot PBT in grey, white and blue.  I prefer the OSA profile, but really like the colorway of the blue against the case.  These weren't a perfect replacement for the Q10's Alice layout, and the addition of the M1-5 keys would have made it perfect.  Let me know if you prefer these, or the stock OSA (grey/yellow) keycaps in the comments!
Price: $215.00
Where to buy: Keychron and you can find a large selection of Keychron keyboards on Amazon
Source: The sample of this product was provided by Keychron.