We use affiliate links. If you buy something through the links on this page, we may earn a commission at no cost to you. Learn more.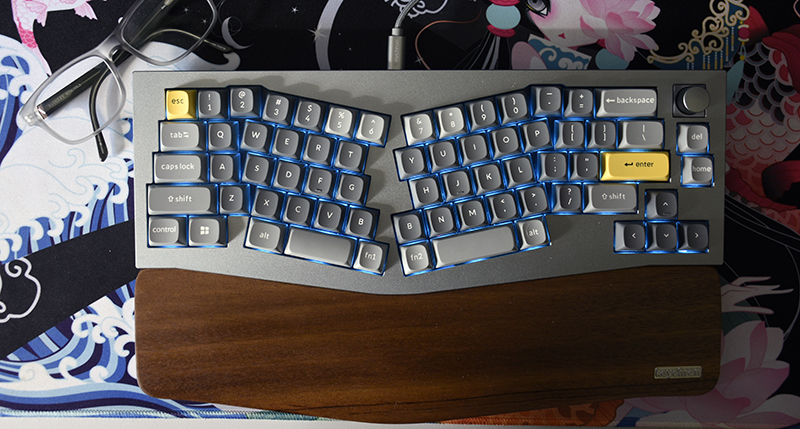 REVIEW – The Keychron Q8 QMK Custom Mechanical Keyboard is one of the latest offerings from Keychron. What makes it so different from other mechanical keyboards or even the Q3 I reviewed some time ago? Read on, my friend.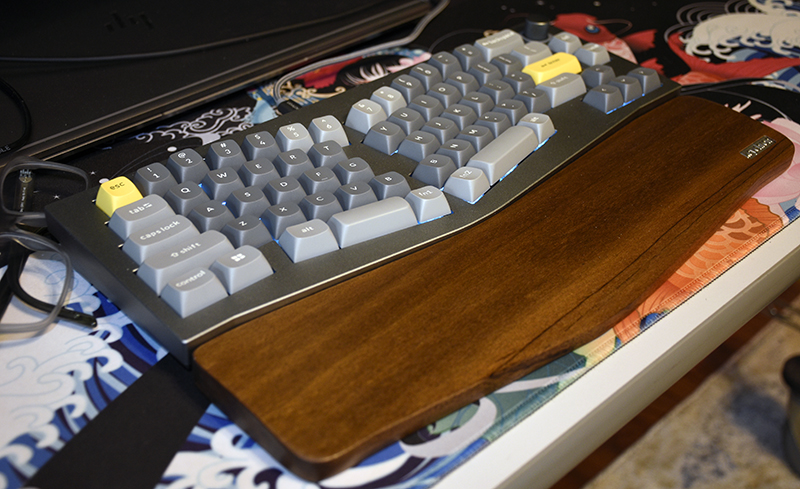 What is it?
Keychron Q8 QMK Custom Mechanical keyboard is a USB-wired-only mechanical keyboard for those of us who want quality and style without having to miss a house payment.
What's in the box?
Keychron Q8 QMK Keyboard, fully assembled, includes:
Aluminum Case
PCB
Steel Plate
Sound absorbing foam
Case foam
Foam Gaskets for the frame
PBT double-shot keycaps
Choice of Gateron G Pro switches
Keycap puller
Key switch Allenr
Hex allen wrench
Small Philips Screwdriver
USB C to USB C cable
USB A to USB C adapter
User Guide
Quick Start Guide
Mac Options and Command keycaps
Windows and Alt keycaps
Baggie with extra foam strips and screws
A card with a friendly reminder to make sure switch pins are straight before re/inserting one
Here's the first layer.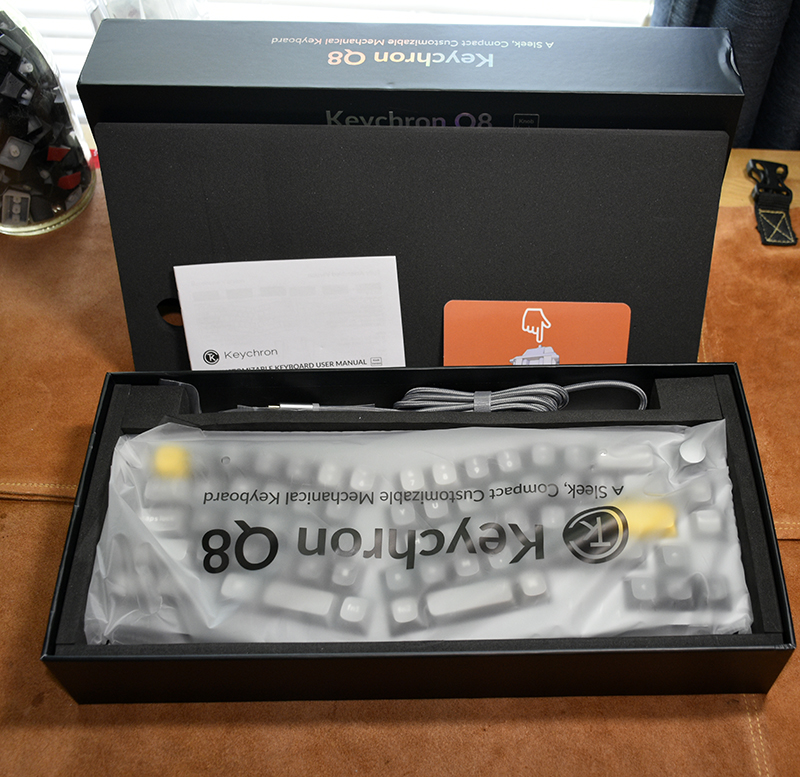 And the second one. Keychron does a great job packaging its products.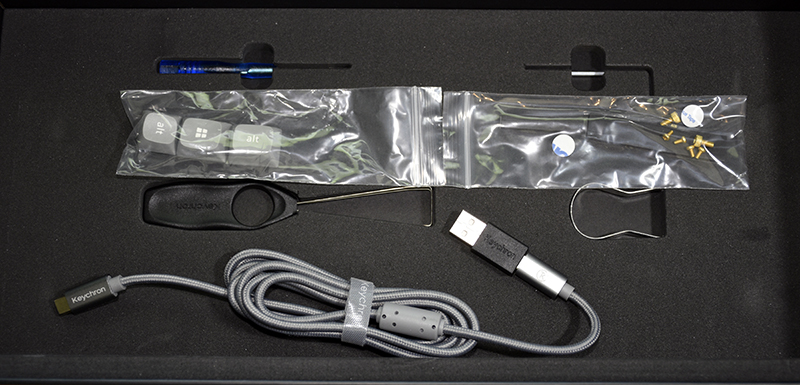 Hardware specs
Width – 136 mm/5.35 in
Length – 358 mm/14 in
Front Height – 19.8 mm (without keycaps)
Back Height – 31.5 mm (without keycaps)
Feet Height – 2.7 mm/.10 in
Angle – 5°
Weight – 1820 g ± 10g/ 4lbs (Fully Assembled Version)
Body Material – Full CNC machined aluminum
Plate Material – Steel
Polling Rate – 1000 Hz
Keycaps (Fully Assembled Version) – Double-shot PBT keycaps, not shine-through, OSA Profile (OEM height, SA shape)
MCU – Ultra-low-power Arm Cortex-M4 32-bit STM32L432 (128KB Flash)
Switches – Gateron G Pro (Fully Assembled Version)
Backlight – South-facing RGB LED
Switch Support – Hot-swappable (5 pin & 3 pin)
Stabs Screw-in – PCB stabs
Connectivity – Type-C
Cable – Type-C cable + Type-A to Type-C adapter
Design and features
The Keychron Q8 QMK mechanical keyboard is a 65% mechanical keyboard with 68 keys, meaning there's no Numpad and because of the knob you lose a couple of other keys, like Insert and End. Keychron offers several versions of the Q8 QMK. They have a fully assembled keyboard with or without a knob, and two barebones kits that leave you to supply your own switches and keycaps. If you want an ISO layout, you'll have to get one of the barebones kits as they only offer ANSI fully built. The colors they offer are anodized carbon black, navy blue, or sliver grey two-piece, on an aluminum frame.

The fully assembled version comes with a nice set of double-shot OSA PBT keycaps. Other keycap sets can be purchased on Keychron's site should you so choose.  You also get a choice of Gateron G Pro Red, Blue or Brown switches. The browns and reds are pre-lubed. I opted for the browns this time around. They have a very early tactile bump and activation, at least the ones I received do. That's not a bad thing, but I'm heavy handed and prefer a little stiffer response and registration.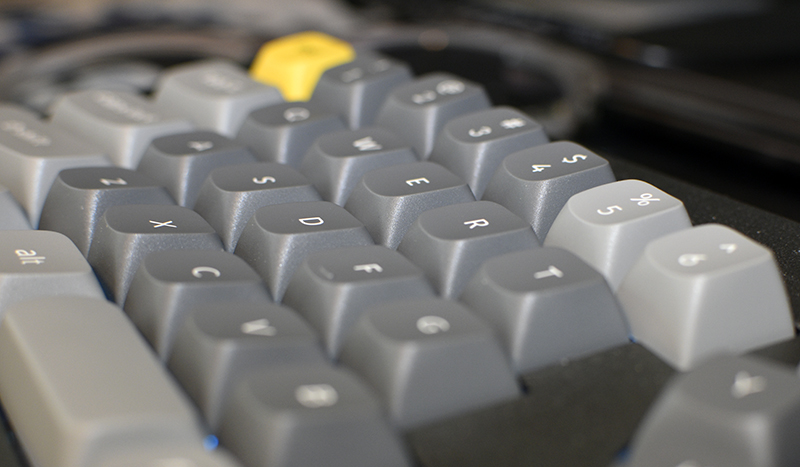 Let's talk a little about the unique layout of the keys on the Keychron Q8 QMK.  This ergonomic configuration is called the Alice layout. This is my first Alice-style keyboard, but not my first ergonomic one. Due to suspected carpal tunnel issues, I had switched to a split keyboard design a couple of years ago, so I was already used to an alternate typing experience. I didn't experience any of the steep learning curve that some experience with the Alice layout, so I can't say how difficult it might be.
Just like the Q3 QMK, the Keychron Q8 QMK has the same robust build with the CNC aluminum body and double gasket design. Because the body is thick aluminum, it's a hefty joker, tipping the scales at around 4lbs. It supports both Windows and Mac OS via a switch on the top edge, right next to the USB C port. The PCB is hot-swappable with South facing LEDs, making it easier to see the backlight. The stabilizers screw into the PCB to make larger keys, like Shift, Caps Lock, and Enter, more stable, so less rattle and shake.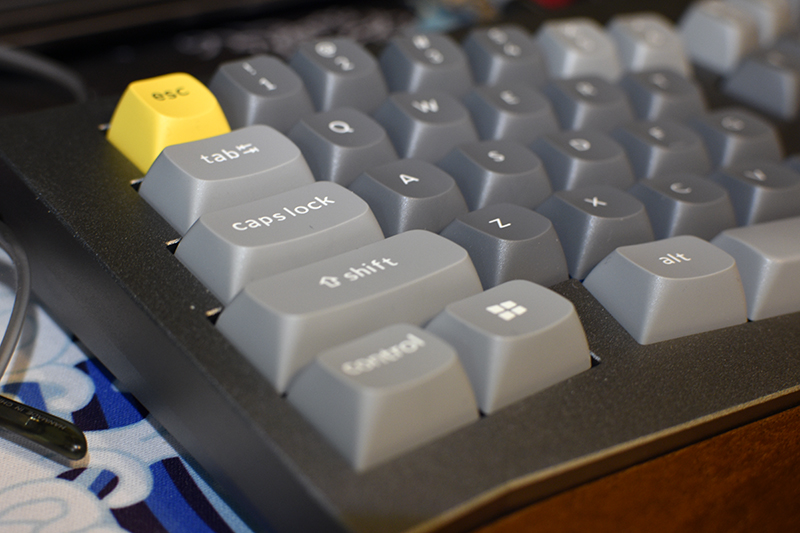 There are no adjustable feet on the bottom of the Keychron Q8 QMK keyboard, so you're stuck with the 5-degree angle which is perfectly fine for me with the solid wood palm-rest Keychron included with the review sample. It's sold separately otherwise. I'm a reformed skeptic. Believe it or not, a solid wood palm rest is very comfy.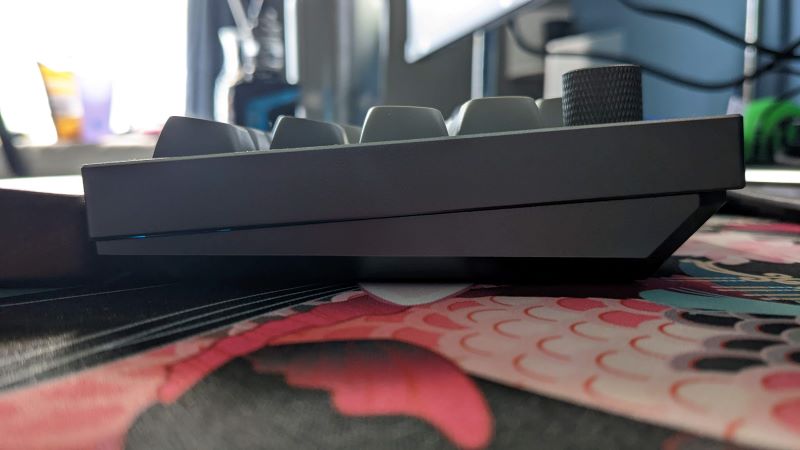 One last thing I want to mention is the knob.  It uses the same aluminum knob as the other offerings from Keychron and is programmable. I mentioned in my Q3 review that the knob felt crowded in the ANSI layout.  Not a problem on the Keychron Q8 QMK, I can access it easily with my big paws.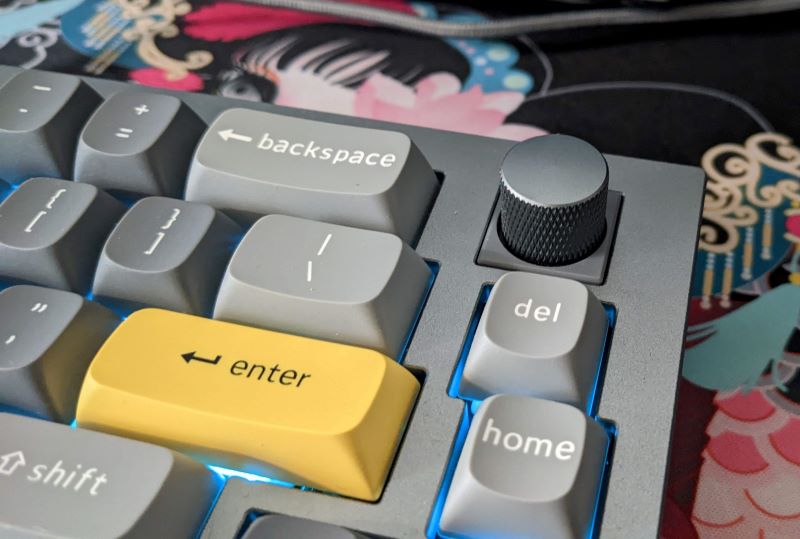 Setup
The setup of the Keychron Q8 QMK is very simple if you don't want or need to change any key bindings or macros.  Set the aforementioned switch to either Win or Mac, plug in the USB C to USB C cable (or use the USB C to USB A adapter), wait for the OS to install the driver, and get to typing. I would suggest starting with the included manual if you want to change the default LED effects.
And if want to go deeper down the rabbit hole, you can download QMK and VIA software.  With QMK, you can download, customize, and load the firmware onto the Q8.  I did use it to restore the firmware file available on Keychron's website.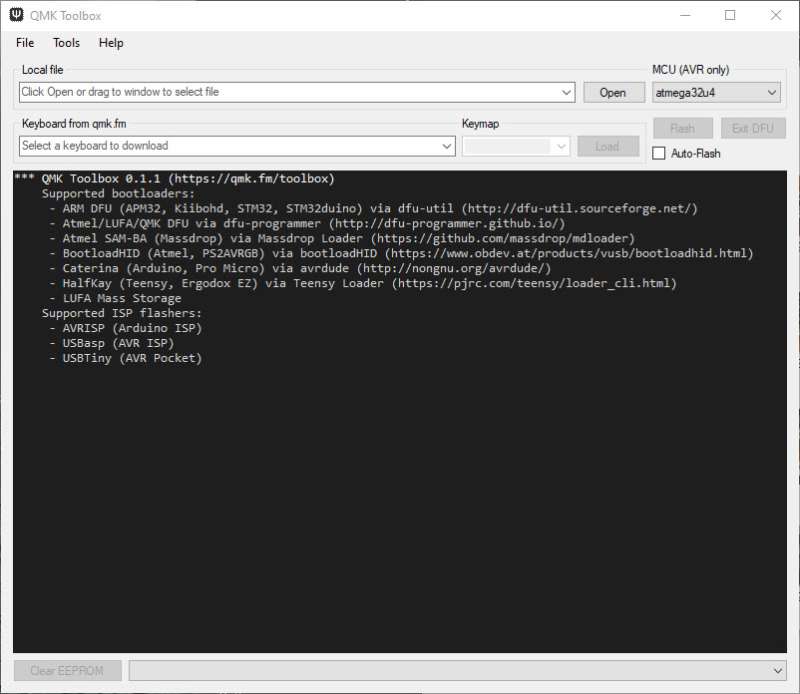 The other software application is VIA which allows you to customize the keymap, build macros, set up different layers, or personalize the lighting effects. I ran into a little problem with VIA on my laptop. It never recognized the Q8 even after I reloaded the firmware per Keychron support's advice, but there's another option if you run into the same problem. VIA has a web version that worked just fine. I may play around with macros and different key mapping at some point, but I'm content with the default for now. Here are shots of the web app but the installable version looks the same.
Here's the key mapping screen that allows you to reassign any key. It's easy to use. Click the key you want to change then choose from the selection at the bottom of the screen.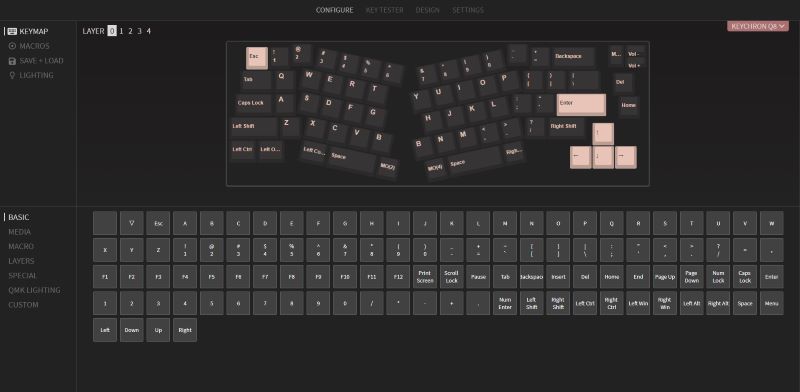 This is what you'll see when you select Lighting.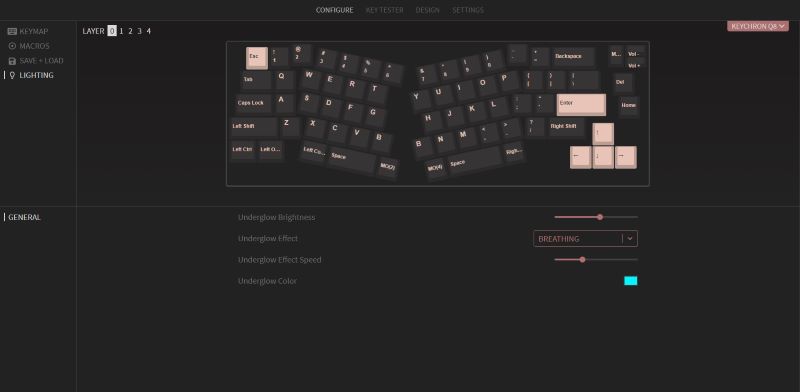 You can manually set brightness, the type of effect, the speed of the effect, and customize the colors. I went with a cyan breathing effect.
Performance
The Keychron Q8 QMK mechanical keyboard performs as well as keyboards three times the price.  The Gateron G Pro brown switches are buttery smooth with that slight bump tactile switches are known for. The stabilizers do their job well, so no slop on the bigger keys. The gaskets in the case body make for a soft experience without feeling squishy. There are plenty of default lighting effects.  And with VIA, you can customize it to suit your tastes.
The Alice layout, the 5-degree angle, and palm rest make it a very ergo-friendly set up. I haven't experienced any pain or tingling in my hands while using it over the past few weeks. I think my split keyboard will have to sit on the bench for a while.
What I like
The build quality
The Alice layout
The size
The keycaps, their colorway, and form factor
Hot-swappable
Customization possibilities
Gateron switches, Pre-lubed on two of them
Screw on stabilizers
What I'd change
Final thoughts
The Keychron Q8 QMK is a fantastic 65% ergo-friendly mechanical keyboard.  You've got tons of options to make it your own. It's available for purchase right now so no joining pre-orders on a limited drop and waiting a year or two to receive it.
The configuration I received is $195, a good price for what you get. If you need an ergonomic keyboard and prefer mechanical, go take a look at the Q8 QMK. It's really, really good. Really. I mean it.
Price: $195
Where to buy: keychron.com and you can find many of their keyboards on Amazon
Source: The sample of this product was provided by keychron.com.