We use affiliate links. If you buy something through the links on this page, we may earn a commission at no cost to you. Learn more.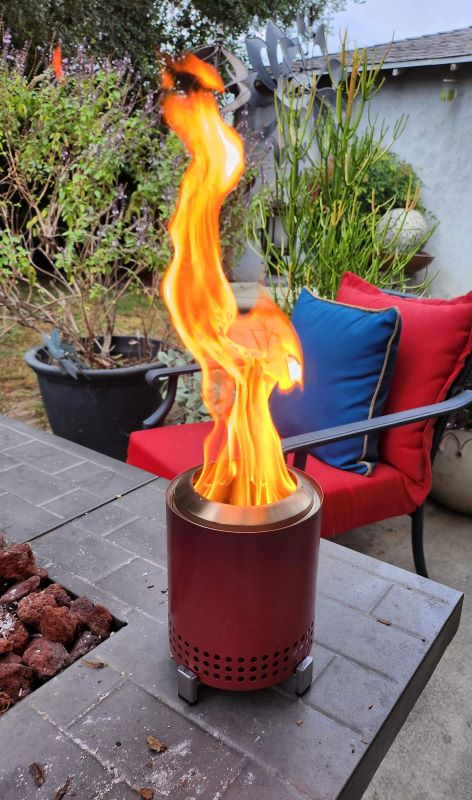 REVIEW – When I first saw a Solo Stove fire pit I was so intrigued. What kind of magic makes a smokeless fire pit?  The only reason I didn't buy one is that I didn't have a great spot for it.  Recently, though, Solo Stove introduced the Mesa Tabletop Fire Pit — a teeny tabletop version of their smokeless portable fire pit. Almost everyone has a spot for this one!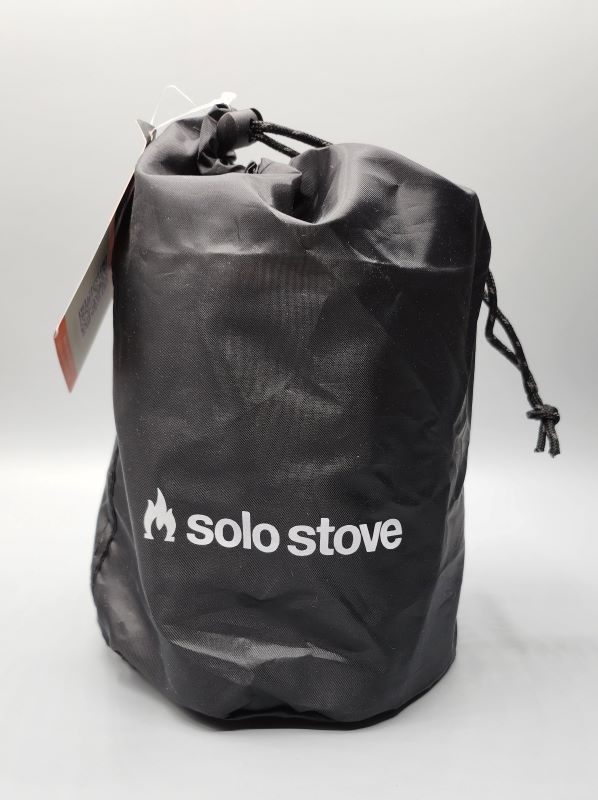 What is it?
The Solo Stove Mesa Tabletop Fire Pit is a small fire pit that can burn wood or wood pellets.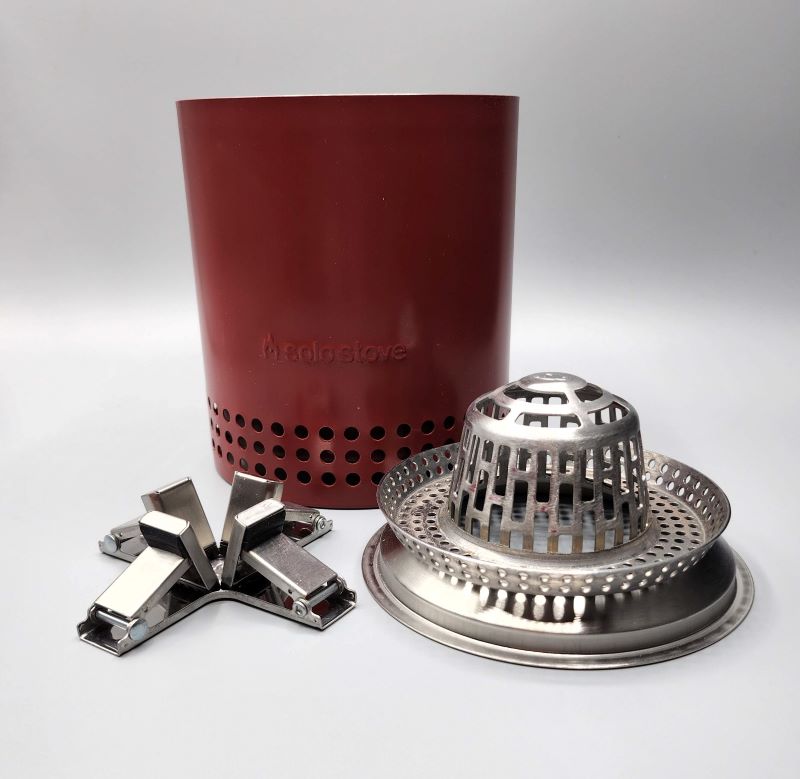 What's in the box?
The Solo Stove Mesa Tabletop Fire Pit
A pellet adapter
A folding stand
Handy storage bag
Instructions and many cautions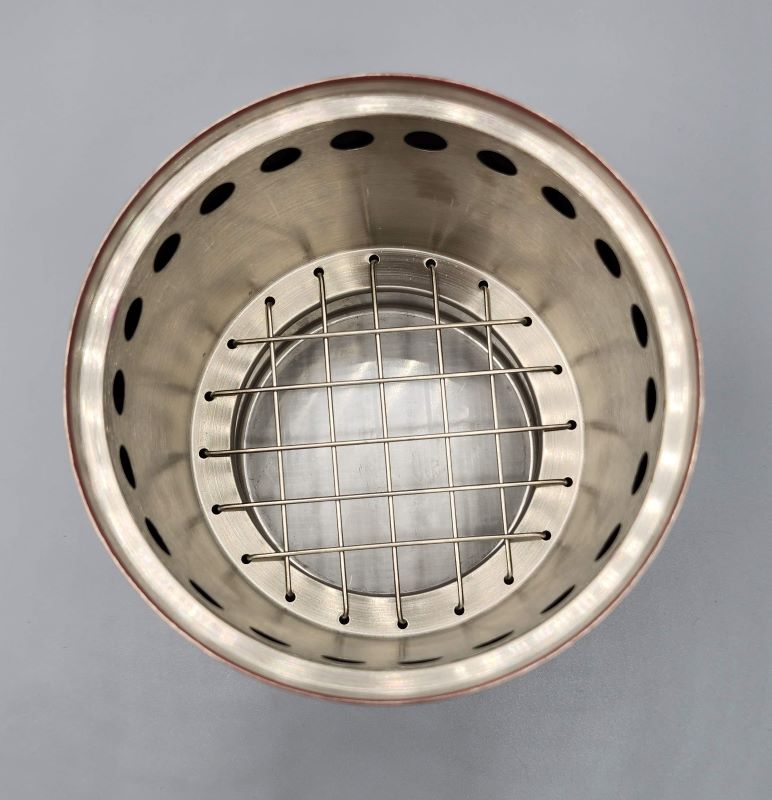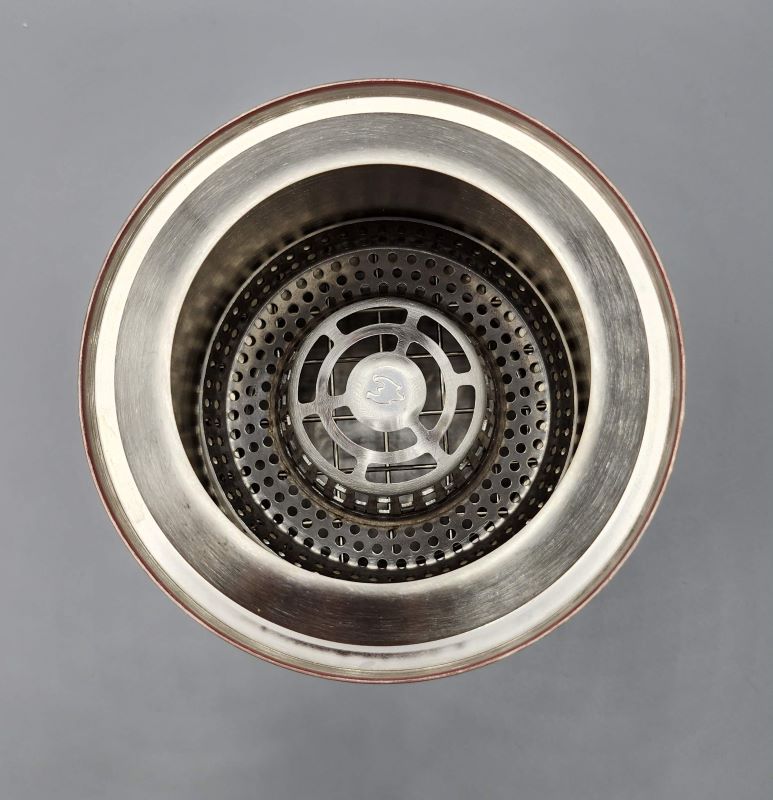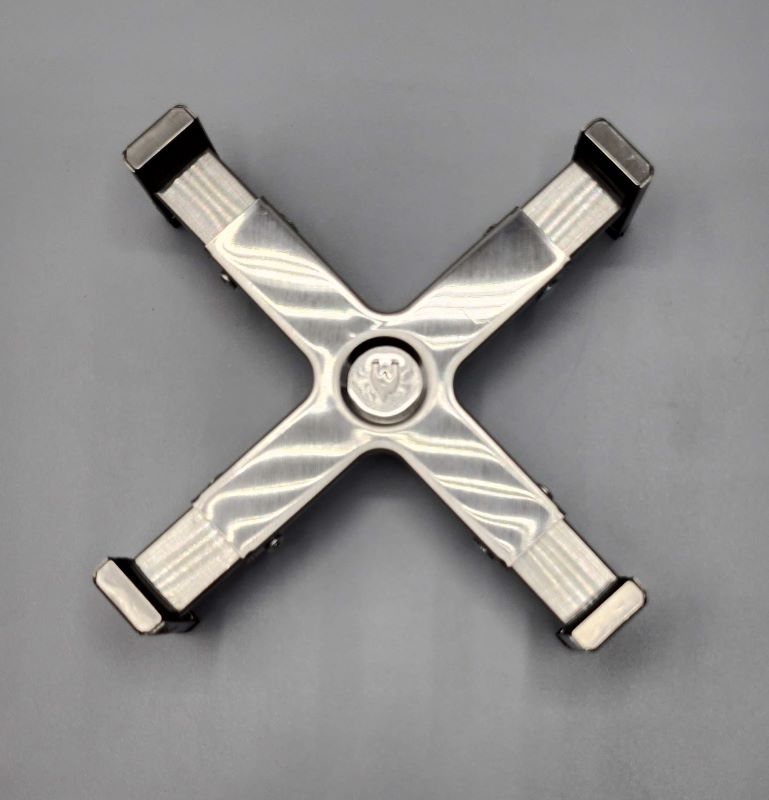 Setup and Features
The Solo Stove Mesa Tabletop Fire Pit sets up pretty quickly.  You just flip out the legs of the stand and put it on top. If you are using wood pellets, you need to use the pellet adapter but if not, you just need to light it up.  The instructions reference using a fire starter, but since I have a gas grill and a gas fireplace, I was fresh out of those.  I also lack a girl scout background in starting fires, but I do have two advantages when it comes to starting fires:
I live in California and everything here is about one spark away from igniting
I've watched copious episodes of Survivor
So I gathered some twigs and sticks and set about breaking them up to fit in the tiny stove.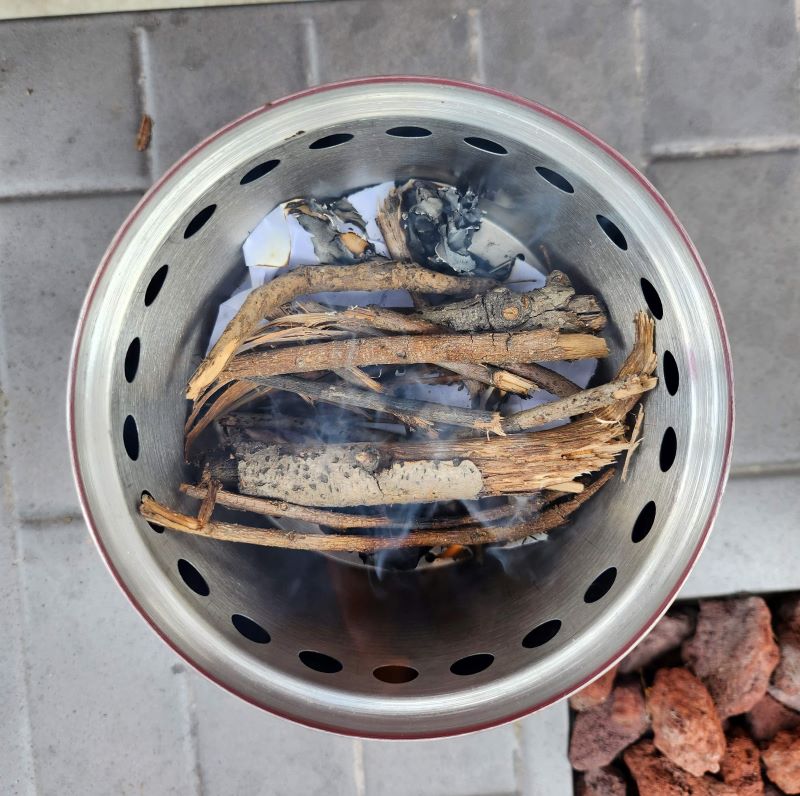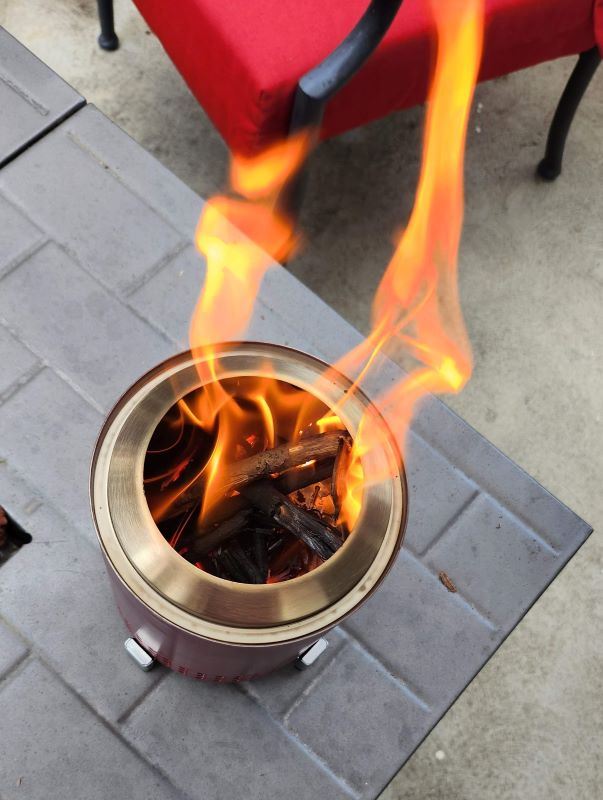 I lacked coconut husk material like they use on "Survivor" but I did have some paper, dried bark, and some leaves to help get things going and before you knew it, I had a RAGING tabletop fire going in the Solo Stove Mesa Tabletop Fire Pit.  Could I make a s'more with it?  Yes, but I'd have to wait a bit for the gigantic flames to die down.    The instructions said that sticks shouldn't poke out from the top, so pretty much all the sticks had to be less than 5 inches, and that got a little complicated.  Anything fat enough to burn for a while wasn't very easy to break to fit, and anything small enough to break burned really quickly.  It's great if you want to constantly forage for sticks, but if your goal is to have a glass of wine and sit around the fire, burning your backyard sticks doesn't allow for any downtime.  Thus I turned to the pellet option.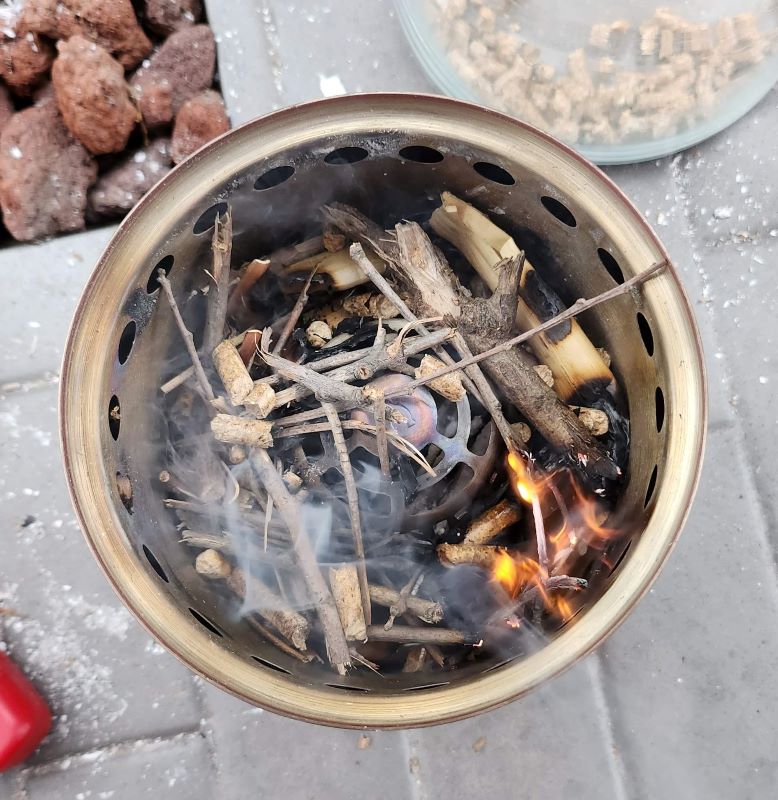 The Solo Stove Mesa's instructions said to set up your firestarter inside the cone of the pellet adapter and then light it up.  I did my best with the twig and leaf method, but I found that having my twigs inside the cone and the pellets outside lifted the pellet adapter a bit and let pellets go into the bottom of the stove (where they are not supposed to be).  Also, the fire I started inside the cone didn't want to light anything outside the cone.  I wound up putting twigs and bark and leaves around the pellet adapter and added pellets once that got going.  Pretty soon I again had my raging fire in the Solo Stove Mesa.  The advantage to this method is clear:  no foraging.  Just reach into the pellet bag and throw a handful in every so often.  Later I discovered Solo Stove also sells fat short wood sticks just for this fire pit if you prefer to use that.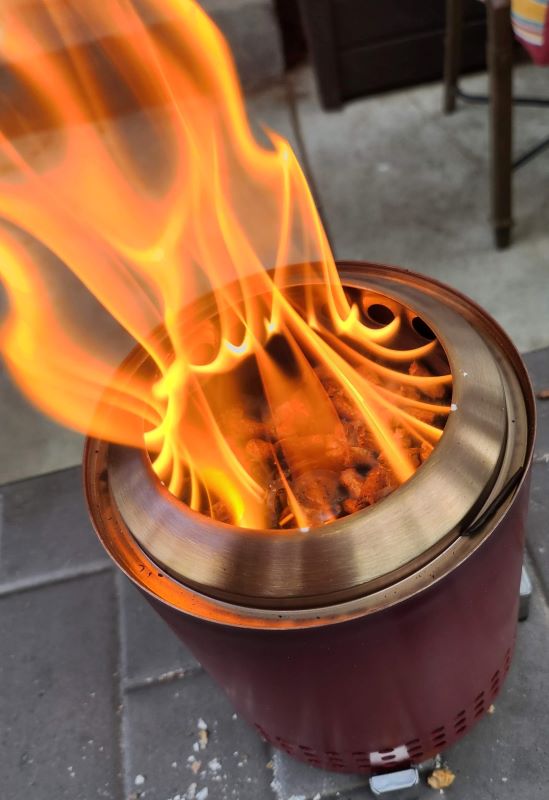 The Solo Stove Mesa is made of stainless steel, so it feels very sturdy.  The stand raises it up off of whatever surface you have it on in case the bottom gets hot.   I checked the bottom just to see how hot it got mid-mini bonfire and the bottom was only warm, so I wouldn't worry about the heat damaging the surface of your table.  The coolest part is that I didn't see any smoke, so if you are using it in a group setting, no one will be sitting on the "smokey" side.
What I especially liked about the Mesa Portable Fire Pit is the fact that it is tiny, and if you stop dropping pellets or sticks in it, it could be out within an hour.  I often want a fire, but I can't commit to hanging out to monitor it all evening.  With the Mesa you can enjoy it for an hour or two and then when you're done, it's quick to extinguish.
What I like
Easy to light and easy to extinguish
Doesn't get too hot on the bottom so you can use it on a table outside
What I'd change
It's a little pricey
Fire needs constant added fuel to continue burning because of the small capacity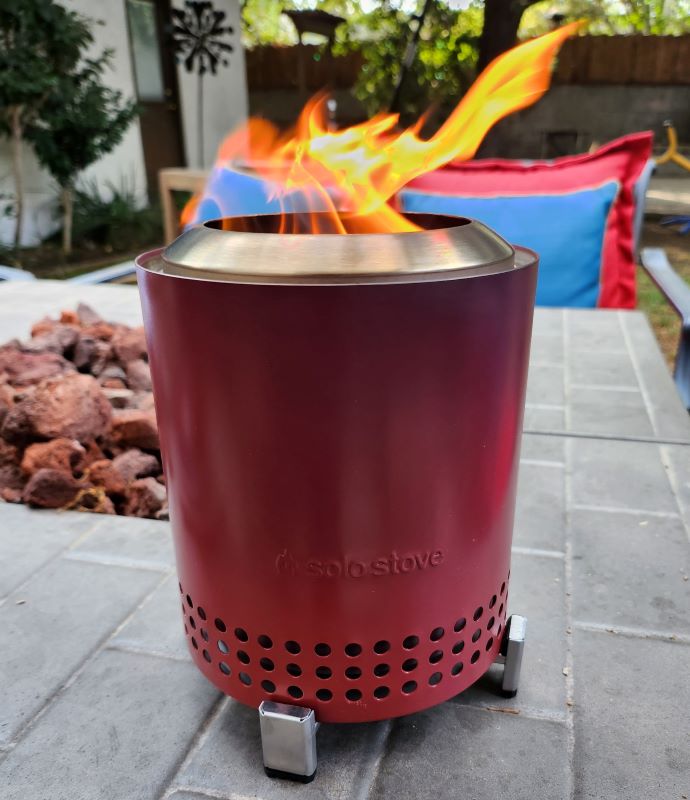 Final thoughts
The Solo Stove Mesa Tabletop Fire Pit comes in six colors and while it is a little pricey at $80, the quality is there and you could literally take this guy anywhere – the beach, the park, a party, etc.  It's just a fun little fire pit!
Price: $79.99
Where to buy:  Solo Stove and Amazon
Source: The sample for this review was provided by Solo Stove.