We use affiliate links. If you buy something through the links on this page, we may earn a commission at no cost to you. Learn more.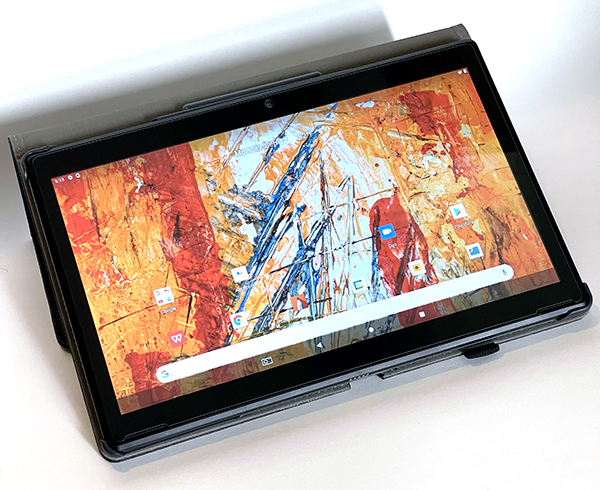 REVIEW – Art was something I loved in school, but once I graduated, I never took it any further. I still have my sketchbook and all, but I did not delve into drawing tablets. Since the Simbans PicassoTab XL is marketed towards beginners, I figured it was the perfect way to try to get started back into creating art again.
What is it?
The Simbans Picassotab XL is an all-in-one Android drawing tablet with all of the accessories a beginner will need to get started on the path to creativity.
What's in the box?
Simbans PicassoTab XL
Picasso Pen 2
USB-C charging cable
Charging brick
USA, UK, and European plug adapters
Drawing glove
Tablet case
Pre-installed screen protector
Hardware specs
11.6″ IPS HD screen
64 GB storage with expandable Micro SD card slot
Quad Core PTK8175 2 GHz Processor
4 GB DDR4 RAM
Android 11/Google Play store
5 MP front and 8 MP back cameras
WiFi, Bluetooth, GPS enabled
Micro-HDMI & USB-C ports
Design and features
After unpacking everything, I popped the Simbans PicassoTab XL graphics tablet into the case (which is incredibly easy to do if you put it in correctly, unlike me) and was ready to rock and roll.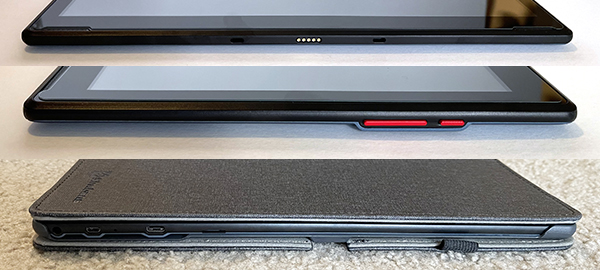 First things first, I charged the tablet to full using the included USB-C cable and power brick. Charging did not take long, and it seemed if I were to sit and let it be, it would take a couple weeks to completely discharge while running in standby mode.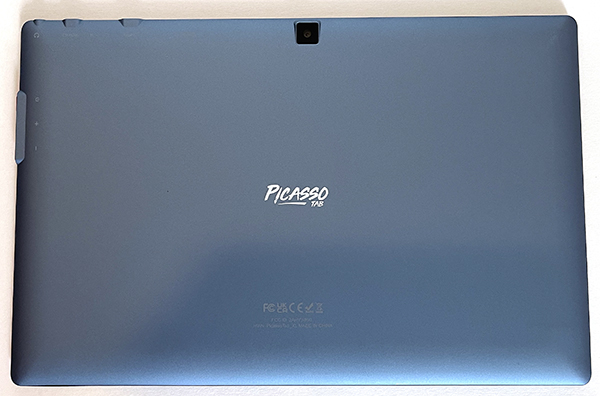 I powered up the Simbans PicassoTab XL drawing tablet using the power button on the side, next to the volume up and down buttons. The setup was simple using my Google account. I chose to use the one I had never associated with Google Play before and had no issues whatsoever.
The Simbans PicassoTab XL drawing tablet comes with the base Android apps installed, with the only additional app being Sketchbook. This app had all I needed as a beginner delving into digital art. With adjustable layers, a sketch pencil, tracing pen, fill, smudge, eraser, and more, I could do pretty much anything I wanted; As long as I knew how to do it.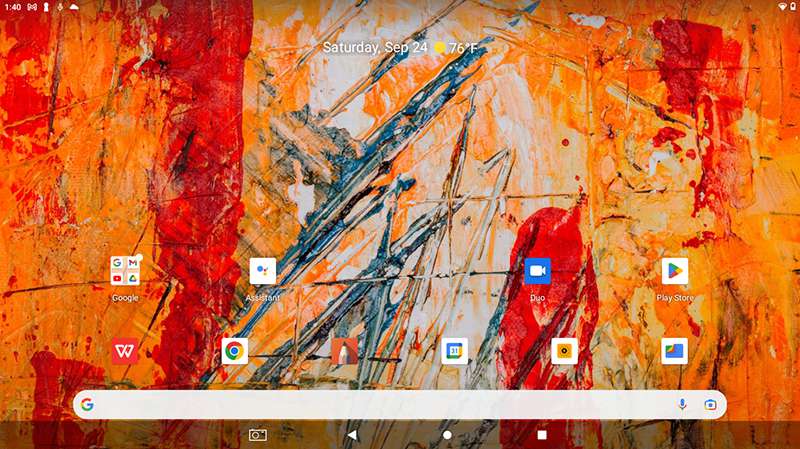 First I downloaded YouTube so I could see some tutorials. Simbans did come out with some tutorials themselves using Sketchbook, so I attempted one of theirs. I failed miserably due to my own inability and the picture looked terrible compared to theirs.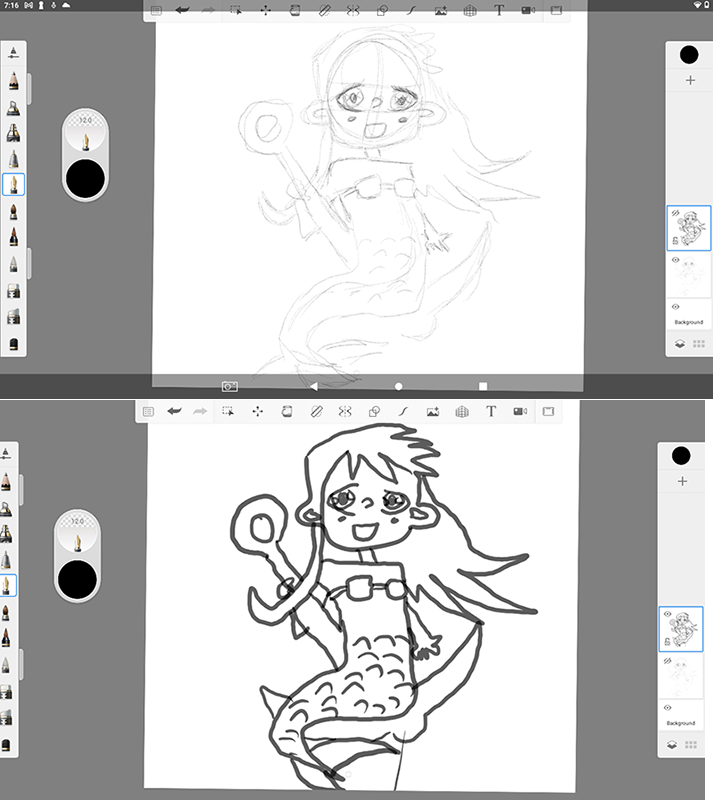 The sound quality of the tablet was similar to most tablets I've used in the past. I connected my AirPods to it and they worked great. Full screen had no stuttering on videos and the screen quality was on par with the price point of the PicassoTab XL.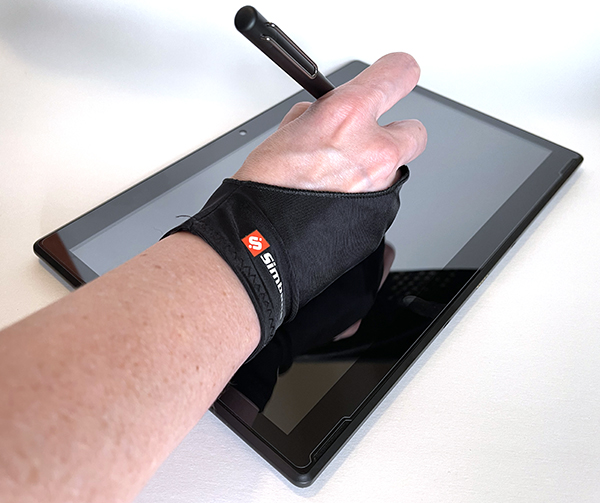 The Picasso Pen felt really nice in my hand and was really responsive on the screen. I could feel that it was pressure sensitive along with visually seeing it on the screen. Very cool! The drawing glove was absolutely necessary, as without it, I had dots on the screen from my wrist and palm. With it, I only had dots on the screen where my non-covered middle finger managed to droop down and tap the screen.

After coming back later with one of the Simbans tutorials I had watched in mind, I took a selfie using the Simbans PicassoTab XL and imported it into Sketchbook. I traced around my face and made a cartoon version of myself. I tried a tiny bit of shading, and voila, art! I did notice that the app stuttered a bit when smudging, but it was not enough to be off-putting, just enough to note.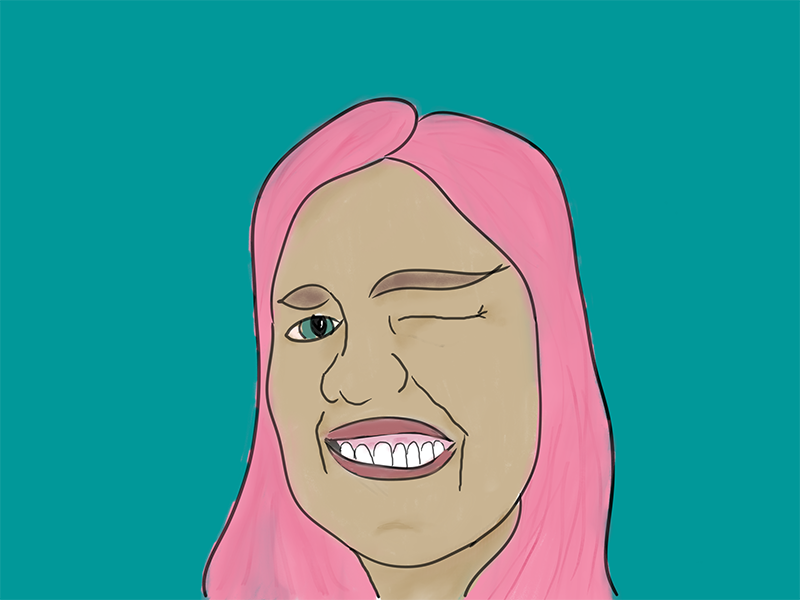 While I am on the subject of selfies, the front and rear cameras on the Simbans PicassoTab XL are nothing to write home about. You could use it in a video call and the quality would not be bad, but it will win no awards. The rear camera could focus on objects better, while the front could not manually focus but was brighter, though again, I would just use my phone to take a picture rather than a tablet. If you need a quick snapshot for drawing inspiration though? It will work just fine.

I will definitely be trying out more cartoon-type, anime-style art in the future, as that's what I wanted to try to get into. With the tips from the tutorials, I feel I have a firm base. I just have to practice.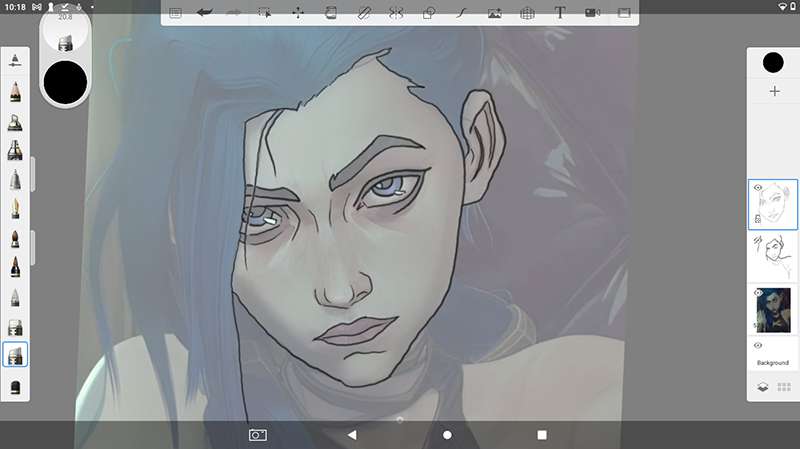 In the meantime, while not practicing art, I also can use the Simbans PicassoTab XL as a media screen to watch videos or play games. The touch screen works as intended, tho using the case as a stand did not. I could not get the case to stick into 'stand mode' without a lot of effort. Once again, not a game-breaker, but definitely noteable.
What I like
Affordable
Generous screen size
Included glove saves the day
Pen works very well
What I'd change
Slows down some when smudging
Stand is kind of difficult to use on the case
Final thoughts
Overall, the Simbans PicassoTab XL drawing tablet definitely fits the bill as a tablet for a beginner, though mostly due to the pen and accessories. The versatility of being able to sketch, watch videos, or play games is a plus. The battery life wasn't too bad and the screen was just the right size. If you don't have a tablet of some sort already, the Simbans PicassoTab XL could be a great beginner graphics tablet for those who want to casually get into digital artwork.
Price: $259.95
Where to buy: Amazon or Simbans Website
Source: The sample of this product was provided by Simbans.