We use affiliate links. If you buy something through the links on this page, we may earn a commission at no cost to you. Learn more.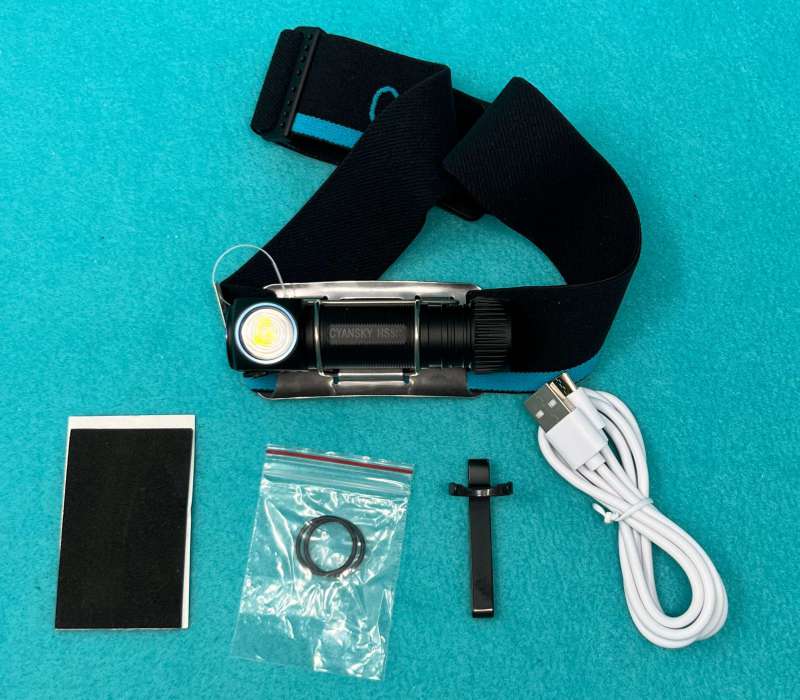 REVIEW – There are times when you need to use a light, but also need to use both hands. Depending on the situation, this can be easy (you're at a table with a desk lamp) or difficult (you're pitching your tent at a campsite that was two hours further down the trail than you expected, so it's way past sunset). If you're wanting to move, a headlamp is a nice thing to have. I've been testing the Cyansky HS5R headlamp that not only has the usual LED light multi-level brightness features, but adds a red mode to preserve your night vision. Let's take a look.
What is it?
The Cyansky HS5R headlamp is a rechargeable LED light with 90º angled head, with headlamp strap and pocket clip.
What's in the box?
Cyansky HS5R headlamp
Adjustable elastic strap
Steel Pocket Clip
Adhesive-backed foam pad
Extra O-rings
USB A <=> USB-C charging cable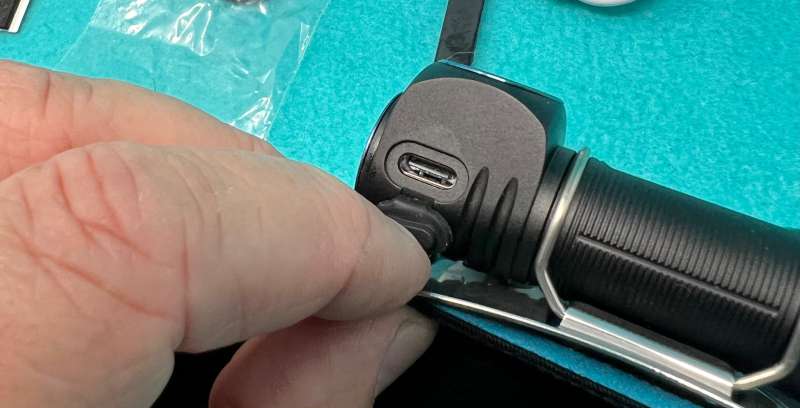 Hardware specs
From company website
Max. Output: 1300Lumens
Max. Intensity: 100000 Candela
Max. Distance: 200 Meters
Max. Runtime: 220 Hours
Angle: Spotlight 15°; Floodlight 80°
Size: 92*23*28 mm (L*H*W)
Weight: 45g / 94g / 136g (HS5R/+Battery/+Bracket & Strap)
Design and features
The Cyansky HS5R headlamp is a cylinder that is 3.625″ long and .75″ in diameter. The reflector (also .75″ in diameter) is at a right angle to the body of the light, and the activating switch is mounted on the end of the main cylinder near the reflector, surrounded by a blue anodized metal ring. A long press activates the switch. While the light is activated, a quick press will cycle between a regular beam, a red safety light, and a blinking red safety light. Turning the light off is done by holding down the button for a long press. The light will come back on in whatever state it is in when it is shut off. A long press on the button while it is in regular mode, will switch to a bit higher white light and back. (It all seemed kinda hit-or-miss, it seems to me. I could find no logic in the sequences but could easily get to the level I wanted by trial-and-error.)
The Cyansky HS5R recharges with an (included) USB-C cable from whatever power adapter you use to attach it to the weather-sealed port near the switch. There is an indicator light under the switch that glows red as it is charging and then green once the battery is full.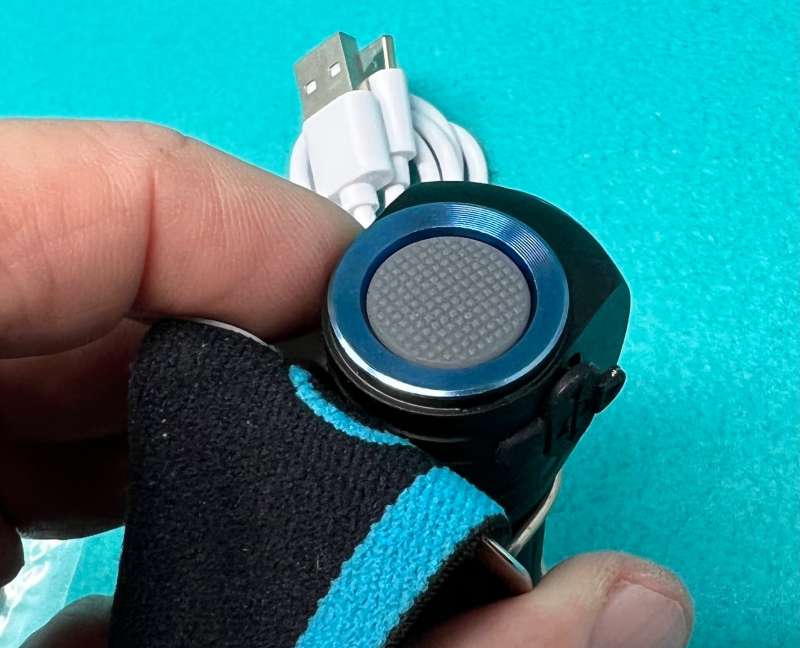 The tailpiece is a flat magnetic base, so you can attach it to network racks, filing cabinets, or car hoods while doing two-handed work. The angled head makes it very flexible for focusing on the task at hand. The clip is also quite versatile since you can attach it to a strap, belt, or shirt from either side.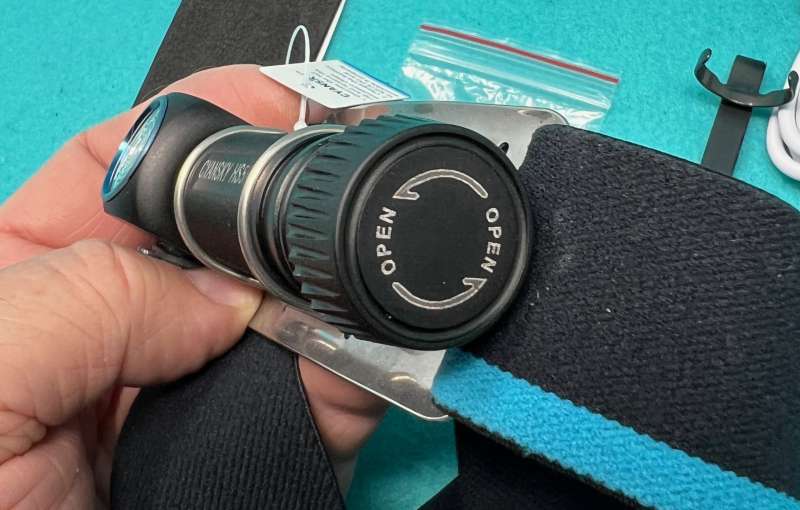 Performance
The Cyansky HS5R headlamp is attached to a 1.5″ width headstrap with a metal wire bail attached to a 3″ X 1.675″ base. When strapped to your head, the light can be rotated to focus on whatever task you need to work on. There's a foam pad that you can place under the strap to cushion your head from the metal plate if desired.
Here's a quick video comparing the levels and the red light/flashing light settings. For the life of me, I can't figure out how to go easily from one to the other. I just keep clicking until one that I think I can use comes along.
Ostensibly, you can unclip it and use it as a stand-alone light. It took me several long periods of trying with various tools to unclip the light. After I finally managed to extricate it from its metal prison, I could never discover how to re-clip it to the headstrap. (There was nothing in the paperwork or on the website about unclipping the light from the headstrap.) It looks like it would be an easy task, but the wire is very stiff, and when I tried to squeeze it with pliers to get it undone, it bent in one place. Once it was freed, I attached the included two-way spring steel clip, however, and it is a nice body-mounted light. The right-angle lens allows it to hug your body better and not flop around while you move. The Fresnel lens gives the beam a full, even center with a nicely faded ring around it.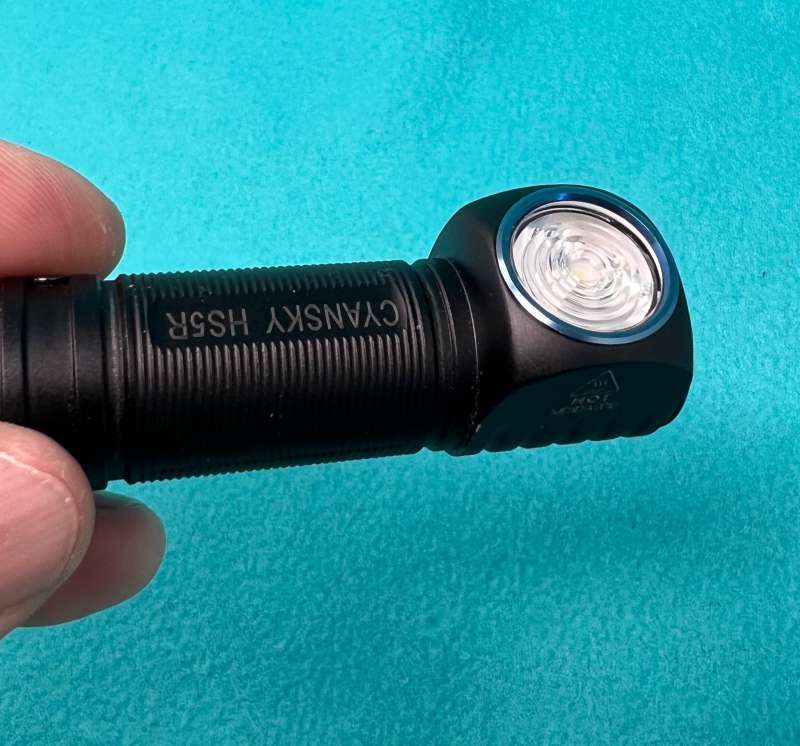 What I like
Red light saves night vision
Right-angle light allows for better focus while keeping the body of light next to the head or body
What I'd change
Confusing pattern for changing between lighting modes
Unclipping the light from the headstrap is nearly impossible
Reattaching the light to the headstrap is impossible
Final thoughts
The Cyansky HS5R headlamp is a very confusing unit. It's a great little flashlight, with several white levels, as well as a red safety mode and a flashing red mode, but the sequence of presses, long presses, and even longer presses needed to move between modes never made sense to me in my testing. Also, the bracket that holds the light to the very nice elastic headstrap was stiff and difficult to work with. If there had been no spring clip in the bag, I would have just assumed it was not meant to detach and used it as a headlamp only. I'm actually sad I can't reattach it to the strap and use it while grilling or working in dark places. But it's a nice enough light unattached, with the clip and the magnetic base.
Price: $84.95
Where to buy: Company Webstore and Aliexpress
Source: The sample of this product was provided by CyanSky.