We use affiliate links. If you buy something through the links on this page, we may earn a commission at no cost to you. Learn more.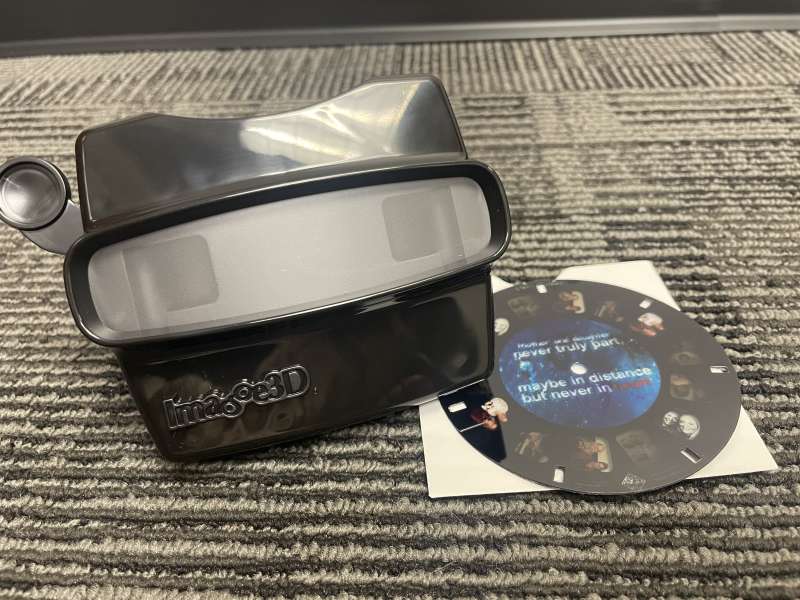 REVIEW – Do you remember the View-Master?  That simple stereoscope toy from your childhood designed to view "reels", the thin cardboard disks containing small transparent 3D color photographs that come to life right before your eyes.  Image3D has created the RetroViewer, which is just that same childhood toy, only YOU get to use any pictures you want for your reels.  Here is what I think…
What is it?
The Image3D RetroViewer is a customizable View-Master toy.
What's in the package?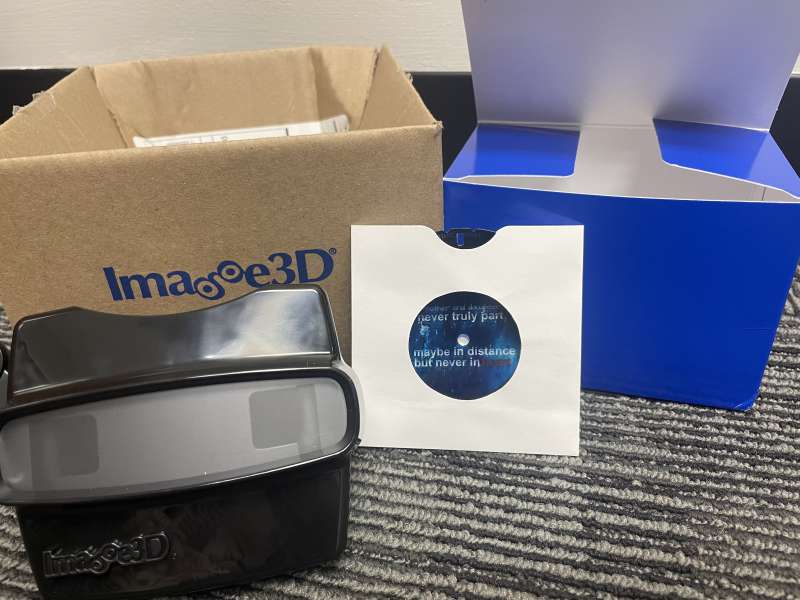 Box in your chosen color
RetroViewer
Your designed reel w/paper sleeve for protection
How to make your custom reel
The process is user-friendly and quick.  The hardest part is choosing what photos you want to use and what center image design and/or words you would like for your reel.  Here is a video step-by-step of how to build your Image3D RetroViewer reel.
Design and features
When designing your Image3D RetroViewer reel, you will choose seven photos.  Note: there are 14 photo spots on the reel, but because the 3D effect comes from seeing the two separate images (one with each eye), 7 photos are printed twice.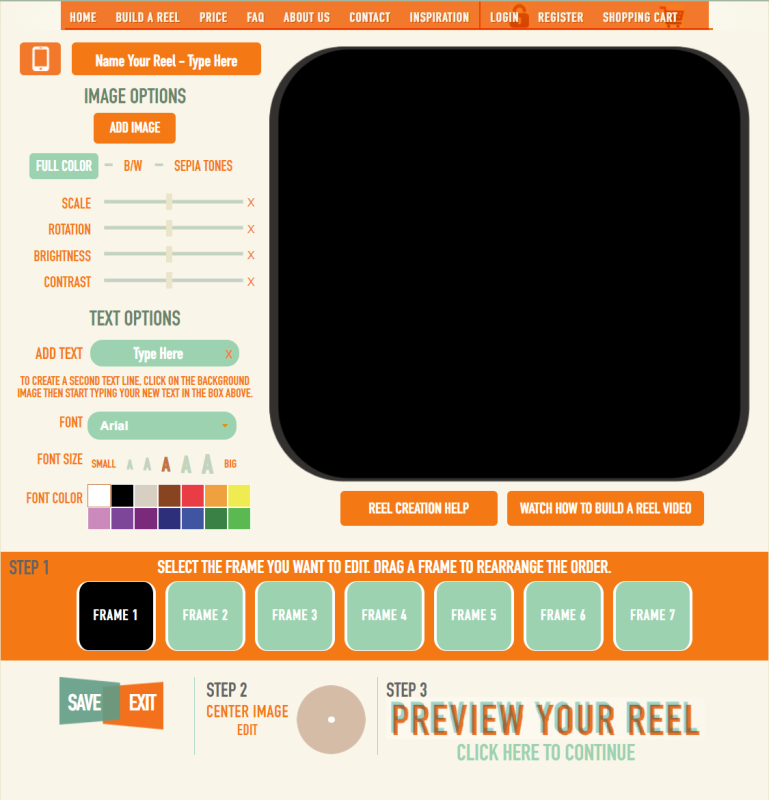 Choosing just 7 images is tough depending on what you are planning on capturing.  I decided to make a reel for my mother, featuring photos from childhood to adulthood of us together as a fun unique gift.  Boy was it hard to pick just 7, but the joy is, you could make additional reels if the subject that you were wanting to capture needed more than 7 images.  I haven't gifted it to her yet, but I can't wait to see what she thinks!
With each photo that you add you have quite a few options.  You can adjust the photo by changing the color to black and white, sepia tones, or keep it in full color.  You also have the option to scale, adjust brightness or contrast, and rotate each image.  Last, but not least, you can add text to your photos.  For text options, you have 14 colors, 10 fonts, and 5 sizes to choose from.  You can upload your own images or there are also stock images you can use as your own if you desire.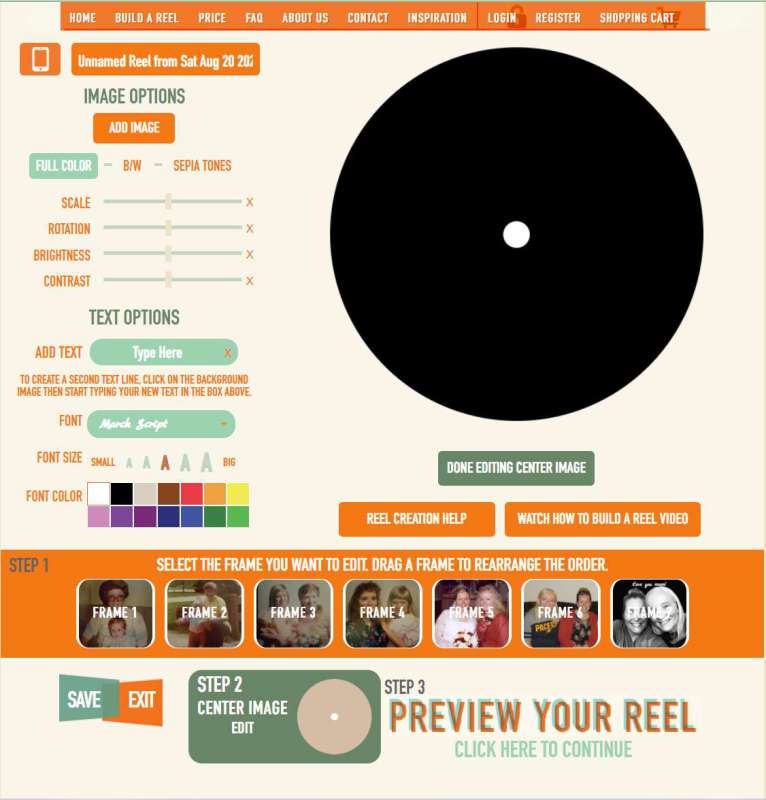 I decided for mine to keep all my photos in the original color scheme but did have to scale a few of them to fit in the frame, which is so simple with just a slide of a button.  I also decided to add text to one of the photos to see how that would look when printed, again super simple to do and the final product looked great.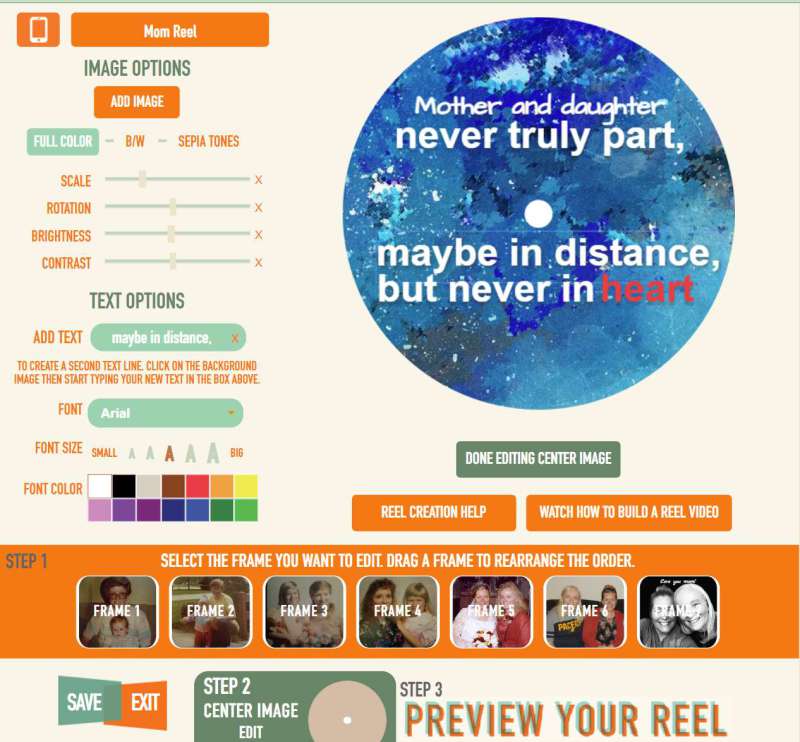 Another customizable option is the center image/design on your reel.  Just like the photos, you can use your own photos or stock photos to create a center design for your reel.  You have all the same options as the photos including adding text.  This truly makes your reel personalized.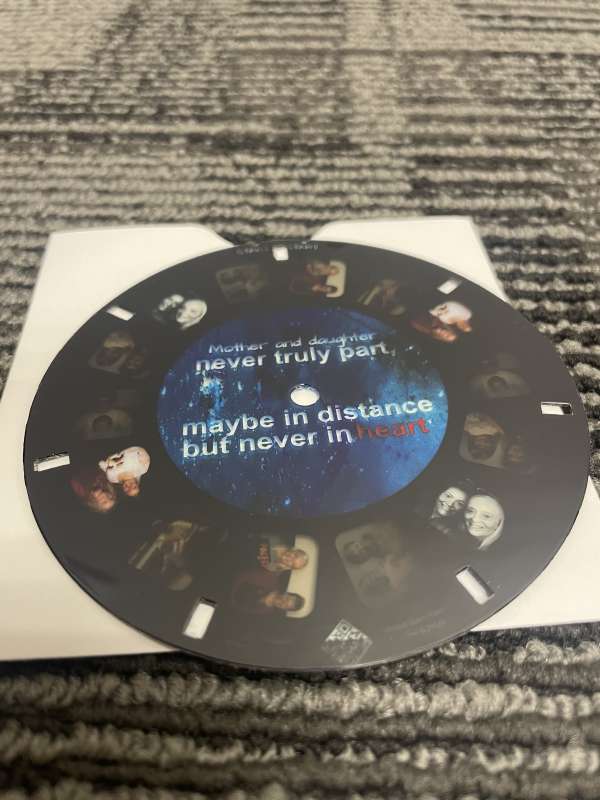 I decided to use one of the stock photos of a funky design in blue, my mom's favorite color.  I added some text and just like that had a great center design.  Quick and simple to do, just like adding and editing the photos.
Now it was time to order.
When ordering you can choose from 3 options:
Reel and Viewer Set
Custom imprinted Reel and Viewer Set (must order 26+ of the same sets)
Just the reel (you already have the RetroViewer)
With both the custom imprinted and standard Image3D RetroViewer sets you have some additional options.  You can choose the color of viewer and the color of the box your viewer comes in.  Color choices for your viewer are: blue, red, white, and black.  For the box, your Image3D RetroViewer comes in you have a variety of options including the same 4 colors and green or pink.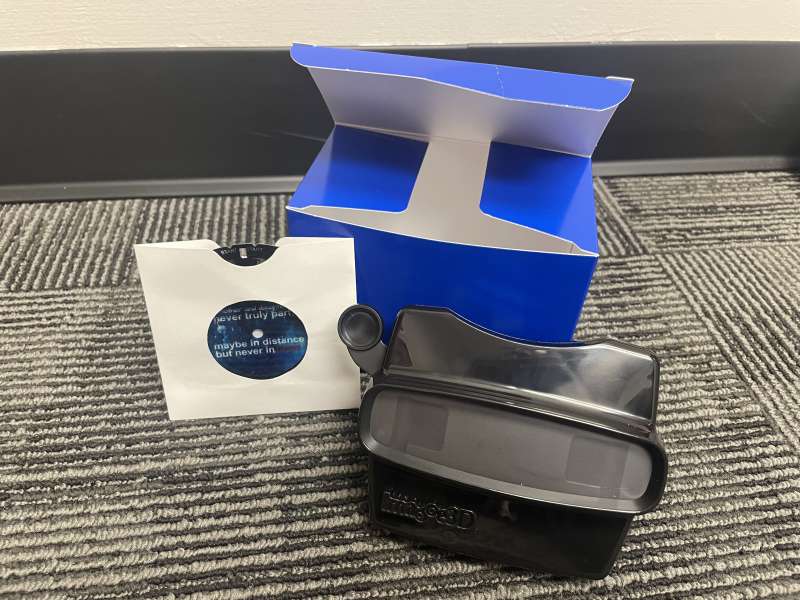 The box was fairly underwhelming, it was just a simple box in your color choice.  I would love to see Image3D consider more fun design options (think hearts, tie-dye, balloons, etc) or perhaps an option to choose from stickers to put on the box to go along with the occasion or recipient of your RetroViewer.  Even adding some sort of filler to the box, like tissue paper or decorative shredded paper could help this presentation.
Your basic order would be ordering the reel and RetroViewer set.  This option gets you your personalized reel, your RetroViewer in your choice color, and a gift box.  Like all the options, the more you order the more you save.  You do have your choice of color of Image3D RetroViewer and can also choose for your viewer to say "Happy Birthday" or "I love you" imprinted on it.  Choose from red, white, black, blue-black, Happy Birthday, or I love you.
Custom imprinted reel and viewer set option is for orders of 26+ sets.  When ordering in that quantity, you can personalize your RetroViewer with a custom imprint of your choice. You can choose to add words up to 25 characters (choosing the imprint color and font) or you can opt to submit a single color logo to have imprinted on each viewer.  Ordering in these quantities does allow you to save money on each set.  This would be a great option if you are using them as wedding favors, family reunions, or corporate gifts.  The only problem is you have to limit to only 7 photos.
If you already have a viewer or want to order extra reels with your set, there is an option for that.  Each reel comes in a paper sleeve for protection and the more you order the more you save per reel.
Some special moments to consider a custom Image3D RetroViewer could be Mother's Day, Father's Day, anniversary, baby announcement, graduation, capturing vacation photos, really any occasion that you are looking for a unique way to highlight some photos in a memorable way.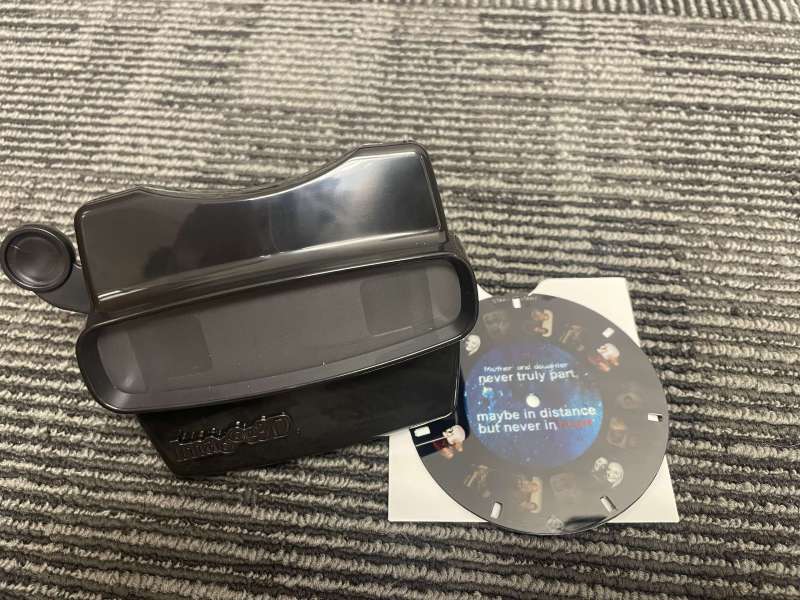 What I like
Unique one of a kind gift
Ability to just purchase reels if already own the viewer
Many customizable options
What I'd change
Include an option to include a gift message with the package
Make the box it comes in more personable (see above suggestions)
Final thoughts
I'm excited that I found a new and unique gift for those hard to buy for people in my life.  The nostalgia of using the Image3D RetroViewer as an adult with my own images is something I absolutely love.  I plan on keeping this option in my arsenal for those occasions and opportunities to provide a special memorable gift.  I recommend you do the same.  Go check it out for yourself.
Price: $34.95 + shipping (RetroViewer and 1 reel )
Where to buy: Image3D RetroViewer Website
Source: The sample for this review was provided by Image3D