We use affiliate links. If you buy something through the links on this page, we may earn a commission at no cost to you. Learn more.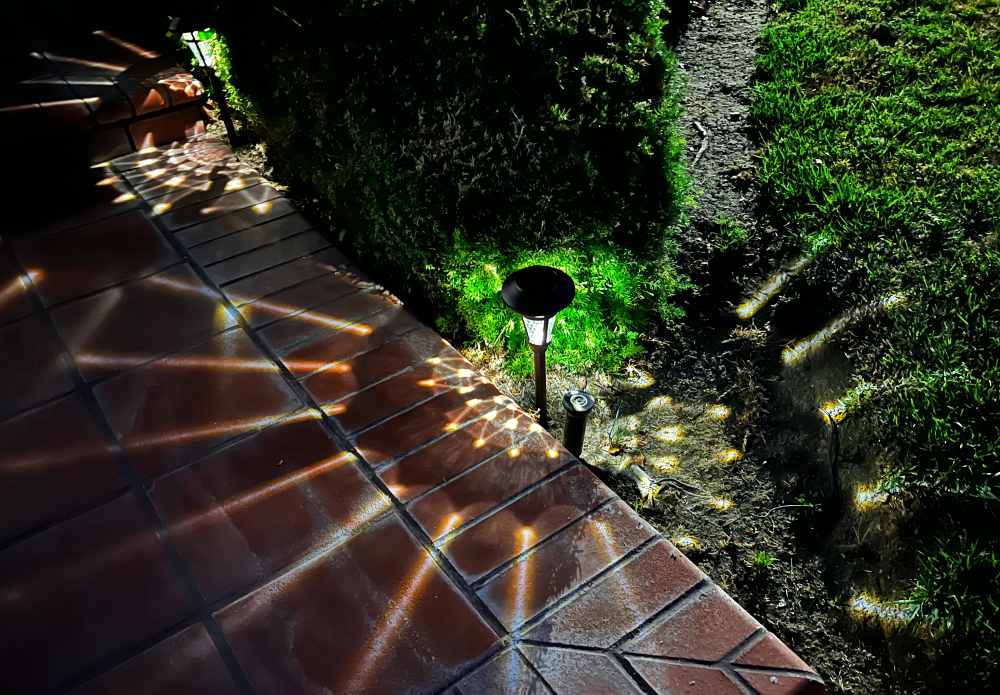 REVIEW – We moved into a new home almost a year ago and a good chunk of the wired landscape lighting no longer functioned. It was a combination of transformers, broken or rotted wiring, and general disrepair. As a result, I was already looking into some solar lighting when the opportunity came up to review the Gigalumi Solar Bronze Finished Garden Lights. What's the verdict? Please read on.
What are they?
Gigalumi Solar Bronze Finished Garden Lights are set-and-forget outdoor solar pathway lights with a ground stake, replaceable battery, and unique light pattern.
What's in the box?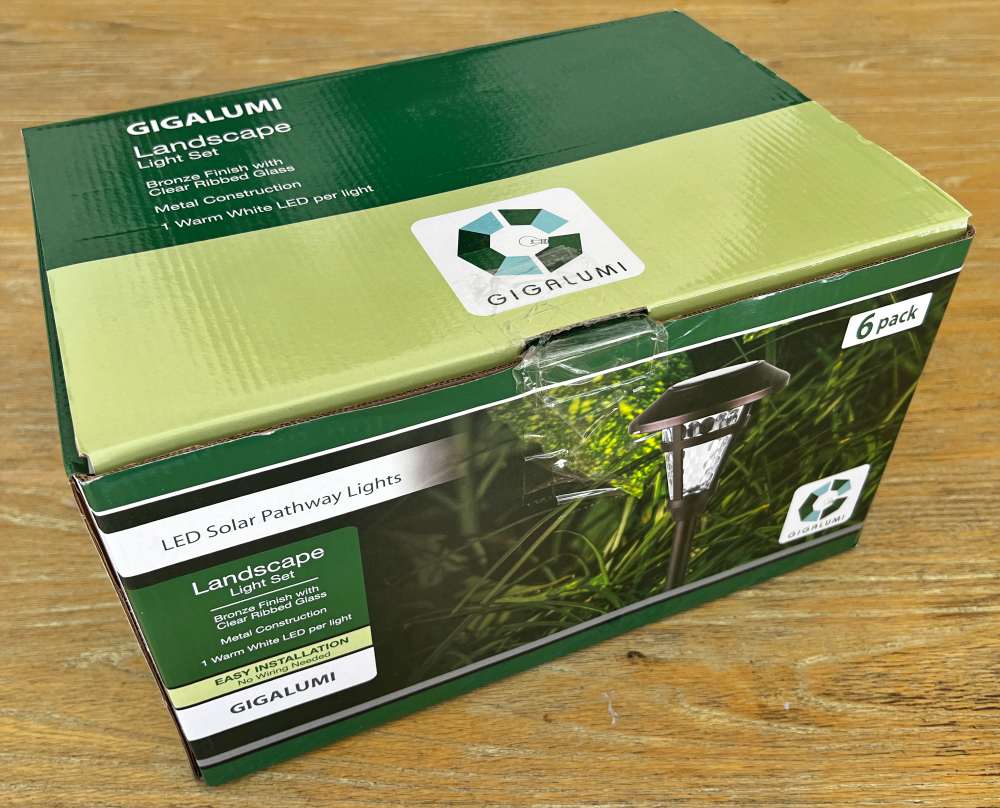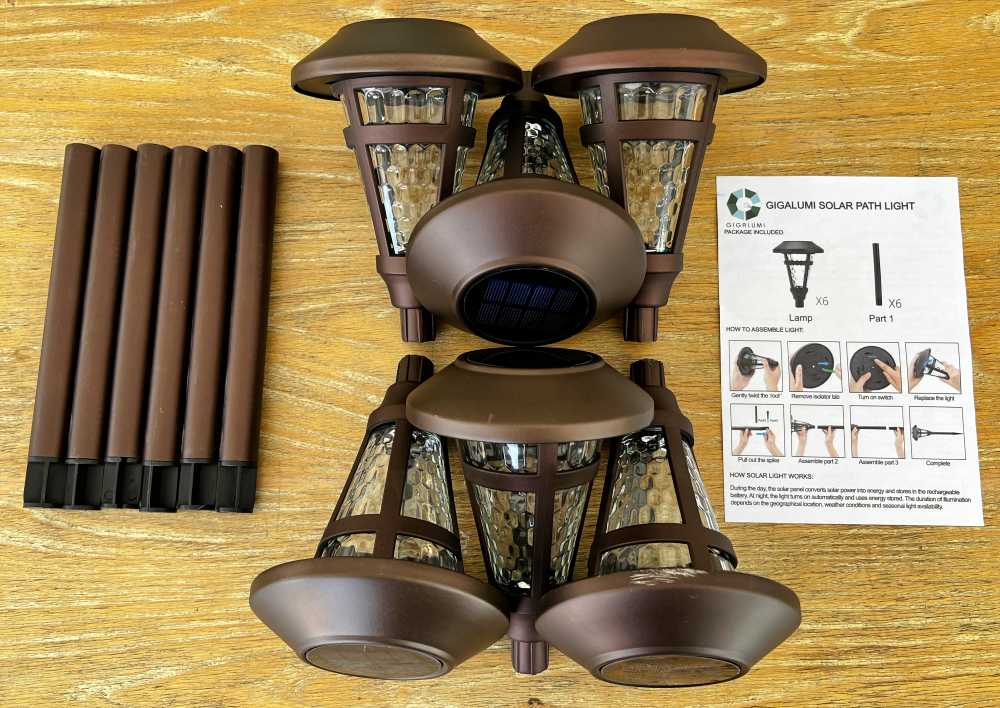 Light fixtures (6)
Ground stakes (6)
Rechargeable AA battery (6) – pre-installed
Instructions
Hardware specs
Materials: Rust-resistant aluminum, stainless and plastic (spike)
Lens: Glass
Lighting: 0.2W LED
Power: Rechargeable, replaceable 1.2v 600mAh AA battery (incorrectly listed as a AAA on Gigalumi's website)
Runtime: 8 hours from full charge
Design and features
Gigalumi chose a bronzed-brown finish for the aluminum on their lights which should blend pretty well with most yards or pathways.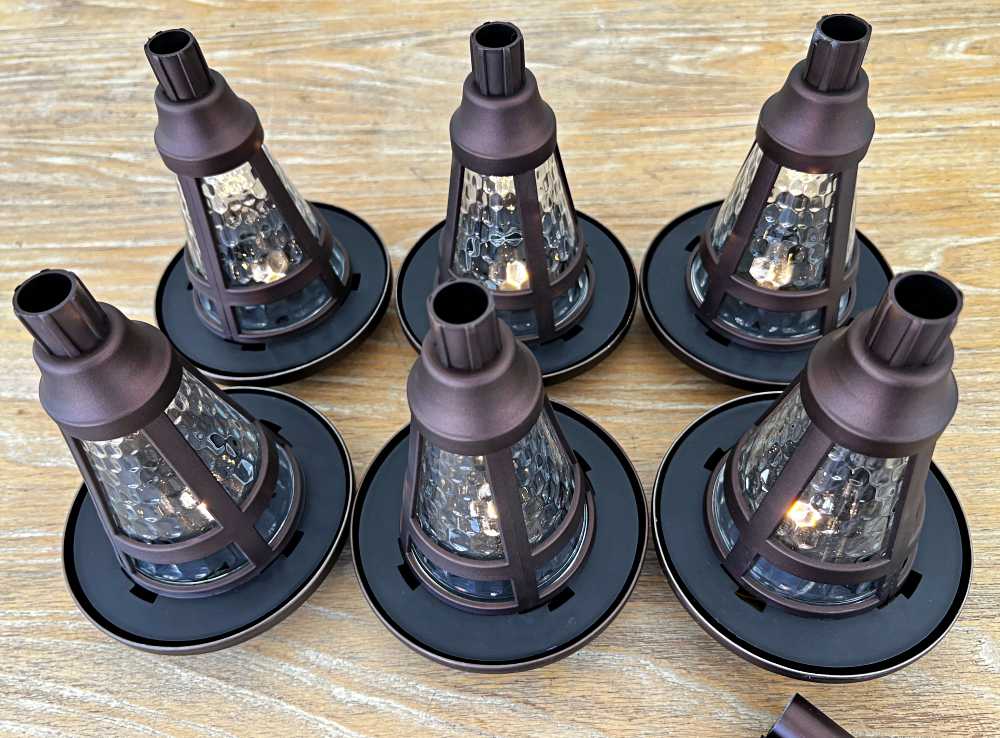 The Gigalumi Solar Bronze Finished Garden Light's lenses are made with glass which helps to provide crisp clear light, and the faceted pattern creates a really unique pattern. It gives me spirograph vibes. A solar panel on the top surface charges an internal battery during the day to be ready for the next night.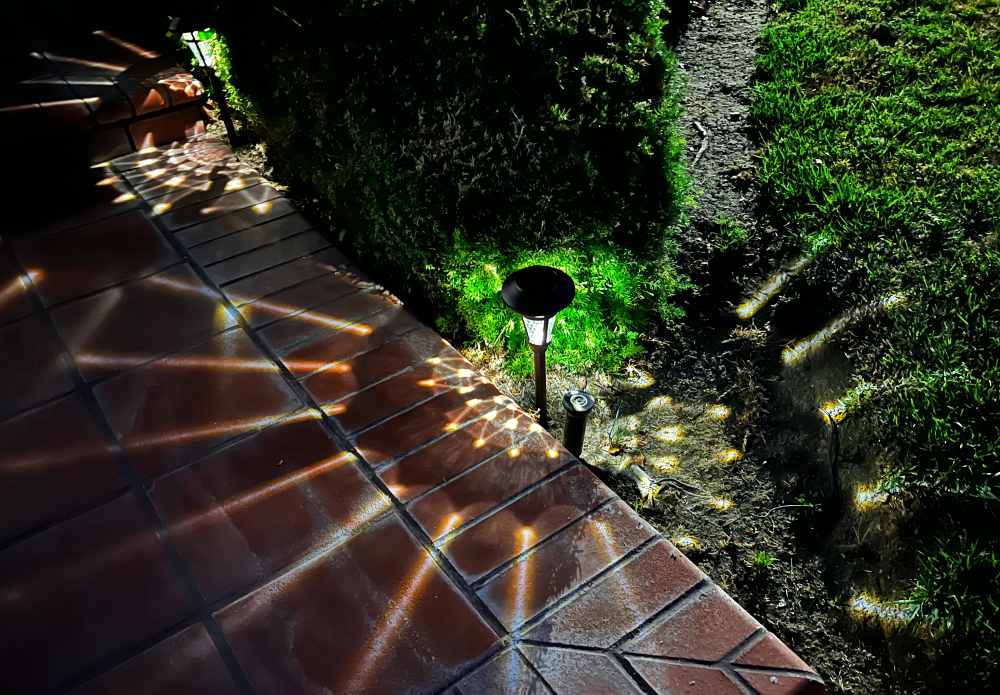 In a really good move, the internal battery is a replaceable AA.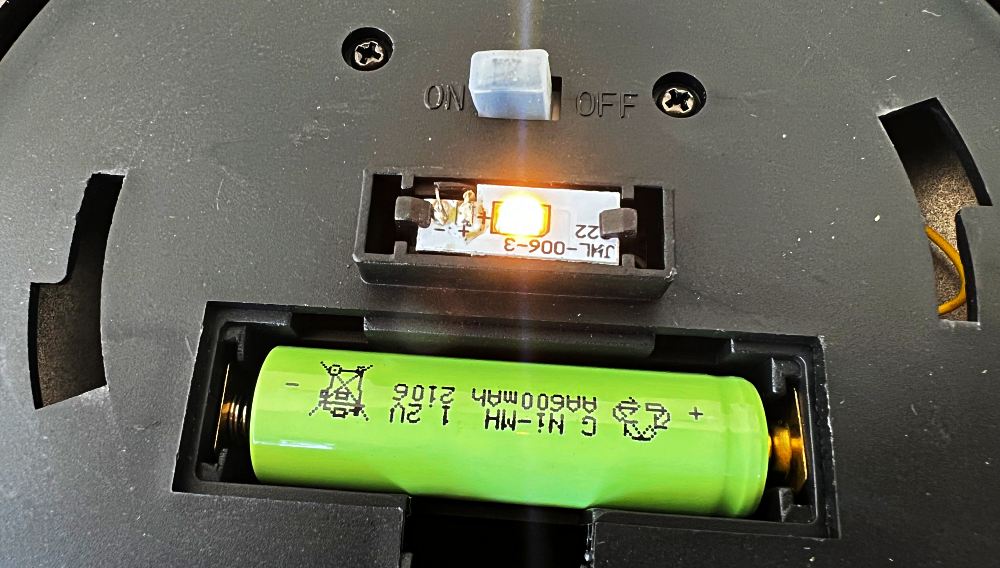 Setup
The included instructions do a pretty good job of walking you through the set up so here that is.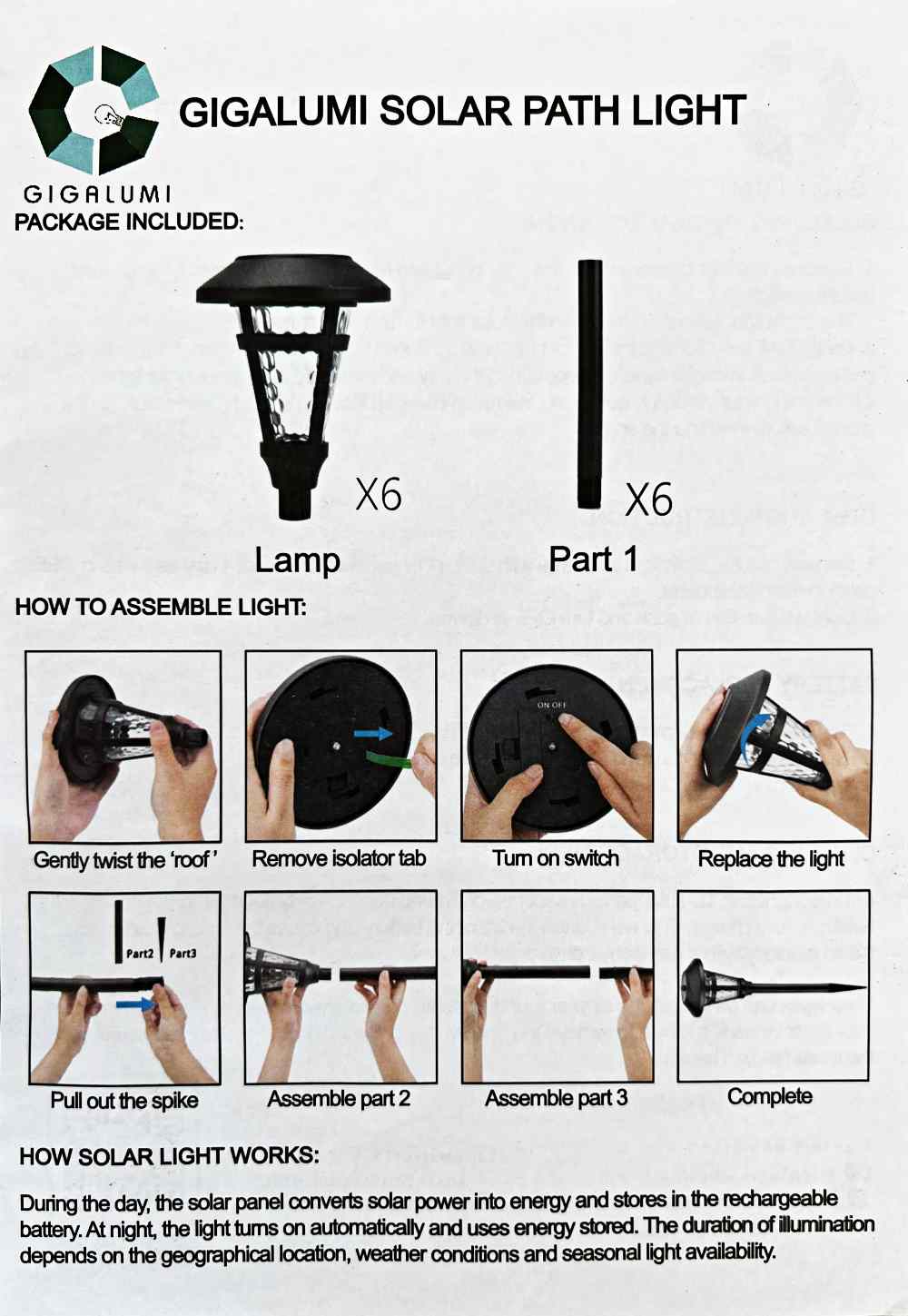 That said there are a couple of things to call out. First, the aluminum tubes are pretty thin-walled and can be a little sharp at the end. Go slow as you're flipping the spike and reinserting as will shave material off if you are angled at all.

Depending on how firm your soil is, you may need to create a hole for the spike. Also, the light top or "roof" as they call it, can bend since it's also aluminum. So pressed the unit into the ground without the top on using two hands on opposing sides.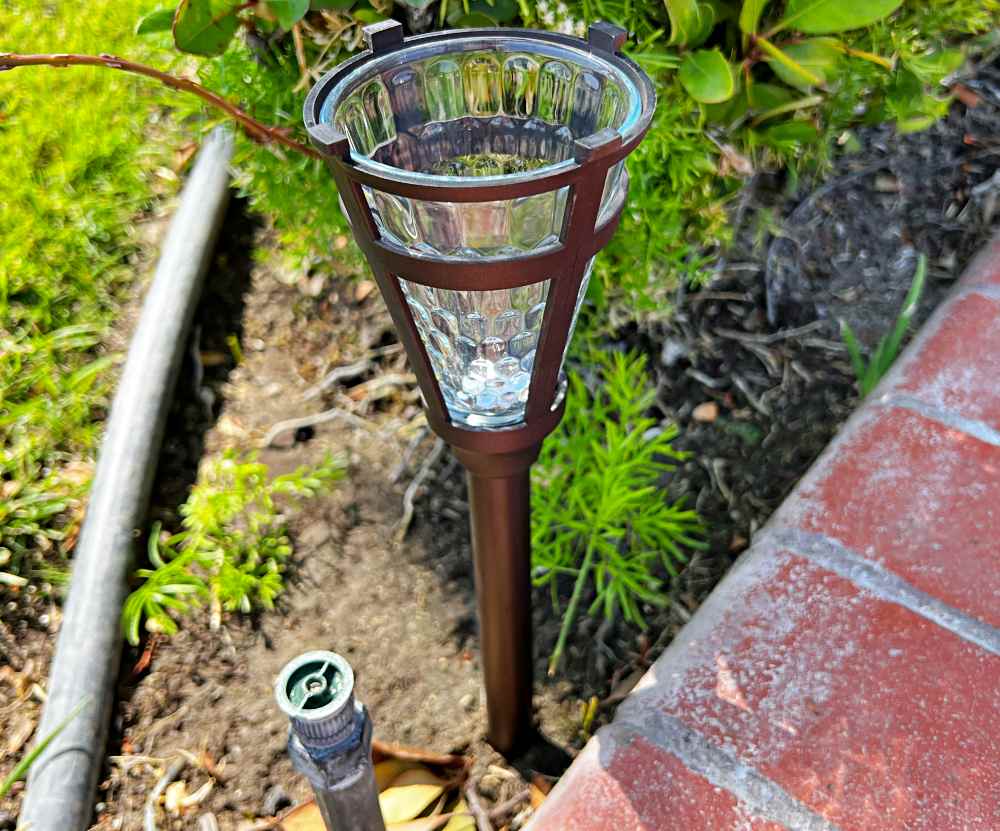 Next, you'll want to pull the clear tab to engage the battery and then slide the waterproof enclosed switch from OFF to ON.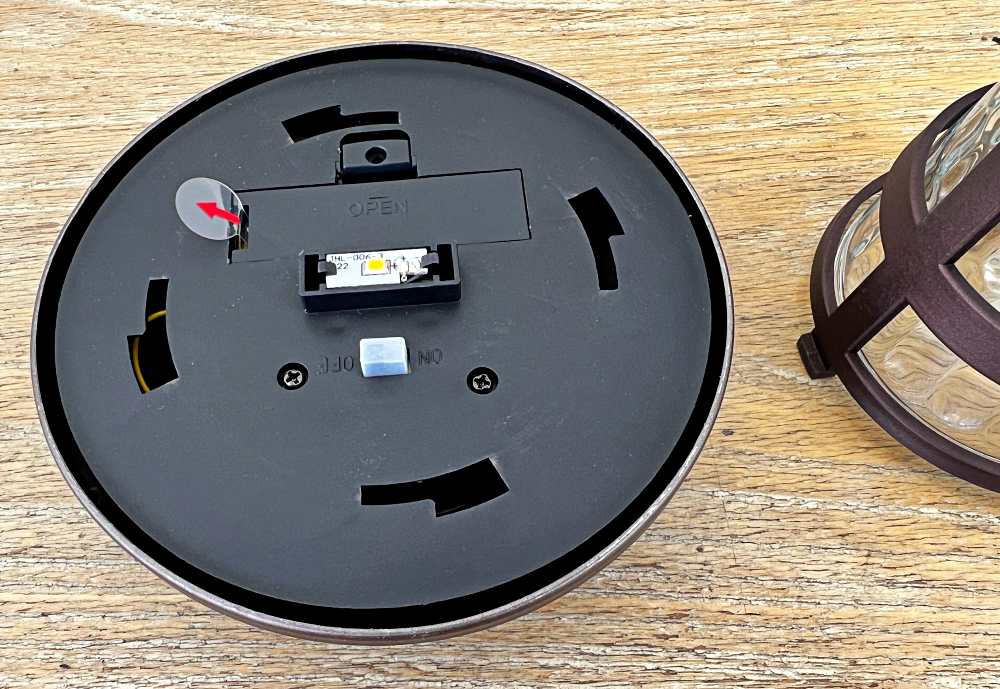 Then you can install the top by aligning the curved keyhole slots you see above with the corresponding posts on the lowers before locking it in place with a small clockwise twist.
Performance
Installation of the Gigalumi Solar Bronze Finished Garden Lights was easy and only took a couple of minutes. The hardest part was just working around some sprinklers and hedges to make sure I would get the light distribution I wanted. Here's the placement during the day with some arrows to call them out since they are kinda hiding in some shadows.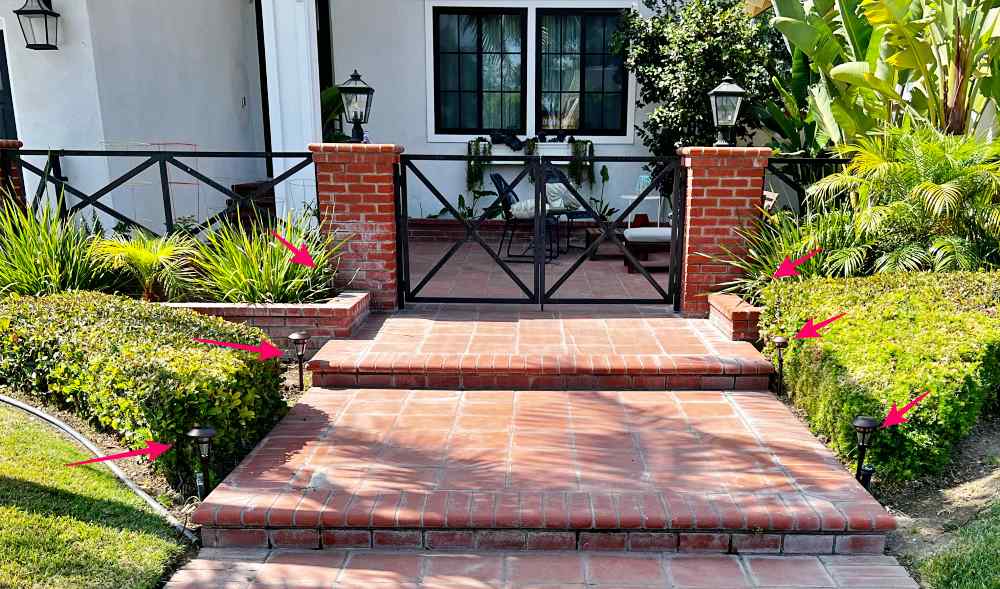 And here's how they look when the sun goes down. You'll notice the two lanterns on the brick posts are two of the lights that have been non-functional. There's also a fair bit of light coming from my neighbor's driveway floodlight in this shot.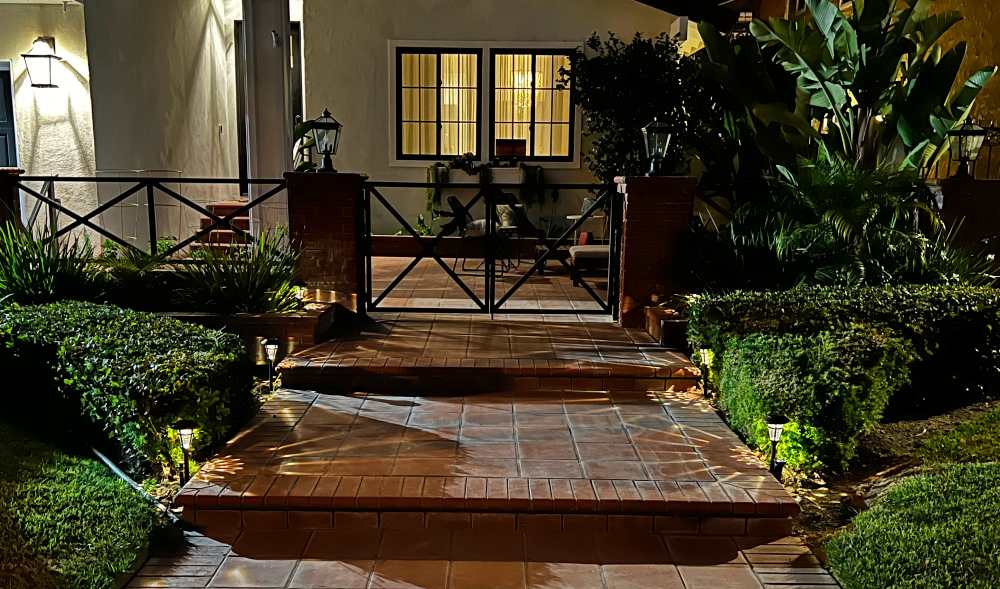 Here's a different angle that's a little darker.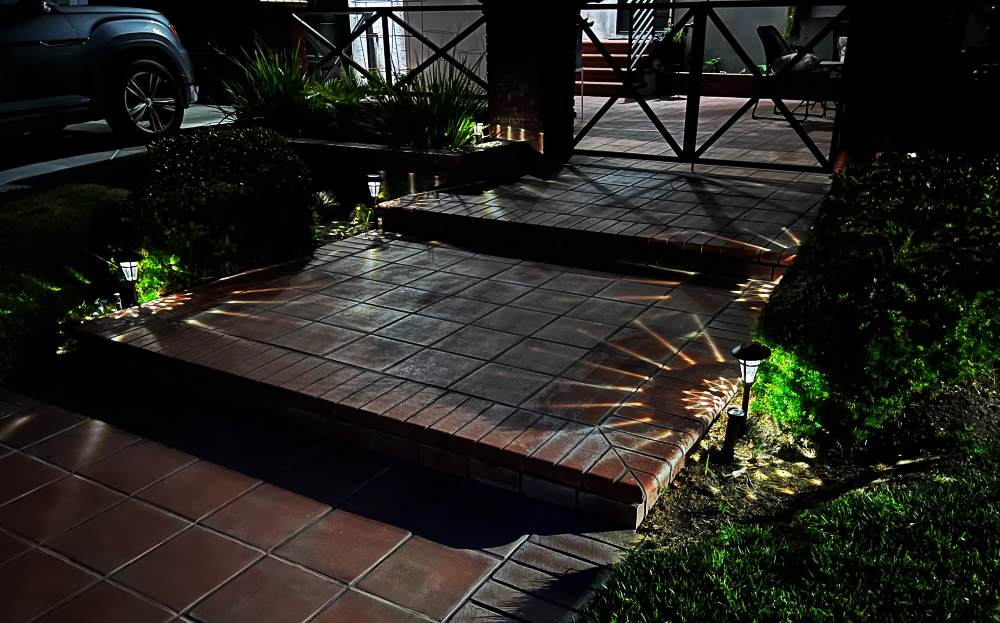 A couple of things to notice. These definitely are not super bright, but they do provide more light than the above shot implies. All the light is directed downward which I like. The light pattern created is a what-you-see-is-what-you-get affair. I imagine that it is likely a polarizing characteristic especially if you were hoping for an even light wash.
Here's what's really good though. The Gigalumi Solar Bronze Finished Garden Lights are crazy easy to install and once you've turned them all on, there's nothing more to do. They come on automatically at sunset or whenever the ambient light gets low enough. They turn off when the daylight returns or if they've drained the battery which is in the 8-hour range. And if that battery does start to die too quickly, it can easily be replaced with another rechargeable AAA, not some unobtainable battery.
In fact, the only maintenance needed will be to wipe down the solar panels on top if you have a lot of dust or leaves that might keep the panel from doing its job.
What I like
Easy to install
Set-and-forget functionality
Low cost solution
Replaceable battery
What I'd change
Light pattern (starburst) could be polarizing
Final thoughts
The Gigalumi Solar Bronze Finished Garden Lights were quick and easy to install, are unassuming during the day, and look pretty darn good at night, adding some ambiance to the entrance of our house. If you get a good bit of sun during the day, this is an easy way to add some night visibility outside your house.
Price: $42.99
Where to buy: Gigalumi and Amazon
Source: The sample of this product was provided by Gigalumi.