We use affiliate links. If you buy something through the links on this page, we may earn a commission at no cost to you. Learn more.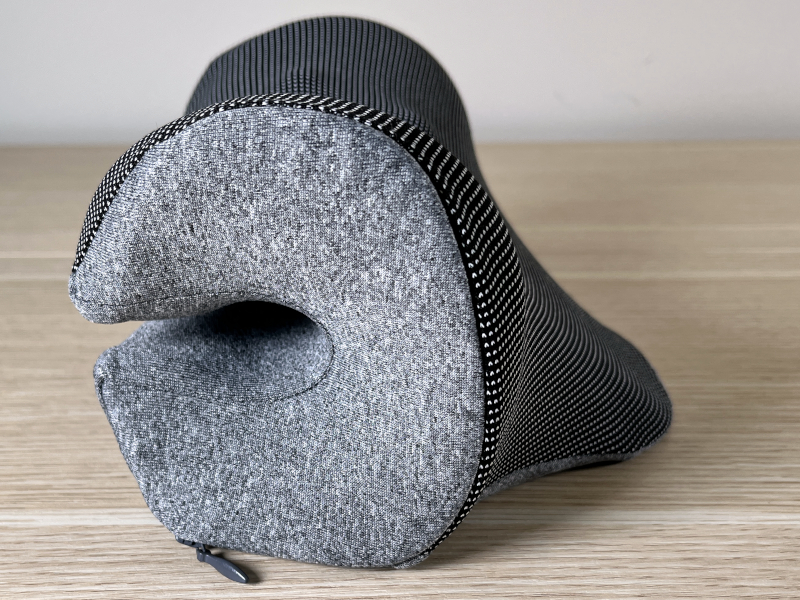 REVIEW – For a while now I've had some problems with my neck.  I tend to wake up in the morning with soreness in my neck and shoulder blades.  It seems to vary with the type of pillow that I use and the position that I sleep in at night.  In an attempt to ease this pain, I've decided to test out the ZAMAT NekGenic cervical traction neck pillow.
What is it?
The ZAMAT NekGenic Cervical Traction Neck Pillow is a small, oddly-shaped pillow that is designed to relieve neck pain and upper back stiffness.  Simply by resting on this pillow for ten minutes every day, it is supposed to restore the natural curve of my neck.  ZAMAT's mission is "to ensure that everyone gets to enjoy the high-quality sleep that they deserve."
What's in the box?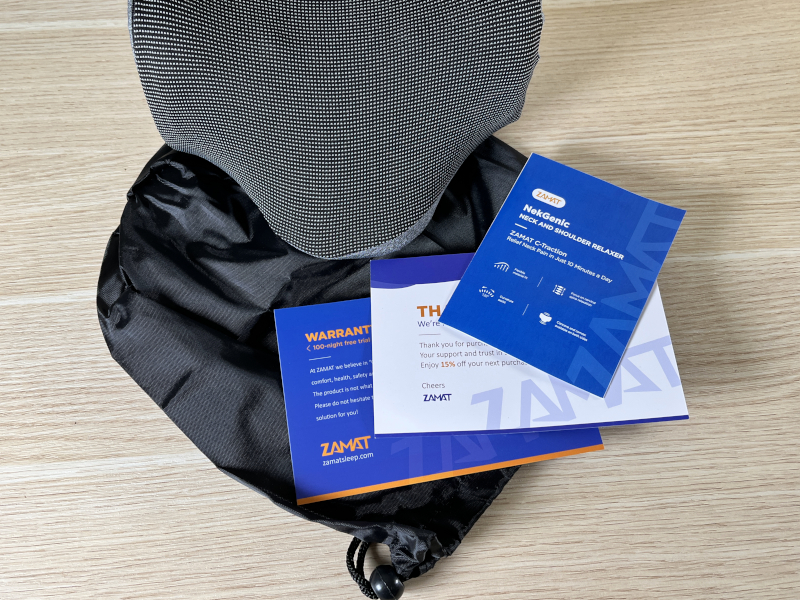 ZAMAT NekGenic Cervical Traction Neck Pillow
Nylon bag
Manual
Thank you and warranty cards
Hardware specs
Size:  7.5 x 5.5 x 4 inches
Colors:  Grey, blue, or pink
Design and features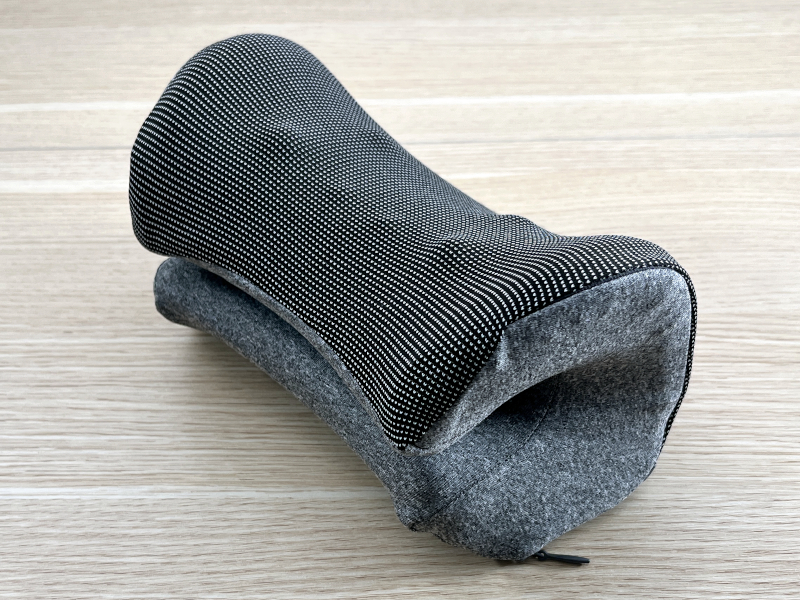 The ZAMAT NekGenic Cervical Traction Neck Pillow is surprisingly small, just barely big enough to fit under my neck.  It's curvy, shaped a bit like the letter "C", and has a hole running horizontally through it.  Its core design is similar to other neck traction pillows in that it provides support to the neck while allowing the head to relax.
Installation and setup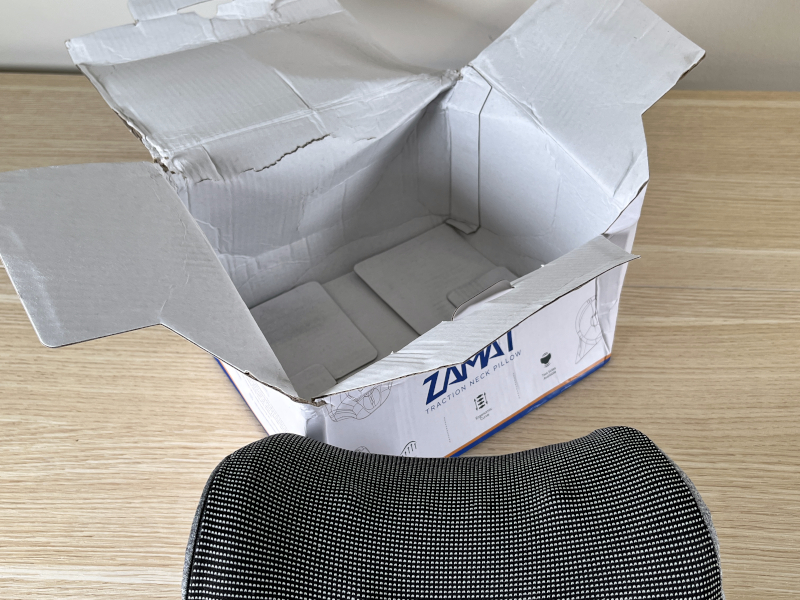 ZAMAT's pillow arrived in a thin box that was absolutely demolished in transit.  I think they need to use better packaging, but at least it is just a pillow and thus was not damaged.  There's no installation or setup required.  I removed it from the packaging, read through the very short manual, and I was ready to test it.
Performance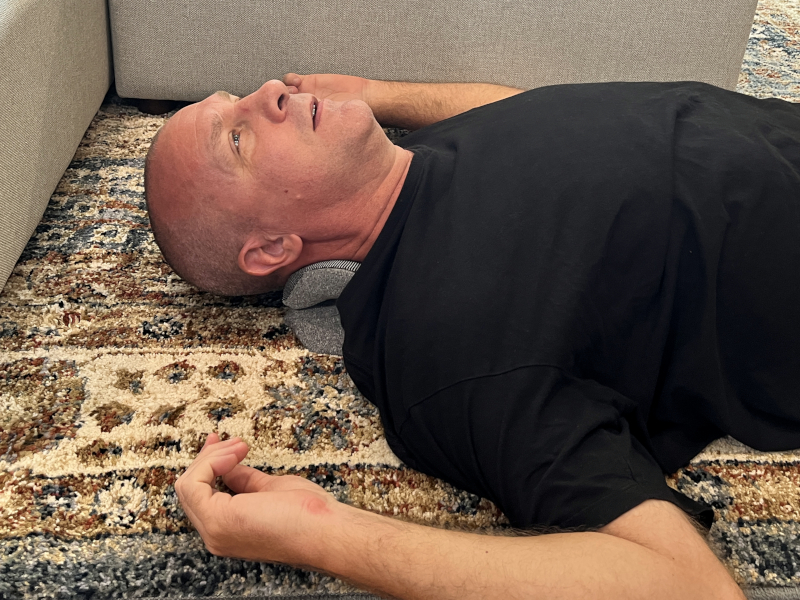 The manual lays out seven simple steps for using the ZAMAT NekGenic Cervical Traction Neck Pillow.  The basic idea is to lay down, put the pillow under my neck, bend my knees and pull in my feet, and put my hands up on either side of my head.  If I maintain this position for 8-10 minutes every day, the manual asserts that it will correct my cervical spine and relieve neck pain.
In fact, ZAMAT makes a lot of very bold claims on its website, including:
It will restore the natural curve of my neck.
It gives instant pain relief.
It will help me sleep better.
It opens compressed discs.
It removes headaches.
It increases blood flow to the deep tissues.
It provides instant relief from TMJ problems.
It improves my posture.
That's an impressive set of capabilities for this little pillow, and I would understand if you think it sounds a bit too good to be true.  And it is.  ZAMAT's manual gives this disclaimer:  "The Traction Device is neither a medical device nor intended as a treatment for medical conditions.  This product does not cure medical ailments or illnesses."  Well, that is interesting.  I take this to mean that there's no medical evidence that the NekGenic pillow can actually do all the things that ZAMAT claims.  No medical studies, no clinical trials, nothing.  Where does it leave me then?  Only one thing to do:  Give it a try!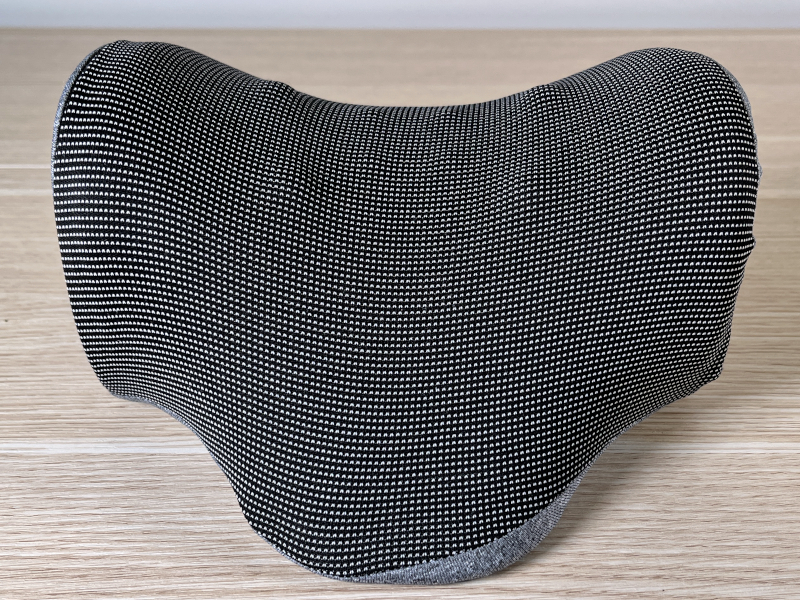 Neck traction pillows are designed to stretch the neck and restore its normal curve.  Activities like working on a computer while not sitting up straight or sleeping with my neck in an odd position can cause pain and stiffness.  A neck traction pillow is intended to provide relief.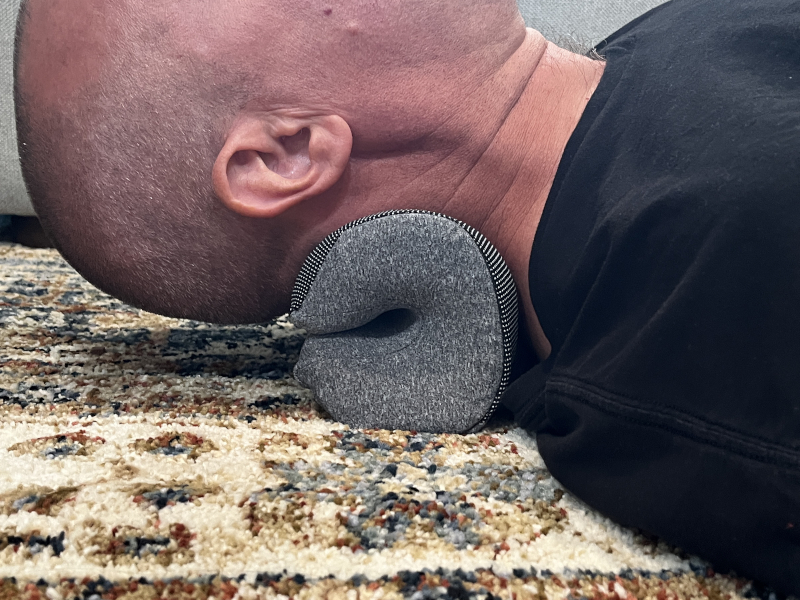 For the last month, I've used the ZAMAT NekGenic Cervical Traction Neck Pillow nearly every day.  I found that laying on the floor was more comfortable than laying on my bed, probably because the floor was firmer, and did a better job of keeping my neck and back in the proper position.  I also found that it was challenging to just lay still for ten minutes without doing something, but that says something about me, not the pillow.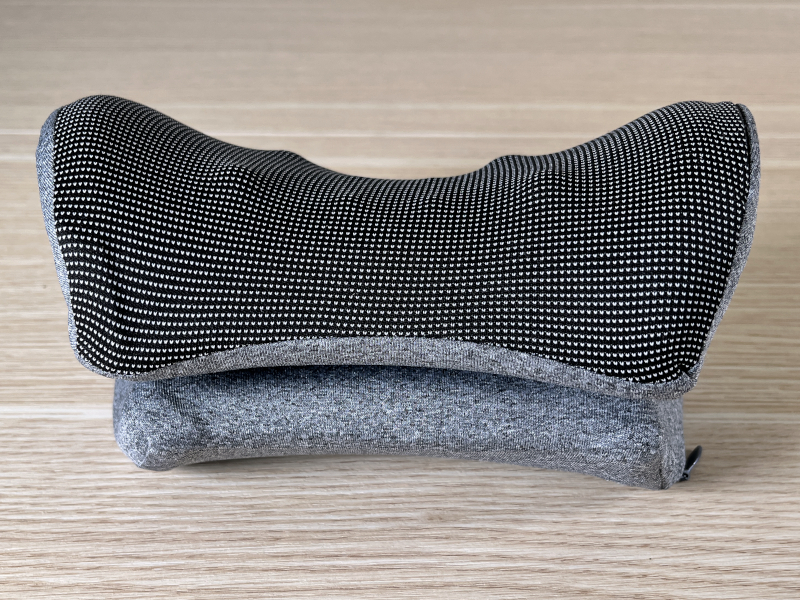 Did it work?  I'm uncertain, but I think it might have helped some.  Despite being called a "pillow," it's not soft like a normal pillow.  ZAMAT doesn't reveal what the NekGenic is made of, but it's a very firm material, which is probably necessary to keep my neck in the proper position.  My neck and shoulders tend to get a bit stiff while lying on the pillow, but this effect fades after I get up and move around.  I still wake up in the mornings with some neck and shoulder soreness most mornings, but I think it's somewhat less than it was before.
Some neck traction pillows are designed to be slept on all night.  The NekGenic is only intended to be used for ten minutes each day.
ZAMAT's website also claims that the NekGenic neck pillow provides magnetic therapy:  "The massage nodes and magnetic particles relax the outer muscle layers and increase the blood flow to the deep tissues."  There are some articles on the Net that imply that magnets can have a therapeutic effect, and there are even some products that position magnets around the neck.  Does the ZAMAT NekGenic Cervical Traction Neck Pillow have magnets in it?  I set various pieces of metal and magnets against the pillow, but none were affected magnetically.  Either it does not have any magnets, or they are very small.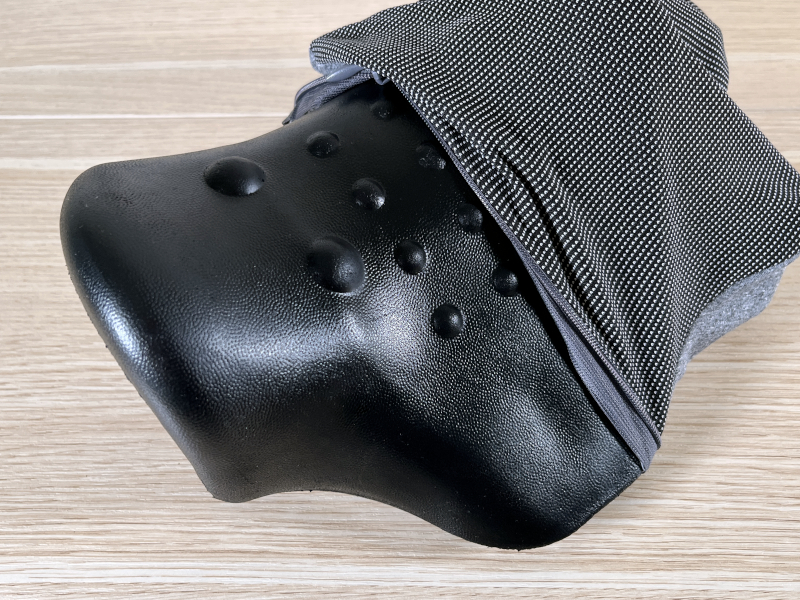 The NekGenic cervical traction neck pillow comes with a removable cover that makes it easy to wash.  That's a handy feature.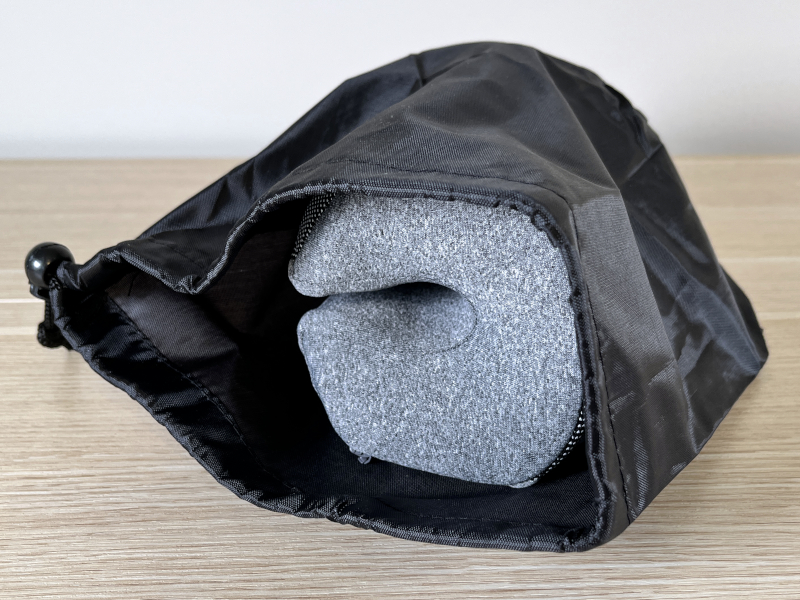 It also comes with a small bag for storage.
What I like
Small size
Easy to use
Firm neck support
What I'd change
I'd like to see some medical evidence that this pillow can actually do all the things that ZAMAT claims.  Any evidence at all would be welcome.
Final thoughts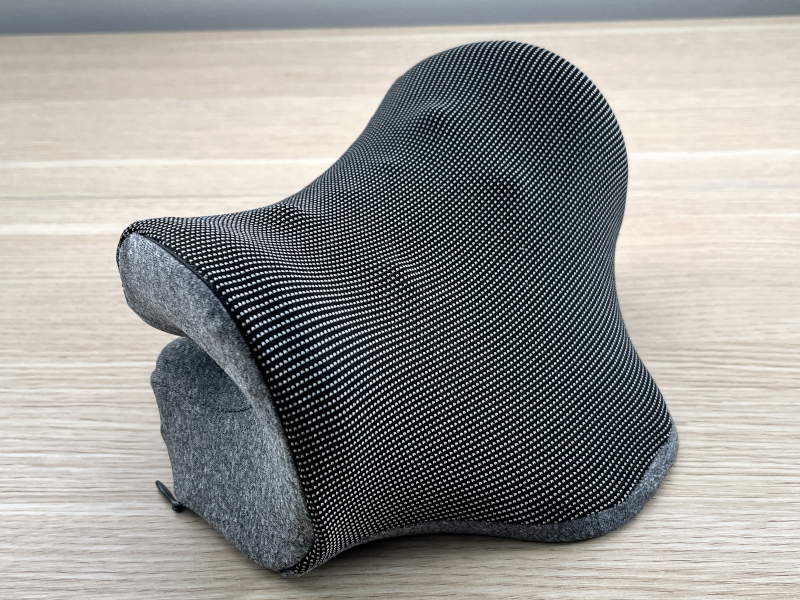 The ZAMAT NekGenic Cervical Traction Neck Pillow is a small gadget designed to improve the posture of your neck and provide relief from neck and shoulder pain (and a host of other problems, too).  After using it for a month, it may have provided some relief for my neck and shoulder, but I'm not sure how much.  Should you try this pillow?  I think you should ask your doctor first.  If they think a neck traction pillow is a good idea for you, then, yes, I would recommend buying this pillow from ZAMAT.
Price: $49.99
Where to buy:  ZAMAT's online store
Source: The sample for this review was provided by ZAMAT.