We use affiliate links. If you buy something through the links on this page, we may earn a commission at no cost to you. Learn more.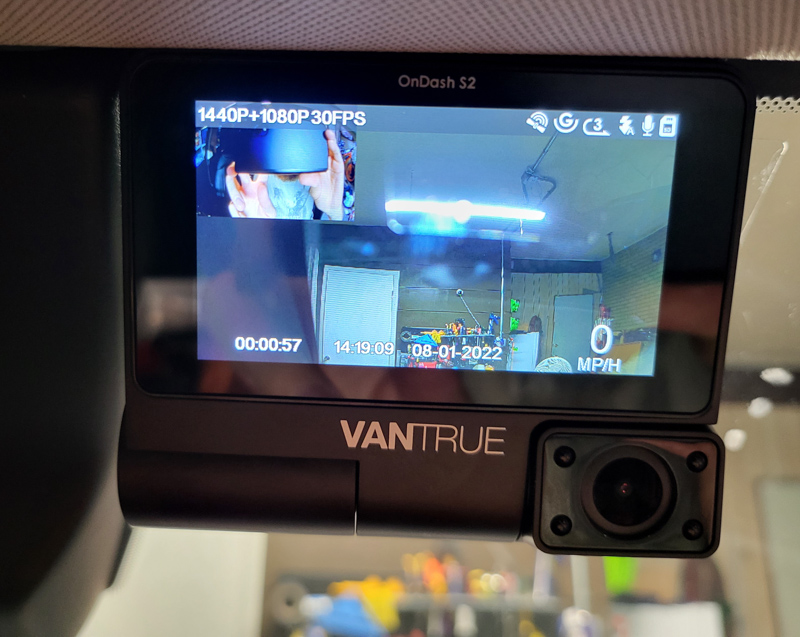 REVIEW – By now I think most of us have seen dashboard camera footage of some kind, whether it's a humorous mistake or a harrowing near miss on the roads. In the era before dashcams, I had a collision where I was rear ended while going down a hill, and despite a healthy following distance between the car in front of me and my vehicle, still managed to bump them. I ended up taking an insurance hit simply due to the fact that my car was propelled so far that it touched their bumper, but just maybe if I'd had the Vantrue S2 dashcam I could have convinced the reporting law enforcement officer or my insurance company that I was indeed a safe driver and the maniac speeding and ramming me should take all the blame.
What is it?
The Vantrue S2 dashcam is a camera designed to be mounted on a windshield, in order to record driving footage (either for entertainment purposes or as evidence after a collision or theft event). The Vantrue S2 has Solid State Capacitors so that it keeps recording in case of power loss like in a collision. The dashcam I was sent to review also included a separate rear camera, so you could record both the forward view of the vehicle, the interior cabin view, and a rear-facing unobstructed view.
What's in the box?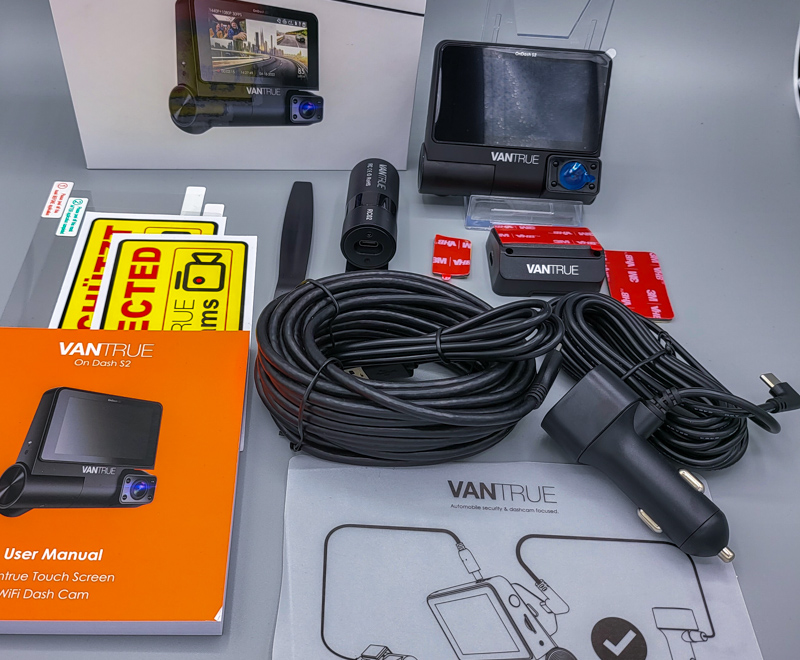 Vantrue S2 dashcam
Adhesive Stickers
Trim tool
User manual
GPS Adhesive Mount
Warning sticker
Electrostatic sticker
Rear camera with 20 ft cable
Type C to C USB data cable 3.3 ft
Car DC charger with 11.5 ft Type C USB cable
Hardware specs
Front camera: up to 1440P resolution, 160° field of view
Interior camera: up to 1080P resolution, 165° field of view
Rear camera: up to 1080P resolution, 160° field of view
Night vision: one Omnivision and 2x Sony Starvis CMOS sensors
IR lights for interior night footage when dark
3″ IPS Touch Screen
Wifi and App connectivity
24 hour parking security mode
Motion detection wake-and-record capable
Collision detection wake-and-record capable
GPS
Operating conditions: 14°F to 158°F
Supercapacitors
MicroSD card slot (up to 512 GB)
Design and features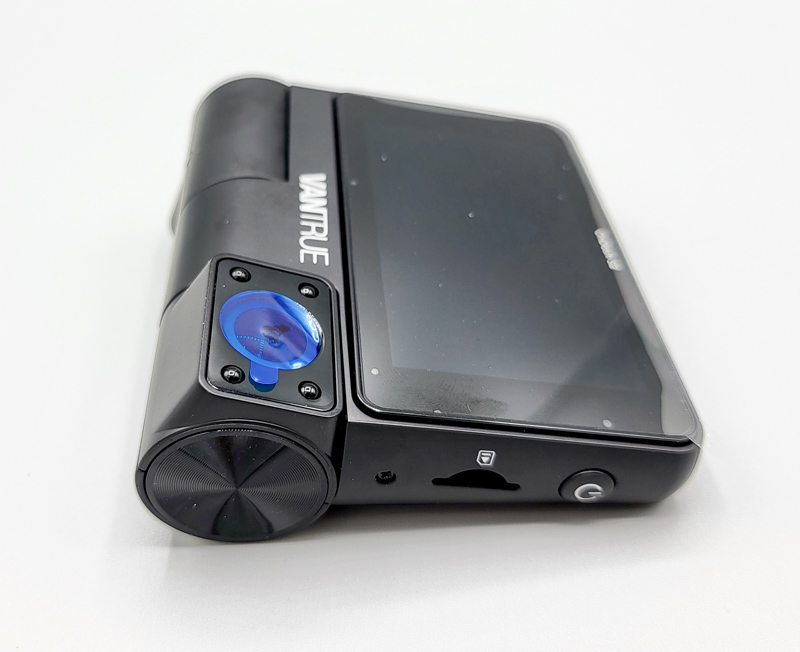 The Vantrue S2 dashcam as sent to me for review consists of two parts – the main camera and screen unit (shown above), and a separate small rear camera unit.  On the main unit, both the outward frontward-facing camera and the interior cabin camera are adjustable vertically (but not horizontally). On the right side is the micro SD slot (card not included), and the power button.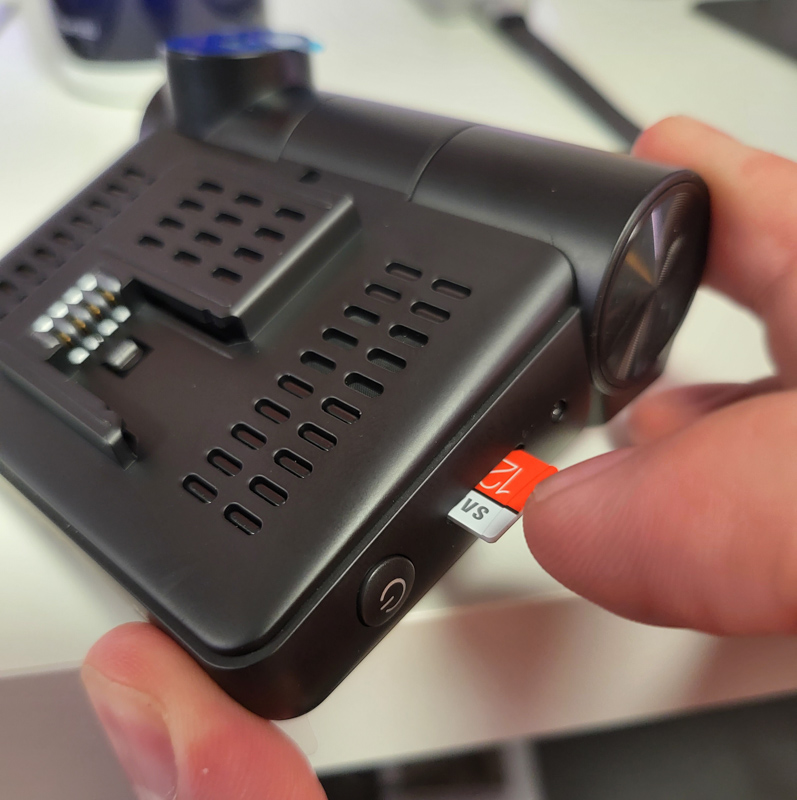 A micro-SD card is not included, but they're pretty cheap these days, and I had a 128 gig one lying around (manual says it can take up to a 512 GB card, and it replaces the oldest footage with new stuff, so you could record days of driving footage before overwriting older stuff, especially if you don't record at max settings.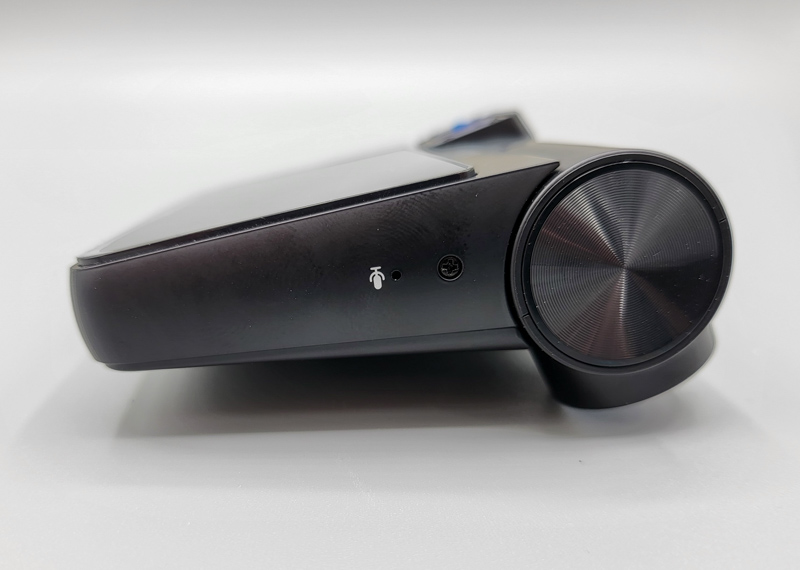 The left side of the Vantrue S2 dashcam just has a pinhole cutout for the microphone.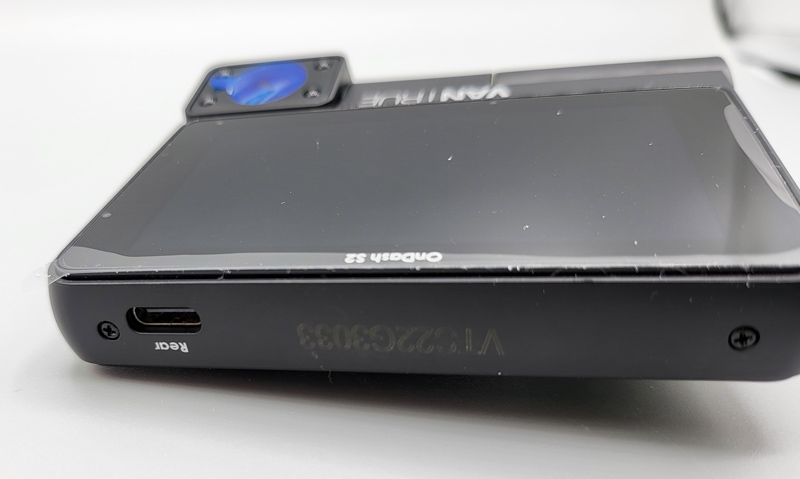 The image above shows the top of the dashcam. The USB-C connection for the optional rear camera is here.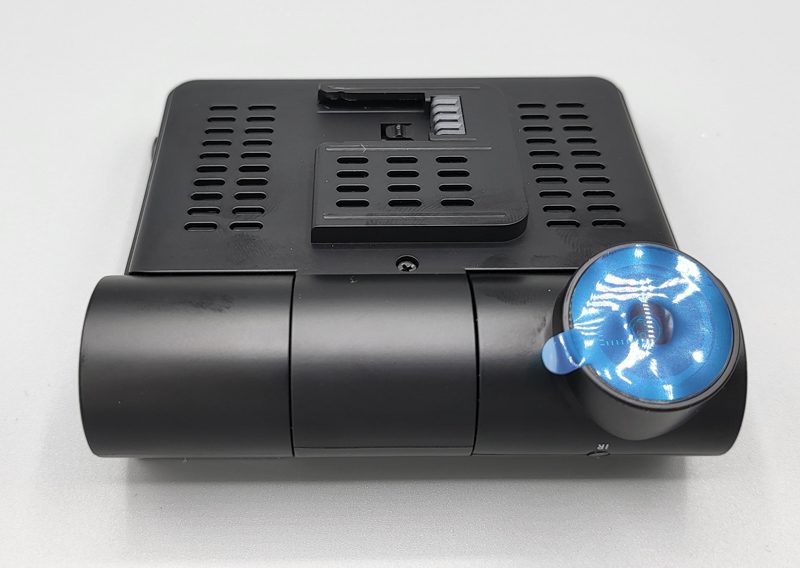 The forward facing camera has 1440P resolution and a nice wide field of view. You can see in the shot above the mounting spot as well, you'll end up sliding this onto the bit stuck to the windscreen/dashboard during installation.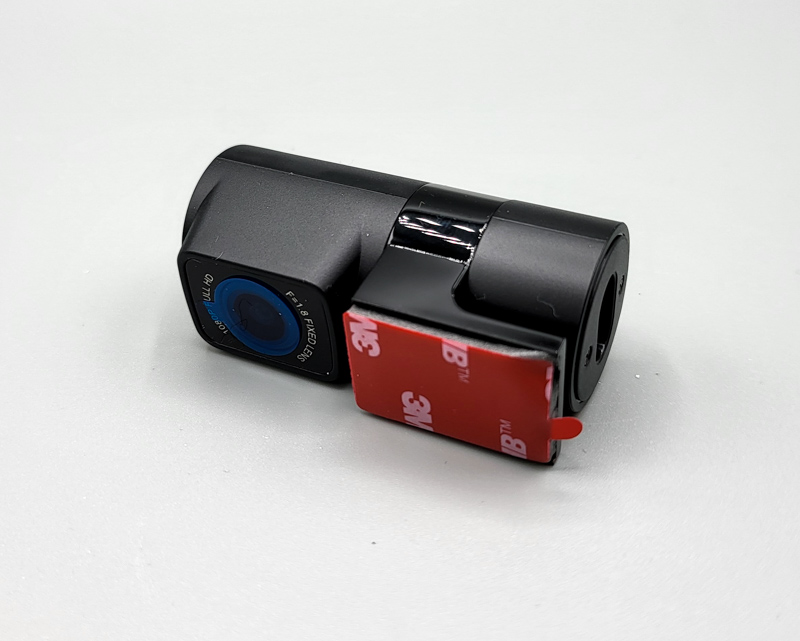 The rear camera module is a 1080P unit with a good field of view, if you get hit from behind this little guy should catch license plate numbers and even the shocked look on their face as they look up from their phone right before colliding with you.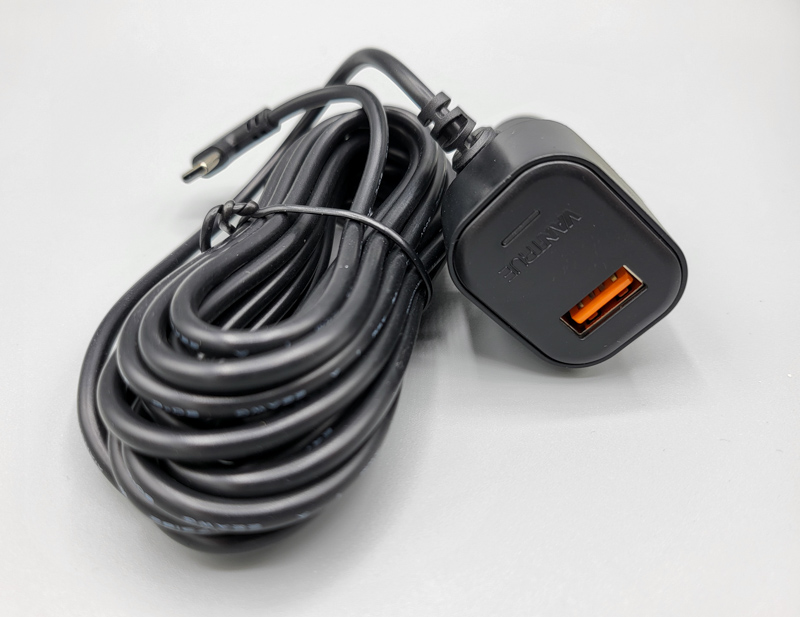 The power supply plugs into a standard 12V DC port ("cigarette lighter plug" for those of us old enough to live in a pre-vape world).
Installation and setup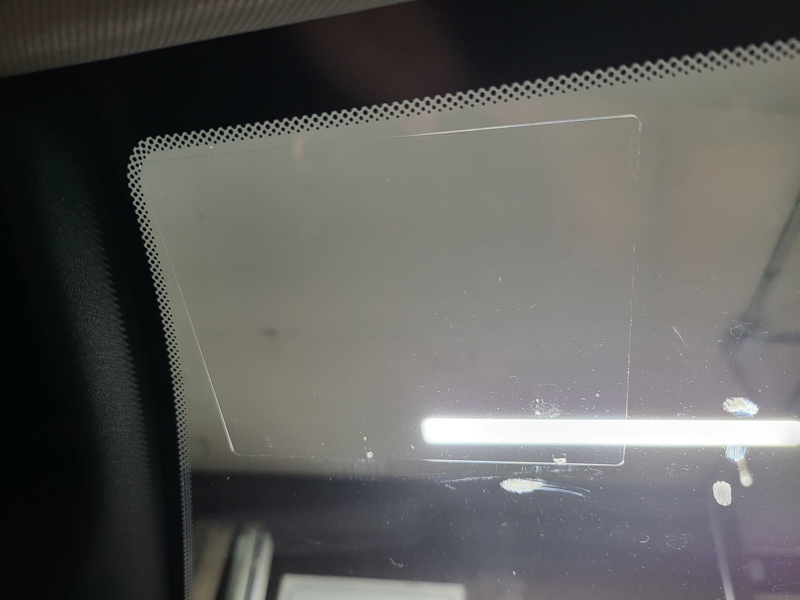 Step 1: Attach the included electrostatic sticker to your windshield. This sticker is a mild adhesive, and by spreading that out over a large area, it makes for later removal much better, while still keeping the camera secure.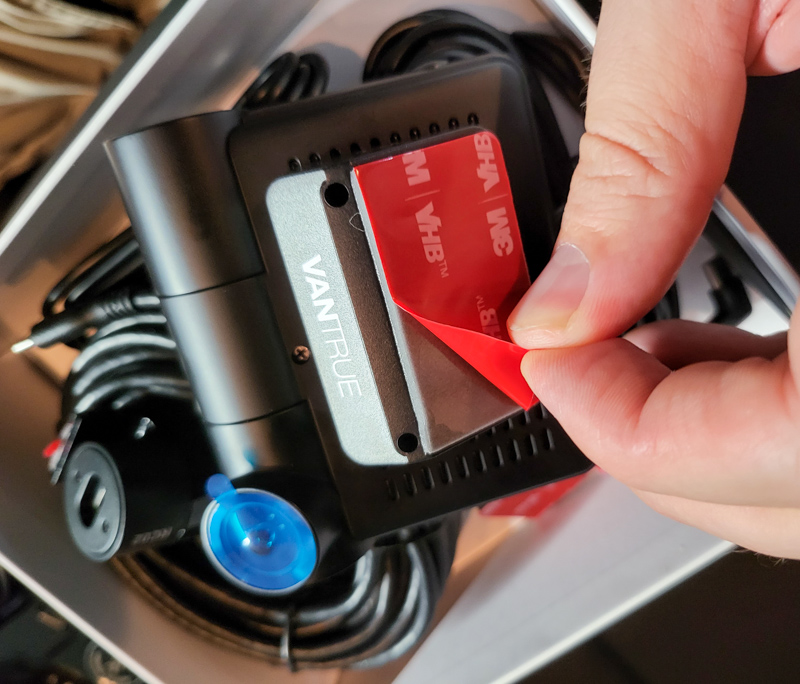 Next up, the very sticky backing on the mount needs to be exposed, I recommend doing this with the mount attached to the camera, so you can place it in a spot on your windshield that won't obstruct the driver's view.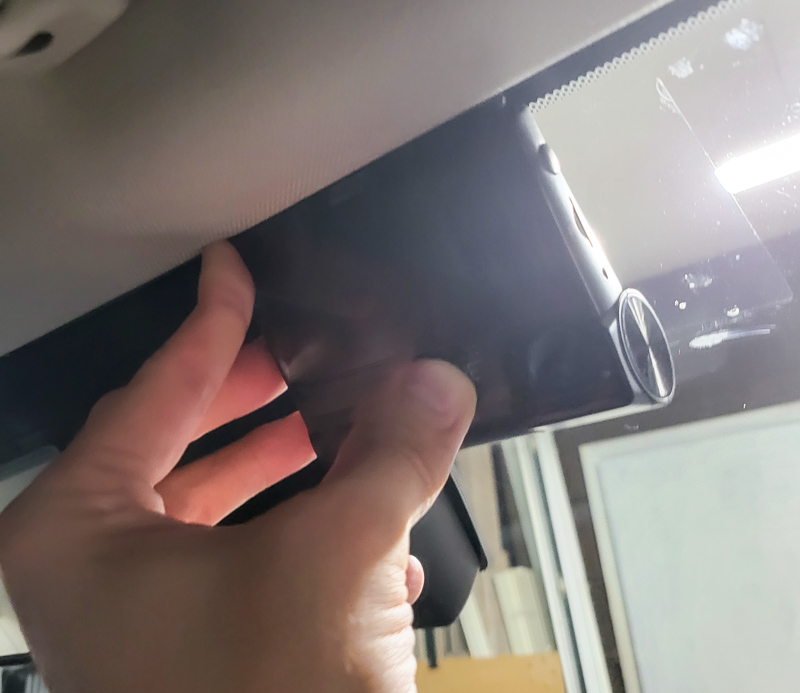 For this review, I placed the Vantrue S2 dashcam on the passenger side, everywhere on the driver's side would have been blocking part of my view.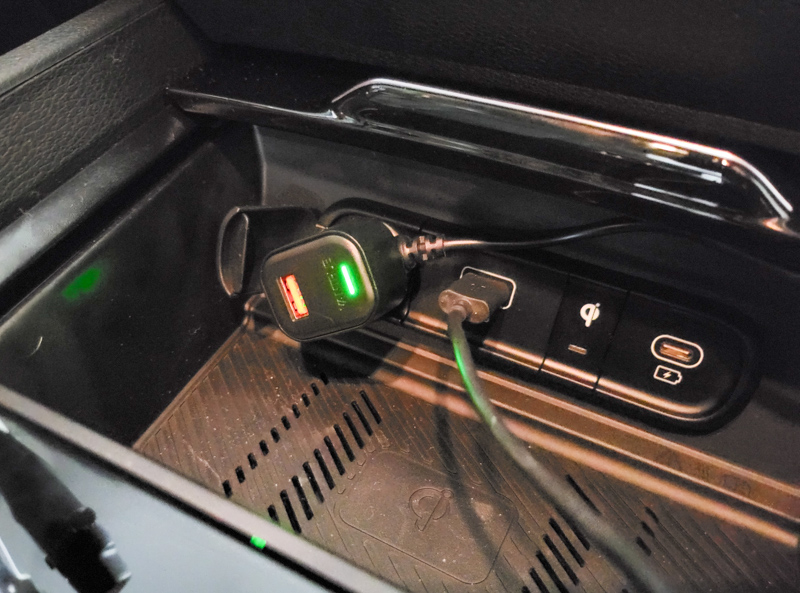 I then plugged in the power supply.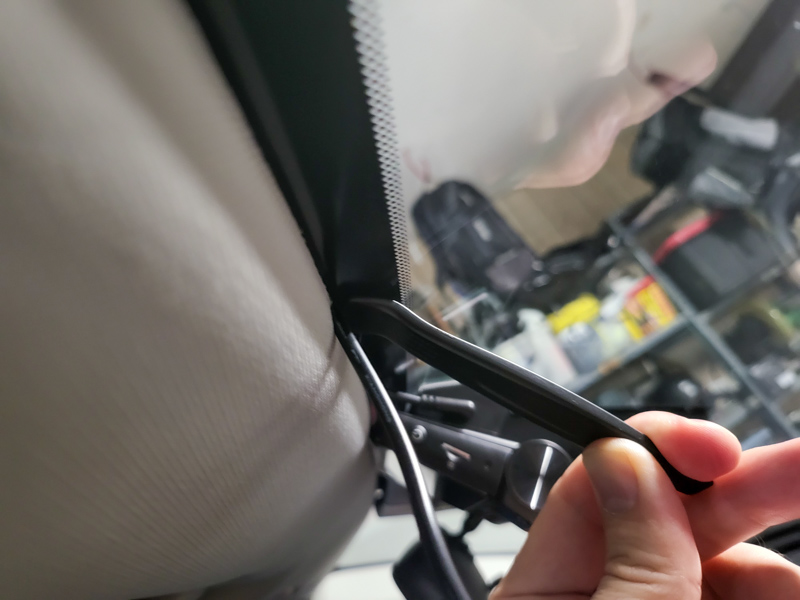 And then ran the generous cabling along the windshield up to the camera, where it attaches with a USB-C connector. The included trim tool makes it easy to push the cable into gaps so it's not dangling across your field of view, the end result looked nearly professional.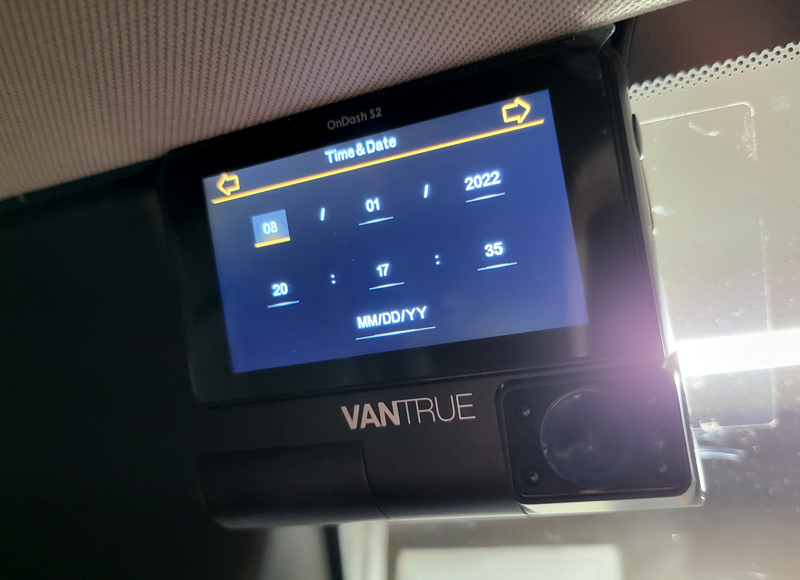 Finally, selecting language and setting date/time on the device was quick and easy.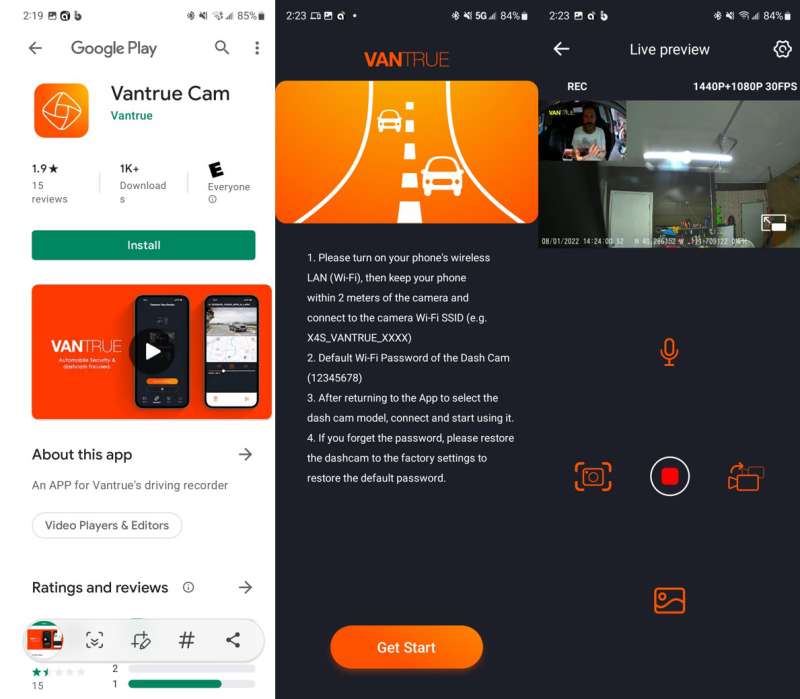 Downloading and installing the Android app (also available on iOS) is optional, but allows you to control settings, view and transfer recorded footage, and even share clips to social media or other apps. The app connects to the Vantrue S2 dashcam via WiFi, so you can't also be connected to home WiFi at the same time. This is necessary for transferring large video files.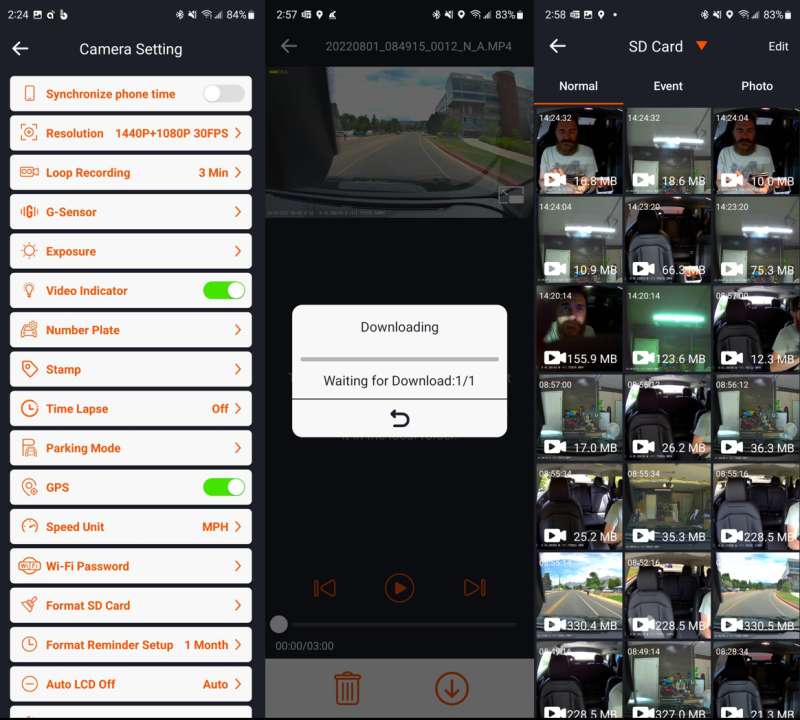 I was impressed that you appear to get the entire settings menu for the dashcam right in the app. Many times with devices like this, the app can be limited, so I was pleasantly surprised by how much control you had, like setting recording resolution, turning on parking/security mode, and much more.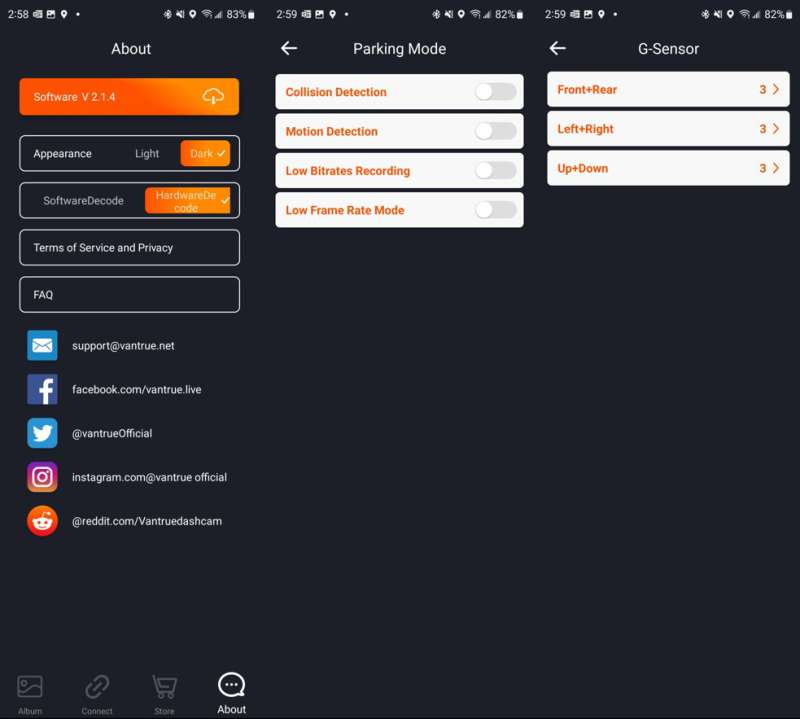 Above are a few more shots of the app screens.
Performance
As you can see in the video, the Vantrue S2 system records GPS coordinates, clear front-facing footage, and full HD interior cabin footage as well. I didn't run the wire for the rear camera, but it has the same or similar sensor to the interior camera so I'd expect clear footage from it as well. The raw exported files contain videos of each camera, which I alternated in the video above. If I had experienced a collision or anything else of interest, you can be sure one of the cameras would have caught it.
What I like
Easy installation
Crisp, clear footage
Full featured app
What I'd change
Requires additional wiring for 24 hour security recording, I would have liked enough battery/supercapacitor juice to run the unit for at least 24 hours and then auto-shut-off, this would help cover break-in events for quick trips or overnight stays.
Final thoughts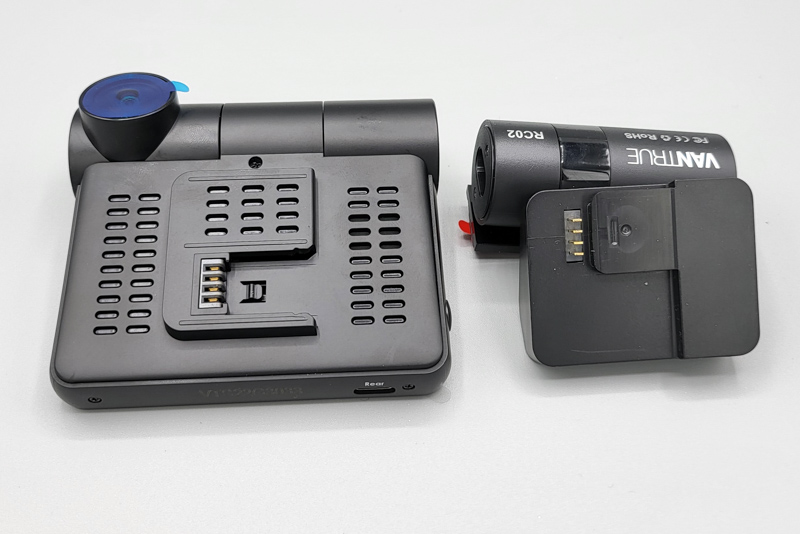 I was pleasantly surprised with the Vantrue S2 dashcam system. The cameras and recorded footage were better than I expected, the setup was easy, and if my vehicle's trim setup and driver-side window layout had allowed for it to be installed permanently without obscuring my vision, I would have left it in permanently. Unfortunately, the trim panels around the sides of the car didn't have a gap to run the wire, so I would have had to fully remove them to hide the installation, which I didn't want to do. I'm a taller-than-average guy, so I'd bet most people would have been fine with placing the dashcam on the driver's side at the top of the windshield like it's designed for. If you're looking for a high-quality dashcam system to cover front/rear/interior, then the Vantrue S2 dashcam might be great for you!
Price: $299.99
Where to buy: Vantrue and Amazon
Source: The sample for this review was provided by Vantrue