We use affiliate links. If you buy something through the links on this page, we may earn a commission at no cost to you. Learn more.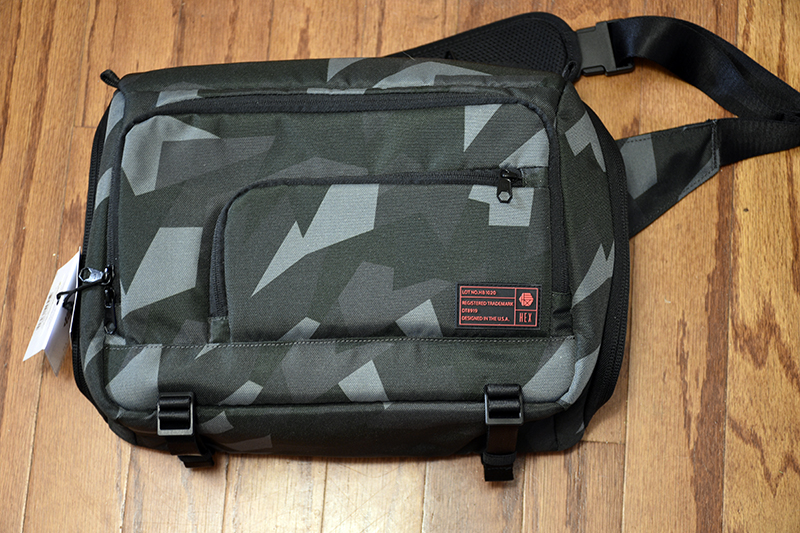 REVIEW- The Hex Ranger DSLR Sling XL is a convenient way to bring your camera with you without weighing you down.
What is it?
The Hex Ranger DSLR Sling XL is a compact, ballistic fabric sling to carry your DLSR camera with room for more.
What's in the box?
The Hex Ranger DSLR Sling XL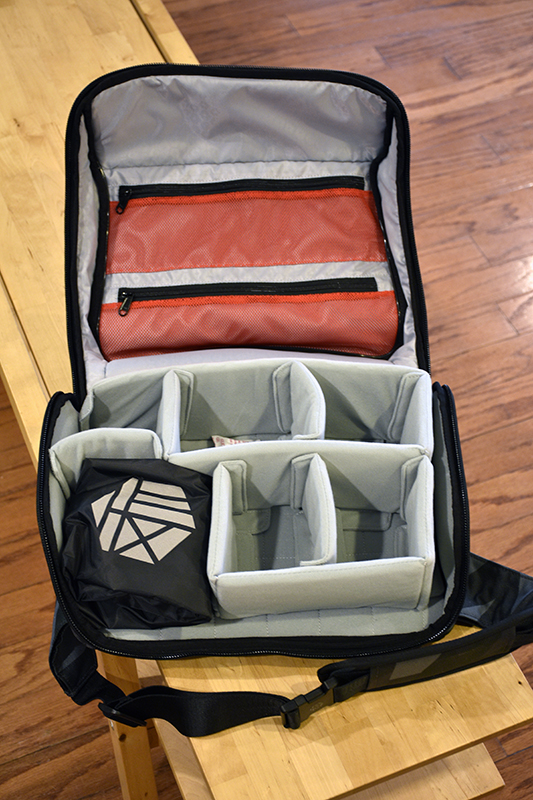 Hardware specifications
Collapsible interior dividers for packability and customization
Genuine Cordura exterior fabric
Front access organizer
Side adjustable load straps
Faux fur-lined front phone/sunglasses pocket
Hidden Velcro stash pockets
Flush grab handle
Faux fur-lined tablet pocket
Adjustable bottom carry straps
Dimensions: 11.0″H x 4.8″W x 14.5″L
Weight: 2 lbs 10 oz
Capacity: 15L
Design and features
I wanted to review the Hex Ranger DSLR Sling camera bag in hopes it would work better than the backpack I currently use and make me pare down to just the essentials.  I have a tendency to pack everything but the kitchen sink just in case, you know? Typically, it's for work and it usually requires a plane trip. I'm always worried about bumping people in the head as I work my way to my seat.  So, the Hex Ranger DSLR Sling XL should solve the problem. And it kind of does.
The Hex Ranger Sling XL is available in 4 colorways. There's the basic black, camo, blackout camo, and glacier camo. I chose the Glacier camo, mainly because all my other bags are black, and I wanted something different.
As you can imagine, it's rather large for a sling. Of course, it is. It can hold your DSLR camera with a lens attached and a couple more just in the main compartment. There are also two zippered mesh pockets in there for cables, batteries, filters, or whatever you can fit in there. The layout of the inner compartment can be reconfigured to your liking with the plush removable dividers. They have Velcro to hold them in place, so move or remove them to suit your needs.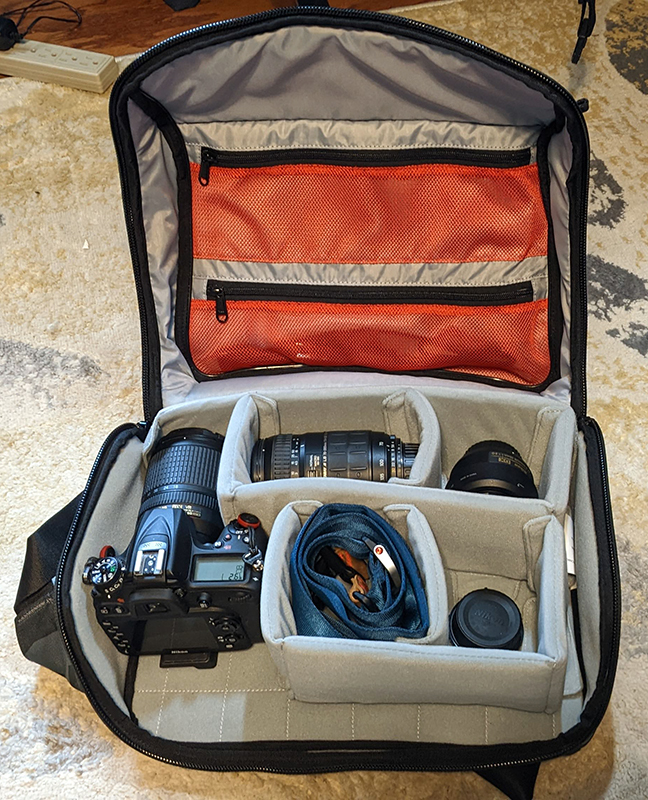 The Hex Ranger DSLR Sling XL camera bag has a pocket on one side for a water bottle or your on-the-go drink of choice. The opposite side has a pocket that fits my Pixel 4A perfectly, but it's not padded, so I would recommend using it for something else.
On the front, there are two more pockets, one larger, and one smaller. Inside the larger one, there are a total of six pockets that Hex calls an organizer. So, you can pack your wallet, keys, etc. and they can be easily accessed. The smaller pocket is faux fur lined and should fit the largest of cellphones.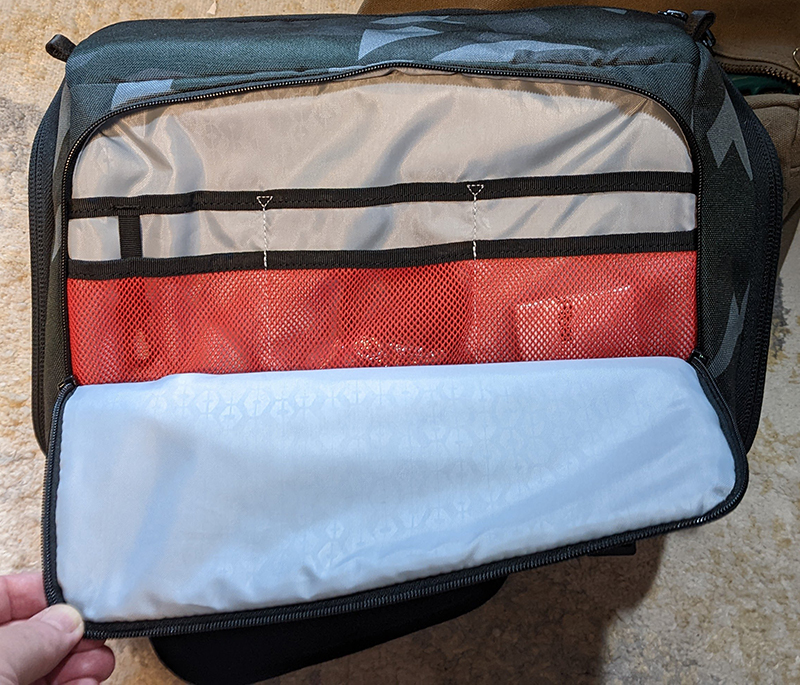 That should be a safe enough place for your phone, right?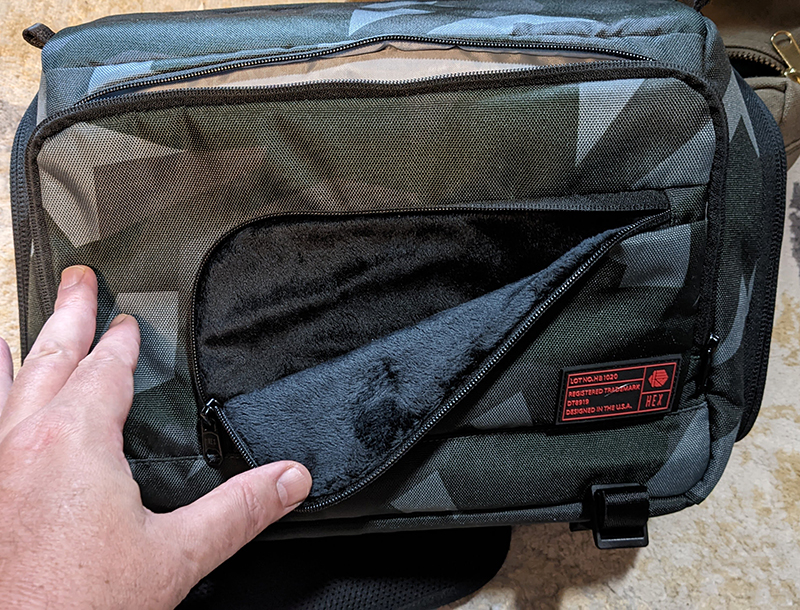 On the rear of the Hex Ranger DSLR Sling XL, you've got the breathable padding we've all come to expect from bags like this, but there's a pocket there too. They call it a laptop compartment, but it would have to be a very small, thin laptop. Neither of mine fit. Bummer. I had high hopes this would lighten my load on business trips.  If you use a tablet, it should fit perfectly, however, and its faux fur-lined as well to prevent scratches.
As if all those pockets weren't enough, there are 2 Velcro "stash" pockets. They're not huge but should allow you to maybe stash some cash, a flash card or two, you get the idea.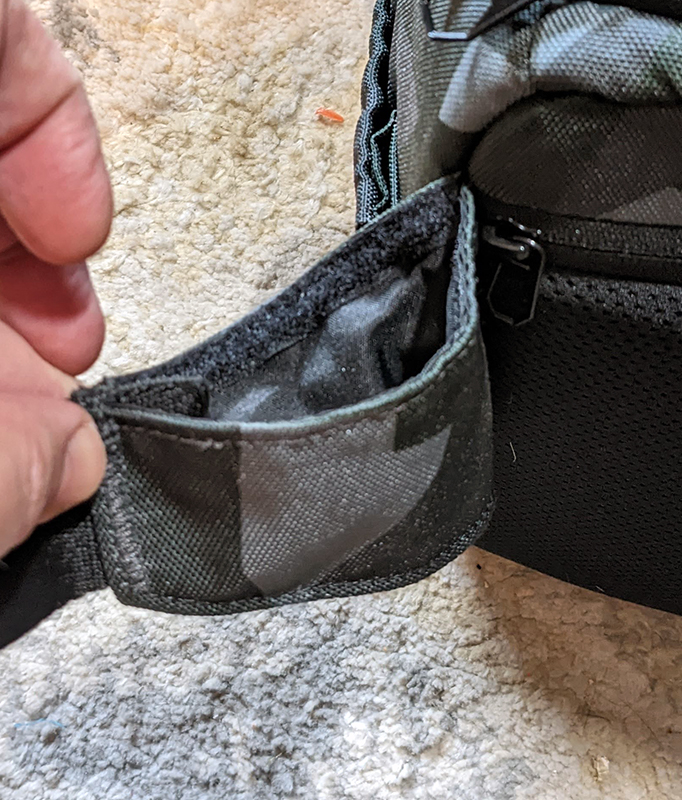 On the bottom of the Hex Ranger DSLR Sling XL camera bag are two adjustable straps which would allow you to carry a tripod or simply stow a jacket, very handy for on the go. And finally, Hex includes a rainfly for weather protection.  It simply slips over the front of the bag and is held on with elastic. I appreciate that.  You never know when you'll get rain here in NW Florida in the summer afternoons.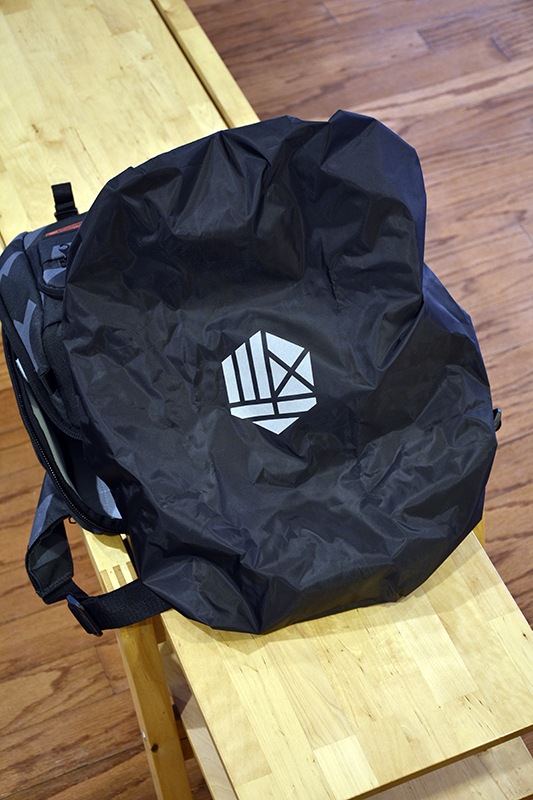 Wearing the sling is fairly comfortable once you get the strap cover in the right spot.  Oh, by the way, the straps are made of the same type of material as a seatbelt. They should be able to withstand some abuse without the worry of breaking.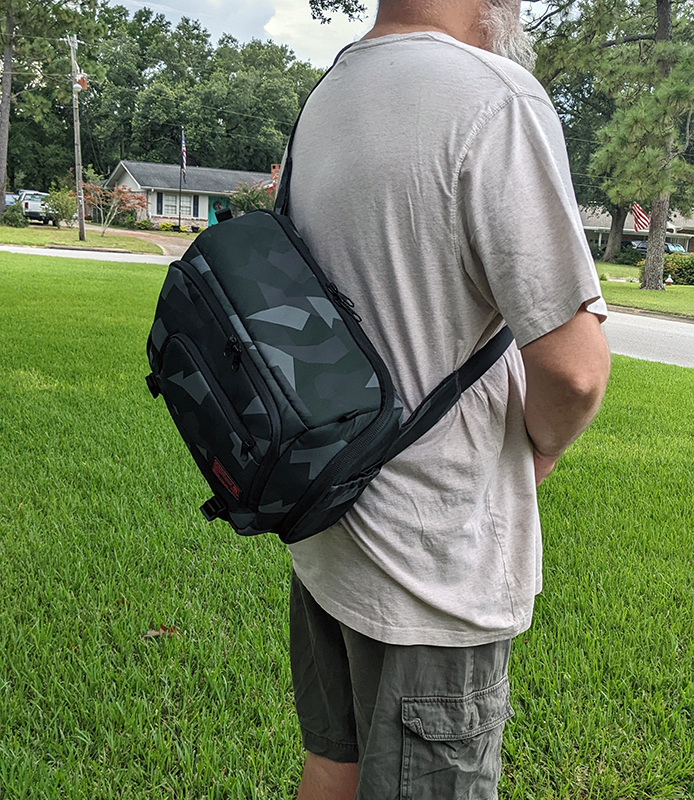 The problem I have with the fit is if I adjust the sling to rest high up on my back when I bring it around to the front, it sits too high on my chest for my comfort. Then the strap cover slides around, and I have to fool around with it to get it back in a comfortable spot.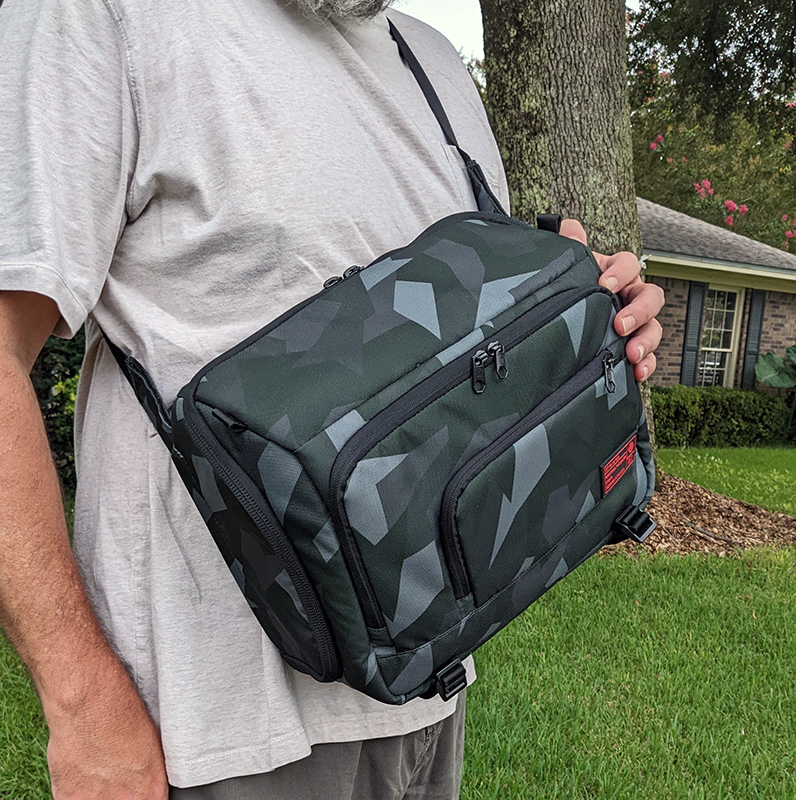 Returning it to my back means I must go through the process again.  Maybe that's normal with a sling bag. This is my first one, but I wouldn't think there should be a learning curve for a bag.  That's really my only gripe.
The bag is well built with plenty of padding to protect the camera, lenses, filters et al. I wish I could get my laptop in it but that would require it to be bigger, negating its purpose.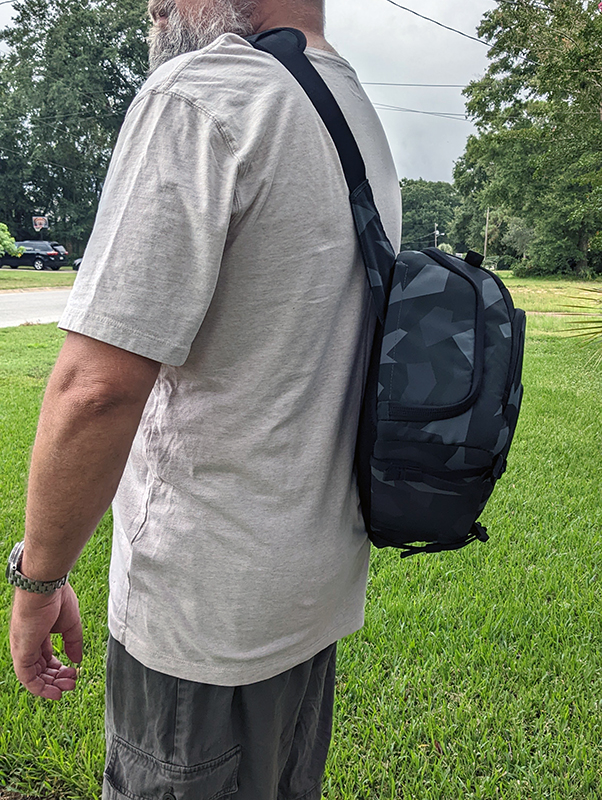 What I like
Heavy duty construction
Configurable interior
Plenty of pockets for storage
The addition of a rainfly
What I'd change
Final Thoughts
I like the Hex Ranger DSLR Sling XL camera bag, a lot. It doesn't replace my DSLR backpack for travel, but it will for road trips and visiting our downtown areas.  I think the bag is more suited for smaller body types. I feel like it would fit better if I weren't Bigfoot's first cousin. Regardless, I'm going to keep using it and I think if you're in the market for something like this, you should definitely consider it.
Price: $149.95
Where to buy: Hexbrand and Amazon
Source: The review sample was provided by Hexbrand