We use affiliate links. If you buy something through the links on this page, we may earn a commission at no cost to you. Learn more.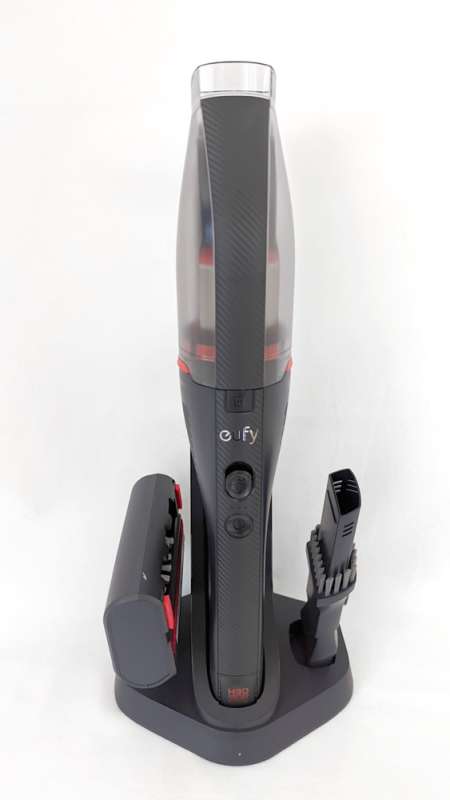 REVIEW – We have a dog that sheds quite a bit, so for many years we have relied on handheld cordless vacuums for lots of cleaning jobs around the house, and they get used literally every day.  We have used just about every brand you can think of, from bargain brands to expensive models.  We have used every form factor you can imagine, from small handhelds to big handhelds with long wands to use it as a traditional floor vacuum, and we usually pay between $30 on the cheap end to $75 or so for the more expensive models. And one thing that just about all of them had in common is that they wore out too quickly.  I mean, we are lucky to get a year of use out of the vast majority of cordless vacuums. So we have come to accept that we have to get a new one every year. All of those things have led us to the $179.99 eufy HomeVac H30 Mate handheld vacuum.  Let's see how it went!
What is it?
The eufy HomeVac H30 Mate is a cordless handheld vacuum with various attachments.
What's in the box?
The eufy HomeVac H30 Mate vacuum, a motorized pet hair brush, a 2-in-1 crevice tool, a charging stand, and power supply.
Hardware specs
Model:  H30 Mate
Suction power:  80 AW / 16kPa
Motor:  200 watts, 100,000 rpm
Runtime:  10 min (max mode) / 20 min (eco mode)
Battery size:  14.4V, 2,500 mAh lithium ion
Charging time:  3.5 to 4 hrs
Size:  16.73 x 3.54 x 2.87 inches
Weight:  1.78 lbs
Washable/reusable filters
Dust bin capacity:  250 ML (8.4 oz)
Warranty:  2 yrs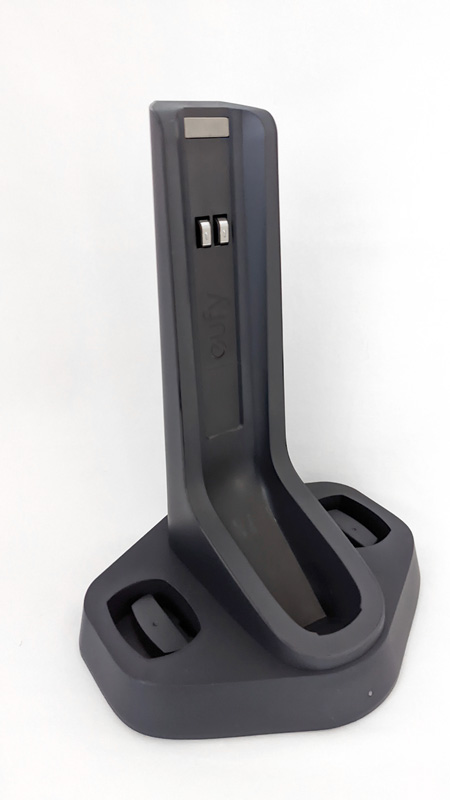 Design and Performance
When my wife turned on the eufy HomeVac H30 Mate the first time she said, "Wow".  The suction power on this vacuum is stronger than any handheld cordless vacuum we have ever owned, and in fact, my wife says that on the 'max' mode it suctions just about as strong as a regular floor upright vacuum.  That's pretty high praise coming from her!  But then of course with that kind of suction power the eufy HomeVac H30 Mate vacuum is loud, probably just as loud as our Shark upright.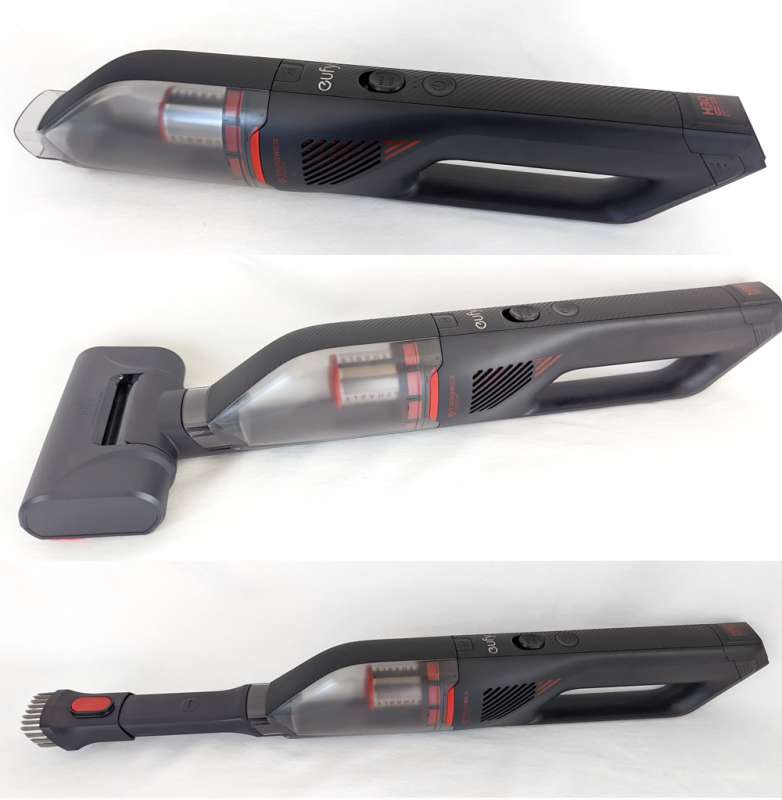 The eufy HomeVac H30 Mate handheld vacuum is slim and long, almost 17 inches without any attachments. And because it is slim, the dust bin can only hold about 8.5 oz of debris, so you won't be able to hold a house full of dust. But that slim profile also provides a small footprint when you place it on the stand, and it provides a weight that is less than 2 lbs (1.78 lbs).  That power cord plugs into the back of the stand, which holds the vacuum upright and has 2 places where the tools stand upright next to the vacuum. The 2-in-1 crevice tool sits nice and tight on the stand, but we found that the motorized pet brush tool just didn't fit snuggly into the stand and often fell off.  I honestly don't think that the pet brush tool was designed to fit in that stand, so we usually put it on the vacuum itself when we place the vacuum on the stand, so we don't have to let the brush tool sit on the cabinet.  Another positive thing to mention about the stand is that we can remove the vacuum with 1 hand which is nice.  Many of the handheld vacs we have used in the past were a hassle to remove from the stand and usually required both hands.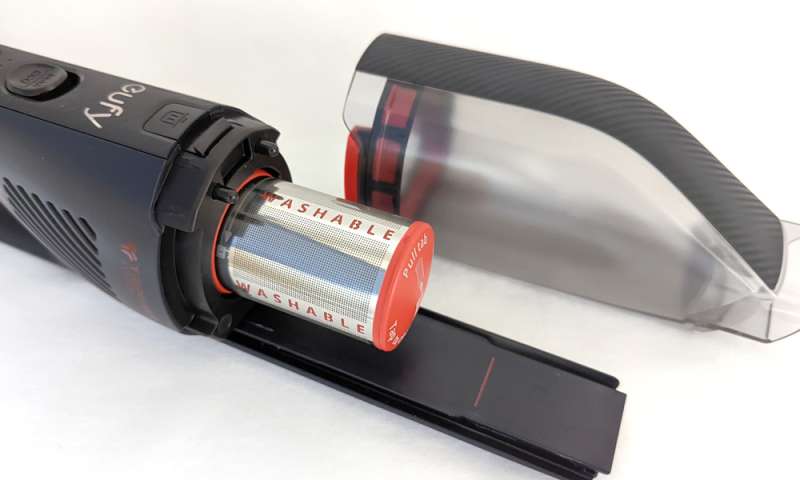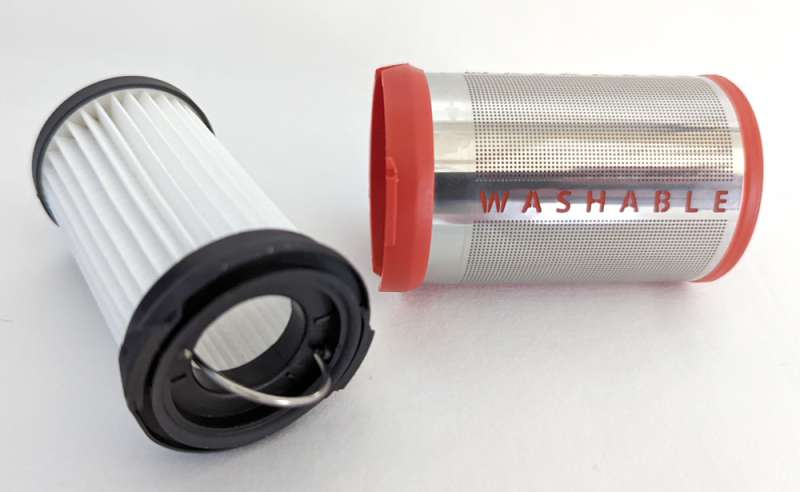 The front half of the vacuum is the dust bin and when you remove it using the button on the top you get access to the filter, which can be removed and is washable. That's nice. Replacement filters can be ordered in 4-packs that are priced around $30 if needed.  Taking the front of the vacuum off to empty the debris takes a little muscle because it is tightly sealed to the body.  In fact, the entire device to me feels solid, with all the buttons and parts that can be removed and attached also feeling solid. My wife would prefer to have the opening of the vacuum be a little bigger, but again, if you want the slim profile and lightweight that this vacuum provides, then you couldn't have the mouth be that much bigger anyway.
On the top of the eufy HomeVac H30 Mate vacuum, you will find the on/off button, and above that is the button to switch between "max" and "eco" modes.  "Max" mode provides the greatest suction and is rated to last about 10 min on a full charge, while "eco" mode is rated to provide up to 20 min on a full charge.  As I mentioned above, the "max" mode is pretty darn strong and is great if you are using the pet hair attachment on a sofa or something.  But outside of getting pet hair off a chair, we normally just use the "eco" mode because that is stronger than any other handvac that we have had before and it is fine for most uses.  You'll also notice that between the buttons are three small indicator lights that let you know how much charge is left.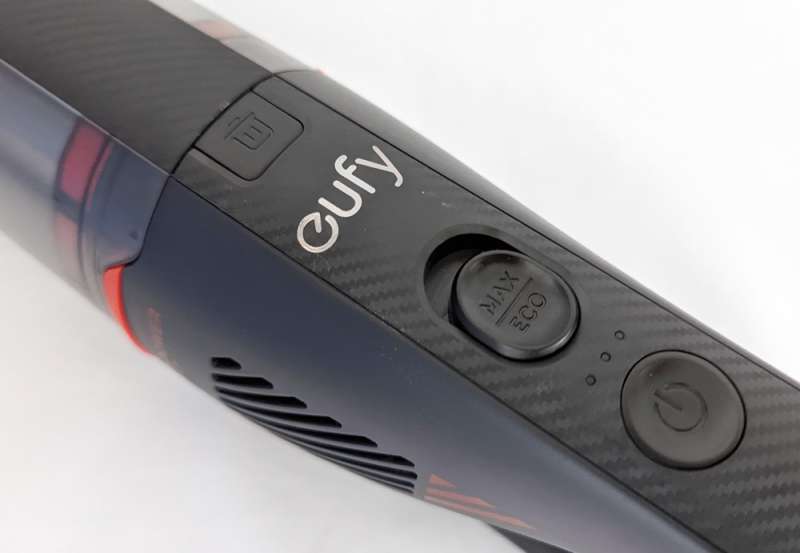 The attachments fit nice and tight on the mouth of the H30 and, again, require a little muscle to get them on and off.  The motorized pet hair brush has a strip of red fabric along the back of the mouth of the brush which helps to lift hair off the surface as you are using it, and the tool works really well.  We have a lot of hair in this house! The crevice tool has a button on it that you can use to slide the brush tip up and down, depending on what you are wanting to vacuum.  Here is a pic of the tool with the brush up and down.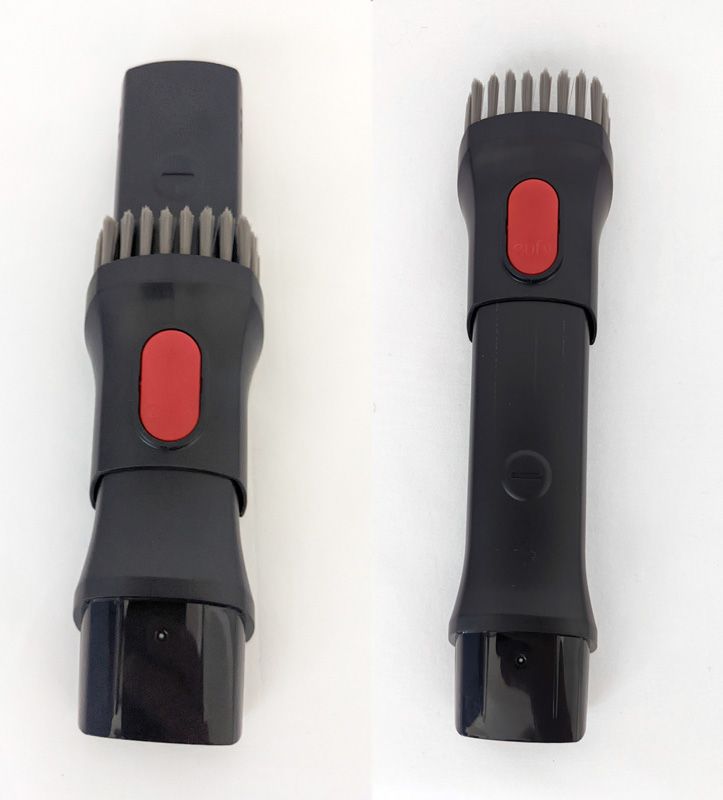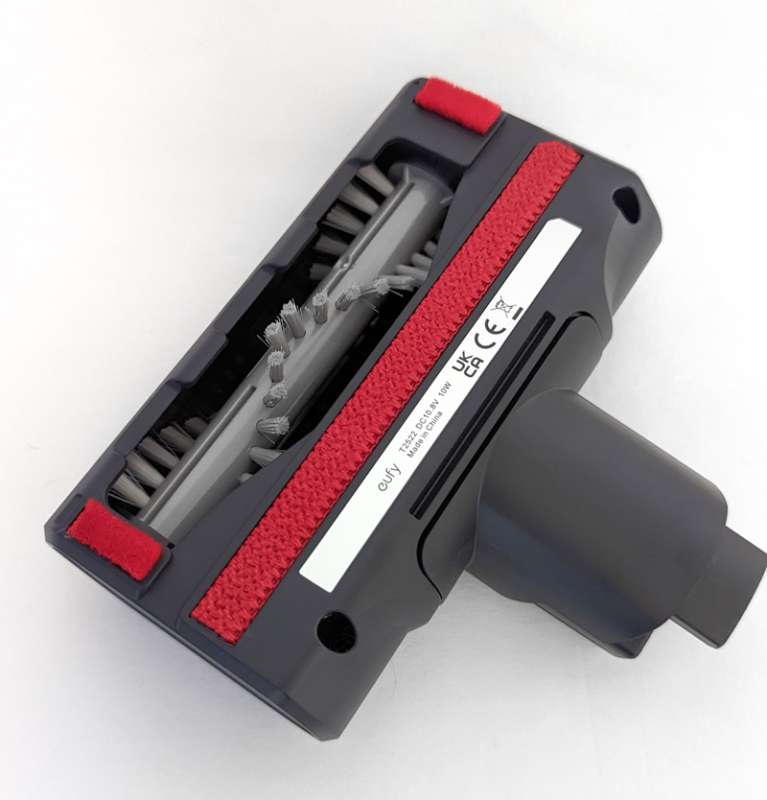 On the very back of the handle of the eufy HomeVac H30 Mate vacuum you'll find the removable battery that can be replaced if needed. It is 2,500 mAh and can be purchased for around $60. That's nice because with most of the previous handvacs that we have had you didn't have the option to replace a bad battery, so in the trash went the handvac!
Finally, I should mention that there are 3 different models of the H30, all of which are the exact same vacuum just with different attachments.  I reviewed the H30 Mate, which is $179.99.  You can get the H30 Venture, which replaces the pet hair brush with a multi-surface tool that reduces the price to $159.99.  Or you could pay $199.99 and get the H30 Infinity (which sounds like a car name!) and get an additional long attachment that turns the H30 into an upright vacuum to use on the floor.  I also noticed that some websites were running specials on these vacuums at prices lower than what you see above, but they look like limited time specials, so if you are going to get one of these then search around for the best price.
What I like
Powerful suction
Lightweight
Replaceable battery and filters
Easily removed from the cradle with one hand
Less counter space is required due to small charging stand footprint
What I'd change
Maybe a slightly larger mouth opening
The motorized pet hair brush doesn't quite fit in the charging stand
Maybe a bigger dust bin capacity
Final thoughts
The eufy HomeVac H30 Mate is a wonderful handheld cordless vacuum, with some small compromises that might not matter that much to some people.  It would be nice if the dust bin were a little bigger, but that would sacrifice the slim design. The footprint of the charging stand is small so it fits nicely just about everywhere and can be mounted on the wall if you want. The 2 suction modes are outstanding and we often don't use the "max" mode because the "eco" mode is sufficient for our needs.  It would be nice if the runtime was longer than 10-20 min, but that would require a larger size and weight, which I can live without, and I certainly wouldn't want to sacrifice the suction power. So I can live with the runtimes.  This vacuum won't replace your upright vacuum, so don't expect it to vacuum the whole house, and the high price of the H30 Mate might be a barrier to some people because it approaches the cost of some uprights.  But if you need a handheld cordless vacuum that you will use a lot, that has a battery that can be replaced if it wears out, this one is for you. We expect this vacuum to last us a couple of years at least, and with a 2-yr warranty, I would expect that to be the case. So the price is justified in our minds and we hope that this ends the cycle of having to get a new handvac every year.
Price: $179.99
Where to buy: eufy and Amazon
Source: The sample of this product was provided by eufy.