We use affiliate links. If you buy something through the links on this page, we may earn a commission at no cost to you. Learn more.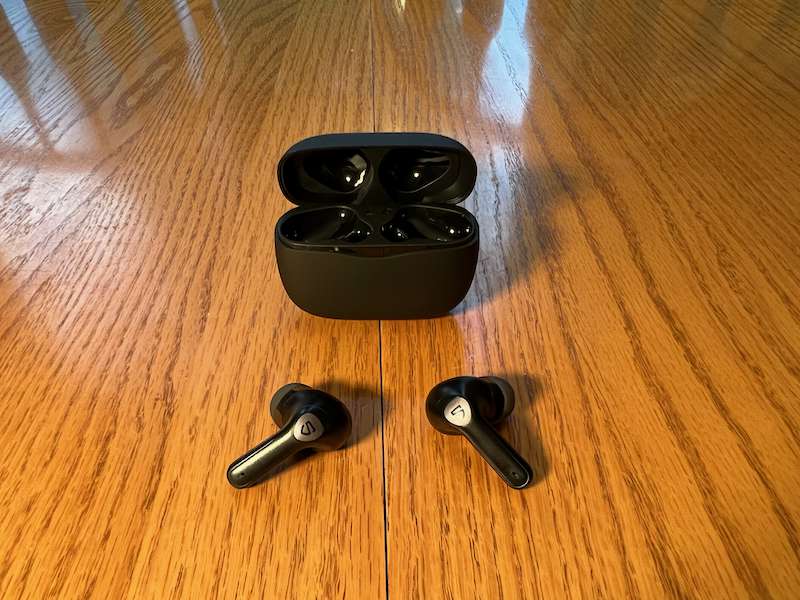 REVIEW – If you listen to a lot of music or podcasts a good pair of headphones is crucial. How do you choose from the hundreds or thousands of available options out there? If you're an iPhone user you can go the easy route and just get AirPods or AirPods Pro but what if you don't want white earbuds or don't want to pay Apple's prices? SOUNDPEATS has many options, including their new Air3 Pro true wireless earbuds with Hybrid ANC and aptX Adaptive Bluetooth 5.2.
What is it?
SOUNDPEATS Air3 Pro is a pair of true wireless stereo earbuds with a charging case to keep them charged up for all-day use.
What's in the box?
SOUNDPEATS Air3 True Wireless Earbuds
USB-C Charging Cable
Charging Case
3 Sizes of Silicone Ear Tips
User Manual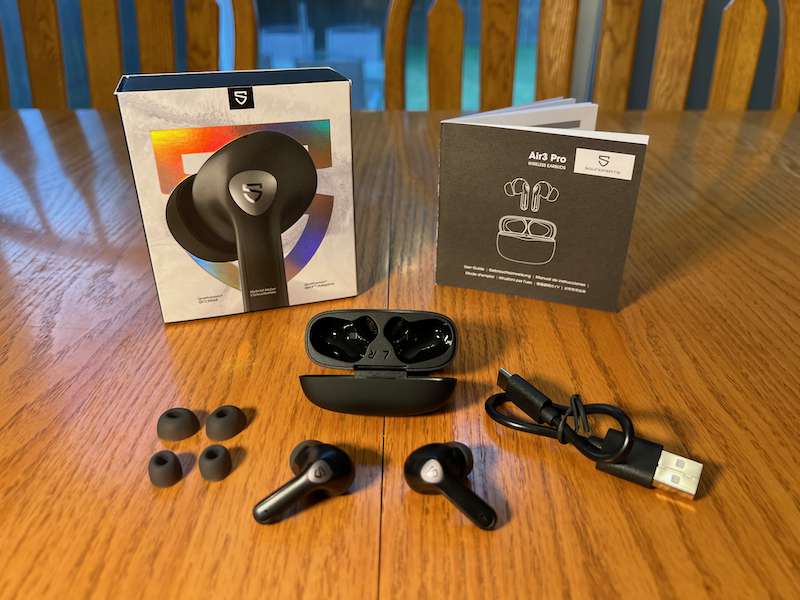 Hardware specs
Bluetooth: Bluetooth®5.2
Profiles: HSP, HFP, A2DP, AVRCP
Chipset: Qualcomm QCC3046
Supported Bluetooth Codec: SBC, aptX, aptX-Adaptive
Active Noise Cancelling: Hybrid ANC 35dB
12mm Dynamic Driver
CVC 8.0 Noise Reduction Tech
Waterproof Rating: IPX4
Wireless Range: 33 ft
Battery Capacity: 280 mAH (Case)
Battery Capacity: 40 mAH (Earbuds)
Play Time: 6 hours (24 hours with case)
Earbuds Charging Time: 1.5 hours
Case Charging Time: 2 hours
Charging Port: USB-C
Design and features
The SOUNDPEATS Air3 Pro earbuds come in a compact, rounded-rectangle shaped, matte black plastic case with matching black earbuds and ear tips. The case has the now familiar flip open top used to give access to the earbuds charging inside. Right below the lid, and visible while the top is open or closed, is a small, multi-color LED used to indicate charge level, charging status, and pairing mode. The earbuds are an in-ear design with a short stalk that hangs down out of the ear, which holds the microphones used for phone calls and the charging contacts at the bottom. The ear tips are silicone and come in three sizes to help fit everyone's ears.
At the bottom of the case is the USB-C connector for charging. Around the back of the case is a small round button used for pairing, either the first time you pair them or when you want to pair them with another device.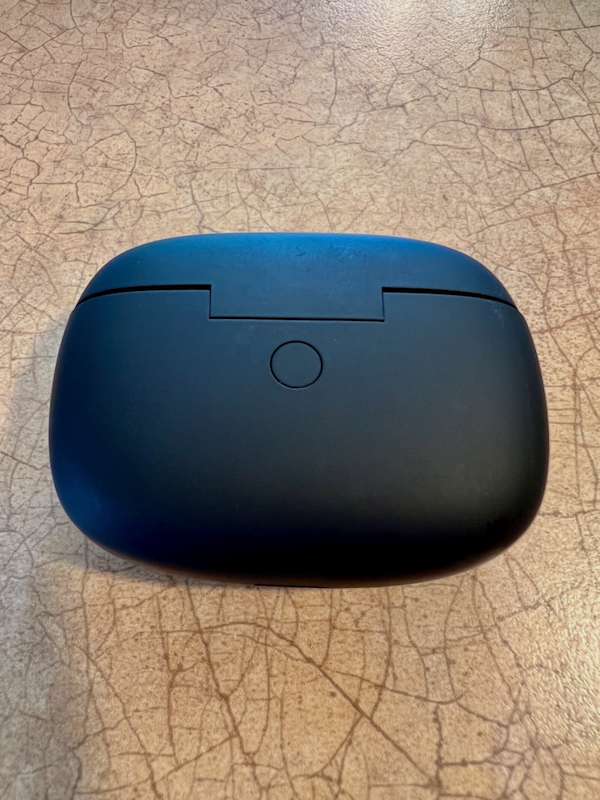 Installation and setup
Setup is as easy as any other Bluetooth headphones. Once you take them out of the box and make sure the case is charged, flip open the top of the case and press the button on the back of the case for three seconds until the case LED starts flashing white. Then look in your phone or other device's Bluetooth menu and select SOUNDPEATS Air3 Pro. After a few seconds, they'll be paired to your device and ready to play audio.
If you want to try another ear tip size you just have to pull the default medium size tips and put on the size you want to use. Getting the hard plastic earbuds to fit inside the soft silicone rubber ear tip is a bit of a challenge sometimes, but that's no different than any other pair of earbuds like this. You just have to keep pushing and wiggling the earbuds around until they fit inside the tips correctly. I found that the largest ear tip size fit my ears the best. I often go with the default medium size for most earbuds but in this case, I felt the large ones fit my ears better and provided better isolation, even without ANC being turned on.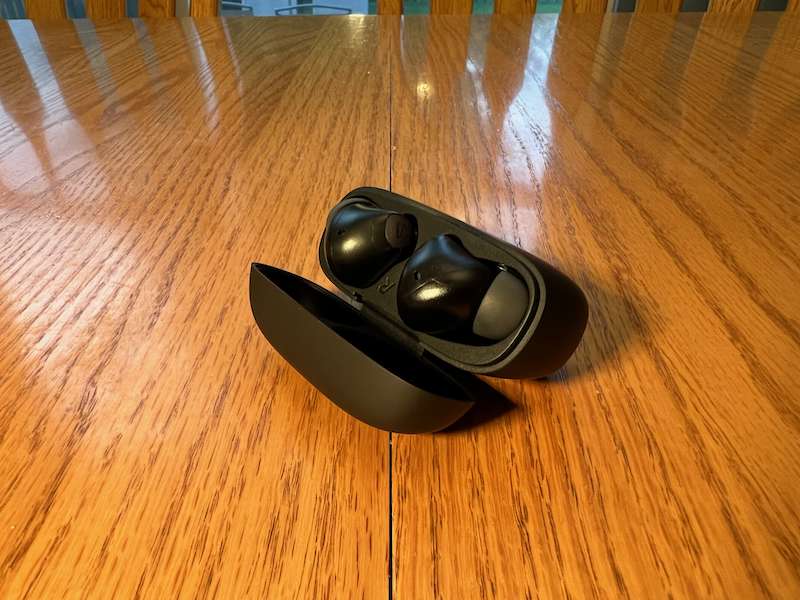 In Use
The Air3 Pro earbuds are, overall, a great set of true wireless earbuds. You can use them together or either earbud separately. There were a few times when I paired these with my iPad to watch a TV show that only one earbud connected. I think I may have paired them to the iPad before they were both out of the case and turned on, which might have confused either the iPad or the earbuds. I just had to put them both back in the case for a few seconds and pull them out again. Other than those two or three occasions I didn't have any issues with connections or dropouts over the several weeks I tested these.
As is typical with most Bluetooth headsets now, the controls are all touch-based. A series of taps on either the left or right earbud will do a series of commands. Here is a list of all the things you can do with various taps, double-taps, triple-taps, and long-presses.
Play/Pause
Volume –
Volume +
Next Track
Answer / Hang Up Phone Call
Reject Phone Call
Manually Enter Pairing Mode
Activate Voice Assistant
Enter / Exit Game Mode
Switch Between Active Noise Canceling Mode / Transparency Mode / Standard mode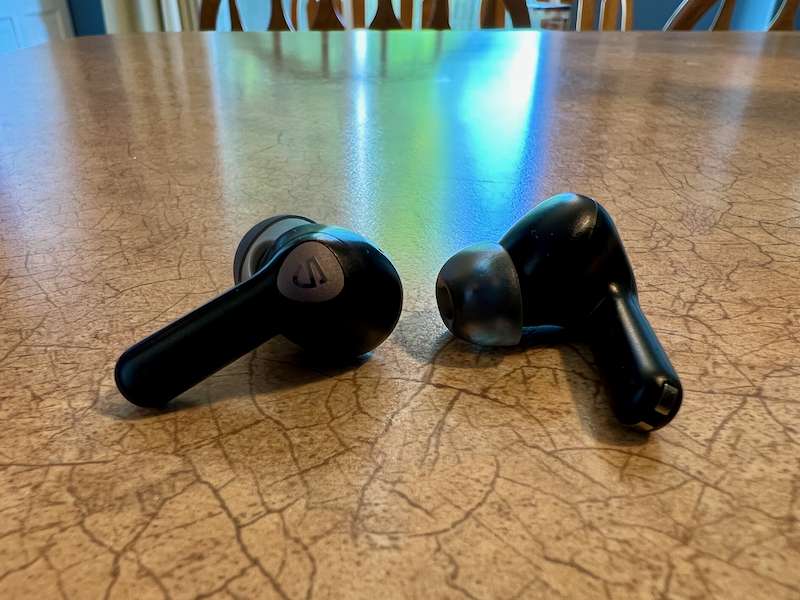 I did periodically have trouble tapping the earbuds correctly. I don't know if it was because the tap target is a pretty small area on the earbuds, if I'm just used to another pair that I've been using for several years, if they're just not sensitive enough to the taps I was doing, or what, but it was a little frustrating at times, especially when I had to double- or triple-tap. I eventually found that if I held the stalk of the earbud with my thumb and middle finger I could more easily tap with my index finger, which helped with accuracy. 
Now I have to bring up my biggest frustration with most true wireless Bluetooth earbuds: different controls per earbud. I would honestly rather have fewer controls but have them be the same between earbuds. That may just be my bias or the fact that the majority of my listening is spoken word, which means I don't need both earbuds in most of the time, so I have to remember if I can skip forward or backward or whatever with the earbud I have in at the time. I'd prefer either the same controls or the ability to set what each set of taps does per earbud (like you can with the Samsung Galaxy Buds+). I also don't prefer the double-tap for play/pause. Since that's what I do most throughout the day it would be a lot easier if that was the single tap gesture. At least that gesture is the same on both earbuds. These things may not be a big concern for you, which is great, but it is something that turns me off from a lot of the options out there.
Sound quality, in my opinion, was above average to very good. Listening to the tracks I like the most, that I know a lot having listened to them many times on many different types of earbuds and speakers was, for the most part, very enjoyable. I only had two concerns with the sound quality. On one of my favorite tracks the low toms sounded a little too boomy, like the low-mids were too pronounced and the toms just kind of swelled in a way that wasn't desirable. On the high end, the cymbals sounded a little too harsh, like they weren't crisp and clear, just a little bit distorted, on some tracks only. Overall though bass was surprisingly solid and mid and high frequencies were smooth and easy to listen to.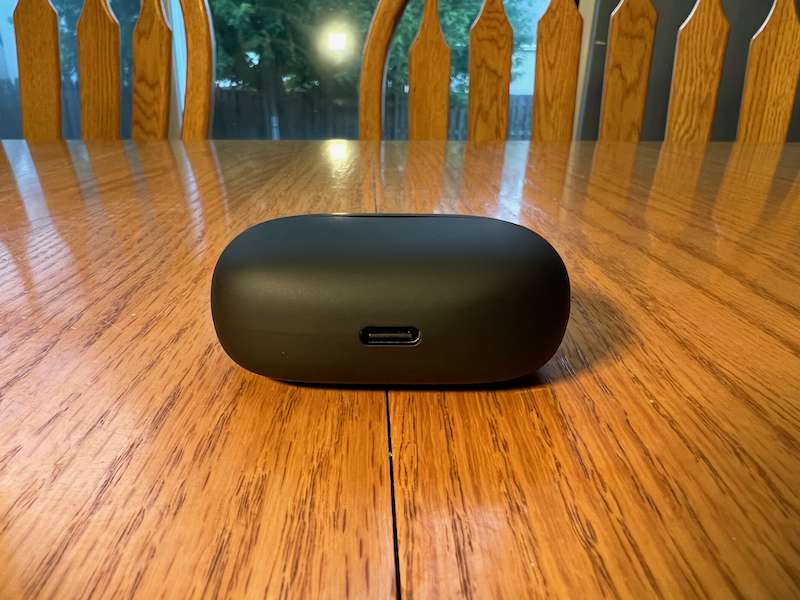 Call quality was as good as can be expected. I could clearly hear the caller and they didn't have any problem hearing my side of the conversation. The best test of call quality is when you make or receive a call and the person on the other end doesn't even seem to notice, as if nothing had changed. I've used other earbuds in the past and people have said I sound like I'm in a fish bowl or something, but with these, everything came through loud and clear.
I'm not really a gamer so I can't speak to the low-latency game mode very accurately. I did try it while playing videos from YouTube on iOS, which has a noticeable delay between audio and video when using Bluetooth headphones. I did notice an improvement in game mode so I would definitely use this feature while watching videos. If it can do the same for games then I think this is a worthwhile feature.
Active noise cancellation and transparency modes are two of the features a lot of people look for in Bluetooth earbuds and they didn't disappoint with the Air3 Pros. I didn't have a lot of situations that required me to hear my surroundings while listening to music or podcasts but transparency mode definitely helped me hear a little bit of the ambient sound around me such as the water running while brushing my teeth. I would use this mode while walking near traffic so I could hear a car approaching and make sure I stay out of the way. Noise cancellation definitely makes a difference as well. SOUNDPEATS says they lower the volume by up to 35 dB. I have no way to measure that but it was effective, especially in combination with the fit of the silicone ear tips, which also help passively cancel out sound.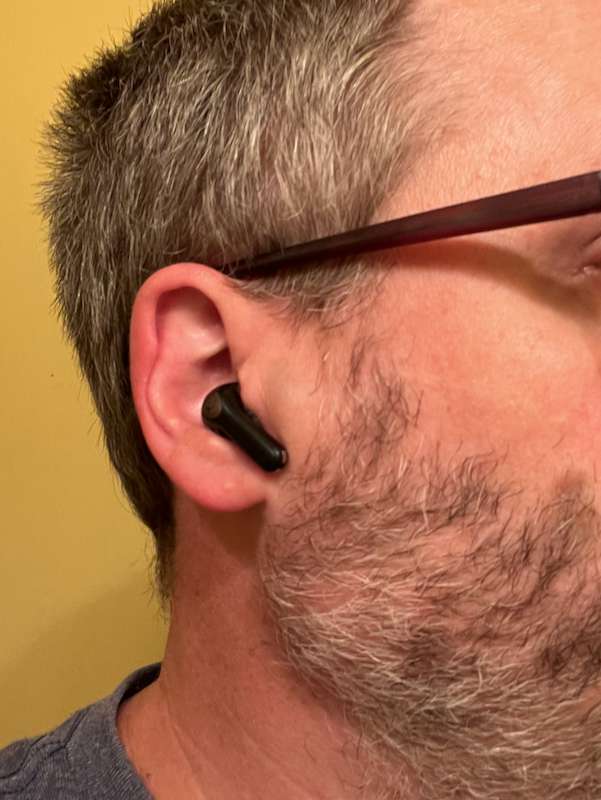 I'd love to see a Qi wireless charging option. I'm sure it would increase the price but they'd still be way lower than comparable earbuds from the big manufacturers like Apple, Samsung, and Sony.
I did often have a little trouble taking the earbuds out of the case. Maybe it's the dryness of my hands making it hard to grip on to a smooth piece of plastic but I couldn't always get them out of the case as quickly as I would have liked.
Lastly, I couldn't get the auto play/pause to work. They're supposed to stop playing when you take out either earbud and start again when you put it back in your ear. Neither worked for me. I took them out and heard a series of beeps a few times but I could still hear the music coming out of the earbuds. Similarly, it didn't start playing again when I put them back in my ears after I manually paused the music. I've honestly never relied on this feature in the other earbuds that have supported it but in this case, it just didn't work for me.
What I like
Volume control on each earbud
Sound quality
Compact size, very light weight
Good battery life
What I'd change
I'd like to see a version with Qi charging
Same controls per earbud or an app with the option to choose what each tap does
Final thoughts
You can pay a lot more for Bluetooth earbuds but if you're looking for a solid, affordable option with a deep feature set, you can't go wrong with the Air3 Pro from SOUNDPEATS.
Price: $59.99
Where to buy: us.soundpeats.com or amazon.com
Source: The sample for this review was provided by SOUNDPEATS. For more information visit their site.