We use affiliate links. If you buy something through the links on this page, we may earn a commission at no cost to you. Learn more.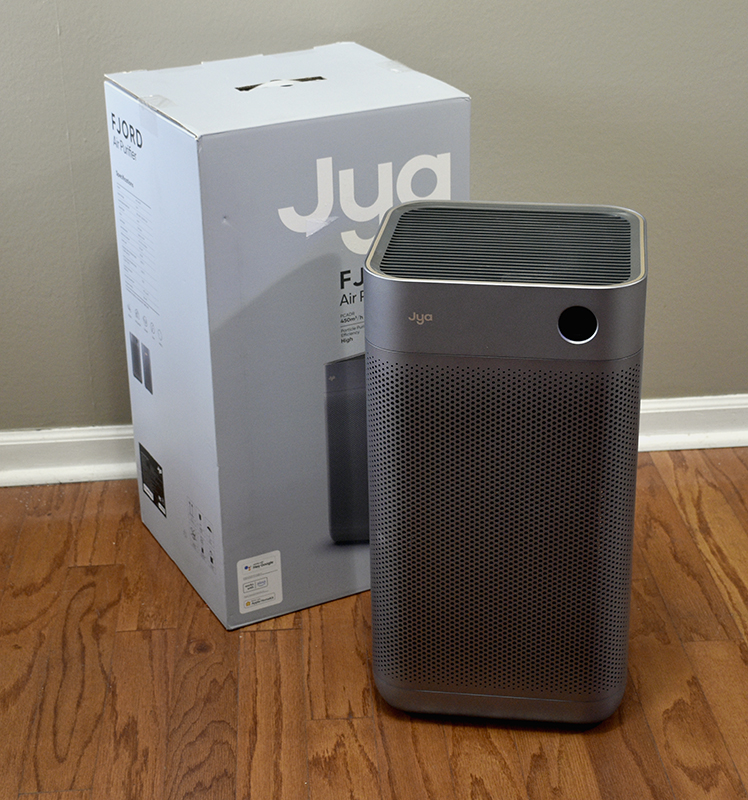 REVIEW – Look, my family and I are dusty, ok?  There are 6 of us, 2 dogs, 2 cats, and a snake. We also recently moved into a house built in the 70s that makes its own contribution to our indoor air quality.  My wife has non-smoking-related COPD while my middle son has CF, so anything we can do to improve the air quality in our home, we'll give it a shot. Enter the Jya Fjord air purifier. Jya says it can purify the air in a room up to 581 square ft room with an efficiency of CADR of 450 cubic meters per hour. I didn't know what that meant but I knew if it did anything at all it would be an improvement.
What is it?
The Jya Fjord Air Purifier is a portable room air purifier with sensors to detect PM 2.5, PM 10, TVOCs, temperature, and humidity. It has several modes of operation: Extreme, Auto, Manual, and Sleep. The Jya Fjord is smart home ready in that it works with Google, Alexa, and Apple's Homekit.  There's also the mobile app, Smartmi Link, that I chose to use.
What's in the box?
Jya Fjord Air Purifier
Power Supply
Filter
User Manual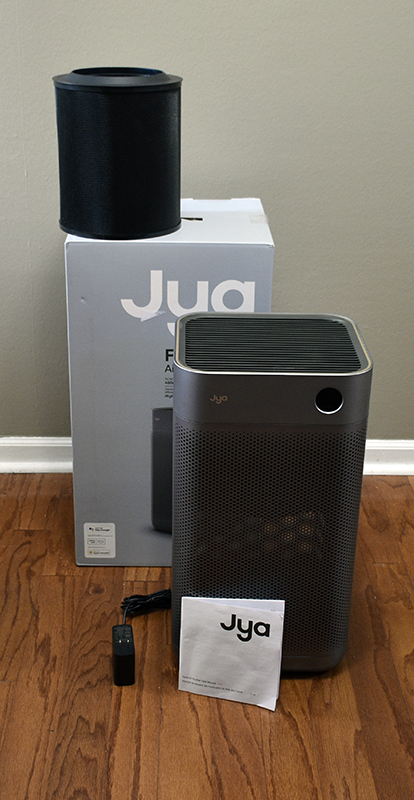 Hardware specifications
Filter Type

Jya NanoGuard™ Technology

Smart Sensors

Laser Particle Sensor/Gas Sensor/Environment Sensors

Display
Air Quality Monitoring and Display

PM 2.5 / PM 10 / TVOCs / Temperature / Humidity
On-screen numerical display
Air Quality Indicator Light

Additional Features

UV light sterilization
Hidden Omni-directional wheels

Maximum Noise Level
Design and features
If you're like me, you aren't very knowledgeable about all the terminology regarding air purifiers or air purification. Here are a few terms I had to look up to understand what they all meant
CADR – Clean Air Delivery Rate, is a metric that was developed as a way of measuring the performance of residential air purifiers.
TVOC – Total Volatile Organic Compounds are organic chemicals that become a gas at room temperature.
PM 10 – Particulate matter; inhalable particles, with diameters that are generally 10 micrometers and smaller.
PM 2.5 – Particulate matter; fine inhalable particles, with diameters that are generally 2.5 micrometers and smaller.
So, with that out of the way, let's look at the Jya Fjord air purifier. The design is not what I'd call understated, but at first glance, it doesn't look like any air purifier I've ever had experience with. It looks like a sleek, attractive piece of sound equipment, like a large Bluetooth speaker. I like the gunmetal grey, all the rounded corners, and the offset circular OLED display.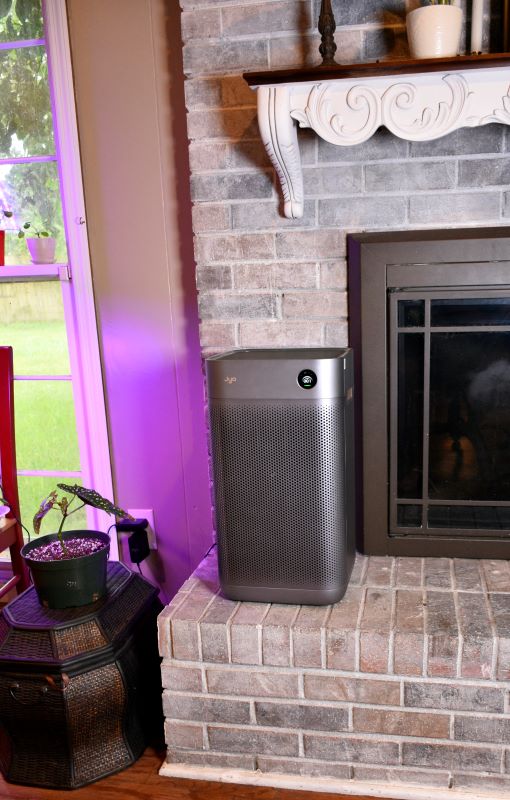 Set up is extremely simple. Press the 2 buttons, one on either side of the head unit, and lift. Next insert the 3-stage air filter with the hole facing up. Replace the head unit. Connect the power supply to the bottom rear of the Jya Fjord and press the power button on the rear of the head unit.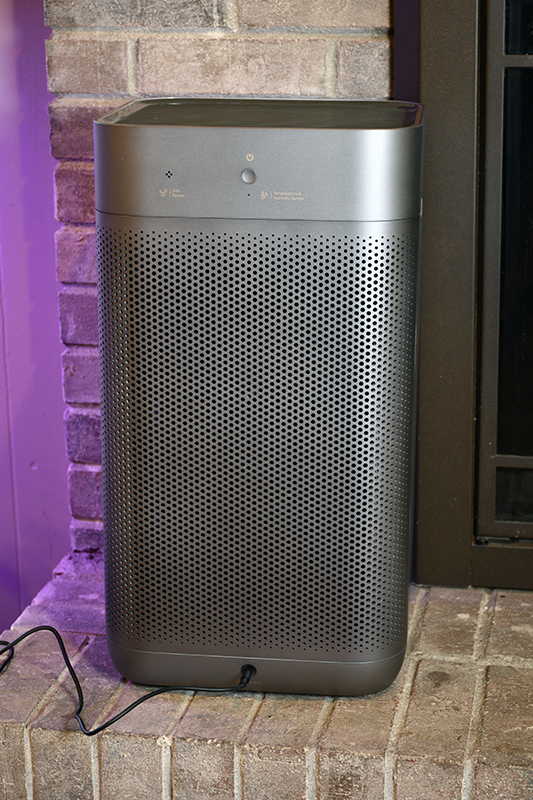 If you don't want to fool around with the app or Google, Alexa, or Apple, you can simply use it as is. What I did was download the SmartMi Link app from the Google Play Store and proceeded to set it up for easier use.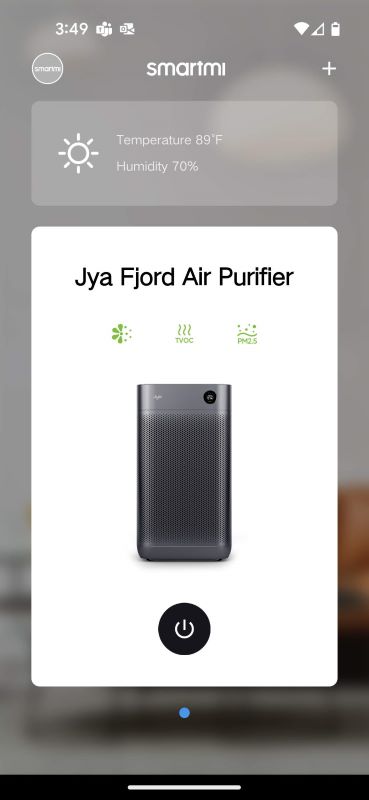 For anyone wanting to use the Jya Fjord air purifier with Alexa or the Apple Home kit, a little warning. If you're using an Android device, the first time you open the SmartMi app, it will ask if you want to create an account or log in using Google. Create the account.  I went ahead and signed in with Google. Having done that prevented me from connecting it to my Amazon Echo Show because I don't have an actual password for my SmartMi account.  According to support at SmartMi Global, direct login with Google isn't currently supported. Just so's you know.  It doesn't bother me that I can't tell Alexa to operate the Jya Fjord.  I just wanted to test the functionality.  I prefer using the app anyway.
To connect the app to the Fjord, you'll need to navigate to the Wi-Fi settings screen on the touch display to verify the symbol is flashing. Now open the app. It should see the Fjord and ask if you want to add it. Select it and enter your network information.  Once connected, that should be it. I lost connection once while moving it from room to room and had to reinstall the app.  It retained all my information though so no big deal.
I started off with the Fjord in the living room since that room sees the most traffic. I set it to Auto and waited to see what would happen.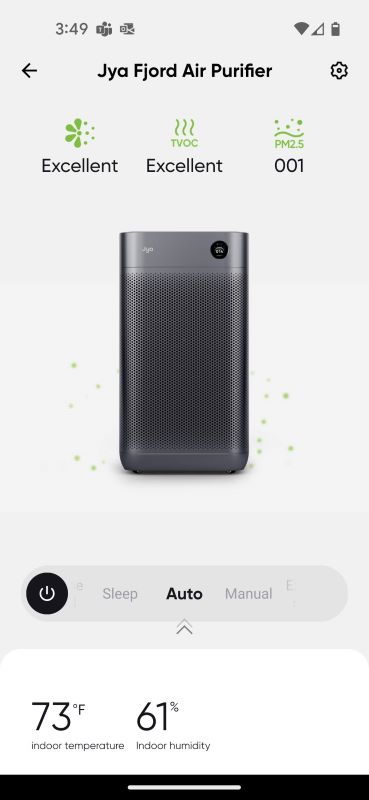 The Jya Fjord air purifier was quiet enough until the dogs came running through. It ramped to Extreme mode and was quite loud. It wasn't earsplitting but it does disturb anyone watching TV or having a conversation. Once the particulate matter dropped to a low enough level, the Fjord went back to the sleep mode level of noise. I then set up a manual setting for the room. There's a vertical slider that allows you to change the operation based on room size.  Once that was set, the fan ran constantly but not too loud. It was still disturbing to try to watch TV with it running but it was passable when my small horde of heathens wasn't being normal, loud teenagers.  It was interesting to watch how the unit recorded TVOC and PMs 10 and 2.5 depending on what was going on.  The lights on the display would change from green to yellow to orange to red whenever someone was cooking or cleaning. Same thing when there was activity in the living room whether, it was the pets, kids, or our robot vacuum stirring up dust.
Hey, we're doing good!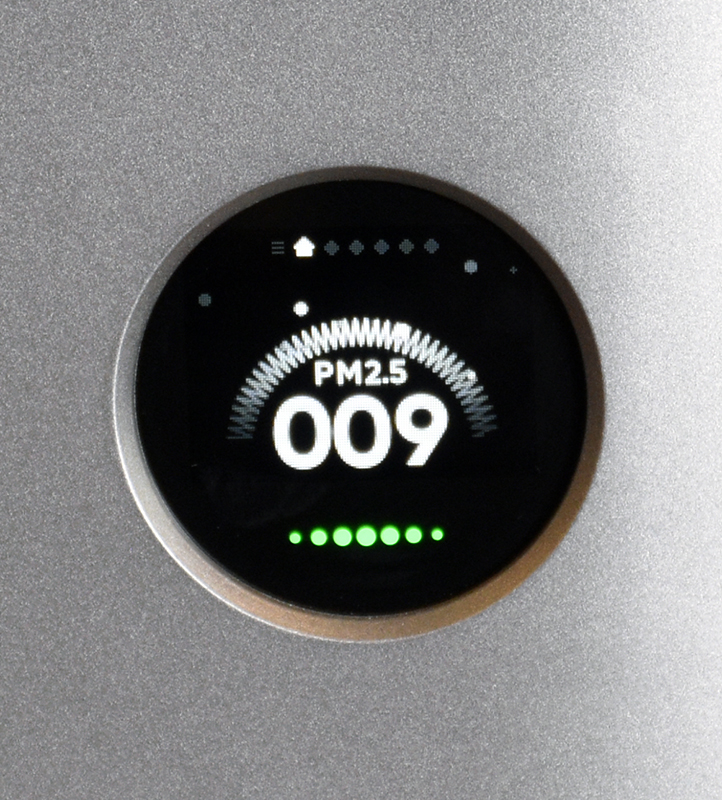 Umm… What's happening?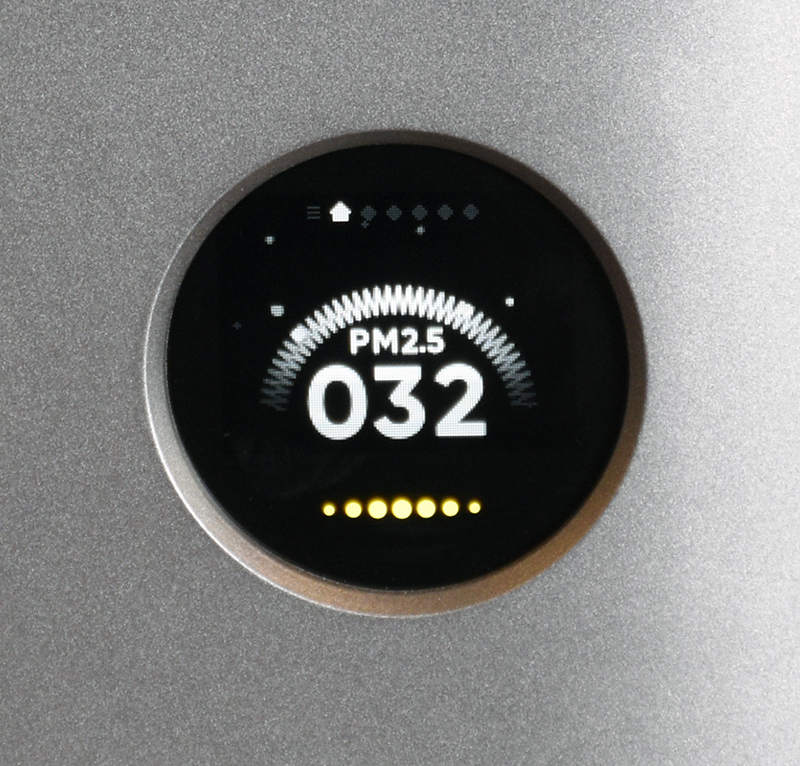 Should I be worried?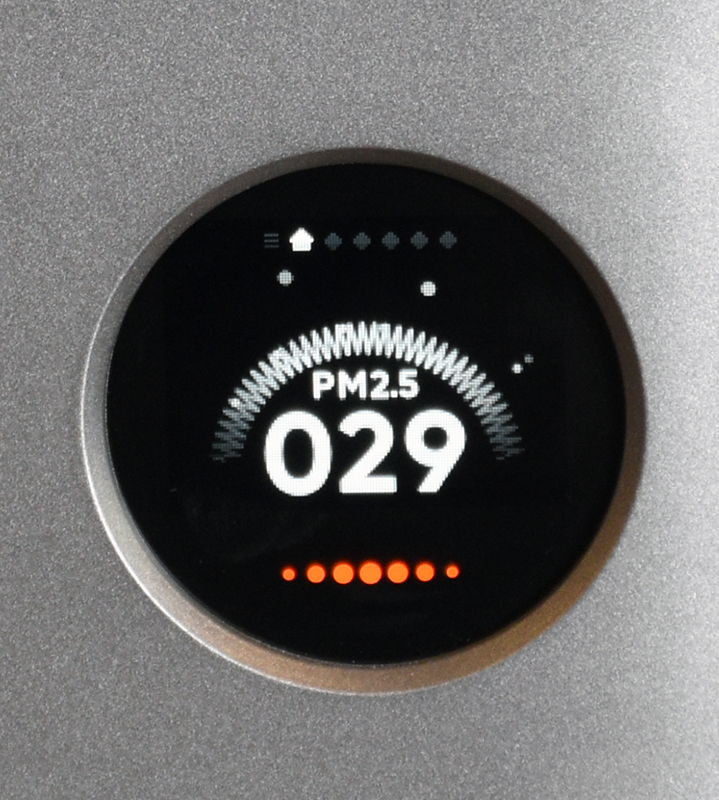 Uh oh.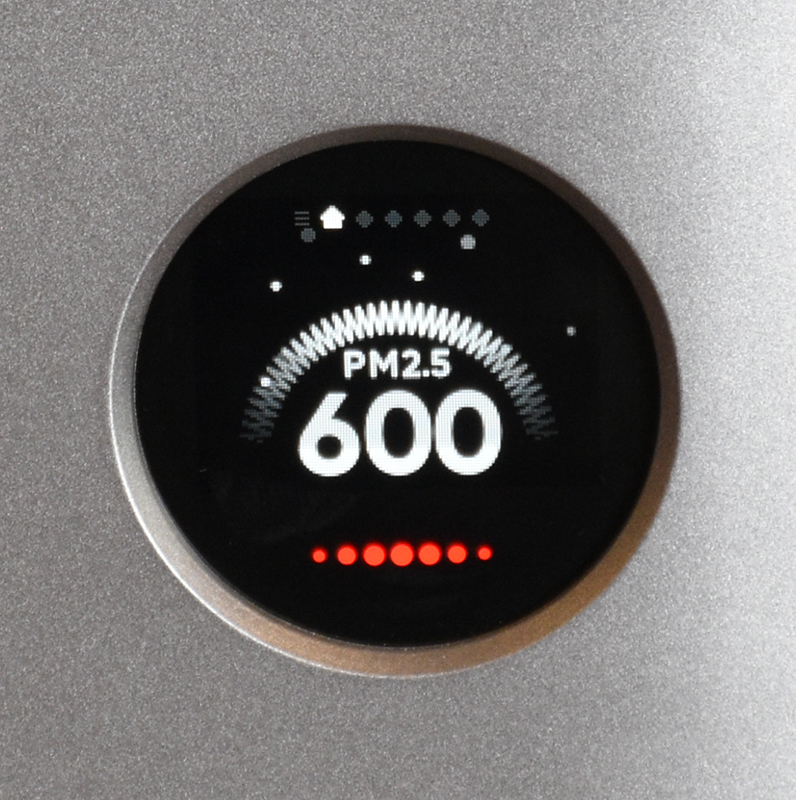 All jokes aside, I was amazed at how quickly the Jya Fjord air purifier detected contaminants, kicked into action, and cleared the air.
After a couple of weeks, I took the filter out to check it out.  Here are the results.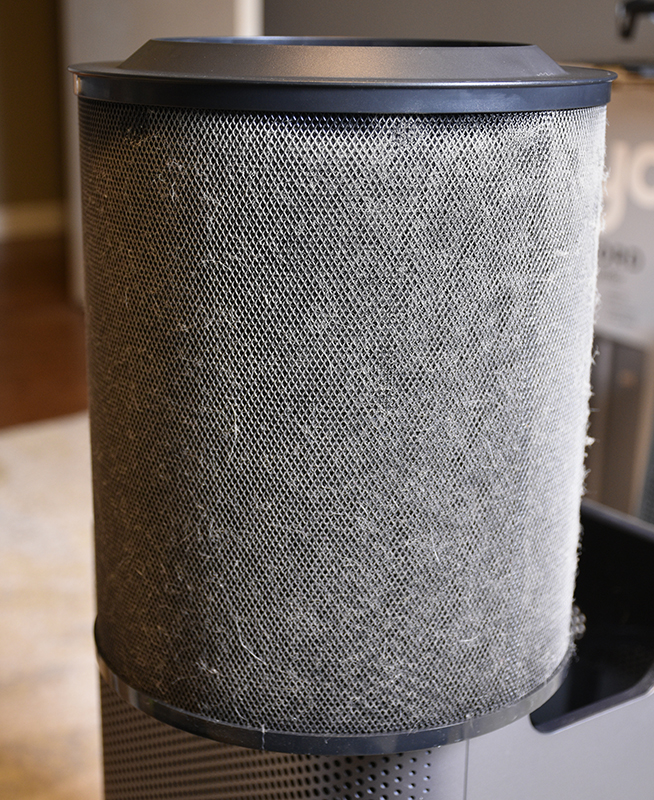 I told you we are a dusty family.  I took it outside and blew it out with my air compressor to see if that would reset the status of the filter in the app. It didn't. So, I'll have to wait until it needs replacing, which the manual says every 6 to 12 months. The filter life in the app is currently at 89% (258 days left of usage).
Speaking of the filter, it's constructed of 3 layers.  It has the Pre-filter on the outside for the large particles. Next, is what Jya calls the NanoGuard which catches particles as small as 0.1 micrometers. Finally, there's the activated carbon layer to take care of odors and gasses. And if that's not enough, inside the head unit, aimed downward into the center opening of the filter is a UV light to kill viruses like MRSA, pneumonia, and COVID.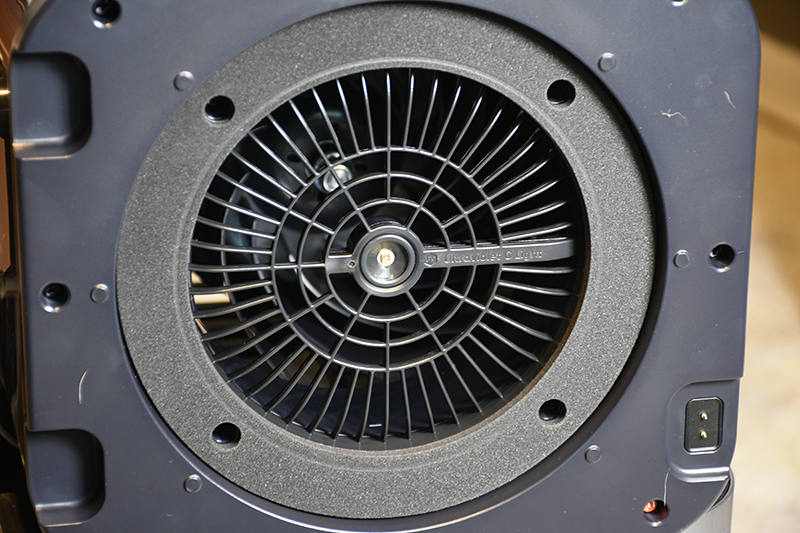 The Jya Fjord air purifier uses numerous sensors to determine what is going on in the air around it. There's a laser particle sensor, a gas sensor for TVOCs, and an environment sensor that records the temperature and humidity in the room.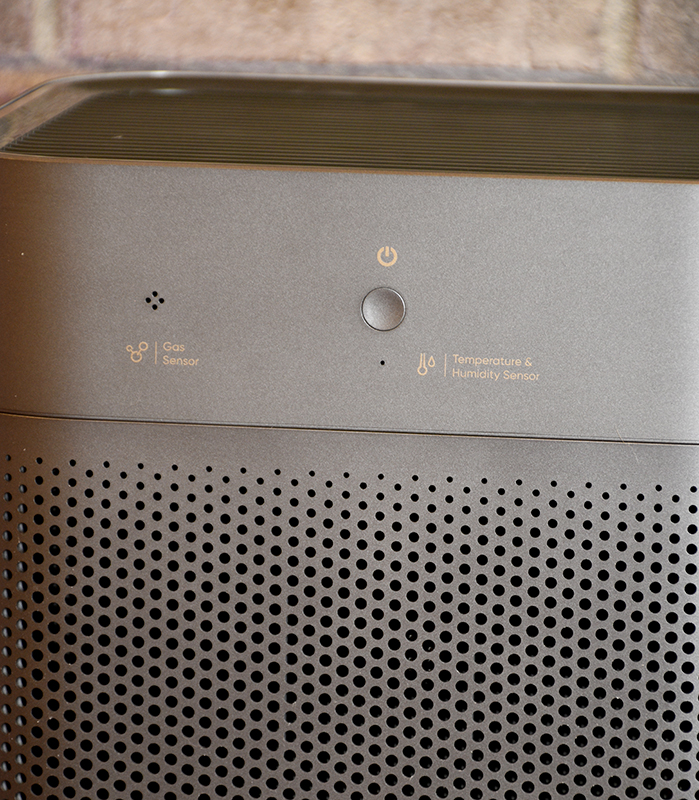 Although you can set the app to Fahrenheit, the display on the Fjord only ever shows Celsius.  Doesn't bother me, I'm using the app to get all my readings.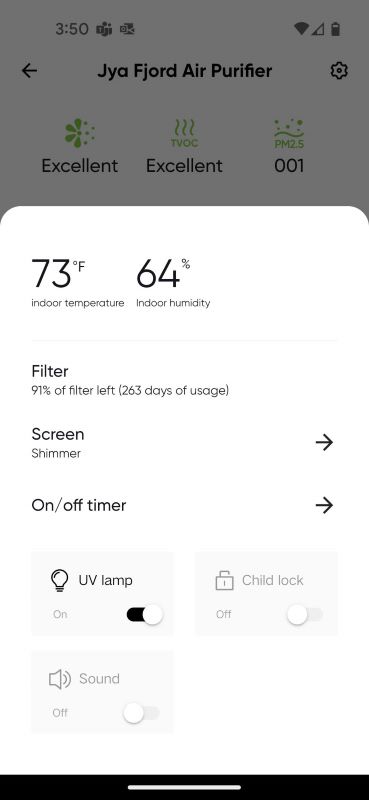 Speaking of the readings, the app keeps track of the level of PMs and TVOCs in the form of graphs recorded in Day, Week, and Month. That's a nice touch.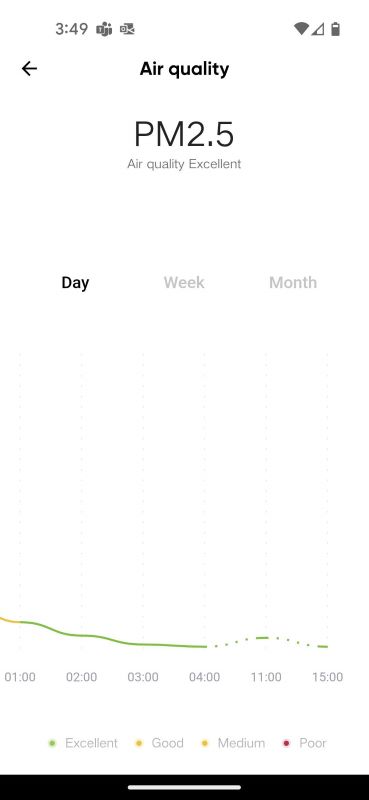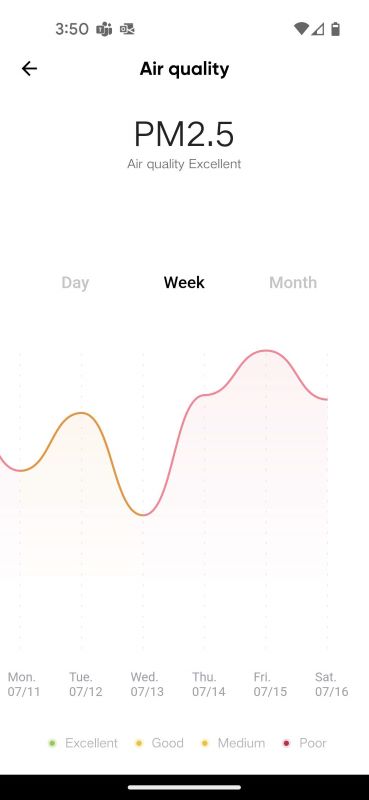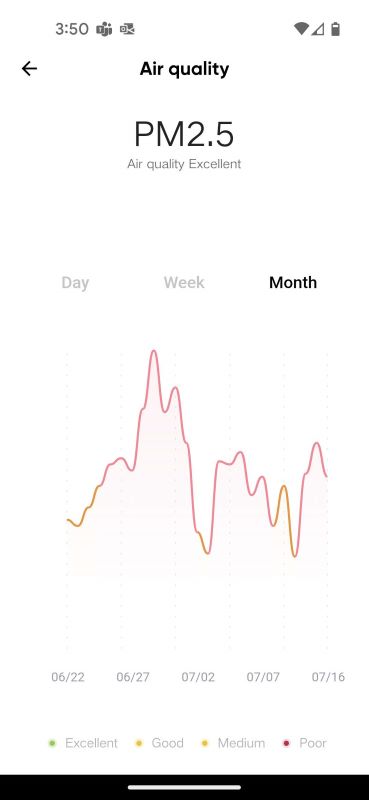 You can move this thing around to let it run in different rooms for a while and find where it's needed most. I've put it in my boys' room. My son with CF can use all the help he can get to avoid MRSA, pneumonia, and COVID.
The display itself is a touchscreen that allows you to swipe through the air quality index, operation modes, filter life, and other settings. Here's a little video to show it off.
You can use the display or the app to dim the display, turn on a child lock, and turn the sound on/off.  Sound is on by default so every time you change operating modes, it'll beep to let you know.  I think it's a great product. Now we have to wait and see if it can handle life in my crazy house.
Final Thoughts
I can't tell you if the Jya Fjord air purifier will actually help keep my wife and children healthy. It'll take time to find out, but I'm willing. The Jya Fjord has already gotten to dust levels down in the rooms I've tried it in. As I said, it's now found its permanent home with my son, so fingers crossed, hospital visits will be minimized.
Price: $399.99, at the time of writing this review $319.00 (less on Amazon)
Where to buy: Jya and Amazon
Source: The review sample was provided by Jya