We use affiliate links. If you buy something through the links on this page, we may earn a commission at no cost to you. Learn more.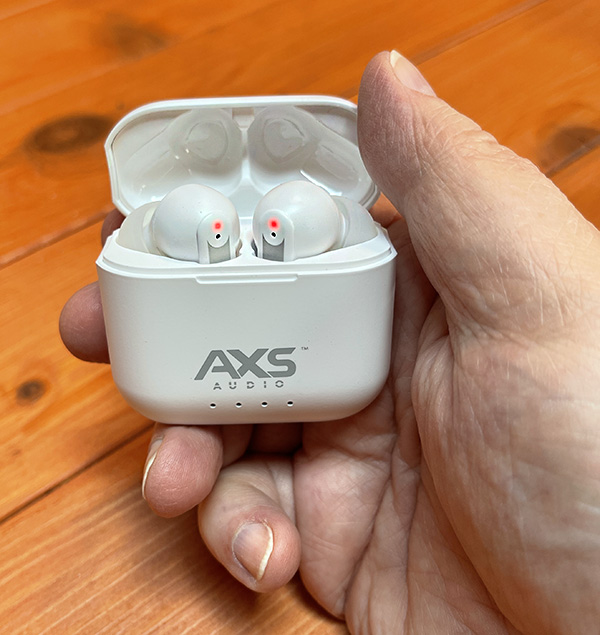 REVIEW – You have to be pretty sure of yourself and what you have to offer to enter the overcrowded wireless earphone market. It seems as if everyone and their uncle sells them. Despite the odds, a new audio company has taken on contenders. AXS Audio claims to make earbuds that "will give you the best music quality and longest battery life." Sounds good when you say it, but can they deliver on that promise?

What is it?
The AXS Audio professional wireless earbuds are totally wireless earbuds (TWS). They use the new Bluetooth 5.2 LE (Low Energy). Each earbud magnetically fits into a plastic case with a lid that also magnetically closes.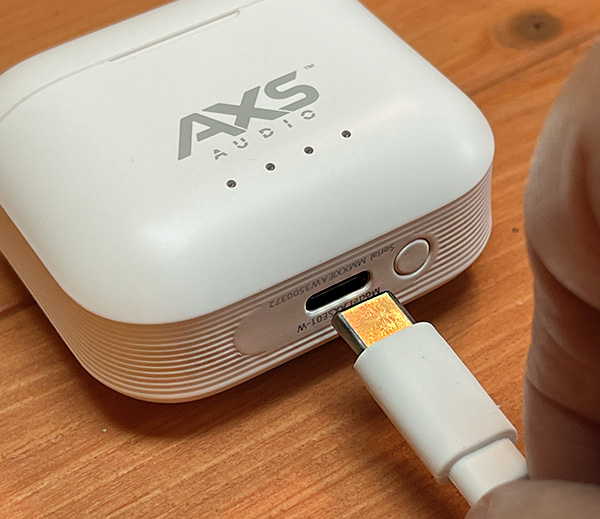 Charging is done either through the case bottom via USB-C or wirelessly. There are four lights on the case front that indicate battery life. The earbuds are rated as 10 hours of battery life while the case adds another 38 hours to the total playtime. Note that times are based on using no ANC, which will shorten battery life when on. The case is slightly larger and thicker than the Apple Airpods Pro earphone case.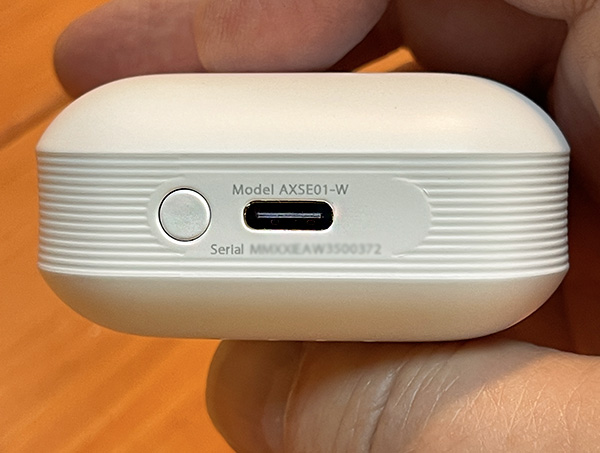 The AXS earbuds (AXS didn't give them a proper name) come in satin white or black. The buds are a stem design, much like the original AirPods. Tap controls are on the larger upper part of the bud. The stem holds the mic for calls. They are rated at IPX4—sweat and water-resistant. They are not submersible.
Active Noise Canceling (ANC) is included as is Environmental Noise Cancelling (ENC) for phone calls.

Specs
Instant pairing
AXS Studio Tuning
Bluetooth LE 5.2

 

Independent earbuds can be used either as solo or a pair
IPX4 Sweat and Water Resistant
ANC (Active Noise Cancelling)
ENC (Environmental Noise Canceling) for phone calls
6 Hypo-allergenic pairs of tips (Small, medium, and large)
USB-C
Wireless Charging
10+ hours of playtime (8+ hours with ANC on)
38+ hours of total playtime from charged case

Design and features
The first thing I noticed about the AXS Audio professional wireless earbuds is their weight—or lack of it. These are incredibly light earbuds. Even the case is extremely lightweight. Initially, the AXS earbuds may feel cheap, but on closer inspection, they appear to be as strong as other earbuds in their price range.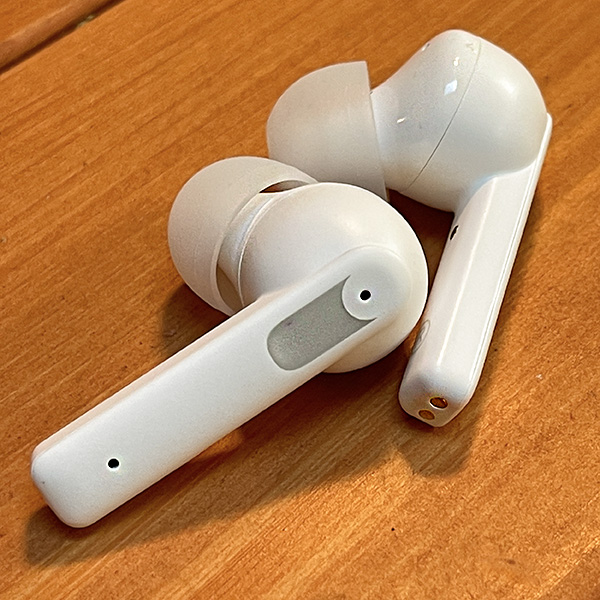 It may be unfair to compare the earbuds directly to Apple's AirPods Pro earphones, but there are a couple of items that stand out. The hinge on the AXS case is plastic whereas the AirPods case has a metal hinge that snaps securely. Magnets are used for both closing the case and helping to hold the buds in place. Both case lids of AXS and Apple cases remained shut while shaking. However, if the cases were opened, the AXS buds fell out while the AirPods stayed in place during vigorous shaking. It should be noted that both cases opened and spilled the buds when dropped on a hard floor.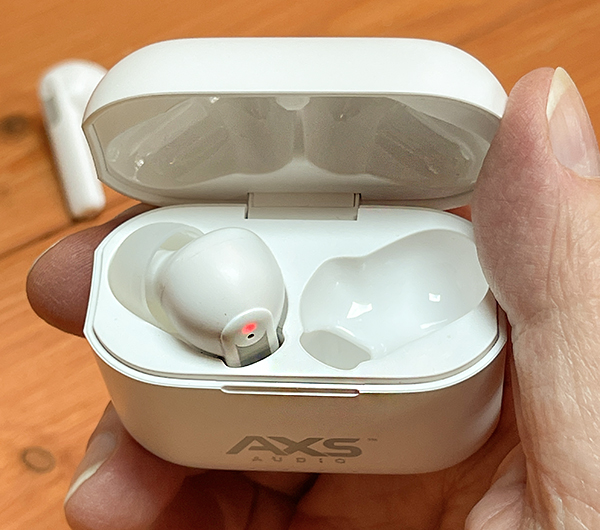 Here's where it gets weird—active noise canceling (ANC). There are very few earbuds that excel at implementing ANC as well as Apple. ANC is the main reason I use and love the AirPods Pro earphones. Unfortunately, AXS's noise canceling is not as strong—even though ANC on the AXSs is rated at 25dB, compared to Apple's 20-23dB. Yet, I hear more of a drop in background noise from the AirPods Pro earphones than AXS. As I said—weird. I'm sure there's some audio science involved, but I can hear the difference. That's enough comparison for now.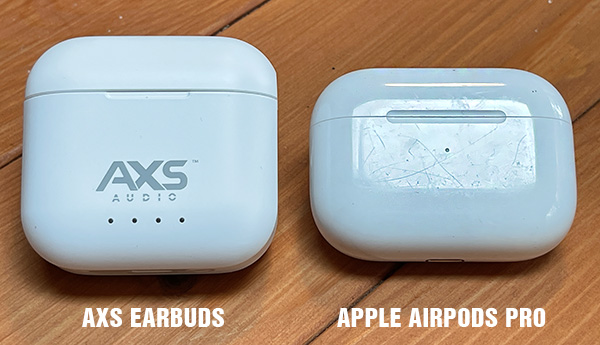 The case from my review earbuds is matte white (matte black is available), which is great at hiding scratches. I've dropped the case many times on our tiled floor (I'm a klutz) and the case still looks as new as it did coming out of the box. That's impressive. The AirPods Pro case was all covered in scratches after about a week of use (okay, now I'm done comparing).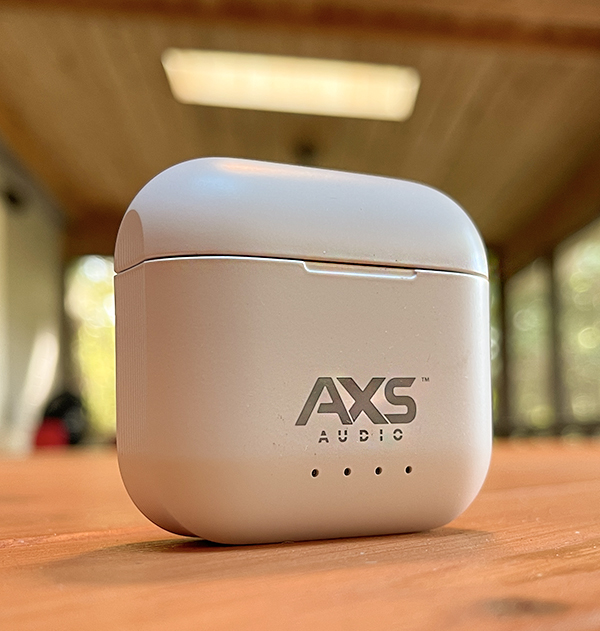 Four small lights on the front indicate how much battery life is left. The case will recharge the buds completely 3-4 times, which is about average. The buds will last for 10 hours (8 with ANC on) which is above average. I have earphones that last only 3-4 hours which can be frustrating when spending a sweaty day doing yard work lost in an audiobook.
Speaking of sweat, the AXS earbuds are IPX4 rated. They can sustain sweat and rain while working out. The ear tips are bacteria resistant (always a good thing) and stay in place while jogging or head-banging to your music.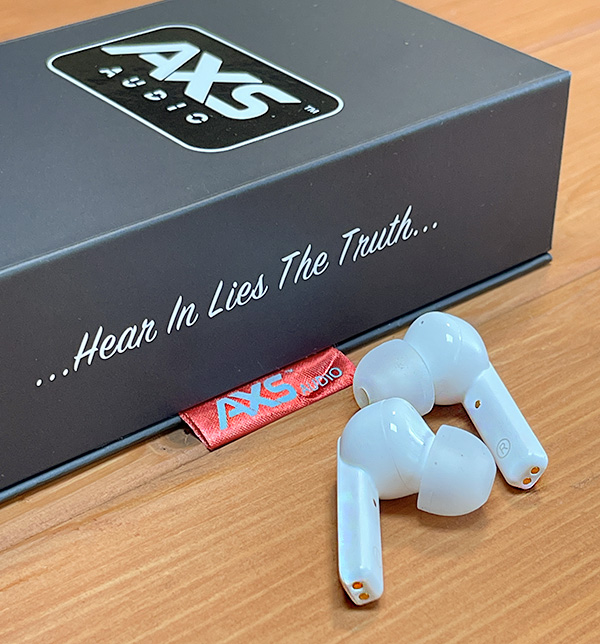 Accessories for the earbuds include a total of six pairs of ear tips—3 large and 3 small (they look more like medium-sized to me). I found the large fit my ears well and stayed put. Also included is a too-short (6.5 in.) color-matched USB A to USB-C charging cable.
The AXS earbuds feature voice clarity for phone calls. People I spoke with on calls did hear me clearly, but they said my voice had a distant, slightly hollow sound—not as good as speaking directly into my iPhone.
There is a slight learning curve in figuring out how to tap the earbuds to change volume, answer calls, etc. Tapping was not the most sensitive I've used. Sometimes I had to tap harder, sometimes I had to tap and hold for a split second before it would register. This didn't bother me as it might some, because I almost always use my iPhone for commands.
AXS advertises that their earbuds were tuned to faithfully reproduce music as it was recorded. Okay, every other earphone company says the same thing. However, AXS has something many other earphones—including some extremely accurate earphones—lack. Fun. Let me explain.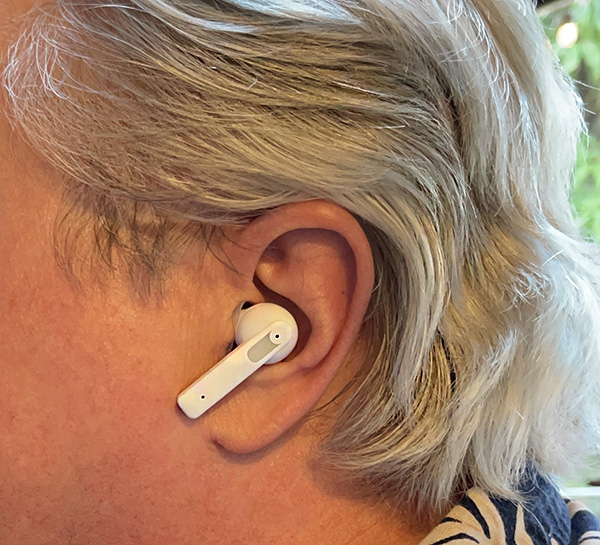 I've reviewed many earphones in many price ranges. Sound quality varies, but more importantly, most earphones excel in either rock, vocals, hip-hop, spoken word, whatever. None excel in everything. Not even the AXS earbuds. True, I own earphones that sound better than these do, but the AXSs are good for music enjoyment. That became apparent the moment I inserted them into my ears and pressed Play.
Ladytron's "Destroy Everything You Touch" just exploded into my head—in a good way. The group inserts addictive hooks into their music that get your heart—and feet—moving. The AXS earbuds don't diminish the song's pulsating power at all. If anything, they made the song more addictive. 
"Worrisome Heart" by Melody Gardot had a presence that made me feel she was playing right by my side. Her smoky voice backed by piano, drums, and cornet had that necessary nightclub feel that adds life to recorded jazz.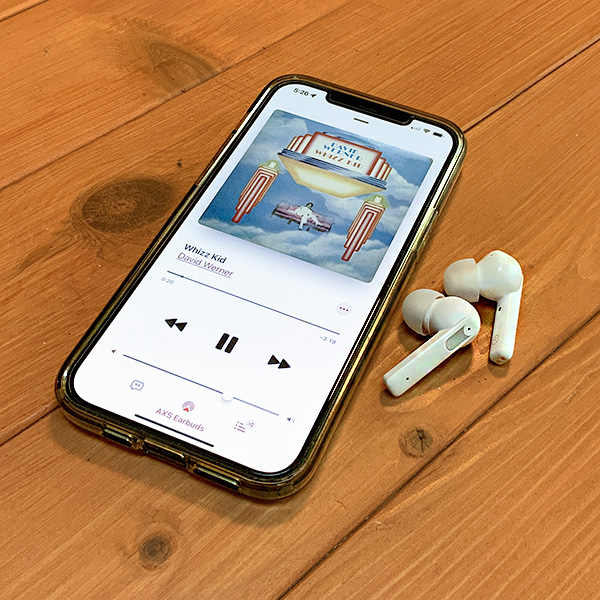 At the 48-second mark on Davis Werner's "Whizz Kid", the kick drum attacks your ears and you can't help but smile. Werner, an under-appreciated Bowie protégé delivered an album of glam-pop gems in 1973 that AXS's earbuds exploit all the musical fun (there's that word again) these songs brim with.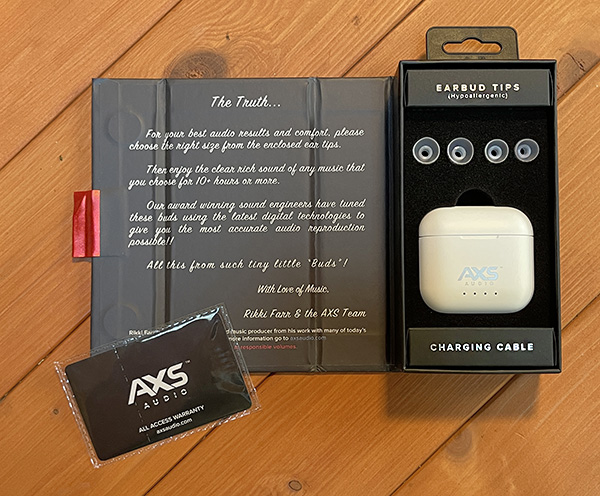 A good reason for this is that the AXS sound signature was developed by Rikki Farr, who is responsible for countless live musical production for artists such as Jimi Hendrix, Bob Dylan, Rod Stewart, and such. Somehow, AXS has managed to make me enjoy songs I hadn't bothered listening to in years. It's like a time machine.

What I like
The musical sound
Sturdy case
Affordable
Matte case hides scratches
USB-C charging
What I'd change
Can feel a bit cheap
Phone call quality is just okay
The charging cord is short

Final Thoughts
Are the AXS earbuds the best-sounding earbuds out there? Nope. I have some that sound much better—but they are not wireless and cost almost $1,000. That's not very practical in today's world.
AXS has made an earbud that just plain sounds fun. ANC, sweat resistance, and current Bluetooth are nice additions that make these earbuds something to seriously consider.
Price: $149 US
Where to buy: AXS Audio and Amazon
Source: The sample of this product was provided by AXS.