We use affiliate links. If you buy something through the links on this page, we may earn a commission at no cost to you. Learn more.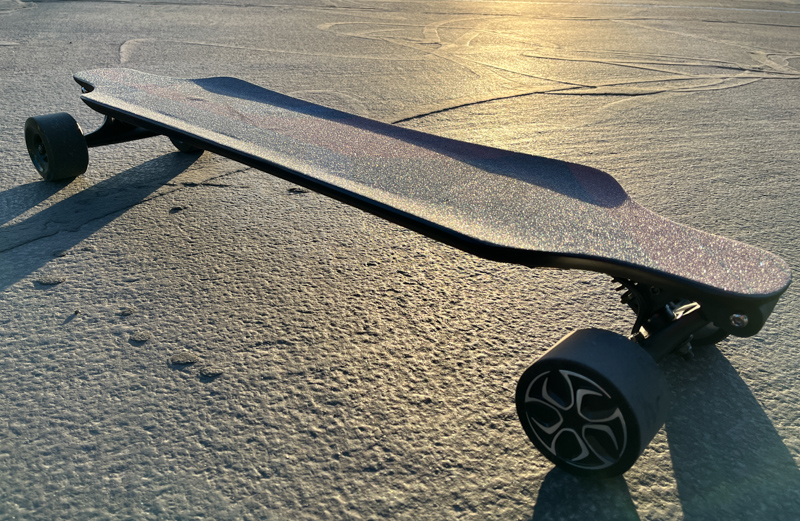 REVIEW – I almost didn't volunteer to review the Outdoor Master Electric Skateboard Cruiser. I'm pushing middle age, tend to be a bit clumsy, and bruised my tailbone the last time I rode a longboard (over 20 years ago). I've been curious about these electric skateboards I see around town, but I was worried about stability, how quickly you could stop in emergencies, and if a small piece of gravel would send you to road-rash town. I worked up the courage, volunteered, and will chronicle my findings below.
What is it?
The Outdoor Master Electric Skateboard Cruiser is an electric skateboard. It has dual motors in the rear wheels, a battery hidden in the deck itself, and a handheld remote control for speed control.
What's in the box?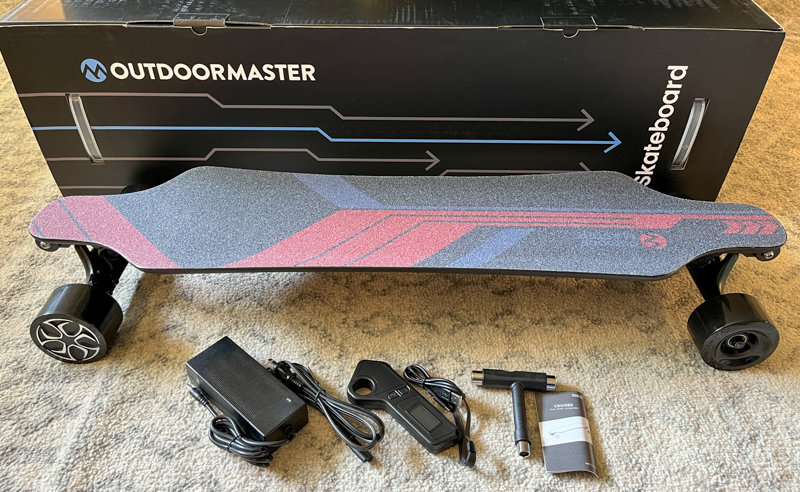 Outdoor Master Electric Skateboard Cruiser
120 V AC – DC charger
Handheld remote control with wrist strap
Adjustment tool
Manual
Hardware specs
Range: up to 15 Miles (25 km)
Motor: 2 x 450W (900 Watt total)
Speed Modes: 4 speeds, from 9-24 Mpg (15-40 Km/H)
Max load: 330 lbs (150 kg)
Charging time: 3 hours from empty
Battery: 4400 mAh Lithium battery
Tires: 80 PU Tire
Climbing Ability: Maximum 30°
Remote control battery: 200 mAh
Weight: 16.5 lbs board only / 23.1 lbs with all accessories (7.8 kg / 10.5 kg)
Size: 41.9″ x 13.2″ x 7.4″ (1065mm x 335mm x 188mm)
Design and features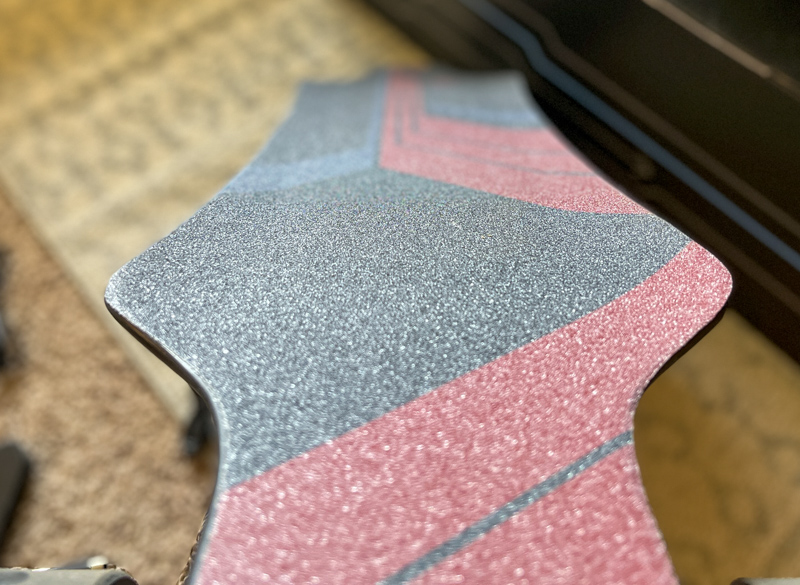 The "deck" of the Outdoor Master Electric Skateboard Cruiser is a super-grippy tape surface. Think rough sandpaper. This works extremely well for control and acceleration/braking, but it did have a small air bubble in the middle that I was never able to fully get out.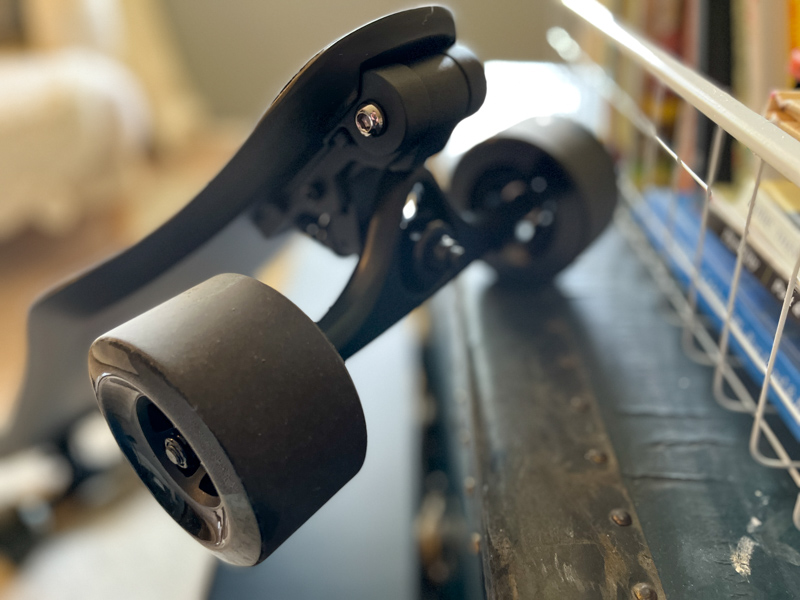 The front wheels are 80 PU, 80 millimeters wide with a diameter of 90 millimeters. The trucks are fairly heavy duty, and the wheel size was good for small to medium gravel pieces and uneven concrete of up to about an inch.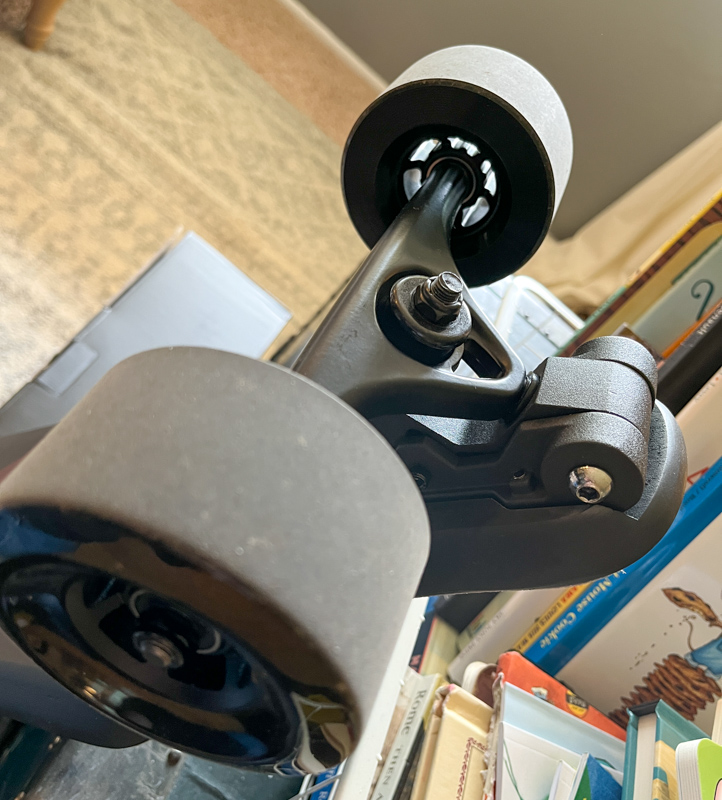 The stiffness of the trucks is easily adjusted using the included tool (by simply turning this nut a few turns clockwise, the board went from very wobbly to stable for me, while still retaining the ability to turn easily).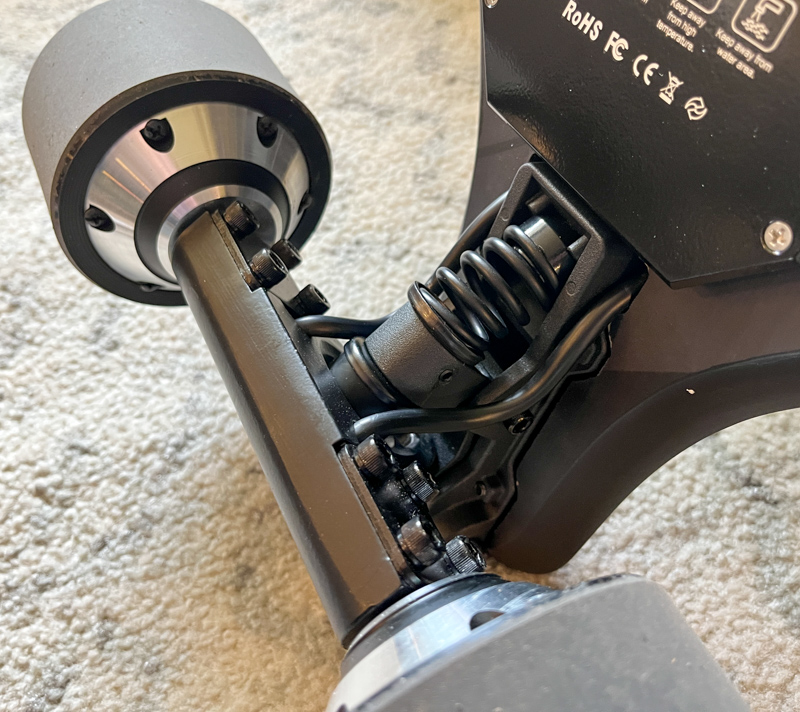 The rear wheels are the same size, but they seem to have a bit less of the shock absorbing PU material due to housing the dual 450 watt motors (one in each rear wheel). These motors are quite powerful, at highest settings capable of throwing me right off the board if I'm not careful. At lower power settings, they're very tame and easy to ride. When braking, an energy-recapture system is utilized to recover energy to the battery. During the testing period, I went down a couple of long gentle hills, and ended up with a tick higher battery at the bottom so it definitely works.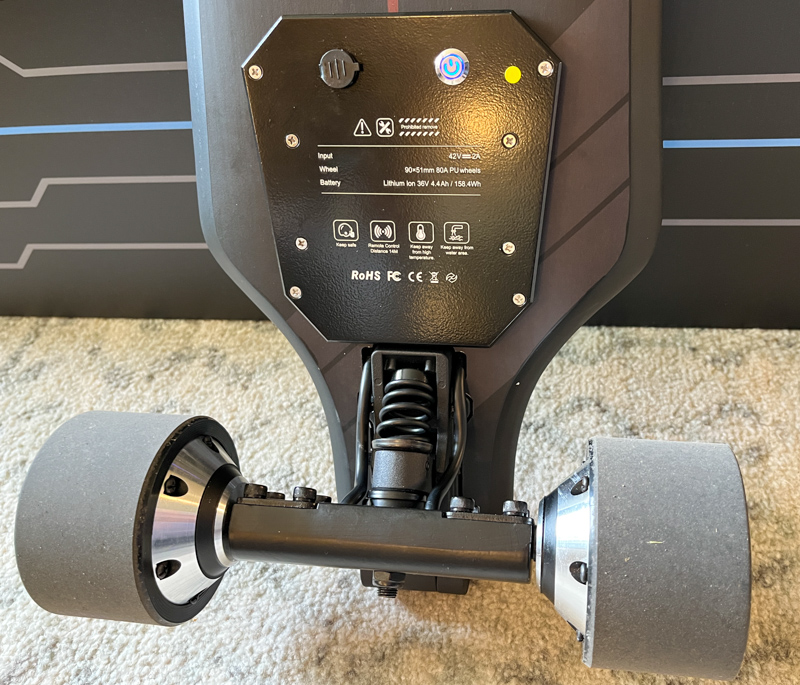 Looking at the Outdoor Master Electric Skateboard Cruiser from the top or sides, you might not even know it's an electric skateboard. The only obvious tell is on the bottom here, where there's a power button and recharging port.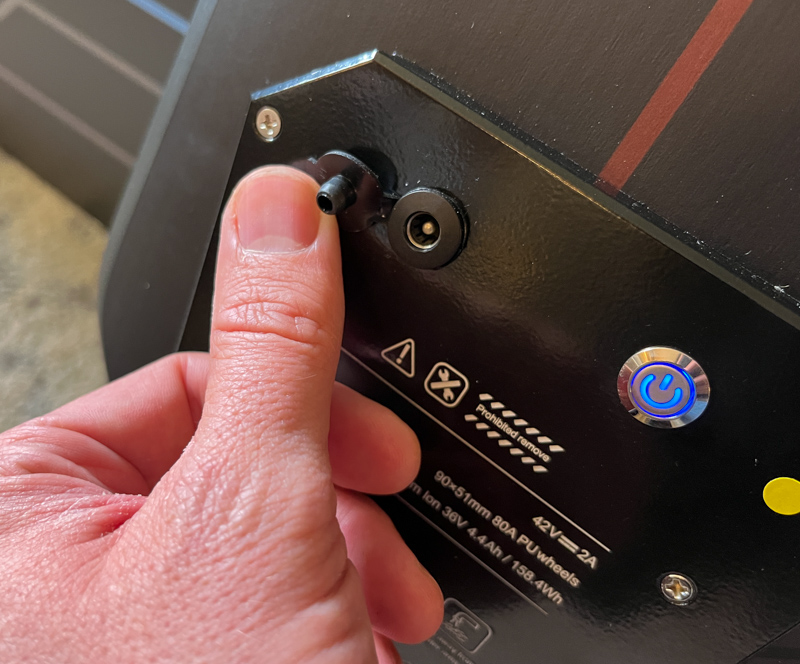 This recharging port has a weather seal, the whole unit should be splash resistant, though the manual carries warnings not to ride in heavy rain or go through deep water for safety reasons. Notice the LED indicator on the power button as well, if I turned off the remote first it was nice to have some indication that the board was on or off.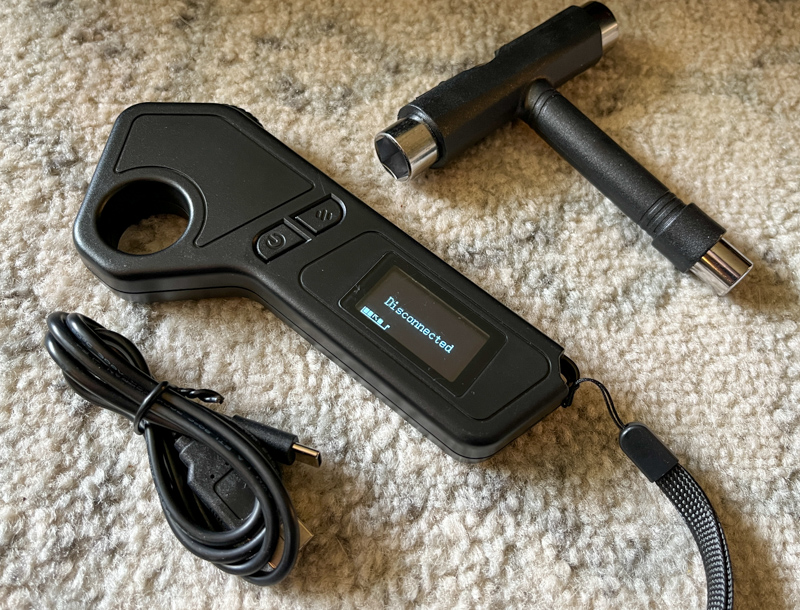 Above is the handheld remote control, the adjustment tool, and included remote charging cable. I rode a lot during my 30 day review period, and the remote stayed at a full charge the entire time.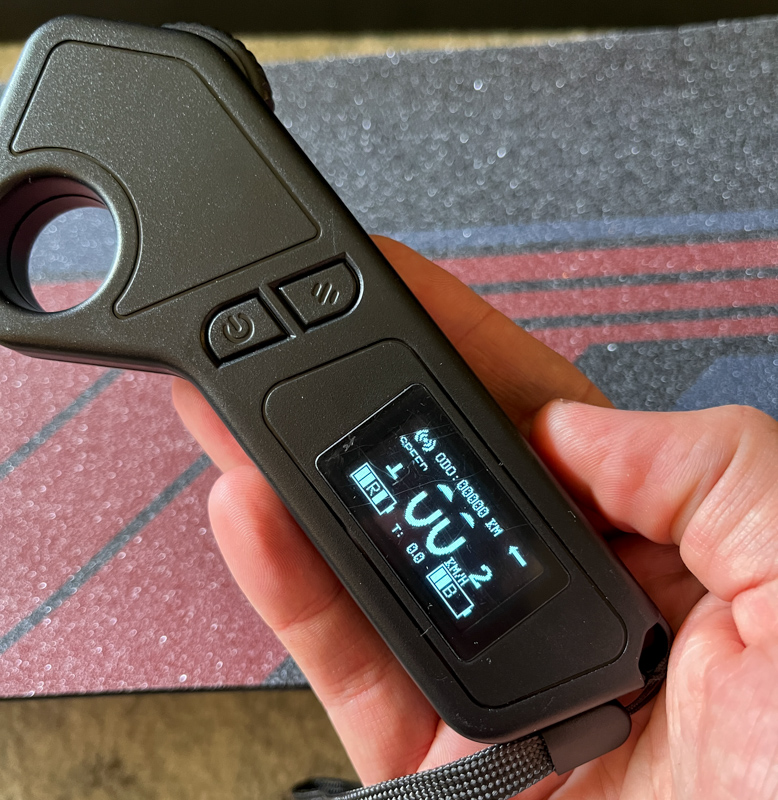 The remote is easy to read in all but direct sunlight, which would be my only area to improve. If they'd used an e-ink style screen (like an e-reader), it would have been better in outdoor sunny riding conditions. I often had to angle it a bit to see the (see the pic below). The screen info is very useful, battery levels for the board and remote are shown, power and braking speeds indicated, current speed, and an odometer. The two buttons and thumb rocker allow you to control speed levels, set cruise control, change braking, and of course speed up and slow down. When no input is given, the board simply rolls like any other skateboard.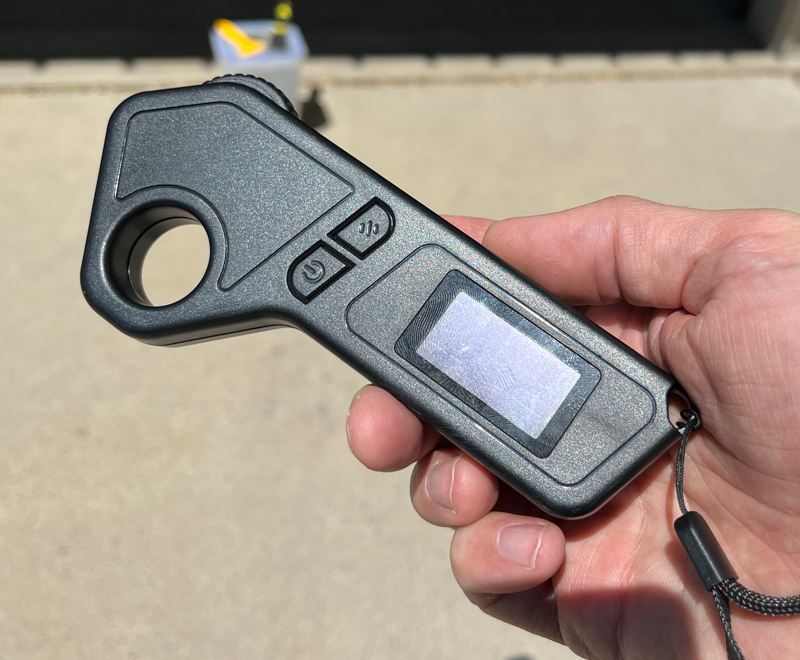 The screen is on, but you can't tell with the bright sun.
Installation and setup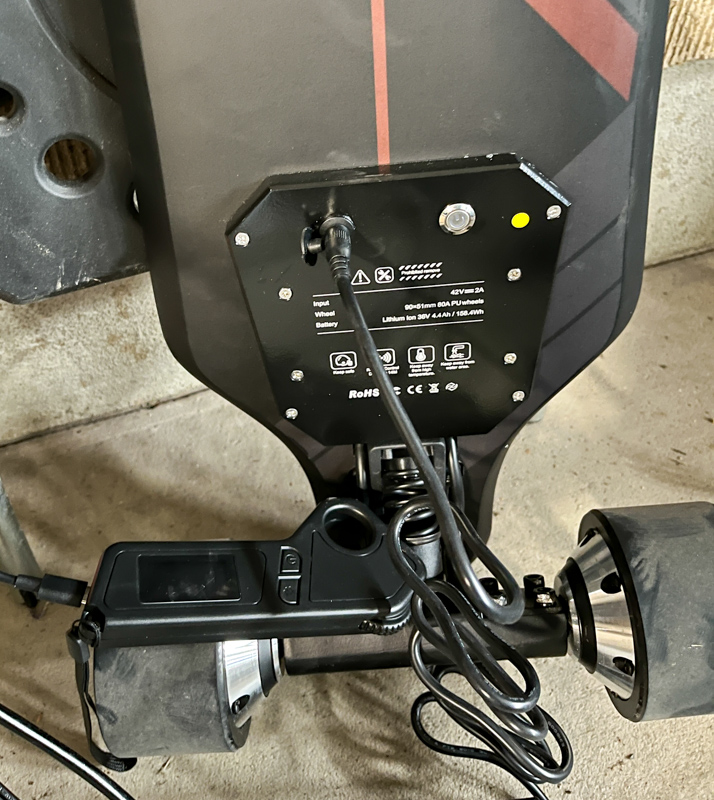 Install and setup was as simple as plugging things in and charging them up. Outdoor Master quotes a 3 hour charge time, and from nearly empty this was accurate.
Performance
Here's a short video showing the Outdoor Master Electric Skateboard Cruiser in action:
My first few rides were shaky, but at the lowest speed level, I think just about anyone could ride the Outdoor Master Electric Skateboard Cruiser. The video above was filmed on my 3rd or 4th ride, since then I've become much more comfortable on the board, and I've tuned the trucks for more stability at higher speeds.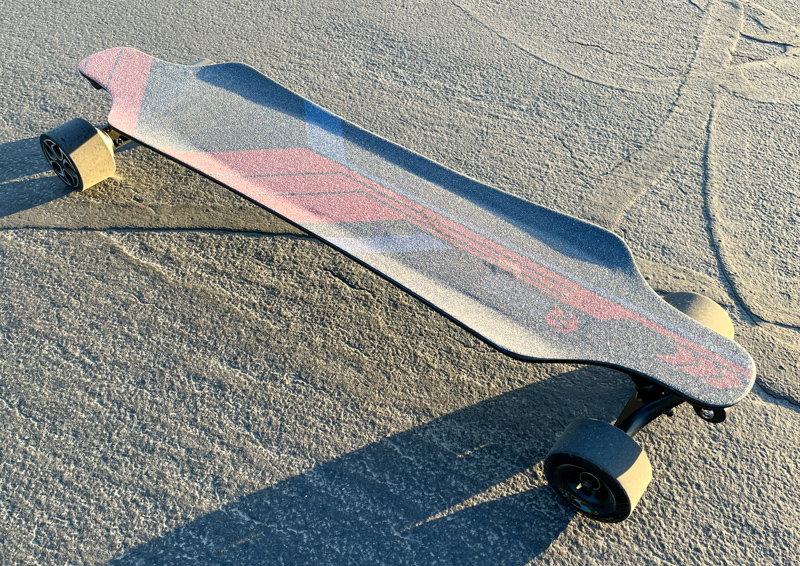 I ended up riding this board far more than I needed to for this review, it's become part of my daily routine purely out of fun. The first battery charge lasted over 12.5 miles before it was reading zero bars. This was mostly at lower speeds, so on low speeds and flat roads their estimate of 15 miles seems fairly accurate.
I spend most of my time at Speed 2 once I got comfortable with it, this maxes out at 15.5 miles per hour, and on anything but the smoothest roads and paths feels like the fastest I would want to go before risking injury from a random pavement crack or treebranch in the road. There's a learning curve and slight delay to when you push forward or back on the thumb control, but once acclimated it has become pretty intuitive. I never had any missing or incorrect speedups or slowdowns, but that slight bit of lag sometimes feels like playing a video game with a delay.
The speed control and braking are analog, meaning you can apply just a bit of braking or speed power, rather than it being full power on/off. I found that the best practice (based on various Youtube tutorials) was to keep my knees slightly bent to better absorb the speed changes, and to put most of my weight on the back leg if accelerating, and front leg before braking. By consciously doing this before pushing forward/back on the control, you prevent your body from being thrown forward and back.
By following those tips, I was able to keep my crashes down to just two, and in both I simply jumped off the board: first, going up a fairly steep hill (the board is advertised as being able to take on 30 degree slopes, and this was probably right around that), I hit a pretty big piece of gravel with a wheel that I didn't notice. Because the board was putting out maximum power to climb the hill, it jumped pretty violently to one side upon hitting the gravel. Luckily I wasn't travelling very fast and just hopped off without falling. Even if I'd fallen, my speed was under 10 MPH and I always wore a helmet, so it likely wouldn't have been too bad. My second "crash" was attempting to go into my driveway. The driveway lip after the deep indent was just a bit too much for me, and the board stopped and I just ran off it without falling. Again, a full fall probably wouldn't have done too much, so my best defense was keeping to reasonable speeds.
Speaking of speeds though, if you are a speed demon, the Outdoor Master Electric Skateboard Cruiser should whet the appetite. The farthest I was comfortable pushing it on smooth roads was the top of Speed range 3. This maxes out at 21 miles per hour, and felt very fast to me. The highest speed is listed as 24 or 25 mph in different spots, but in user reviews lighter riders are reporting hitting nearly 30 mph. If you were going down a steep hill, in neutral it simply rolls, so the only limit would be gravity/physics based.
I especially love the adjustable breaking power, and at level 3 this was more than aggressive enough for me, if I slammed them on and leaned back I could stop very quickly. Going down hills this is a literal lifesaver: my high school longboarding experiences ended in a bad crash and bruised tailbone, with a non-electric skateboard you have to learn the skill of carving and stopping to control speed. With this skateboard, you can simply use the electric motors to brake for you, which also has the benefit of recharging the battery.
What I like
Easy learning curve
More than enough power and braking for me
Stable and comfortable ride
What I'd change
Would have loved a handle for carry/locking – their other model has a built in handle
Price? For 3 weeks of this review, the price was at ~$800, and now dropped to $400 on sale. At $400, this feels like you get a lot for your money, but at $800 I would have a hard time justifying it, even though it's a lot of fun.
Final thoughts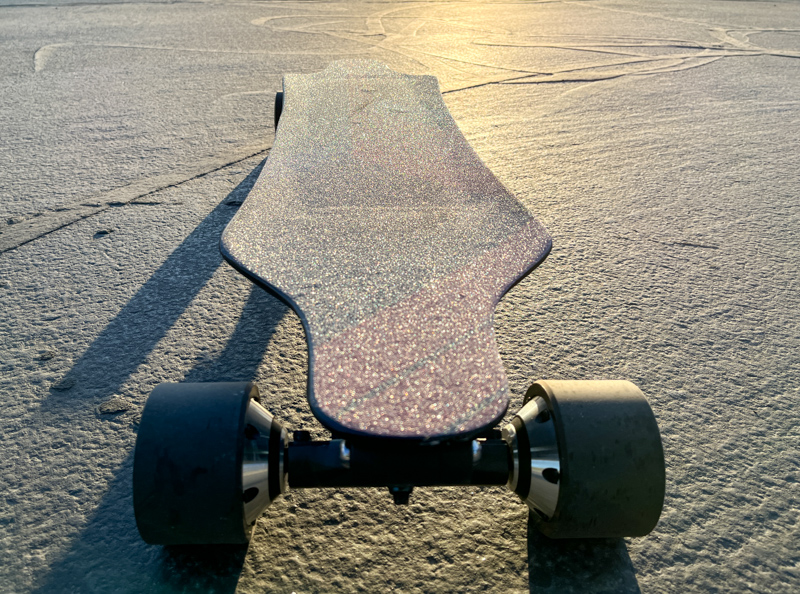 In the wise words of Outdoor Master: "Reach for the ultimate activeness and no need fearing for that your board will break." This review has been one of my all time favorites. I've ridden the Outdoor Master Electric Skateboard Cruiser almost every day, sometimes multiple times per day, just for fun. While there was a learning curve, I feel confident and comfortable now. Each time I ride there's at least one point I realize I've got a giant grin on my face. Now if you'll excuse me, I'll wrap up this review and go ride.
Price: $599 ($399 sale at time of review)
Where to buy: Outdoor Master
Source: The sample for this review was provided by Outdoor Master