We use affiliate links. If you buy something through the links on this page, we may earn a commission at no cost to you. Learn more.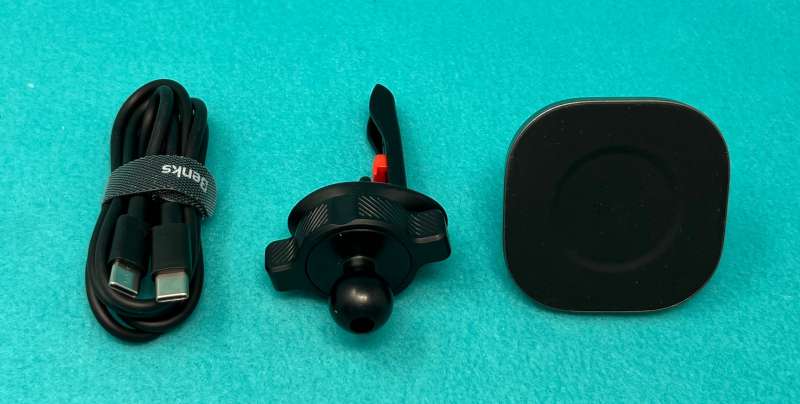 REVIEW – There are many ways to get your phone into your field of view when in your automobile. Heads-up displays that fit on your dash, suction cups for either the windshield or the dash, and, of course, that perennial favorite, the AC vent clip. How to attach the phone to the clip is the biggest differentiator for the different clips. With the arrival of Apple's magnetic system, MagSafe™, or any other magnetic case, clips using magnets have become very popular of late. Benks recently sent me their latest version, the MagClap™ Traveller Pro Car Charger, which has a new twist – a hook that screws up from behind the vent to hold the clip on securely. I have tested it and am ready to report.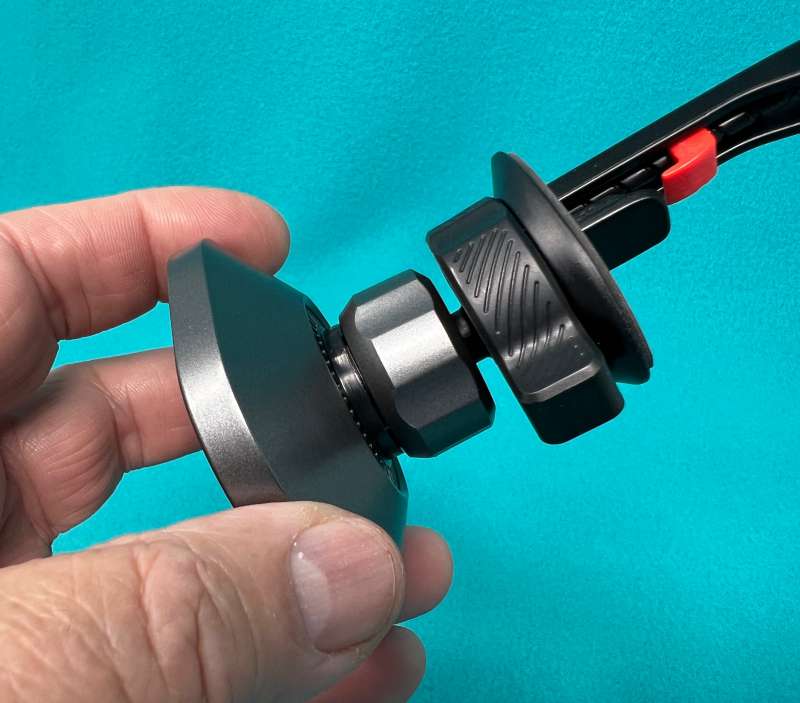 What is it?
The Benks MagClap Traveller Pro car charger is a magnetic charging air vent clip for phones with an internal securing hook.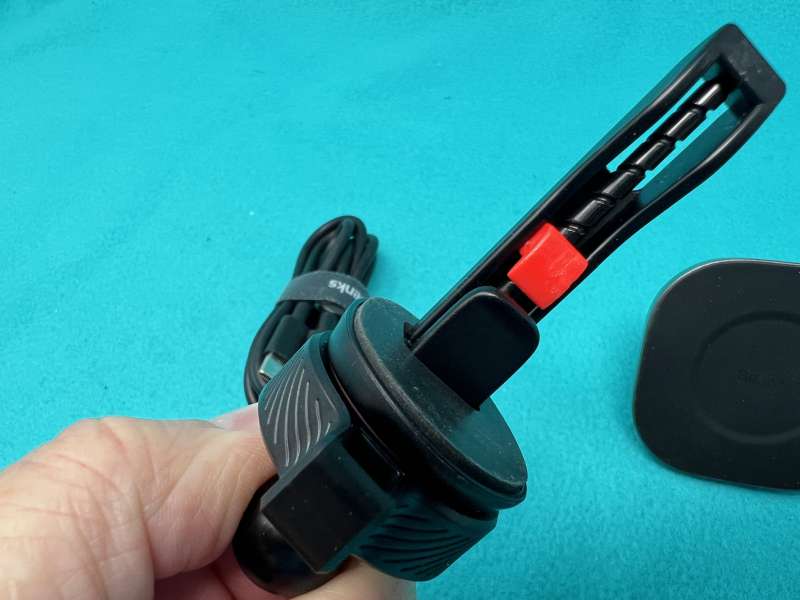 What's in the box?
Magnetic plate with socket
Clip for air vent with knob to attach plate
USB-C<=>USB-C cable
Design and features
The two-piece design of the Benks MagClap Traveller Pro car charger is better than a single piece for several reasons. First, you don't have the magnetic plate in the way when attaching the clip to your vent louver. This allows you to ensure it's solid before attaching the plate onto the ball joint. The second reason it's better is it makes the clip much more securely attached to the vent, and, therefore, less likely to fall off.
When attaching the plate, be aware that the charge port is on one of the sides, and should point to the best direction for attaching your USB-C power. (Note that there is no power source included.)
Setup
There isn't really much to set-up. You just decide which vent you want to clip the Benks MagClap Traveller Pro car charger onto, tighten it, pop on the magnetic pad, plug it in, and tighten it to your desired angle.
Performance
The clip is very sturdy once it's attached to your vent. You can move the phone to portrait or landscape using either the ball-head or by removing it and reattaching in the other orientation. The hook on the back of the clip prevents it from pulling off if you're trying to do this one-handedly. (Please don't attempt this while driving!)
I tested the Benks MagClap Traveller Pro car charger in three different vehicles, and had no issues tightening the hook onto the louver or attaching the plate to the ball head. The only drawback I had was the one I always have with this type of phone holder: the phone covers the airflow. If you have a larger phone and like having air blowing on your face while driving, this is probably not the holder for you, unless you have a vehicle with loads of vents. My 2013 Corolla had the largest vents of any of the three tested, and while there was still air from the side vent, I could tell a lot of the air from the center console had been cut off. I also noticed that I could not see the center-mounted dash clock in this vehicle when the phone was in place. Evidently, I glance at this clock quite frequently, because when it was covered, it registered frustration every time. (Note that the photo below of the Lock Screen with the clock is not usually the screen being shown while driving!) But these are things that will be affected by any vent mount, so are not specific to the Benks unit being reviewed.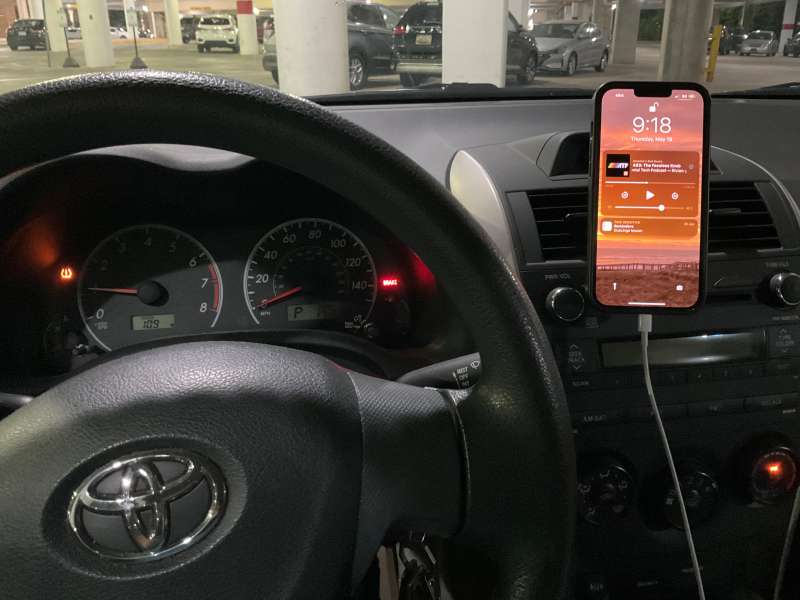 In the rental, I had between cars (I hit a deer and had to buy a new car in the middle of this review. Life moves on, amiright?), their display was pretty minimal. (I didn't even capture photos of it to share here – sorry!) My "new" 2016 Prius has a lot more screen than I've been used to, and although the Benks MagClap Traveller Pro car charger performs admirably, I'm starting to question the need for this type connector if you already have a display with a good bit of info being presented. Podcast info is displayed on two different screens (one of which I prefer to turn off unless using navigation) and can be controlled from the steering wheel – do I really need to tap my phone? Or even have it in my field of vision?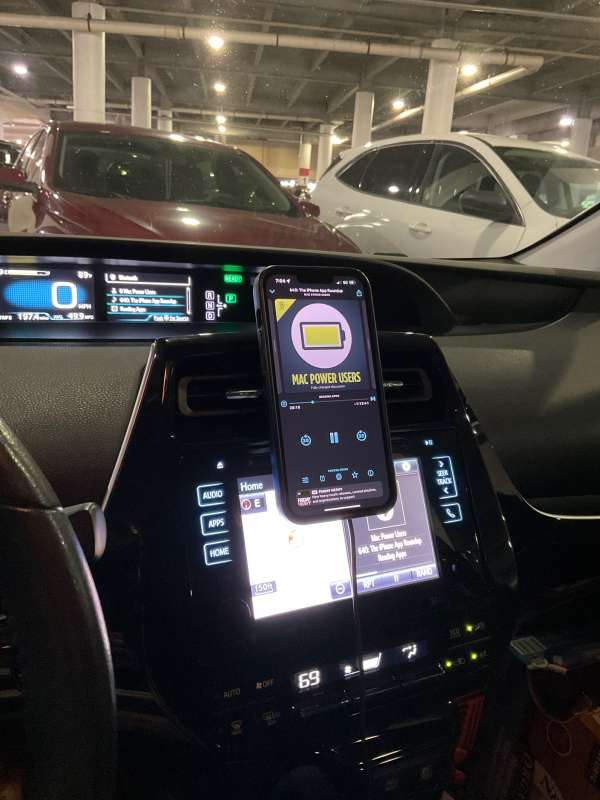 I'm using a Pelican case that has MagSafe™, but on several occasions, the phone fell off when I tapped it to dismiss an alert or to swipe to a different app. I was on normal city streets or interstates every time, but the attachment strength seemed a bit weak overall. The included cable took a good few seconds to indicate charging, and sometimes would not connect, but all other cables showed charging immediately when connecting.
What I like
I love the idea of a single charging place for my phone
Charging cable sometimes works
Twister back hook is a great innovation
What I'd change
The charging cable doesn't work reliably
The magnet isn't quite strong enough to prevent disconnects
Final thoughts
Phones are something that we use for everything these days. Thanks to Spotify, CarPlay (for Android and iOS), mapping apps, and everything else they do, you're able to be entertained, informed, and kept up to date on your location, even in your vehicle. Sometimes, however, you need to get the phone up to where you can see the display without taking your eyes off the road for more than a second. Air Conditioning vents, being ubiquitous in most cars, offer an enticing place to mount a phone for easy access while driving. The Benks innovation of the adjustable hook provides a more secure connection for the holder, but the magnetic connection did not live up to the real world experience for me. I don't have any other cases to test, but the Benks MagClap Traveller Pro car charger works with all the other MagSafe™ items I use it with. If you're wanting to try it out, you may want to ensure there's a good return policy.
Price: $39.99
Where to buy: Company Webstore
Source: The sample of this product was provided by Benks.