We use affiliate links. If you buy something through the links on this page, we may earn a commission at no cost to you. Learn more.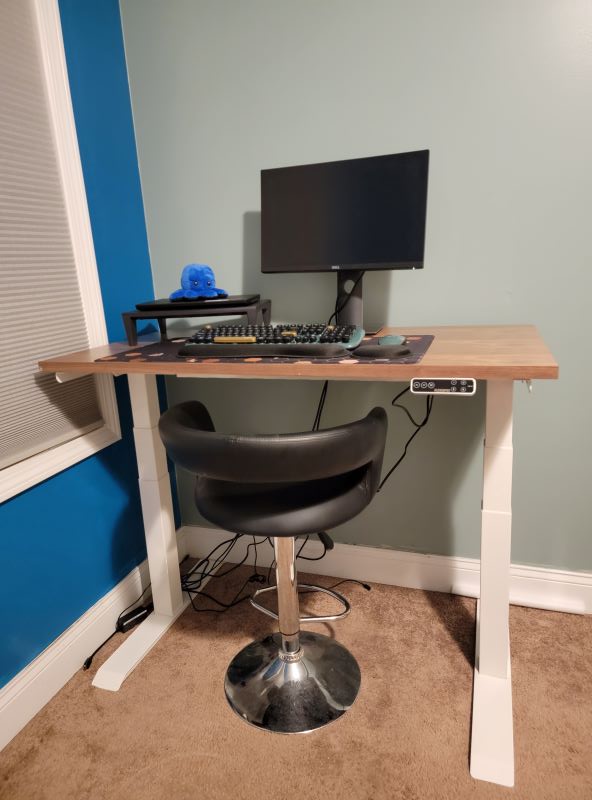 REVIEW – One of the most common things I've been hearing lately is that "sitting is killing us".  Yes, I am friends with some eccentric people, and no I do not think my couch is from another planet waiting to eat me. But in the time that "work from home" became a necessity, I've noticed just how much my office job was sitting still. Even in those lunchtime walks around the building, the majority of the time was sitting so when "Close of Business" happened at the end of the day I noticed significant knee pops and required back stretches so I could walk to my car and … sit for my entire commute home. They might be on to something. When FlexiSpot introduced the Pro Plus model of their standing desk, I jumped at the chance to take it for a test drive.
What is it?
The FlexiSpot Pro Plus (E7) Standing Desk is, as advertised, a desk; but don't let looks fool you, true believer. It's actually quite the lawbreaker. Its favorite law to break, you ask? Gravity.
The FlexiSpot standing desk allows the user to adjust the height of the desk surface. The desk uses a control pad that is mounted on the underside and is easily accessible on whichever side you choose; freedom! I'm not sure if this is an updated feature, but the control pad includes a USB port on the side, making for an extremely useful device charging location at your fingertips.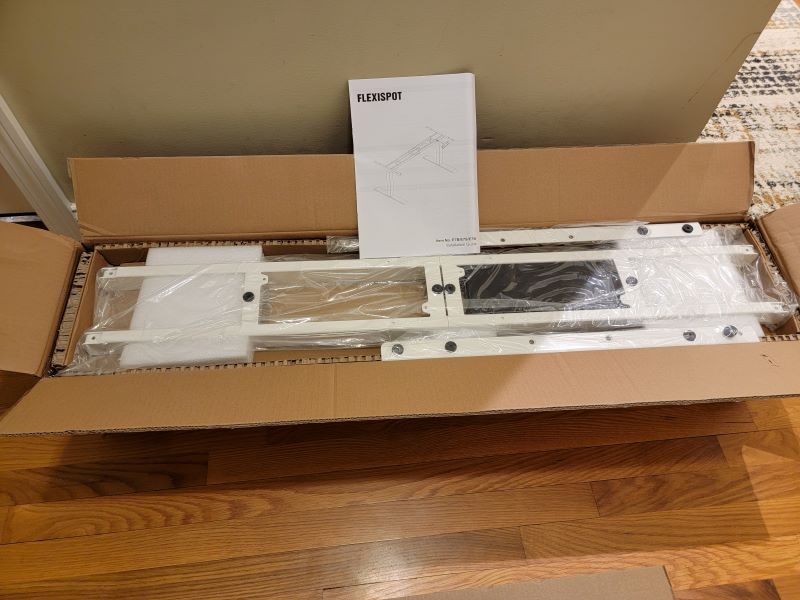 What's in the box?
– 1 desktop surface
– 2 legs
– 1 motor
– 1 touch panel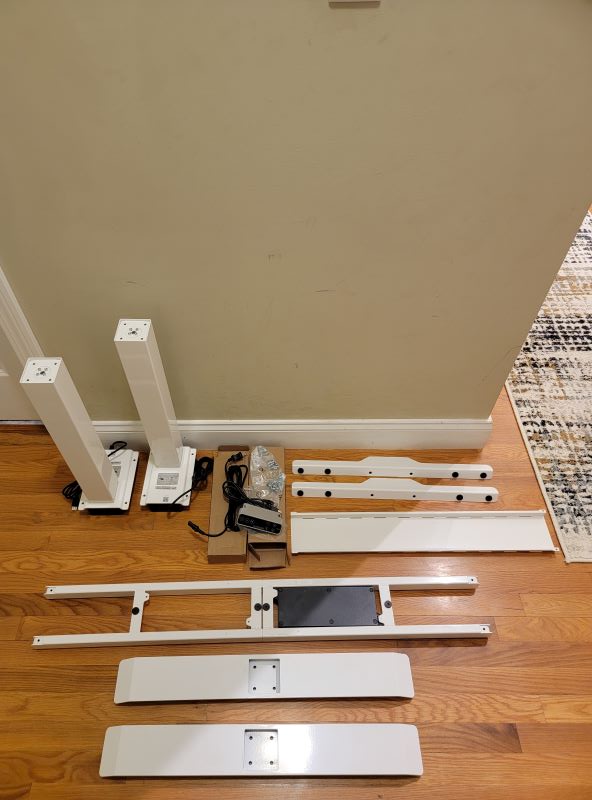 Design and Features
– touch raise feature
– lock feature for the control pad
– 4 preset levels
– safety stop
– 300 lbs. weight limit
– color choices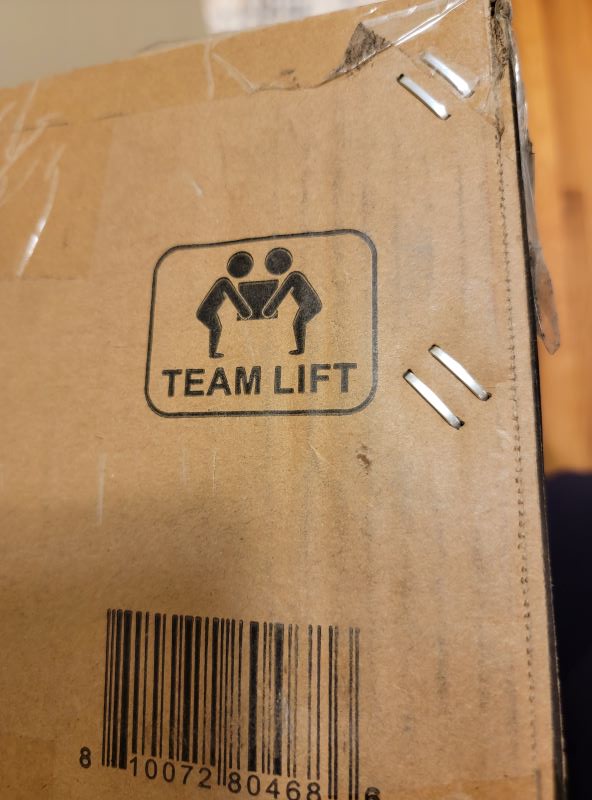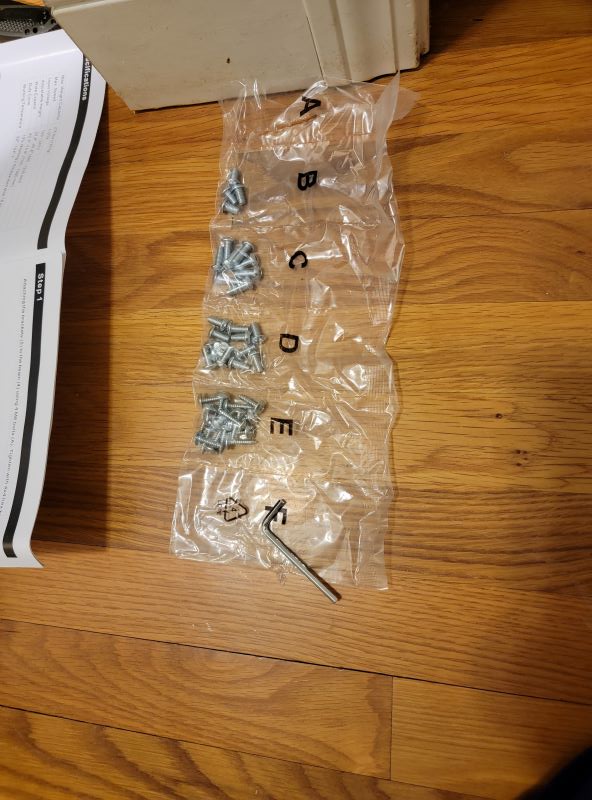 Setup and use
Assembly is always the best part. My partner looks at it like big Legos. While the FlexiSpot Pro Plus (E7) standing desk can be assembled by one person, two people do make things a bit (read: A LOT) easier. Assembling the desk is relatively straightforward compared to some of the Swedish pieces of furniture that adorn our abode. It comes packaged beautifully in two separate boxes that were delivered a couple of days apart. Packaging was, as the kids say nowadays – MINT. Every corner was covered in either foam or some sort of plastic protection with specially molded foam inserts so nothing was damaged. I will have to say, I was concerned since right on the box FlexiSpot states, "If any damaged pieces…" and where to contact but thankfully this wasn't a problem at all. Once this desk is fully assembled, it is a beast to move, so tagging a partner in to help is a good idea for the sake of not wanting any chiropractic bills or floor refinishing.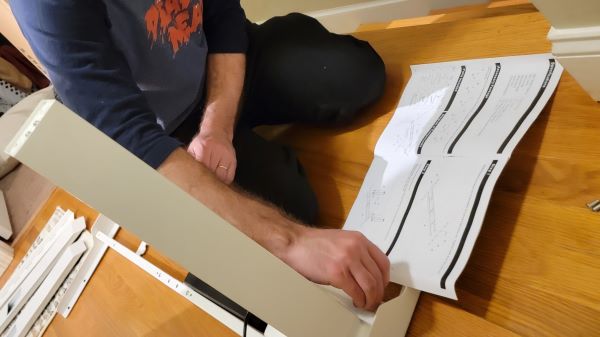 Once in place and given power, I had to do the only thing a borderline-immature adult should do with a desk that goes up and down at the mere touch of a button: I made it go as high and as low as it could multiple times (before you ask, yes I was the kid who hit every button on the elevator). I wanted to see if such shenanigans would affect the mechanism negatively. Would there be groaning in the gears? Would it give me an error? Would it slow down over time? Essentially, I did my best to stress it out. To my pleasant surprise, there was never a falter; it never slowed down, the touchpad didn't short circuit, and the memory heights never got lower or struggled to change gears.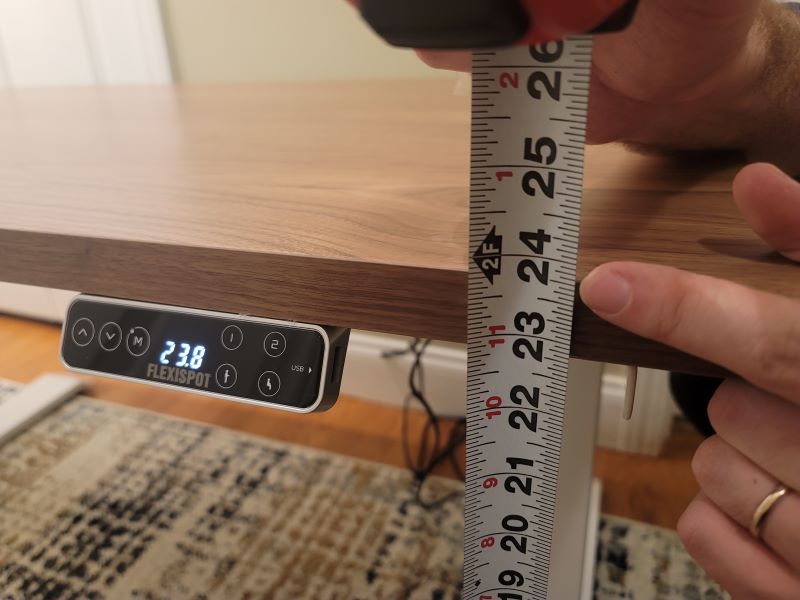 So now, everyday use. I have a nifty hybrid schedule so the majority of my work is at home. Since I lock myself in our spare bedroom … er, I mean, my new office for 8 hours a day – this desk has to be my desk, my break room, my vanity; essentially, it has to be flexible.  The good news is – the FlexiSpot can do it all, from presenting to fixing my make-up. One Saturday morning, it was used as a grooming table for my cocker spaniel who got into a fight with some double bubble on our walk.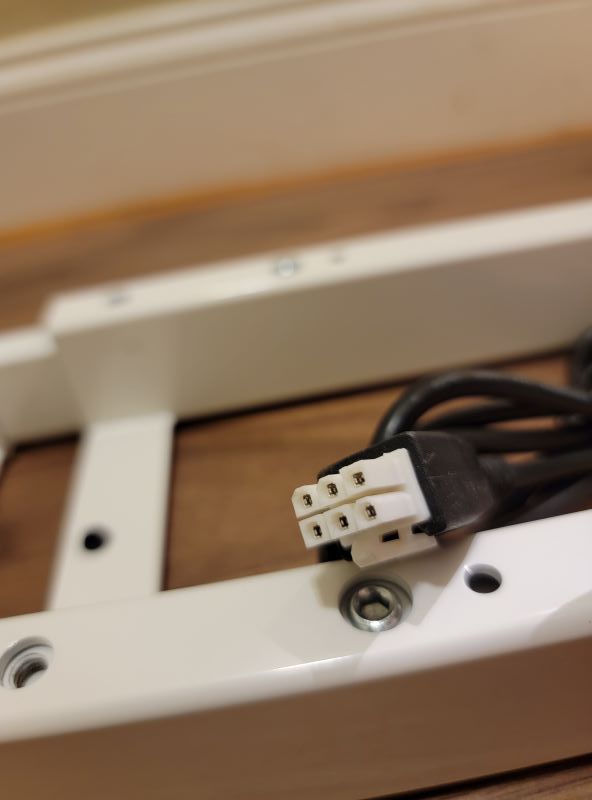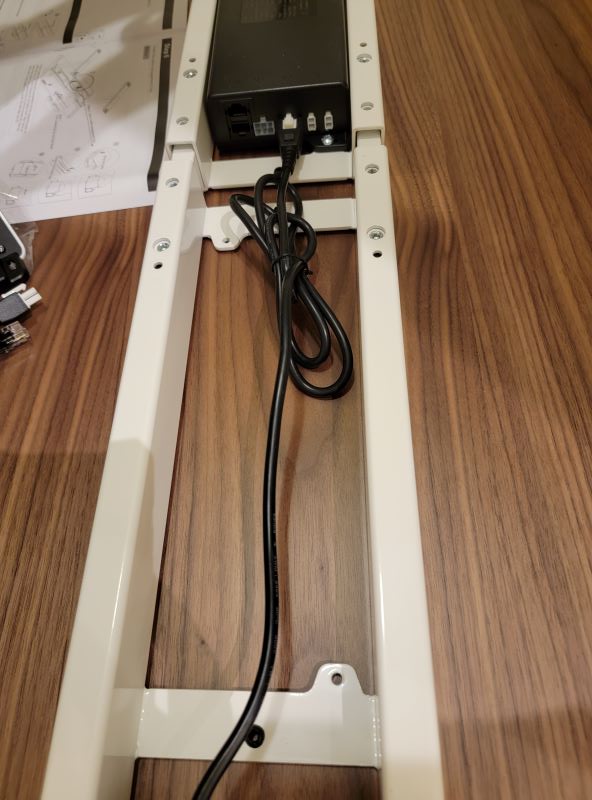 I did find the collision warning completely by accident. But it's worth mentioning that when she gets stuck, you won't blow out the motor because the Flexispot will beep at you with all the force of a microwave (just enough to alert you without piercing an ear drum). In my instance, a package of rolled rugs that had been stored in my office actually slowly fell and leaned on the desk then wedged itself between the wall and desk without me noticing.  When I moved the desk to my stored standing height I received those audible tones and had to investigate.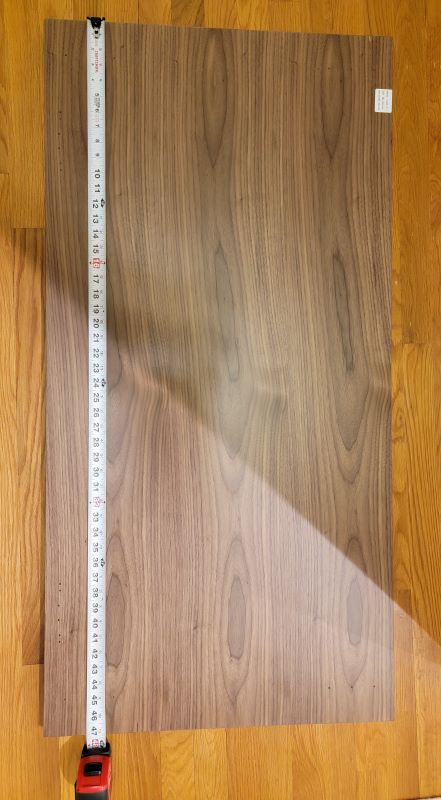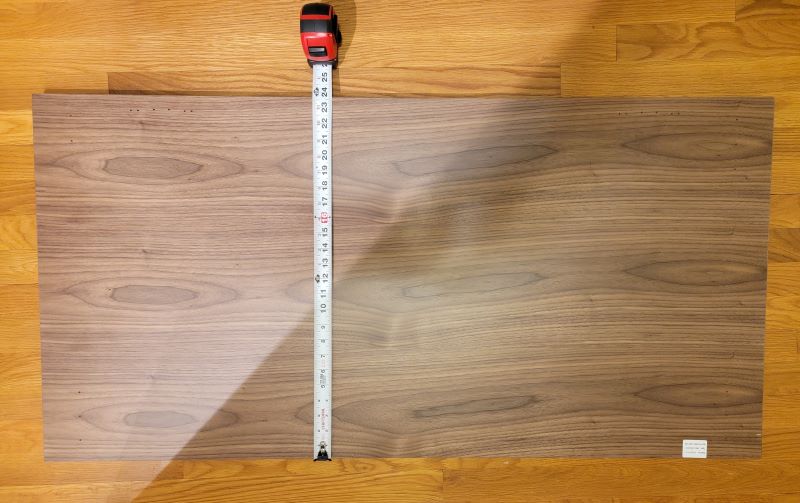 What I like
Comfortable at all heights
Sensitive touchpad
Collision failsafe
A USB port on the side of the control pad
Easy assembly
Smooth and quiet operation
Options to install control pad on either side (pilot holes drilled on both sides)
The base can be fitted to any size top – should you ever feel the need to upgrade or downsize
Extremely sturdy – no worries about sloshing coffee if the desk gets bumped against, it is very bottom-heavy
Well packaged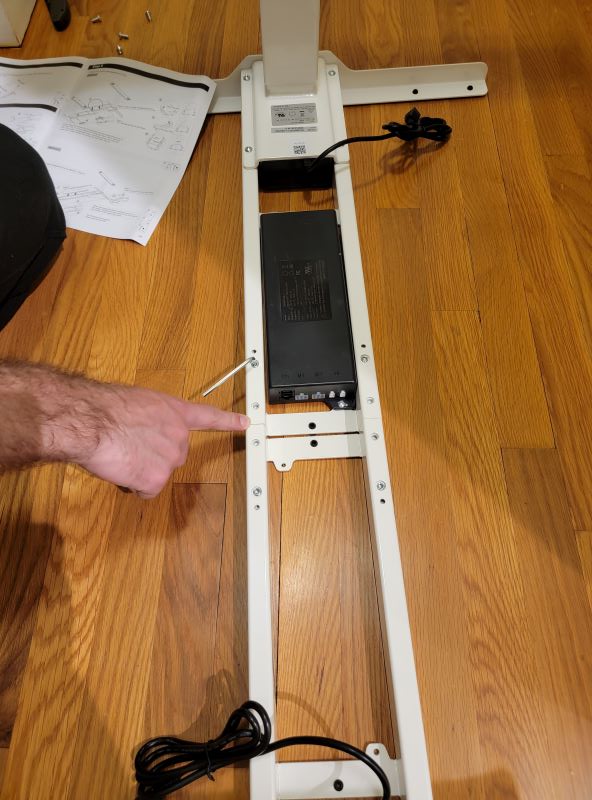 What I'd change
Cord management could be better on the underside, but is acceptable. (FlexiSpot does offer an additional wire organization add-on but this is not provided to be reviewed with the desk.)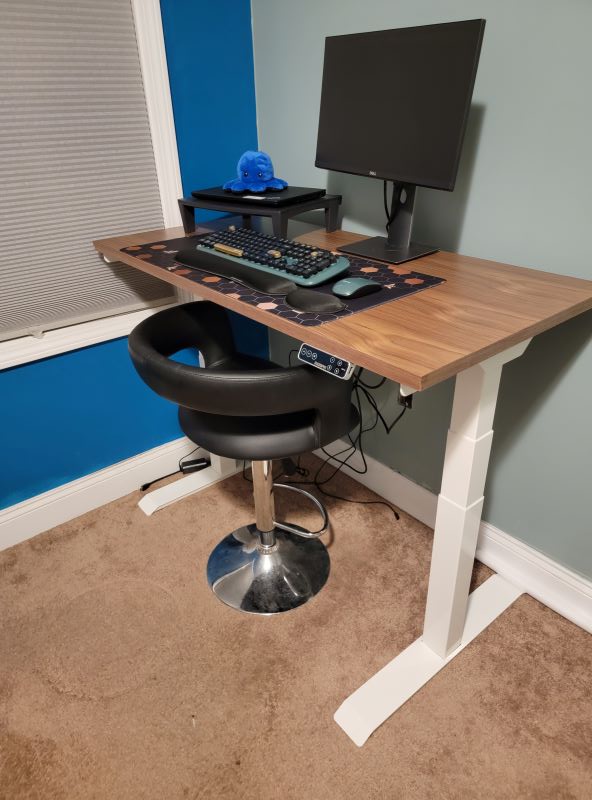 Final Thoughts
If you have made the decision to adopt the standing desk lifestyle, the FlexiSpot Pro Plus (E7) standing desk is the product you've been looking for. It is easy to assemble, extremely sturdy, not overly technical, and simple to operate. It is a heavy piece of furniture, so invite a friend to help you move it safely and mind your toes. For the detail-minded reader out there, a better cable management system underneath the desk might be the biggest issue here, a situation easily remedied with a couple of zip ties. FlexiSpot also offers desktops in multiple lengths to fit any office space, and should you need something bigger or smaller, you would only need to grab the desktop since the leg pieces are the same, even for the larger surfaces. This also means that those of us that are handy with the power tools (insert Home Improvement theme here) could potentially craft their own custom desktop surface. While this is a possibility, the surface is made of your choice of laminate, bamboo, solid wood, or glass. There are also non-traditional surface shapes available, like desks with multiple levels for a piano or a drafting table. This desk is perfect for someone in the market for an adjustable desk, or even shopping for a desk in general. You want a sturdy surface that you can rely on to hold up under the weight of expensive, modern hardware. The FlexiSpot Pro Plus (E7) standing desk is a solid teammate even during the most stressful days at work.
Be sure to check out our other FlexiSpot standing desk reviews.
Price: $659.99
Where to buy: FlexiSpot
Source: The sample for this review was provided by FlexiSpot.