We use affiliate links. If you buy something through the links on this page, we may earn a commission at no cost to you. Learn more.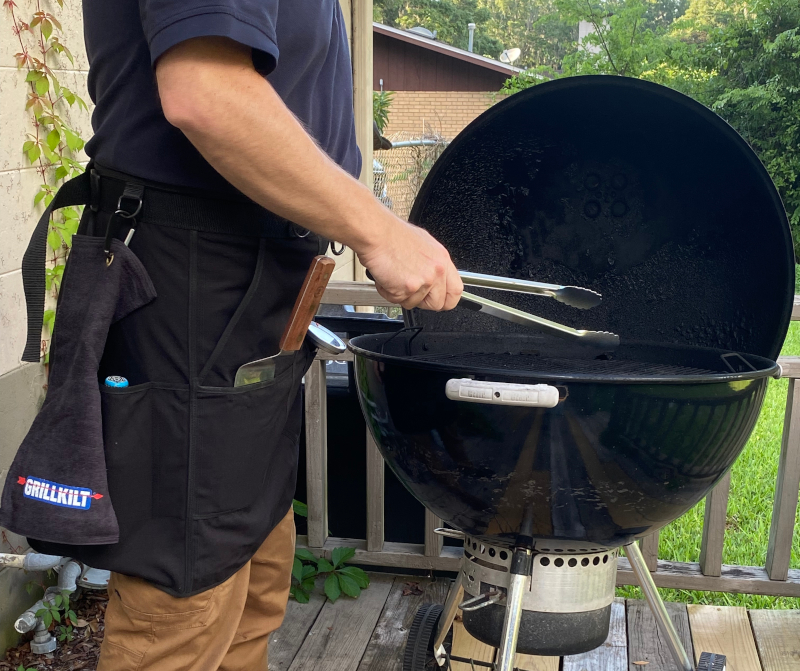 REVIEW – When you're too Scottish to wear an apron, you need to get a GRILLKILT to keep you clean and organized while cooking outdoors. As a connoisseur of both traditional and modern kilts, I was intrigued with the offer to review a GRILLKILT came up.
What is it?
The GRILLKILT is an alternative to traditional grilling aprons that includes the option for all-the-way-around coverage from the inevitable grease and grime associated with grilling, frying, and other outdoor cooking activities.  In addition to keeping you clean, the GRILLKILT provides 10 pockets (in the front and side panels) and three D-rings (two on the front panel and one on the rear panel) to help you hold and organize your cooking tools and your favorite beverage.
What's in the box?
My GRILLKILT (their preferred capitalization) arrived in a snazzy red box decorated with the company logo.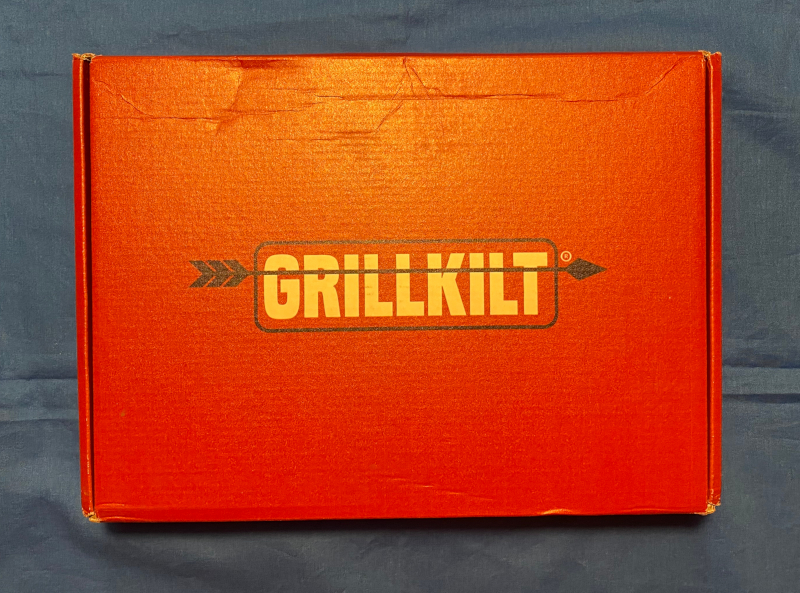 Inside the box, I found
one GRILLKILT front panel
two side expansion panels
one rear panel
two carabiners
grilling towel
an introduction and fitting guide tri-fold
a welcome note from the company founder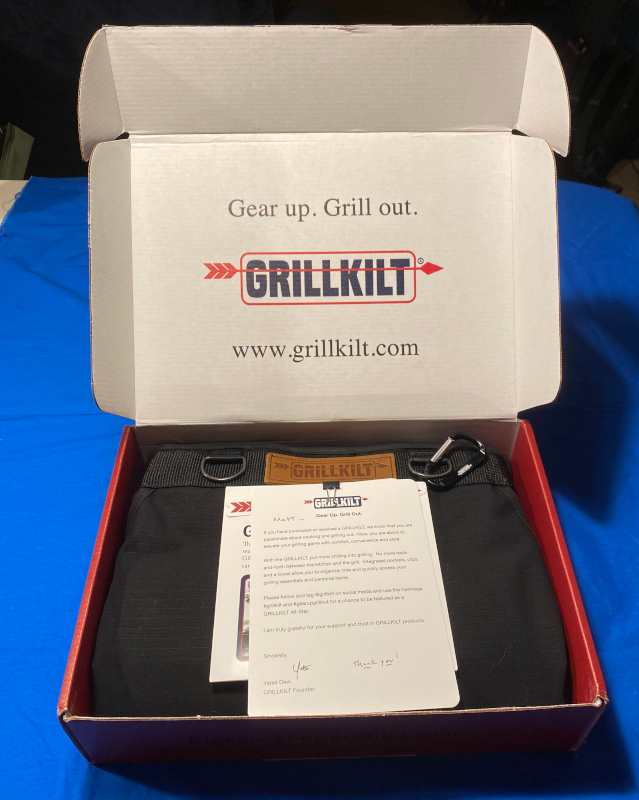 Hardware specs
The GRILLKILT is sewn in the United States and is made from 100% rip-stop cotton fabric with polymer webbing, metal D-rings, and composite buckles.
Design and features
The GRILLKILT may be work as a basic apron by using just the GRILLKILT front panel.  This will of course leave you looking more like you're wearing chaps than a kilt. For the full GRILLKILT experience, you must attach the side and rear panels to the front panel.  Out of the box, the GRILLKILT can be set up to fit waist sizes 30″ – 46″.  Additional side panels may be purchased separately to expand full coverage up to 60″ waists.  The length is 20″.
GRILLKILT offers a range of colors include some limited edition ones such as Black Watch tartan (polyester, rather than cotton) and Cayenne (red).  Standard colors include camel (khaki), olive (green), camo, classic camo, navy camo, charcoal (medium gray), black, navy, blue jean denim, and slate (light gray).
GRILLKILTS may be hand or machine washed in cold water and tumble dried on low or hung up to dry.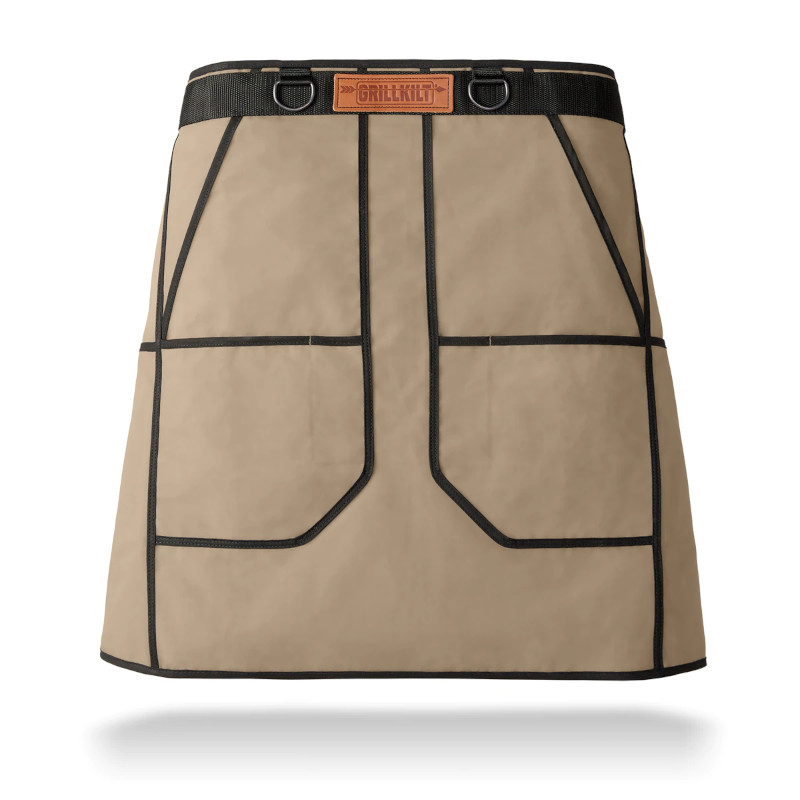 Front View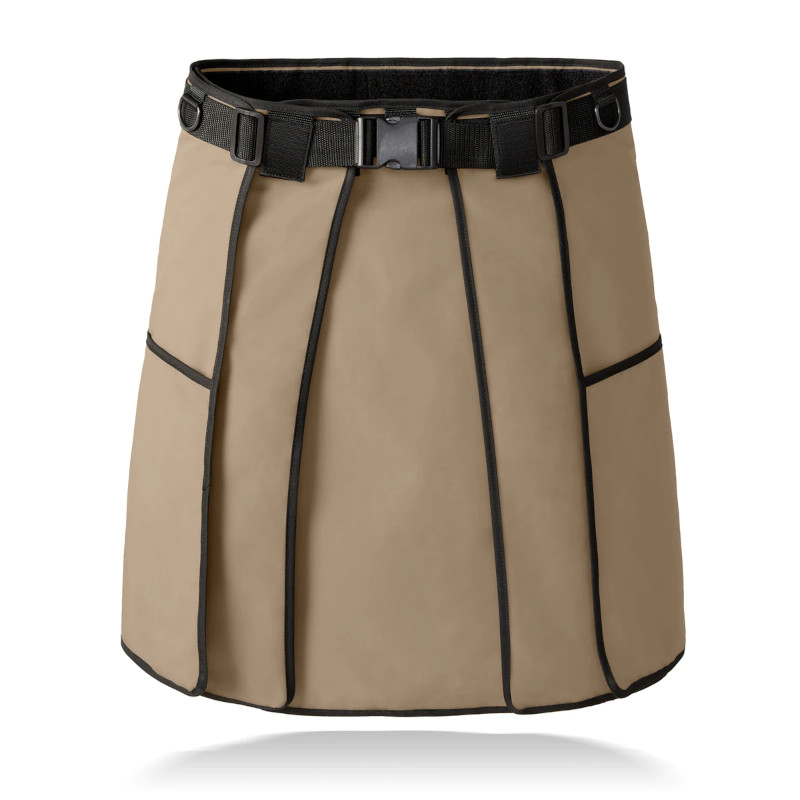 Rear view
Setup
Assembling the GRILLKILT involves first adjusting the waist belt and buckle and then adding the side and rear panels.  Getting everything even and looking good takes a bit of trial and error. I will spare the readers the blow-by-blow of getting everything set up, but in all it took me about 15 minutes to get everything just like I wanted it.  GRILLKILT has a video tutorial that walks the user through the process and does a far better job of explaining the process than I can in a reasonable amount of space..
The panels attach to each other with hook-and-loop strips on both the inside and outside of the panels at the waist.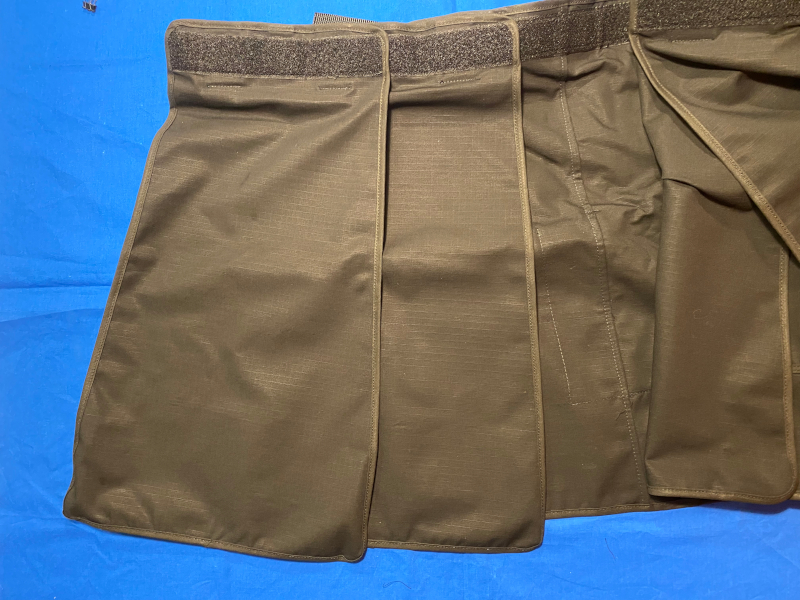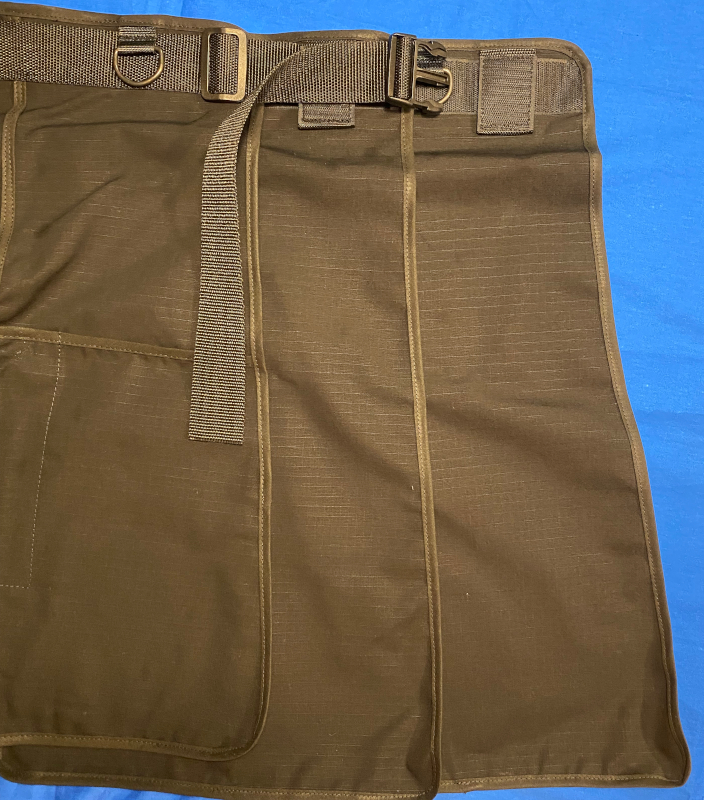 Performance
I put my GRILLKILT through several grilling sessions wearing it over pants (photos), shorts, and one of my modern kilts (Utilikilt-brand utility kilt).  I used my kilt to hold my various tools — tongs, spatula, thermometer, and a bottle of perry (the pear analog to English cider) during grilling sessions.  I was very pleased to have all of my tools in one place and a place to keep my beverage.  I also appreciated the towel attached to my hip.  The GRILLKILT was much more useful than either my traditional apron (more pockets and better coverage) or my chef's jacket that I often wear when grilling.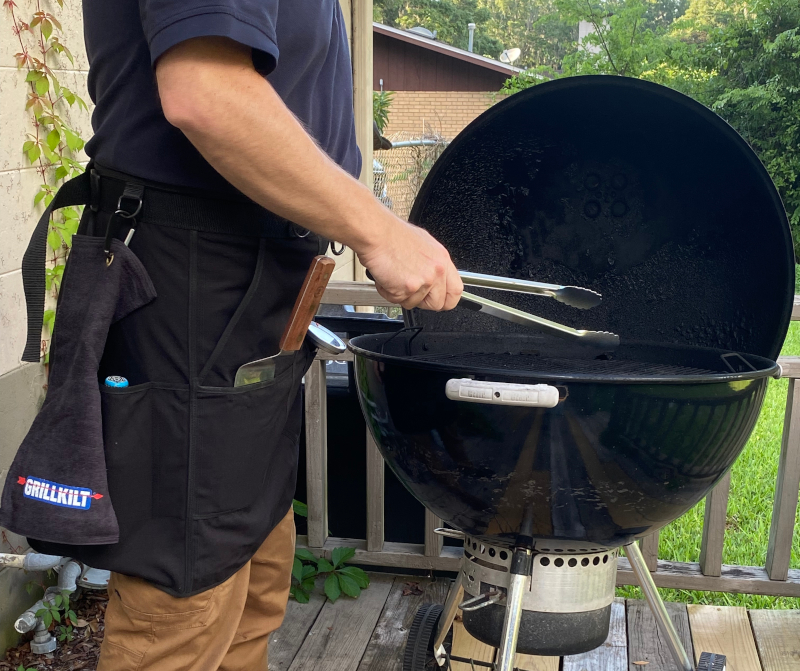 Wearing my GRILLKILT while prepping the grill for bratwurst (mixing my Scottish and German heritages).
The GRILLKILT is long enough to cover down to my knees when worn at my hips. This covers most of the areas where I end up getting messy when grilling.
My principal complaint with using the GRILLKILT is that is a bit stiff and doesn't flow like a traditional kilt. This is more analogous to a pencil skirt while a traditional kilt is more like a full skirt. This makes coming down the two steps from our house's main floor to the deck a little tricky at times. I think this could be fixed by either having more, but narrower side panels or side panels with a pleat.
My other complain is a problem shared with grilling aprons: the problem with storing dirty / greasy tools in the pockets between uses.  Fortunately the black fabric of this GRILLKILT hides the soot, but the grease is still a problem.  I found myself washing my GRILLKILT after each cooking session.
What I like
Styling
Lots of pockets
Easy care
What needs to be improved
A bit more flexibility (may come with additional wear)
More, but narrower panels (or have the side panels come with a pleat)
Final thoughts
The GRILLKILT is a stylistic improvement on the traditional short apron (only covering below the waist). It provides a good range of pockets to store beverages and tools, but could stand a few changes to make it slightly easier to wear.  I also think the company missed out by not calling the product a "GRILLT".
Price: $98.00
Where to buy: GRILLKILT
Source: The sample of this product was provided by GRILLKILT.