We use affiliate links. If you buy something through the links on this page, we may earn a commission at no cost to you. Learn more.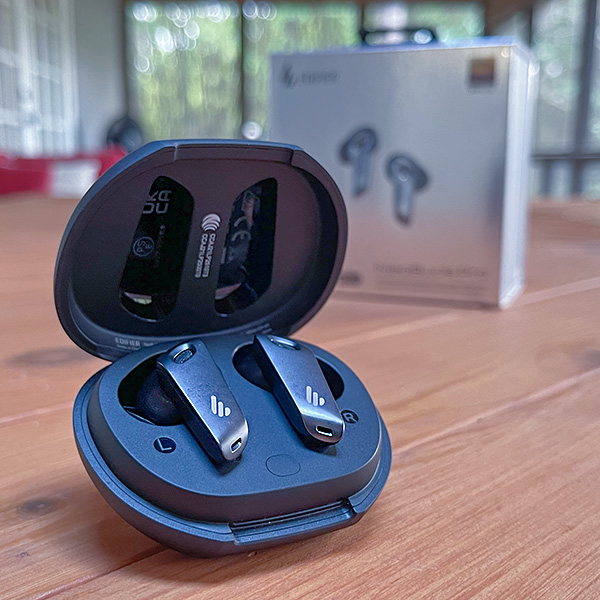 REVIEW – In late 2020, I reviewed the Edifier TWS NB2 wireless earbuds. I said then that they looked as good as they sound. Well, it's 2022 and Edifier has upped the game with the NeoBuds Pro true wireless stereo earbuds. Edifier wisely carried over the handsome looks of the TWS buds while upgrading almost everything else. The result is a really good and affordable pair of wireless earbuds with—unfortunately—one annoying feature.

What is it?
The Edifier NeoBuds Pro Earbuds are the newest in Edifier's line of true wireless earbuds. They feature integration with the Edifier Connect App, certified Hi-Res audio, active noise canceling (ANC), LHDC and LDAC audio decoding, and hybrid speakers (explained later in this review).
They come in a hard plastic protective case that will charge the buds 3 times before needing to be recharged for a total of 24 hours. The buds firmly snap into the case magnetically. A nylon pouch is included as are six sizes of germ-proof ear tips. Two colors are offered: Black or white.

Specs
Bluetooth: 5.0
Audio codecs:

 

LDAC, LHDC, AAC, SBC
Drivers: balanced armature driver + dynamic driver
Playback time: ANC on—5 hours (earbuds) + 15 hours (charging case); ANC off—6 hours (earbuds) + 18 hours (charging case)
Charging time: 1 hour
Frequency response: 20Hz-40kHz
USB-C

In the box
Earbuds
Charging case

 

7 pairs of ear tips
Storage bag
Charging cable
User manual

Design and features
When deciding on which earbuds to buy, it generally falls into three categories: Price, audio features, and convenience. Pick any two—if you want price and convenience, audio will suffer. Choose audio and convenience and the price will be high. You get the idea. Edifier may have broken that rule with the NeoBuds Pro earphones. At least they've stretched it a bit.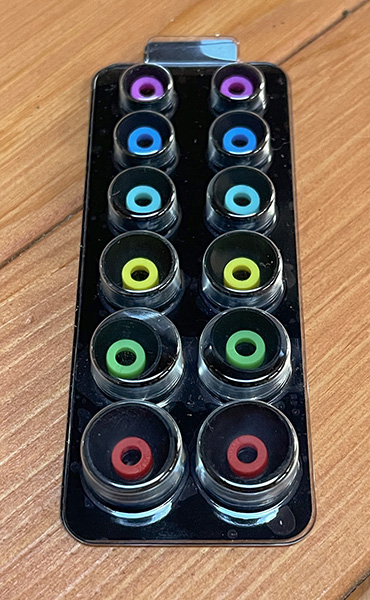 Let's start with the box. Like the TWS buds, the NeoBuds Pros are elegantly presented when unboxing. The case is cradled in a block of removable foam. Inside, sits the earbuds snuggly held in place by strong magnets. They won't accidentally fall out. Under the foam is a box containing a nylon pouch and six additional, color-coded pairs of ear tips. The tips are said to be germ-free and have a sanitation rate of 99.8% for the life of the tips. I have no idea how that's rated, but at least Edifier is trying to keep the buds cleaner.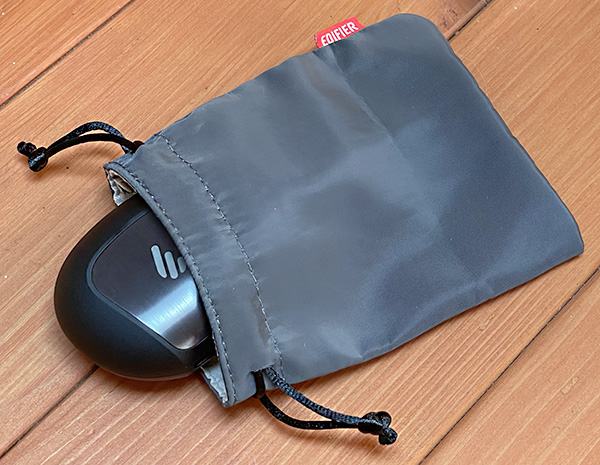 The nylon pouch feels really nice in the hand and is lined with what feels like scratch-free microfiber. If it was a bit larger, I'd use it to carry my reading glasses. 
Then there are the buds. Comfort is right up there with the best I've tried. I could easily wear these all day—or until the batteries need re-charging. If you can't find an ear tip that fits the huge selection Edifier offers, you have ear issues.
Setting up the NeoBuds Pro earbuds is simple. My iPhone saw them immediately. Once paired, they instantly reconnect each time I open the case and pull them out—no extra steps are required. That's convenience.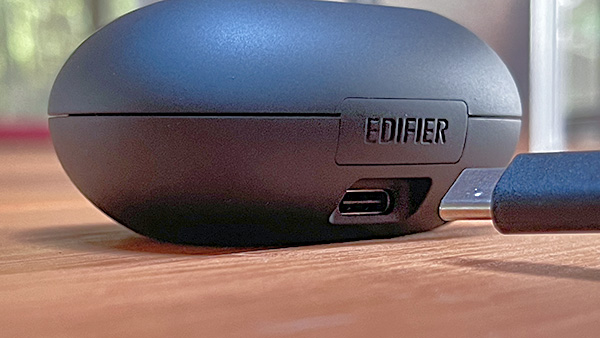 The hard plastic case uses USB-C for quick re-charging (cable included). Its magnetic lid snaps and stays shut until opened. A red horizontal LED light lights up when the case is opened and blinks differently depending on its function. 
As I said, the NeoBuds Pro earbuds have a hybrid speaker setup. Earbuds/earphones have either a dynamic or armature speaker. A dynamic speaker looks just like a tiny speaker—something we've all seen. An armature speaker comes from the hearing aid industry—and doesn't look like a speaker. Dynamic speakers are (usually) more bass-friendly and cheaper to produce. Armatures are (again, usually) tuned to higher frequencies and are considered more accurate sounding at the expense of a warmer, more listener-friendly sound. The NeoBuds Pros use both—or a hybrid setup. With hybrids, you theoretically get the advantages of each.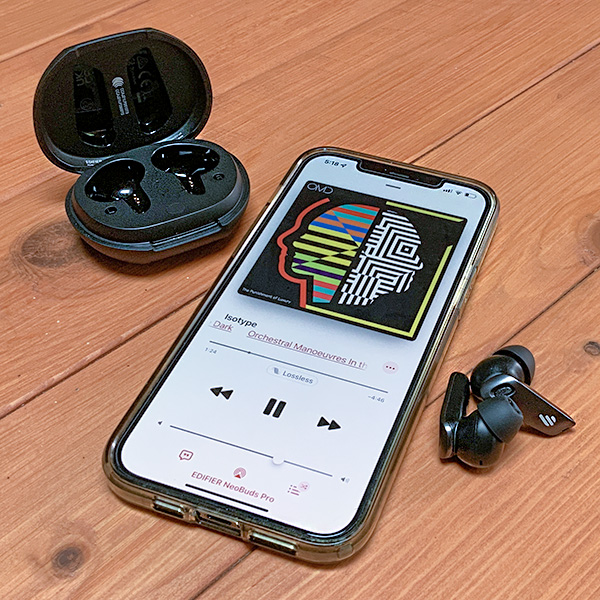 This speaker approach works well on the NeoBuds Pros. They sound noticeably fuller than the TWS buds I previously reviewed while retaining a sparkle in the higher frequencies when needed. This is especially good with more recent digital recordings used in electronic music. Orchestral Manouevres in the Dark (OMD) albums (the later ones) have always been bright with that "kick in the gut" bottom end. The NeoBuds Pros exhibit the required oomph without overpowering the mids and highs. A perfect example of this is the song, "Isotype" from "The Punishment of Luxury" album.
Along with the hybrid speakers, the NeoBuds Pros utilize ANC to great effect. Edifier claims that when activated, ANC blocks up to 42dB of noise. I can't measure that myself, but when activated, all background noise drops to almost zero. It's practically dead silent. There's also an ambient setting that uses built-in mics to allow background noise. This is great when you want to be aware of your surroundings or carry on a conversation while wearing the NeoBud Pros. Note that the ambient setting can be adjusted in the Connect app depending on how much background noise you want to let in.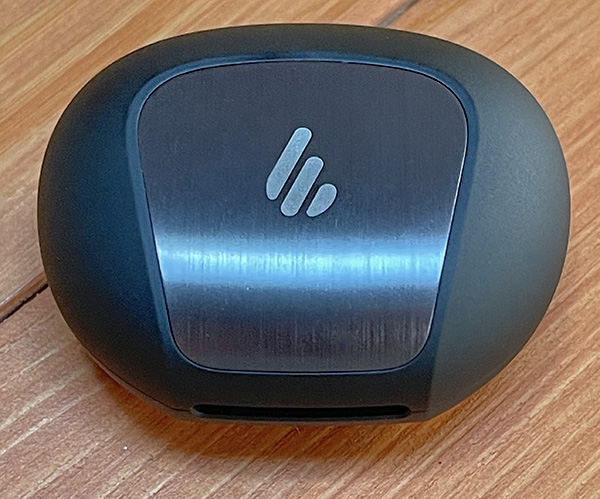 The NeoBuds Pro earbuds are certified Hi-Res audio, complete with the gold seal of approval. They also support LDAC and LHDC—audio Bluetooth improvements for wireless hi-res audio—if you use android as your smartphone. Apple iPhone users need not apply (wake up, Apple!).
As with the previously reviewed TWS buds, the NeoBuds Pros sound better with ANC on than with the ambient setting—which sounds a bit mechanical. However, while not as bad as before, it is still noticeable.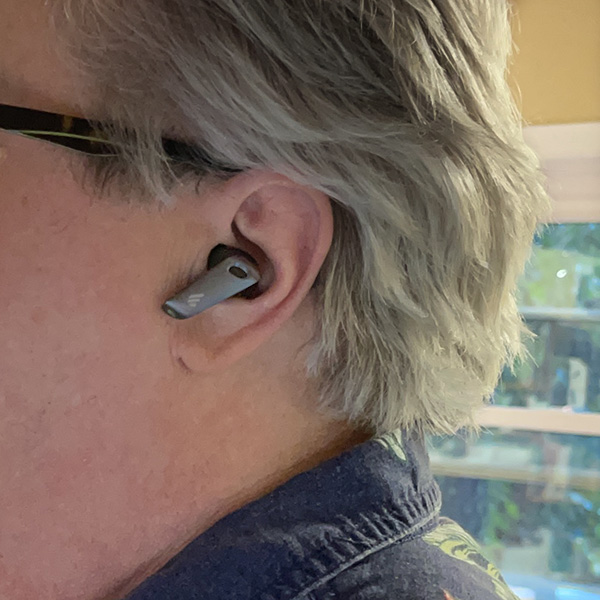 When testing phone calls, I always ask others how I sound. I always compare earphones to my Apple AirPods Pro earphones for calls. Apple's are the best at call quality—period. The Edifier NeoBuds Pros sound good on calls, but not as good as Apple—no surprise. While on calls, I cannot hear my own voice using the NeoBuds Pros, so I end up taking louder than I otherwise might.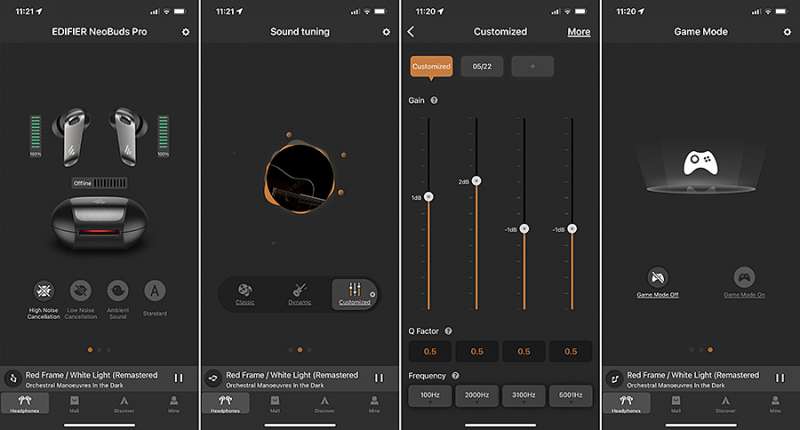 The Edifier Connect app gives you many settings to fine-tune the NeoBuds Pro earbuds. It has a two-choice preset built-in equalizer—"Dynamic" or "Classic"—and a customizable choice with on-screen sliders. Ignore the presets—they make the audio worse. I played with the sliders and found a setting I like, so I saved it. You can also turn all EQ off if you desire.
Inside the EQ, there are settings like Gain Q Factor and Frequency. I won't get into them here, but the app does a pretty good job at explaining what these settings do. There's also a low-latency Game Mode On/off button. I don't game, but if I did, I would appreciate this setting.
The app contains a lot of info: The manual, Bluetooth re-pairing, factory settings, and even tapping sensitivity. Yeah, about that tapping…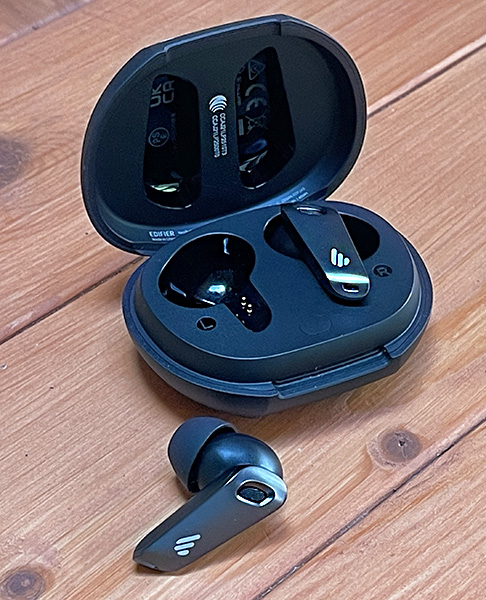 Tapping is where the NeoBuds Pro earbuds fall short. I'm always griping about how some earbuds are so sensitive, adjusting them can set off all kinds of settings. Except Edifier went in the opposite direction. I set up the buds to switch from ANC to ambient with a double-tap to either bud and Pause/play with triple taps (I like to keep it simple). I have two issues: Tapping is harder than with any other earbuds I've tested. Many times, I will tap and nothing happens, so I need to tap harder. It's a pain. Yes, you can set the sensitivity of the tapping to Low, Medium, or High, but none helped my situation. 
Also, why is there no single-tap mode? Not only did Edifier not include a single tap setting, but I also can't choose a single tap for anything. It's not available—at all! 

What I like
Comfort
Price
Audio Quality
ANC
Useful app
What I'd change
Allow single tap function
Tapping pressure
EQ presets useless

Final Thoughts
With the Edifier NeoBuds Pro true wireless stereo earbuds, Edifier has done a great job upgrading an earbud that already sounded good with top-notch comfort. (Please fix the single tap omission). Edifier kept the good bits and improved the rest. And they kept the price sane. That's not a small feat.
Price: $129.99
Where to buy: Amazon
Source: The sample of this product was provided by Edifier.