We use affiliate links. If you buy something through the links on this page, we may earn a commission at no cost to you. Learn more.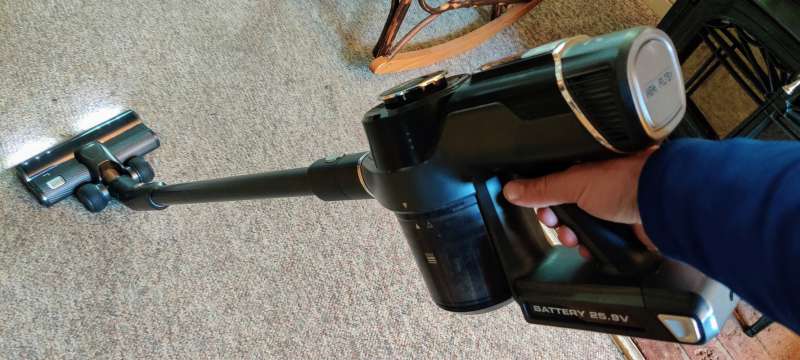 REVIEW – A cordless stick vac was not something I thought I'd ever need.  We have a LIDAR-guided robot vacuum that handles the task a few times a week, a more traditional upright vacuum for deep cleaning, and an older corded hand-held vacuum for spot cleaning.  So when the opportunity to review the Levoit cordless stick vacuum came along, I thought it would be interesting, but I was skeptical.  I was wrong.  Using it is easy, fun, and when I saw the amount of dirt it picked up, I was left wondering how I had gotten by without one. 
What is it?
It's a wireless (cordless, rechargeable) stick vacuum with a powered brush and several other attachments.
What's in the box?
LEVOIT Vortex IQ 40 cordless stick vacuum

Carpet cleaner with powered brush

Extension tube

Telescoping crevice tool

2-in-1 dusting brush

Charging dock with accessory holder

Charger

Manual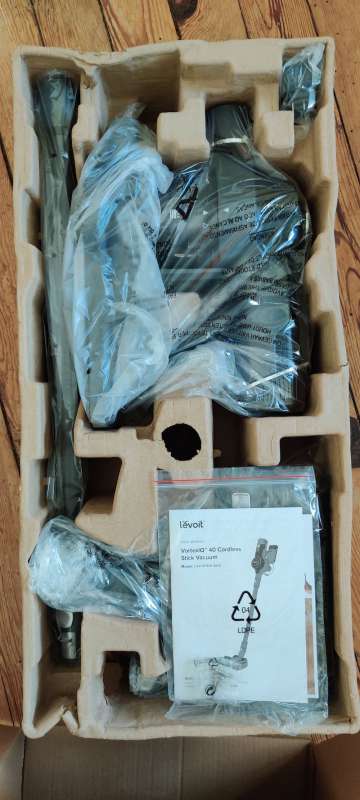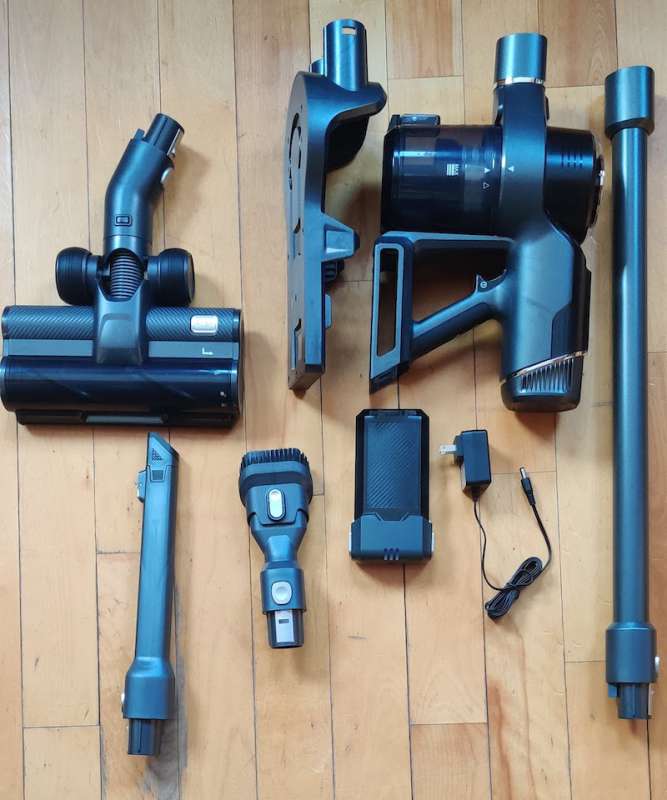 Hardware Specs
Battery Type

: DC 25.9V, 2500mAh Li-ion battery

Charging Input

: AC 100–240V, 50/60Hz 0.5A

Charging Time

: 4–5 hours

Dimensions

: 9.8 x 9.1 x 46.1 in / 25 x 23 x 117 cm

Weight

: 7.1 lb / 3.2 kg

Dust Bin Capacity

: 2.5 cups / 0.6 L

Runtime

: 40 minutes (Low)

Rated Power

: 400W

Suction Power

: 130AW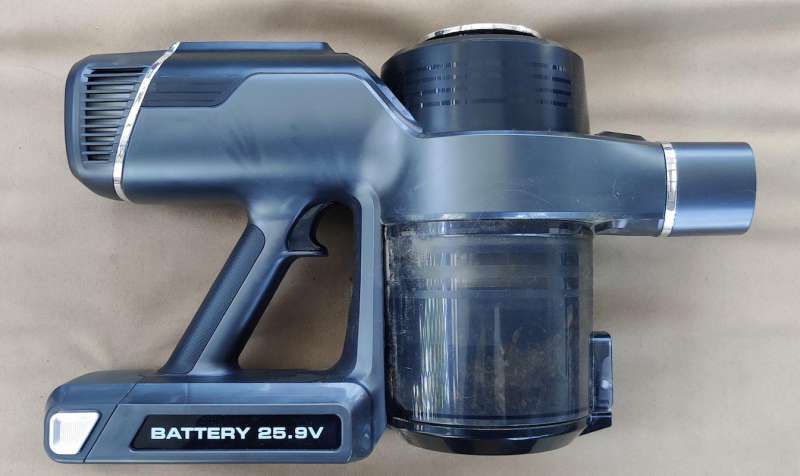 Design and Features
The LEVOIT Vortex IQ 40 cordless stick vacuum features a main head unit that contains the filters, dust bin, battery, filters, motor, display, and controls.  All the accessories pop right into the head unit.  And those accessories are all modular.  Want to use the crevice tool with the extension to get behind your dryer?  You can.  Want to use the carpet unit without the extension tube to clean small rugs?  No problem.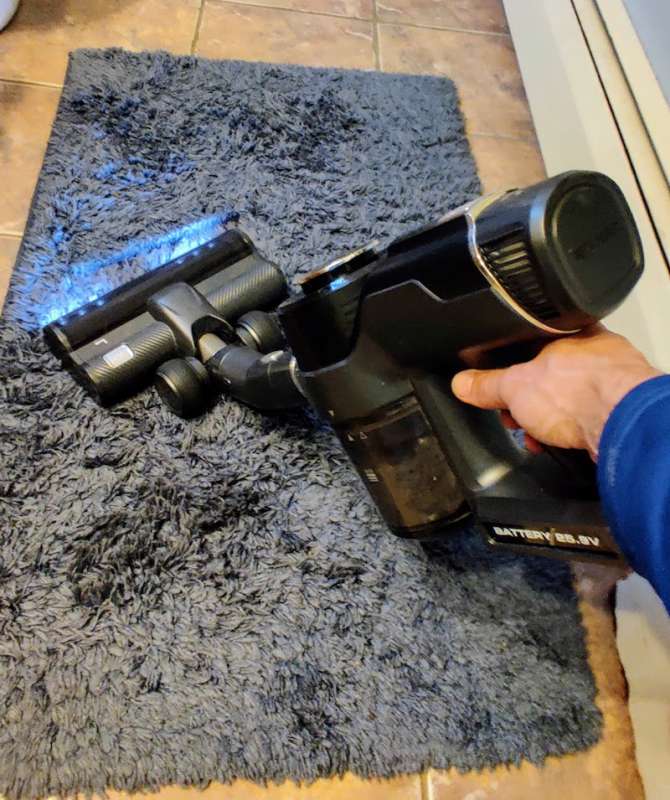 Perhaps my favorite feature of the LEVOIT Vortex IQ 40 cordless stick vacuum was the auto suction. The vacuum monitors the dust level and adjusts the suction power accordingly.  This optimizes both cleaning and battery life.  Of course, you can always adjust the power manually, but I never felt the need.  
The Levoit Vortex IQ 40 features a handy storage cradle that recharges the battery and holds the accessories when not in use.  You can also recharge the battery by plugging the charger directly into the battery instead of plugging it into the cradle – a nice feature if you want to take the vacuum with you but leave the cradle behind (which is a good idea, since it's likely bolted to your wall).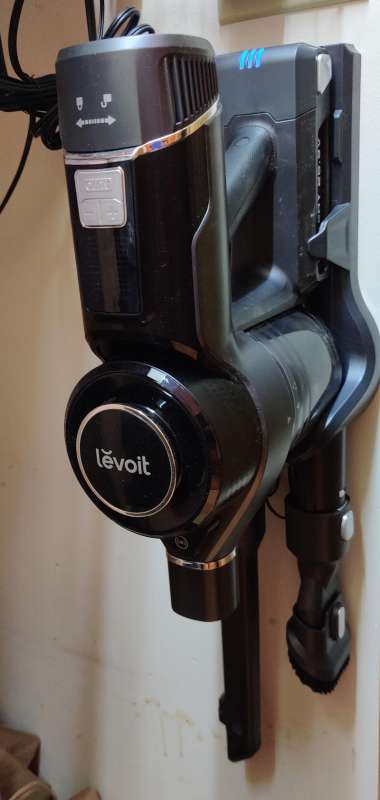 The unit easily disassembles without any tools for removing jams, and cleaning or replacing the filters.  Speaking of filters, there are three of them.  The first is in the dust bin and is made of perforated metal. You'll never need to replace this one – just rinse it off in the sink.  The other two are standard pleated paper filters and are easily replaceable, but can also be rinsed in water.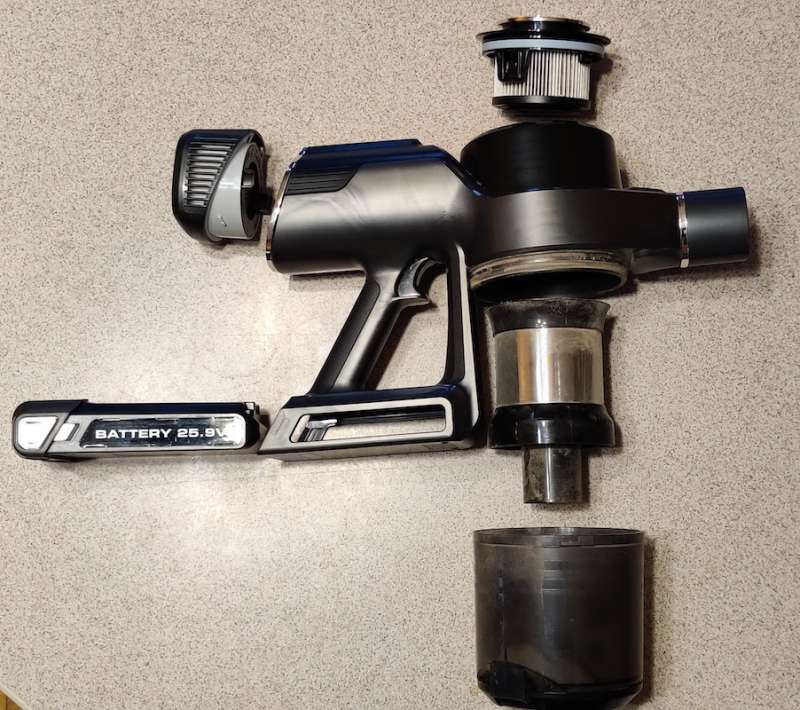 The powered carpet unit has LED lights on it for vacuuming in dim conditions or seeing under furniture, and this unit easily comes apart to clear jams or remove hair from the powered brush.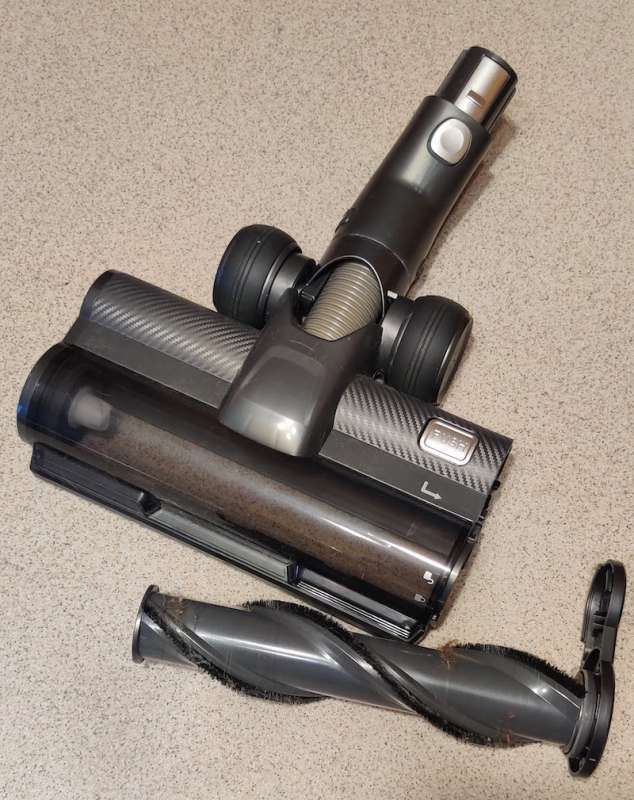 Performance
Having never used a stick vac before, I was immediately impressed by how light and maneuverable the LEVOIT Vortex IQ 40 cordless stick vacuum was.  It was also clear that this was not a unit that I would not want to vacuum my whole house with.  If you live in a small space, or use this for grabbing small messes, it's fantastic. It's also great for accessing areas traditional vacuums can't get to.  It would just take too long to do your whole house.  Save that for a larger unit, or for a robot vacuum.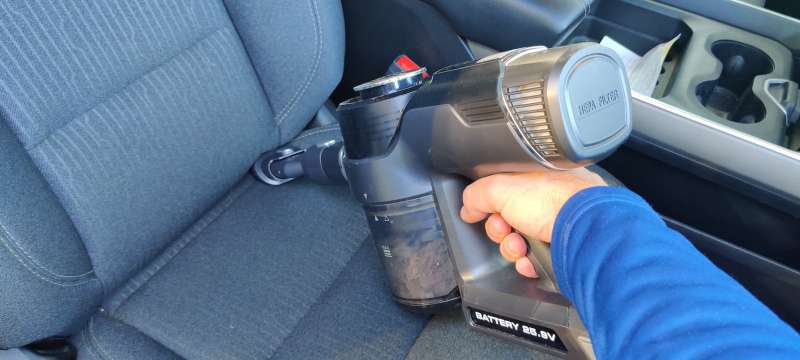 The filters in the Levoit are very good.  One of the first things I did with the vacuum was to clean up some spilled ash from our wood stove.  Ash is exceptionally fine and often makes it through many vacuum filters.  Not so with this one.  Ash also is notorious for clogging filters that it doesn't pass through, greatly reducing suction. No decrease in suction was noted.  I was impressed.  
The carpet tool does quite a good job getting dust, hair, and other crud off of our carpets.  It also worked great on hardwood floors, which is mostly what we have in our house.  One of the nicest features of the carpet tool is its low profile;  simply twist the unit 90 degrees to either side, and you can slide the whole thing under any gap larger than 3 inches or so.  This was great for getting into dust-bunny territory under sofas and other furniture.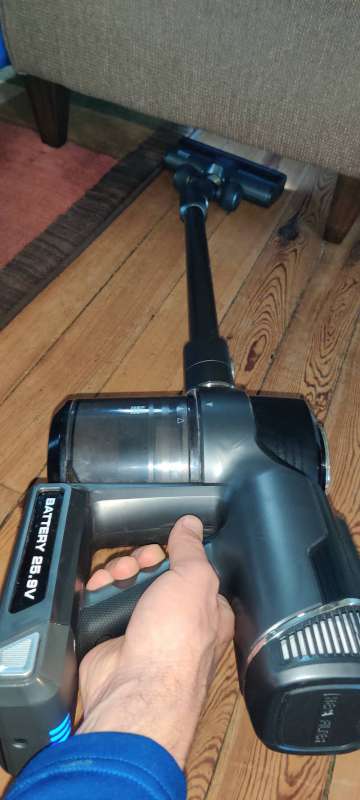 This ability to clean the great unclean was where I encountered the Levoit's first limitation.  The dust bin is pretty small.  Once in dust bunny territory, it fills quickly. And if you don't' notice, the crud will jam up at the top of the dust bin around the filter, making emptying a difficult and messy chore.  This is mostly user error since I did not notice that it had filled, but it would be nice to have a larger dust bin. 
The carpet unit also has LED headlights. They were useful for seeing into the abyss under the sofa, but not so helpful when just vacuuming in a dim corner.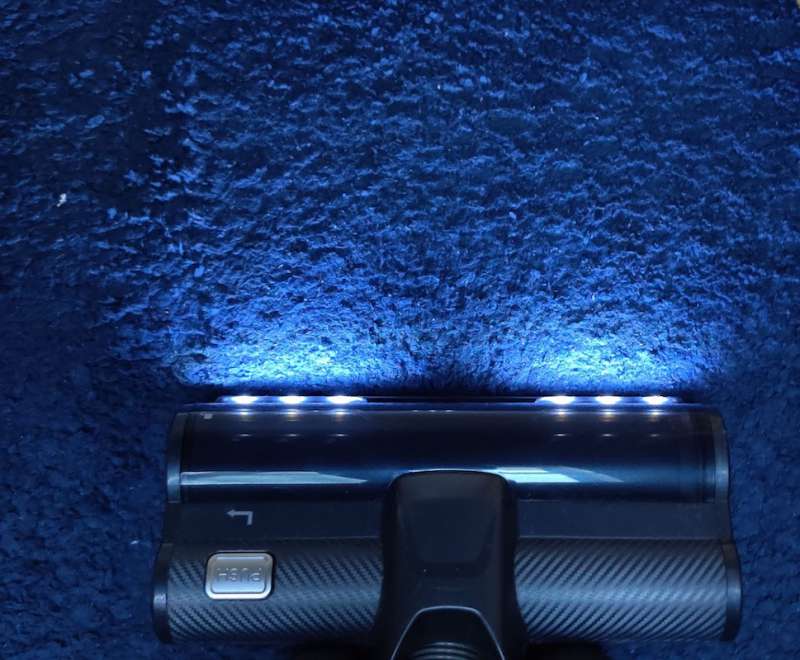 The LEVOIT Vortex IQ 40 cordless stick vacuum's accessories are helpful and well designed.  The crevice tool is particularly unique since it's telescopic.  Have a very deep crevice?  This tool can help.  I was able to use the crevice tool together with the tube extension to clean between and behind the washer and dryer – a task that previously necessitated moving both appliances.  The dusting tool is also useful, and can be used in two different configurations, for hard and soft surfaces.  I found it to be pretty effective for getting dog hair off of the furniture.  I also used it to clean dust off of vents and ceiling fan blades very effectively.  
The two big questions that always seem to come up with stick vacs are how are they at picking dirt up, and what's the battery life like?  For the first question, I'd say the Levoit Vortex is fantastic at picking up dirt.  This is the first vacuum I've used with a clear dust bin, so actually seeing the dirt get picked up and deposited in the bin is a little eye opening.  Let's just say that it picks up a lot more than I ever thought was there.  For battery life, I was impressed.  While using the unit for this review, I literally went all through my house vacuuming everything I could find.  I even went out and vacuumed the cars.  I barely put a dent in the battery.  I think the auto suction setting plays a big part in this – if I manually turned the suction up and kept it there, I'm sure the battery would have gone down faster.  But if you use the auto setting, and don't try to clean your whole 4000 square foot house, you should be fine. 
What I like
It's light and maneuverable

Attachments make sense and work well

Mounting cradle and charger in one 

Quiet

The auto feature works well
What I'd change
Needs a larger dust bin

A hose for the extensions would increase usability in small areas, like vacuuming out a car. 

The drywall anchors for attaching the mount were low quality and did not hold. 
Final Thoughts
It turns out that vacuuming is not a "one tool fits all" job.  Given that floors are the ultimate repository for a lot of crud in our homes, it makes sense to have a few different tools to take care of that crud.  The Levoit VortexIQ 40 Cordless Stick Vacuum is a great addition to help with those dust bunnies, dirt tracks, and pet hair that accumulate in our homes from daily life.
Price:  $259.99
Where to buy: Levoit or Amazon
Source: The sample for this review was provided by Levoit