We use affiliate links. If you buy something through the links on this page, we may earn a commission at no cost to you. Learn more.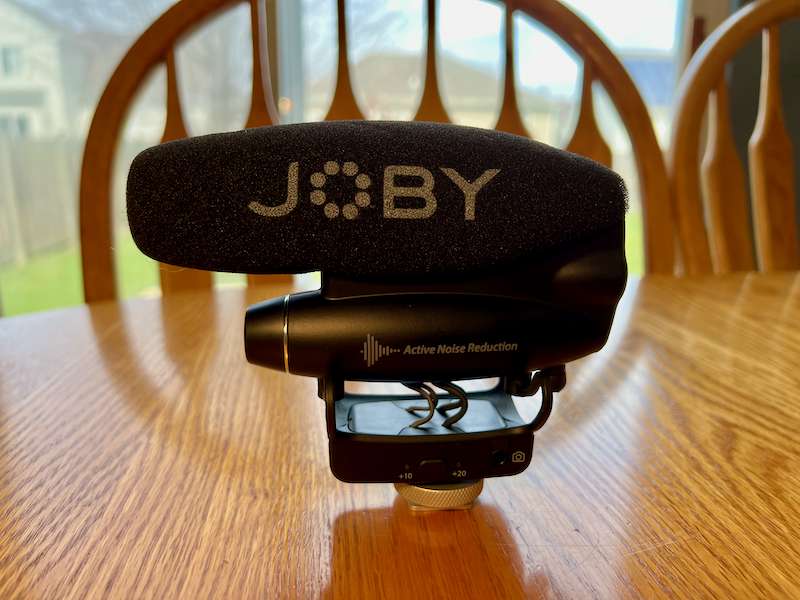 REVIEW – JOBY is a company most well-known for their GorillaPod range of tripods for small to medium-sized cameras. In recent years they've released other video shooting accessories, including lights, smartphone cases, and microphones. Today we're going to check out the Joby Wavo PRO microphone.   
What is it?
The JOBY Wavo PRO is a camera-mounted shotgun microphone used for capturing better, cleaner audio than what your smartphone or DSLR camera is capable of.
What's in the box?
Wavo PRO microphone
Foam Windscreen
Windjammer
3.5mm TRS cable
USB-C to USB-A cable
Operation Manual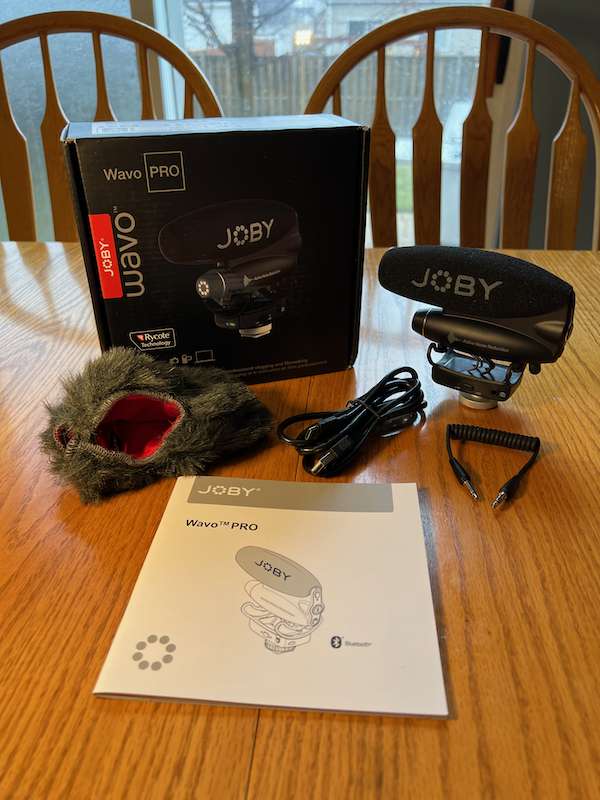 Hardware specs
Capsule Type: Condenser Electret
Polar Pattern: Super Cardioid
Frequency Response: 20Hz – 20kHz (+/-3dB)
Sensitivity: 19mV/Pa or -34,4dB /Pa (+/-3dB)
Signal To Noise Ratio: 96 – 100 dBA
Maximum SPL: 115dB (118dB peak)
Self Noise: -76dBA
High-Pass Filter: User selectable cutoff frequency (0-300Hz) through the dedicated App
Gain Adjustment: Up to +20 dB independent gain boost on camera output and secondary mic input
Output Impedance: <470 Ohms
Output Connection: 3.5mm TRS, USB-C
Indicators: Gain, Battery level, Bluetooth connection, Audio level metering LED
Powered By (Batteries): Built in Lithium, Li-Ion Rechargeable
Battery Life: 60 hours (50 with ANR on)
Mounting Method: 3/8″ universal mount, Cold-shoe
Bluetooth Ready: Yes
Windscreen: Yes
Material: Aluminum, ABS Plastic, Hytrel®
Dimensions: 5.39 x 1.14 x 4.33 in (13.7 x 2.9 x 11 cm)
Weight: 0.35 lbs (0.161 kg)
Package Weight: 10.12 oz (287 g)
Color: Black
Design and features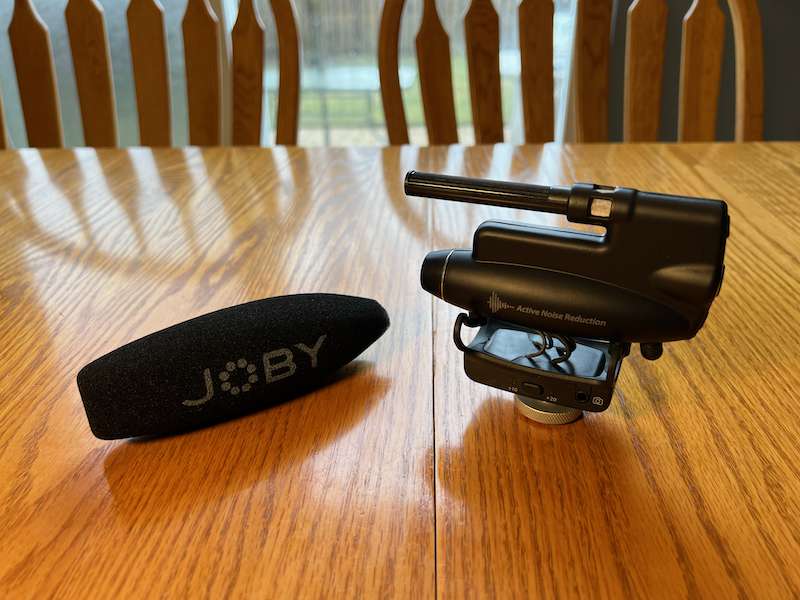 The JOBY Wavo PRO is black, and made from aluminum and ABS plastic, and DuPont Hytrel, presumably for the built-in shock mounts. It's just under 4 1/2 inches tall and 5 1/2 inches long, so overall it's about the dimensions of an average smartphone. With the black foam windscreen, it looks kind of like two submarines stacked on top of each other with a small black base and an aluminum cold shoe mount on the bottom. When you take off the foam windscreen you can see the long, slender microphone element, the part that picks up the audio. 
On the back is a large power button with audio level LEDs above and below, a small button at the top that allows you to choose to record a second audio channel at a lower volume or a mono mix or stereo split of a second input, a Bluetooth connection button, and an LED for monitoring audio levels for the second input if you are using one. On the left side of the base is an audio output gain control and the 3.5mm audio output jack. On the right side of the base is the USB-C connector for power and digital audio, an external microphone gain control, and the 3.5mm external microphone input. At the front of the base is a power LED, which shows different colors based on the remaining charge level, and blinks when plugged into power to indicate charging status.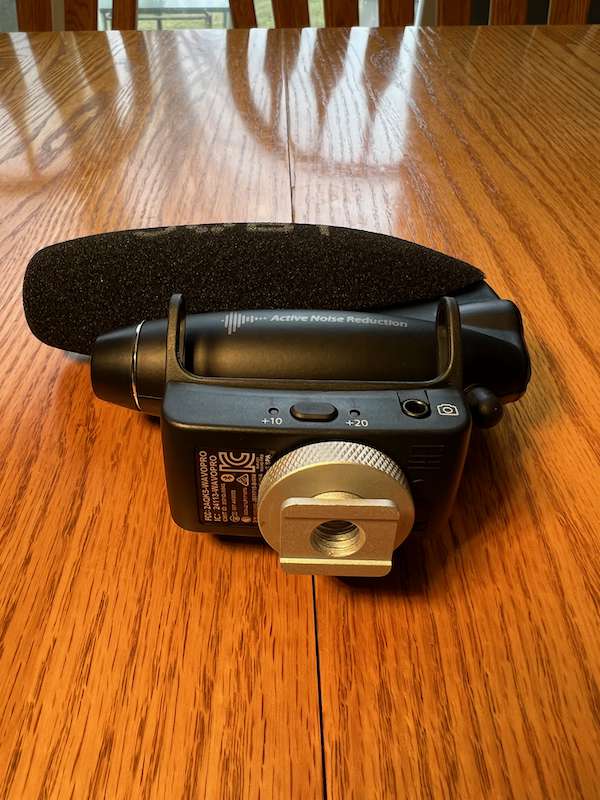 Installation and setup
When using Wavo PRO with a DSLR or small video camera, the microphone mounts to the cold shoe mount on the top of the camera. To use it with a smartphone you'll need a cage such as the SmallRig Mobile Video Cage I recently reviewed. If you are going to use this with a smartphone, you'll need a TRS to TRRS adapter to get the audio into the phone, as well as a Lightning or USB-C audio adapter, depending on the type of phone you're using. Once the microphone is charged all you need to do is plug it into your camera, turn it on, and set the output level, depending on the sensitivity of the input on your camera.
If you want to control the microphone past just the basics that the onboard controls provide, download the iOS or Android app and connect the mic to your phone by Bluetooth. The app gives controls such as volume, EQ (preset or custom), output gain, auto power mode (turns the mic on and off with the camera), and more. Note that the audio from the microphone does not get recorded over the Bluetooth connection; Bluetooth is only for control of the microphone's settings.

One extra nice feature is the safe track recording option. This sends a second copy of the audio signal to the second audio channel (if your camera has a stereo input) at 10 dB lower than the main audio in case there is a peak in the audio that would cause it to distort.
If you want to record a second microphone you can plug in a lavalier or other 3.5mm microphone into the external mic input. This microphone will be recorded along with the shotgun microphone as a separate signal in your camera. This feature disables the safety track recording feature. There is a choice between a MIX MODE and MONO MODE. MIX MODE records the Wavo PRO's microphone to the left channel and the external microphone to the right channel. MONO MODE mixes the two microphones together and records them on both channels.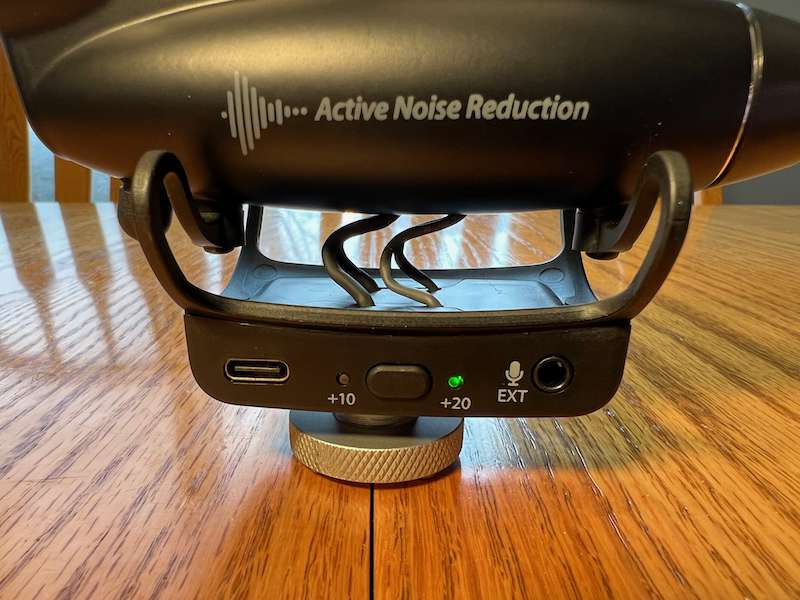 In Use
The JOBY Wavo PRO microphone is solid and well-built. It has enough heft that it feels like it will last a long time. This solid construction comes with some weight, but with all the batteries, gimbals, lights, etc., that need to be attached to a camera for many shooting modes it will hardly be noticeable. If you're using it with a smartphone with a cage or gimbal the weight might be more noticeable, but that's the tradeoff with working with an external microphone like this. 
Because there are several important button controls on the body of the microphone you may not need to go into the app very often to get good audio. When you do need to make more in-depth adjustments, using the phone app for control is easy and convenient, as long as Bluetooth will connect.
In testing I had the app tell me it lost connection to the microphone while it was trying to sync, only to look over at the microphone and the Bluetooth button had turned itself off. I had to do this "Bluetooth dance" several times almost every time I tried to use the app just to get it to connect. This also came up when the app told me I had to do an update to the microphone's firmware before I could connect to it again. It took several tries just to connect to the microphone, only to have it sit there and spin onscreen while it was trying to start the update; I'd look over and the Bluetooth light was off again.
Finally, when I was able to get it to connect and actually start the update process, it took about 25 minutes to do the update. Once I tried to connect to the mic again it told me it had to do an update. I canceled that process and tried to connect again and it worked without trying to get me to do an update again. Overall the experience with the app is nice; the graphics are clear, controls are well laid out, there are basic and advanced EQ settings, depending on what you need or your audio experience level.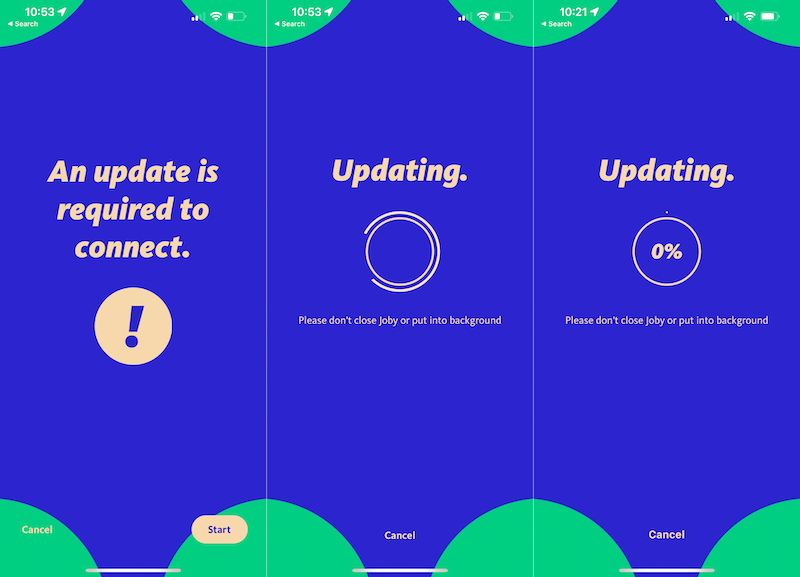 The Joby Wavo PRO also includes Active Noise Reduction (ANR) to help clean up audio while recording. This feature reduces noise from vibration due to walking or camera movement. With up to 60 hours of battery life (50 with ANR enabled) you'll be able to shoot for days before you need to recharge. 
An important part of recording good audio is accurate metering. While I would prefer a multi-segment meter to show more accurate levels while recording, a small microphone like this doesn't leave much room for something like that. The next best thing is to see the LED colors change as the audio signal gets louder. These level LEDs are on the back of the camera where the camera operator will most likely be standing while shooting so it will be easy to notice when audio signals are getting too loud. For more detailed level metering it's you can connect the microphone to a phone by Bluetooth and monitor levels there.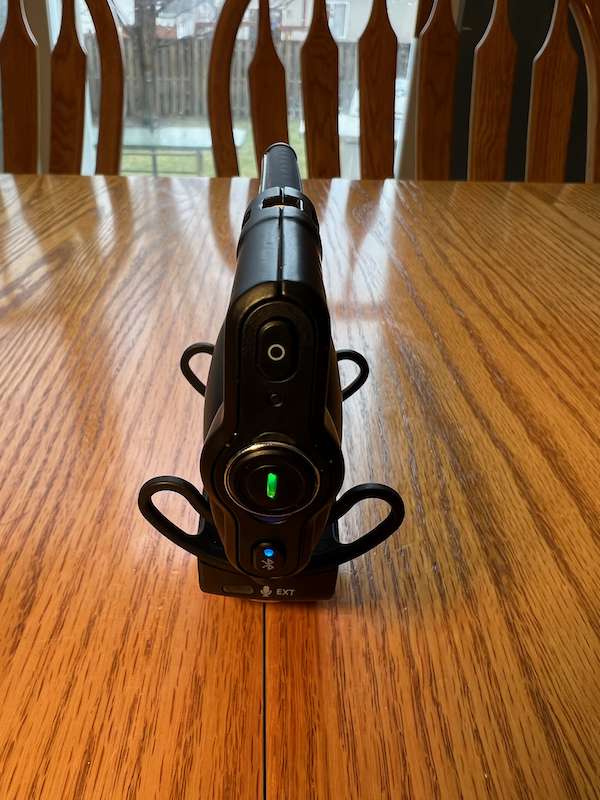 Tests I tried with an external microphone plugged in did not work because the lapel mic I have requires power, which the Wavo PRO apparently doesn't provide. I don't necessarily count this as a negative, just a note to make sure you know what type of microphone can be used as an external source.
I did record some natural sound clips in my backyard to give a feel for the clarity it captures as well as the wind reduction available with both the foam windscreen and the Rycote windjammer. I also included a clip recorded from my iPhone's built-in microphone, both as an example of the difference in sound between the shotgun-style Wavo PRO and the iPhone's omni mic capsule, as well as the difference in wind rejection.
JOBY Wavo PRO natural sound demo:
JOBY Wavo PRO wind rejection, first with just the foam windscreen, then adding the Rycote windjammer:
iPhone natural sound recording with extra loud wind noise:
Voice recording with Wavo PRO compared to an iPhone's built-in microphone (there's some handling noise because I was holding it in my hand so I could rotate it around – normally this will be mounted to a camera so handling noise shouldn't be an issue)
What I like
Good external audio for a small camera or smartphone
Safe track recording to prevent audio loss from distortion
3.5mm analog or USB-C connections for recording to phone, tablet, or directly to a computer

 
What I'd change
Include TRS-TRRS cable for smartphone use out of the box
More stable Bluetooth connection for control and updates
Power for external microphones that need it
Final thoughts
If you're recording video you don't want to rely on your camera or smartphone's built-in audio. JOBY's Wavo Pro microphone is an excellent choice for capturing clear audio while reducing noise from walking, camera vibration, or wind.
Price: $299.99
Where to buy: joby.com and B&H Photo
Source: The sample for this review was provided by JOBY. For more information visit their site.