We use affiliate links. If you buy something through the links on this page, we may earn a commission at no cost to you. Learn more.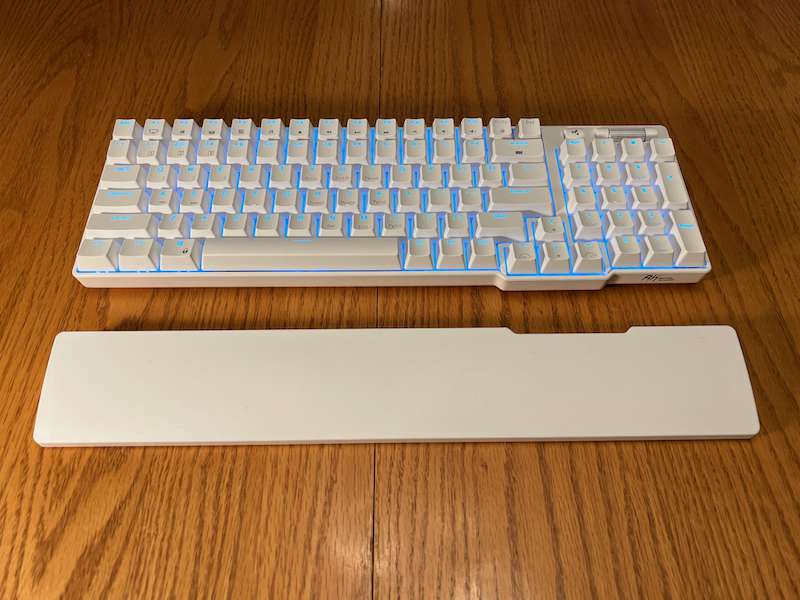 REVIEW – The popularity of mechanical keyboards has been on the rise for the last decade or so. Something about the feel of the key presses, the sound of the clicks, and the customizability of a good mechanical keyboard seems to speak to some people. I've been getting into reviewing them lately and I'm really starting to like this category of keyboards. Today I'm reviewing the new RK96 Wireless 96 Keys 96% Mechanical Keyboard from Royal Kludge.
What is it?
The Royal Kludge RK96 is a 96 key, 96% mechanical keyboard, with blue backlighting behind every key, an array of lighting effects, and multiple connection modes. 
What's in the box?
Royal Kludge RK96 Mechanical Keyboard
Magnetic Hand Rest
2.4GHz Receiver
USB-A to USB-C Cable
2 in 1 Keycap & Switch Puller
User Manual
4x Replacement Switches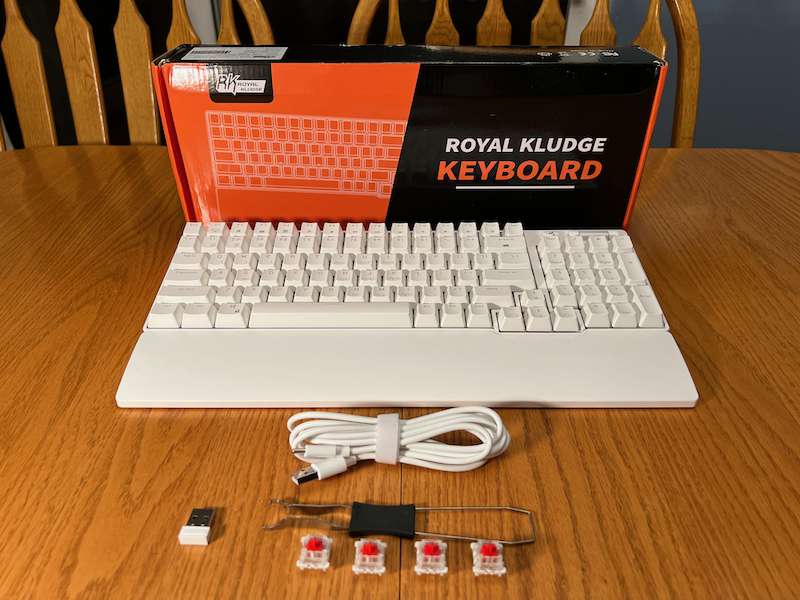 Hardware specs
Key Switch: Hot-Swappable Switch
Additional Ports: 2x USB 2.0 passthrough
Lighting: Blue backlighting
Onboard 2.4 GHz Receiver Storage: Yes
Net Weight: 3 lbs (1400 g)
Media Keys: Yes
Cable: 6 foot USB-A to USB-C cable
Internal Battery: 3750mAh
Keycap Type: ABS Double Shot Keycaps
Operating System: Windows XP/Win2000/Win7/Win8/Win10/Mac/iOS/Android
Design and features
The Royal Kludge RK96 mechanical keyboard is an all-white keyboard with all blue backlighting. There are no RGB options, but there is an array of lighting effects that can change over time, change every time you press a key, or stay on a solid pattern, depending on your mood or preferences. The keyboard includes F1-F12 keys on the top row, PrtSc and Del keys above the Backspace key, inverted-T arrow keys, and a full number pad. In addition to all of the regular keys, there is a mute button and a volume wheel above the number pad, making it easy to adjust volume or silence your computer at a moment's notice.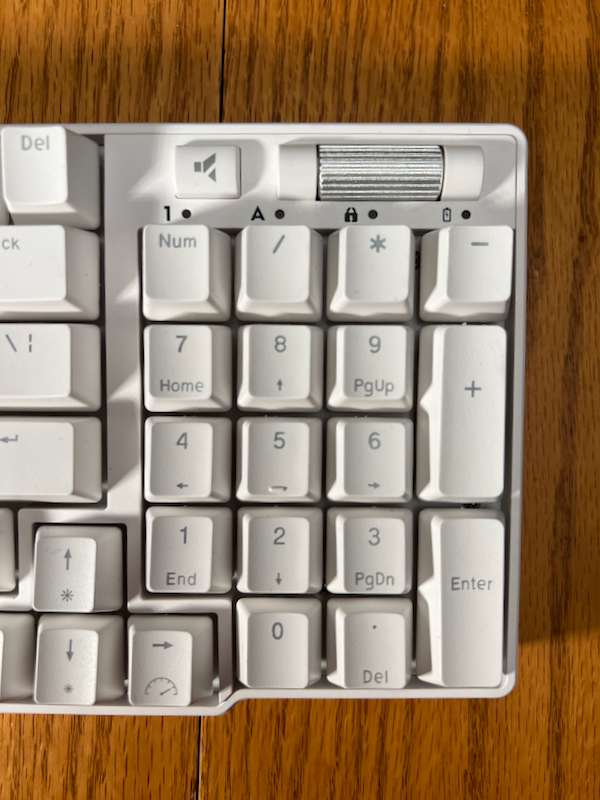 There is an included magnetically-attached wrist rest to help support your wrists during long typing/gaming sessions. On the back is a USB-C connector, used for charging the keyboard, and connecting to your computer in wired mode with the included USB-A to USB-C cable. Next to the USB-C connector is a pair of USB-A connectors, useful for connecting a wireless mouse receiver, a USB thumb drive, or a host of other USB-A enabled devices. 
On the bottom of the Royal Kludge RK96 mechanical keyboard are two small black switches. One is On/Off, which, as the name implies, turns the keyboard on or off when in wireless mode. The other switch changes between Bluetooth and 2.4GHz modes when you want to go wireless.
Also on the bottom of the keyboard is a small USB-A receiver for 2.4 GHz wireless use, nestled into a small storage slot. This allows you to use the keyboard wireless without having to rely on Bluetooth, which can be hard to work with or flaky at times. If you do want to go the Bluetooth route, however, this keyboard allows you to connect to up to three devices with a simple Fn-key shortcut to switch between them.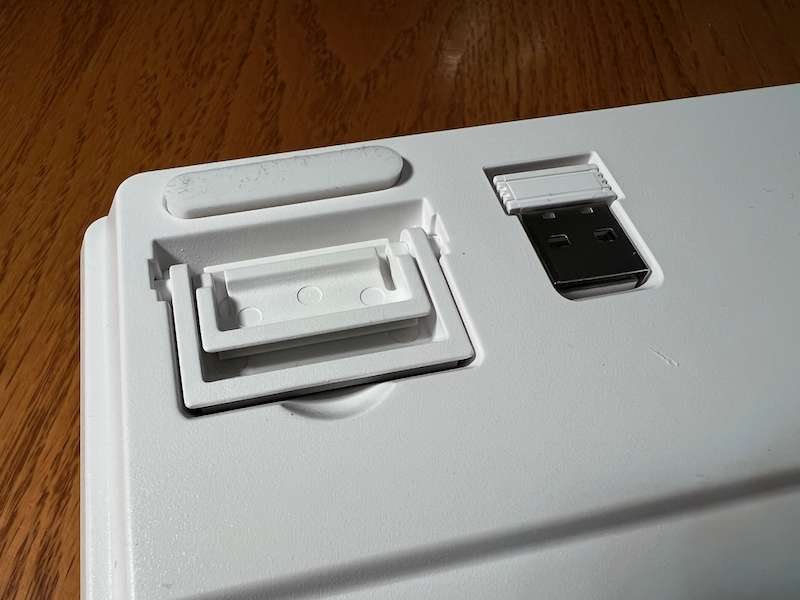 On the mechanical front, this keyboard supports hot-swappable keys, in either 3 or 5 pin switches, which Royal Kludge says supports up to 98% of the switches on the market. The RK96 keyboard is equipped with two layers of silencer foam, which makes it a very quiet mechanical keyboard, great for use around other people or during podcast recordings or live game streams.
Installation and setup
To get started with the Royal Kludge RK96 mechanical keyboard, simply plug in the included USB-A to USB-C cable and connect it to your computer. If you want it in wired mode and want standard backlighting, there's nothing else to do. While the keyboard is plugged into your computer it will also recharge the internal battery, getting it ready for wireless use, either with the included 2.4 GHz receiver or via Bluetooth. There is a red light above the "-" key in the number pad that pulses while charging.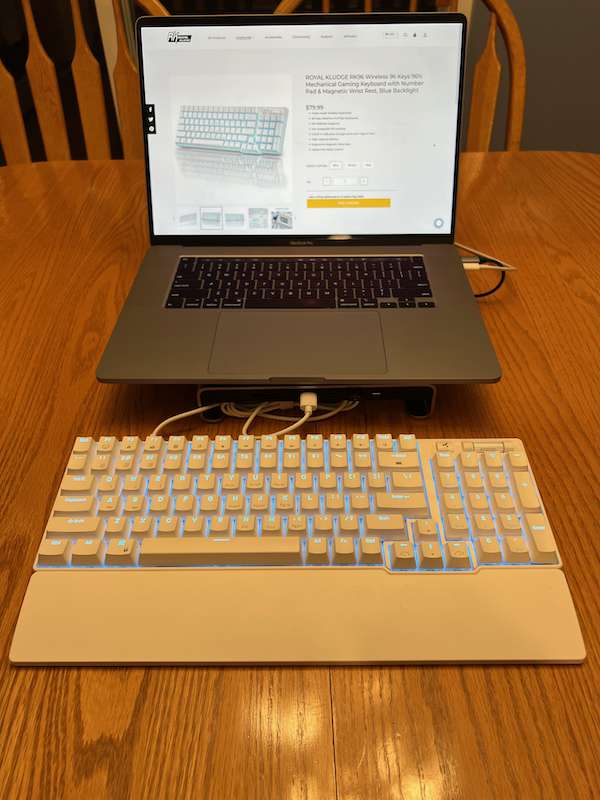 If you want to change lighting modes, press the Fn + PrtSc keys, which will toggle between 20 lighting effects. Some are subtle and some can be distracting, but they're fun to show off anyway. Pressing the Fn key + the up or down arrows changes the backlight brightness in 5 levels plus off. For lighting modes that animate across the keyboard, pressing the Fn key + left or right arrows changes the speed of the chosen effect.
To use the Royal Kludge RK96 mechanical keyboard in 2.4GHz mode, make sure the switches at the bottom are set to On and G and plug in the receiver to your computer. Depending on your OS there might be some simple setup steps to follow but otherwise, it's ready to go. To check the level of the battery press the Fn and Enter keys. Most of the keyboard will go dim and several of the keys on the number row will light up. Lit up to 3 = 25% power, 5 = 50%, 8 = 75%, and 10 = 100%.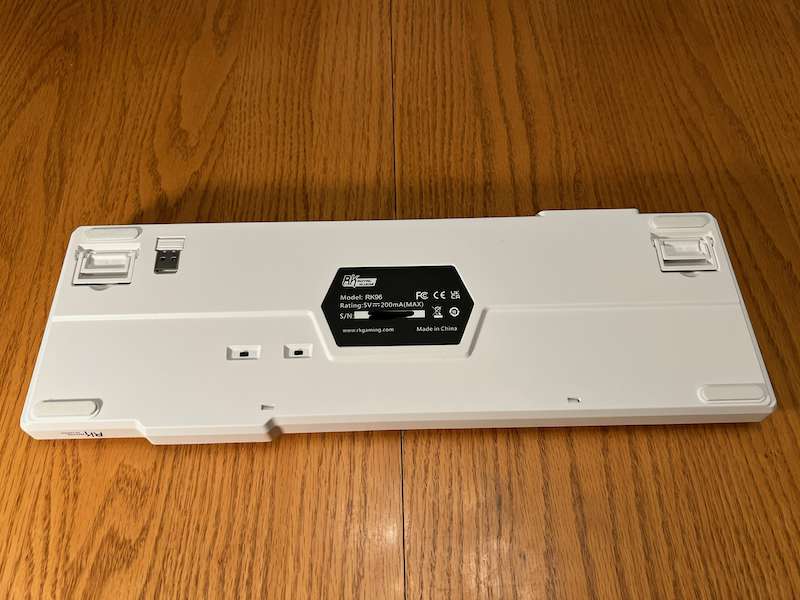 To switch to Bluetooth mode, slide the B<>G switch on the bottom to the B side. This will start flashing the Q key. Q, W, and E also have the numbers 1, 2, and 3 printed on them in smaller, darker lettering, indicating that they are to be used with the Fn key to switch between up to three Bluetooth devices. Pressing Fn and Q, W, or E for a few seconds puts the keyboard in pairing mode, with the letter that you pressed flashing rapidly.
On my Mac, I saw RK96-3.0 and RK96-5.0 as options. I chose the 3.0 option and it worked right away.
On my iPad, the keyboard only showed up as RK96-5.0. I presume these different options are for Bluetooth 3.0 and 5.0 modes, but I don't know what benefit there would be from using one or the other.
Lastly, I paired the Royal Kludge RK96 mechanical keyboard with my iPhone and wrote this paragraph there, just as if I were typing on any computer with a standard keyboard. I didn't have any way to stand my phone upright so I wouldn't want to type this way very long, but it's very cool that I'm able to do it, and seamlessly switch the keyboard to up to two other devices whenever I want.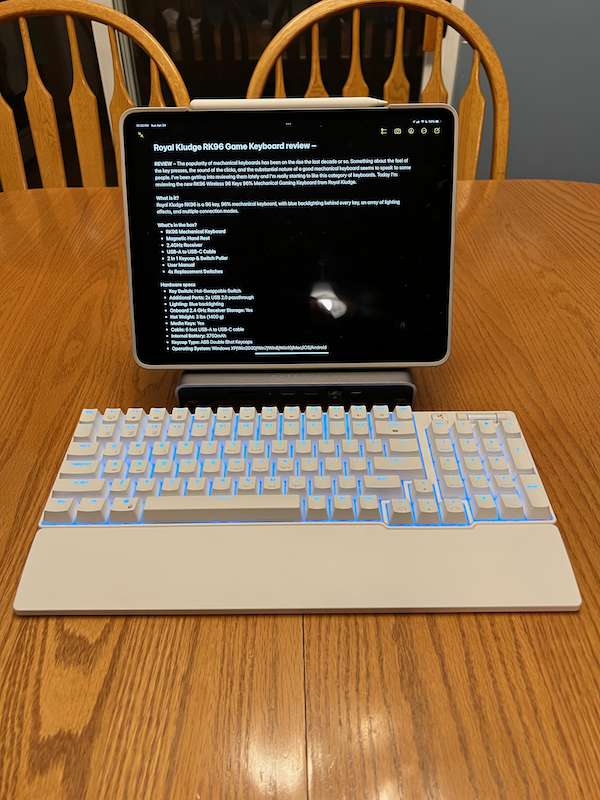 In Use
The Royal Kludge RK96 mechanical keyboard has been a joy to type on. It's almost full-size, has pretty much all the keys I need, and the keys feel smooth to type on without too much noise. Since I primarily use a Mac, I did most of my testing in that OS. Helpfully there are "Win" and "Mac" keys to use in conjunction with the Fn key to switch modes. Basically, it switches the behavior of the Windows logo and Alt keys. I also used the keycap puller to take off these two keys and switch them around so I wouldn't be confused as to what will happen when I press either of those keys. I can easily switch to Windows mode when I'm using Parallels or Boot Camp on my Mac, or when I'm using it with my media PC. I won't be switching the keycaps around every time, but knowing the keys are where I expect them to be no matter which OS I'm using will make all the difference.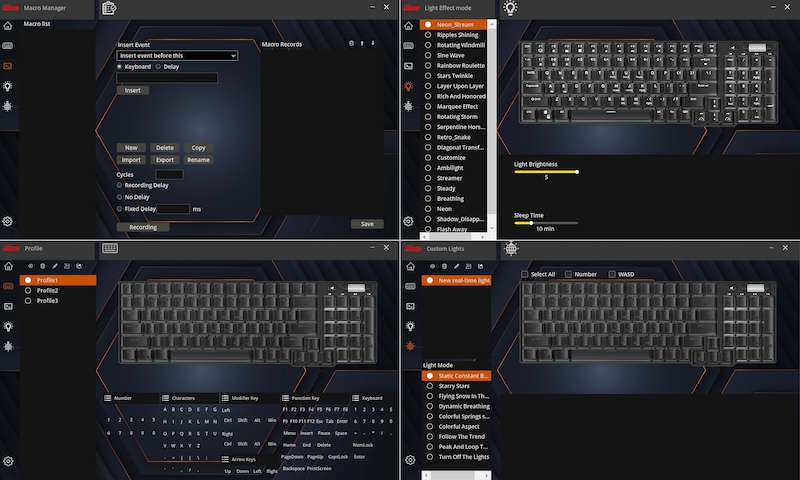 I can easily say that this is the quietest of the mechanical keyboards I've tested, although my wife heard me writing this review and said that the keyboard was loud. It's all relative, though. There is no high-pitched spring noise and no loud clicking, just a pleasing, soft clicking sound that I don't think would bother most people. 
The USB-A ports on the back of the keyboard are limited to USB 2.0 speeds. This is fine since they'll probably be used to connect a wireless mouse dongle or a wired mouse, but be aware that you won't get the fastest transfer speeds available when using these ports. As is to be expected, the USB-A ports do not work when in wireless mode. They only act as a hub when wired to a computer.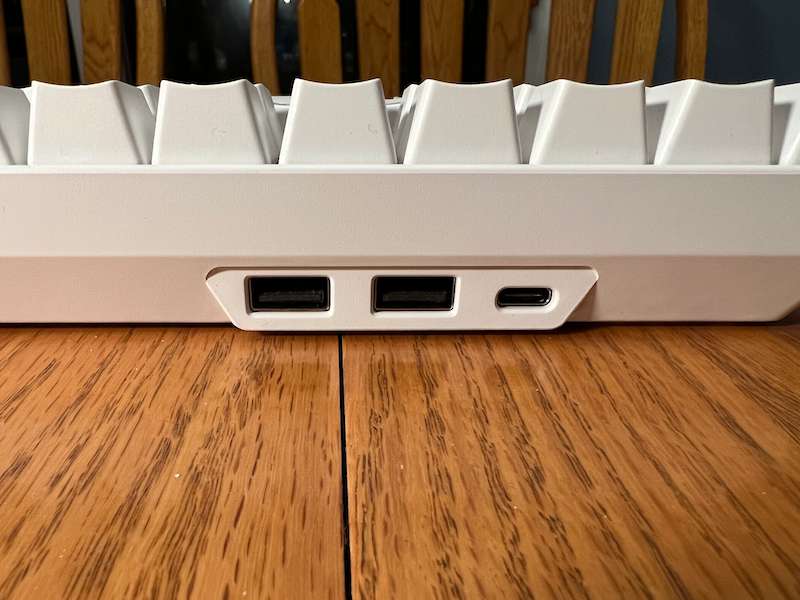 There is software available for configuring the Royal Kludge RK96 mechanical keyboard but it is Windows only. There is a nice host of features from creating profiles, to changing backlight settings, creating macros, and updating the firmware of the keyboard. My review unit didn't need a firmware update during testing so I can't say how smoothly that process would work.
It took a little time to get used to the Fn key being to the right of the space bar. I'm accustomed to having that to the left, usually all the way to the left of the keyboard on a Mac. With a full-size keyboard with all the keys, I'm used to using, though, the Fn key is mostly used for changing backlight settings, checking battery status, and switching Bluetooth modes, none of which I expect I'll be doing more than a few times a day, if that.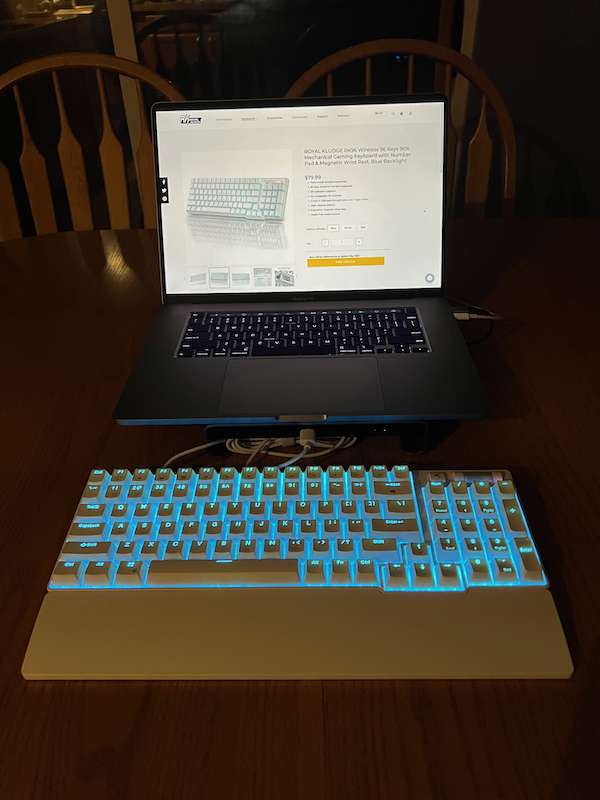 Royal Kludge posted a video to their YouTube page that shows off the effects and features better than I can.
What I like
Multiple ways to connect
Keycap puller and extra switches included
Dedicated volume dial and mute switch
Two adjustable keyboard angles in addition to flat
What I'd change
Make a Mac version of the keyboard software. I know this is gaming focused and most gamers are on Windows but this would open a larger community, especially to creatives who want a slick looking keyboard like this with their Mac setup.
Num Lock key doesn't work on Mac so arrow keys and Home, End, PgUp, and PgDn keys don't work (at least I couldn't figure out how to use them).
Final thoughts
If you're looking for a good, relatively quiet, comfortable backlit keyboard and don't care about RGB lighting, the Royal Kludge RK96 mechanical keyboard might be a great option for you. It has wide compatibility with most of the switches and keycaps on the market and won't break the bank.
Price: $79.99
Where to buy: rkgamingstore.com or Amazon
Source: The sample for this review was provided by Royal Kludge. For more information visit their site.