We use affiliate links. If you buy something through the links on this page, we may earn a commission at no cost to you. Learn more.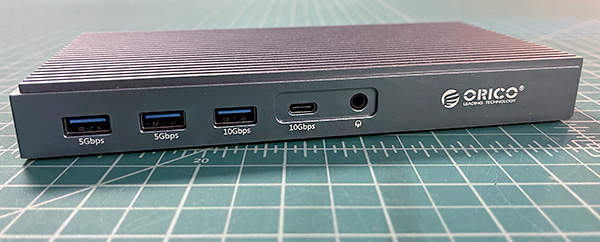 REVIEW – Let's be real here. If you use a computer (desktop or laptop) for anything more than web surfing, chances are that the available ports are not going to be enough. My work laptop is a 16" MacBook Pro and even its generous number of USB-C ports (4) doesn't cut it. I use double that amount. Two monitors (one doubles as a Wacom Cintiq UHD27), 3 external hard drives, a pair of Shinola/Barefoot USB speakers, and a constantly charging iPhone more than max-out the available ports. So what to do? Get a hub, that's what you do. There's a company named Orico who hopes to fill the ports gap—and then some—with their new TB3-S2 Multifunctional Docking Station. But is it enough? It depends.

What is it?
The Orico TB3-S2 Multifunctional Docking Station is exactly what the name implies: a docking hub with multiple ports. It sports 10GB USB-C, Thunderbolt 3 (8K), Thunderbolt 3 (4K), Display Port (8K), 1000 Mbps GigE LAN, audio mini plug, and 3 USB A (two 5W and one 10W).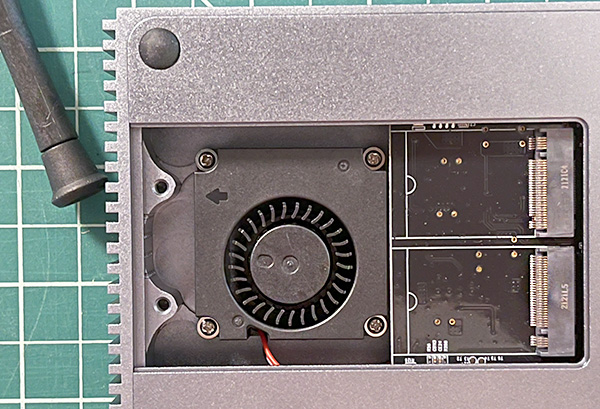 There are two internal SSD slots that can handle up to 2TB each of HD space (4TB total) on NVMe/NGFF chips. To me, this is a big deal.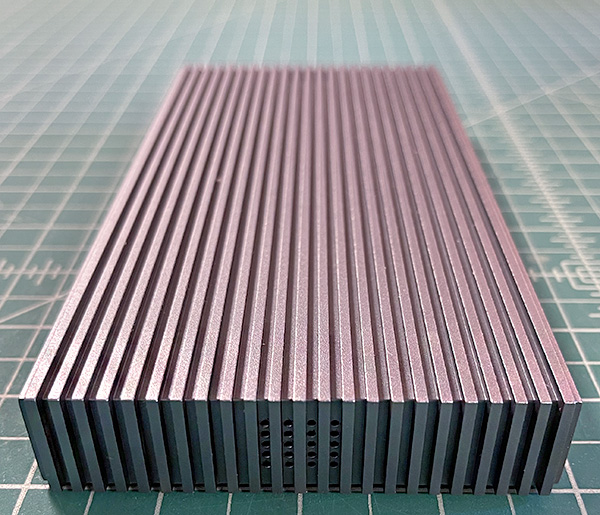 The shell is aluminum alloy with a built-in heatsink. The power cable has an external power brick allowing the Orico dock's size to be smaller than it would be otherwise.
Specs
Thunderbolt 3 ports x 3
USB-C port
USB A (5 watts) x 2
USB A (10 watts)
1000 Mbps LAN
Mini plug port

Design and features
The first thing noticed when unboxing the Orico Thunderbolt TB3 dock is its heft. This thing is made of aluminum alloy, giving it a solid, quality feel. The shell is the heatsink—it's both stylish and functional—a good thing because the hub can get a bit warm. It sits on four small rubber feet which allows some airflow underneath and also keeps it from sliding around a desktop.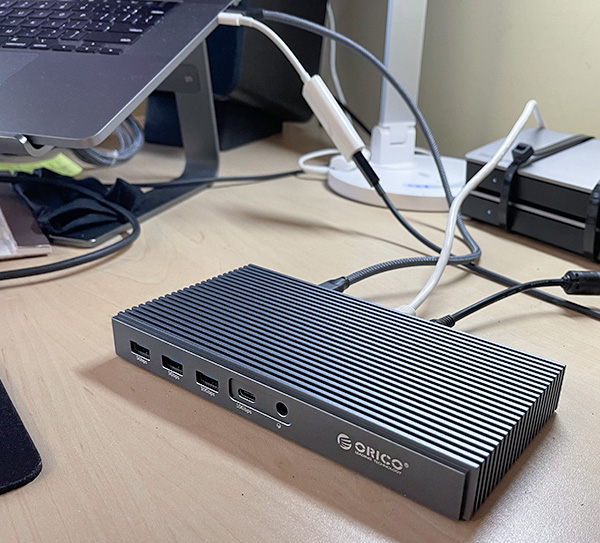 Connecting the hub to my work MacBook Pro was seamless. I didn't need to install anything on the mac. The manual states that Windows users will need to manually connect the hub when first used. Since I am an unapologetic Apple snob, I can't speak about how well it works for PCs.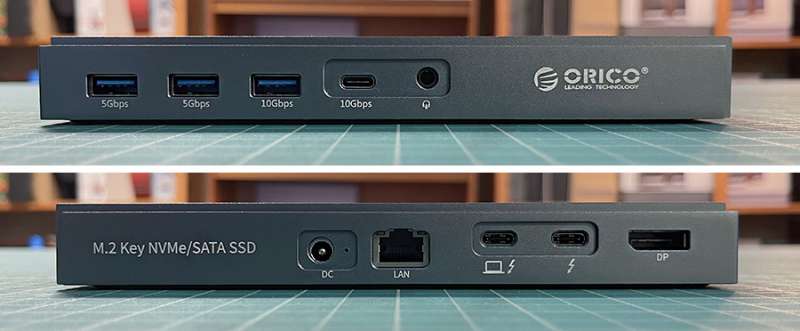 I will admit that I am not what some might call a power user. I do not have 8K monitors (does anyone?) or even 4K. But I do have many peripherals and two (2K) monitors that I rely on to do a ton of Photoshop work. The good news is that the TB-3 dock has Display Port, as does my Wacom Cintiq tablet that doubles as my main monitor. The better news is that I don't use a DB to DB cable. Instead, I use a DB to USB-C cable between the Cintiq and TB-3 dock. This works perfectly, so why fix it if it ain't broke?
The three front USB A ports are really handy for connecting whatever I need to use at the time. Various accessories are connected at different times depending on the need. It's always nice to have USB A available because USB-C is not ubiquitous yet.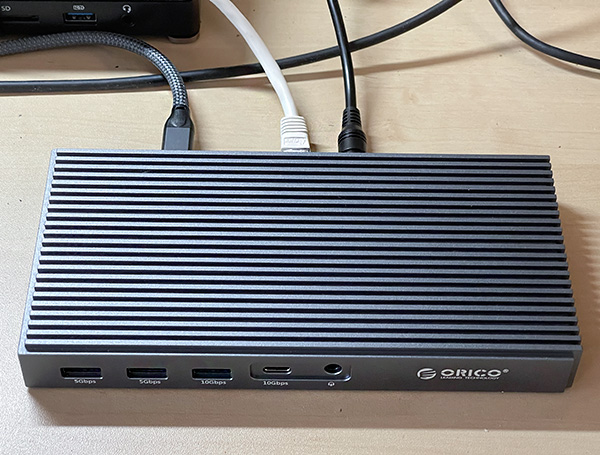 In my backyard studio building, I connected my ethernet cable from the hub to my extender router which is hard-wired to our modem via an underground CAT-7 cable to our house 100 ft. away. Even going through the Orico TB3-S2 Thunderbolt 3 Docking Station, download speeds remain consistently faster than the 400Mb I am paying for. It's a win!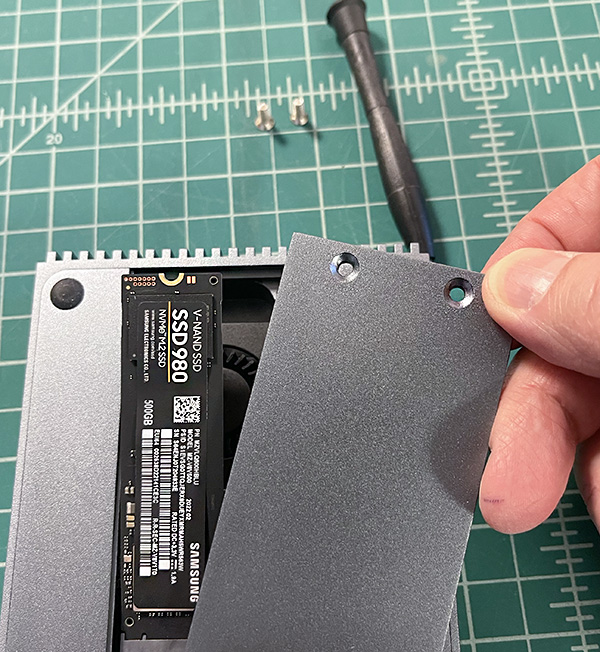 The TB-3 hub has an SSD chip capacity of up to 4TB. Orico didn't supply any SSD chips, so I bought a 500GB chip and installed it myself. The bottom of the hub has a removable plate that exposes where the chips should go. Installation was easy, although there is no information about installation in the manual. Plus, the manual text is so small, that it's difficult to read. However, the chip drive works flawlessly and fast! And I thought my original Thunderbolt G-Drive was fast. If TB SSD chips weren't so expensive, I would have bought two 2TB chips and made the Orico my main backup drive. It's that useful.
What I like
Quality build
Good selection of ports
Hi-res monitor support
Quiet built-in fan (I can't hear it)
What I'd change
Doesn't support the newest Thunderbolt 4

Final Thoughts
There are a lot of hubs on the market. Which one you get totally depends on your requirements. There's always that one peripheral with a weird connector your hub doesn't support or your hub comes up short one port. There are no perfect hubs. That said, if the Orico TB3-S2 Thunderbolt 3 Docking Station has the ports you need, you can't go wrong—especially with the added SSD functionality. Maybe you can have your digital cake and eat it, too! 
Price: $399.99 US
Where to buy: NewEgg, eBay, and Amazon
Source: The sample of this product was provided by Orico.