We use affiliate links. If you buy something through the links on this page, we may earn a commission at no cost to you. Learn more.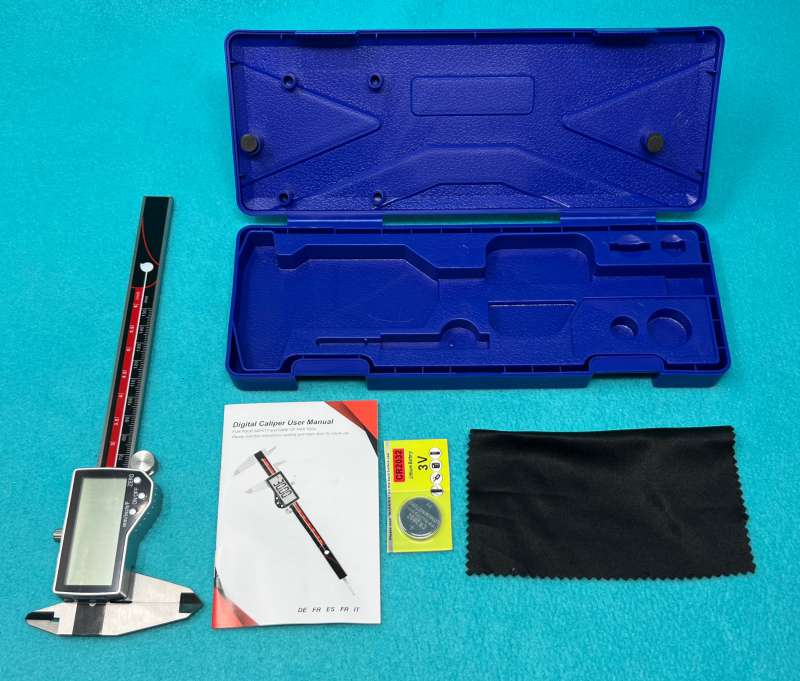 REVIEW – Highly accurate measurements help everything from cooking and mixology to engine performance, aircraft stabilization, and a host of other engineering tasks. For physical measurements of objects, it's hard to beat a set of Vernier Calipers. I was sent a set of digital Vernier calipers from Qfun to test, and have been measuring all the tiny spaces in my house for a few weeks. I'm now ready to report (on the tool, not on the size of items in my house!).
What is it?
The Qfun Digital Caliper Measuring Tool is a modern metal set of calipers with a digital readout, rather than a dial or scale.
What's in the box?
Qfun Digital Caliper Measuring Tool
Storage box
batteries and paperwork
History
Vernier calipers have two jaws – one for interior measurement and the other for outside measurement. Originally, there was a set of scales on the sliders that would give you a highly accurate reading. Then, someone invented a set of gears that would give you a readout on a dial that spun around as you changed the distance between the sets of jaws. Now, in the digital age, the gearing of the slide informs an LED readout, which can be reset with a push-button for differential measurements. (How much larger is this thing than that thing?)
Vernier calipers have been aiding people in their measurement tasks since they were invented in the 1650s. (Pierre Vernier, born in 1580 in the Ornans, Franche-Comte in the Spanish Hapsburgs (now France) invented the "graduated caliper." He created the Vernier scale, published in 1631 in his publication La construction, visage, et les proprietes fue quadrant nouvea de mathmatiques.)
The modern caliper was manufactured and mass produced by an American, Joseph R Brown, in 1851.
Since that time, there have been improvements in the manufacturing tolerances, but the method of reading stayed the same until only the last few decades. I was taught how to read the Vernier scale in the '70s in high school and college. There may have been dial models available at the time, but we didn't have anything other than the originals to work with. (Remember, in 1970, the 4-function calculator (add, subtract, multiply, and divide only – no square roots!) one of my teachers had cost $300. That's the equivalent of $2200 today, according to Dollar Times!)
Design and features
The Qfun Digital Caliper Measuring Tool model that I was sent is very sturdy and tightly manufactured. There is no "slosh" in the sliding scale, so you know it is accurate. There are three buttons on the scale: on/off, reset, and mm/inch for metric/ISO conversion. It is 9.25″ long and 3″ total for the jaws. The readout area is .625″ thick x 2.25″ x 1.5″. While the head obviously is heavier than the scale area, it only weighs 5.8 ounces overall. The heavy hard plastic case holds it without rattling and has a space for an extra battery or two, plus the instructions (I doubt you'll need them!) and a polishing cloth for the screen.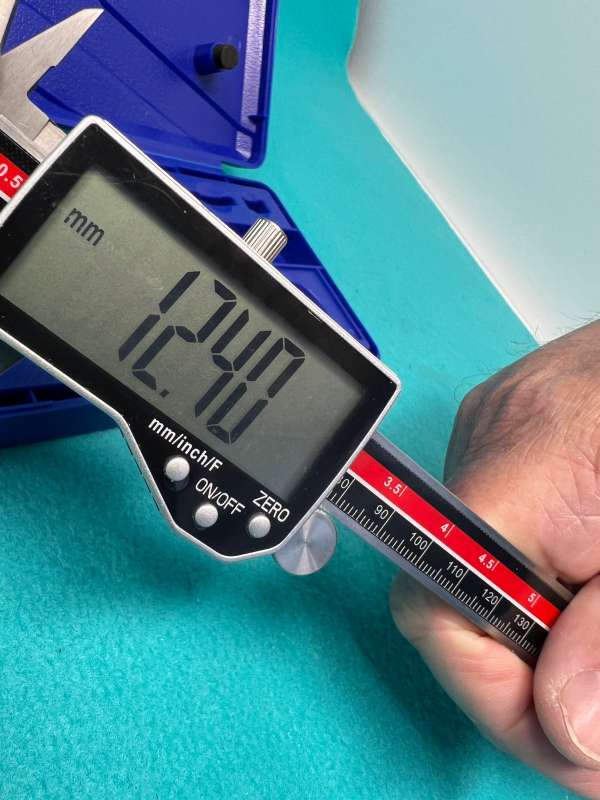 Usage is simple. Turn the unit on, ensure it is closed fully, and set to zero. Pull the jaws apart (or use the thumbwheel) to where the jaws just touch the area you want to measure and look at the readout. In the manual's defense, it does give tips on measuring irregular items, in order to get correct readings, but that really doesn't have anything to do with the device itself, just with the math. (There are techniques used to properly measure certain solids. Making sure the measurement device bisects the solid correctly can make a lot of difference, but if you're needing this tool, you already know that!)
There's a scale on the back having to do with inside measurements and engineering gauges (I think) but it's not helpful to me, even though units are given in five languages.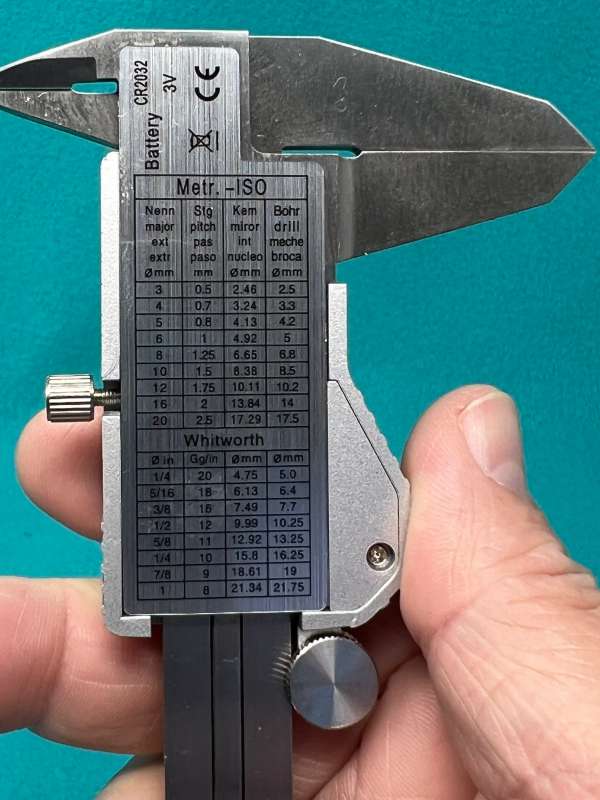 If you want to hold the Qfun Digital Caliper Measuring Tool's jaws open at a set amount to do production verification, there's a small set screw on the top opposite the buttons, shown here above the "2" on the readout. While it's a tiny set screw, it seems to grip tightly.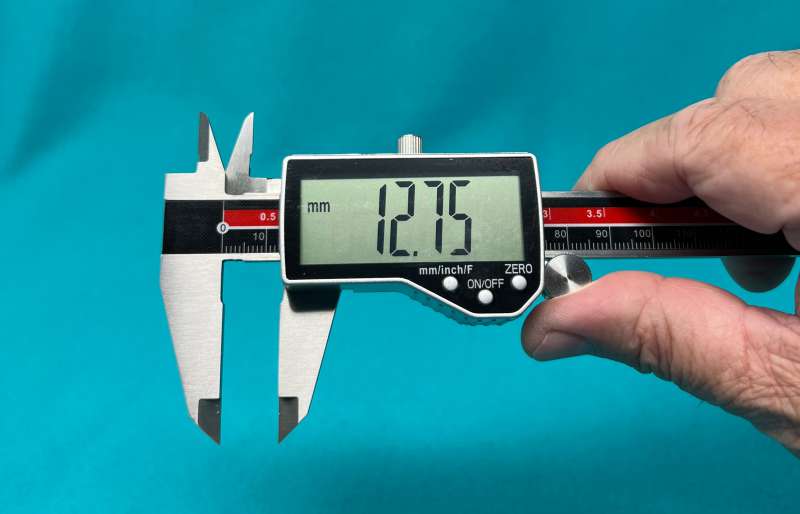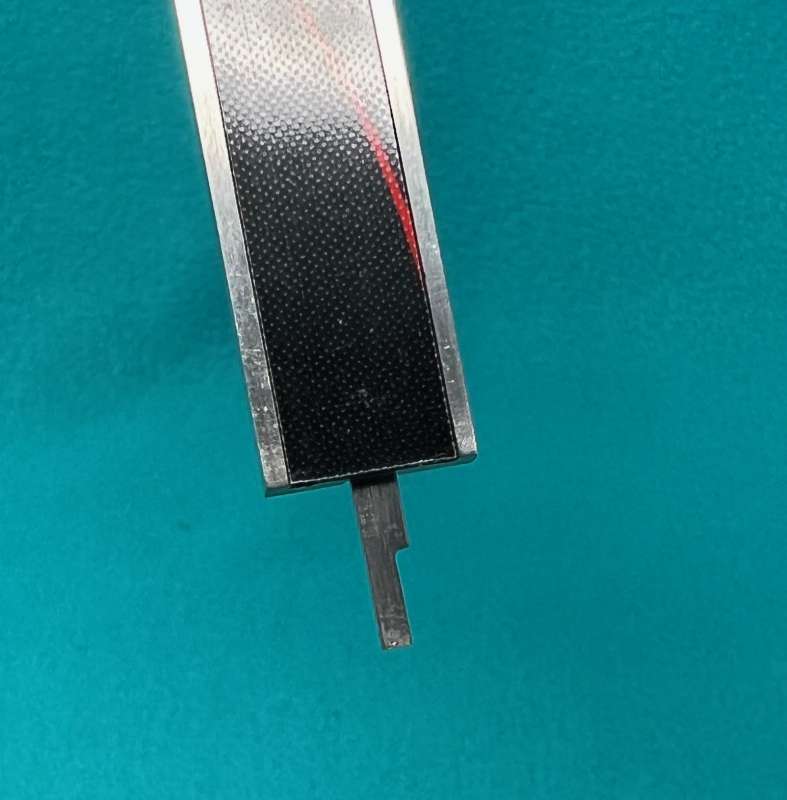 Performance
The Qfun Digital Caliper Measuring Tool turns on and off easily, and conversion is accurate (as verified by the pCalc calculator app on my iPhone). Occasionally, when I'd turn it on, even though the gate was fully closed, there would be a small amount showing on the scale. I got in the habit of zeroing it out while fully closed every time I went to use it, which solved the issue. Using the tailpiece for step measurement within milled pieces is a nice touch, rather than just a single pin. If they really wanted to up the game, there could be just a small horizontal pin to slip into an interior cut within a piece. I'm looking forward to using this to check on the items I'll make with my 3D printer that's coming up in my review queue!
What I like
Quick, accurate measurement
Extremely simple to use
Excellent build quality
What I'd change
Maybe backlighting for the readout?
Final thoughts
I first encountered Vernier Calipers in Physics class in high school. There was a huge set above the blackboard, right beside the huge slide rule. We also had very rudimentary models that we could use during our experiments. It wasn't until college that I actually got my hands on a really fine set during Physics labs, and I've admired the simplicity of the design ever since. Adding a digital capability to the overall idea is as logical as replacing a slide rule with a pocket calculator. The accuracy is improved, as is the speed and ease of use. If you have any need for small measurements, do yourself a favor and get a set like the Qfun Digital Caliper Measuring Tool. It's no longer the price of a very nice laptop!
Price: $32.99
Where to buy: Amazon
Source: The sample of this product was provided by Qfun.