We use affiliate links. If you buy something through the links on this page, we may earn a commission at no cost to you. Learn more.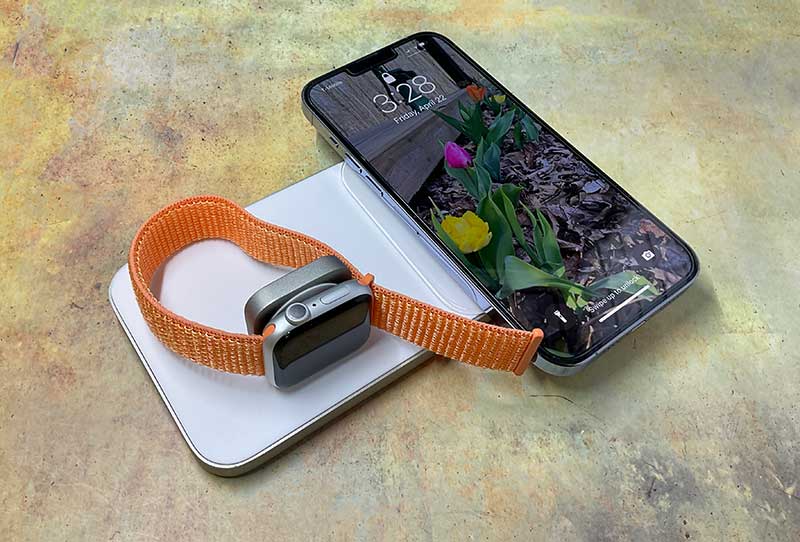 REVIEW – When style matters to you, luxury accessories for your favorite gadgets can be a fun (although pricey) purchase. Today I want to show you the Nomad Base One Max MagSafe wireless charger. It falls into both luxury and pricey categories. Is this fancy wireless charger worth the price? Let's find out.
What is it?
The Nomad Base One Max MagSafe wireless charger is a 15W Qi charger that has been designed to charge the Apple Watch and iPhone (but can charge other Qi-enabled devices) at the same time.
What's in the box?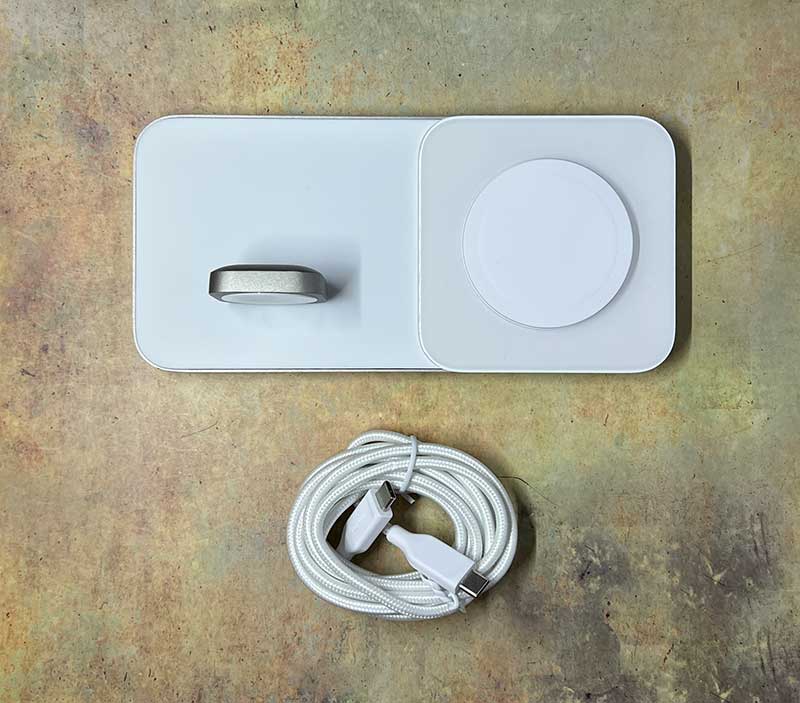 Nomad Base One Max MagSafe charger
USB-C to USB-C braided cable
Design and features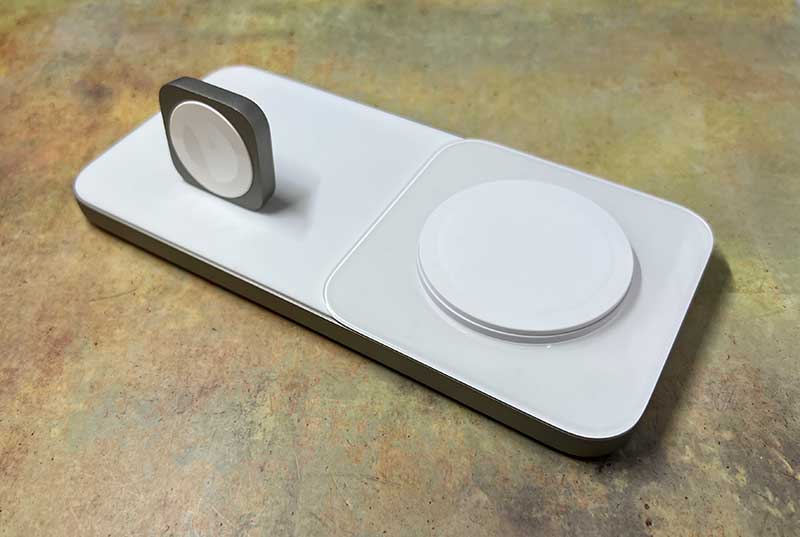 First of all, it is gorgeous, or as gorgeous as a Qi charger can be. The Nomad Base One Max MagSafe wireless charger looks like it was designed by Apple. Actually, I take that back. I think this charger is nicer than any charger that Apple has designed (so far).
This wireless charger is available in two colors. There's a Carbine (black) version and a Silver version. I was sent the Silver version which has a white top and a silver metal base.
The Base One Max has a footprint of 7.5 x 5.5 inch base with a built-in Apple Watch charger (no, it doesn't require you to use your existing Apple Charger) and a built-in MagSafe magnetic charger that is attached to a glass panel.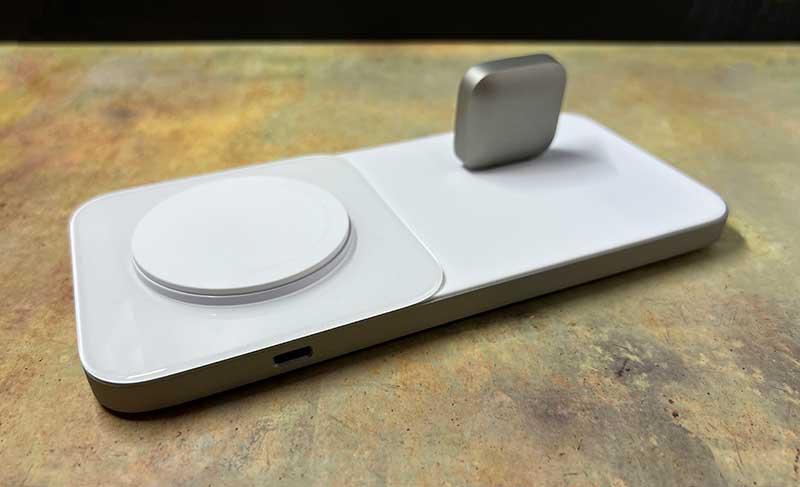 There are no buttons or LEDs (can I get a yay?!) on this charger. That means no annoying lights that can screw with your sleeping patterns. There's just a USB-C port on the back.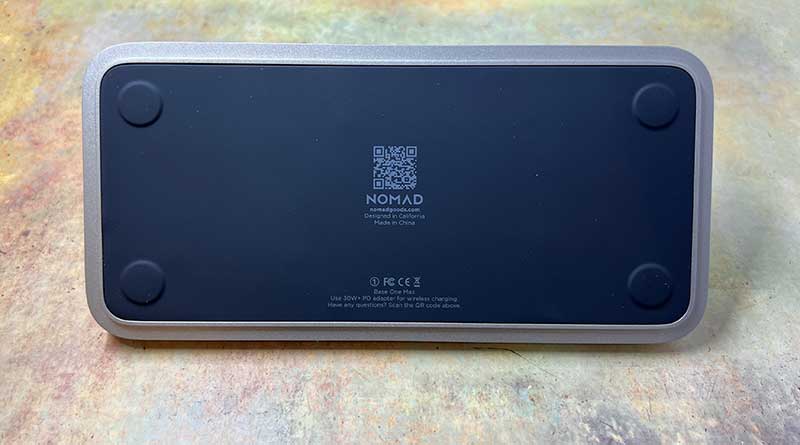 The bottom of the charger has a rubber base that helps to prevent the charger from sliding around.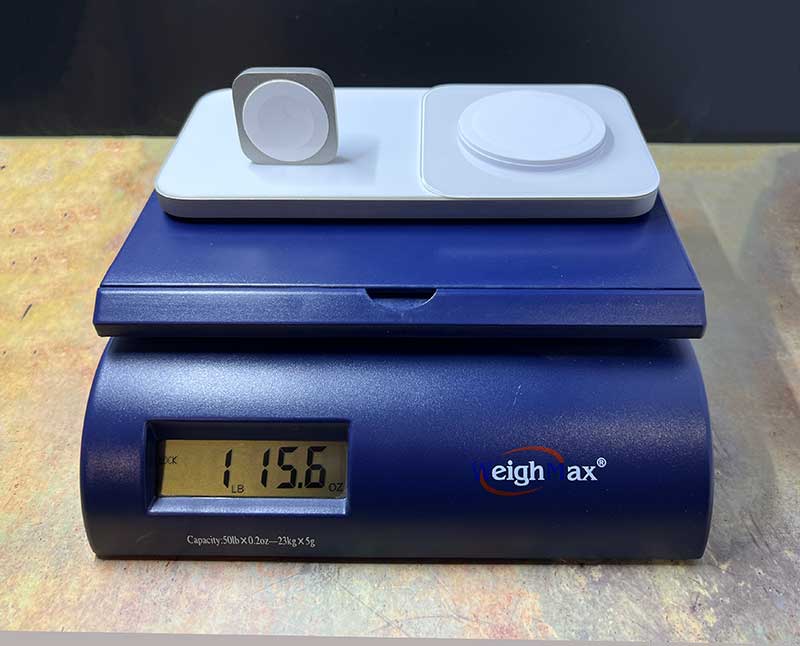 But I honestly don't think sliding will be an issue because the Nomad Base One Max MagSafe wireless charger weighs in at a hefty 2 lbs! It's a chunker! But that's not a bad thing.
Charging your devices with the Nomad Base One Max MagSafe wireless charger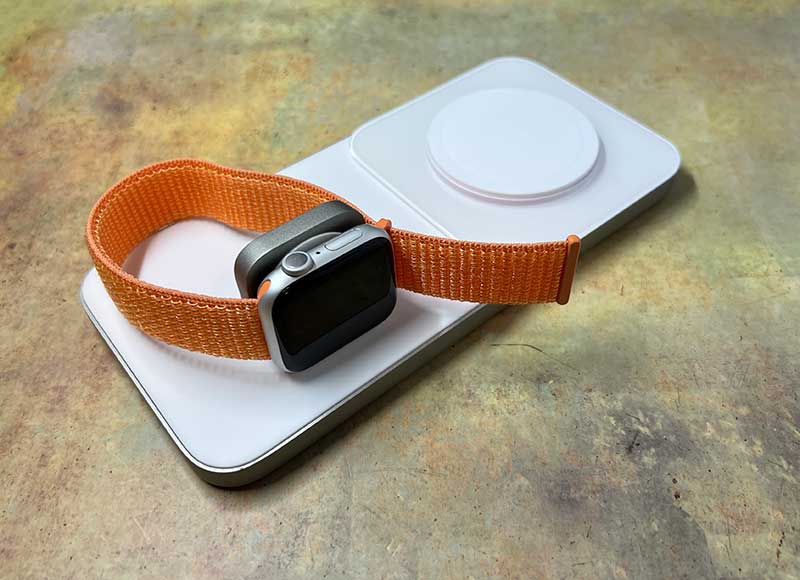 I have both an Apple Watch and an iPhone 13 Pro Max, so I was excited to test this high-quality wireless charger with my devices. I was a little disappointed when I opened the package and didn't find a 30W power adapter that is required to use this charger.
According to Nomad, they don't include an AC adapter because they assume most people have multiple chargers and it would be a waste. Hmmmm… I don't review power adapters very often so I had to dig around in the drawers of Gadgeteer HQ until I found something that would work… and that something was only a 20W Anker PowerPort III Nano adapter. It would only charge my Apple Watch, but when I put my iPhone on the MagSafe charger, nothing happened. So I went back to my drawers o'stuff, where I found an Anker PowerPort III 2-port 6oW USB-C adapter. Success!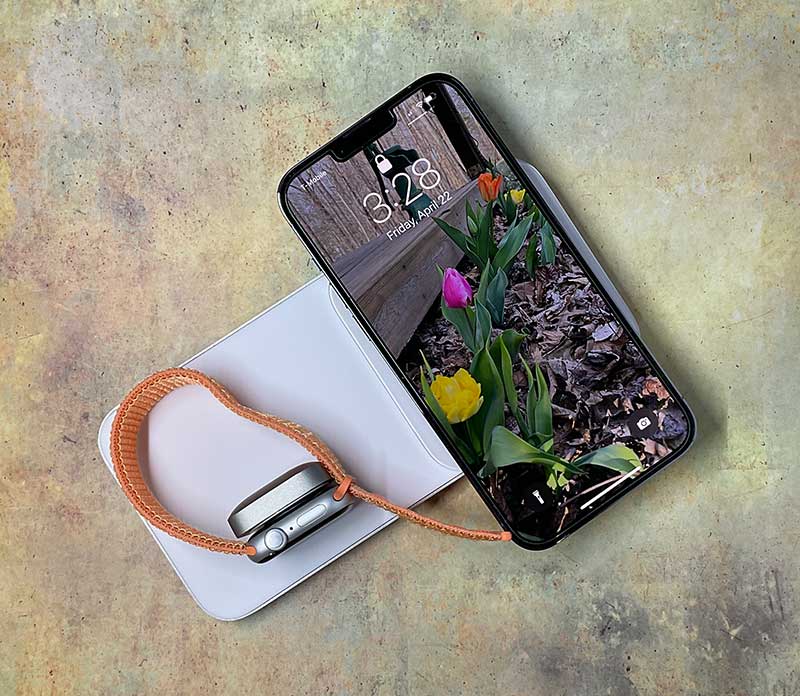 Once you have a 30W power adapter, you're all set for fast charging 2 devices in style. You'll notice that the Apple Watch charger orients the watch so that it does into Nightstand mode which turns the watch into a tiny bedside clock. It only shows the time and charging status for a few seconds and then will screen will go off. But, if you tap the charger or even the table that it's on, it will wake the watch and display the time.
I have to tell you that if you have a newer iPhone and like to use wireless chargers, you owe it to yourself to use a MagSafe style charger like the Nomad Base One Max. MagSafe chargers are just so much better than non-MagSafe chargers because you don't have to do the slippy-slidey dance to position the phone in the sweet spot for wireless charging to start. With a MagSafe wireless charger, everything just literally clicks into place with the magic of magnets. And the magnets on the Base One Max are strong even if your iPhone is in a case.
Since the built-in MagSafe charger is elevated above the glass panel, it's super easy to remove your phone because your fingers can curl under it for easy liftoff.
What I like
Very well made
No annoying LEDs
No issues with iPhone positioning due to MagSafe
Fast wireless charging IF you supply your own 30W charger
What I'd change
Include a 30W charger with the purchase
Final thoughts
When it comes to how it's made, how it looks, and how it performs, the Nomad Base One Max MagSafe wireless charger easily wins all of those categories. But then there's the price. $150 is a super ouchy price for a wireless charger. Then you add in the fact that it doesn't even come with the necessary 30W charging adapter and that makes buying one tough to swallow. Even though I've really enjoyed using this charger for the past few weeks, I can't say I would buy one for myself. But maybe I'm just a tightwad. What do you think? Would you spend that kind of money on a charger even if it's probably the best MagSafe charger on the market right now?
Price: $149.95
Where to buy: Nomad Goods
Source: The sample for this review was provided by Nomad Goods.