We use affiliate links. If you buy something through the links on this page, we may earn a commission at no cost to you. Learn more.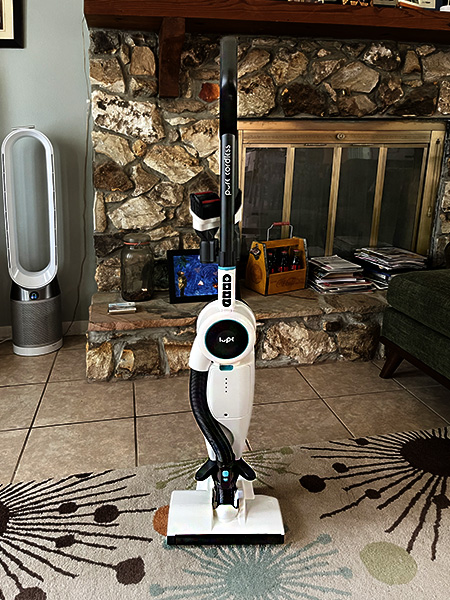 REVIEW – If you've ever wondered what Dyson designers could do if left on their own, the Lupe Pure vacuum cleaner might be the answer. Lupe was started by a couple of ex-Dyson employees who set out to make a better vacuum cleaner. In many ways, they succeeded, but the Lupe Pure vacuum cleaner is more different than better. It's a unique machine with some interesting quirks and some nice features.

What is it?
The Lupe Pure is a cordless vacuum cleaner that competes with Dyson, Shark, and other higher-end cleaners. Its all-white exterior along with an unusual design reminds me of Eve from the Pixar movie, "WALL-E".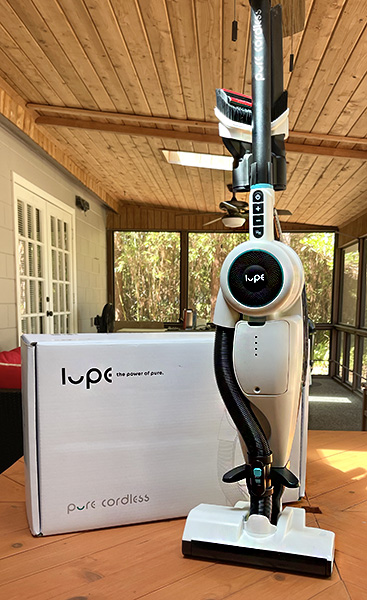 Pure is not a stick vacuum, which differentiates it from the "me, too" crowd of Dyson wannabes. The Pure is battery-powered with about 30 minutes of cleaning power at the Normal (medium) setting. It can last 60 minutes in Eco mode or 15 minutes in Max mode.
Suction is based on the cyclone model that's so popular in many modern vacuums. Pure incorporates what they call a suction intensifier that keeps suction power at a constant level until the battery needs re-charging.
Pure comes with a crevice and an upholstery attachment.

Specs
Removable battery
Removable rollers
Two replaceable and washable filters
International plugs
Design and features
When the Lupe Pure vacuum cleaner is unboxed, it's immediately apparent that this is different. The design is modern in a retro kind of way. It's also clear that the Pure is not a stick vacuum. Far from it.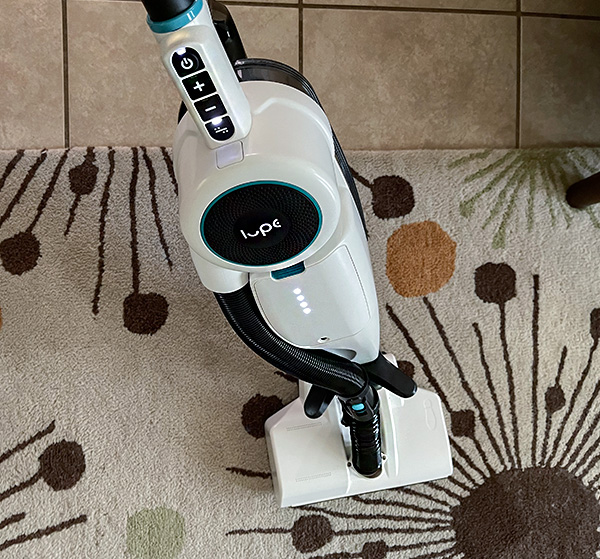 Stick vacuums place all the power—and weight—near the hand making them top-heavy. The advantage to this is easy maneuverability despite the unbalanced weight. Sticks are good at ducking under furniture and swiveling around furniture and chair legs. 
Ironically, the stick advantages are also its main disadvantage. Let me explain.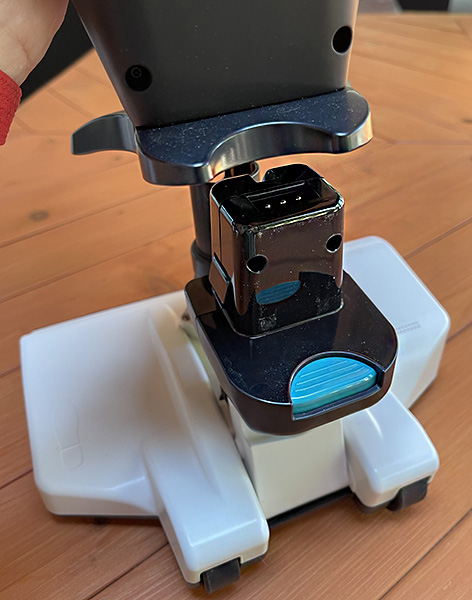 Every stick vacuum cleaner I've used cannot stand on its own. When something needs to be moved while vacuuming, the stick vacuum needs to be propped against something. More often than not, the stick has fallen over when I let it go. It's really frustrating. The Pure vacuum stands on its own—what a concept!
Unlike a stick, the motor of the Pure is closer to the base, which makes it easier to handle—in theory at least. With a stick, vacuuming for 20 minutes or more can get tiring because you are holding most of the vacuum's weight with your arm. The Pure's weight is lower, so it's easier to hold because there's much less weight on your arm. That's a big plus for someone who is lightweight or smaller in stature. However, while vacuuming, I'm never thinking about holding up a stick's weight. So for me, It's not a big issue.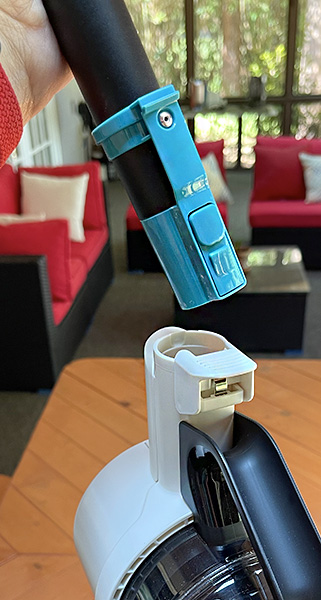 Setting up the Lupe Pure Cordless vacuum cleaner is simple. You just have to snap some parts together and turn it on—after fully charging the battery, of course. The parts that snap together periodically need to be removed when switching to attachments, emptying the dust bin, or cleaning filters. It's all quite modular. And the parts are replaceable if something breaks.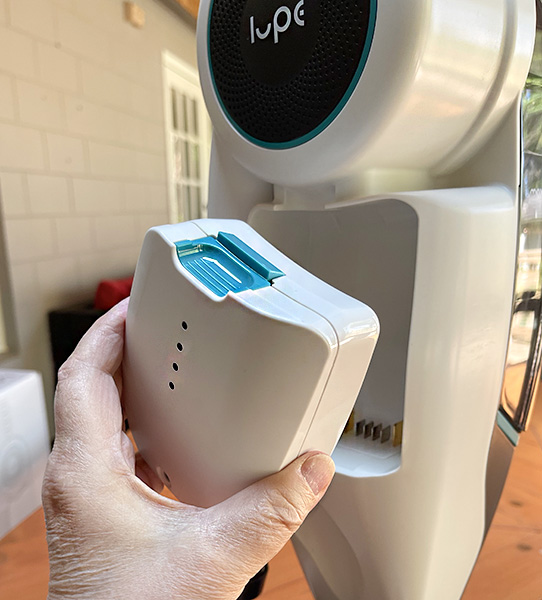 Pure's battery is also swappable, so vacuuming time can be doubled with two batteries. The charging port is on the battery itself—one can be charging while another is in use. It's a simple design that isn't as common as it should be.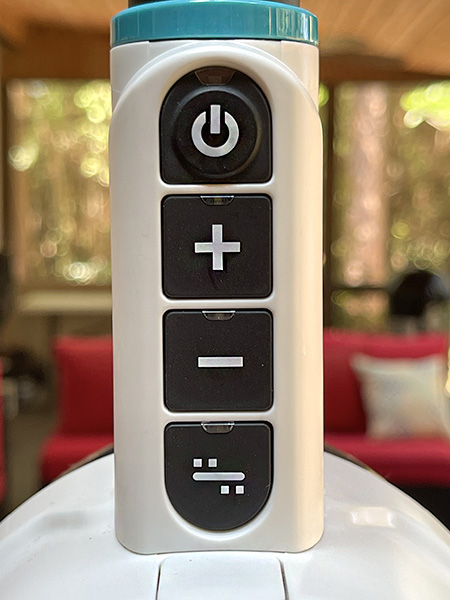 The front of the Pure contains four buttons in a vertical alignment: On/off, increase power, decrease power, and brushbar on/off. There are three power modes: Eco (low), Normal, and Max. When turned on, the Pure defaults to Normal with the brushbar on. Pressing the left side of the cleaning head with the foot reclines the unit for use. When straightened up, it locks into place, standing on its own.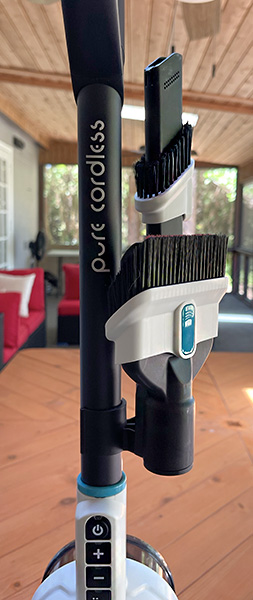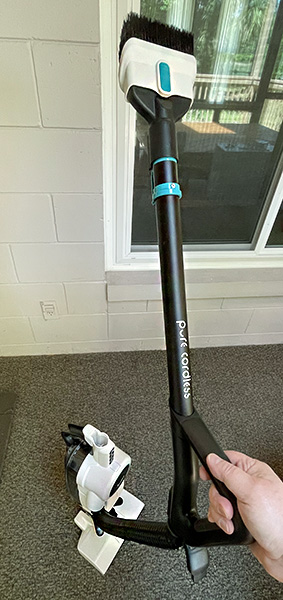 It's clear that the Pure designers were responsible for how Dyson handled its attachments because the design is similar to the original Dyson "Ball" vacuum we own. To use an attachment for out-of-reach places, the main handle needs to be disconnected from the body and connected to the hose from the cleaner head. For closer spaces, just connect the attachment directly to the flexible and stretchable hose.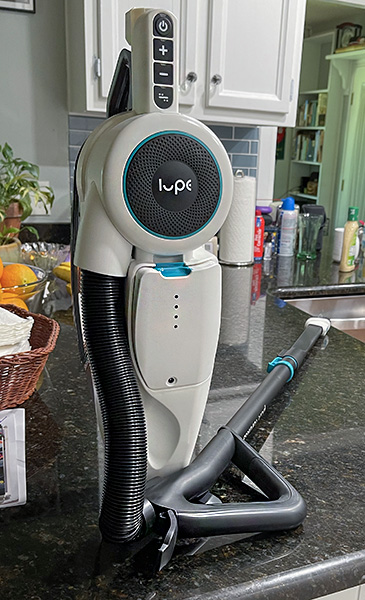 One nice feature when using attachments is that the motor body can be disconnected from the cleaner head so it can be carried around without the extra weight of the cleaner head. This is a big improvement over the original Dyson design. The motor body will also stand n its own—without the cleaner head!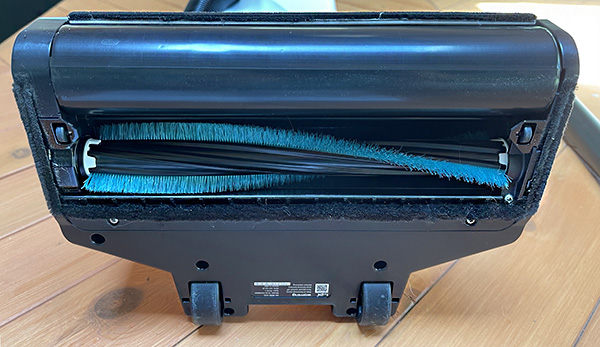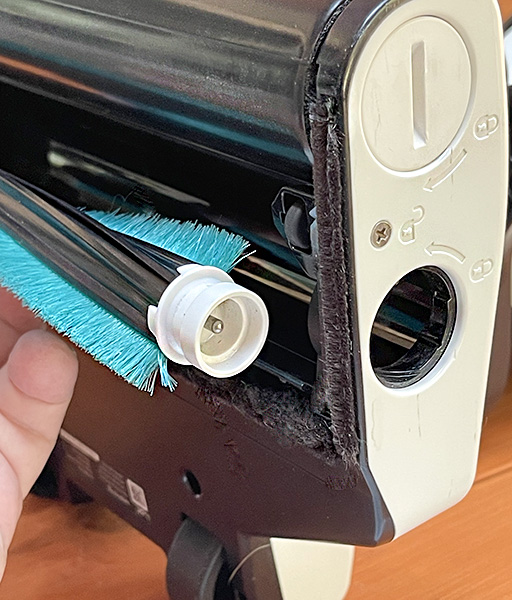 The cleaning head has two rollers: a soft, padded roller that hugs the floor while being able to pick up larger debris and a brush bar that sweeps as it rotates at a fast speed. Both the rollers spin in opposite directions directing the dirt to the center of the head to be sucked up into the bin. It works quite well on our tile floors as well as our living room rug. We vacuum this rug 2 to 3 times per week and the Pure still picked up a bin full of dog hair.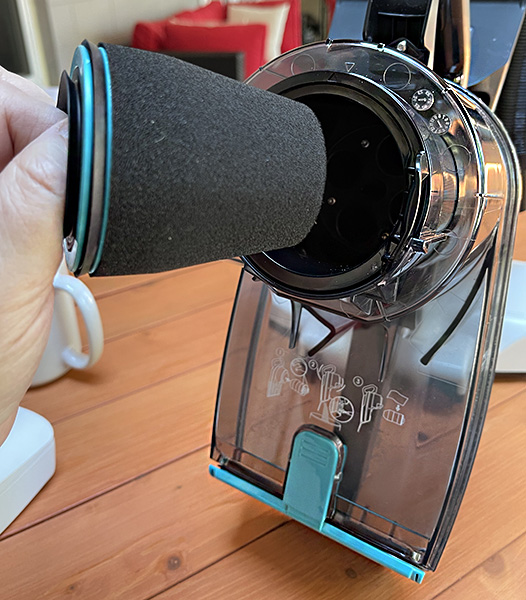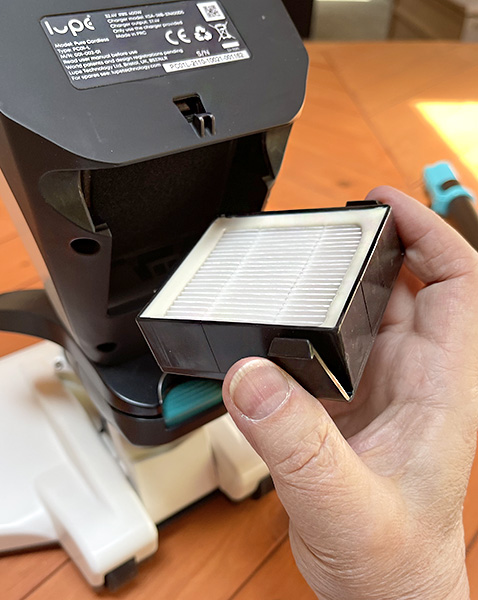 The Lupe Pure Cordless vacuum cleaner comes with two filters: A cylindrical foam filter to protect the motor and a HEPA filter for keeping dust from escaping the vacuum while in operation. Both filters are replaceable.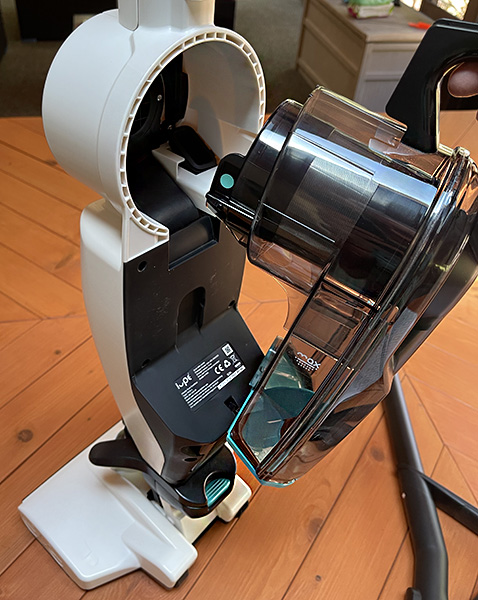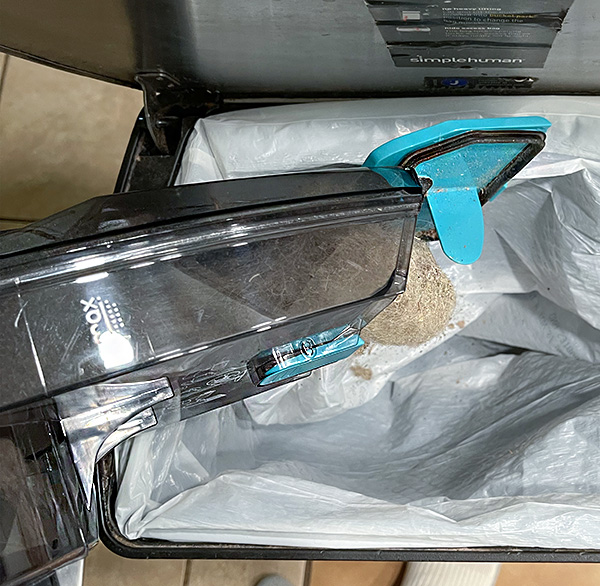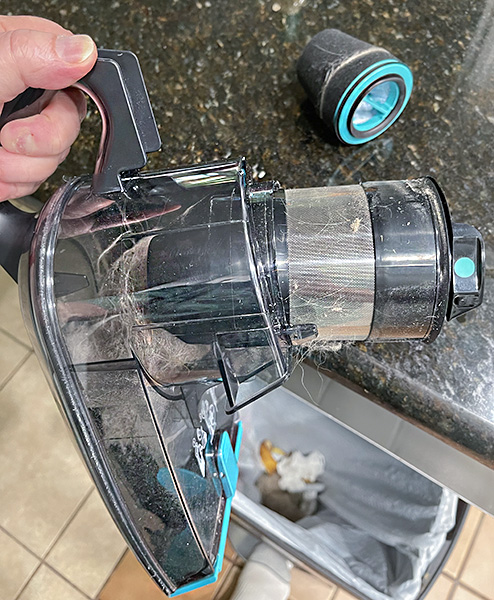 Once done vacuuming, one button releases the dust bin for emptying. Our dogs shed—a lot. I noticed that much hair can become trapped in the top part of the bin and wouldn't shake loose. While it was easy to remove the filters to clear out the hair, it does require you to get your hands dirty. For those with hyper-sensitive breathing issues, this isn't a good setup. You might be better off with a bagged vacuum system.
What I like
Stands on its own
Good suction power
Strong battery life (for a vacuum)
Removable battery
Great weight distribution
Quality build
HEPA filter
What I'd change
Too bulky to go under some furniture
Changing filters can get messy

Final Thoughts
If you have your eye on a stick vacuum, you may be disappointed with the Lupe Pure vacuum cleaner. However, many people don't need a stick design. Pure is for them. It's as powerful (more powerful in most cases) as any stick and its weight distribution may make it easier to use for some. It's not cheap, but the quality is first-rate and it's frequently marked down. If you are flexible in what kind of vacuum cleaner you think you may need, go ahead and give Pure a look. It might surprise you.
Price: $599 US
Where to buy: Lupe
Source: The sample of this product was provided by Lupe.