We use affiliate links. If you buy something through the links on this page, we may earn a commission at no cost to you. Learn more.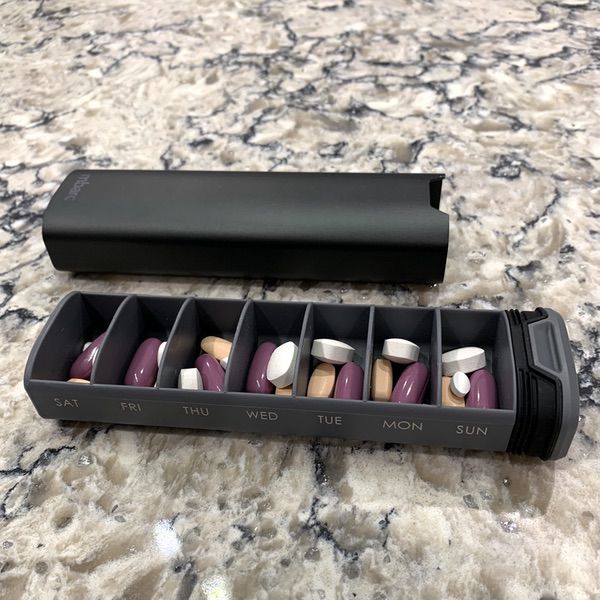 REVIEW – Yeah, yeah… I know what you're going to say. "Bob, why do you need a fancy pill organizer when you get a cheap one at the dollar store?" That's fair. But the mbarc 7-Day Pill Organizer promises an elevated experience in several useful and functional ways. I have thoughts. To the review!
What is it?
The mbarc 7-Day Pill Organizer is a 7-day pill organizer with oversized chambers for all of your pills, supplements, and whatnot.
Hardware specs
6″ by 1″ by 1.75″
4.5 ounces
Anodized aluminum shell
Silicone seal closure
Available in three colors: metallic silver, midnight black, or steel grey
Design and features
If you're looking for an accessory that matches your high-tech look, the mbarc 7-Day Pill Organizer delivers. The anodized aluminum shell & modern design fits right in with all of your gadgets and gizmos. It measures in at 6″ by 1″ by 1.75″ (household teaspoon presented for size reference). I'm testing the Steel Grey color, but a metallic silver and black version are also available.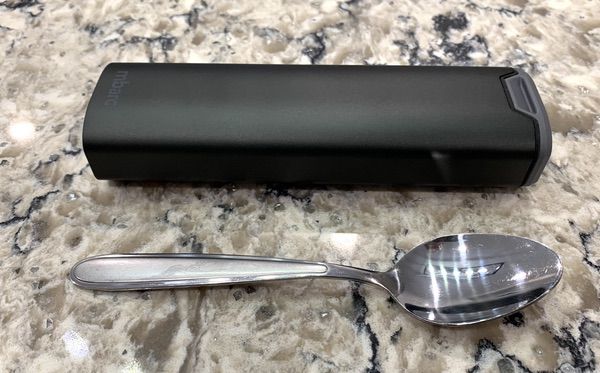 It's also got a bit of extra fancy with real wood inlays at the endcaps. Those arrows point you towards the open side of the pill chambers so you don't spill the goods when you open it.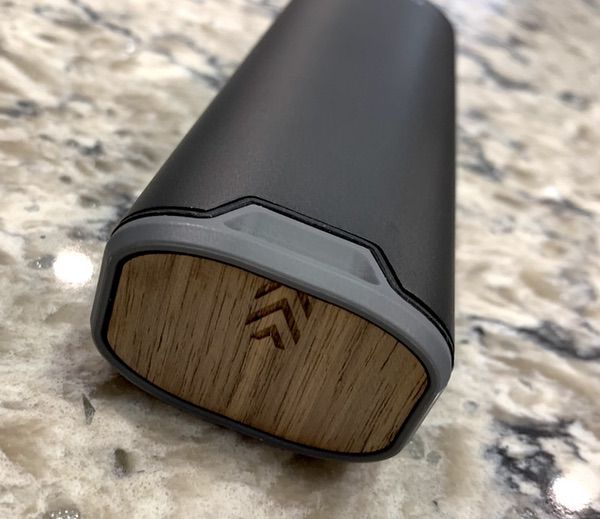 One of the neat benefits of the mbarc 7-Day Pill Organizer is that it stands up on its own. Ever been in one of those hotels where counter space is at a premium in the bathroom? Problem solved here with a tight vertical footprint.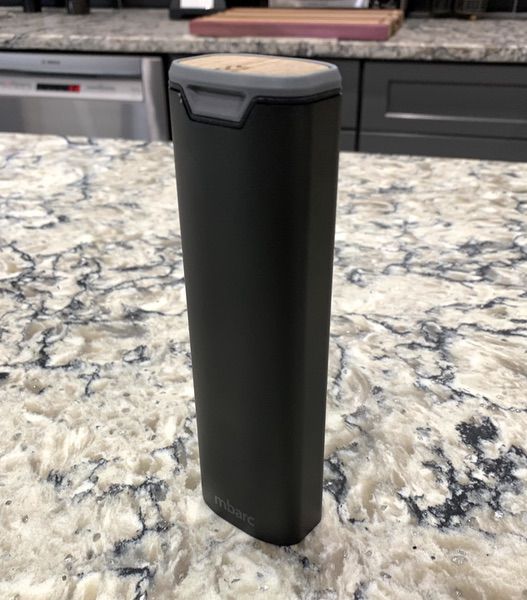 The mbarc 7-Day Pill Organizer employs a silicone gasket that provides a tight seal. Those little grip nubs on the lid help you pull it open, ensuring that it won't accidentally come loose in transit.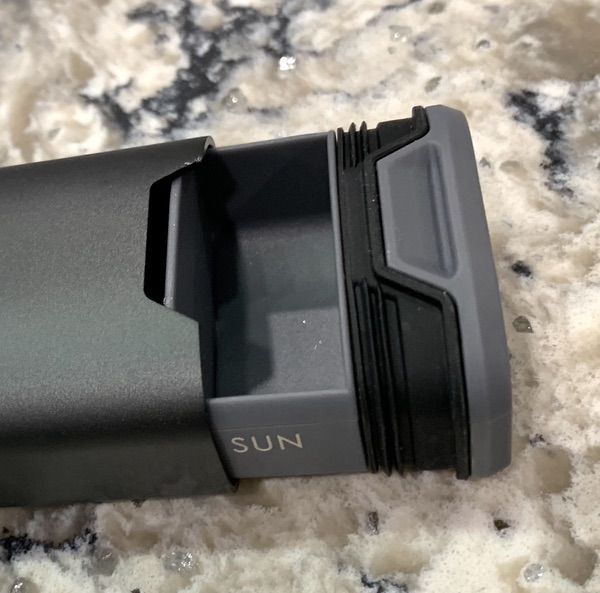 This all makes for a pill organizer that packs and travels really well. You can toss it loose into your suitcase or slide it into a pocket in your bag. The combination of the seal and the crush-proof aluminum housing ensures that you won't be fishing for pills amongst your clothing when you reach your destination.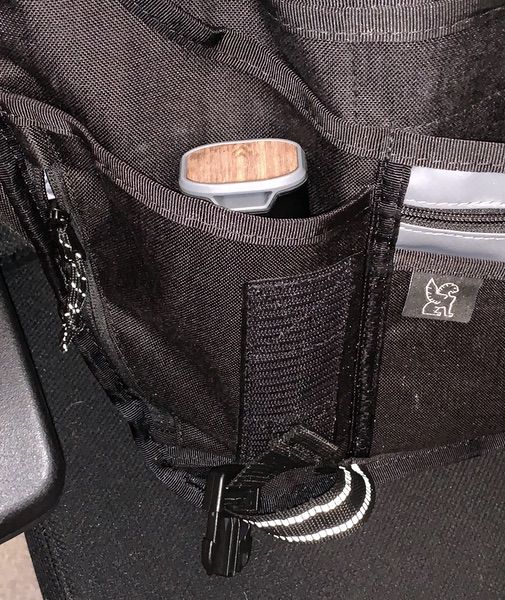 Crack the seal and slide the tray out to reveal 7 generously sized chambers for your assorted medicines and supplements. Note that the days are labeled in reverse order so that you can just slide it open for the day you need.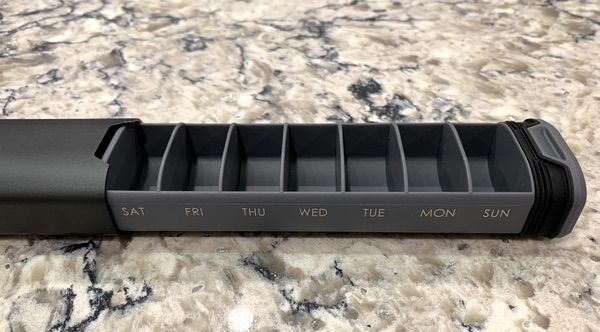 How big are those chambers? Here I filled one of them with as many of my big ol' Omega-3 supplements as it could handle. See the coins for a size reference. I got 5-6 in there before it was overfilled.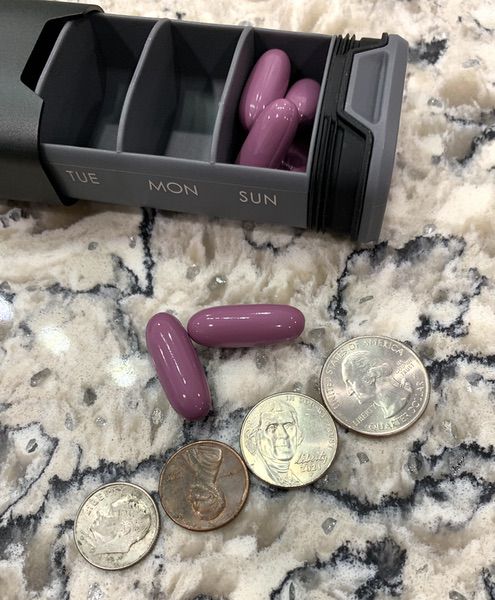 Here's a more realistic travel setup. This is my typical daily loadout of vitamins, supplements, with my daily allergy meds (just in case). I've got room for plenty more, or enough room to double up for a longer trip.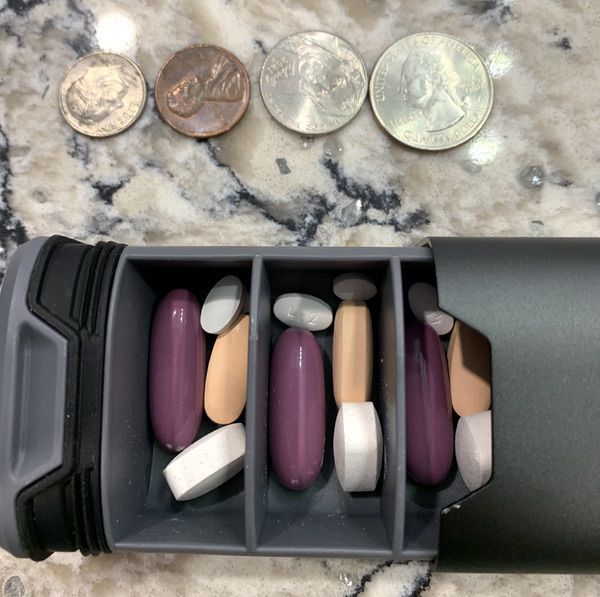 I like the way the slide-out configuration of the chambers works, too. No fiddling with cheap plastic clasps. You can open it up to your daily dosage and dump the goods to get what you need.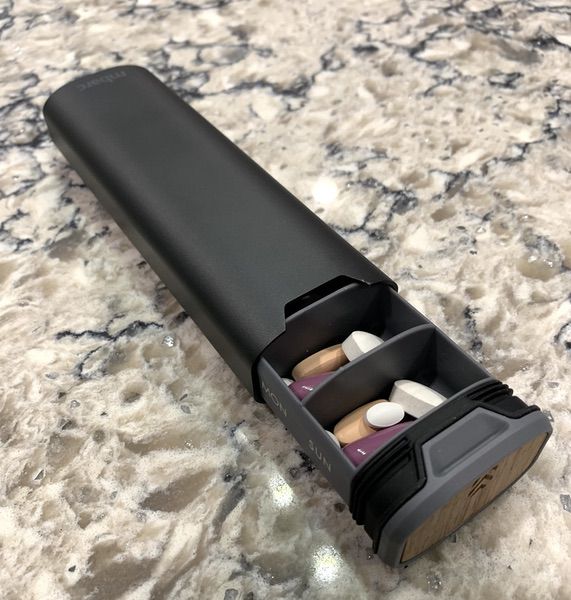 The one downside to the mbarc 7-Day Pill Organizer's design is really a matter of personal preference. If you like organizing your assorted pills by daily use you'll dig this setup. If you like organizing your pills by type (one type per chamber), I think you might find this setup to be less than ideal as you have to open up the whole container to get to what you're looking for.
What I like
Great build that will last a very long time
Very travel friendly — toss it anywhere in your kit without fear of crushing or accidental spillage
Oversized chambers will accommodate a variety of pill sizes
What needs to be improved
Works best for daily dosage use; the "one pill type per chamber" approach could lead to accidental spillage when you try to get to the goods
Final thoughts
Does a pill organizer really need to be stylish? Probably not. But I'd argue that style is a secondary benefit of the mbarc 7-Day Pill Organizer. This little fellow is a solid, secure travel companion that in my mind makes for one less issue you have to worry about in your journeys. It is $30, however, and there are lots of other options for this type of thing in the market. If you don't travel often you may not see the benefit. If you travel regularly I think you'll realize the benefits with long-term use and will appreciate having one as part of your travel gear.
Price: $30.00
Where to buy: Etsy and Amazon
Source: The sample of this product was provided by Higher Human Goods.