We use affiliate links. If you buy something through the links on this page, we may earn a commission at no cost to you. Learn more.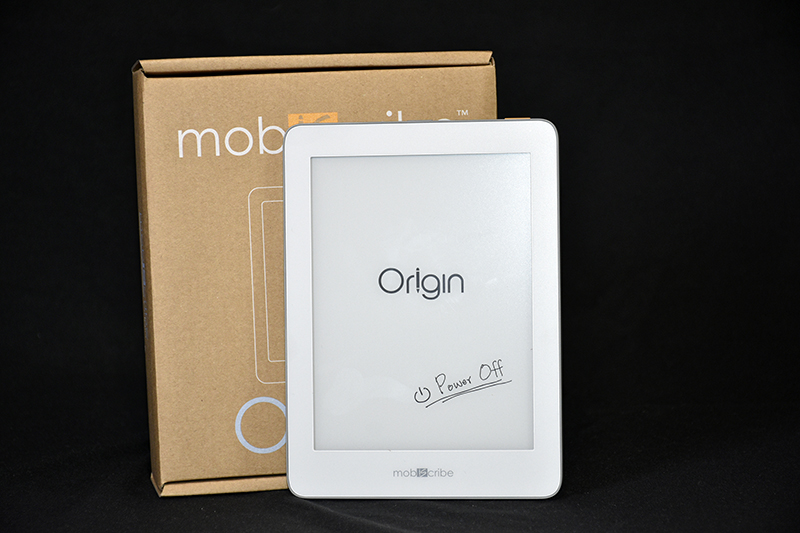 REVIEW – The Mobiscribe Origin E-Ink Notebook does many things, but its main purpose is to alleviate the need for pen and paper. It allows you to keep all your notes in one place and gives you the ability to search for keywords or labels.
What is it?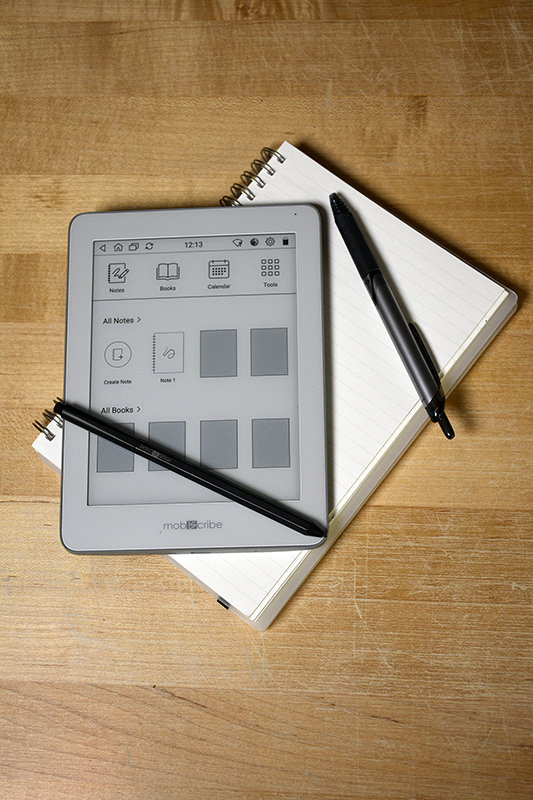 The Mobiscribe Origin E-Ink Notebook is a digital notebook, e-reader, and calendar with a folder management system to keep everything organized.
What's in the box?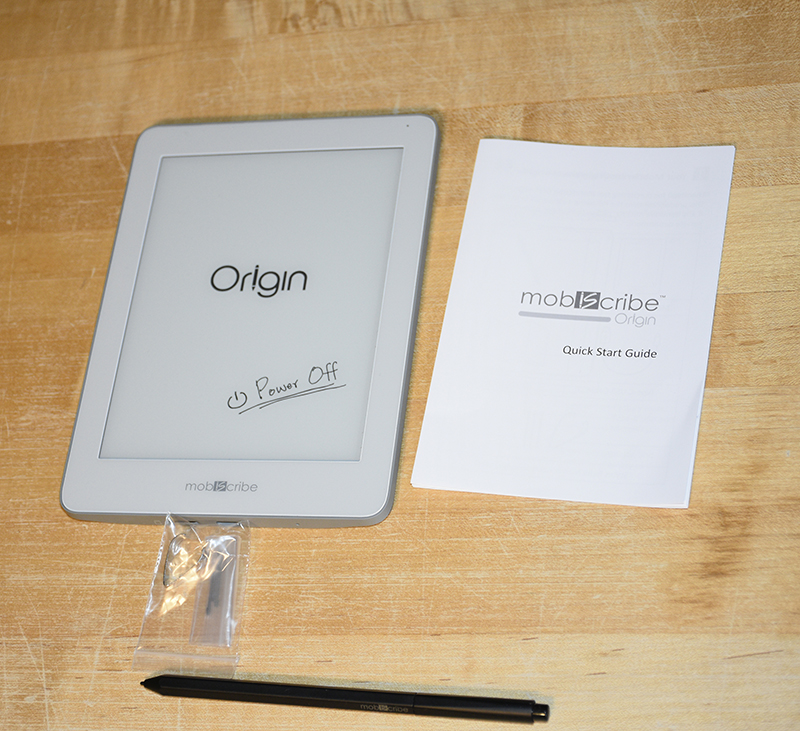 Mobiscribe Origin E-Ink Notebook Tablet
An EMR Stylus
USB A to USB C cable
Tweezers and 3 nibs for the stylus
Quick Start Guide
Hardware specifications
• 6.8 in. capacitive e-ink touch screen with 4096 levels of pressure sensitivity
• 2 GB of Ram
• Allwinner Quad-core B300 CPU
• Customized Android 8.1 OS
• 32 GB of internal storage, with micro-SD card slot for expansion
• Wi-Fi capability
• Rechargeable battery
• USB-C charging input
Design and features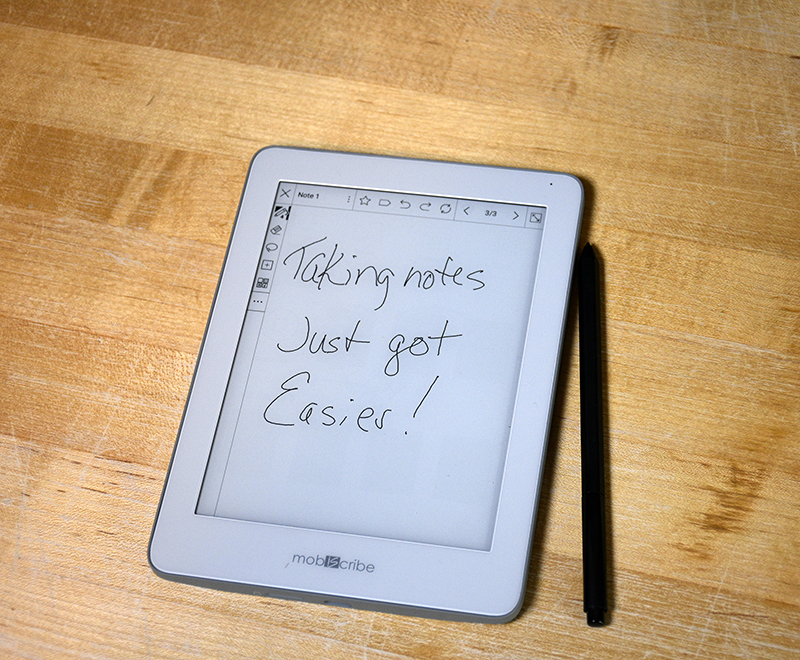 The Mobiscribe Origin E-Ink Notebook is the second iteration of their original Indiegogo device. While the original tablet had a black body, the Origin's body is basically the same color as the screen which, in my opinion, makes it seem a little larger than it is. The size of the device just feels right for note taking. Day to day, I take numerous notes, so I go through pens and notebooks regularly.
The Origin is slightly larger than my Kindle Paperwhite but feels a bit lighter. The e-ink display is on par with the Kindle's, making it easy on the eyes. It also has an option to change the color temperature of the screen when using the backlight. So, you can go from a bluish-white to more amber depending on your preference. Writing with the stylus feels natural, like pencil on paper. I can tell there is a tiny bit of lag when writing which normally bothers me, but here its not an issue. Its fast enough that I can continue writing without feeling I need to stop so it can catch up.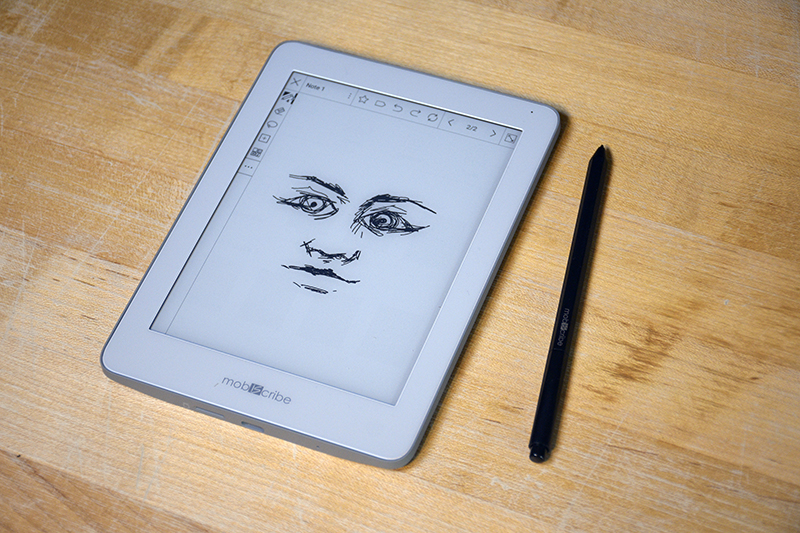 You can create any number of notebooks and store them in separate folders. This is fantastic since I can separate work from personal items. Different projects can be separated to help you find them quickly. It even has a search feature that can search for keywords, starred documents, or pages with labels, which was one of the deciding factors for me.
The Mobiscribe Origin E-Ink Notebook also has a built-in calendar which I haven't explored in-depth yet to see if I can import either my Google or Outlook calendars.  Not a deal breaker for me, but someone else might think so. It has an onboard e-reader that works, not great, but it does work.  There's also an app store that allows you to install a limited number of apps, one of which is the Kindle app. I've done most of my reading over the past few years on my Kindle Paperwhite, so I have a library of Amazon e-books.  I installed the app, logged in, and it synced with my library.  So now I can read on the Origin and retire my well-used Kindle.
What I like
The size and feel of the device
Responsive writing experience that feels natural
It's not trying to be the One Device to Rule Them ALL
Expandable storage options
What I'd change
A different CPU – the current one can feel a bit sluggish at times
Better documentation, the Quick Start guide is downright anemic and there's not one available on Mobiscribe's website
Final Thoughts
I've only had the Mobiscribe Origin E-Ink Notebook for about a week, but already feel my purchase was a good one. It's one of the cheapest options out there for an E-ink notebook, especially with its capabilities. Most others cost about twice as much. I'm hoping this thing has the longevity of my Kindle, if so, this company will have a customer for life.
Update 5/29/22
After a little over a month, I like the Origin more and more. The ease of use and functionality is exactly what I was looking for. I bought it mainly for work. I have tons of meetings where I need a quick method to take notes and then refer back to them, sometimes months later. The Origin allows me to have a virtually limitless number of "notebooks" due to the ability to add a micro SD card that I can organize in folders. After performing the OCR function on any or all of my notebooks, I can then search any or all of them for a specific word and it finds all instances of said word. I don't have to select words to mark as keywords in order for the search function to work, unlike some other competitors' devices. OCR does take quite a while because it's all done onboard, which to me is pretty amazing. I mentioned in the review that the CPU felt sluggish but after using it for a while, I think that was my unrealistic expectations. I won't say it's snappy, but it works perfectly well for this device. I'm happy with the feel of the writing experience, feeling like pencil on paper. There's no noticeable lag when writing on the tablet. I'm quite happy with my purchase. Yes, I bought it with my money. It's less than half the cost of other devices and, in my opinion, punches well above its weight.
So here are my complaints. It's not about the device itself. There's no documentation other than the quick start guide. Looking at the blog on their website, there's been no articles posted this year. When I reached out to Mobiscribe support, they directed me to their Youtube channel. There's been no updated How to or tutorial videos posted in a year. There was a new update recently that added Google Play Store accessibility, which I performed. After some trial and error, I was able to get it done but it took emailing support and waiting a few days to get the help I was looking for. Currently, the only app I found was for the Mobiscribe Cloud service. There's no changelog provided for the update, so I have no idea what other fixes may have been applied, which is a little disheartening. My hope is that the device will be viable for a few years but I'm not sure based on current activity by the company. Oh, one more thing, if you need to view and annotate PDFs, look elsewhere. The screen is really too small to do it without a level of frustration, in my opinion. It's not a function I need, but others might.
Price: $239.00 US
Where to buy: Mobiscribe's online store
Source: The sample for this review was purchased with my own funds.