We use affiliate links. If you buy something through the links on this page, we may earn a commission at no cost to you. Learn more.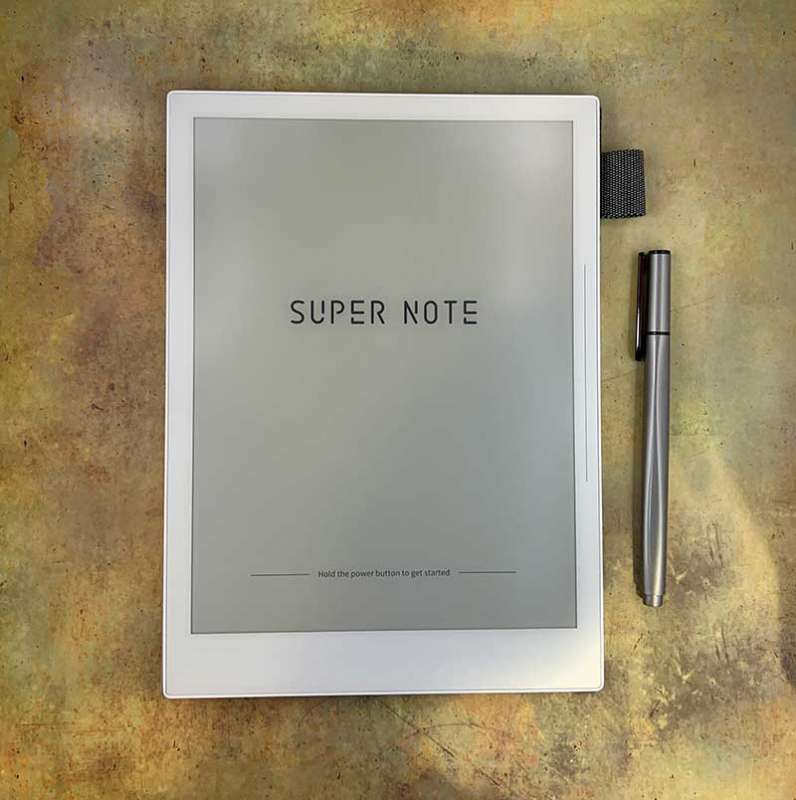 REVIEW – Do you have an iPad or Android tablet that you use to take notes for meetings or school? A tablet is a great tool, but some people may find it to be counterproductive due to distractions from apps, social media, etc. For those of you who prefer digital to analog, I have a possible solution for you. It's the Supernote A5 X digital notebook. Let's check it out.
What is it?
The Supernote A5 X is an e-ink tablet that is available in two sizes: A6 or A5.
What's in the box?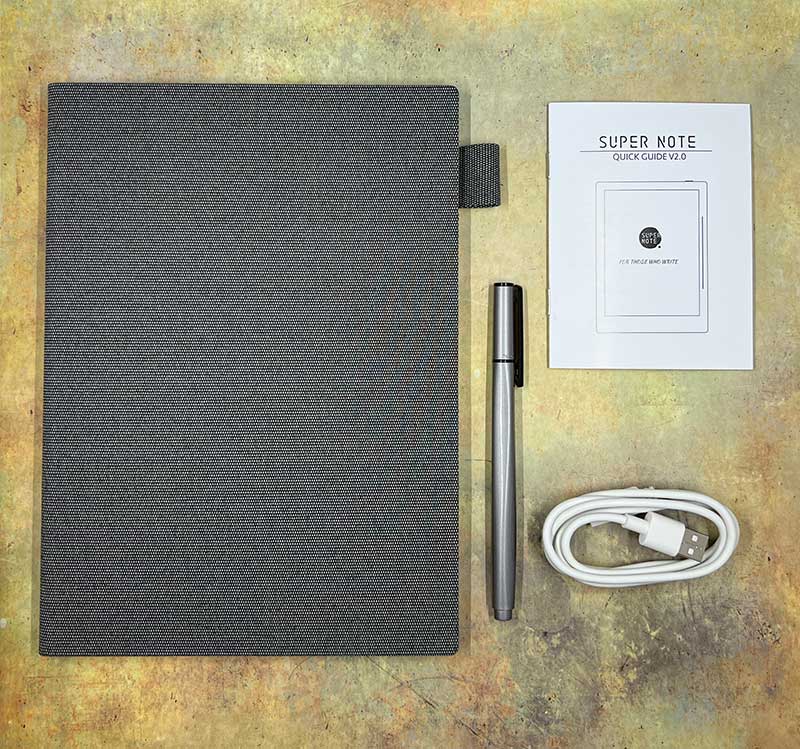 Supernote A5 X
EMR stylus
USB-C charging cable
Folio cover
Quick start guide
Hardware specs
Supernote:
Operating System – Chauvet handwriting middleware based on Android
Processors – PX30 Quad-core Cortex-A35
Memory and Storage – 2 GB RAM, 32 GB storage
Display – 10.3-inch flexible E Ink Mobius display, 1404×1872, 226 PPI
Screen Protector – FeelWrite soft film (pre-installed)
Battery – 3800 mAh
Port and Charging – USB Type-C 2.0, DC 5V 2A
Wireless and Bluetooth – Wi-Fi 2.4 GHz + 5 GHz, Bluetooth 5.0
Dimensions and Weight – 178 x 245 mm, 375 g
Stylus:
Wacom G14 technology
4096 levels of pen pressure
Battery free
Design and features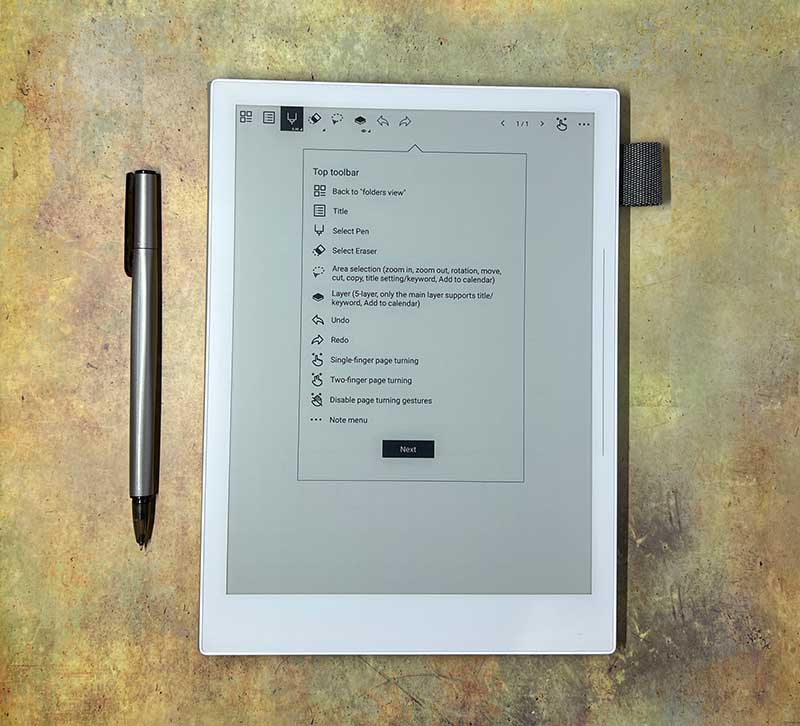 At first glance, you may mistake the Supernote A5 X digital notebook for a large Kindle or other eBook reader device due to its e-ink display. Interestingly enough, you can install a Kindle app and turn the Supernote into an eBook reader.
With this device, the display is flush with the frame around it. The frame has a bit of a "chin" due to the location of the charging port.
The display itself is black on white or actually black on grey (monochrome). But unlike some (most?) eBook readers, the Supernote does not have a backlit display, so you won't be able to do your notetaking in the dark.
You'll notice a verticle line on the right side of the display. This is a touch-enabled slide bar that is used to activate the on-screen menu. More about that in the see it in action section below.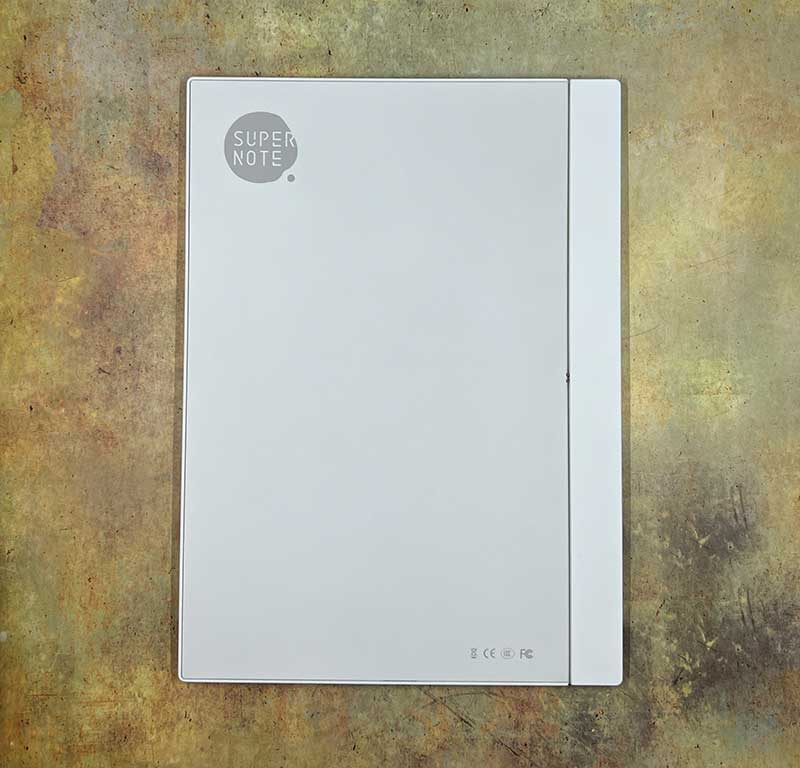 The back of the Supernote A5 X digital notebook has a rail groove along the edge that allows you to attach a folio cover.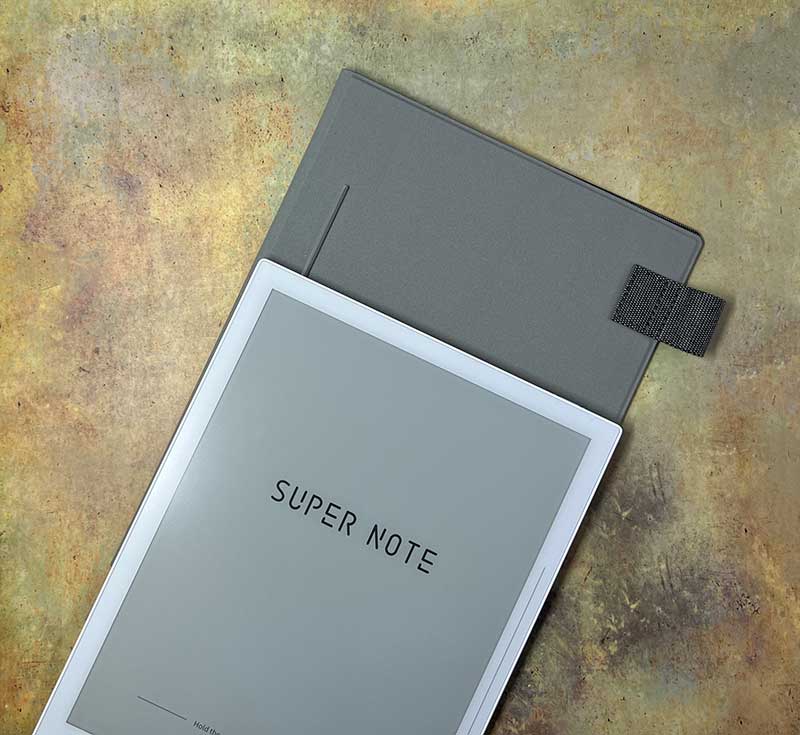 The folio cover has a narrow L-shaped rail of plastic that slides into the rail groove on the back of the Supernote.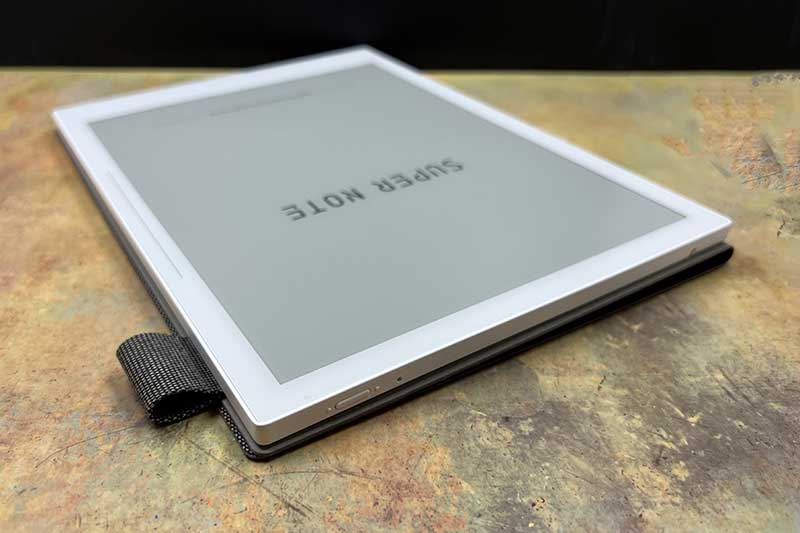 Once the folio cover is attached, it provides you with obvious screen protection when you're not taking notes, but it also features a pen slot for the Supernote stylus.
In the image above, you can also see the top edge of the Supernote where the power button is located.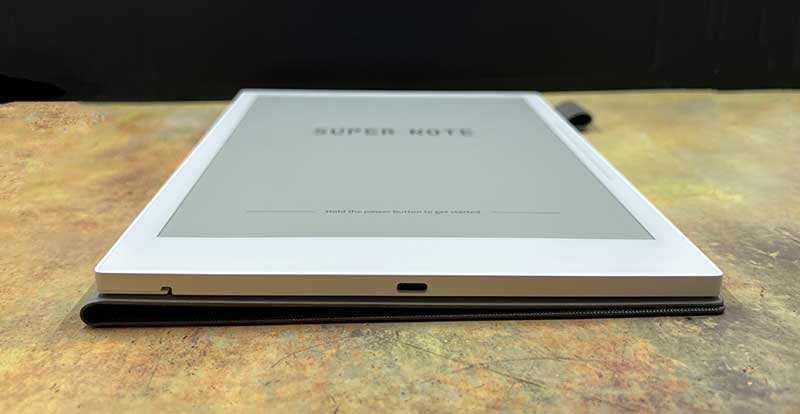 There is a USB-C port on the bottom edge of the Supernote A5 X digital notebook. This port is used for charging the notebook's battery and transferring data.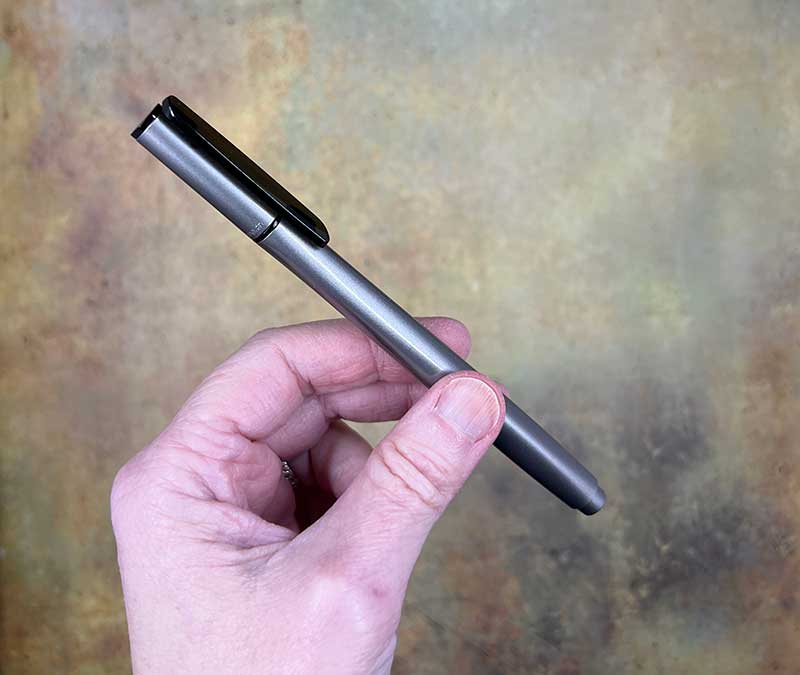 The stylus that is included with the Supernote A5 X digital notebook feels like a nice quality pen. It has a nice heft and balance.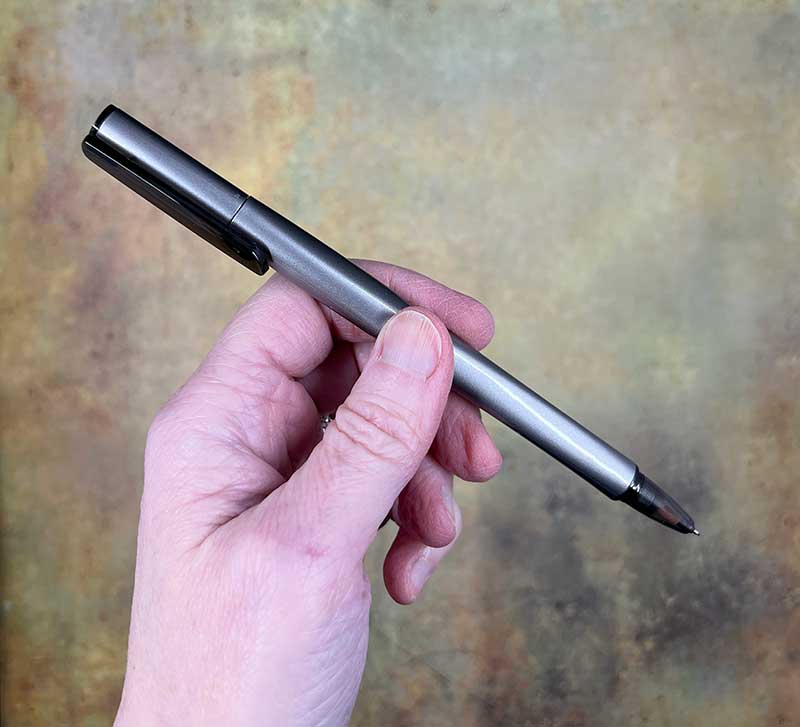 The cap with pocket clip posts to the back of the stylus when it's being used to take notes.
The tip of the EMR stylus looks like a fine point pen but this pen doesn't have ink. This stylus also does not require you to charge it! Yay!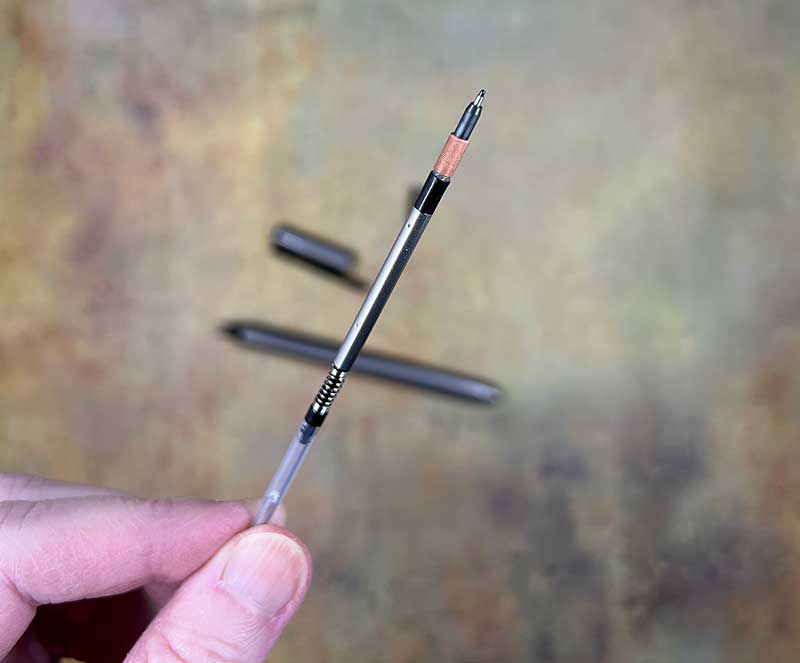 With such a small stylus tip, you might be wondering if the Supernote comes with extra nibs. I'm sorry to say that it doesn't. But, you can buy a new "refill" on Supernote's site for $34. You can even make your own DIY stylus if you don't like the look/feel of the standard stylus. Supernote also sells 2 other styluses that are compatible with their digital notebooks.
Notice the spring in the center of the "refill". This provides a nice writing experience it's like the shock absorbers on your car.
Let's take some notes!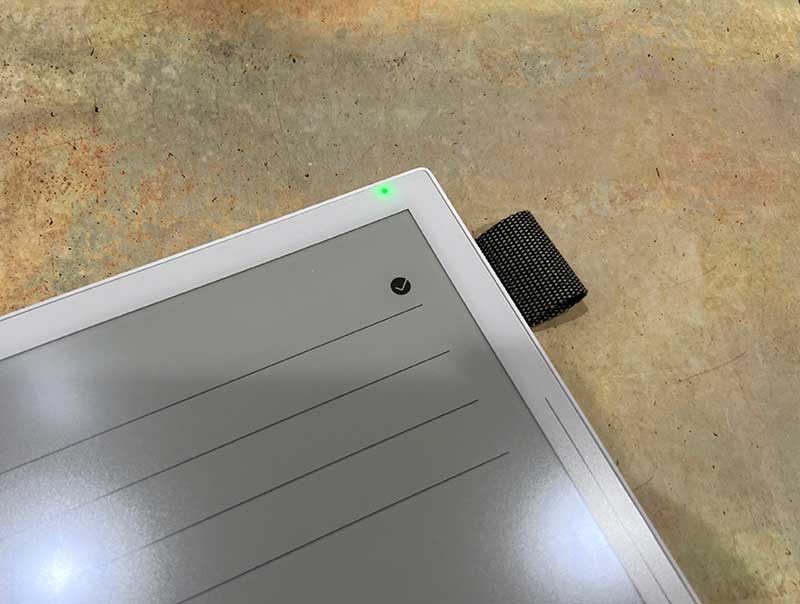 Like with most gadgets, the first step you need to do before using the Supernote A5 X digital notebook is to charge it. While it's charging, a small green status LED will light up in the upper right corner of the device.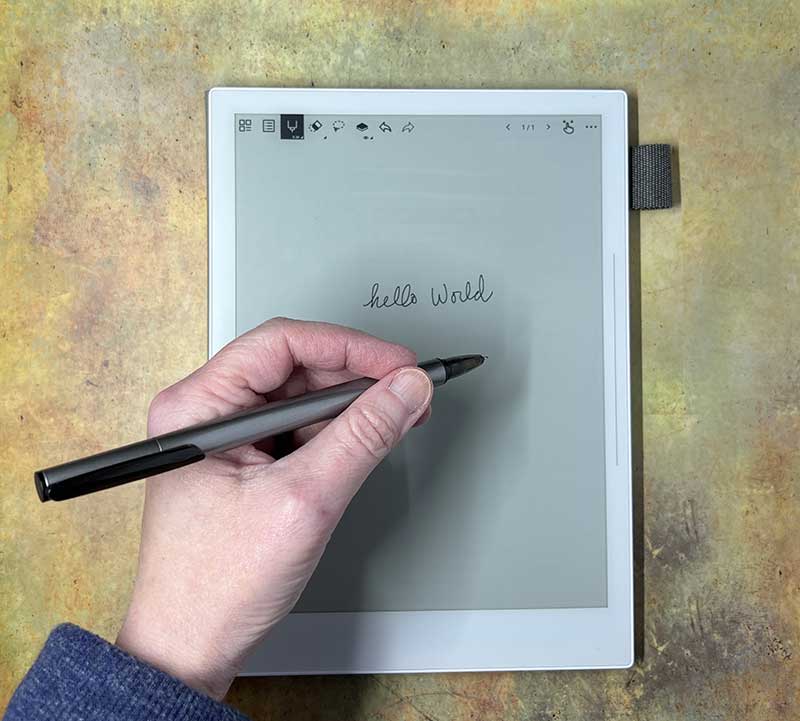 Opening the cover of the folio will automatically turn on/wake the Supernote so that it's ready to accept input/writing from the stylus.
Across the top of the digital notebook are icons that you can tap to perform various functions such as writing, erasing, selecting, adding layers, undo, and redo.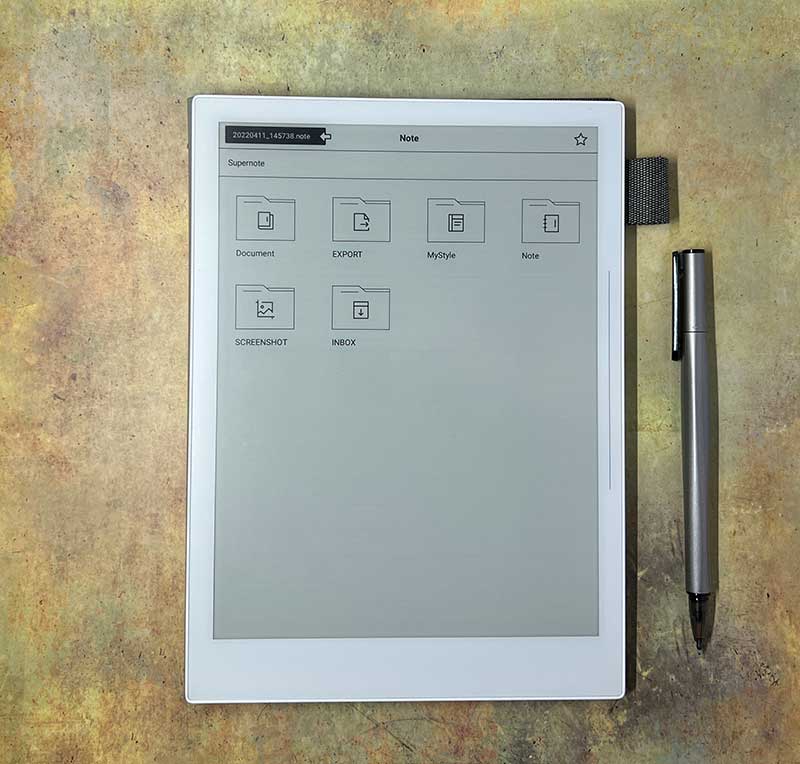 The Supernote has a folder structure so that you can save your notes, Word files, PDFs, eBooks, and more in named folders for organization.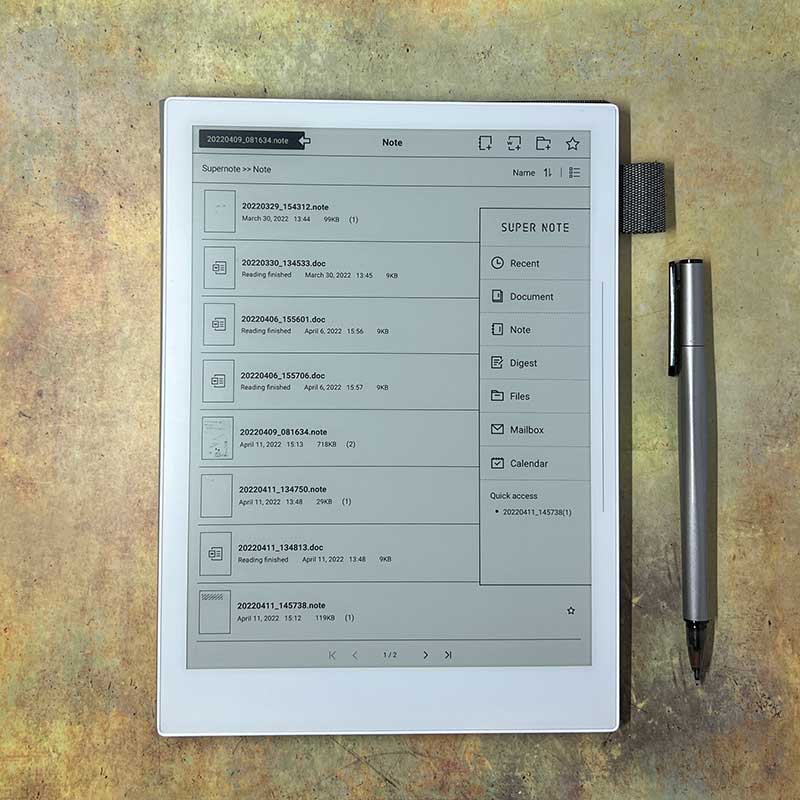 By default, the documents will have a file name with the date and time. But you can go in and rename the files to have an easier to recognize title/name.
You can sync all of your documents and notes to the Supernote cloud or Dropbox, but this action is not automatic. You have to manually sync them which I guess they do to conserve battery life, but it seems like the better solution would be to sync automatically every hour or so.
Your notes can be on a completely blank page or you can use templates. Several templates are included on the device including lined pages, task list pages, grid pages, dot grid pages, musical staff pages, calendar pages, and more. You can also download additional templates for a wide variety of note-taking options. I show how templates work in the video linked below.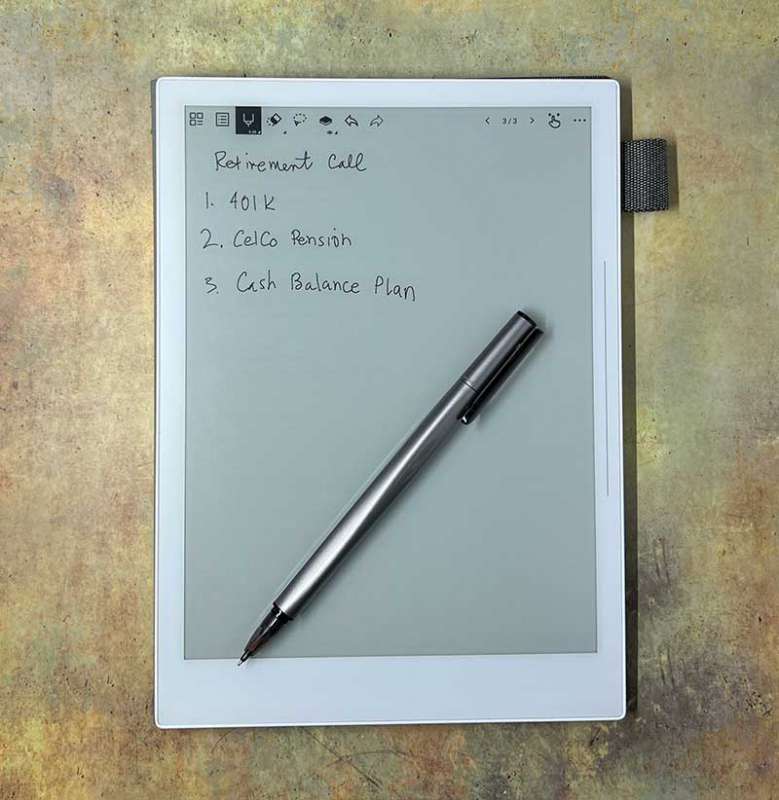 Taking notes with the included stylus doesn't really feel like writing with a pen on paper. It feels similar to using the Apple Pencil with an iPad. The display is hard, and the stylus tip is hard, so it feels like you're writing on glass instead of paper. For me, it feels like I don't have enough control over my writing compared to writing on regular paper with a regular pen. My writing is considerably sloppier.
I also had issues with the palm-rejection feature. Being a lefty, my palm often touches the top icons which will annoyingly kick me back into the folder view while I'm in the middle of writing something. Luckily, you can move the toolbar from the top of the screen (if you remember to do so before you start a writing session).
See it in action
Extra features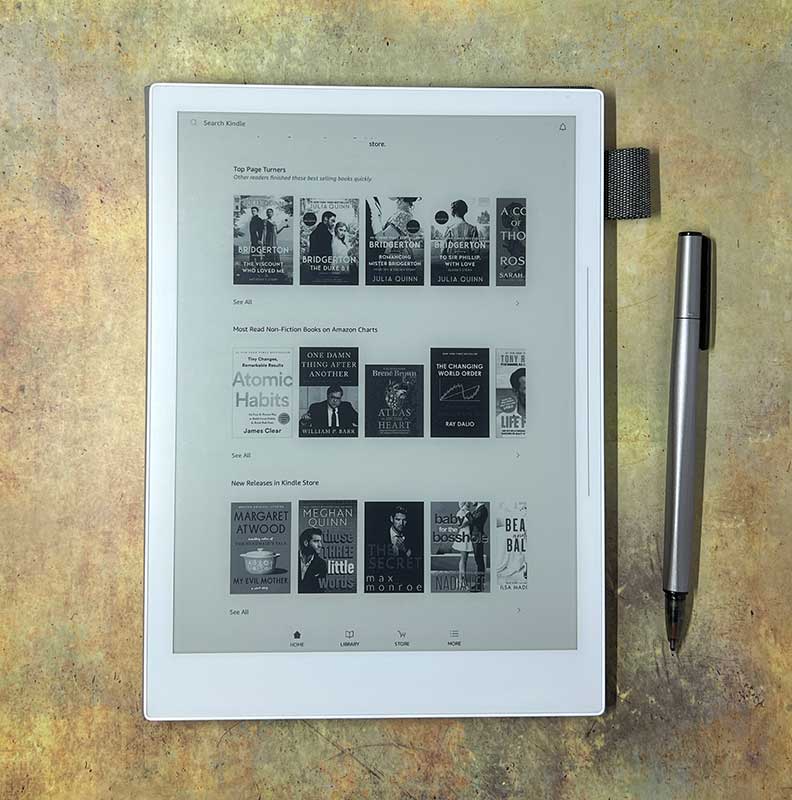 In addition to using the Supernote for its main function of replacing paper for taking notes, you can also install the Kindle app on this device, use it as a calendar with your Google or Outlook account, and use it for email. Of those features, the only one of these extra features that I actually was able to get working was the Kindle application and the experience wasn't very good. Browsing books is extremely slow.
I wasn't able to get my email or Google calendar to sync with this device and in all honesty, I'd probably pull out my hair trying to use this device for those tasks. I consider myself a power user when it comes to Gmail and Google Calendar and if using those services on the Supernote feels like the note-taking experience on this device, I'll just stick with my phone, or MacBook.
What I like
No distractions
The stylus does not need to be charged
No lag writing
Long battery life
What I'd change
Too expensive for what it can do
Sluggish performance
Palm rejection needs work
Needs a backlight
Final thoughts
I really wanted to like the Supernote because I've had the dream of marrying my love of analog with digital when it comes to journaling and note-taking. The interface just feels too slow and clunky for me. I know there are many people who just love the Supernote, but unfortunately, I don't seem to be in that group (yet). The device itself is very well made and has wonderful battery life. It's just the user experience for me was not good enough, fast enough, frictionless enough to make me want to switch from my tried and true paper and pen to this digital note-taking system.
It is important to know that Supernote as a company is dedicated to improving this device instead of putting out brand new devices. They listen to their customers and have released OS updates to include new features and improvements.
I enjoyed testing the Supernote and although it didn't convert me to digital note-taking, I'm sure it will happen at some point in the future.
Update 5/29/22
Julie: I sent the SuperNote to Kenneth Woodham who enjoys using digital notebooks and here's his update.
Kenneth: I was given the chance to use this device and took it since I wanted to see how it stacked up to my Mobiscribe Origin. Here's what I like:
First off there's a user manual on the device. I didn't have to go to the Supernote site to look for it, very helpful when I knew absolutely nothing about how to use the device. I like the fact the included pen has a ceramic nib that I never have to replace due to use. There's more functionality on this device versus the Origin that may be of use to those looking at a digital e-ink notebook. Lots of different options on how you use it. The hardware is really nice! It feels like a premium well built tablet, which it should considering the price. The speed of navigation and writing is great. It feels snappy when putting it through the paces.
Now here's a huge plus in my book, Supernote has a very active Reddit group that they constantly monitor and update. They respond to the various threads quickly, answering posted questions. There's a roadmap of planned updates with status updates. They obviously are looking to take the currently available devices to the next level over time, instead of sunsetting them to develop other models.
What I don't like:
The only way to use OCR is if you create a Word doc on the Supernote, using the handwriting feature in Word which I find too quirky to use reliably. Word doesn't like my handwriting. I can't create a Note and then run OCR. You have to select a word and make it a Keyword. That may be fine for some but I don't know what I may be looking for months down the road. They are working on adding this feature which for my use is crucial.
There's no real home screen, which may sound weird to some folks, but I don't always want to start on the last note I took. You can very easily swipe down the right side of the frame to pull up a menu to see your options for creating new entries, so there's that. Clearly this is just a personal preference of mine, but I want a dedicated home screen with the option to start there.
The writing experience is okay if you don't mind the feeling of writing on glass. It took some getting used to because I don't prefer that.
Erasing mistakes. The two finger gesture. UGH. I do NOT like it. There are videos on how to use it as well as documentation in the manual, but I can't get it to work reliably. Two fingers on your non-dominant hand have to be on the screen just right. I can't use just my fingertips, like when typing. Your fingers have to be flat on the device, not too close together, not too far apart. They can't be too close to your writing hand. There's a Goldilocks zone that I just can't seem to get without trial and error. The other way to erase is to touch the icon in the bar which takes me out of the writing experience. Seems like an unnecessary extra step instead of using the other end of the stylus like an eraser. I have that functionality on my personal device.
The Supernote A5 X has the chance to be an excellent device. They have a lot of supporters who love it, but not me. Not yet. I'm waiting to see how that changes with their planned updates. Maybe they can make the ultimate notebook I'm looking for.
Price: $499.00 (with a folio cover)
Where to buy: Supernote
Source: The sample for this review was provided by Supernote.