We use affiliate links. If you buy something through the links on this page, we may earn a commission at no cost to you. Learn more.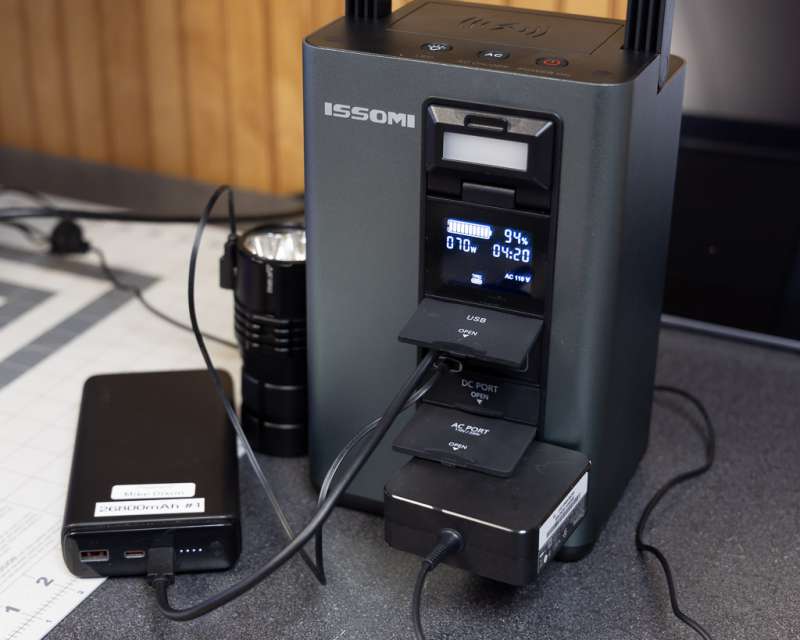 REVIEW – I've reviewed a couple of power stations in the past, and I still have them. The problem is that you most often need power in several places during a power outage, so having several is nice. The ISSOMI Power Station review offer came along, so I decided to try it out. I wanted something more portable than my large OKMO 1000W portable power station, and more weatherproof than my SNUGMAX Vickers 200 portable power station.
What is it?
The ISSOMI power station is a 300W/80,000mAh battery-powered pure sine wave portable power station.
What's in the box?
ISSOMI Power Station
Power charge adapter
12V car charger adapter (in)
12V car type port adapter (out)
12V battery clips
User Manual
Hardware specs
Output: 300W, 600W peak
Battery: 80000mAh lithium battery pack
Weight: 8.4lbs
Size: 6.2″ x 4.75″ x 9.6″
Ports:
1 USB-A Quick Charge port (45W MAX)
1 Type-C port (PD,65W MAX)
2 USB-A port (10W MAX)
1 DC port Out (36W 12V/3A)
1 DC port In (charge port, 12v/solar panel)
1 AC port (Pure Sine Wave 110V 300W MAX)
Design and features
When it comes to power stations, portability is inversely proportional to weight. You can have lots of power, but you're also going to have to haul around the battery weight.
Larger power stations also usually have cooling fans, making them harder to waterproof and dustproof. The larger power stations are often overkill for your smaller device charging needs when you don't need 120V output.
The ISSOMI power station is very portable, weighing just 8.4 lbs (3.8 kilograms). The integrated handle makes it easy to carry, and folds flush into the unit when not in use. There are no vents to collect dust or allow for water intrusion (IP63 rated).
The top of the unit features a wireless charging pad. The front LCD panel shows a wireless charging icon when the wireless charging pad is in use, so you don't have to look at your phone to see if it's working. The top of the unit also has three control buttons; LED on/off/brightness, AC on/off, and Power On. You don't need to turn the unit on to use the wireless charging pad; just place your device on it, and the ISSOMI power station will turn itself on.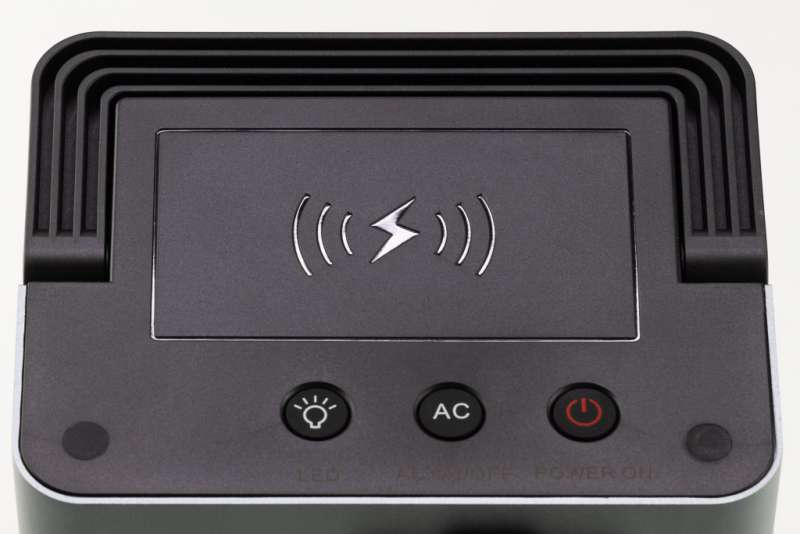 The front of the unit has an LCD that has indicators for the following items:
+ Battery Level with percent readout
+ Power consumption in watts
+ Time remaining in hours and minutes
+ Wireless charging in use
+ LED in use
+ Type-C output in use
+ AC 110v/220v in use
+ USB-A in use (1 and 2)
+ QC 3.0 in use
+ 12v DC in use
+ Various protection icons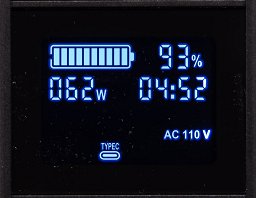 The unit also has a built-in Battery Management System that will automatically cut off power to protect the device from over-temperature, over-voltage, over-current, low voltage, and short circuits. This protection includes inverter power over-temperature protection.
The unit can be recharged in four ways:
1. From AC adapter
2. From car charging
3. From solar panel (not included)
4. From generator charger
There are silicone covers on the ports to protect them from water and dust. However, I did find them a little challenging to open without some form of tool. Maybe if you have long fingernails, it will be easier to open. However, I would much rather them this way than loose-fitting.
The power station will automatically shut down when not in use. The built-in LED light has three brightness levels. It does get really bright, and you won't want to look directly at it if you're really close. The LED also pivots down 90 degrees, which provides a lovely light to a table surface.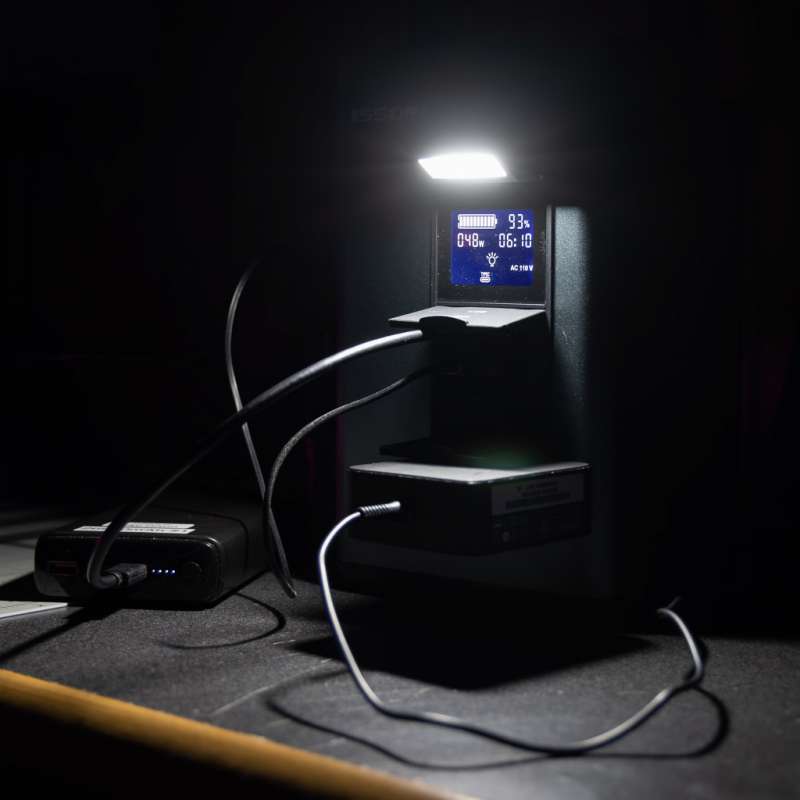 What I like
Wireless charging pad
Carry Handle
LCD Panel has battery level, power consumption in watts, and time left readouts.
3-level LED light
Dust/Water/Impact Resistant IP63 rating
handle folds flat
What I'd change
The port covers can be a little tricky to open
Final thoughts
The ISSOMI power station can recharge seven devices at the same time. It's portable and outdoor-friendly with its IP63 waterproof rating. The ISSOMI power station is easy to carry and operate. This is the power station that I'll be taking on picnics, to the beach, or anywhere I don't want to worry about power requirements!
Price: $249.99
Where to buy: Amazon
Source: The sample of this product was provided by ISSOMI.